Whether you're re-tiling, or adding a storage option, renovations can burn a hole in your pocket, especially when you make fundamental bathroom design mistakes. Luckily, there are a few simple bathroom designs for homes that you can keep in mind to create a perfectly functional space.
Bathroom Design Mistakes #1: Slippery Tiles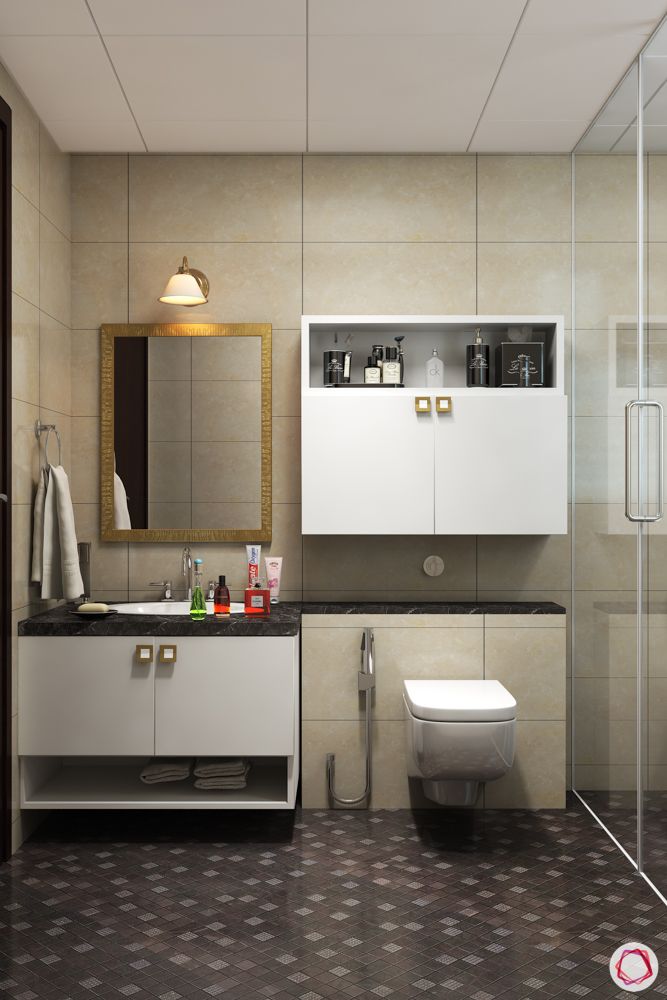 Did you know more than 70% of home accidents occur in the bathroom because of slippery tiles? If your household includes children or the elderly, you can easily dodge one of the biggest bathroom design mistakes by installing anti-skid tiles.
Bathroom Design Mistakes #2: Not Segregating Wet And Dry Zones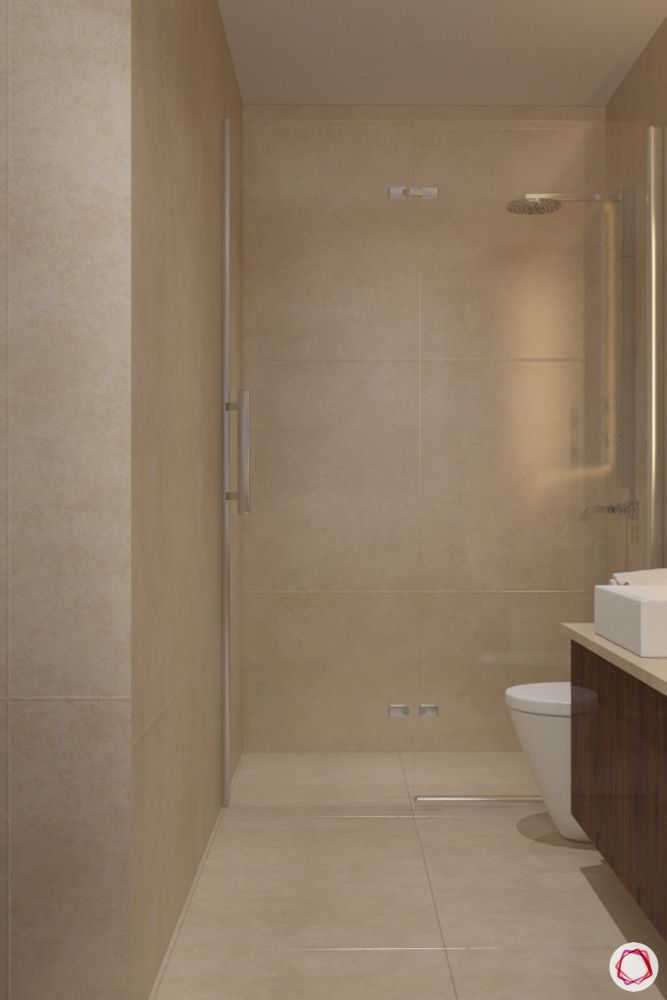 Good bathroom designs for homes segregate the space into wet and dry zones, as this helps protect the space from mould and also makes it easier to keep the bathroom clean. You can isolate the spaces with a shower curtain, glass panels or a raised dry section.
Bathroom Design Mistakes #3: Placement of Toilet Roll Holder and Faucet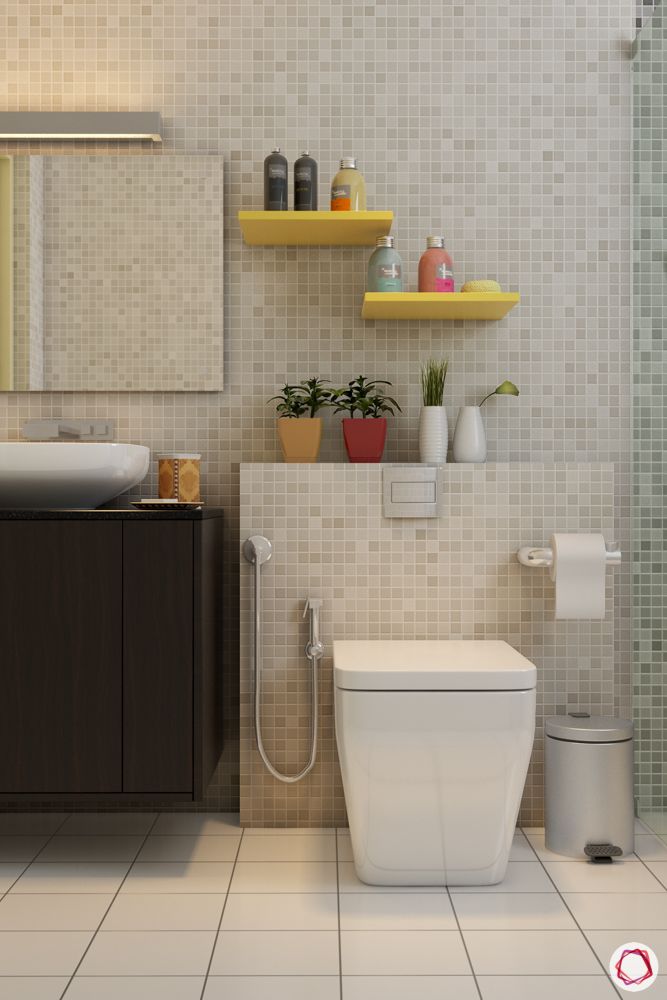 Reaching for the toilet paper shouldn't be a stretching exercise. In the best bathroom designs for homes, you will find that a good installation is approximately 20-25 cm in front of the seat and about 65-70 cm above the ground. Additionally, make sure you place the hand shower to the right of the water closet at an easy to reach height.
Bathroom Design Mistakes #4: Placement of the Towel Rack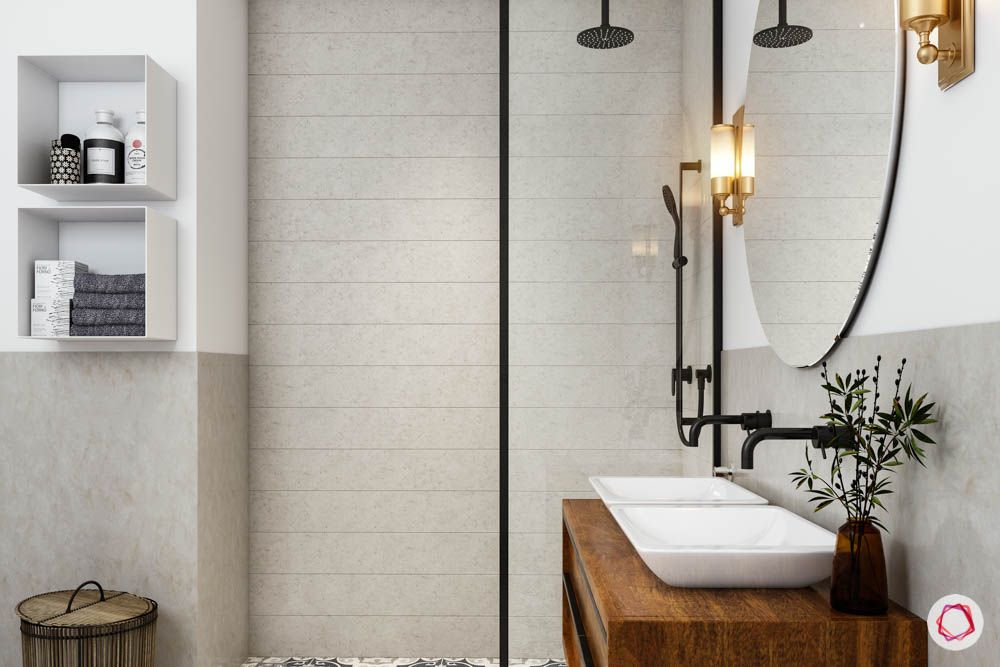 A towel rack placed too close to the shower might make your towels wet. However, if it's too far away, you might have to trudge across the dry zone while dripping water. Position the rack just as you exit the wet area, so that you can dry off as you step out of the shower. Moreover, be sure to place them at the optimal height so everyone can reach them easily.
Bathroom Design Mistakes #5: Storage as an Afterthought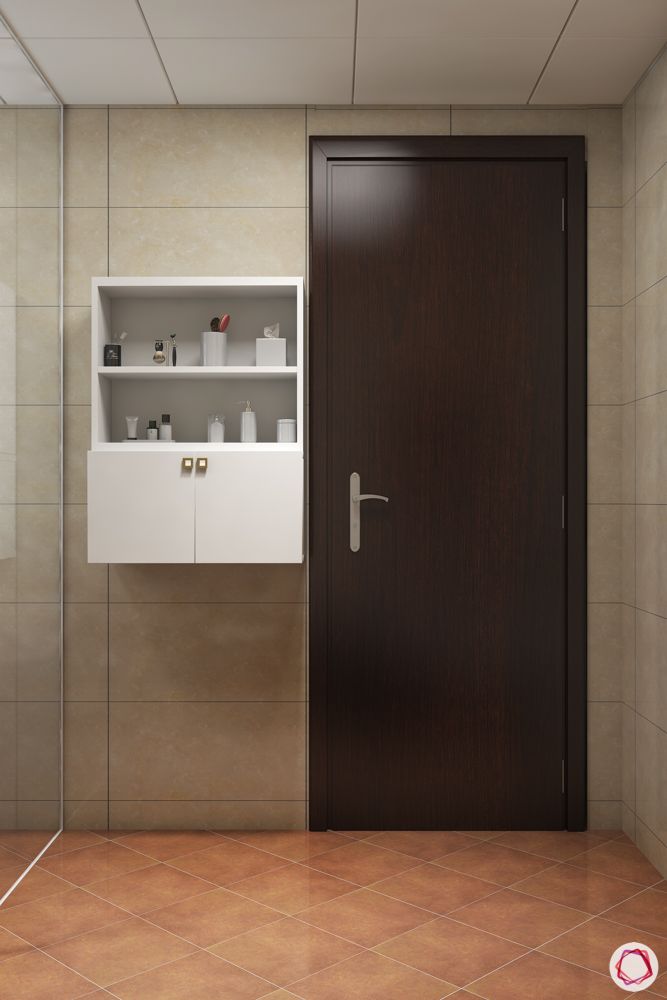 Most bathroom designs for homes treat storage as an afterthought to aesthetics. While designing the bathroom, you could opt for recessed shelves for a touch of minimalistic luxury. A simple shower caddy is also an excellent way to prevent a messy and cluttered look. A vanity or cabinet in the dry zone is perfect for lotions, makeup and accessories such as a hair dryer or curling iron.
Bathroom Design Mistakes #6: Awkward Vanity Height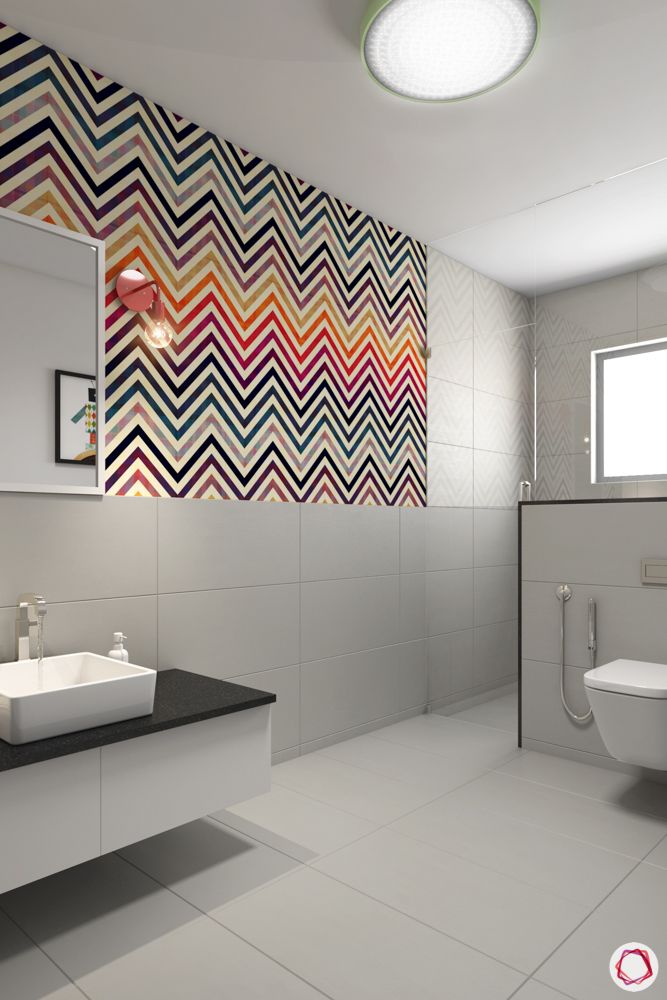 The height of your vanity cabinets should be dictated by your choice of sink. Prevent having to bend over too much or feel short of space between the sink and mirror by choosing a tall storage unit for a recessed sink, or a shorter cabinet for the more trendy countertop basin.
Bathroom Design Mistakes #7: No Ventilation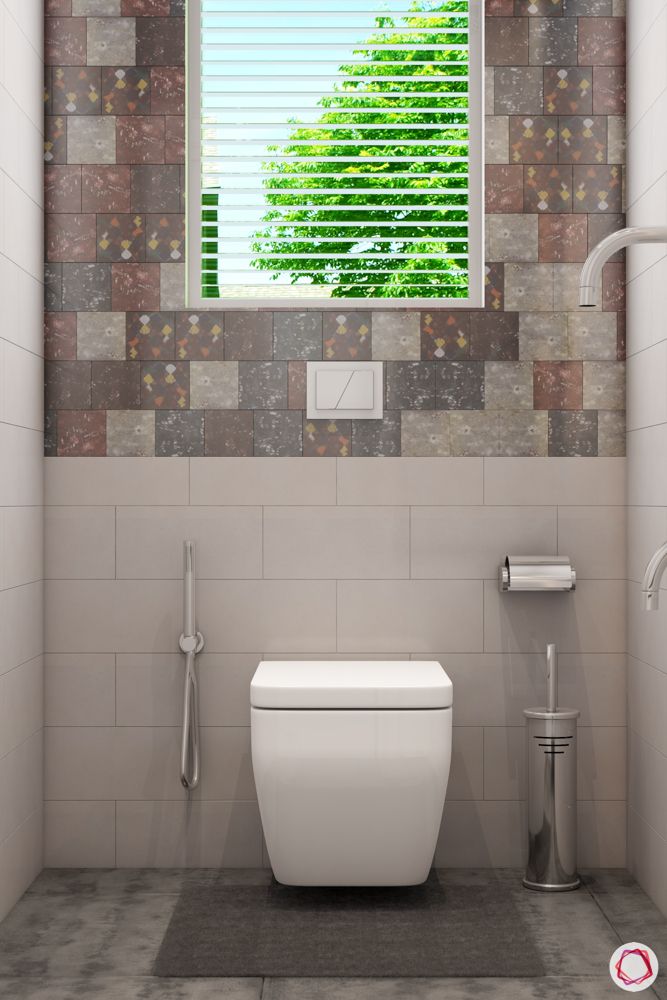 If not designed well, bathrooms can quickly become cramped and humid. The moisture in the air encourages rust and can damage fixtures. Ideal bathroom designs for homes must have good ventilation to draw out moisture and odour, thereby also improving air quality.
Bathroom Design Mistakes #8: Relying on Overhead Lighting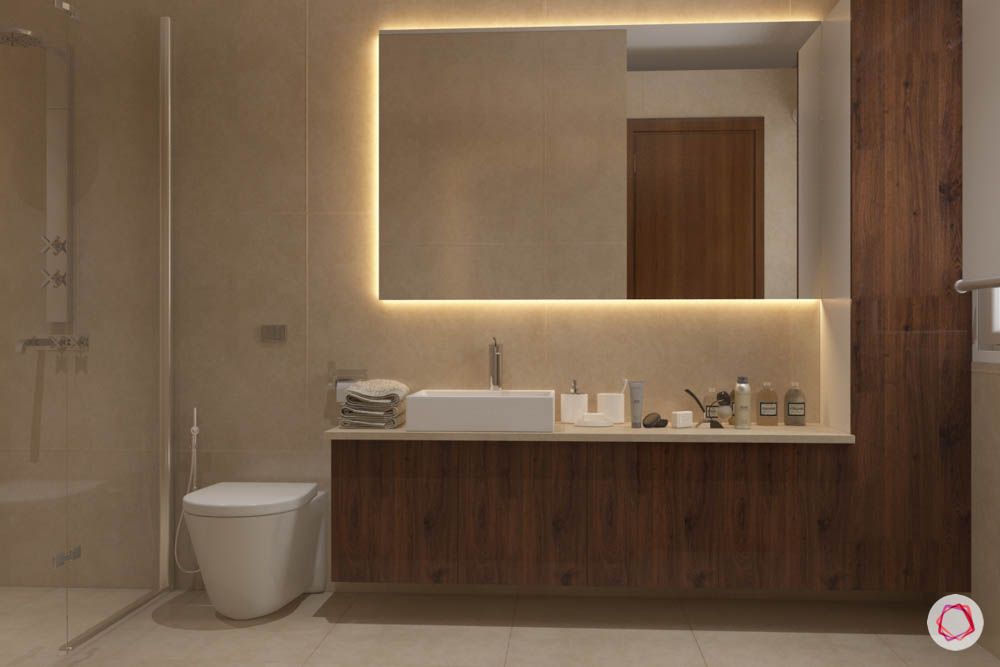 A simple overhead light can make your bathroom feel dark and dingy, especially when there aren't any windows. You can add a few ambient wall lights to brighten up dark corners, and opt for lighting around the vanity and mirrors to help with grooming. Scented candles or jars filled with fairy lights are also perfect for a relaxed vibe.
The key to making your bathroom a functional space is to have enough room to comfortably move around. Simple ergonomic factors such as the height of a rack, or protrusion of your vanity cabinet can transform the flow of the space.
While bathroom design mistakes can happen to the best of us, we hope you're able to avoid them with these simple yet effective tips. Read this for more: Bathroom Designs to Handle Every Need.
Send in your comments and suggestions.