Bathrooms should ideally be your personal chill zones, a mini spa just for you and in the privacy of your home. So even if you have a compact bathroom design by default, you don't need to put aside your dreams of having spa-like bathroom. In fact, it is not size that matters when it comes to bathrooms, but style surely does. So check out our list of small bathroom ideas from #LivspaceHomes, to style even the tiniest bathrooms perfectly.
The curated list of small bathroom ideas, reads something like this…
Small Bathroom Ideas #1: Pop of Colour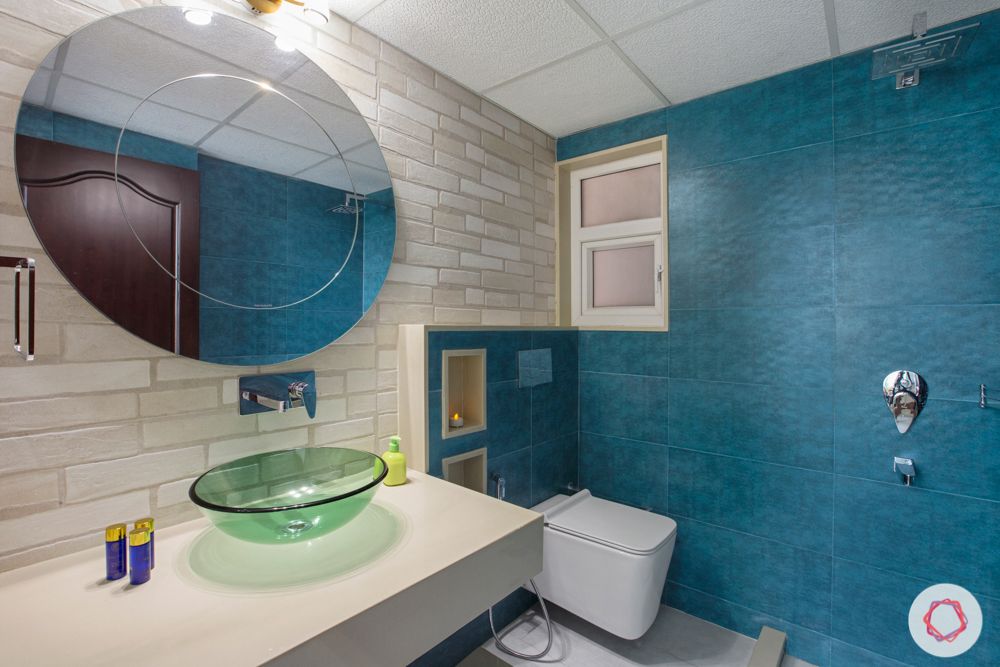 When you have a compact bathroom design to work with, dark colours are not an option. You need to use whites to open up space. However, you can pick a refreshing colour like sea blue or mint green for one of the walls as a highlight. This accent wall makes the bathroom look striking without eating up too much space!
Small Bathroom Ideas #2: Fancy Lighting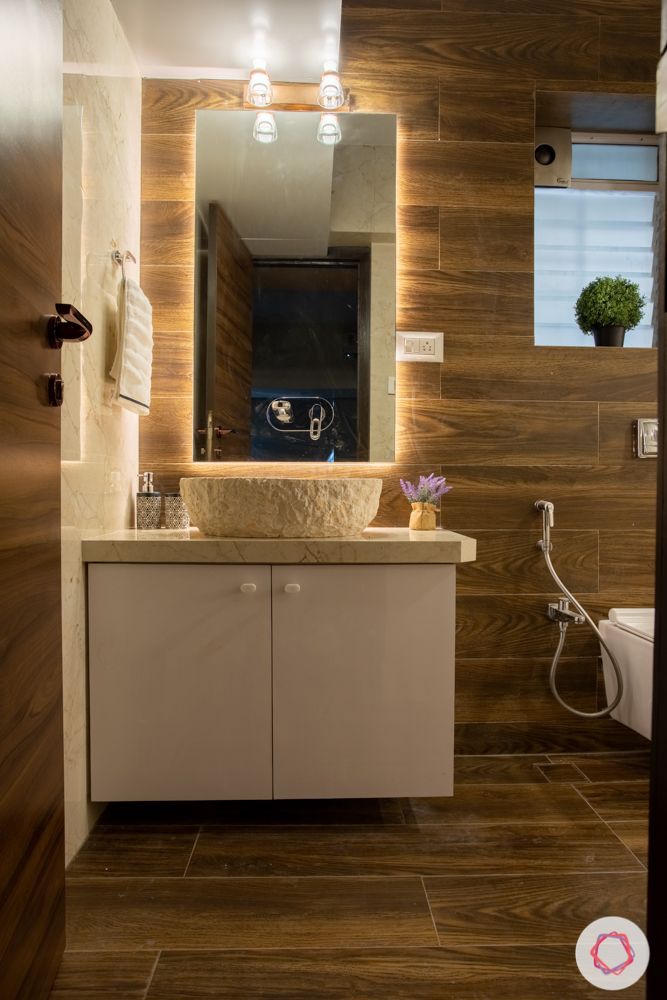 Lighting is a design element that can be both functional and decorative when it comes to bathrooms. You need task lighting in the bathroom but that should not prevent you from getting fancy with your lighting ideas. In fact, you can mix the purposes to spruce up your bathroom with a bunch of lights. Our suggestions would include: back lighting for mirror, scones, profile lights and wall-mounted lights.
Small Bathroom Ideas #3: Quirky Contrast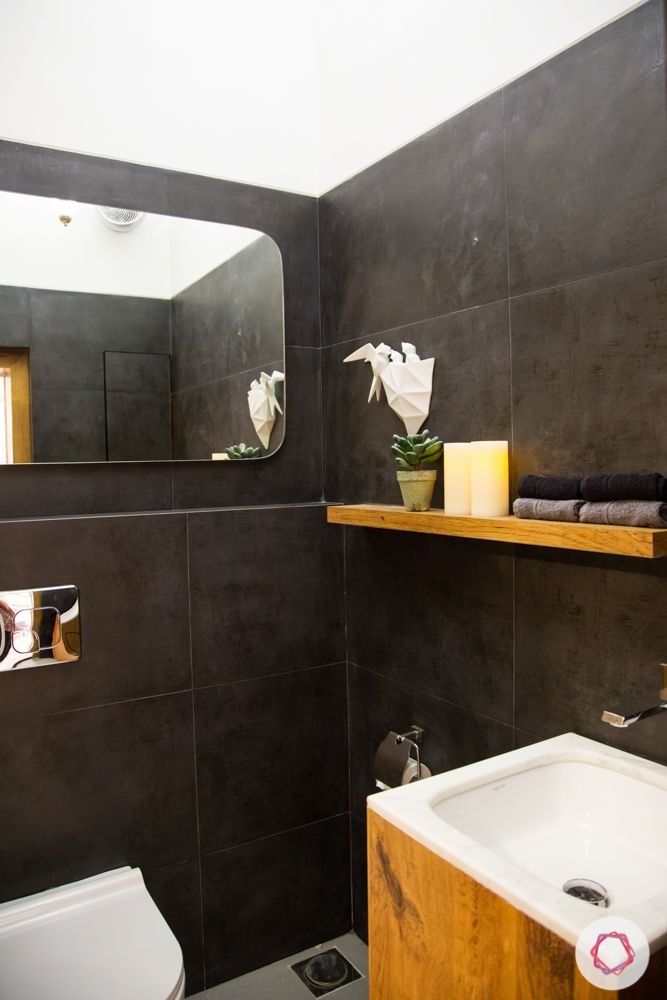 To make a compact bathroom design work stylishly, we mainly rely on visual effect. And nothing works better for visual effect than contrast. Add some quirky elements to a small bathroom to raise its style quotient. For example, you could try the basic but beautiful block wood shelves and vanity that contrast with the matte brown walls.
Small Bathroom Ideas #4: High on Storage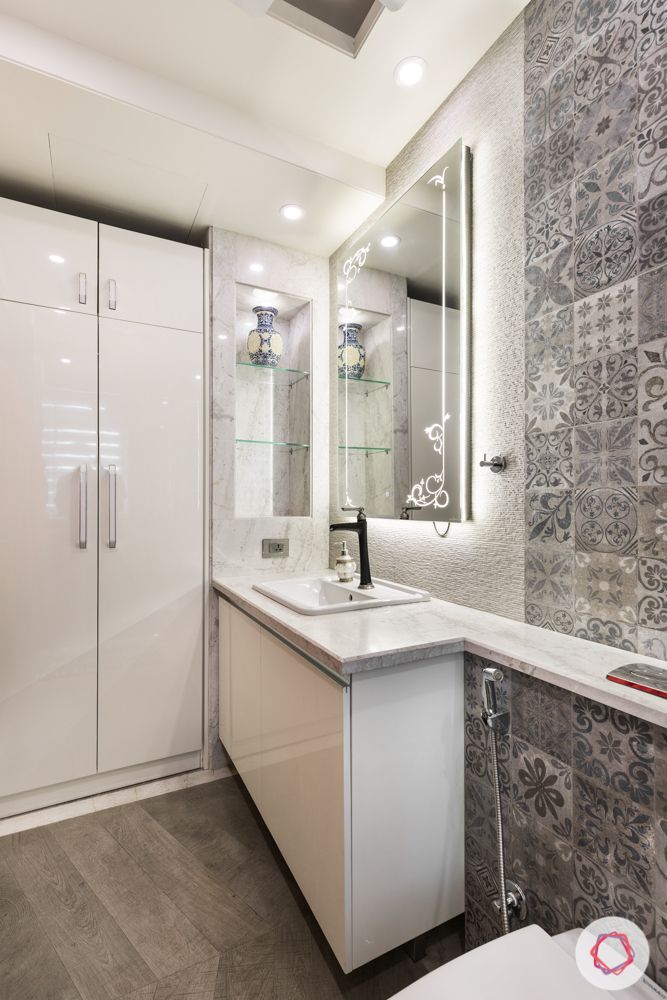 Just because your bathroom is tiny, does not mean it can't be super useful! If you can find a convenient niche in your bathroom, then you can use it to cast a wardrobe, like we have done in this #LivspaceHome. It makes the bathroom space-efficient without compromising on aesthetics, particularly if you are picking sleek high-gloss finishes for the storage units.
Small Bathroom Ideas #5: Rustic Tiling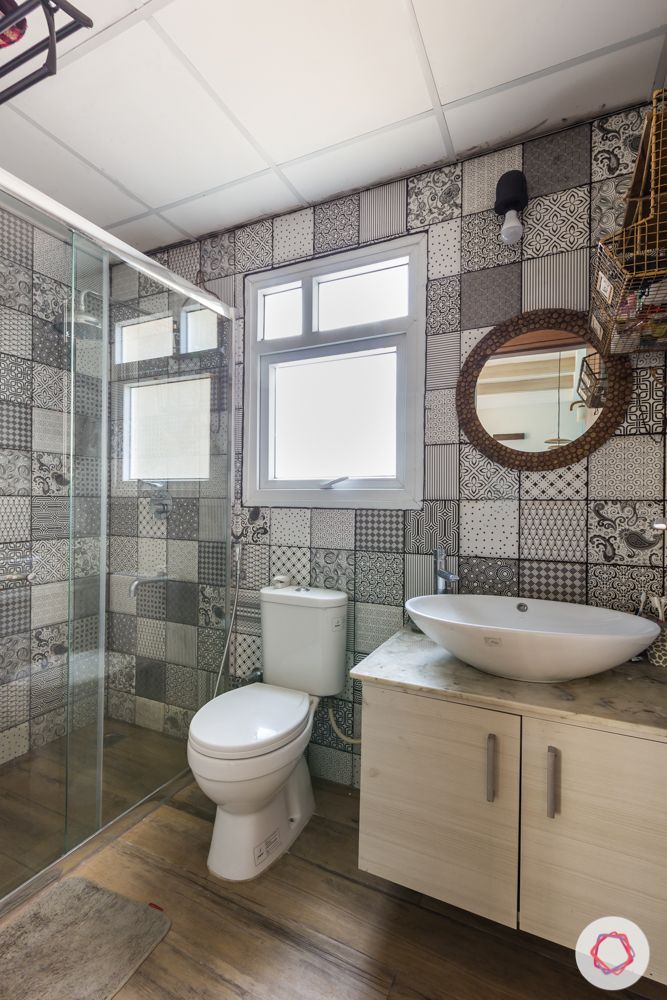 We must rely heavily on tiling when it comes to styling bathrooms. So if you pick the right tiles for a small bathroom, you have already won half the battle! The best fit for compact bathroom designs would be textured or etched tiles in light base colours like white or beige. These tiles add texture and character to the bathroom without making it look cluttered. They also add a touch of rustic artsy vibe to the space.
If you enjoyed reaching about these bathroom designs that are small in terms of space but big in style, also explore How to Turn the Smallest Bathroom into a Spa?
Send in your comments and suggestions.