Small bathrooms pose a common complexity – how to turn this compact space into one that allows you to relax awhile? Gone are the days when compact bathrooms could only have white walls. So, whether you like bright colours or muted ones, a serene space or an upbeat one, we've got you covered! Check out our favourite small bathroom designs in India for inspiration.
Small Bathroom Ideas #1 Marbled Patterns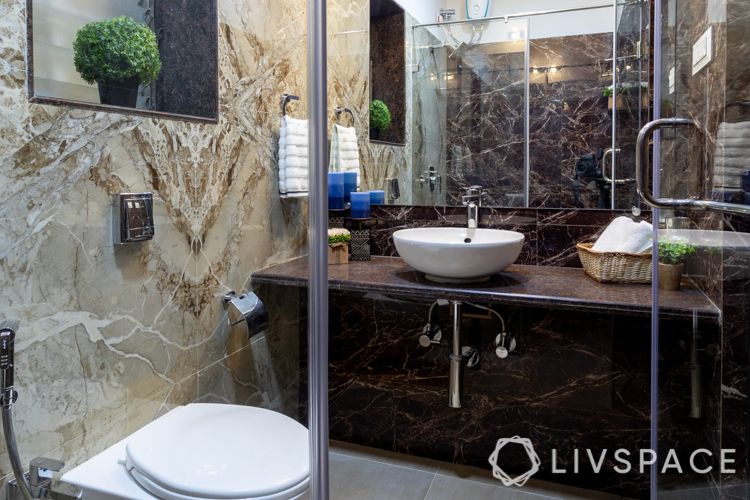 If your compact bathroom boasts of a large countertop area as well as a wall-to-wall mirror, bring in the right materials to make the difference. Check out the deep wine-coloured granite counter, which stands in stark contrast to the white basin. Italian marble-like tiles on the floor complete such small bathroom designs India.
Small Bathroom Ideas #2 Lighting Makes All the Difference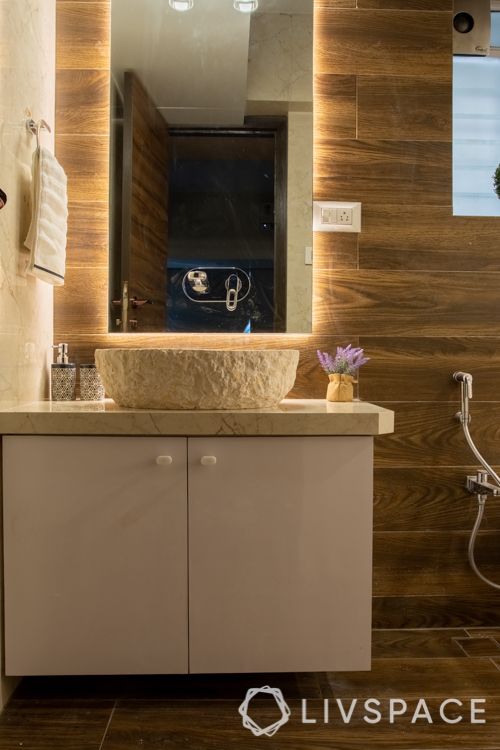 If this bathroom reminds you of a spa, you aren't wrong! And we can tell you how to replicate the same as well. Here, we have wooden flooring and wall tiles that mimic Italian marble. A Cecilia marble sink fits perfectly into the plush settings. And profile lighting around the mirror only adds to the charm of such small bathroom designs India!
Small Bathroom Ideas #3 Peacock-hued Beauty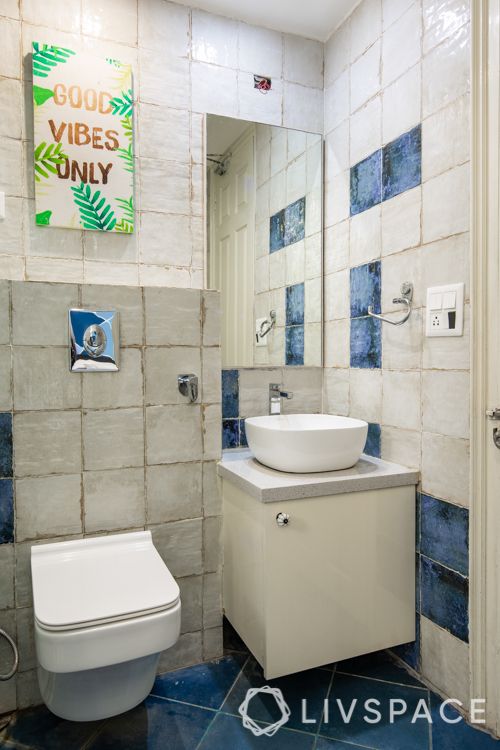 Why stick to white bathroom interiors all the time? Check out this bedroom with peacock-hued floor tiles. You can find a few on the walls as well, brightening up the small space! A frameless mirror over a white laminate vanity unit covers the essentials as well!
Small Bathroom Ideas #4 Beauty in Minimalism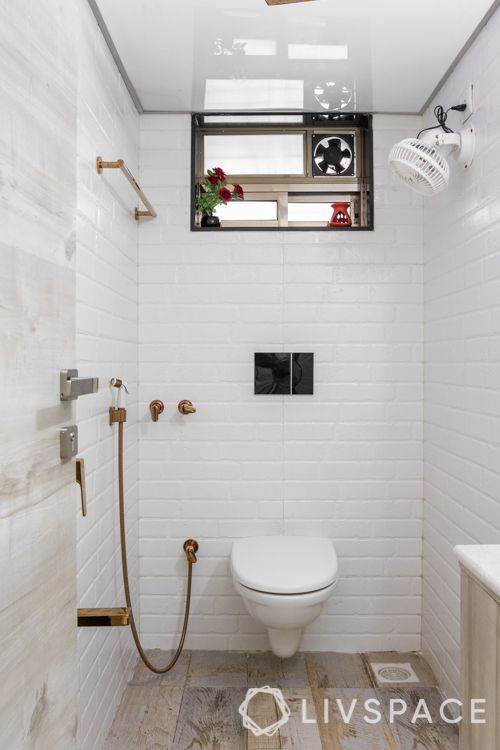 Minimalist bathrooms are always in! Peek into this rustic bathroom with an exposed brick wall and glass shelves. While white opens up the compact space, the shelves allow for storage without making it look cramped. Rustic yet beautiful, isn't it?

Small Bathroom Ideas #5 Dainty Details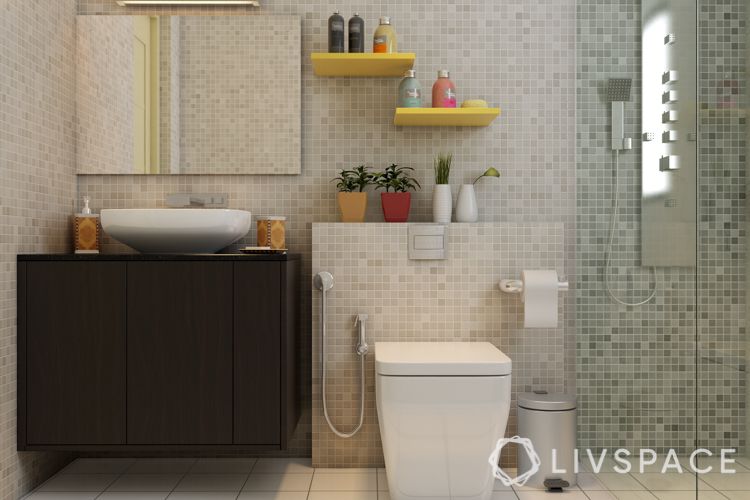 Dainty details can make an instant impact on any bathroom! This one comes with mosaic tiles and floating shelves in a peppy yellow. A handle-free cabinet adds to the seamless appeal of such small bathroom ideas.
Small Bathroom Ideas #6 Textured Tiles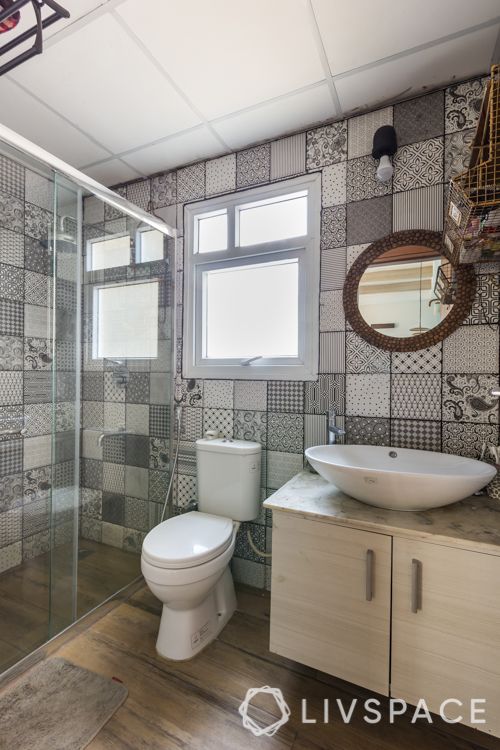 You can never go wrong with tiles while looking for small bathroom ideas! If you don't believe us, look at this rustic bathroom setting created with the use of the right tiles. To add another dimension, pick out textured or etched tiles that will uplift the compact space.
Small Bathroom Ideas #7 A Dash of Sunshine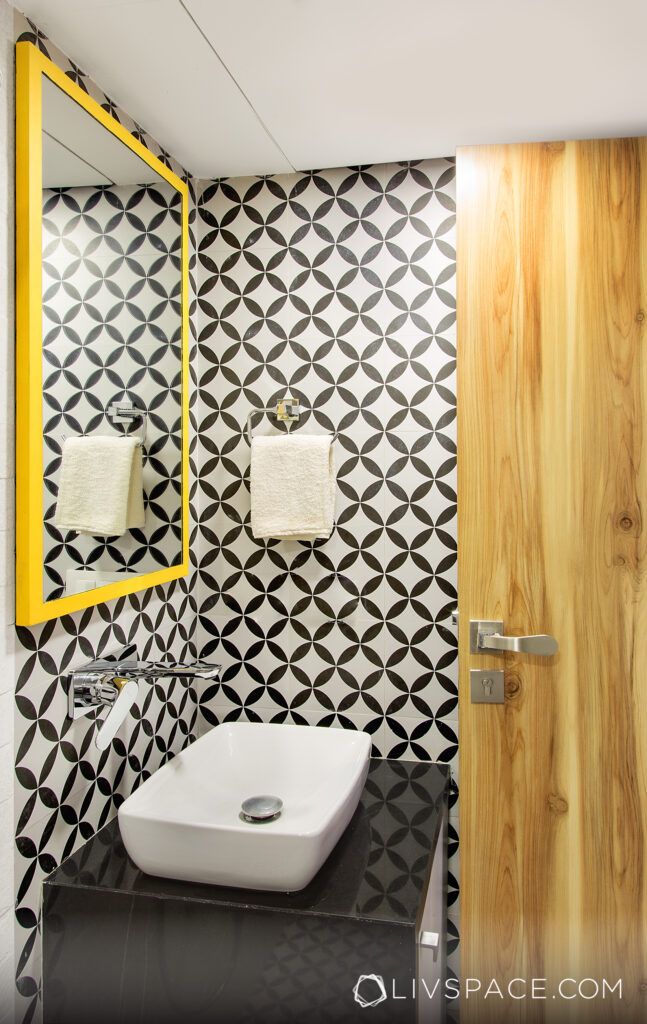 Check out this cosy little bathroom with an intriguing black and white pattern. Such small bathroom designs are created to have an immediate impact. So, the tiles in this bathroom have been carefully installed without grout lines. As a complete contrast to the colour scheme, a peppy yellow mirror frame adds a dash of sunshine to this space.
Want to be vastu-appropriate with small bathroom designs India? Check out How to Design a Vastu-approved Bathroom!
Send in your comments & suggestions.