You want to know what is the real bane of urban living? The shrinking 'space' around us! As we move into isolated nuclear living models and our homes get smaller in size, functional spaces like bathrooms become compact. Indian bathroom designs were not traditionally compact, but good design is always about adapting your space to your lifestyle. Hence, our bathroom design ideas must now shine, not shrink!
Let's cover the essentials of any bathroom – there should be a WC unit, shower space, basin and vanity unit in your bathroom, no matter the size. Also, you need to ensure that wet and dry areas are segregated for safety and ease of maintenance.
Here are some of our best Indian bathroom designs to help you open up small bathrooms and make it look brighter and bigger. You could try these with or without renovations. So while you are discovering bathroom design ideas, also explore the reasons why your bathroom may need renovation.
#1: Use vertical space for storage
Usually, when we are trying to fit in storage or furniture into a small bathroom, we look around us to find the right spot or space for it and more often than not wind up cramping the space. When space is scarce and you need to fit in essentials, try using vertical space. Ladder units are the new normal for small bathroom designs. You can use these to store toiletries, keep fresh bath linen or just hang your wet towel.
Here are other amazing ways in which you can use vertical space. 
#2: Mirror with storage serves two purposes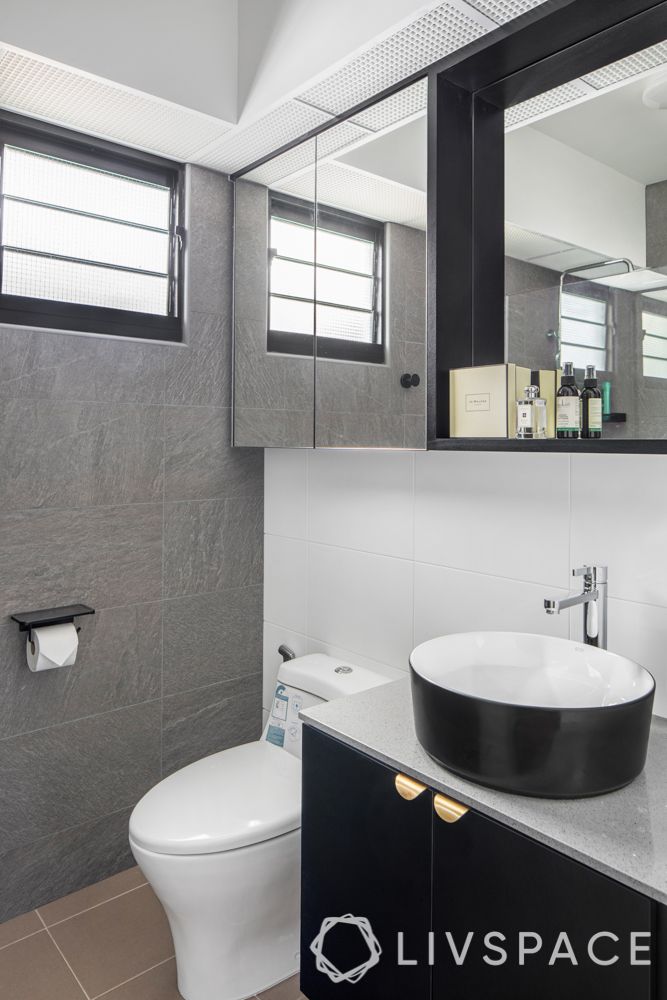 We all know that mirrors reflect light and make any space look larger than it is. And when you choose to hide storage behind mirror panels (shutters for vanity units) you will actually be killing two birds with one stone. Small bathroom decoration becomes much easier when you choose mirrored or reflective finishes for vanity units.
Like the idea? Also check out more ingenious ways to add storage to your bathroom. 

#3:  Make the most of natural light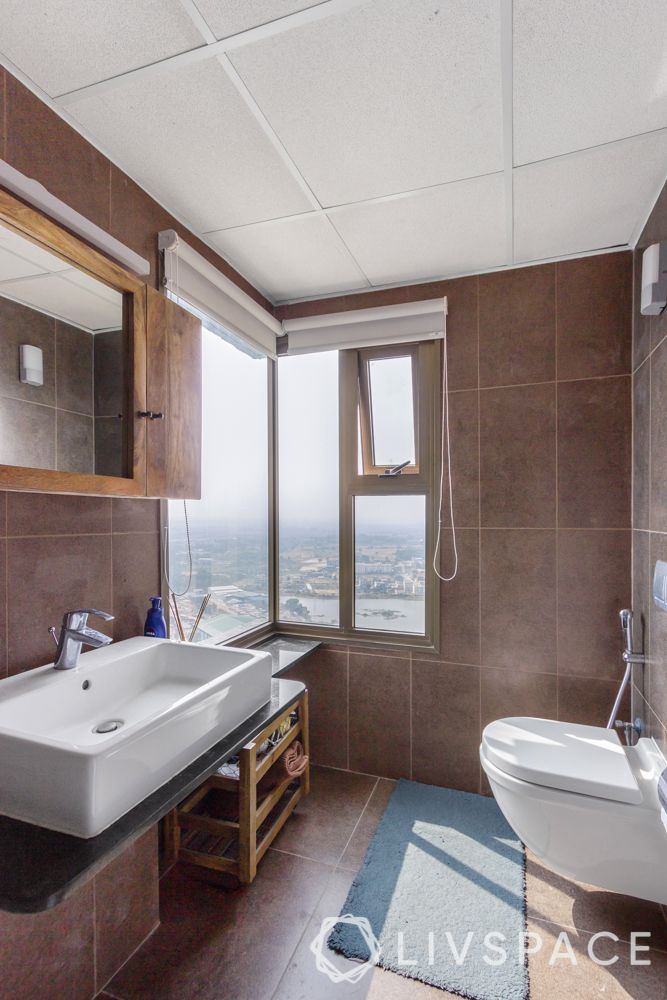 Small bathrooms often lack a natural source of light, and even if there is one, it isn't enough for that space. When designing the bathroom, make sure large windows are a part of your plan. This will let in plenty of sunshine to light up the small bathroom so it feels visually vast. Opt for one-way or frosted glass or blinds to ensure privacy.
Lighting plays a crucial role in shaping up Indian bathroom designs. So you should check out some more lighting ideas too!
#4: Go soft around the cabinet edges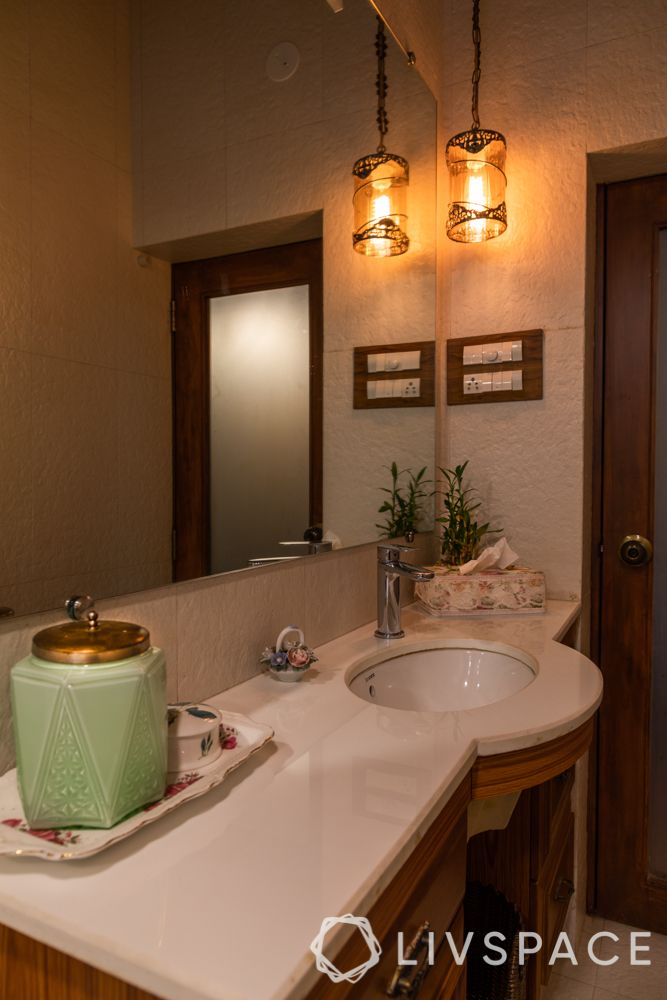 The key to making the best of the space you have is to use all of it. So why waste the corners when you are dealing with a compact bathroom. If you opt for rounded vanity units, you can use up the corner spaces in bathrooms. In fact, rounded edges of vanity units also ensure that you don't hurt yourself while moving around.
If you are intrigued by one of these bathroom design ideas, you could redo your vanity in less than ₹5,000!
#5: Use bigger tiles for a seamless effect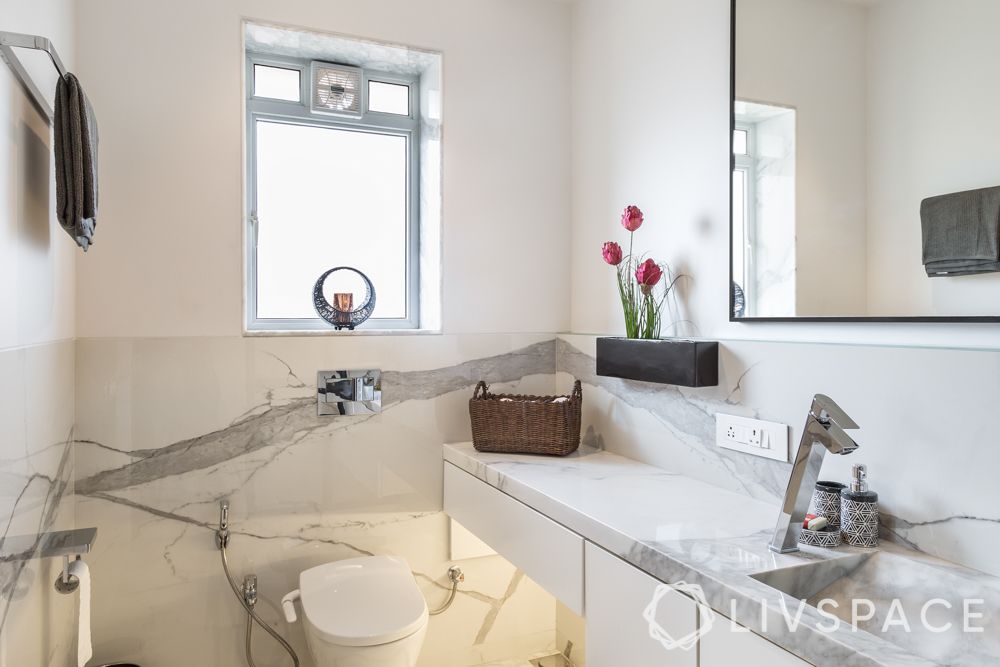 Big tiles in neutral shades impart an elegant vibe to a small bathroom and also make the area look bigger than it actually is. Here, the tiles continue from the walls to the counter for a continued effect. However, if you want to make a bold and attractive statement, pick tiles with patterns and stripes that cast an expansive effect.
Implementing these Indian bathroom designs may not be as easy as it seems. So make sure you avoid the 8 basic bathroom design blunders while you try!
Send in your comments & suggestions.