Can you tell the difference between curtains and drapes? Can you, in fact, distinguish it from shades and blinds. We almost always use these terms interchangeably, but there are some key differences. So, let's set the record straight.
What is the difference between curtains, drapes, shades and blinds?
Curtains are fabric panels of varying heights, width and styles that are used to cover up windows. They can be hung on rods, keeping it simple, or decorative or hidden, depending upon preferences.
Drapes on the other hand, come with fabric lining to make the curtain heavier and to block out all natural light. They mostly come in solid colours and cover the area from the top of the window to the floor.
Shades are made of fabric and can be lifted with a cord, roller or lifting mechanism.These are mostly designed to fit the window perfectly.
Blinds are generally made of other materials like PVC, vinyl, aluminium, wood or bamboo and can be lifted or rolled upwards or sideways.
Here are some of our favourite looks and window treatments for your inspiration:
#1: V-shaped Blind for Headboard Wall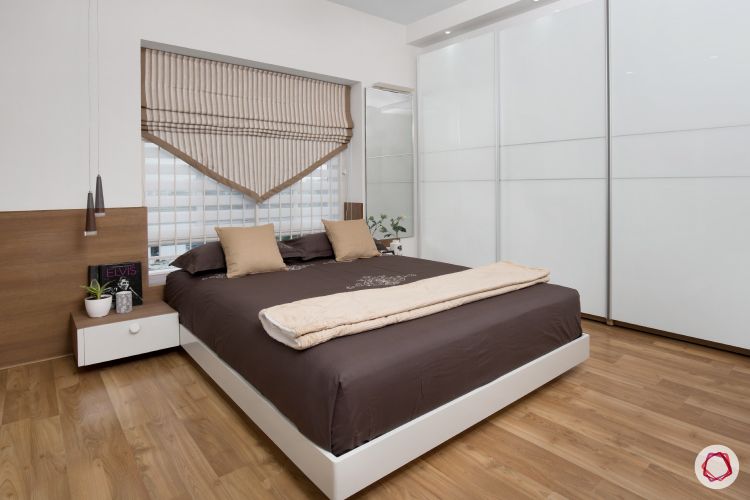 This V-shaped Roman blind is an eye-catchy and innovative way to bring in some character to the room. Matched with the colour palette of the bedroom, these window blinds blend in harmoniously to the setting.
#2: Pick Curtains and Blinds for Homes in Contrast Colours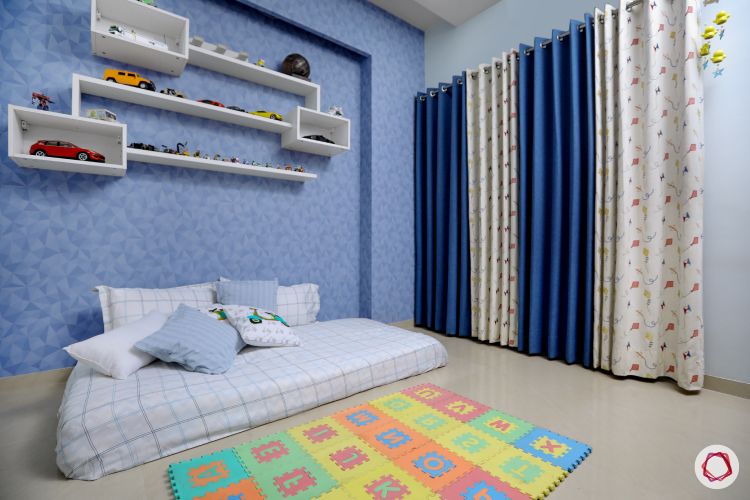 Why pick one colour when you can have two? Using two different colours for the drapes and its alternative placement balances the effect and draws immediate attention. Try these designer blinds for windows at your home and see the difference.
#3: Zazz it up With Printed Types of Curtains and Blinds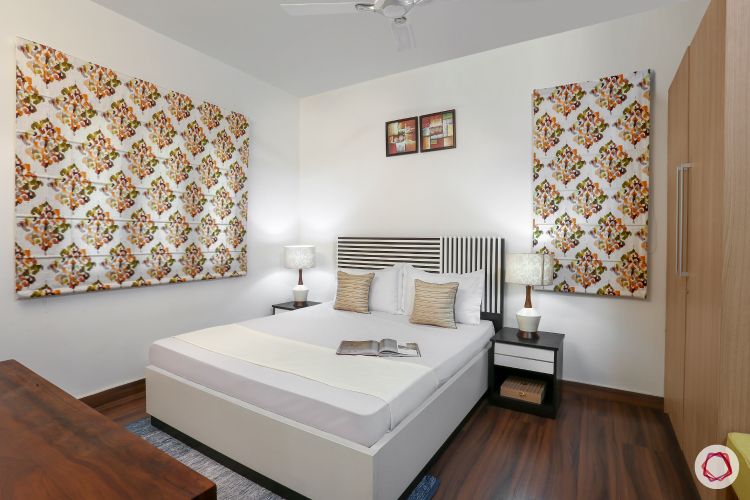 The minimalist theme of the bedroom gets a style boost with printed blinds. The orange and green motifs add colour and pattern to an otherwise simple theme.
#4: Pick Ornamental Motif for the Lone Blinds
This is definitely a game changer for your room! This blinds curtain amps up the neutral scheme of the room with its vibrant teal shade. The pretty motif also gives it a graceful charm.
#5: Mix it Up with the Curtains and Blinds for Homes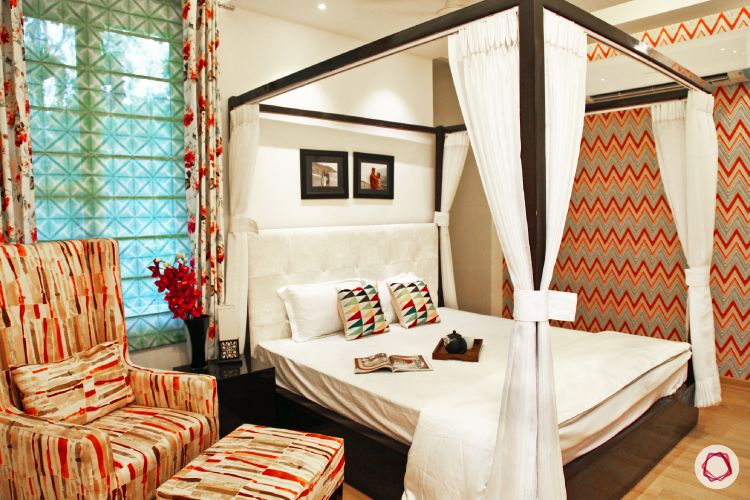 The curtains and blinds combo can work wonders in giving the perfect contrast to this eclectic room. Playing with oranges and reds, aqua blue blinds with self print add a beautiful visual balance.
#6: Pair Floral Blinds with Neutral Curtains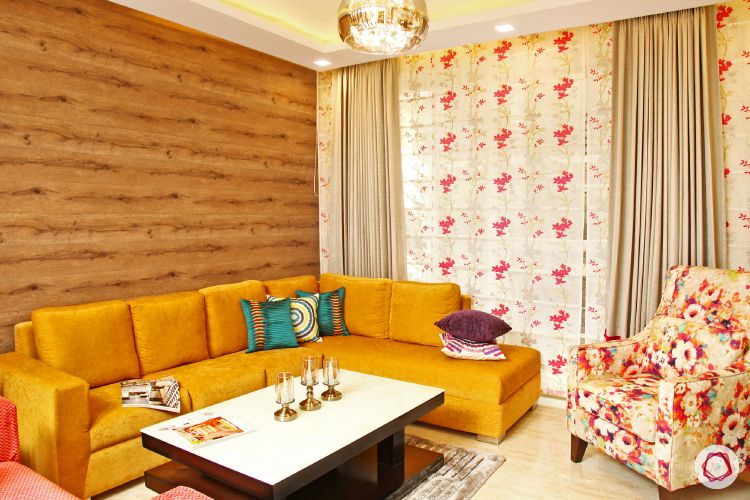 Yet another stunning example why curtains and blinds go hand-in-hand. A floral blind matched with dark vanilla drapes blends into the design and is visually soothing in a room that's done up in bright furnishings.
#7: Install Sheer Curtains With Drapes in the Bedroom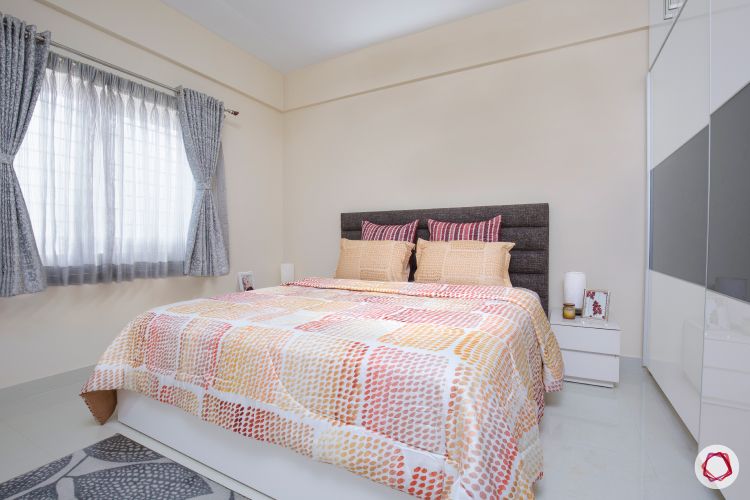 Sheer curtains for homes paired with drapes is definitely in trend now! However, this room has a cosy feel thanks to the window-sized furnishings. Using tiebacks and tassels to keep them in place works wonders to giving your home the natural light it needs, while keeping your privacy intact.
#8: For the Kid's Room, Get Animal Motif Curtains and Blinds for Homes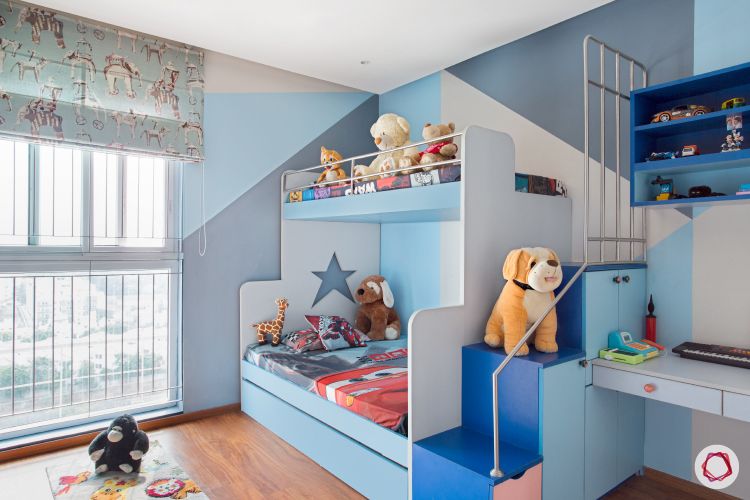 This is definitely one of the best options for your kids' room. Printed with animal motifs, these blinds give your tiny tot just the amount of view it needs. Due to its vertical opening, the blind can be out of reach from the children as well. So no damage can be done!
#9: Pick Half and Half Curtains for a Layered Look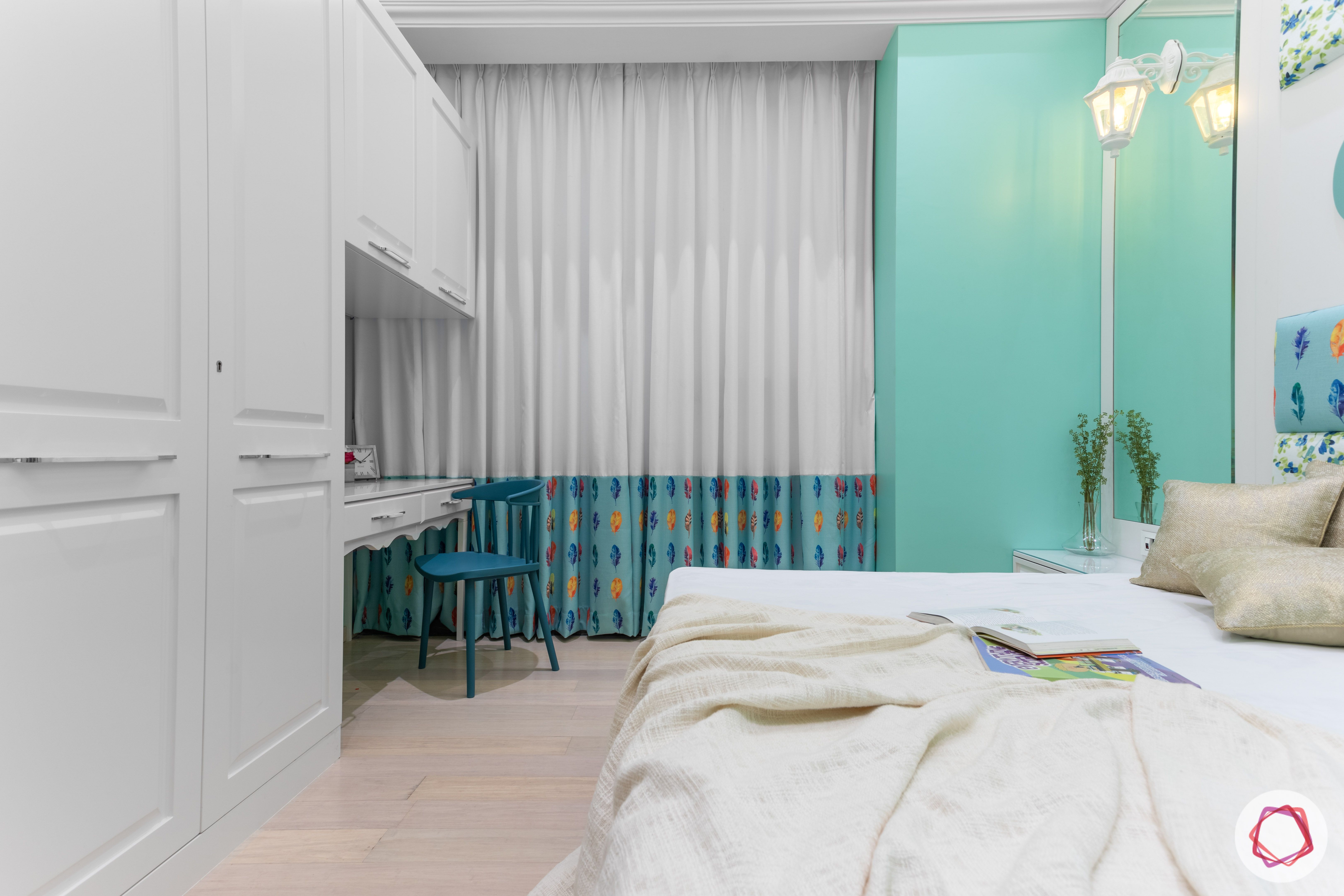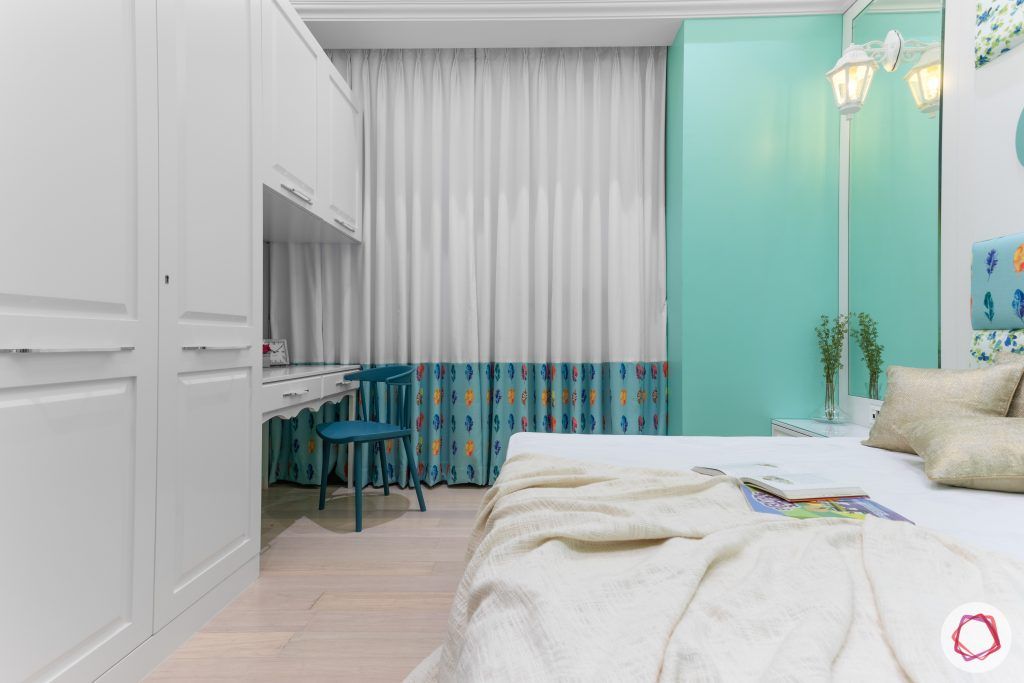 When you're just not sure what colour would suit your room, check this curtain design! It all depends on the view point as white pervades more than half whereas the pattern is only visible towards the end. So either way this gives a soothing effect. It's simple in drape but beautiful in print.
Check out bedroom interior design ideas:
#10: You Need Neutral Strip Blinds for a Sunny Room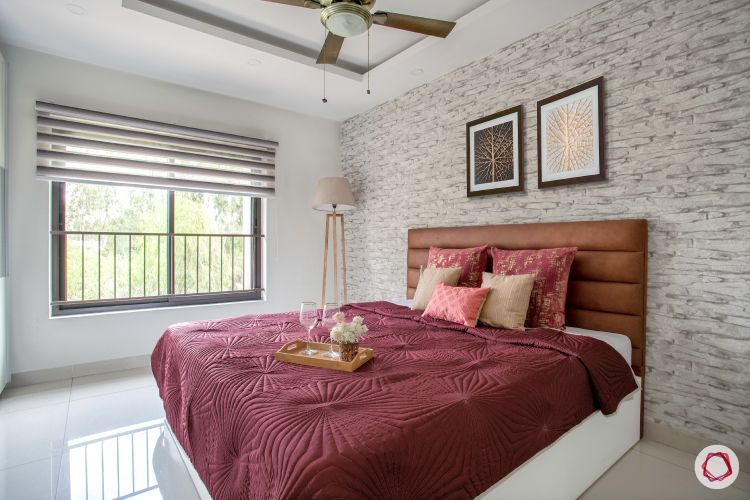 If you do not like florals or colours, then treat your windows to strip blinds like these in alternating shades. When you are in the mood to enjoy the beautiful view outside, we suggest you keep these open and still enjoy the privacy it affords you!
#11: Want Diffused Lights, Pick Sheer and Opaque Drapes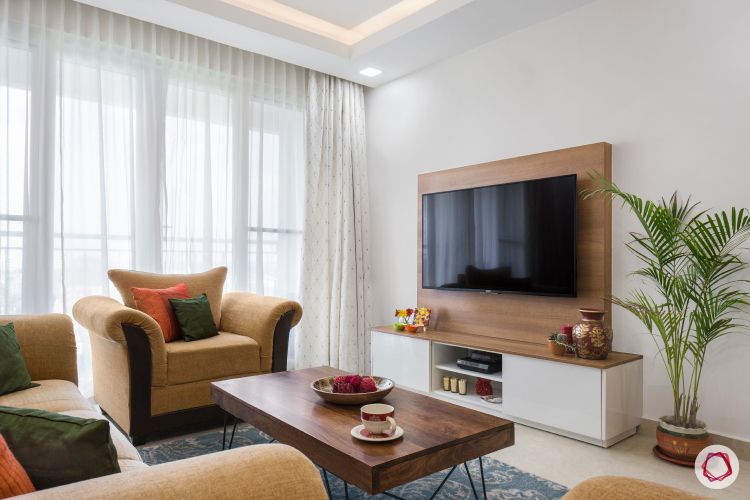 Sheers never go out of fashion and go very well with almost all interior design styles. If your home enjoys a lot of natural light then do not block it out completely. With opaque living room blinds, go sheer and usher in the sunlight!
#12: For a Tall Rooms Pick Floor to Ceiling Drapes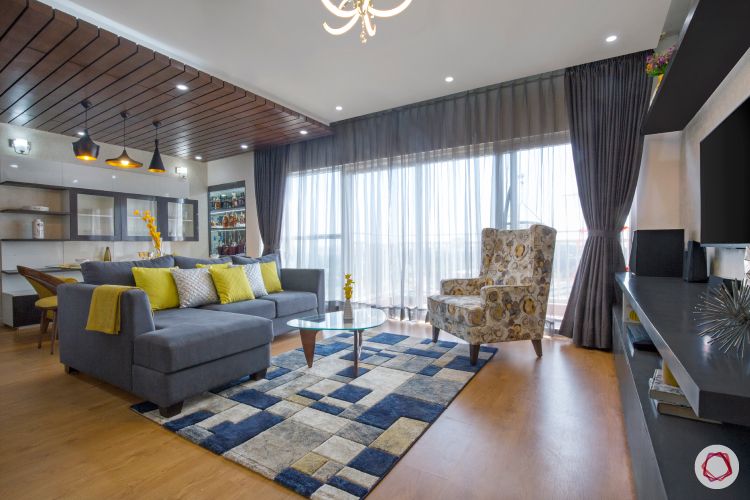 Impart some visual height to your home, by opting for floor to ceiling drapes that complement your interiors. Make sure you combine sheer and opaque options and choose colours that are not too overpowering. This will further enlarge the space.
#13: In the Kitchen, Install Wooden Rolling Blinds for Functionality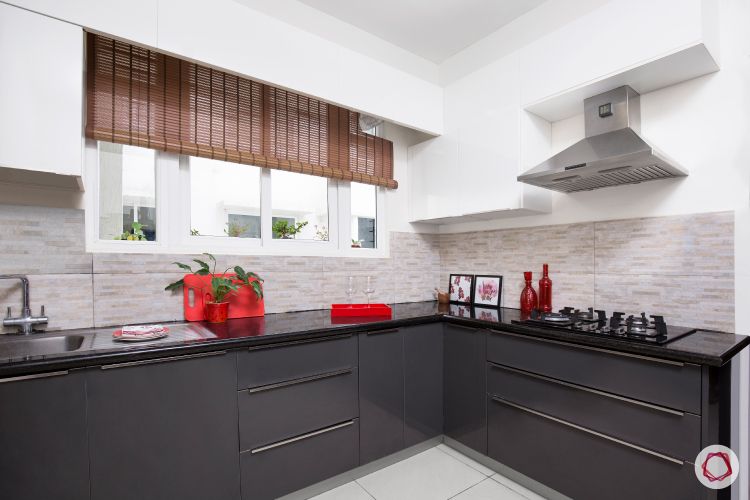 Wooden rolling blinds are perfect for the kitchen or the balcony. If you want your basic kitchen window to look stylish instantly, then we suggest you add some wooden blinds to it. This gives a subtle rustic touch to your interiors.
#14: For a Dainty Look, Choose Floral Curtains and Blinds for Homes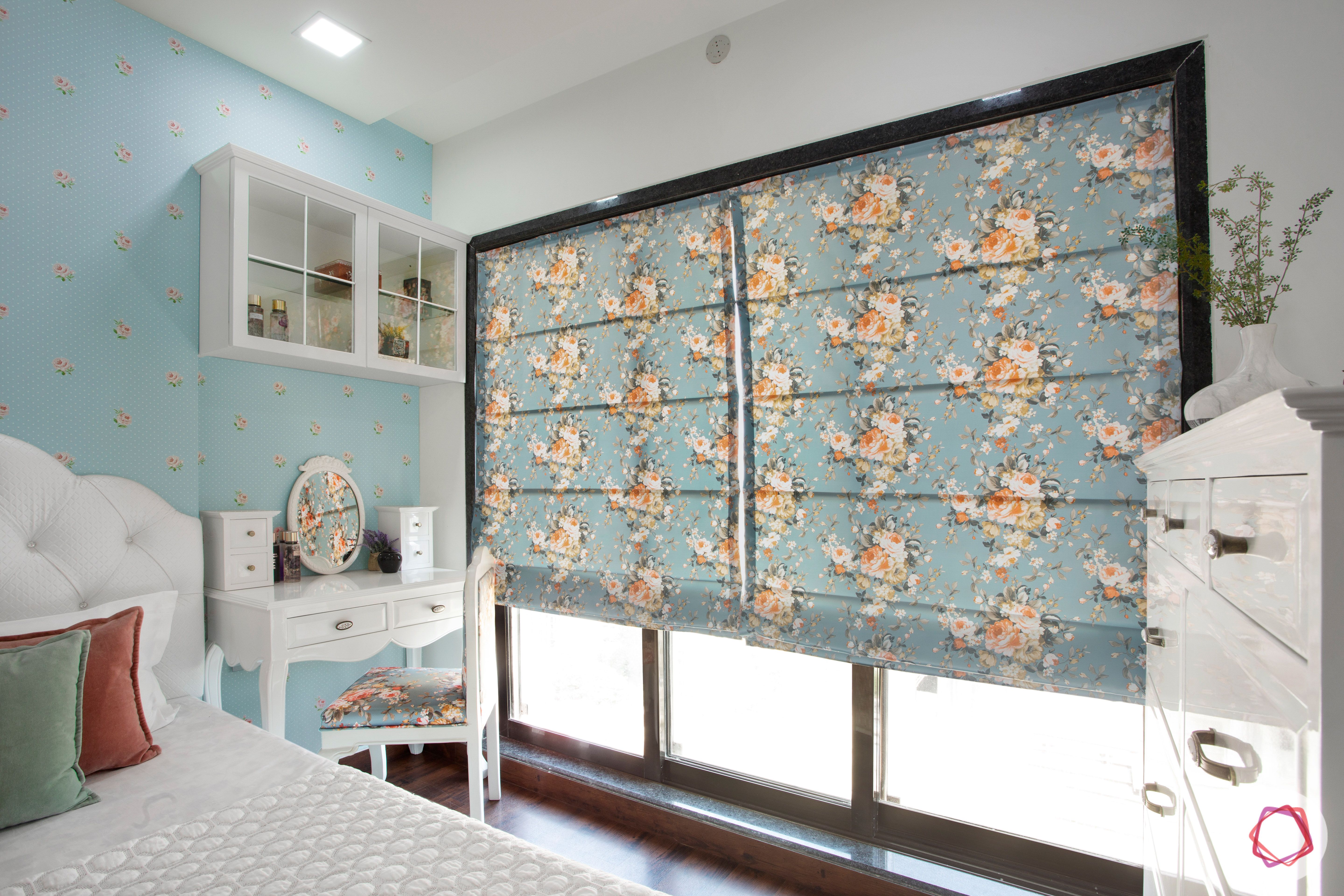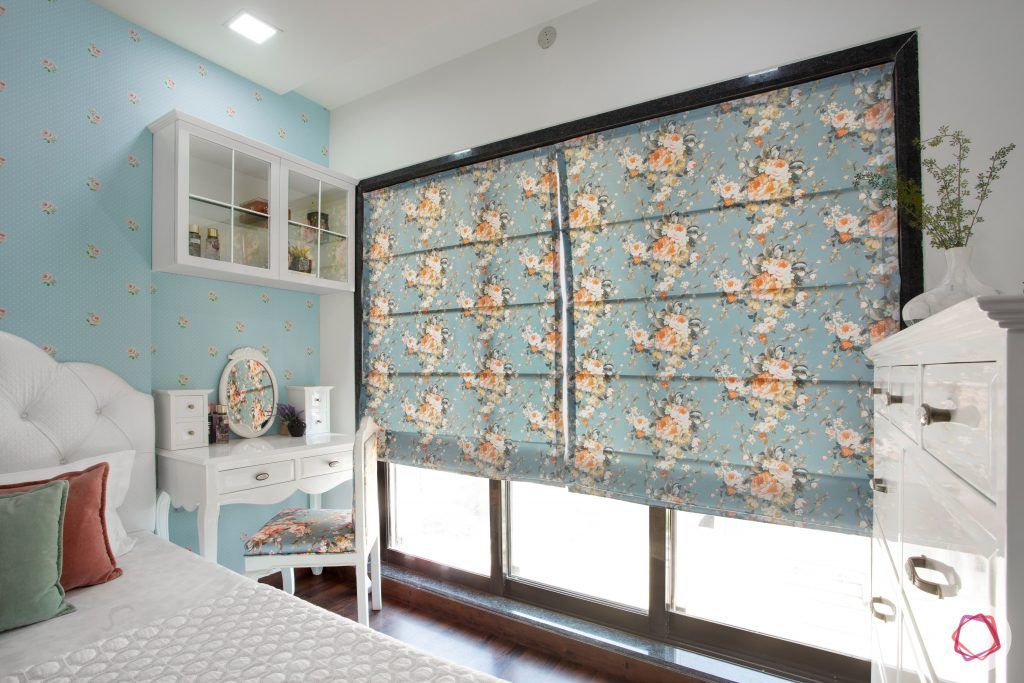 Alternatively, if your interiors have a lot of wood and warmth, then opt for pretty floral blinds with some colour, much like the one here! These blinds make the room look much more cheerful.
#15: Go for Horizontal Drapes to Get a Dated Look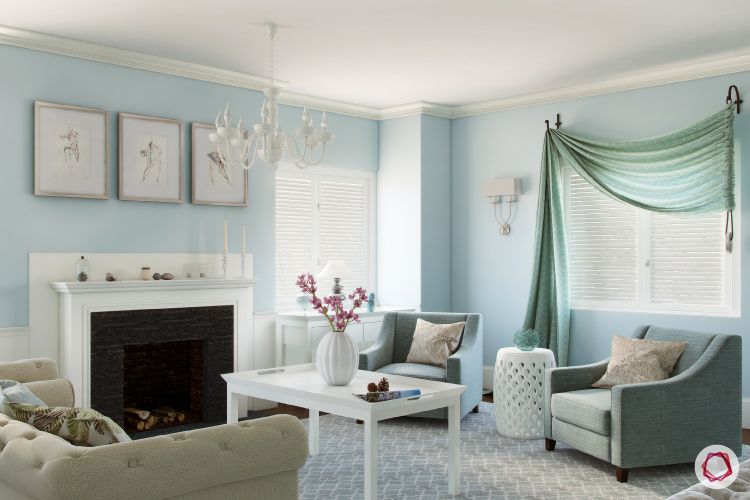 Window treatments need not be boring, nor do you have to settle for regular drapes. Take the drape game to another level, by going horizontal with the fabric and adding a hook to create an amazing silhouette.
#16: Try Thin Strip Curtains and Blinds for a Minimal Room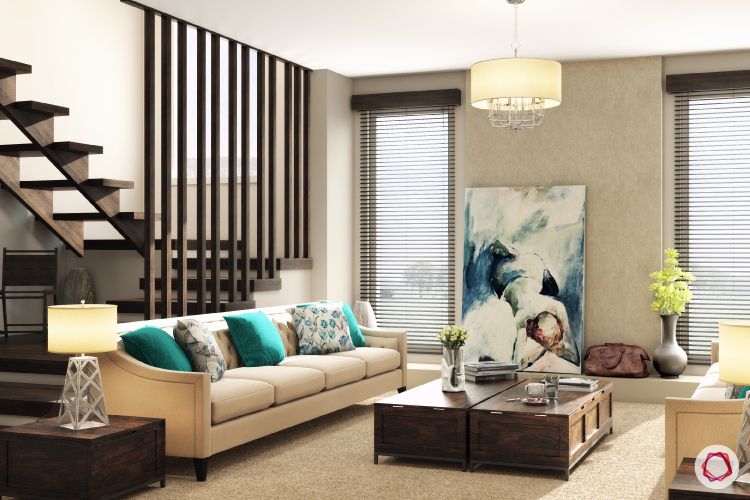 Another version of the strip blinds, this window blinds design is perfect for smaller windows, where the normal options just don't fit or would crowd the room. Blinds and shades are way more structured and look clean. No more fuss!
#17: Choose Cotton Curtains and Blinds for Homes to Keep it Simple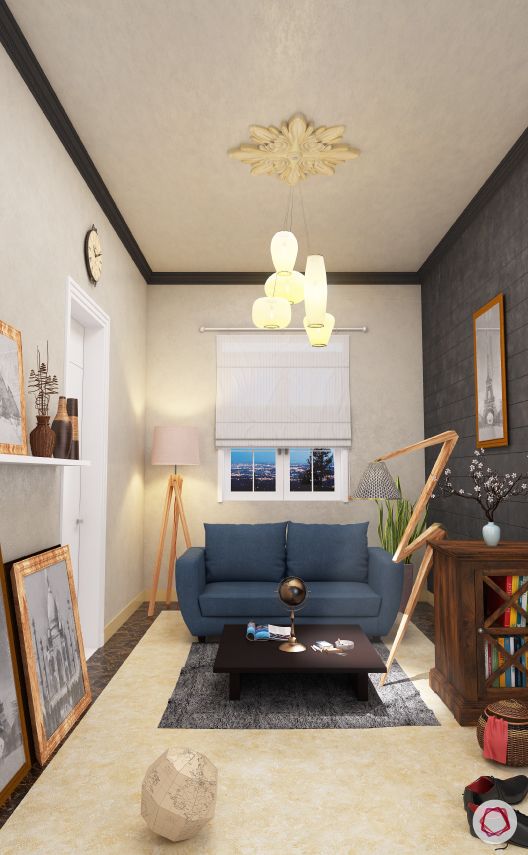 Pristine white cotton blinds might sound like a lot of effort and maintenance, but if you are ready to deal with that, these can simply transform spaces, especially compact ones. Elegant and simple, white rolling blinds look stylish.
#18: Install Jute Blings for an Eco-friendly Home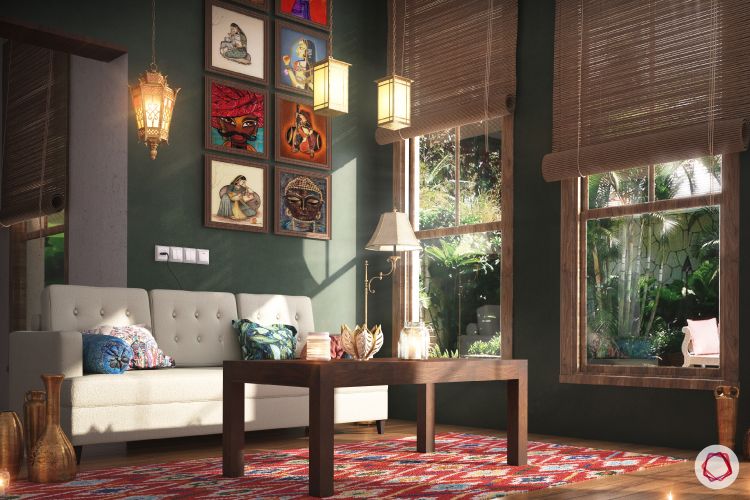 If you have an earthy and ethnic theme in your home, you can also opt for jute blinds! Effortlessly rustic and a great add-on to Indian-style interiors, these roller blinds will make your home feel warm and welcoming.
#19: Go for Double-Sided Curtains and Blinds to Keep Things Pretty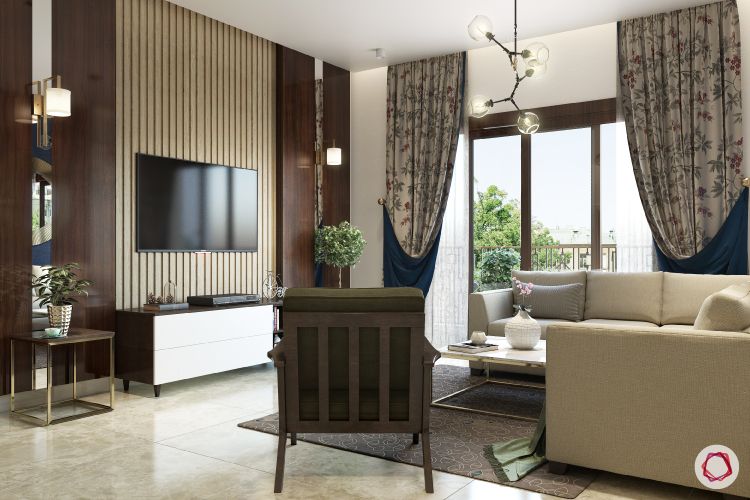 We've all heard of double-sided clothing and accessories, but double-sided drapes? Take a look at this beauty with one floral printed side and a dark blue contrasting side. Pull up the edges to be hooked on the wall, and voila! Bet you never thought of this one!
#20: Choose Dark Translucent Drapes for a Glam Look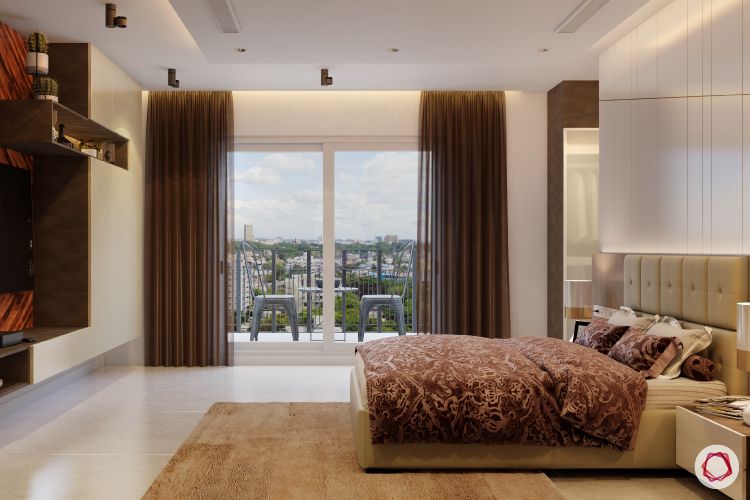 Don't want too many layers and prefer a game of peek-a-boo? Then these translucent designer blinds for windows are your best bet. Get them in a darker shade, but a lighter fabric. Easy to maintain and pretty to look at!
#21: Try Folding Types of Curtains and Blinds for a Dining Room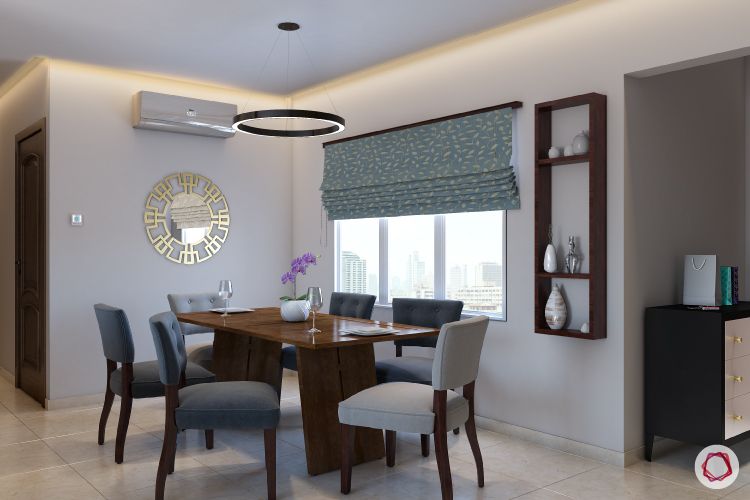 These folding blinds are perfect for smaller windows and spaces like this. You can choose the fabric to complement the colour of the other furnishings.
#22: Pick Plain Curtains and Blinds for a Patterned Wall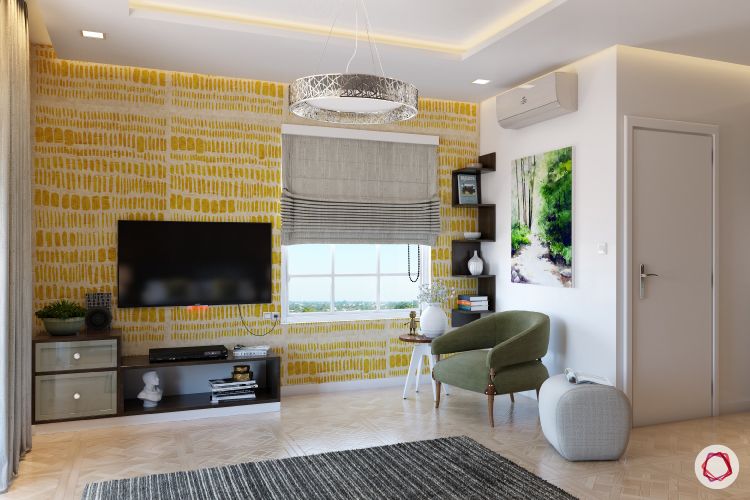 Your blinds don't always have to stand out. If your interiors are bright and lively, you can get sober tones for the windows to balance the effect, like these opaque grey blinds.
#23: Go for Layer Drapes to Get a Victorian Look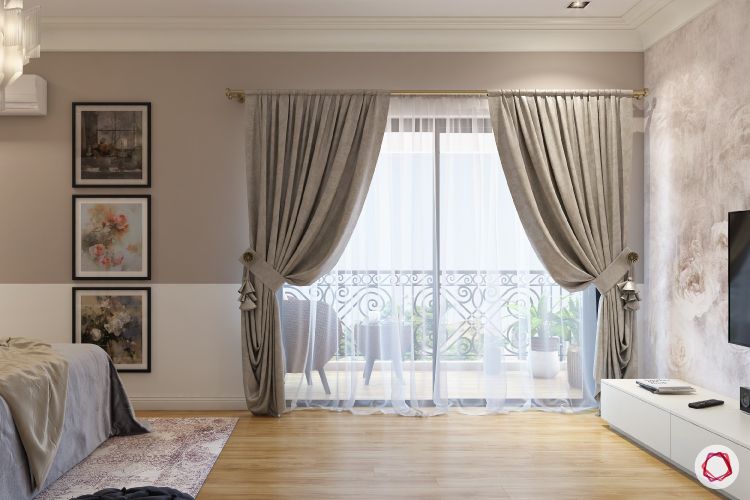 As far as drapes go, this one's another favourite. It adds drama in drape while keeping it contemporary in colour. Sheer whites have been added to the arrangement for added elegance.
#24: Try Types of Curtains and Blinds With Dark Tassels to Stand Out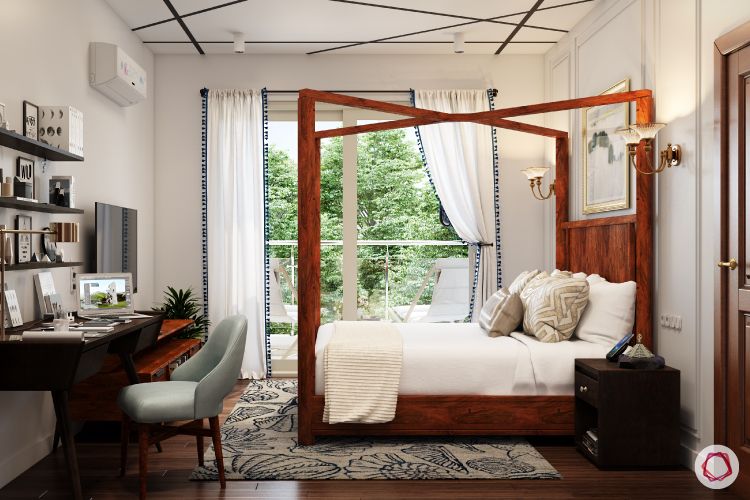 This design is easy to drape, inexpensive and pretty! You just need to attach a string of pom-poms to the sides of the fabric to instantly perk up your windows.
#25: Pick Sheer White Curtains and Blinds for a Classic Look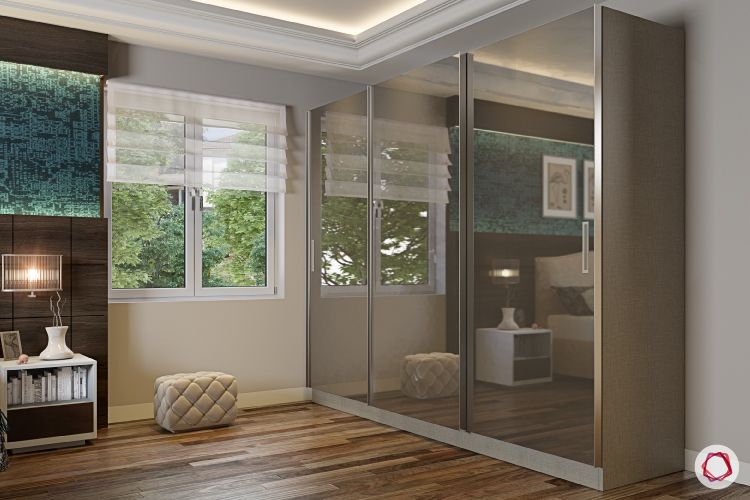 Sheers are clearly in vogue and white does have our vote! Give this look a try for an open and clear look.
#26: Choose Neutral Sheer Curtains and Blinds for Homes that Don't Get Too Much Light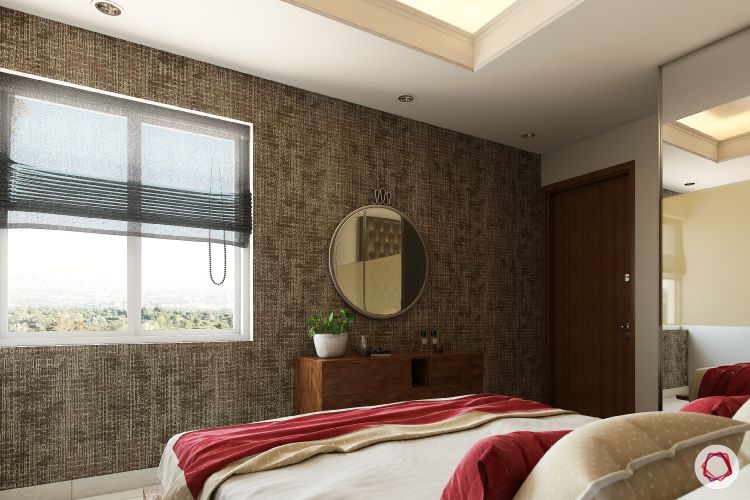 Blinds in sheer material are another game-changer. You can move on from an office setting to something more casual and elegant for home.
How can Livspace Help You?
We hope you found our ideas useful! If you want your home to be just as beautiful, then look no further. Book an online consultation with Livspace today. Delivering safe home interiors has been our No. 1 priority. Click here to find out how interiors are being delivered following all safety protocols.
Can't get enough of this? Here's more Popular Types of Wood and Where to Use to keep you inspired.
Write to us with your comments and suggestions at editor@livspace.com