This Salarpuria Sattva Aspire home does all the basics right!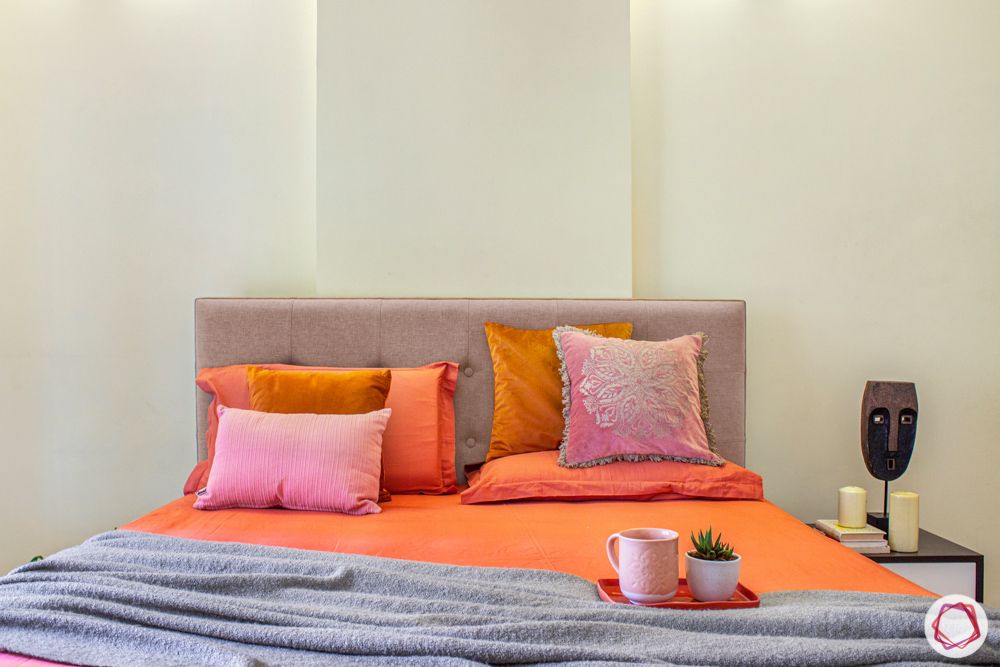 ---
Who livs here: Alan, his wife and their son
Location: Salarpuria Sattva Aspire, Bengaluru
Size of home: 1,300 sq ft spanning 3BHK
Design team: Interior designer Nimisha Vijay
Livspace service: Full home design
---
Comfort? Check. Style? Check! This Bengaluru home ticks all the right boxes, especially if you are a fan of beautifully basic homes. While Alan and his family wanted modern and fuss-free interiors for their Salarpuria Sattva Aspire flat, they also wanted a home that they would be excited to get back to at the end of their hectic day. One that had lots of breathing space, soothing grey hues and no extra furniture. As luck would have it, our designer Nimisha Vijay loves working with minimal designs!
In addition to keeping things minimal, we love how the interiors in the common areas bask under gorgeous cove lighting. Nimisha ensured everything was low on maintenance too so they could enjoy a hassle-free home. Let's take a look!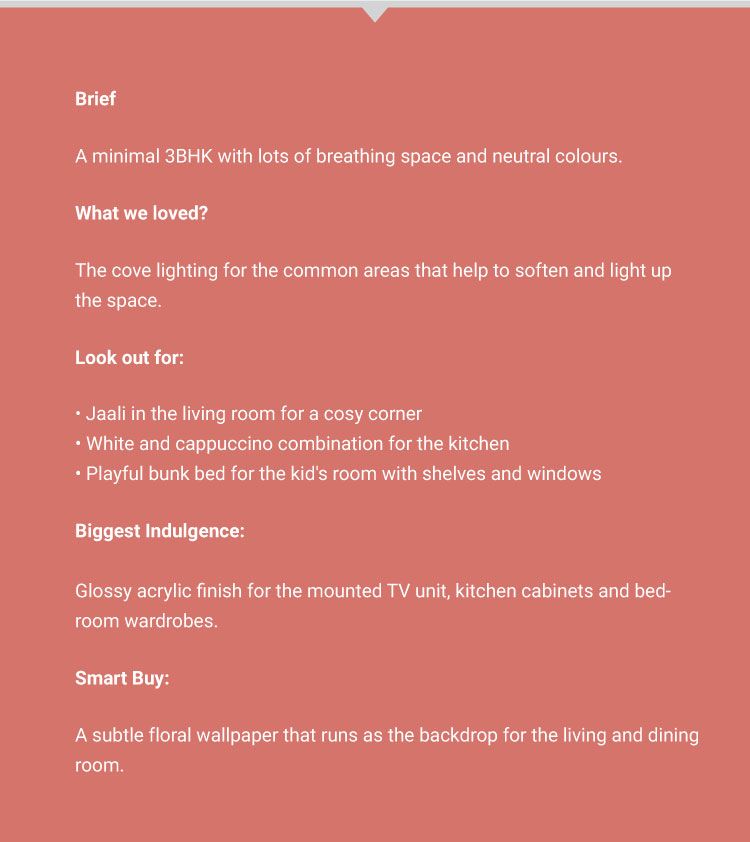 Comfy in Grey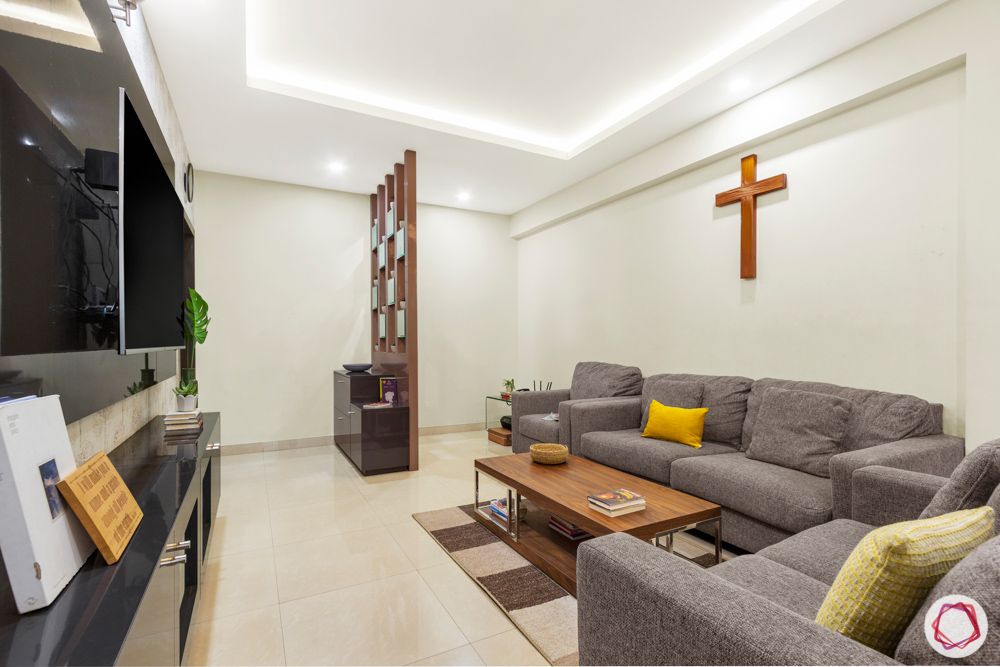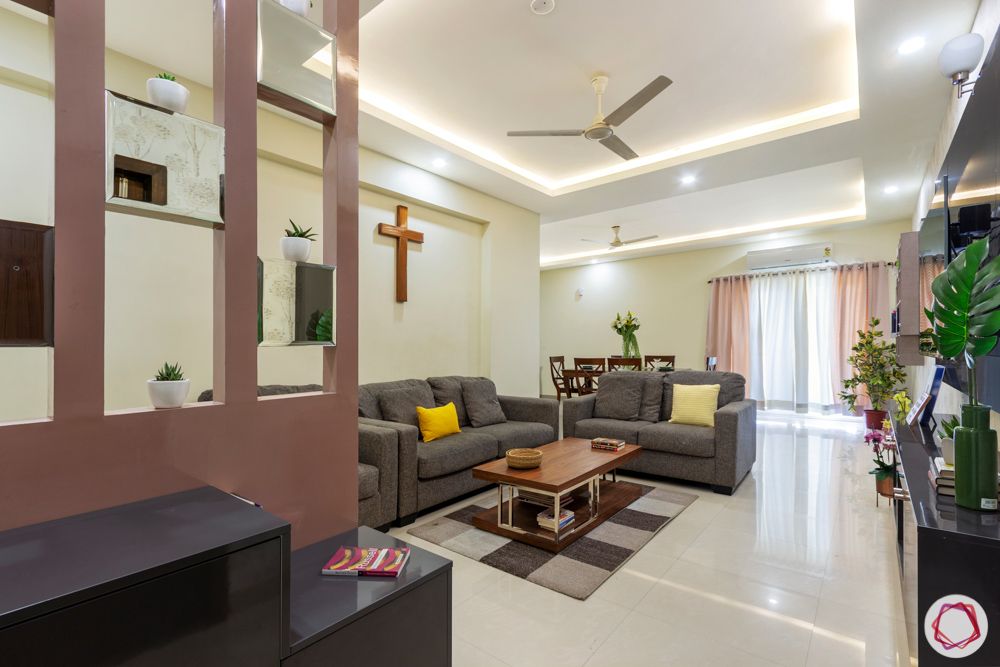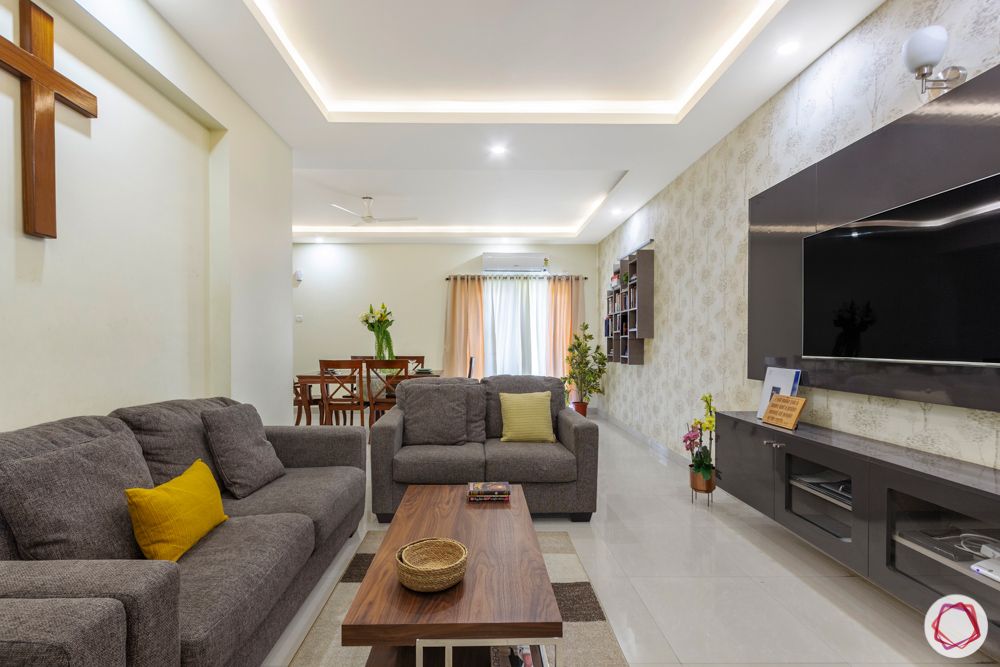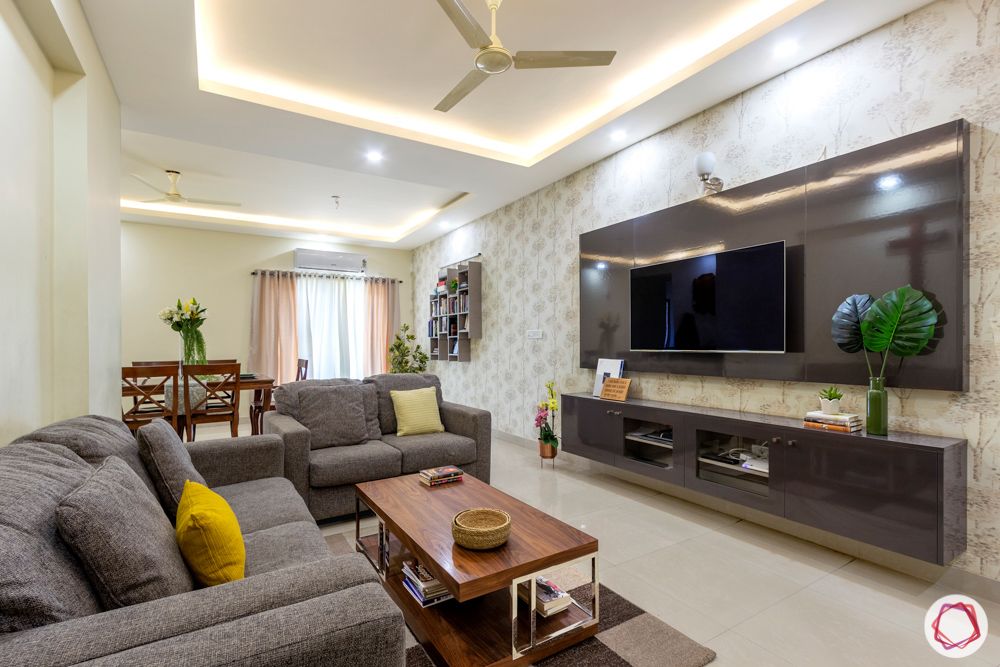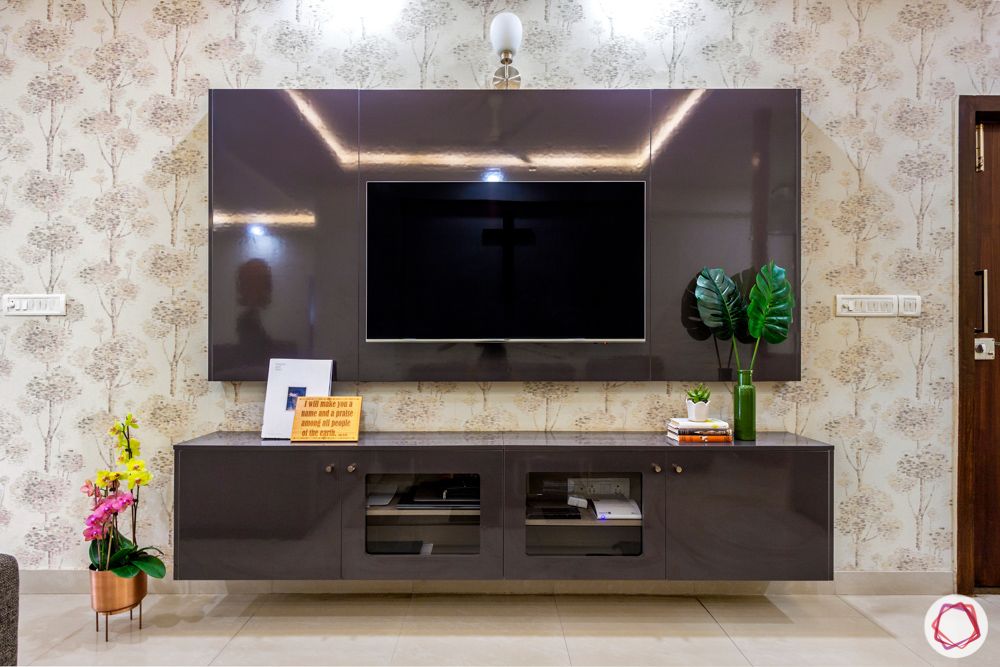 The living room is all about keeping things cosy and comfortable. Two grey you-can-sink-right-into sofas dominate the space. While a mounted TV unit in acrylic grey adds a glossy touch, a subtle floral wallpaper brings in a touch of softness. Also, notice how a metallic jaali divides the space into a functional entryway (thanks to a shoe cabinet) and a private nook to keep decoratives.
An Inviting Dining Nook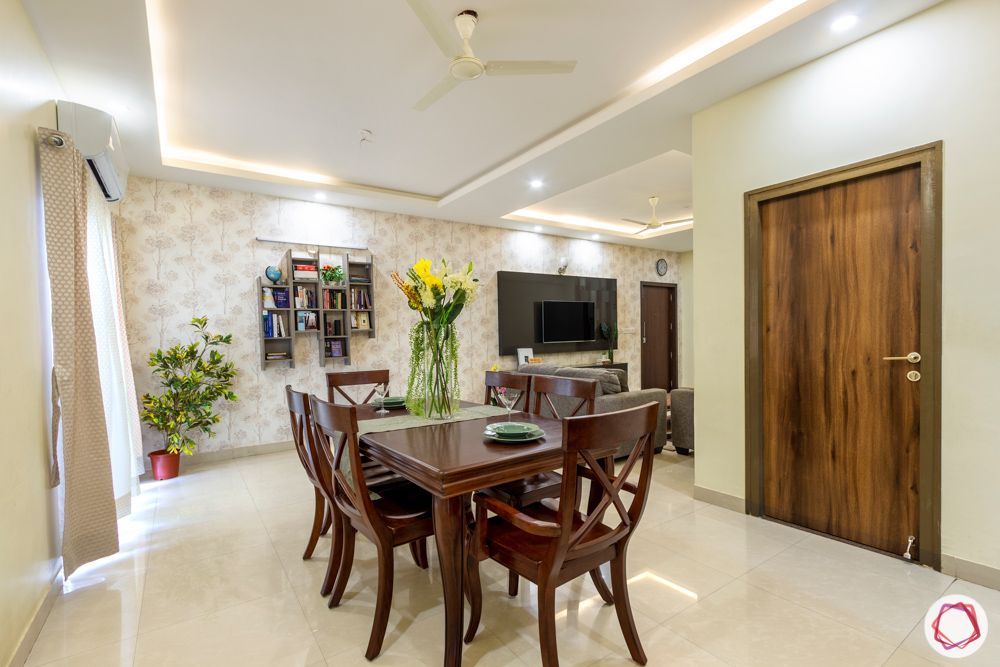 Something about dark wood always makes you feel right at home. While this dining room is dressed to the point, it deserves a perfect score thanks to the family's choice of dining set. We especially love how a simple detail of curved legs can add so much difference. Moreover, the cove lighting from the false ceiling above elevates the ambience.

Cream and Cappuccino for the Kitchen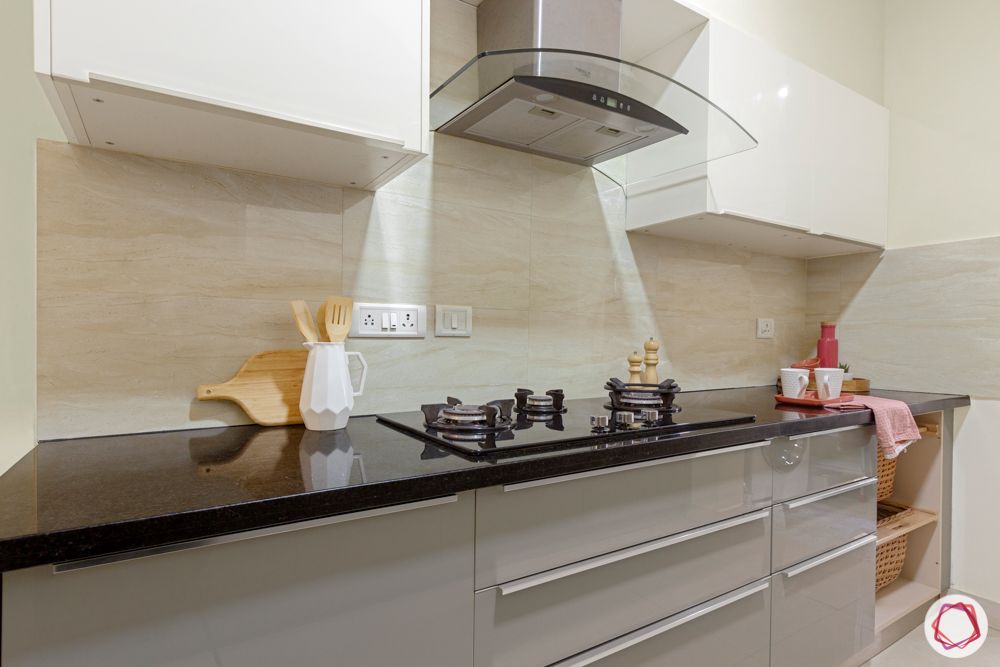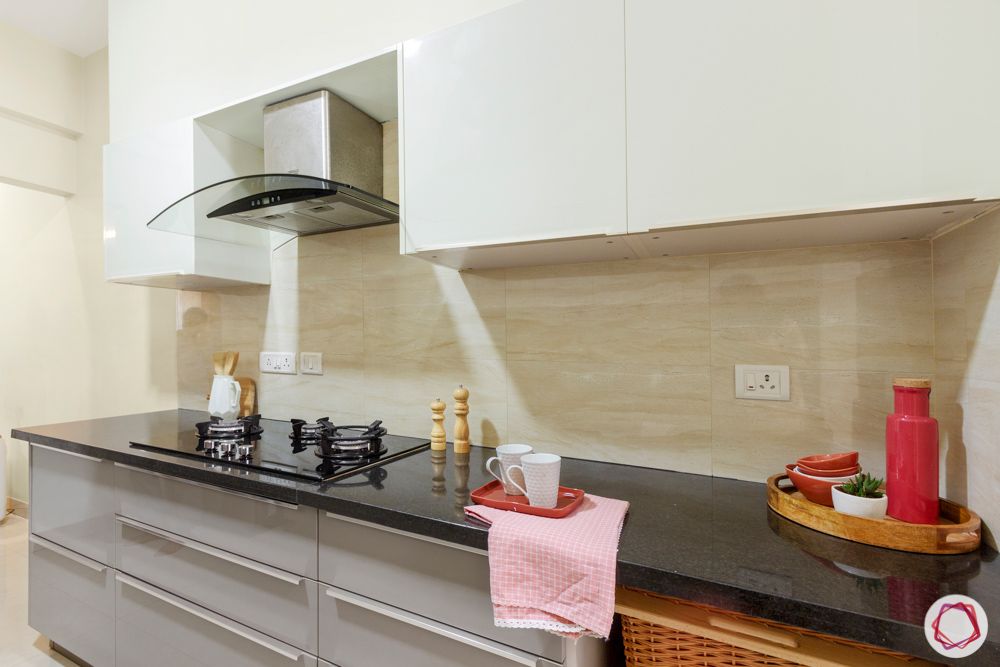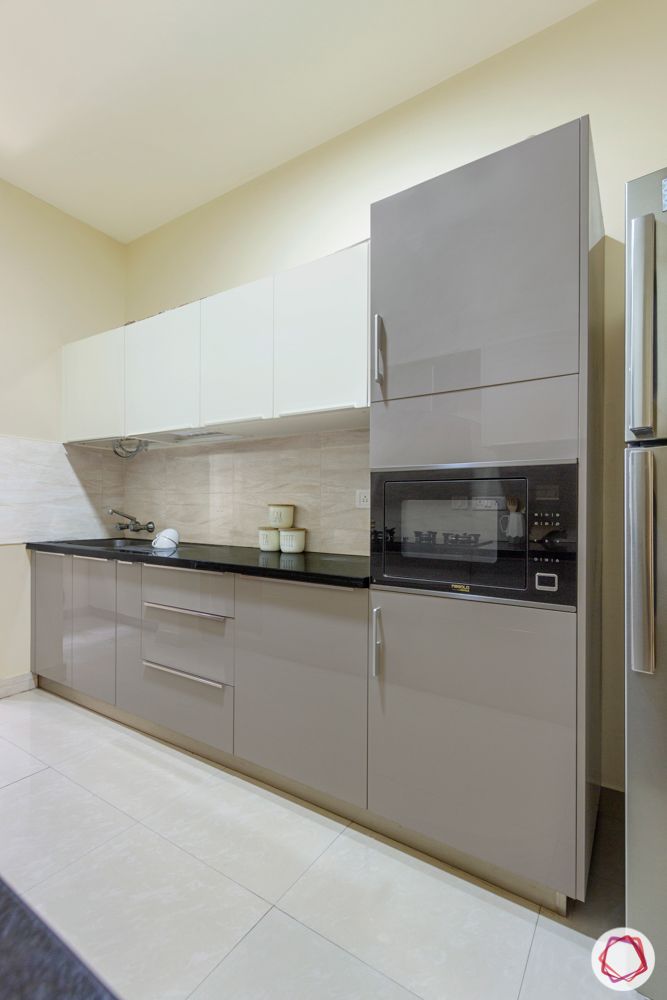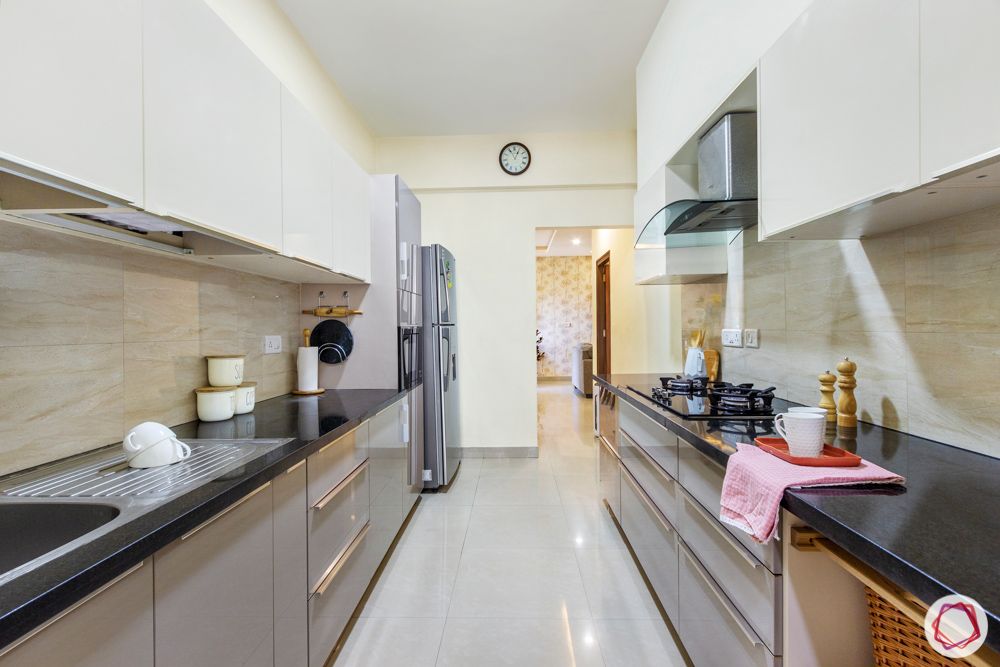 A kitchen that's easy on the eyes and heavy on the storage front? Yes, please! This parallel kitchen at Salarpuria Sattva Aspire is all about a place for everything and everything in its place. We are also crushing on the classy combination of white and cappuccino colours. The kitchen is packed with cabinets and drawers that don't overwhelm the space. More storage you ask? A tall unit for groceries and wicker baskets for dry food make way for extra storage. Moreover, the acrylic finish for the upper and lower cabinets complete the look in a super polished way.
Pop of Orange for the Bedroom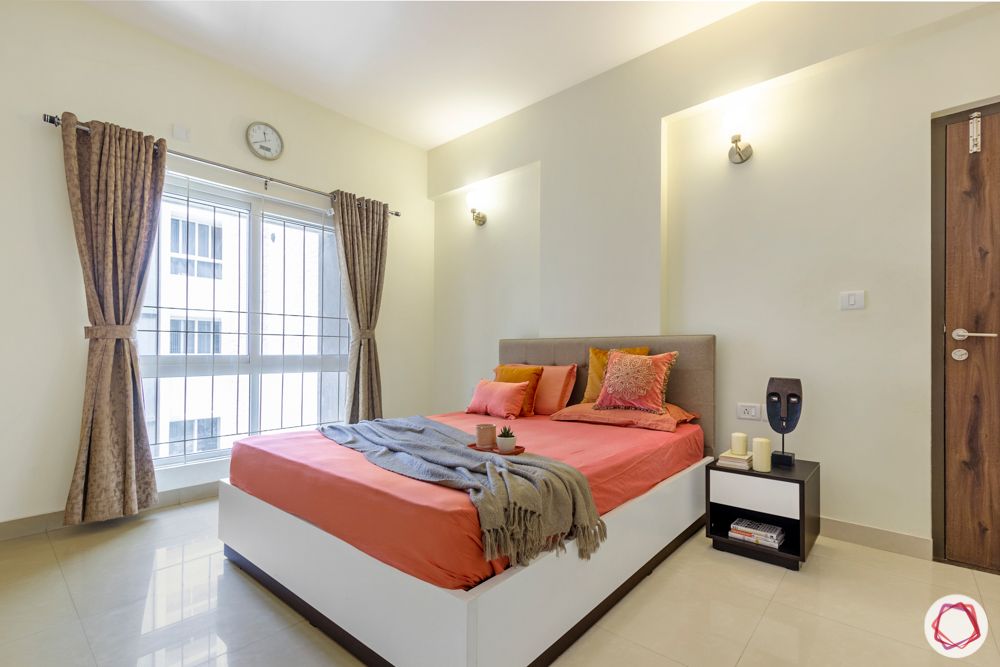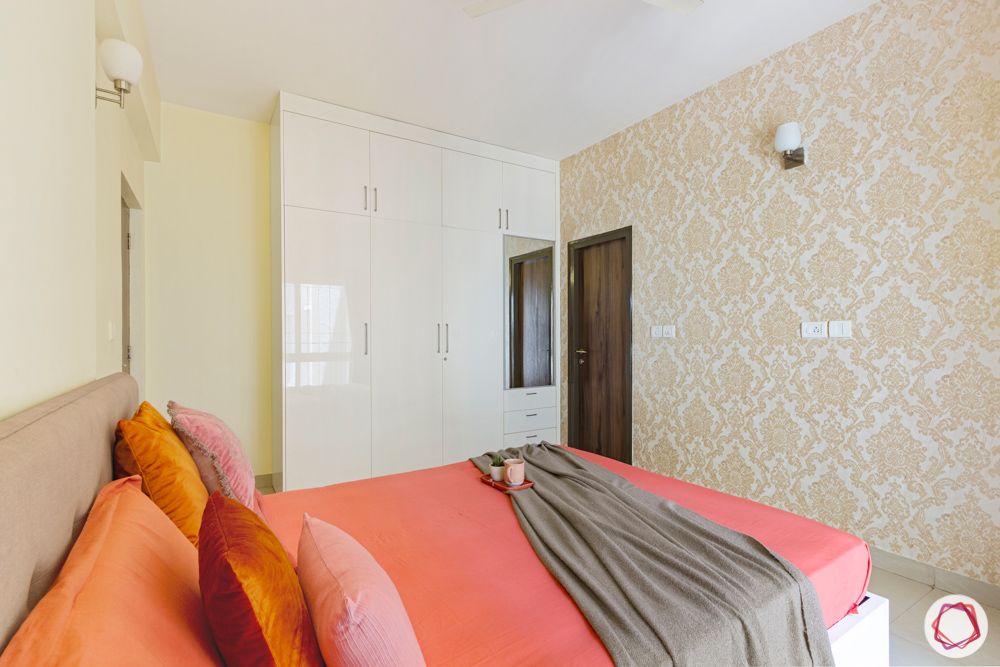 The master bedroom is perfect for unwinding. It only houses the essentials – a comfy bed, storage-heavy wardrobe and mood lights. Doesn't the pop of orange from the bed linens make the space more inviting? A light golden motif wallpaper brings in a touch of delicate drama to the space. Take a moment to notice the wall niches behind the bed. The wall-mounted lamp fixtures are a great way to bring out a play of lights and shadows. A soft white wardrobe is tucked in the corner. Moreover, the addition of a dresser on one side and lofts on top makes it even more functional!
A Merry Kid's Bedroom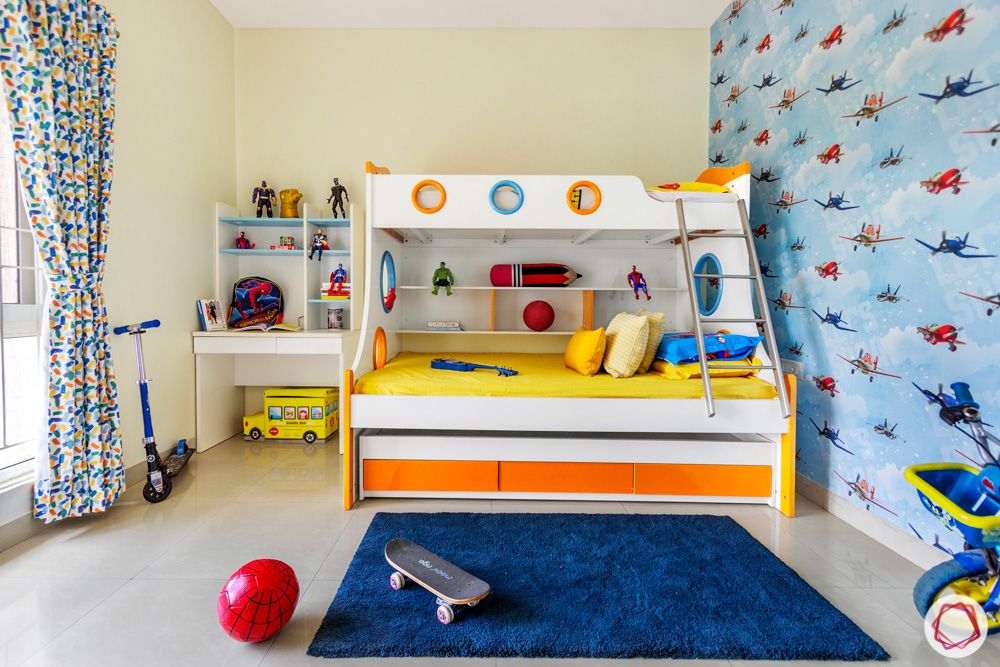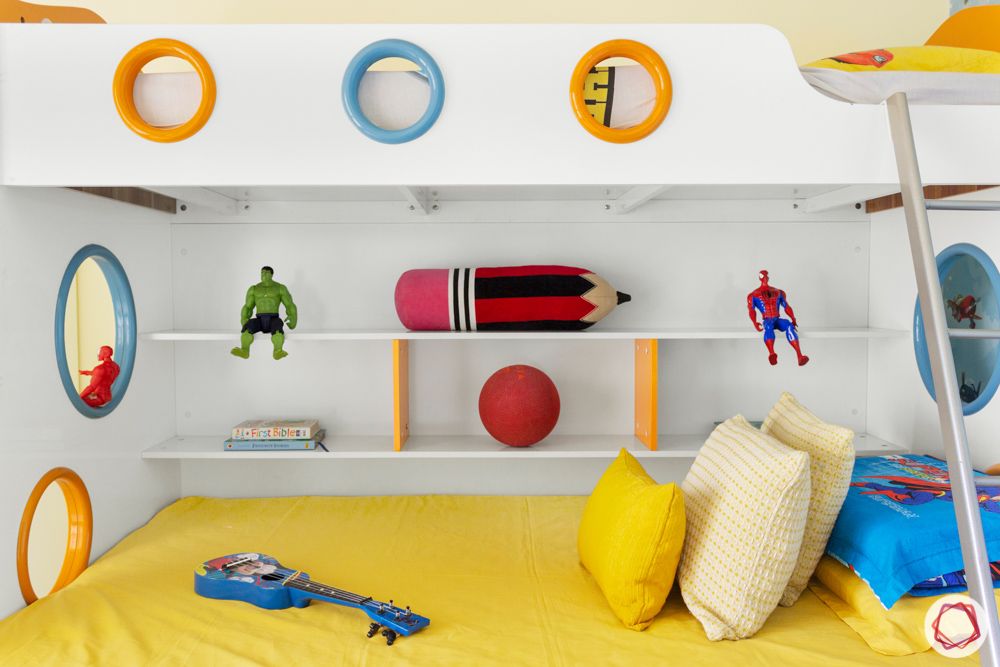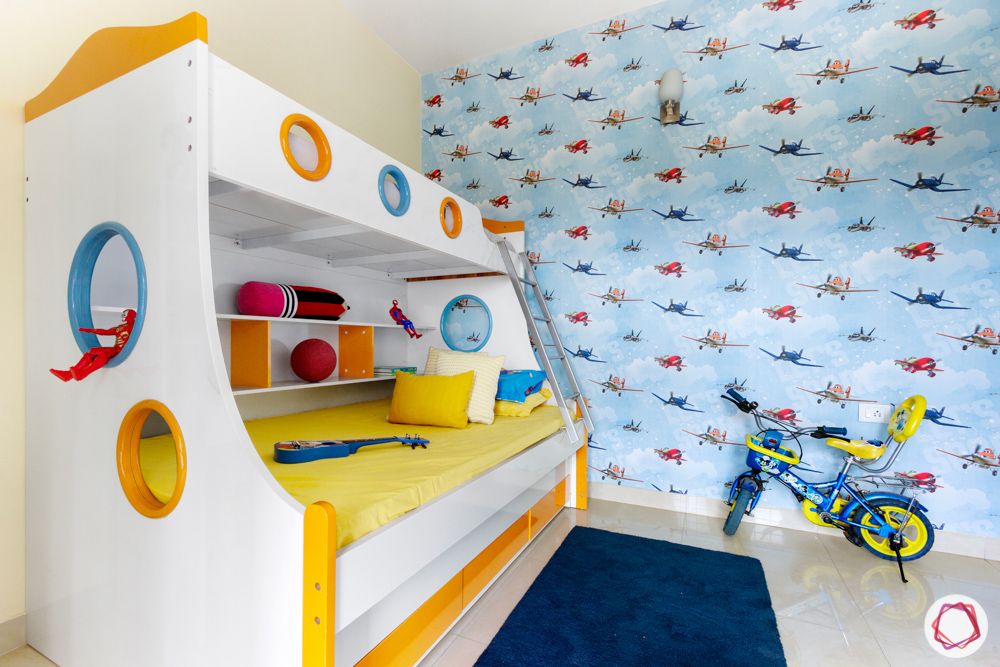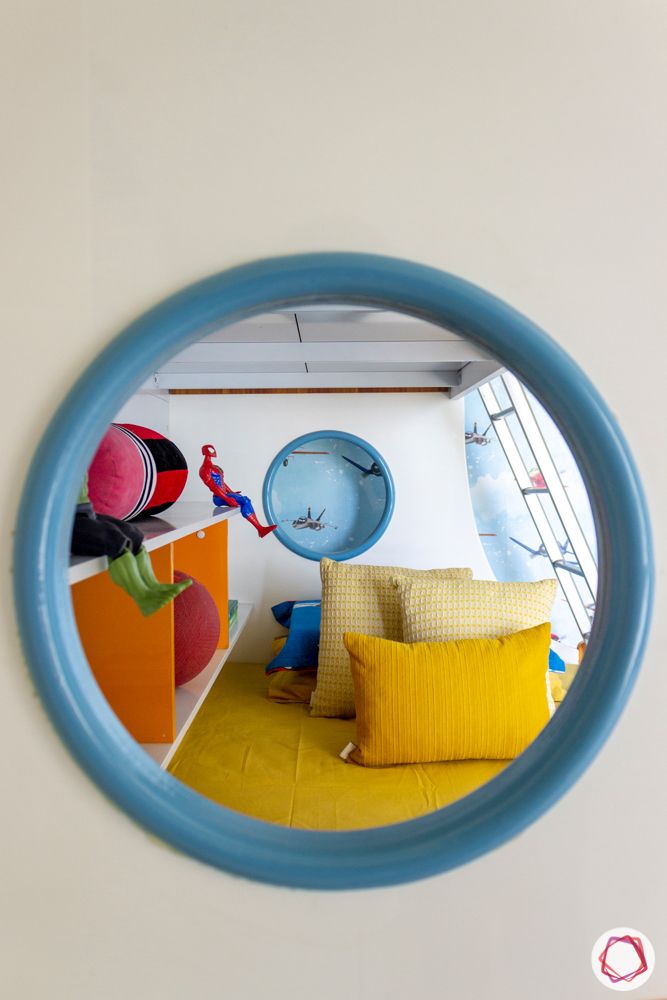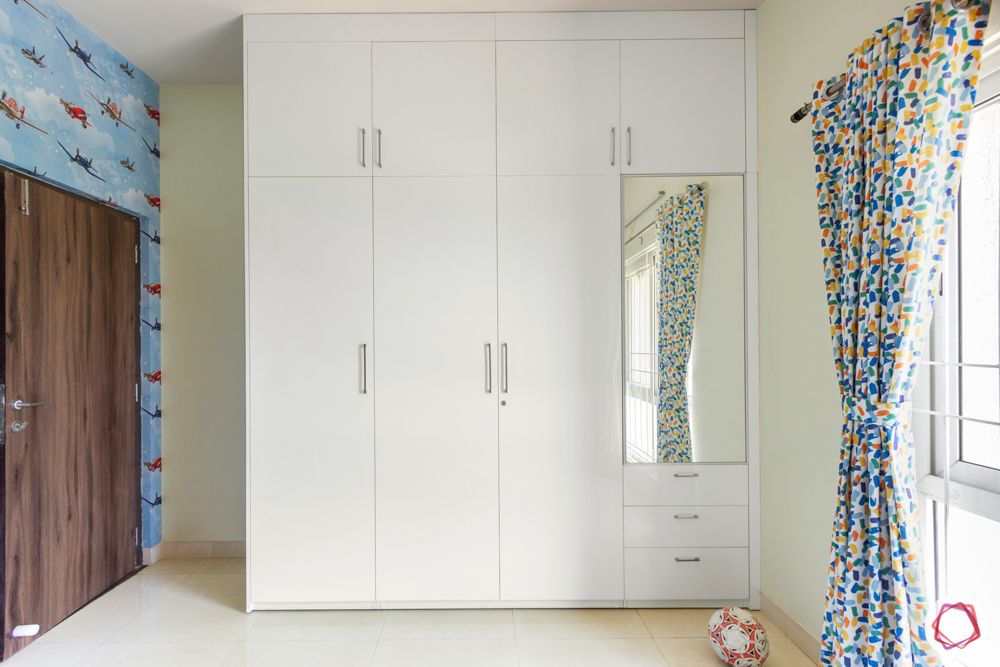 Alan's son's room is a delight to the eye. Exactly as a kid's bedroom should be. While the sky blue wallpaper with planes adds an energetic vibe, the colourful bunk bed is the highlight of the space, beaming in white, orange, and blue. Flaunting drawers at the bottom and convenient open shelves, the round ship-like windows is what steals the show. In addition, a study table in white plays match with the bed with the shelves lined in powder blue.
Kissed by Neutrals Bedroom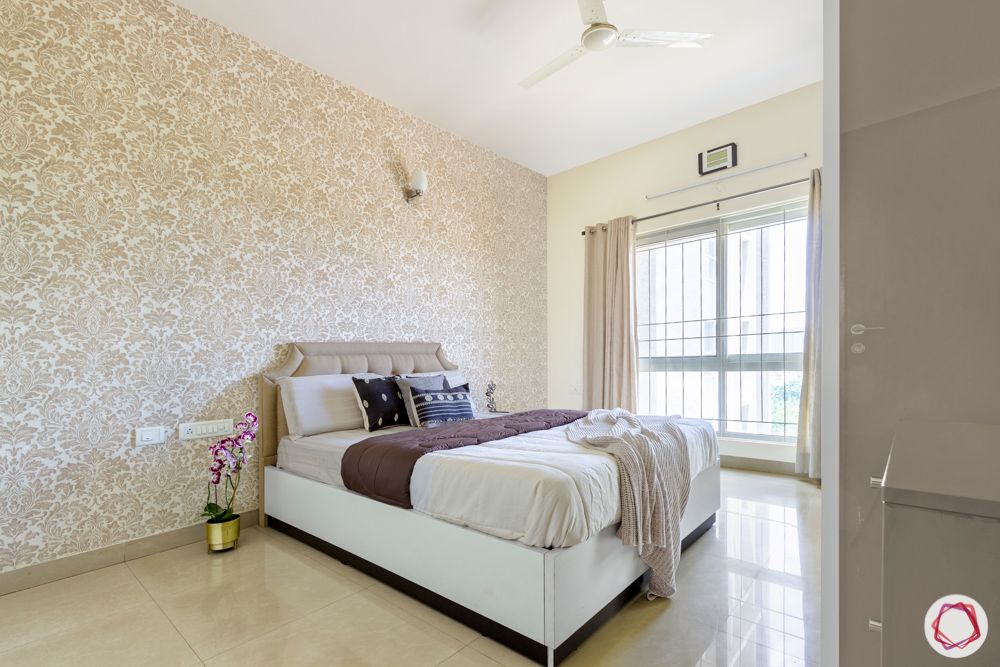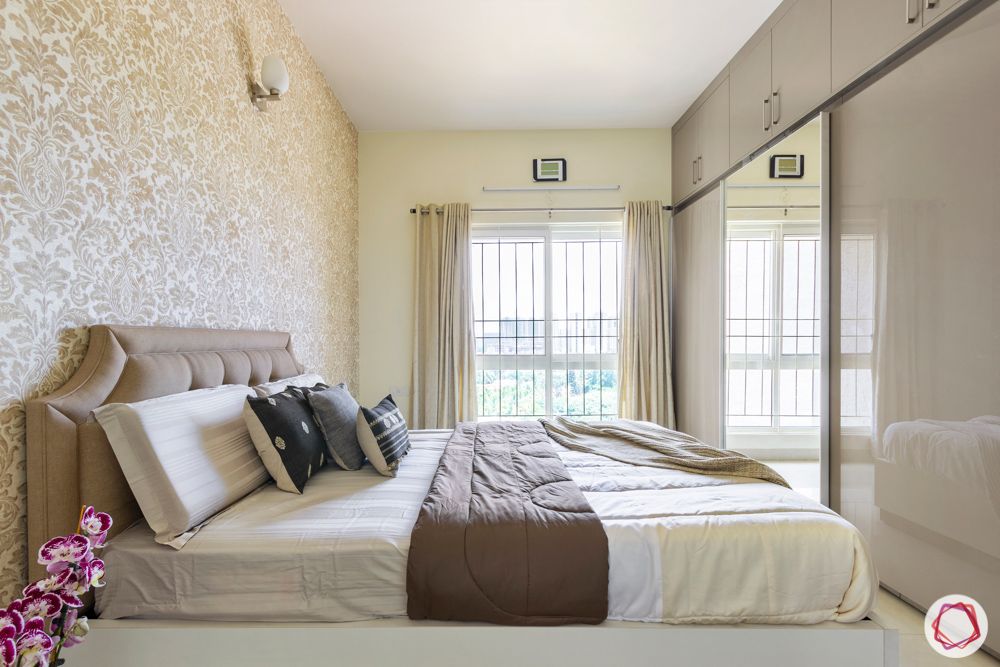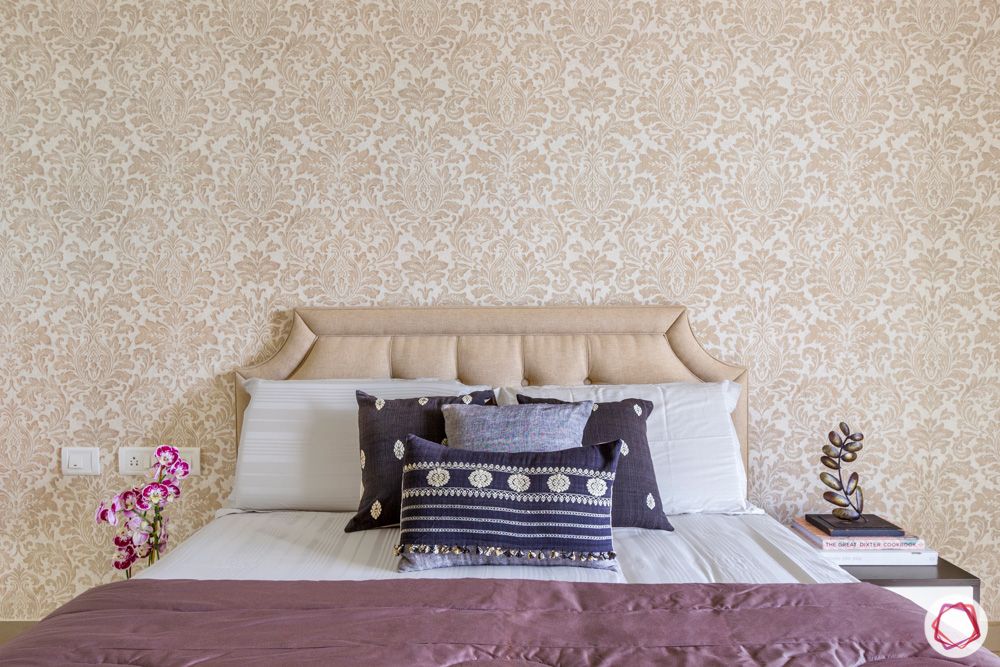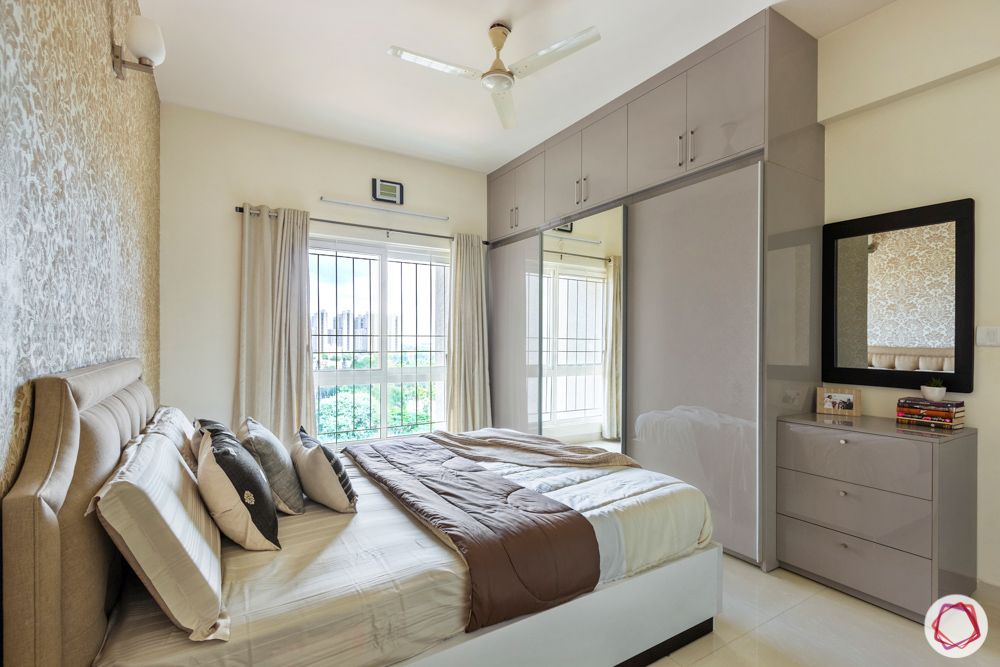 The guest bedroom is beautifully done in basics. A subtle beige wallpaper is the befitting backdrop for this room. It perfectly complements the curved-edge headboard. You can't miss the cappuccino wardrobe and chest of drawers opposite the bed. Its smooth and glossy acrylic finish brings in a touch of elegance as well. P.S. We are crushing on the sliding mirror door that would be extremely convenient for any bedroom.
Also, if you liked this home, take a look at Classy Interiors for a Pilot Couple.
Send in your comments & suggestions.