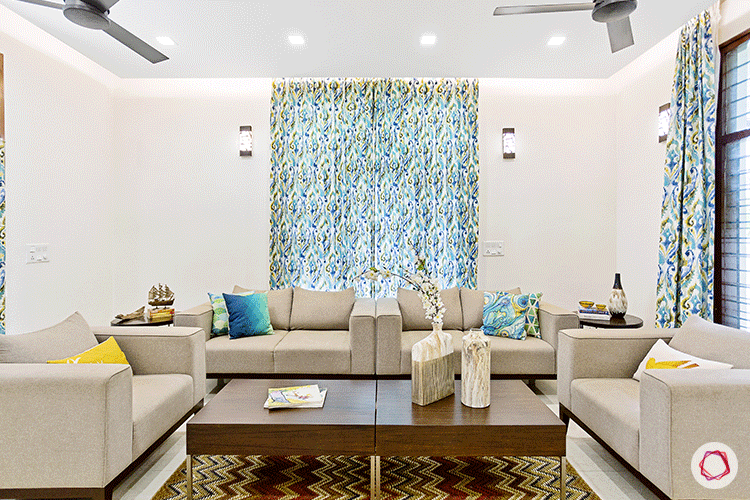 ---
Who livs here: Lisa Thomas with husband Bejoy, daughters Samaara and Saira and father-in-law
Location: Greenwood layout, Chikka Bellandur road, Varthur Hobli
Size: 3000 sq ft
Design team: Interior designer Tanvir Kohli with project manager Pankaj Chandak
Livspace service: Full home design
Budget: ₹₹₹₹₹
---
Every home is special. Whether you've lived in one or four, your living spaces stay with you long after you've left them. But no home is more special than your first home in a new city.
Having spent most of their lives in Delhi, the Thomas' were ecstatic about moving into their newly bought villa in Bangalore's famed Greenwood layout — a community with 24 villas with young, like-minded people from all over the country.
Designing and styling a two-storey home can be a daunting task and Lisa knew she needed professional help. One visit to our touch-and-feel experience center put all her worries to rest and Lisa instantly engaged Livspace interior designer Tanvir as her design magician.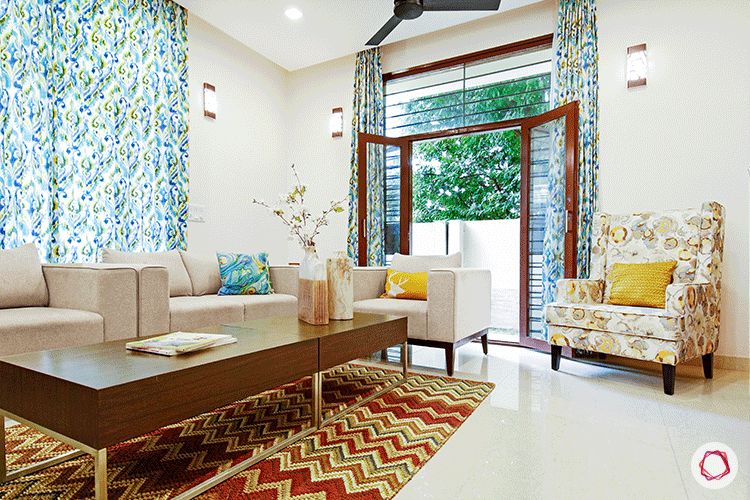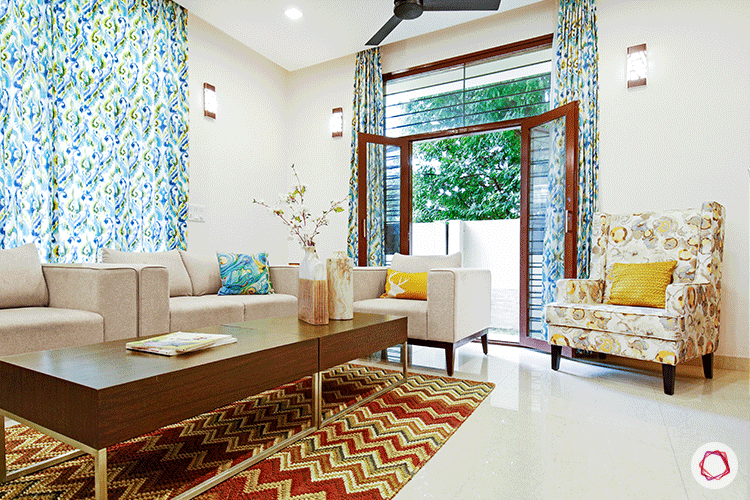 ---
Cool blue and green tones of the floor-to-ceiling drapes balance beautifully with the earthy colors of the furniture in the living room
---


As you enter the quaint villa, a sense of calm encompasses you. Amply padded beige sofas paired with wooden center tables make this space so inviting. The Thomas' frequently have family visiting them and Tanvir threw in a mix of single and two-seater sofas so that everyone has a spot to sit at, for catch-ups and conversations.
Large windows and doors let in plenty of natural light. Tanvir added a reflective false ceiling outfitted with warm cove lights so that the space looks bright and happy throughout the day and night.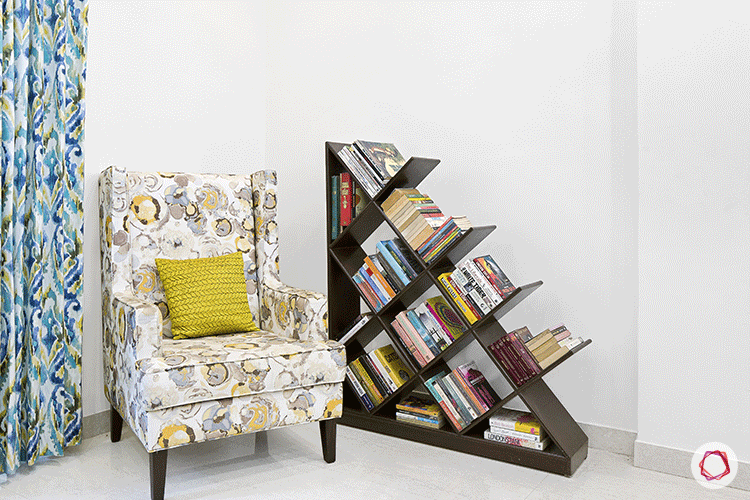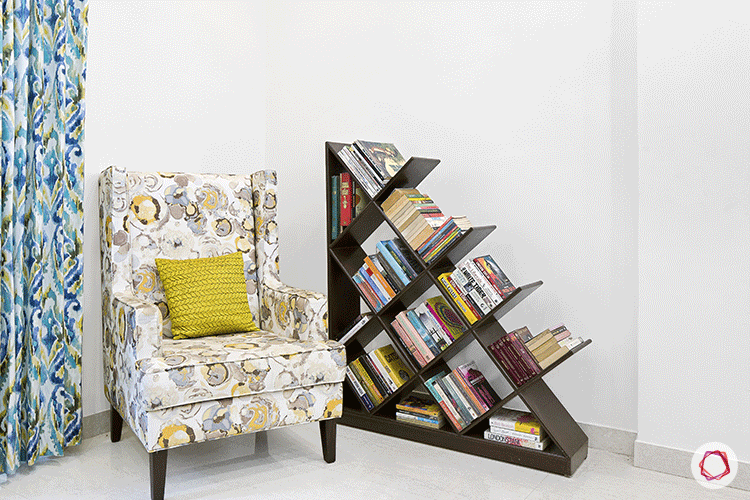 ---
An eye-catching accent chair rests pretty in the corner of the living room with a uniquely shaped book shelf for company
---
For the family of avid readers, this is easily the most favorite corner of the home. Multiple shelves provide plenty of scope to keep everyone's preferred genres organized neatly.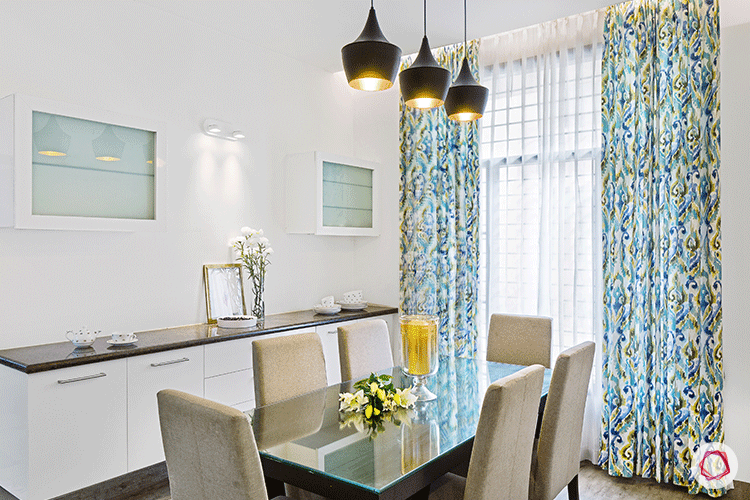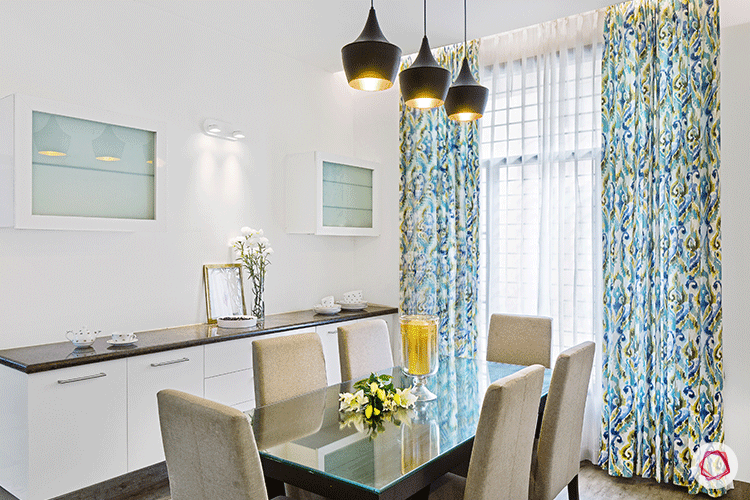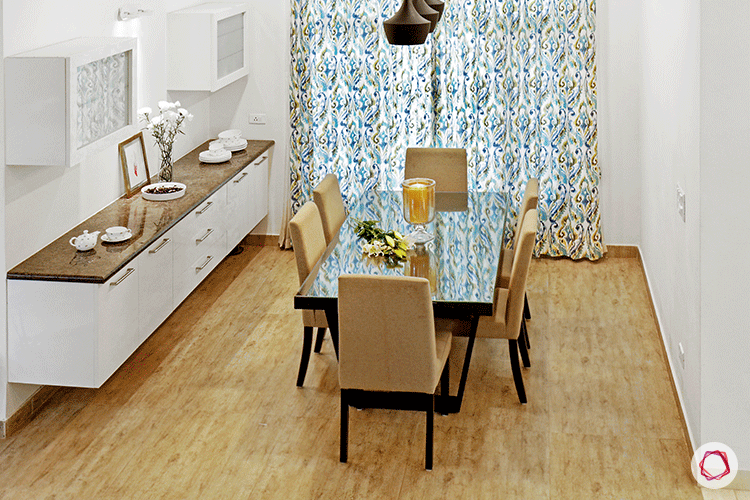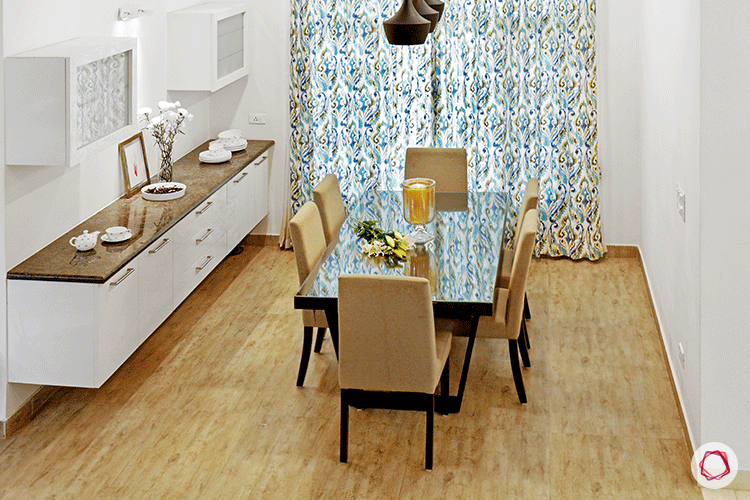 ---
A customized crockery unit and a pair of cabinets help stock frequently used items right next to the dining area
---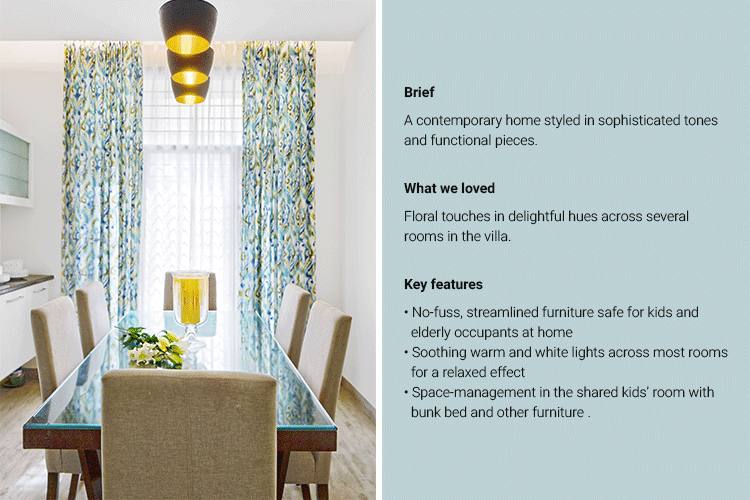 ---
Pendant lights help set the mood for fun, laid-back mealtimes
---
Lisa loves the fact that her home gets a lot of natural light via huge french windows and doors. The dining room is no exception. A sleek glass top wooden dining table and ash grey dining chairs were chosen to match the furniture in the living room for a cohesive effect.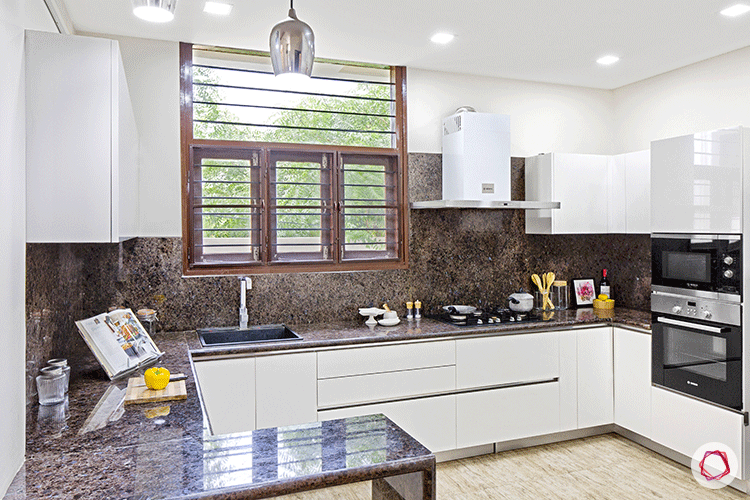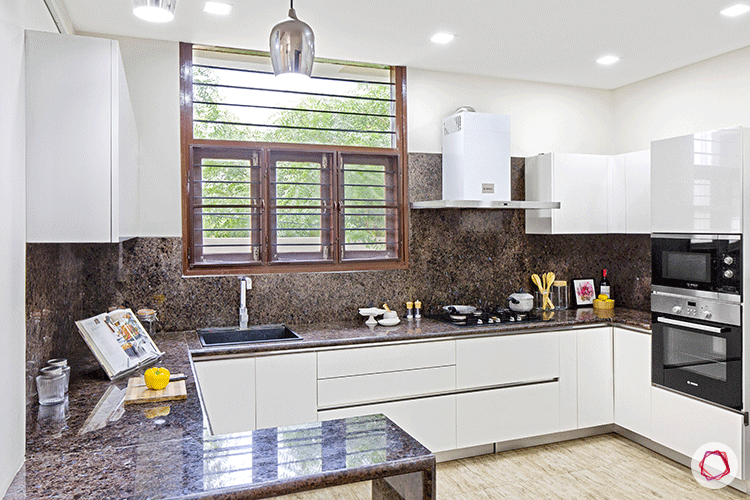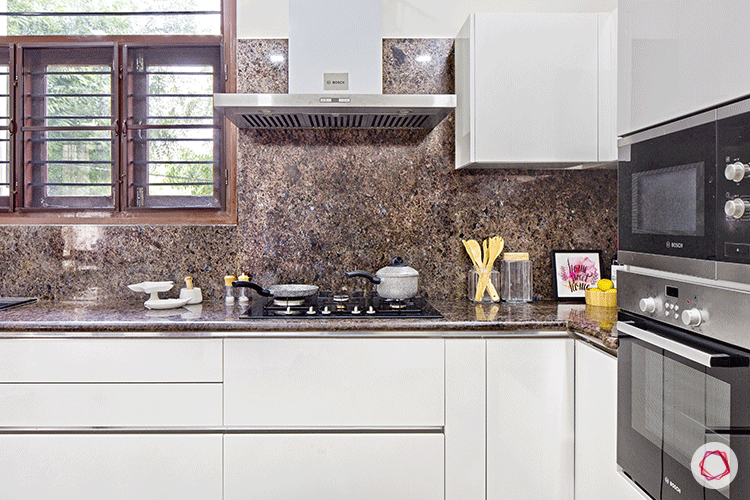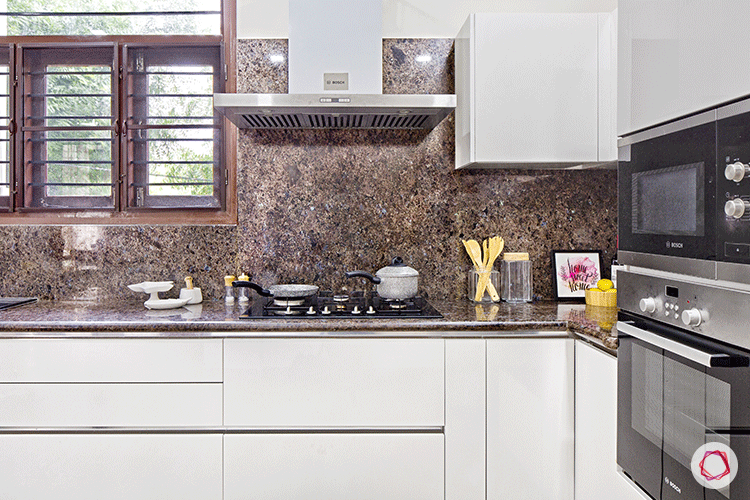 ---
Membrane finish gloss white cabinets as well as the granite countertop and backsplash make this modular kitchen easy to maintain
---
Lisa loves baking and cooking and her girls love helping their mum in the kitchen. This is precisely why Lisa and her husband wanted this space to be well equipped so they could cook up a storm together.
Tanvir added plenty of handy modules in the kitchen like bottle pullouts, Lemans corner unit, deep Blum drawers for storing cutlery as well as large utensils. The tall unit with a built-in microwave and oven come handy whenever they decide to bake something crazy!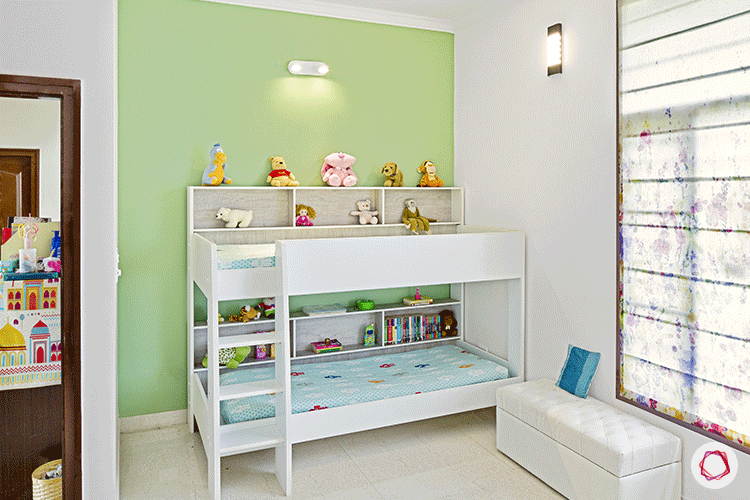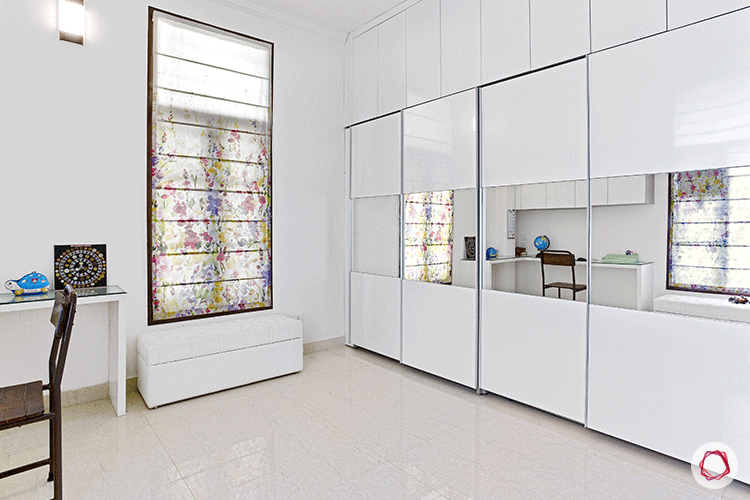 ---
A splash of green in the girls' bedroom feels so refreshing
---
Making the most of available space becomes a priority, especially in a shared kids' room. Lisa wanted the kids to enjoy maximum play area in their room. A bunk bed, wall-mounted study corner and ottoman with storage was included in the design plan and it worked like a charm.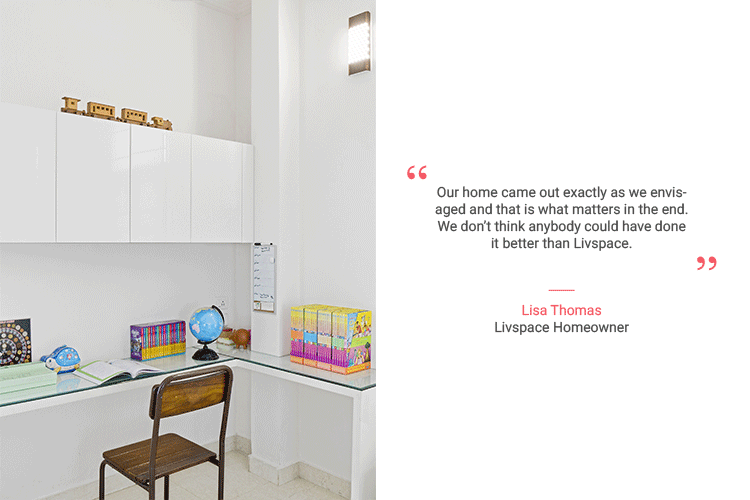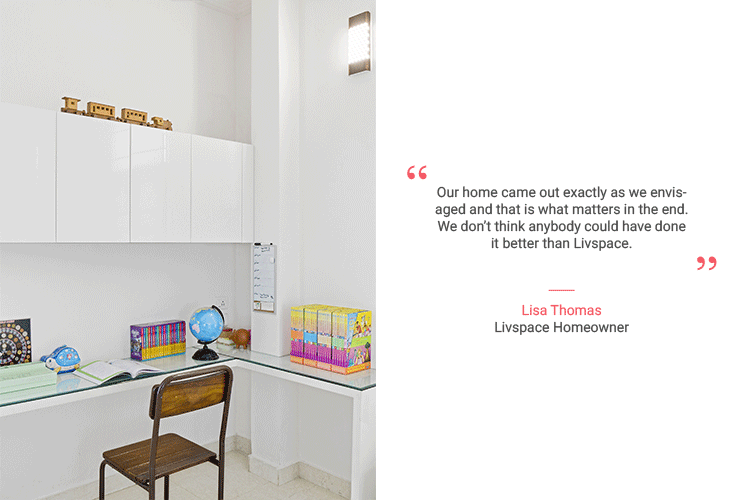 ---
A series of cabinets are positioned above the study corner to keep books and stationery
---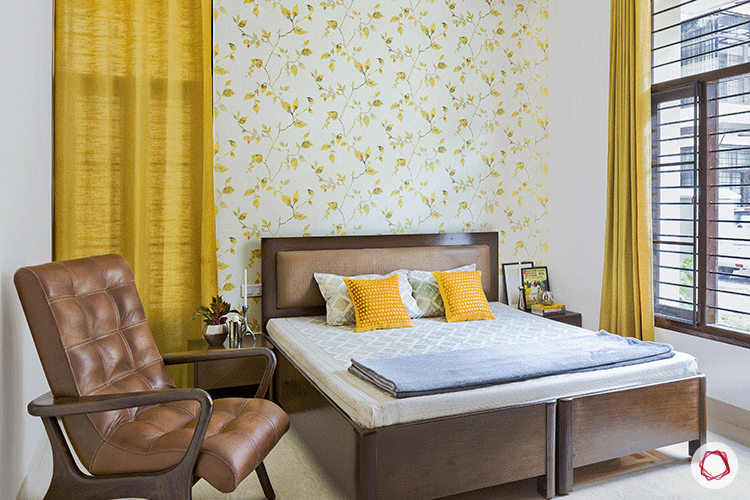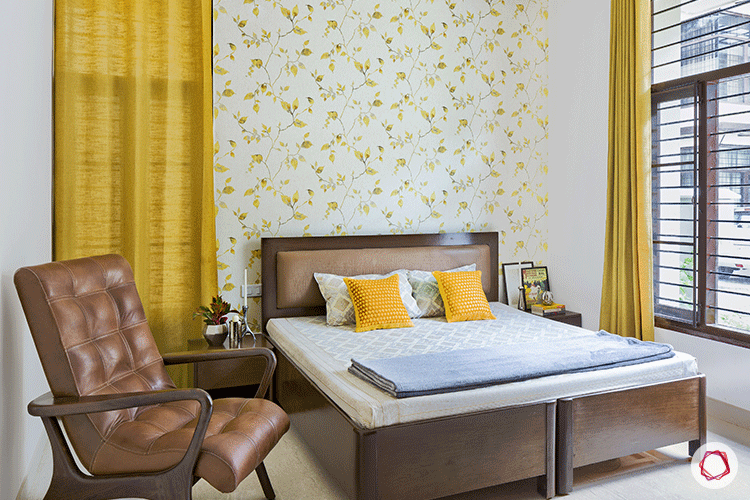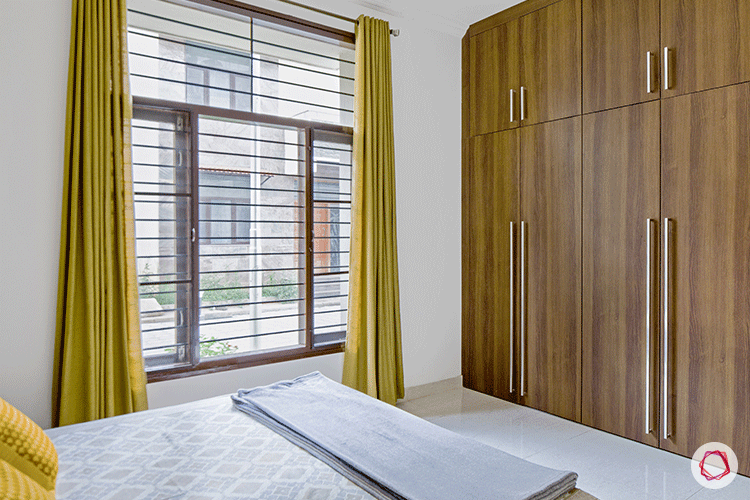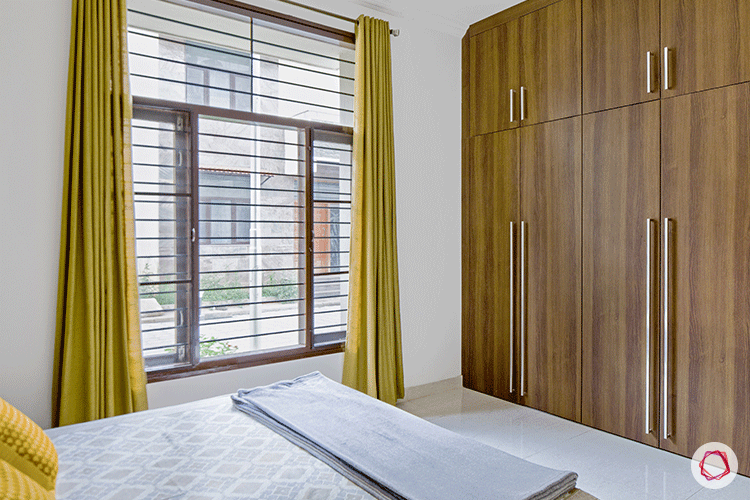 ---
Ochre hued drapes and a floral wallpaper adorn the father-in-law's room
---
With a warm shade of yellow, this room uplifts the spirits. Wooden accents and leatherette accent chair go beautifully with the theme. A bed with an upholstered back makes reading or resting upright a relaxing experience.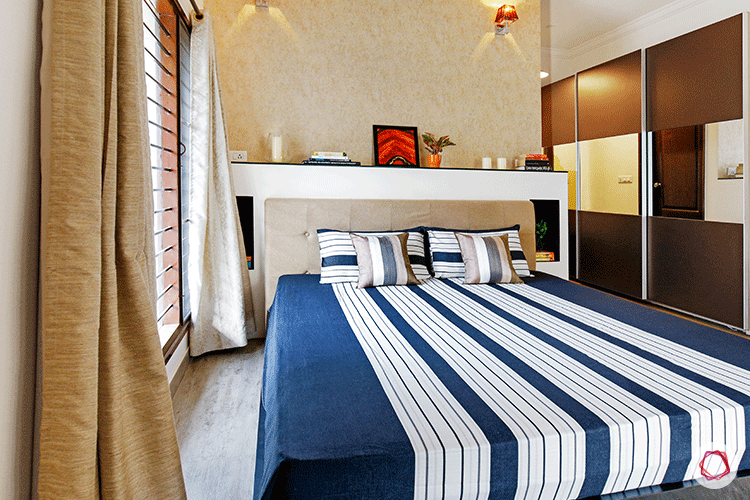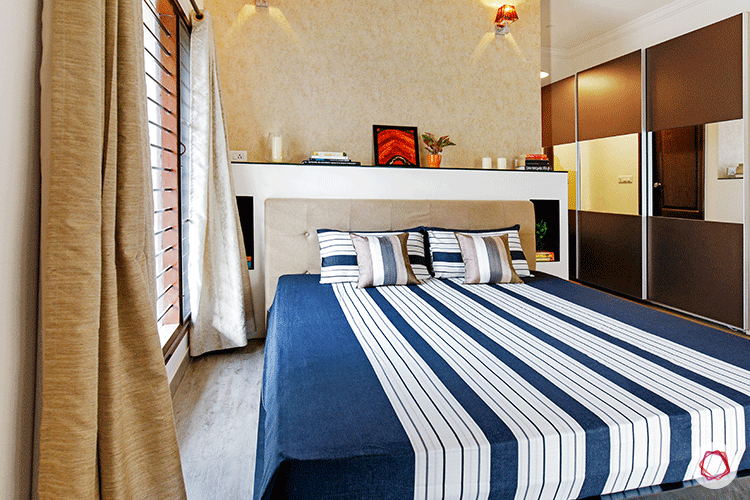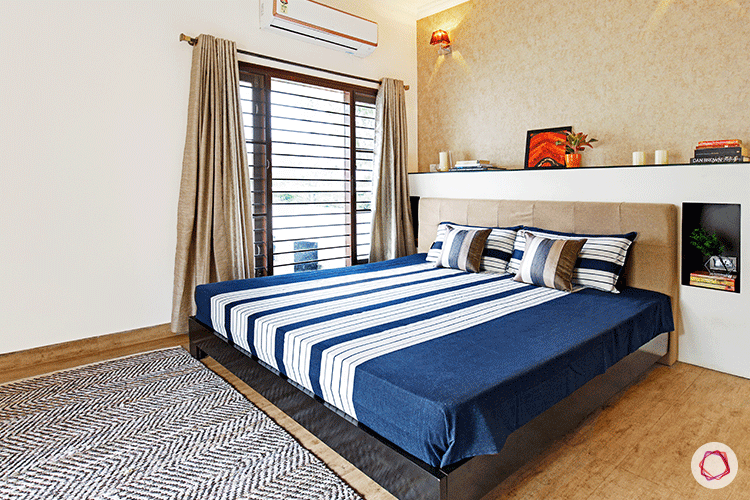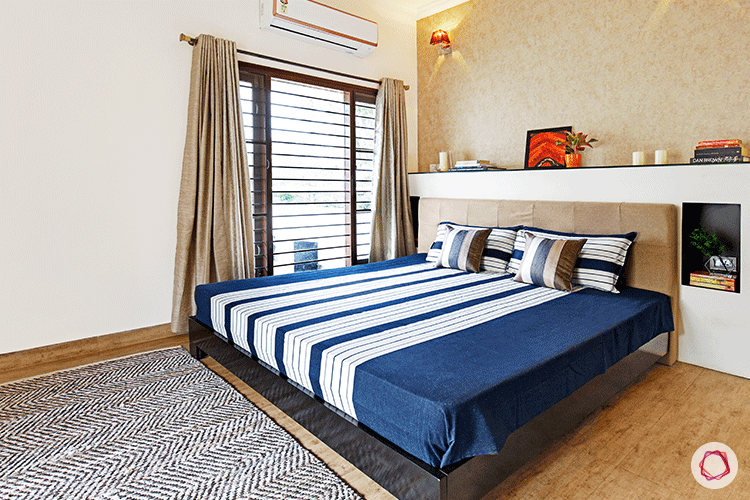 ---
A bronze membrane finish wardrobe with mirror paneling, niches on either side of bed and the panel above takes care of storage needs in the master bedroom.
---
Wall mounted lamps illuminate the master bedroom dreamily during the evenings while playing up the cerused details of the accent wall. Just like every other room in the villa, this space gets plenty of natural light as well. Wooden flooring adds to the warmth of this cozy space.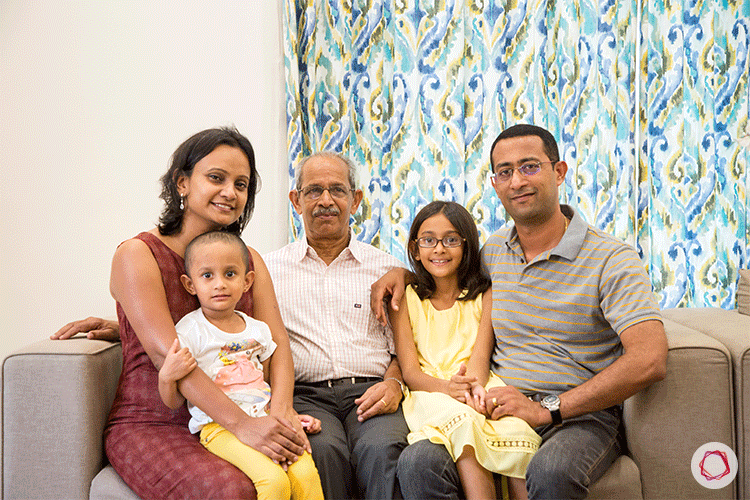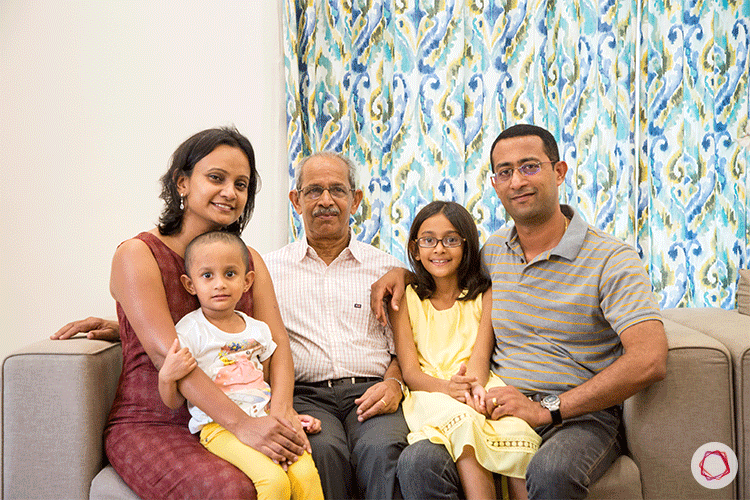 ---
"Despite having busy work schedules, Lisa and Bejoy were actively involved in the design process from start to finish and that made it an enjoyable experience."
– Tanvir Kohli, Livspace interior designer
---