A luxury living room and bar nook coming right up!
---
Location: Rajpur Road, Delhi
Size of living room & bar space: 550 sq ft
Design team: Interior designer Prerna Jain and Project Manager Deepak Dhama
Livspace service: Only Design Consultation done. None of the furniture is purchased from Livspace
Budget: ₹₹₹₹₹
---
A living room should be an experience. Especially if you love playing host for friends and family. It has to tick the boxes of perfect lighting, ambience, comfort and most importantly a personal sense of style. When our client approached us for design consultation, he came with an interesting requirement. He wanted a luxury living room that centered around a beautiful painting. Moreover, his love for art and travel had to culminate into a functional space. Our designer Prerna Jain was right on board!
Prerna chose a dark palette to make the space impactful. In addition, she believed a gorgeous play of lights would make the room warm and inviting. We especially love how she's married regal interiors and functional utility as well. Here's the tour!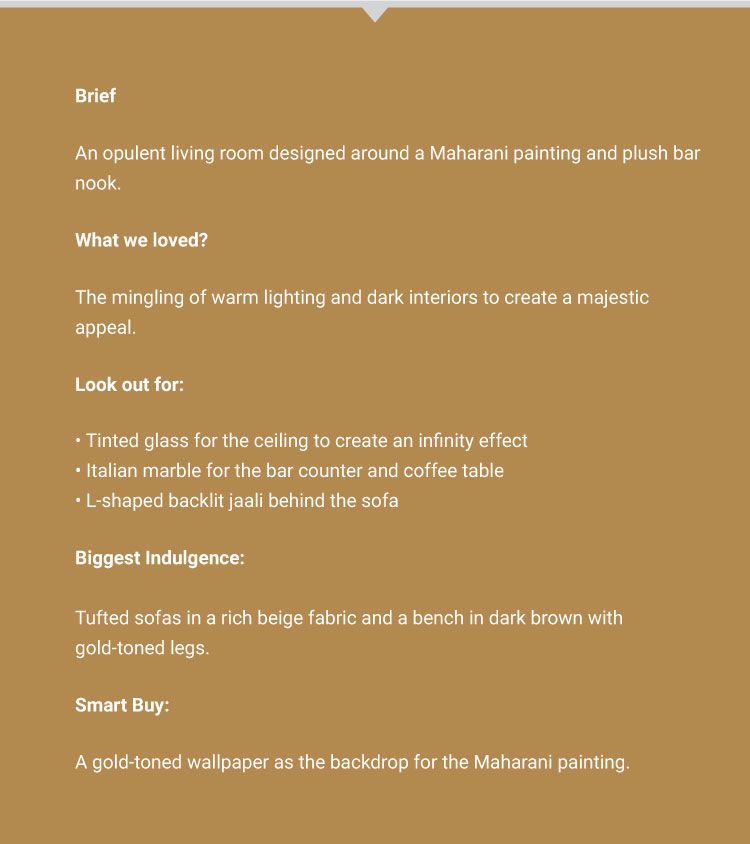 Opulent Living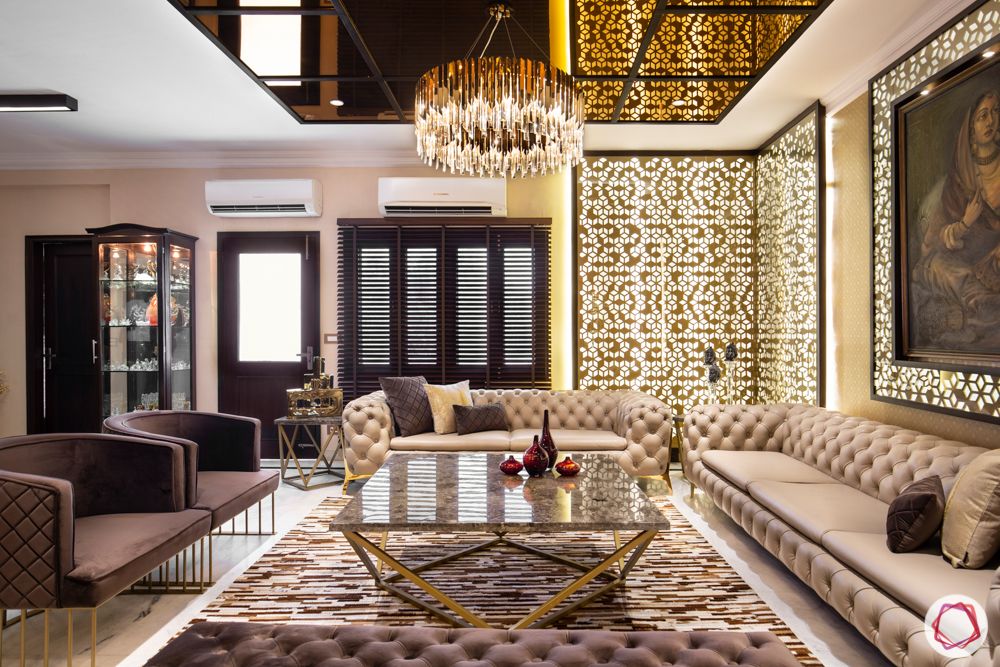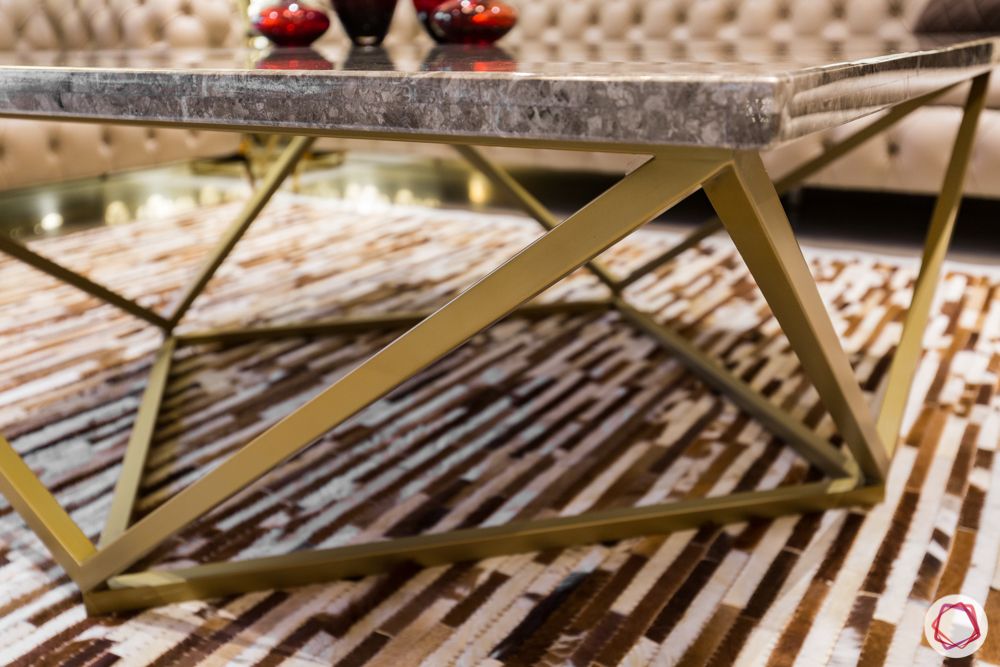 The living room is a glitzy affair. Every corner is an enthralling experience. Greeted by the expanse of the space, the painting is what demands your attention. A gold-toned wallpaper acts as her befitting backdrop. In addition, we love how it is lined with a strip of backlit jaali as well. Besides this, on either side of the painting, two wider jaalis have been added. While the L-shaped jaali on one side cleverly conceals a balcony, the other offers a glimpse into a dark stone veneer sheet. The decor drama doesn't end there.
Prerna wanted to create an infinity effect. As a result, tinted glass panels help to stir up the illusion. Prerna also placed dark wooden-toned blinds for the windows. A textured rug in the centre completes the look.

Cosy Corner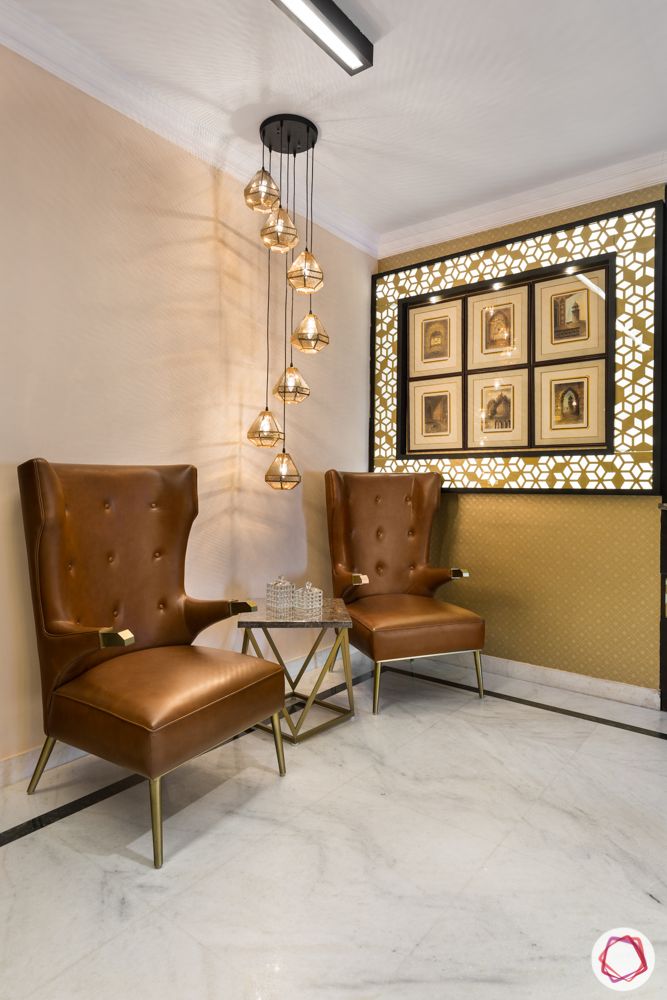 For additional seating, two leather armchairs are tucked into the corner. The nook is accentuated with gorgeous pendant lights. Moreover, the backlit jaali border for the paintings in this corner elevate the ambience as well.
Statement Bar Nook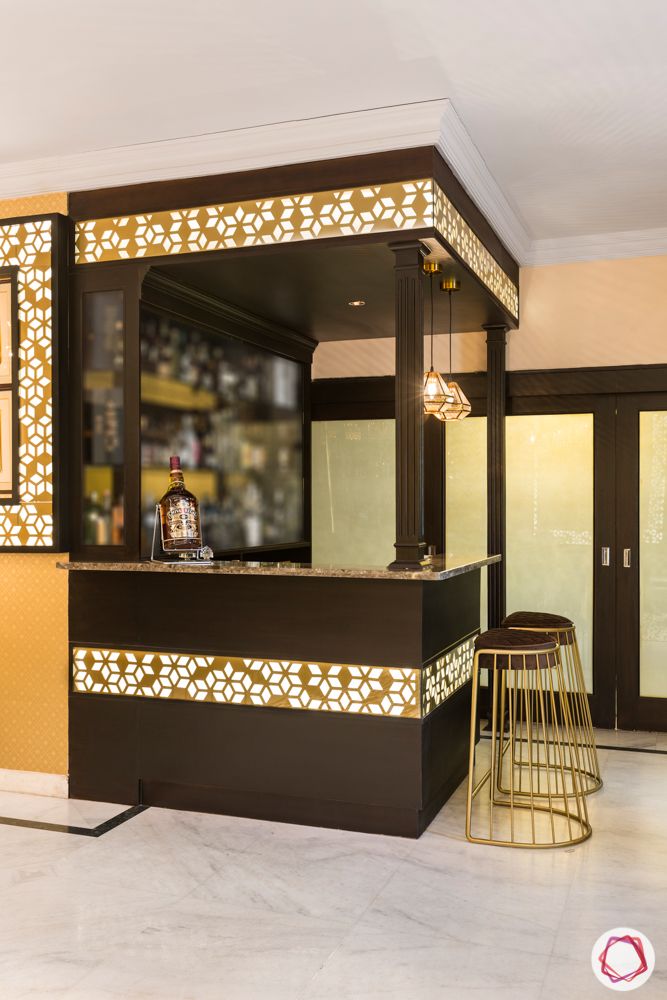 The bar unit is a work of art. Tucked into the corner of the room, the unit has been crafted in gorgeous teakwood, which has been re-polished in a dark hue. In addition, the backlit jaali makes an appearance in this space as well at the top and bottom sections. The bar counter has been topped with an Italian marble. We especially love the columns that bring in a classic touch. The two dainty bar stools complete the look.
---
"Working on this project was like giving shape to a family's dream. The client wanted to have an opulent space to host his guests. He wanted a warm and dim space to host his friends, family and business associates. His collection of art including his Maharni painting was a starting point for me. His family always had eyes on the most plush products in the market. Simple was boring for them, and they desired glamour in every detail. It was a thrill to see such perfectionists be awe-inspired by my design. I felt my feet lift 3″ above the ground the day this project was handed over."

Prerna Jain, Interior Designer, Livspace
---
Also, if you loved this home, take a look at Classy Interiors for a Pilot Couple
Send in your comments & suggestions.