The home interiors at JMD Gardens, Gurgaon, is a slice of heaven on earth!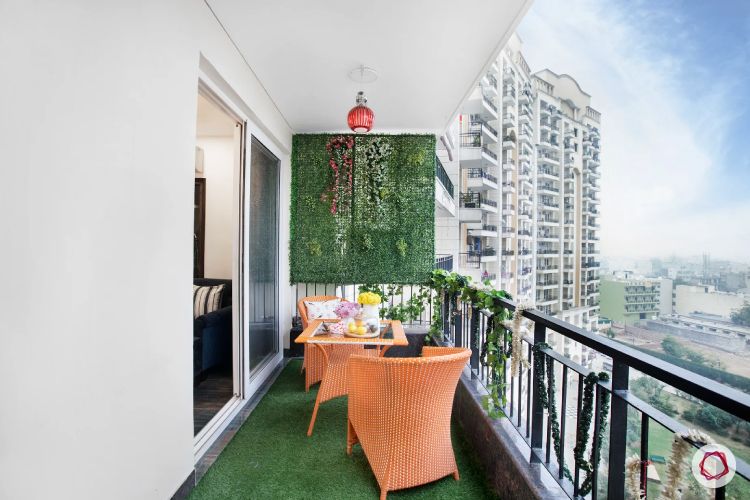 ---
Who livs here: Pardeep Goyal with his wife Neeta and their son Ishab
Location: JMD Gardens, Sohna Road, Gurgaon
Home Size: 1,500 sq ft approx.
Design team: Interior Designer Shilpa Garg with Project Manager Arjun Talwar
Livspace service: Full home design
Budget: ₹₹₹₹₹
---
We love it when our clients come to us for interior design services as a result of client recommendation. Neeta and Pradeep Goyal are one such client who placed their faith in us because of word-of-mouth reviews. Pradeep, who is the Vice President of Zee TV and Neeta, who handles her own business, engaged Livspace to design their exclusive abode in bustling Gurgaon.
Hailing from Punjab and having stayed in various cities across the country, Neeta has a very unique design and aesthetic sense. She wanted a home that stands out and something that no one has ever seen before! Shilpa Garg, Interior Designer at Livspace, was given the task of designing their home. Check out what the end results are!
A Regal Entry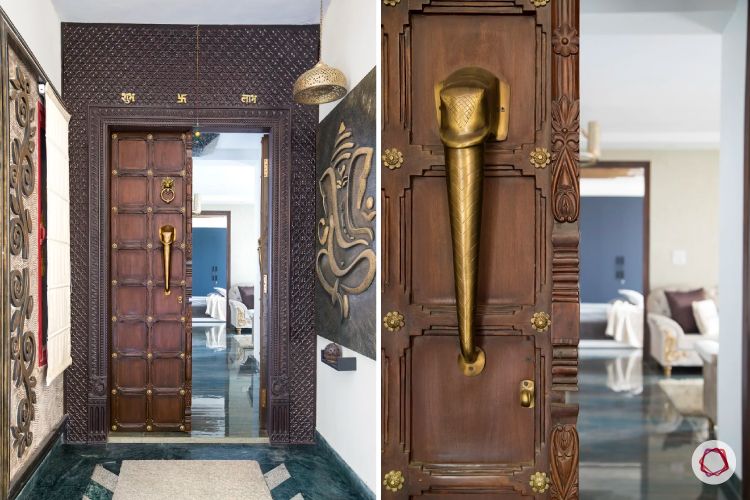 When Shilpa was handed the task of designing a stunningly unique entrance for the Goyals, she was confused, to say the least! After gauging that Neeta wanted something royal and traditional for the main door, Shilpa finally came up with a unique design of her own. She gave the couple a solid wood door with traditional carving on it and antique handles. One wall was filled with a uniquely designed Ganesha and the other had beautiful flower carving. We were completely floored by the entrance!
Royal Living to Match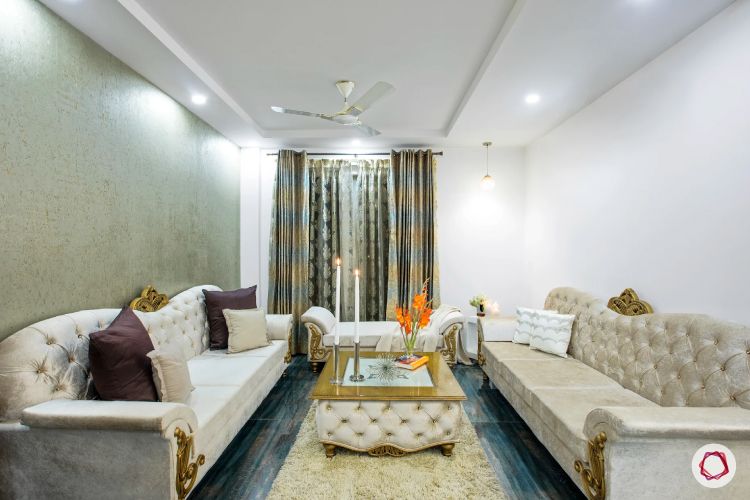 Neeta was very biased towards heritage style furniture and she wanted something along those lines for her living room to host her near and dear ones. Considering Neeta's love for white and gold, Shilpa gave her this uber luxurious sofa and chaise in her favourite colours! The effect is a warm welcome with a rich finish.
For Family Time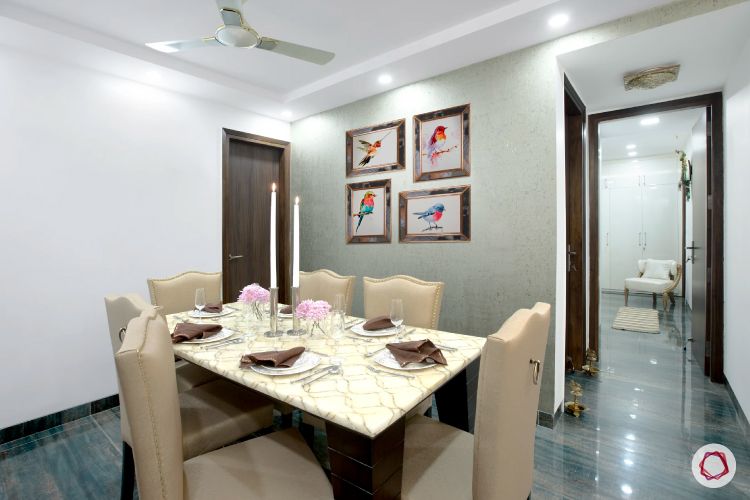 Throughout the home, intricate details keep catching our eye. The dining room, though it looks very simple, is really not so! Take a look at those elegant fully upholstered dining chairs in beige, with tiny metal rings at the back to pull them out. Why? you ask! So that they do not get dirty when people hold them! That's a smart idea, we say.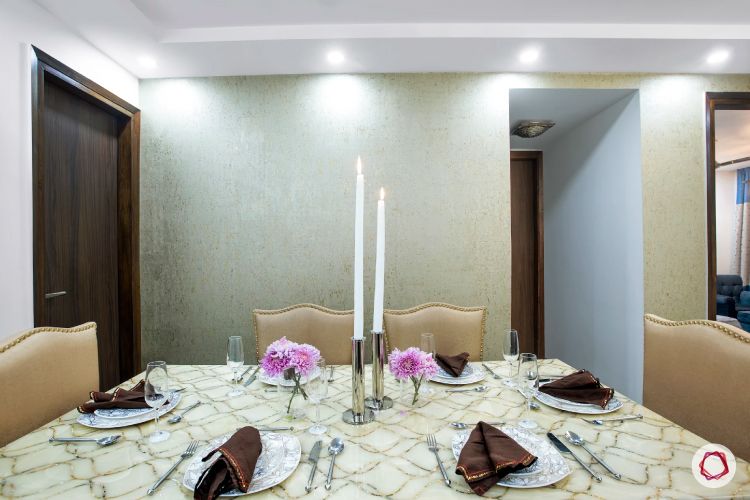 The dining table is no simple deal. It is a marble top table with a mother of pearl design on it. Resting on solid teak wood legs, dining on such a regal piece of furniture is a dream in itself!
Compact and Pretty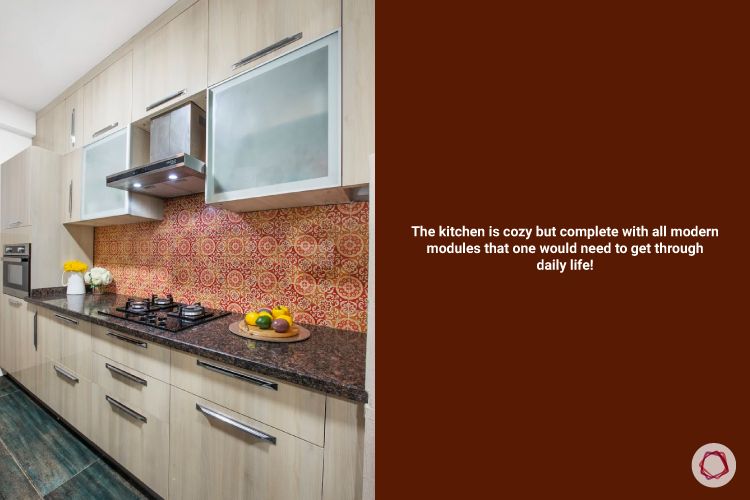 The kitchen is cosy but complete with all modern modules that one would need to get through daily life! With a tan brown granite countertop and ultra stylish dado tiles for the backsplash, it is a pleasure to cook up a storm in here. A hob unit and frosted glass cabinets overhead with light wood cabinetry complete the look!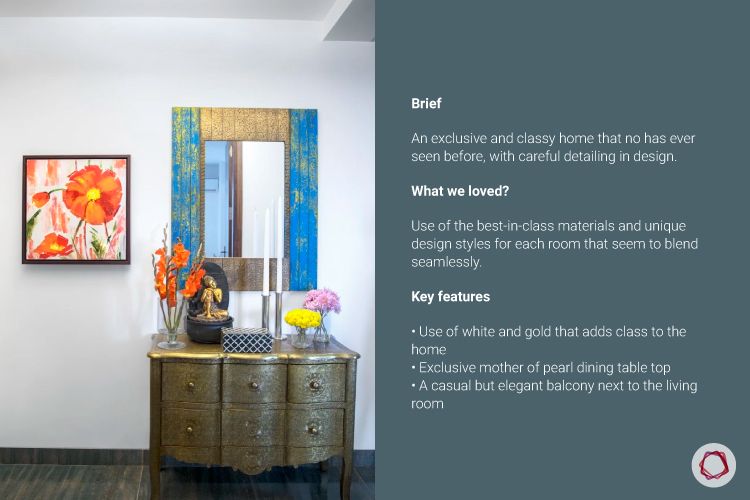 For a Comfortable Stay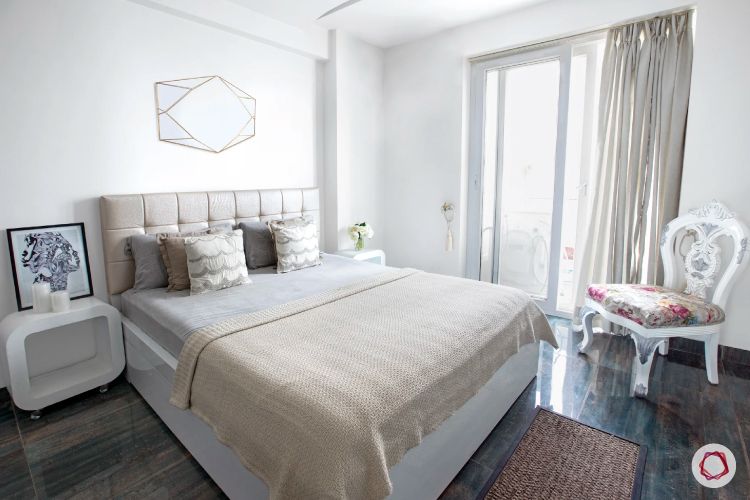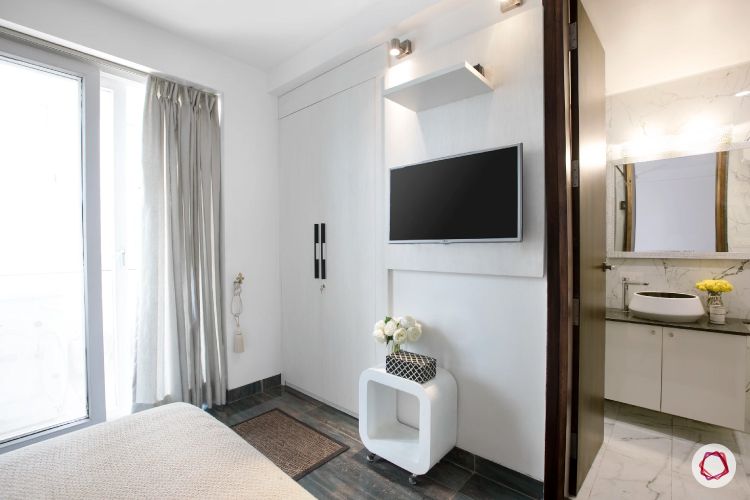 The guest bedroom was also designed keeping in mind the requirements of guests when they visit. Dedicated space for a mini fridge and luggage, it's all sorted in this room! Talk about hotel-like amenities at home! And look at the curvy accent chair with that floral upholstery — such a fresh addition!
There's Always Room for Quirk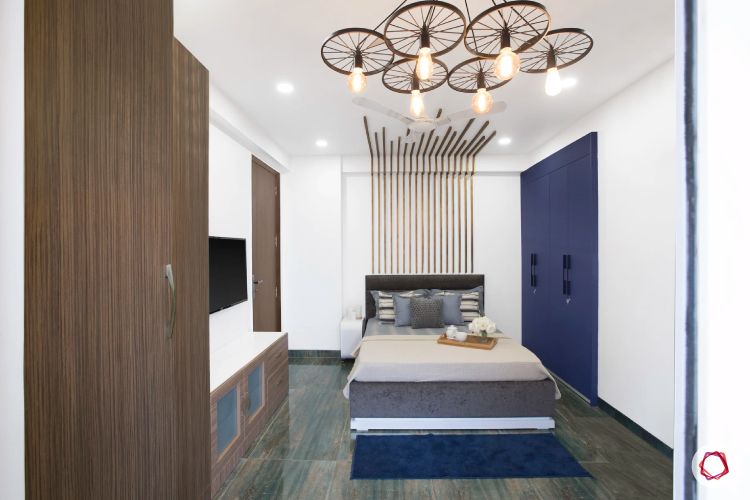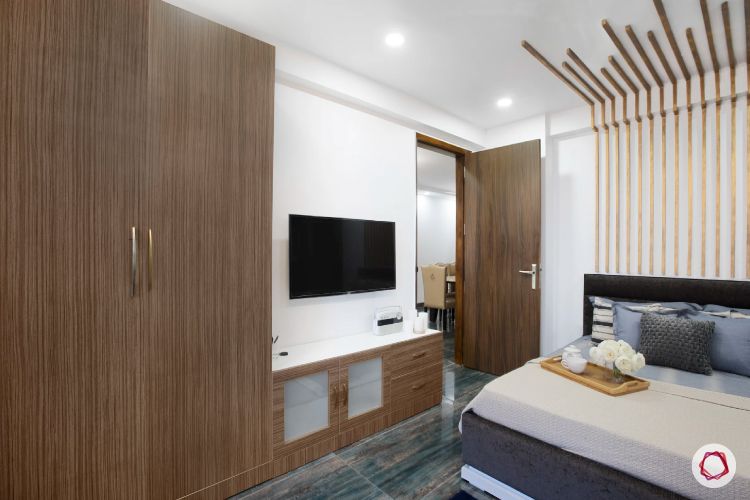 Ishab's room is a breath of fresh air amidst the elegant white interiors all around the home. Designed in a combination of blue, grey and brown, this room has specks of quirky elements here and there. The first thing you will notice is the wooden beading with a glamorous gold polish on it above the headboard. This adds so much character to this space!
One for the Bookworm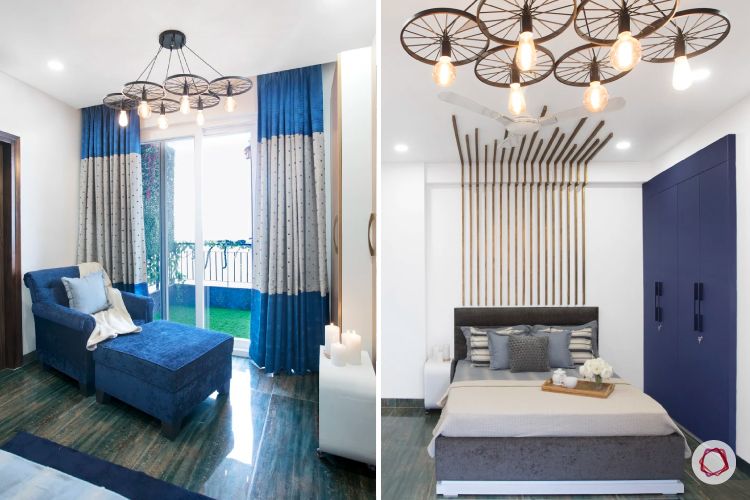 Ishab is a studious kid who loves spending time with his books all by himself. Well, that's the reason Shilpa has given him this ultra comfortable accent chair and ottoman where he can sit and study for hours at a stretch! The quirky lights with industrial bulbs add a young energy to this room.
Pristine Personal Sanctuary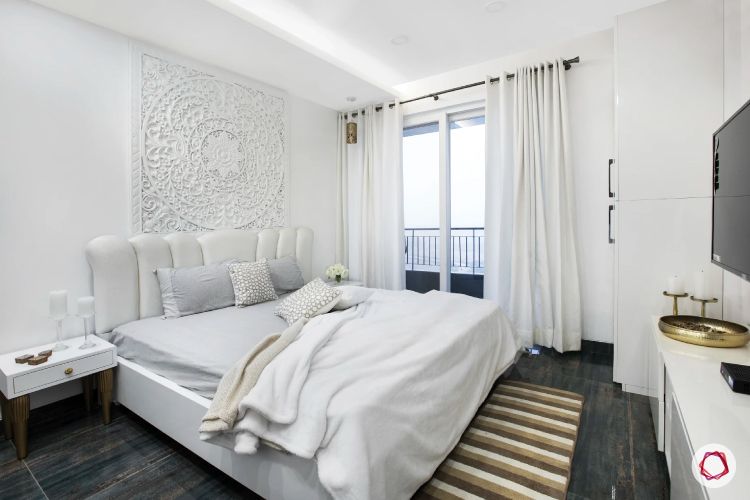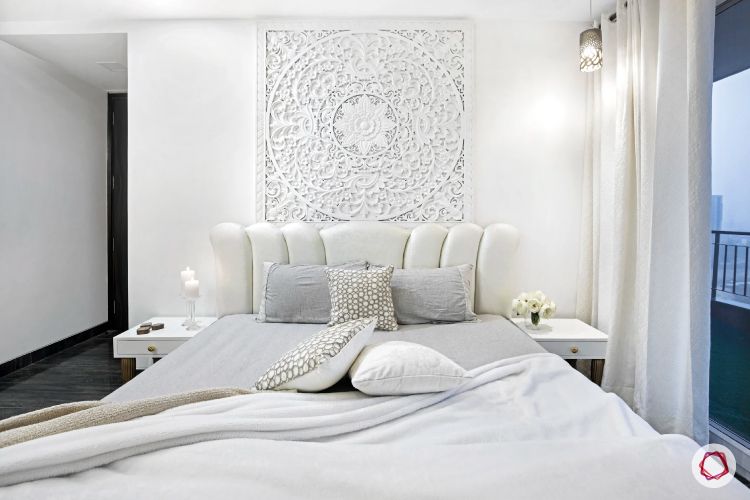 Neeta was certain about one thing — no wallpapers in any rooms, but still a different element on the walls to set it apart. So, Shilpa gave the couple's bedroom a beautiful European floral jaali installation above the headboard, which looks really elegant. She worked off a white theme and the result is a look for the books!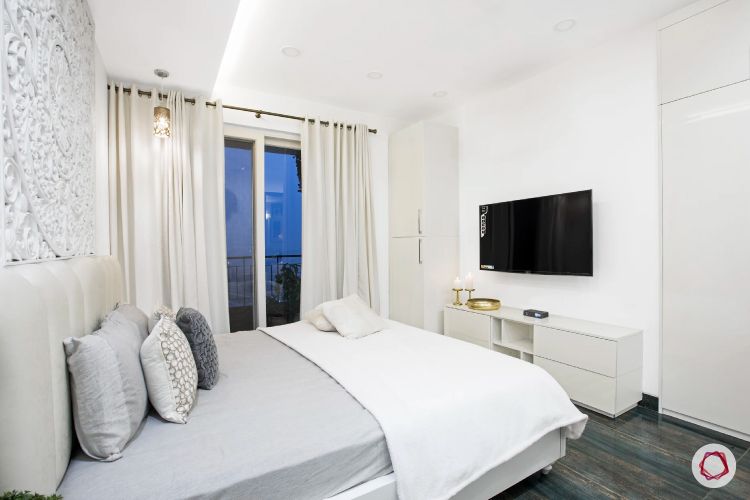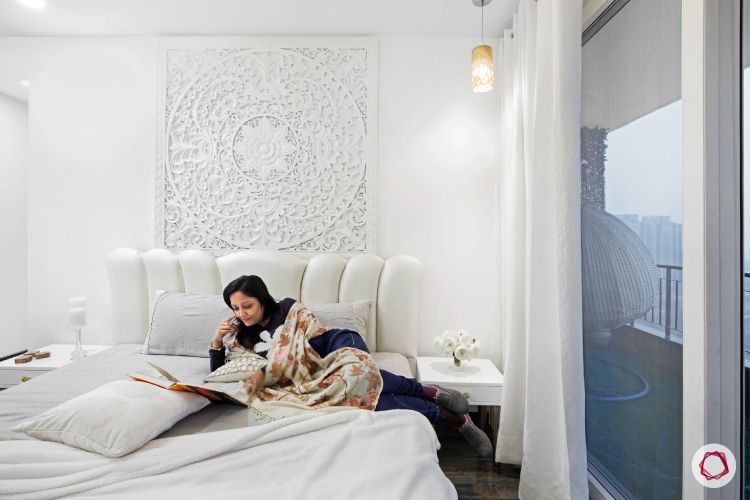 This minimalist bedroom features a combination of glossy white wardrobes and a TV unit with shelves for tiny essentials. An extra tall unit has been provided for storage. No nonsense cream hued drapes block any extra light from seeping in so that they can get a peaceful night's sleep!
Matters of Vanity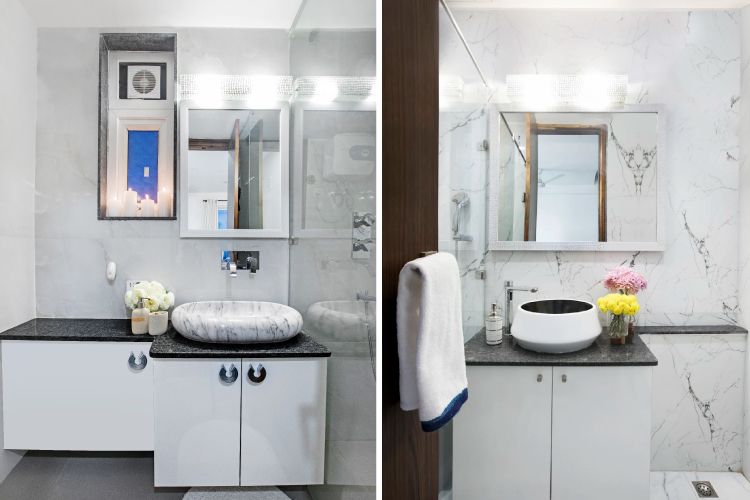 Done up elegantly in white, these bathrooms are basic, beautiful and highly functional. Equipped with storage units that blend right in, these vanities put regular ones to shame.
Stylish Sit-outs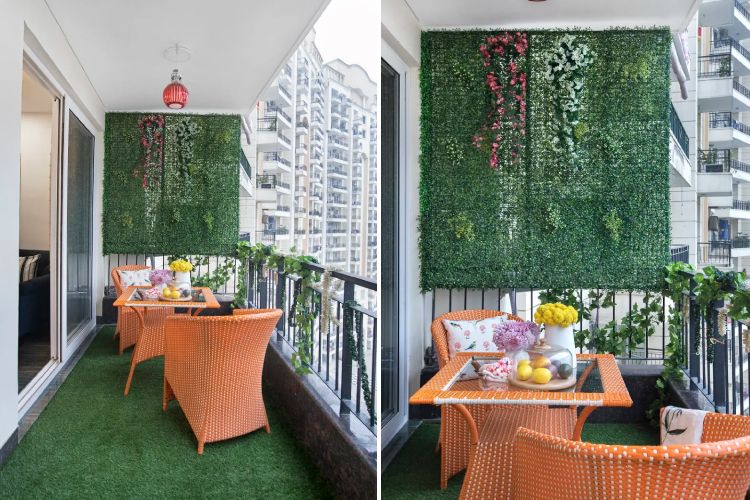 Greenery always adds freshness to a space, and we're totally crushing over this pretty balcony! This is where the Goyal's host parties with barbeques and all that jazz. The artificial grass curtain is not just beautiful, but also has a purpose — offers protection from nosy neighbours!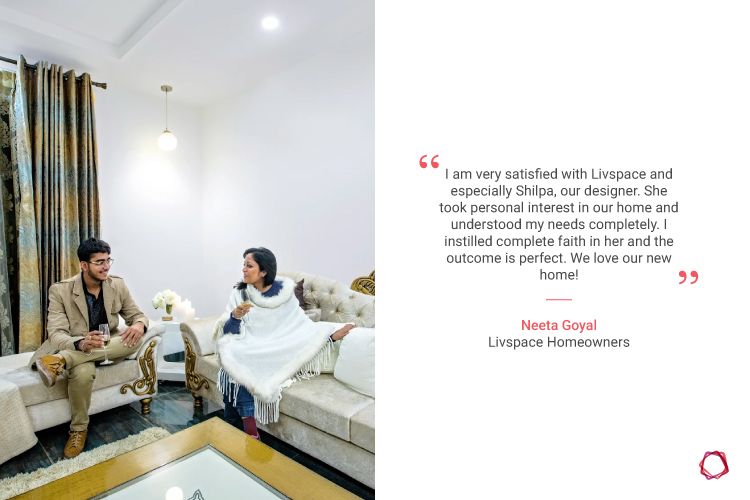 "Mrs Neeta Goyal was a very sweet client and she was particular about using the best quality products and a unique design for her home. While it was challenging, it was also very fulfilling to work on this project. I am very satisfied with the final design output."
– Shilpa Garg, Interior Designer, Livspace
If Scandinavian interiors interest you, check out this beautiful home of a well-travelled couple in Gurgaon!
Disclaimer: All contents of the story are specific to the time of publication. Mentions of costs, budget, materials, finishes, and products from the Livspace catalogue can vary with reference to current rates. Please get in touch with a designer for more details on pricing and availability.
— editor@livspace.com