Flooring can make or break the look of a room. So you might want to put in more thought on what type of floor can complement the theme of your home perfectly. Here are some innovative and stunning floor ideas that are in vogue now. These options work for renovations and new homes. Also, there's an option for any budget.
Flooring Option #1: The Effective Tile Skin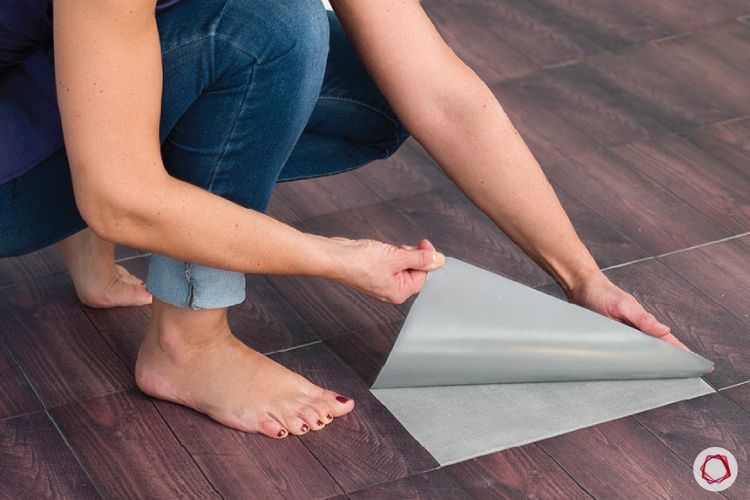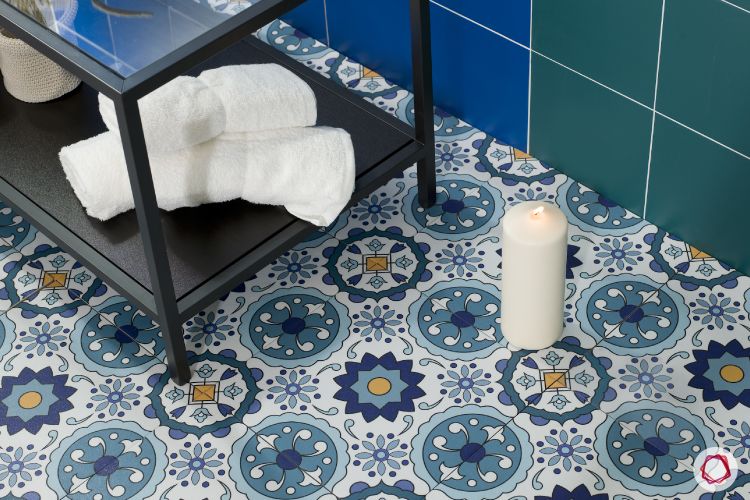 Source: Herrlich Tileskin
What if we told you, you don't have to remove your existing tiles or deal with rubble while changing your floor? Surprising as it may seem, Tileskin has proven to be an amazing invention through which you just need to place the skin above your existing tile and it looks brand new. It involves less expenditure and effort.
You can choose from an array of colours and patterns and it will still end up looking like an actual tile. If you're bored of it, just peel it off and revamp the look again. This technology has been introduced for the first time in India by Herrlich. It is basically a thin laminate sheet with a self-adhesive mechanism to ease installation. It's also waterproof which makes it easier to maintain!
Pricing range: ₹168 onwards per sqft
Best used in: Bathrooms, but can be used around the home too
Flooring Option #2: Stunning Marble Inlay Designs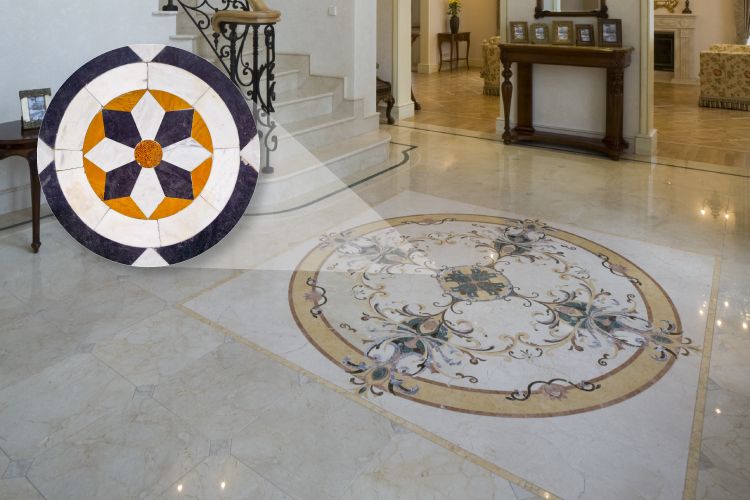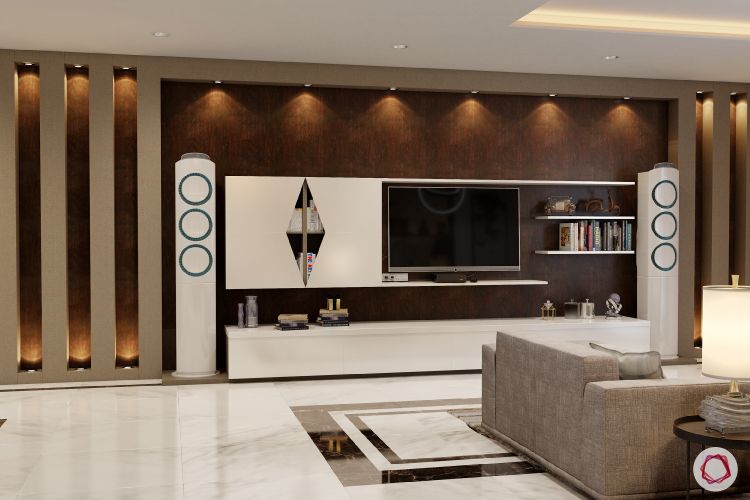 Possibly introduced by the Rajputs, marble with inlay work is making a strong come back to give homes a luxe touch. It doesn't have to be only marble with marble inlay work, it can also include marble with metal inlay as well.
Since marble is easy to maintain and is hard-wearing, we're sure it's a good investment that you can make, especially if you're building a new home. Marble with inlay work can instantly uplift the vibe of the room by making it classy. You can also choose a design to match your interiors.
Pro tip: It's the ideal choice for homes in warmer climates.
Pricing range: ₹450 onwards per sqft
Best used in: Living, dining and other common areas
Flooring Option #3: Rustic Indian Patent Stone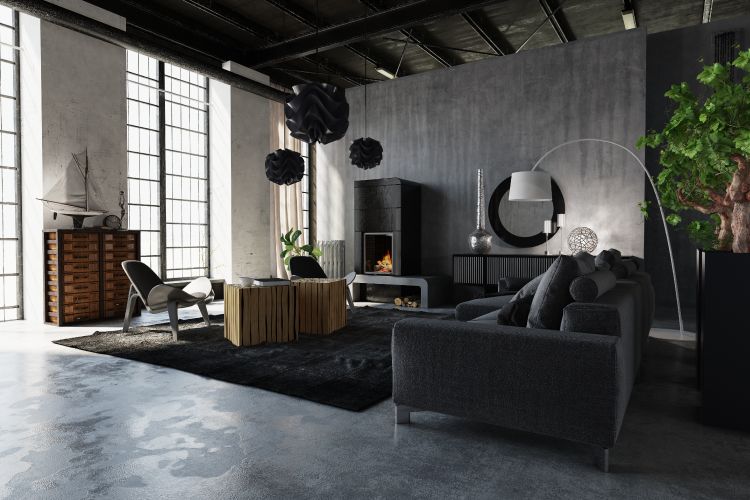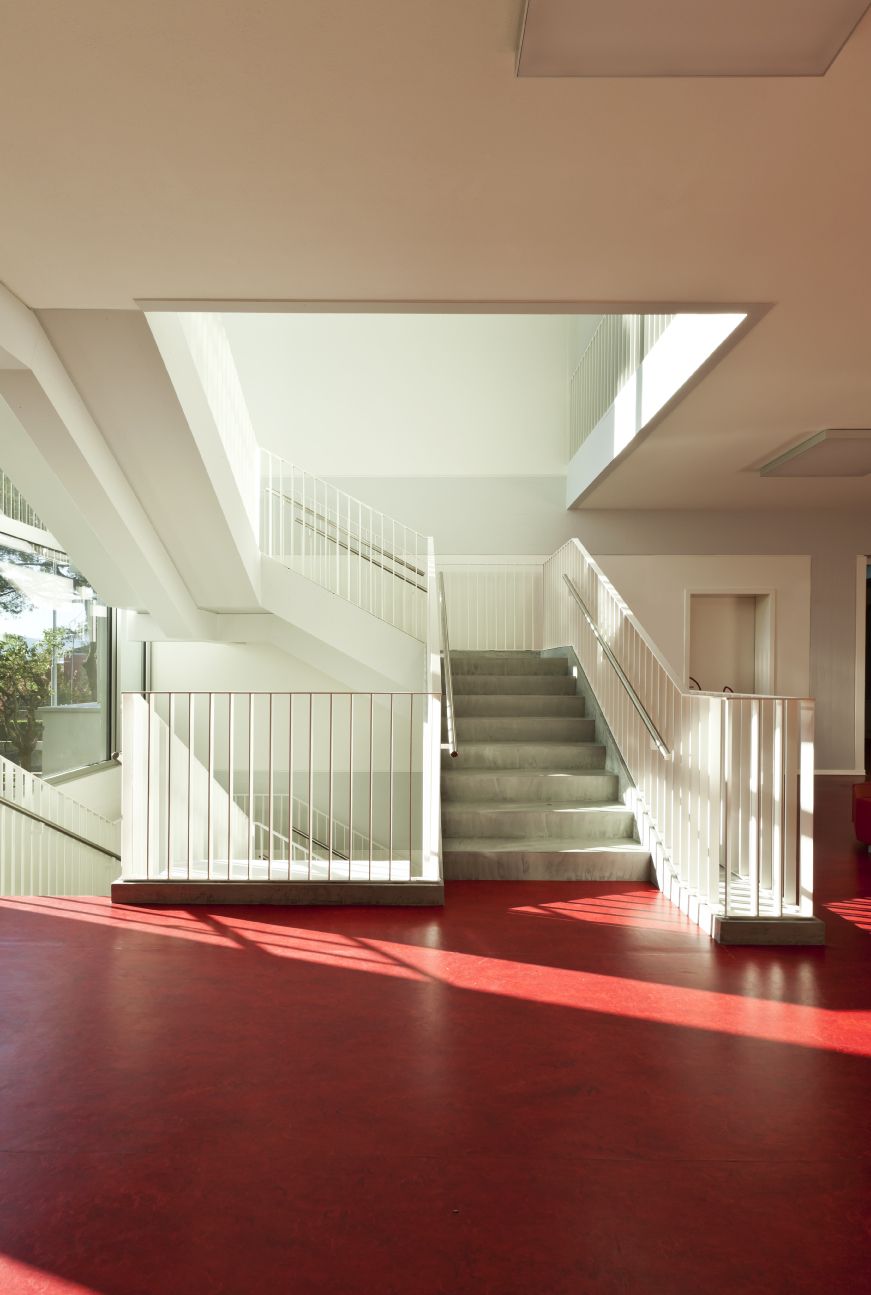 Indian Patent Stone (IPS) is a basic option that uses a concrete mix and gives a rustic and rough finish. A tough material, this is relatively easy on the pocket and durable as well. With a wax coat or a sealer, the colour can be preserved for a long time and prevent stains as well.
It can be availed in a standard grey or 30 other colour options at Bharat Floorings. The red IPS flooring is usually known as red oxide flooring in India.
Pro tip: Rustic interiors along with patterned IPS options are the rage in the interiors market with cement and concrete floors ruling home interiors as well.
Pricing range: ₹300 onwards per sqft
Best used in: Common rooms like the living and dining areas
Flooring Option #4: The Wooden Flooring Look-alike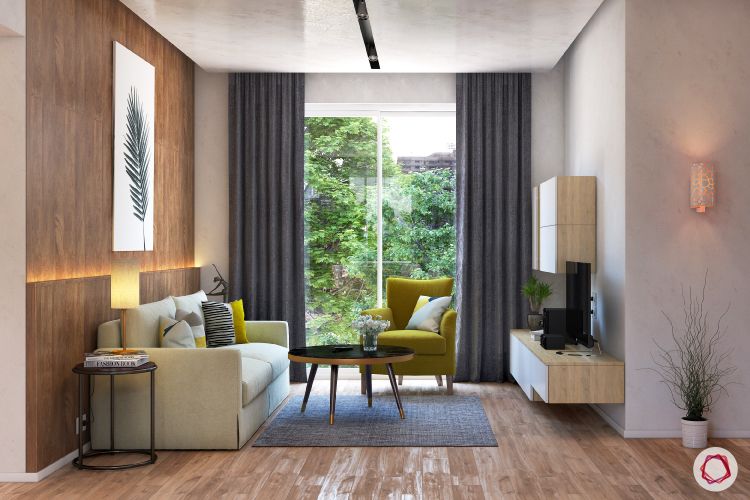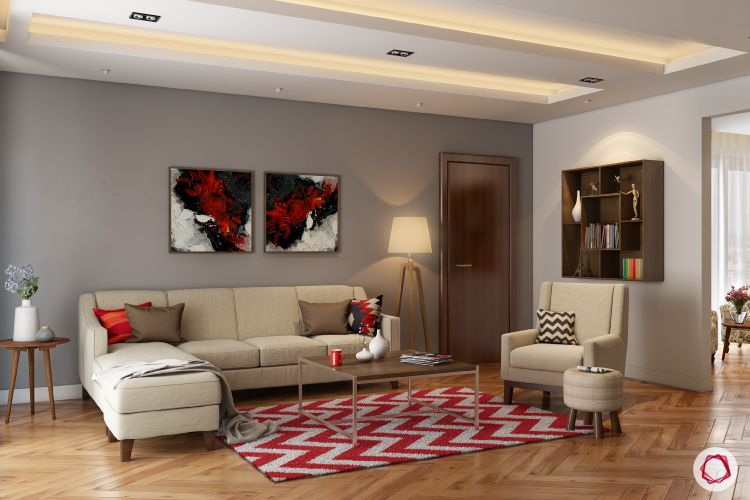 Do you want the richness and warmth that wooden flooring provides but are sceptical of the maintenance and fire hazards involved? This solution is for you. Ceramic tiles with finish and texture identical to wooden flooring are available in the market. These also come in slip-resistant material making it ideal for homes with pets as well.
If you still want an actual wood flooring, Pergo offers fireproof options you can explore.
Pro tip: Check out parquet patterns (geometric designs) in wooden tiles that are in vogue and won't go out of fashion any time soon.
Pricing range: ₹200 onwards per sqft
Best used in: Living room and bedroom
Flooring Option #5: Heavy Textured Tiles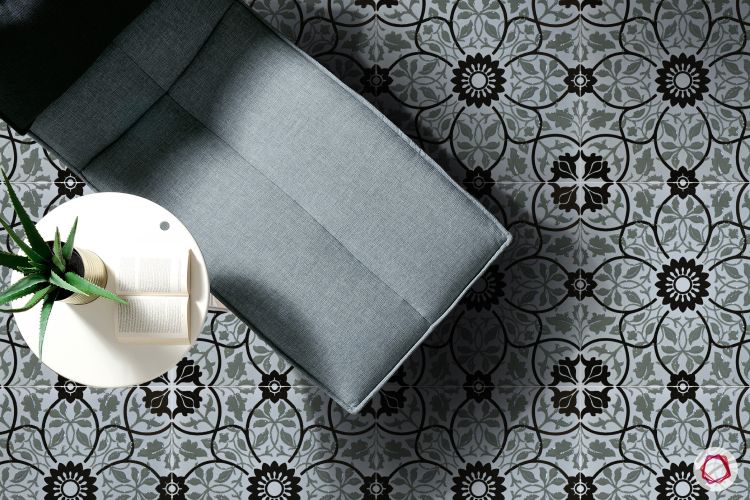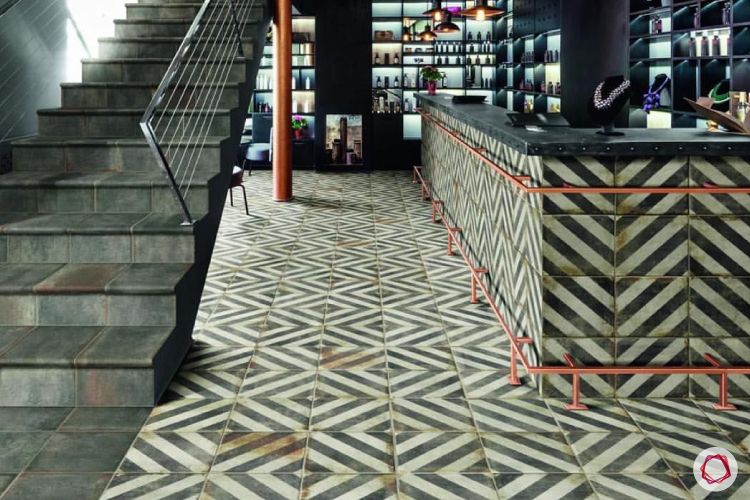 Source: Bathline
From Moroccan to 3D tiles, these stunning beauties have been making a splash in the flooring industry. Beautiful textures that are eye-catchy and making a style statement in today's homes, you can have your pick based on your home design. Intriguing patterns or a combination of vibrant colours can set the tone for your home.
Our vendor partner, Bathline offers some stunning finishes ranging from rustic and rough finishes to beautiful prints.
Pro tip: Rustic patterns are in-vogue and you can use it in cafes, bars, bathrooms and home exteriors.
Pricing range: ₹250 onwards per sqft
Best used in: Outdoor areas, bathrooms and balconies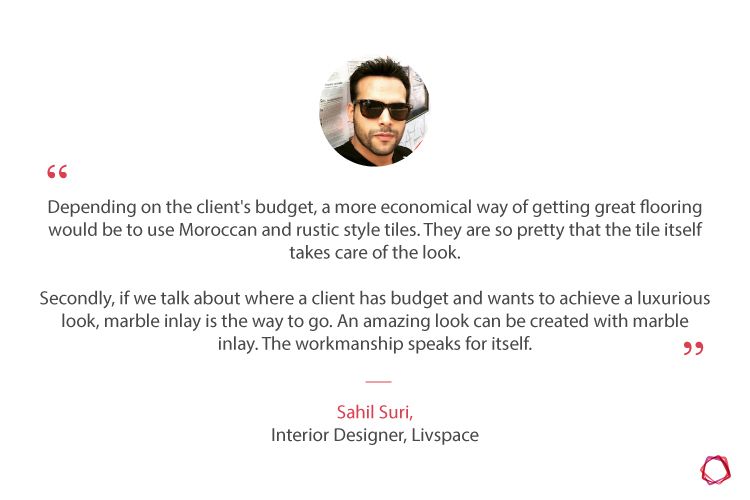 Flooring Option #6: Rubber Flooring that Pampers Feet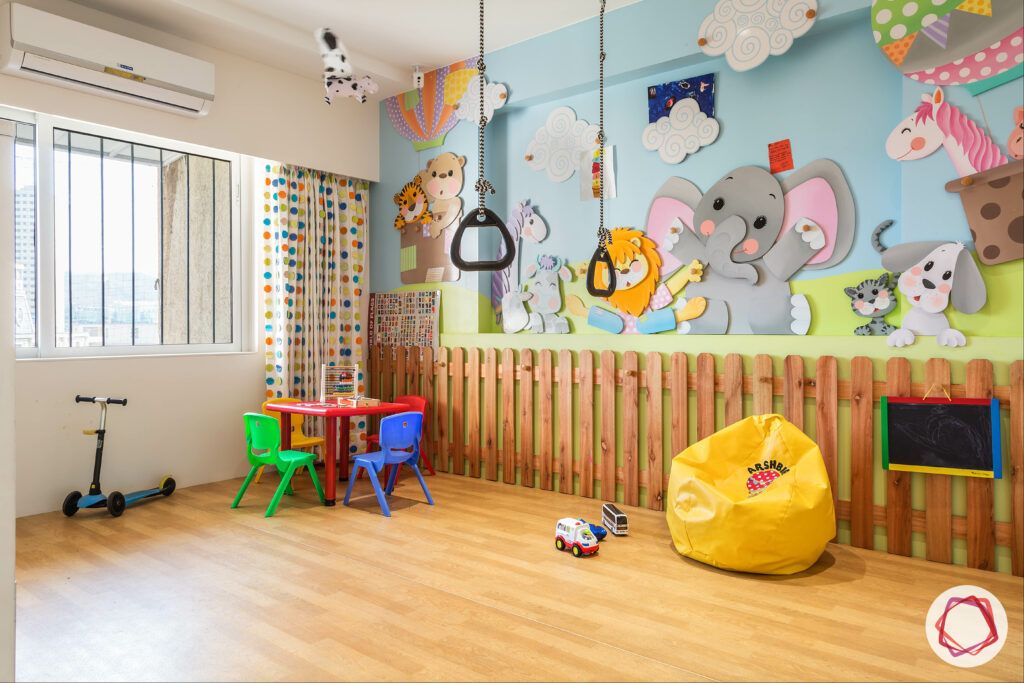 For those who have kids or have a high-spirited personality, we're sure there is a lot of jumping around at home. Rubber flooring gives a layer of buffer to save flooring from damage as well as make the landing soft.
Pro tip: Usually, people use this type of flooring in gyms to prevent injury during workout.
Pricing range: ₹400 onwards per sqft
Best used in: Kids rooms, gyms, yoga rooms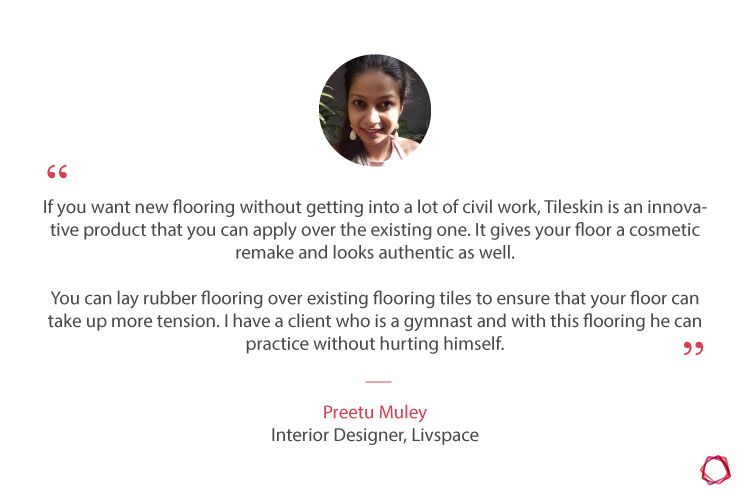 We hope these options inspired you to give flooring options more thought. You can also check our Wood vs Tile flooring article to take a decision.