Just setting up a TV in the living room is not enough anymore. We all want more and having a media room is a dream come true. You'll need a full-fledged home theatre system with dimmed lights and sound-proof walls so that you can experience the movie in full-volume! It can keep you glued, much like a theatre experience.
However, in India, an entertainment room does more than just give you a theatre-like experience. It is a place where the family comes together to spend quality time. If you're a gaming enthusiast then this also becomes a gaming hub for your friends to chill at. So, have you thought of how you can decorate the room to make it more appealing? Here are some ideas, courtesy Livspace!
Colour Play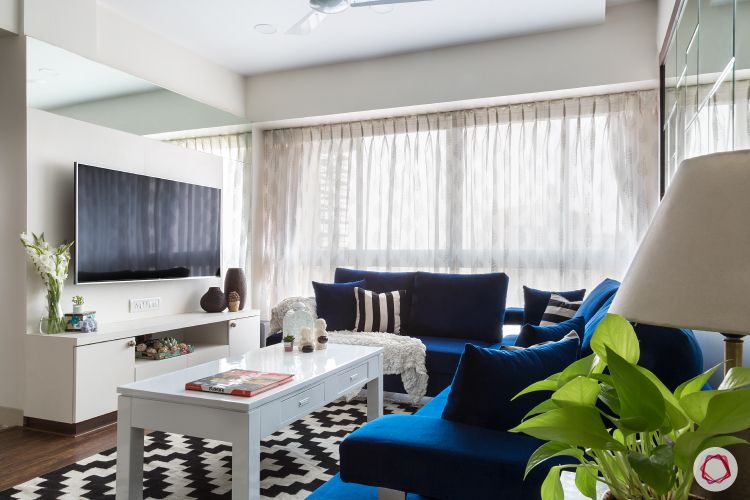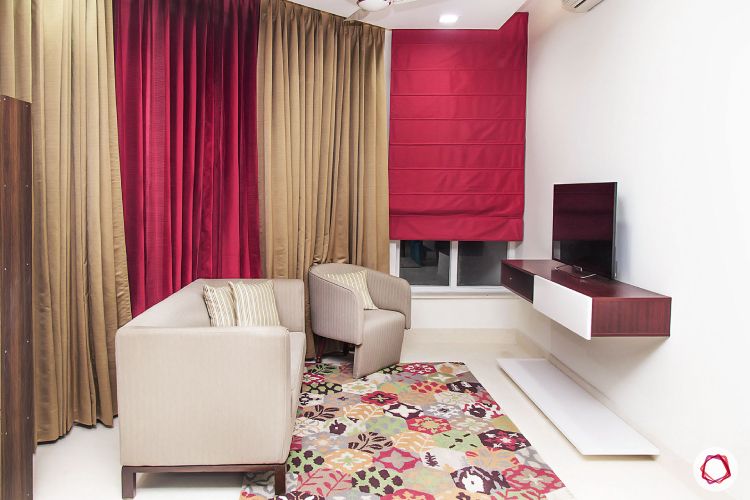 If the room is majorly intended to work as a home theatre room, then neutrals work great. This is to ensure there is minimum disruption when you binge watch your favourites on Netflix. However, when the rooms double as a family room or a guest room it would be great to add some colour. Pops of colour in the cushions, curtains, carpets or printed upholstery will give a stylish appearance. For a balance of both worlds, infuse earthy hues.
Wooden Tones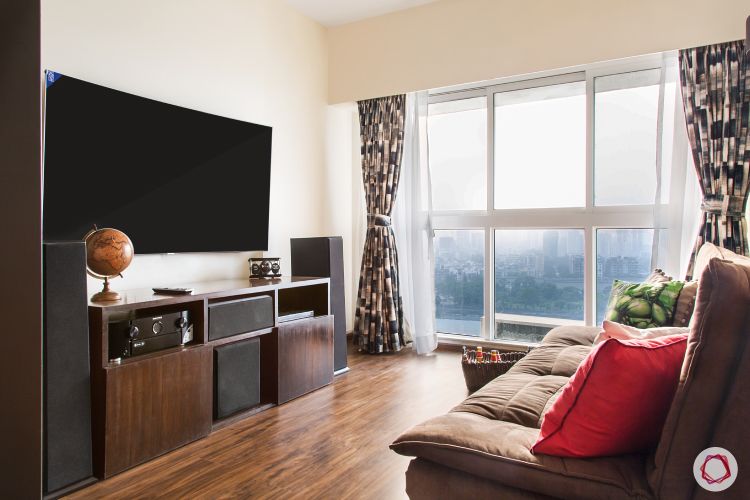 To add warmth to the room, a lot of people prefer wooden accents. This is not just cosy but also gives a luxurious touch to the interiors. Wooden flooring, wooden panelling, wooden artwork, engraved wood — your options are ample. However, wooden furniture is not an appealing seating option when you spend long hours on it but entertainment units in wood can add to the charm.
Comfortable Seating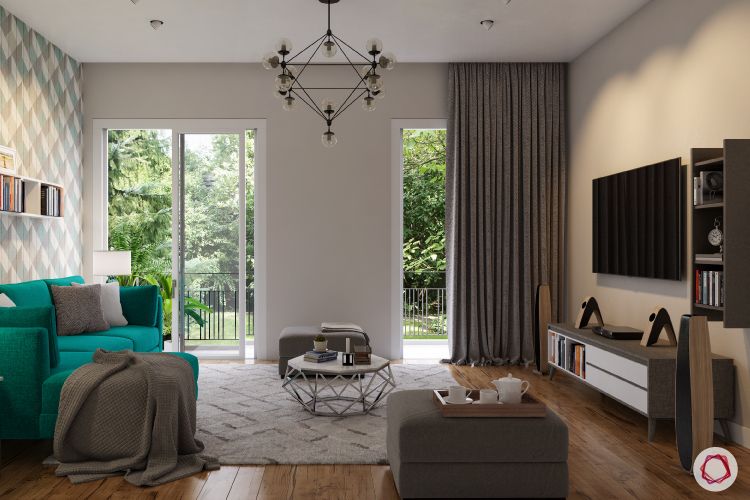 Layer your seating right. Since you're planning to take a time-out in this zone, it is necessary that you hit the perfect comfort level. For bachelors, La-Z-Boy recliners and bean bags are a great option. However, for more seating, you can use a combination of sofas or even opt for a sectional. Here ottomans, poufs may look great and can act as additional seating but are not very comfy for prolonged seating. Ensure you have a comfy rug on the floor for friends who decide to join you.
Light it Right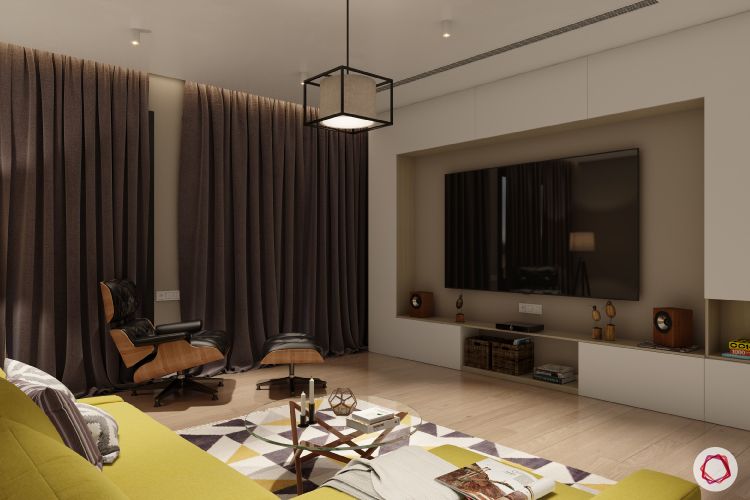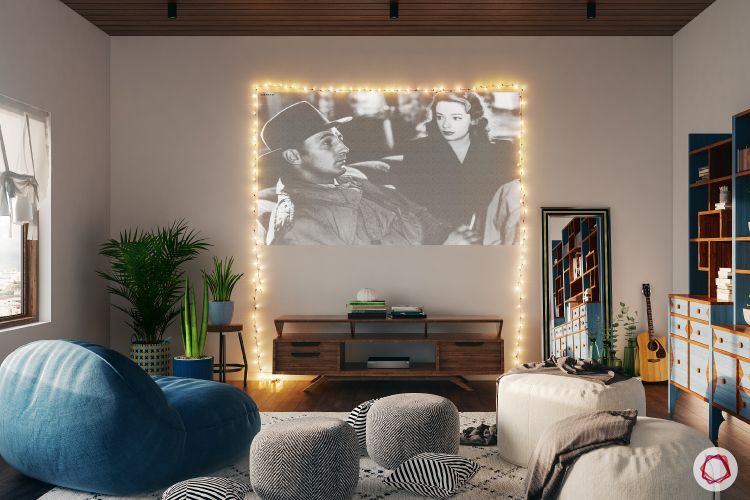 We recommend dimmed lighting options for your media room. If you consider this room to be a makeshift guest room or family, then its ideal that there is a main source of ambient light. LEDs, pendants and recessed lighting are your go-to options here. To set the mood, you can introduce stylish wall sconces, LED strips and track lights too. You can use a different combination for various occasions.
Wall Treatments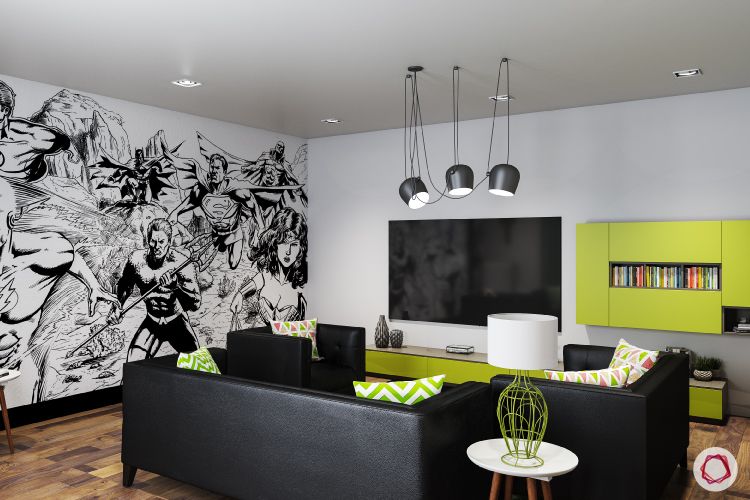 Wall paintings and printed wallpapers are generally considered too sober for this room. To induce drama, go for movie posters, graffiti and comics as wall coverings. The idea here is to make it interesting, yet casual and move away from the conventional. If this doesn't excite you, you can also go for exposed brick walls to give it a more rustic, industrial look.
Artwork and Decor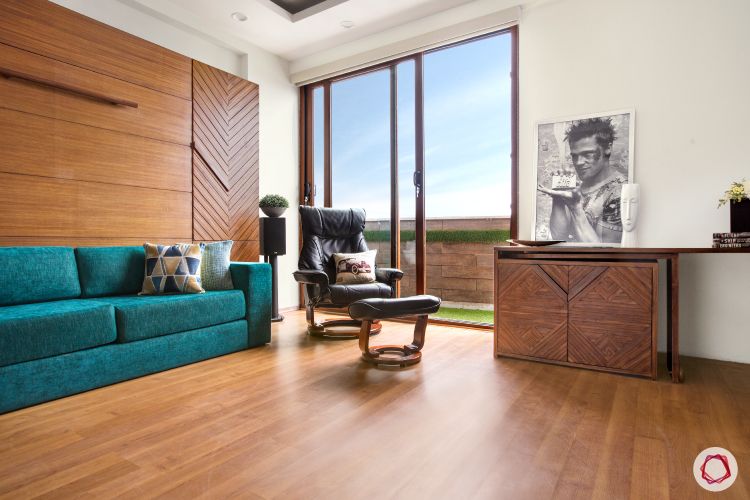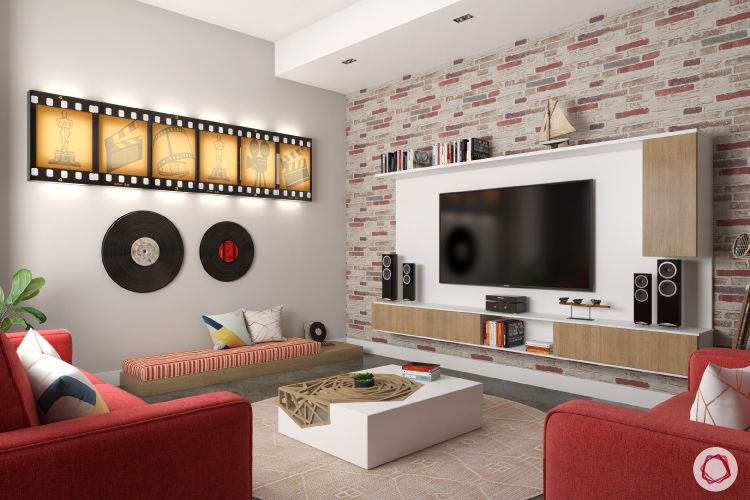 Artwork is different for everyone. So why don't you frame your favourite Avenger or your kid's favoured toon and display it with pride? You can even stack up movie memorabilia like old movie posters and miniatures as decor. This room can act as a tribute to the movie, show or musician you love. However, ensure you don't use a glass frame as the reflective surface can disrupt your movie experience.
Want to see more? Here are more details on how to set up a home theatre room from scratch.