Bookshelves are more than just storage units in the world of interior design. They serve as excellent focal points in your design, while also enhancing the acoustics of a room. Bookshelves also help you maintain a clean, clutter-free home, making access to books and stationery easy. If designed well, they can add depth and dimension to a room, thereby making a space appear dynamic and visually appealing. All in all, bookshelf designs have great transformative potential for home decor.
Now that you have an idea of how important bookshelves are to your home design, why not check out the best modern bookshelf designs that can help elevate the look and feel of your space?
1. Wooden Bookshelf: The Classic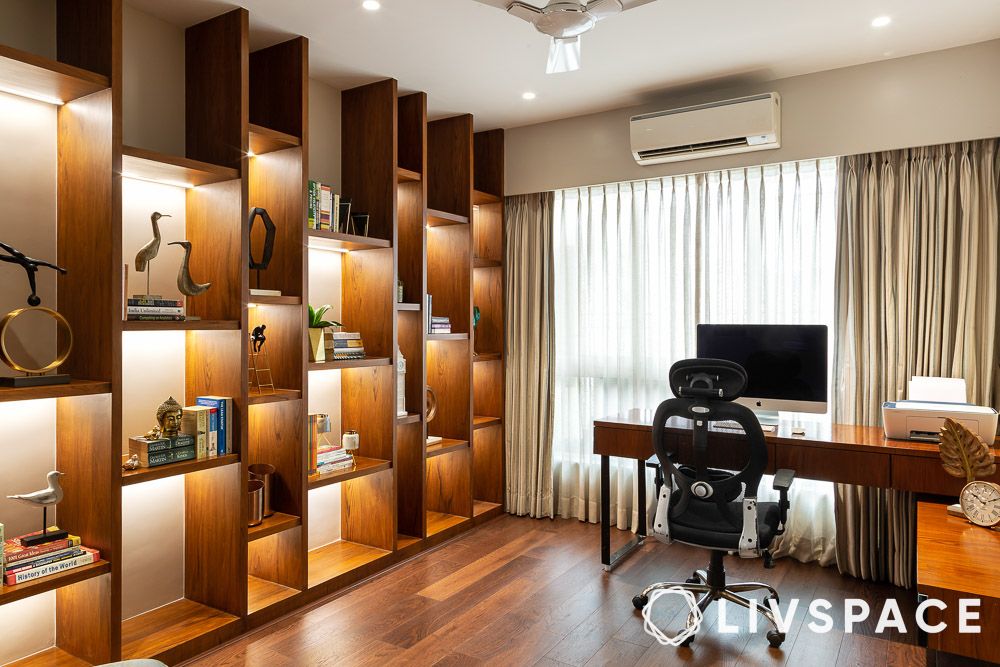 Let's start off our list of modern bookshelf designs with an all-time classic: the wooden bookshelf. If you grew up in a middle-class household like the rest of us, your home has had a simple wooden bookshelf that was an absolute essential.
Why not recreate the nostalgic magic of your childhood, while ensuring your modern bookshelf keeps up with the cosmopolitan lifestyle you have now?
With backlighting options, this bookshelf design is a great functional addition to your home, to display all your books, knick-knacks and decor pieces.
2. Trending Now: Bookshelf With a Study Table
The homes we live in might have small square footage, but our dreams are big. So, when space is scarce, one must find ways to optimise it and maximise functionality.
Bookshelf designs with a study table allow you to do just that. If allocating space for just bookshelves is not convenient, take this route and set up a home office space.
You can decide the style and size of bookshelves that work for you. Try a mix of open and closed, upper and lower shelves to achieve a sense of perfection that fits your dream home.
3. A Bookshelf With Study Table Idea for Small Homes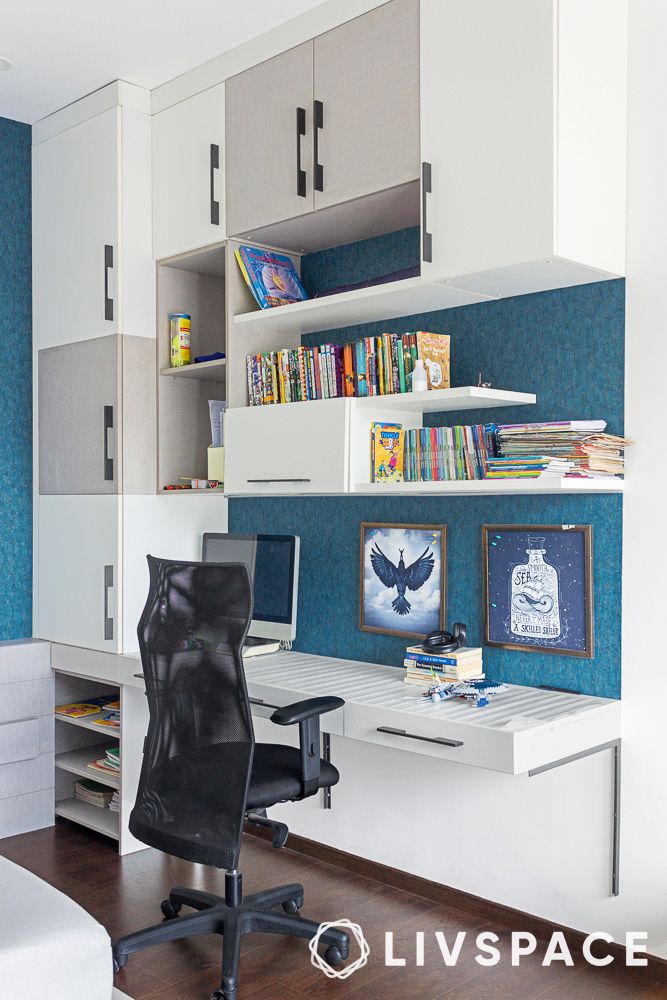 If space is too scarce, you may want to pack a punch with a compact bookshelf design with a study table. Take some inspiration from this corner bookshelf design that's finished in white and blue, a classic combination.
Who said tall units were for kitchens only? This bookshelf with a study table features a tall unit for maximum storage, with a mix of open and closed upper shelves to make a big difference in a small home.
4. 100+ Bookshelf Designs That Fit Every Home Big & Small
No matter the size of your home, the right bookshelf design with a study is a modern need you can't compromise on. Gone are the days when work from office was the only norm. With hybrid work becoming the new reality, have a dedicated study set up in the comfort of your own home to take those midnight calls and close those crucial deals.
Plus, a bookshelf design with a study table is ideal for children of all ages. It helps them have a separate, allocated space for studying while keeping your home tidy and organised.
5. Nothing Beats Wall-Mounted Bookshelves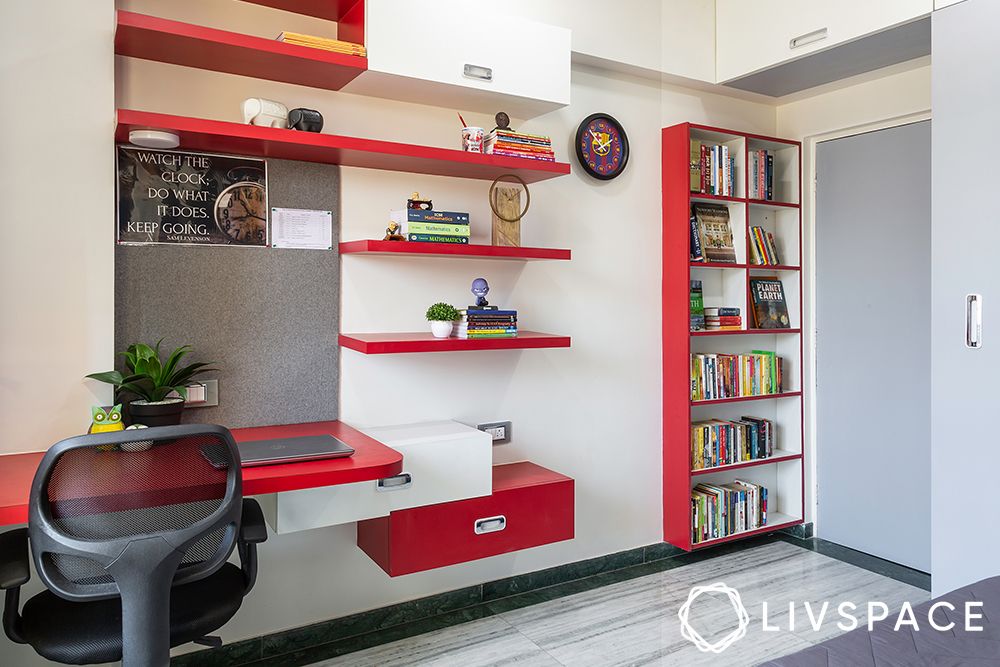 While we are on the subject of scarcity of space, limited square footage and small homes, we should address the redeeming quality that wall-mounted bookshelves come with.
Floating or wall-mounted bookshelves don't occupy precious floor space, which you can then use for other things! They also give your home an organised look and feel.
This design combines a study table, a full wall-mounted bookshelf and floating, wall-mounted bookshelves to deliver a punch! However, you can go solo with the floating, wall-mounted bookshelves to save space.
Also Read: 10+ Genuine Kitchen Storage Problems and How to Solve Them
6. Contemporary Wooden Bookshelves for the Suave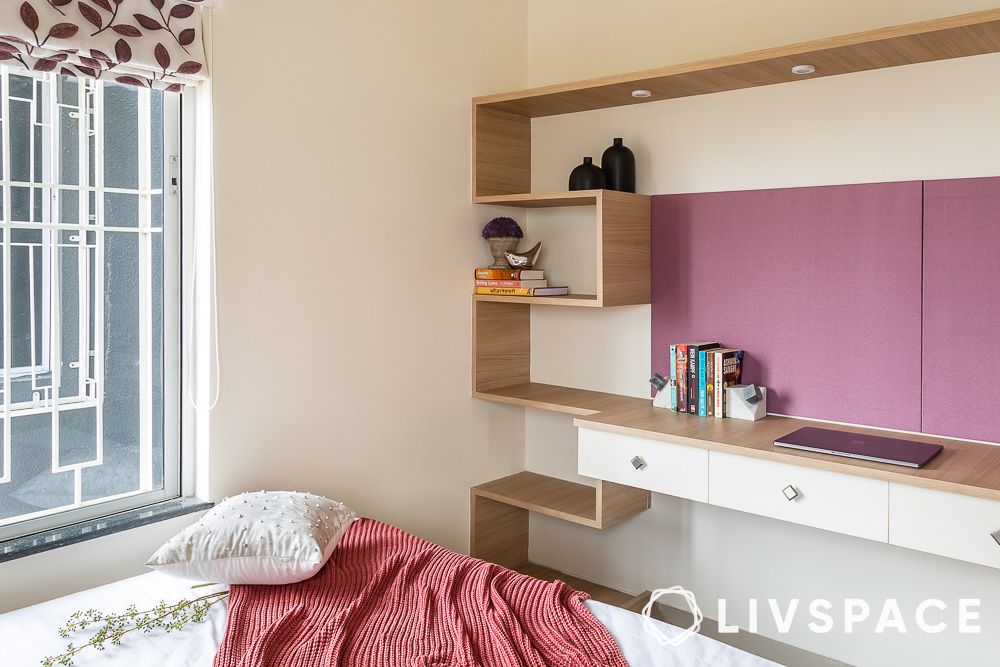 Bedroom bookshelf? While the idea is unconventional, it's getting increasingly popular with millennials and Gen Zs. Take a look at this minimalist marvel! It's so savvy and suave, we can't help but love our own creation.
Creating a focal point, this bedroom bookshelf can act as a display unit while also doubling up as a bookshelf with a study table design. It's versatile, smart and so sophisticated!
7. Ladder Bookshelf Design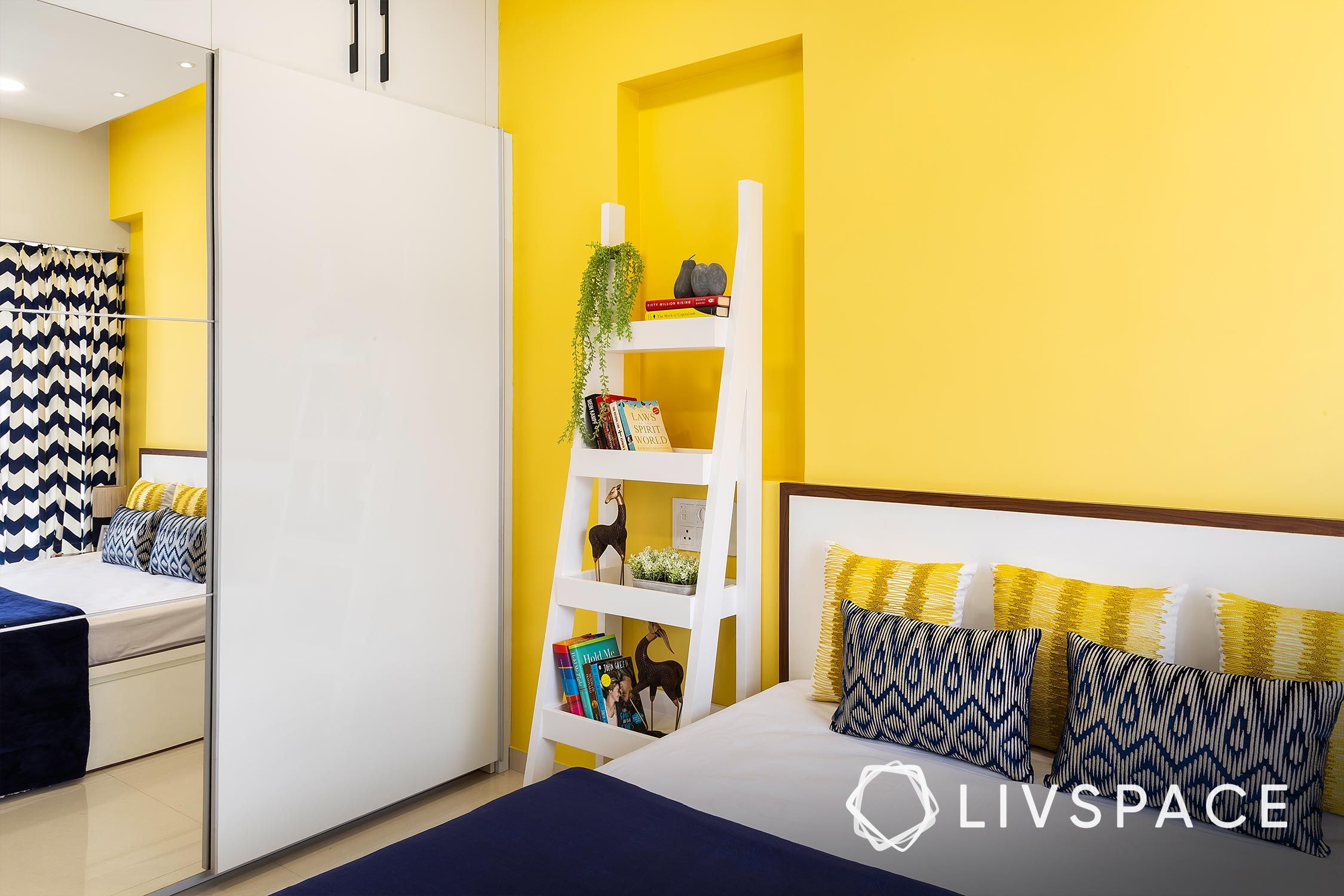 We believe bookshelves are those magical gateways that allow interdimensional travel, helping us escape to other worlds and embark on beautiful journeys.
Whether you think so or not, you would agree that a ladder bookshelf for the home is a great addition to your decor. They are trending: everyone loves them. They are functional: the big ones can usually store 300+ books. Also, they are unconventional: extra brownie points for style!
8. Small Bookshelf Design: The Essential Pick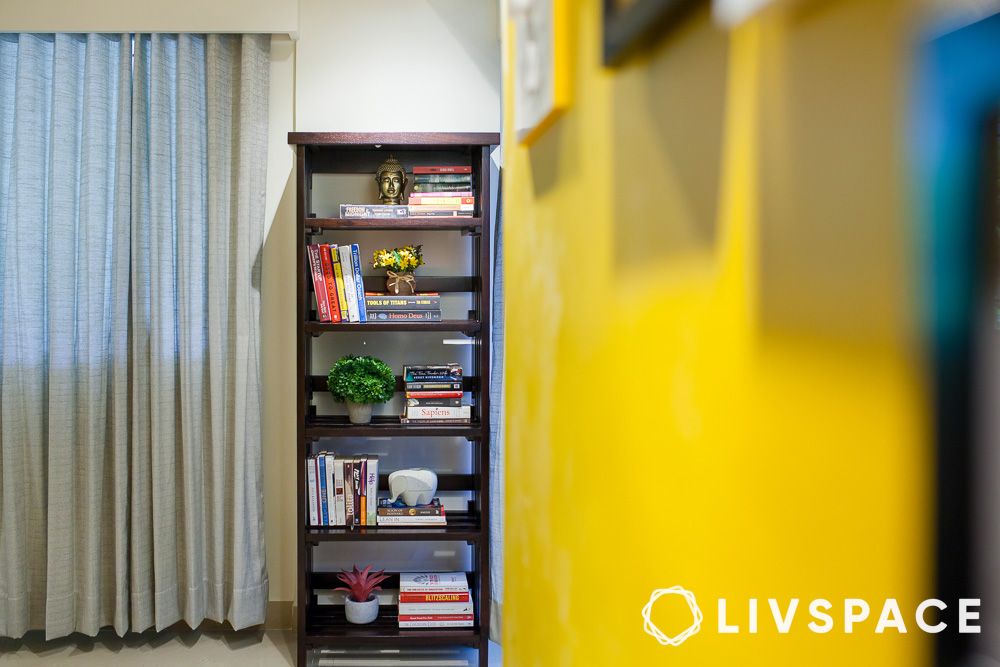 While we are ardent believers in how a bookshelves design should be a brilliant mix of style and functionality, we understand the importance of traditions.
Whether you have inherited a simple, sturdy bookcase design like the one above, or you would just like to keep things uncomplicated, simplicity can truly be the key to creating a timeless bookshelf design for the home.
9. A Modern Bookshelf for a Modern Home
What's really interesting about abstract bookshelf designs, like this one, is that they break away from conventional expectations of how bookshelves are meant to be. They can become a conversation starter in a living room, a personalised display of your adventurous side, or a captivating centrepiece in your home decor.
Metal and MDF come together to create a modern bookshelf design that can house up to 1000+ books in different patterns and styles! Break up the monotony with other decor pieces like a vase, a sculpture or a show-piece.
10. Unique Corner Bookshelf Design (Within a Wardrobe)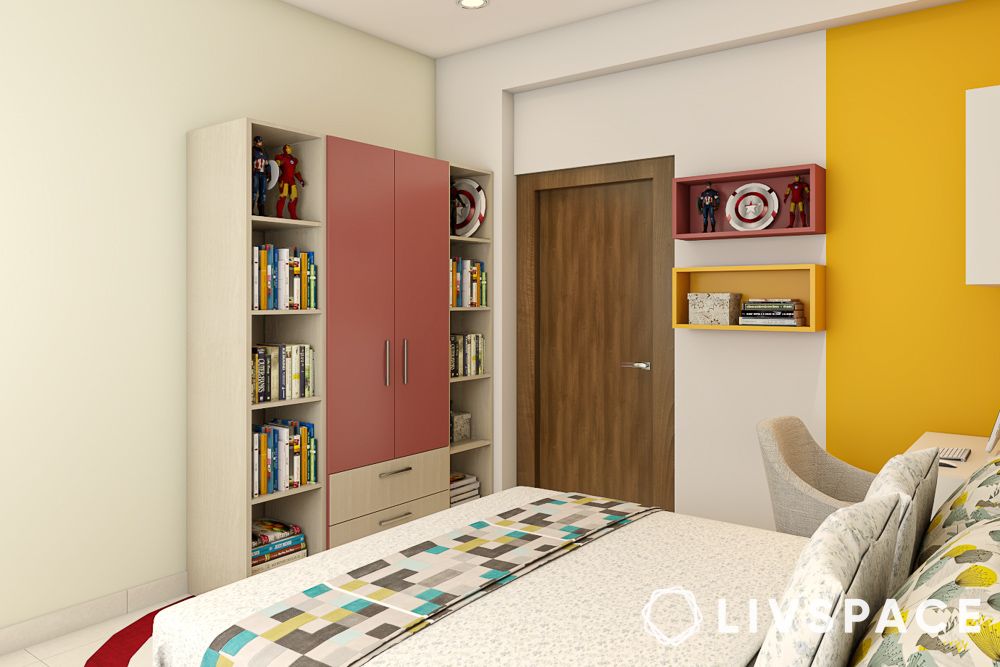 Good interior design helps you make a place beautiful. Great interior design helps you make a place beautiful with the smart utilisation of space. That's what we at Livspace have done for this contemporary bedroom: paired bookshelves with the wardrobe to create depth and facilitate convenience.
Bookshelves designs come in many sizes, styles and forms. Sometimes, you have to be brave enough to try what no one else has to create a stunning effect.
11. The Simple Wall Bookshelf Design Starter Pack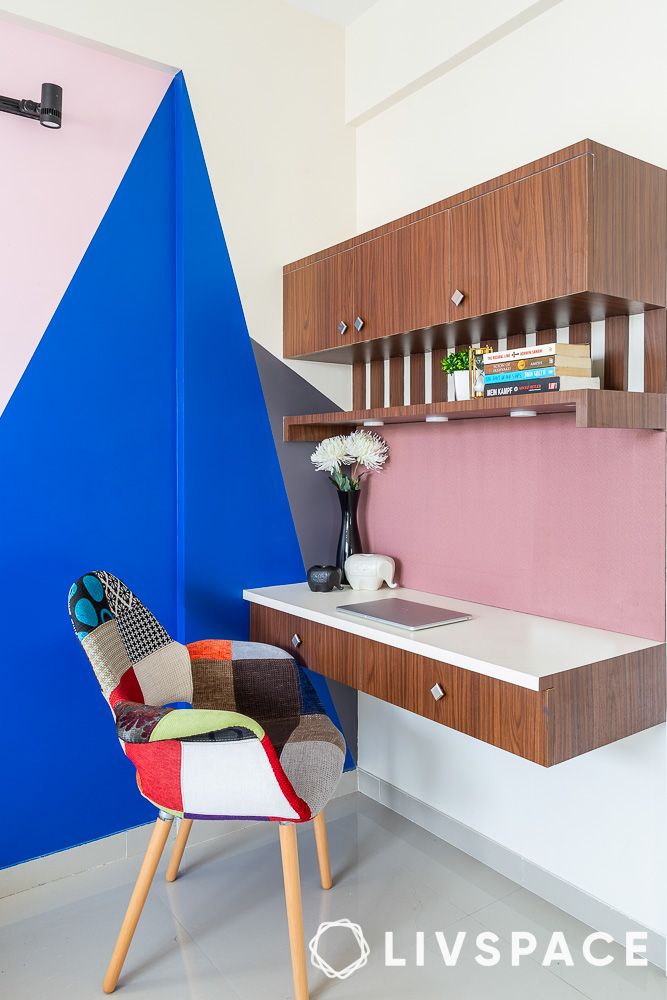 Why use a simple wall bookshelf design when you can add a patterned chair and allow a countertop to act as your desk? Reinvent your wall bookshelf idea into a compact study in a few steps and find a whole new advantage.
Create a niche for yourself where you can read books, do work or complete assignments by doubling up a simple wall bookshelf design as a study.
12. A Geometric Wall Bookshelf Idea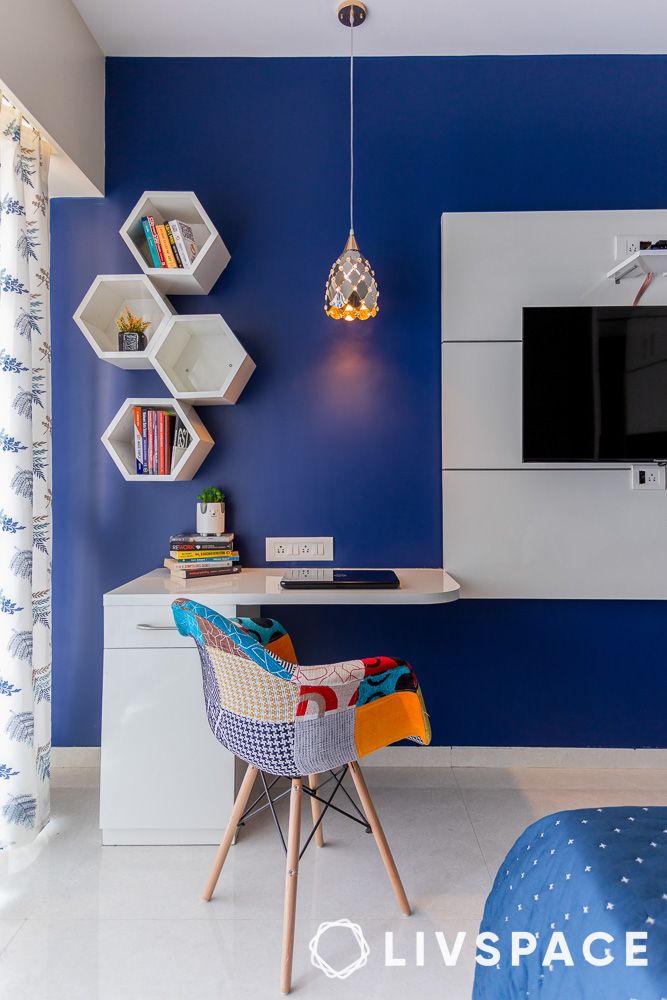 The best part about this hexagonal wall bookshelf idea is that it can be a showstopper in its own right (with or without the study table). If you are not too keen on including a study, skip that and have a smart and sleek addition to your decor.
13. A Bedroom Bookshelf That's One for the Books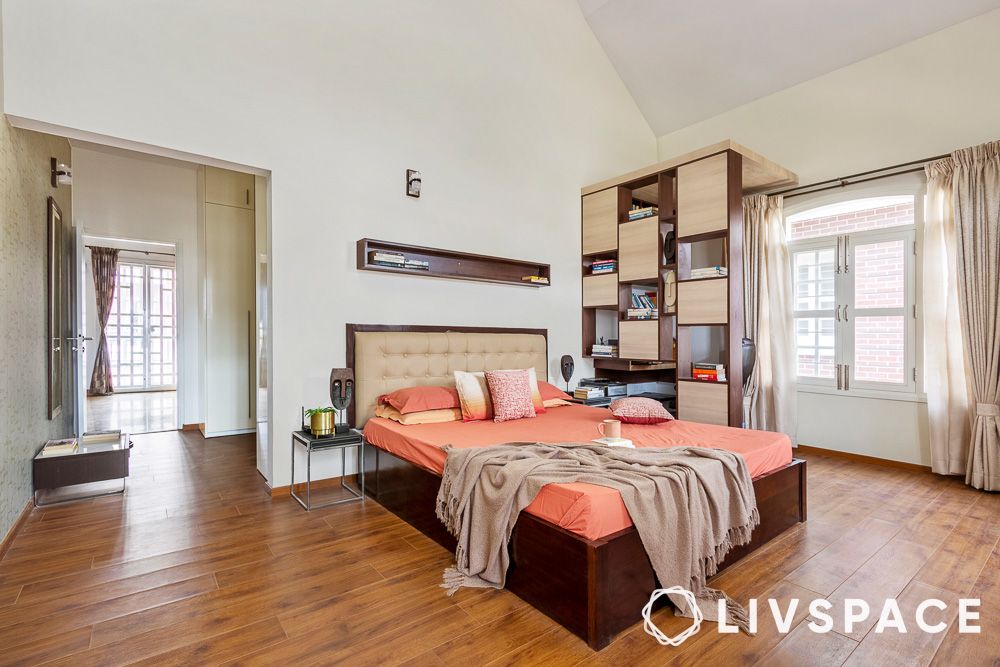 For open-concept homes, creating a partition can be game changing. This bookshelf partition idea is simple yet terrific. In addition to being a beautiful display unit for your books, it hides away a study and helps you create a niche of your own.
Also Read: 10+ Smart Room Divider Ideas for Space Optimisation and a Breathtaking Look
14. A Full Coverage Bedroom Bookshelf to Display It All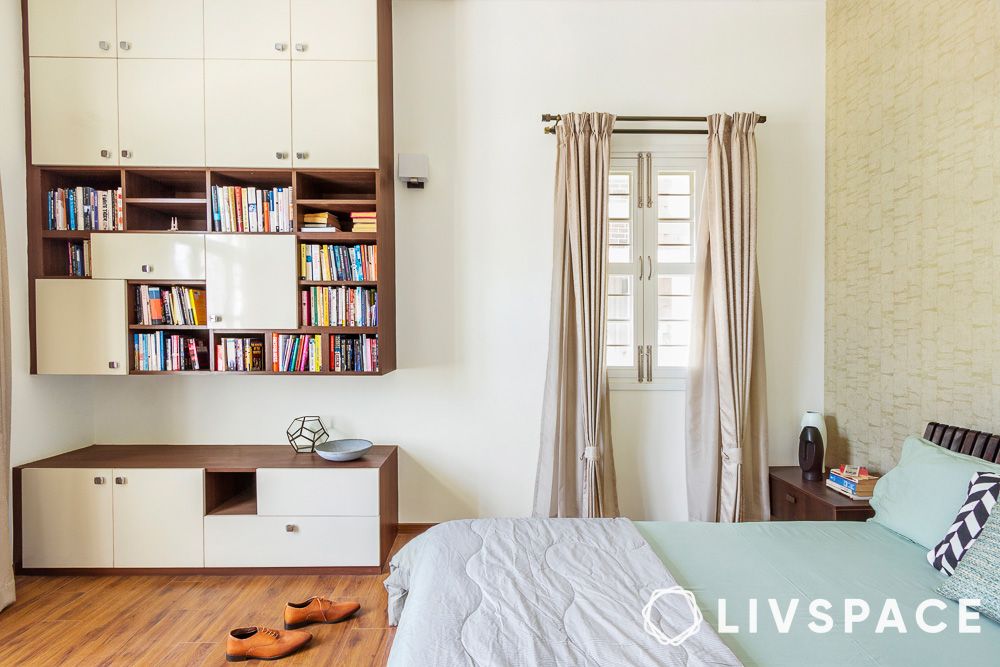 A bedroom bookshelf might have been a big no-no in the past, but they are on the rise in modern homes where we work, play and dream from our bedrooms! Now, if you are thinking about how to maximise storage needs, utilise vertical space and add visual appeal with a bookshelf design, consider styles like the one above.
15: An Extraordinary Bookshelf Design That Stands Out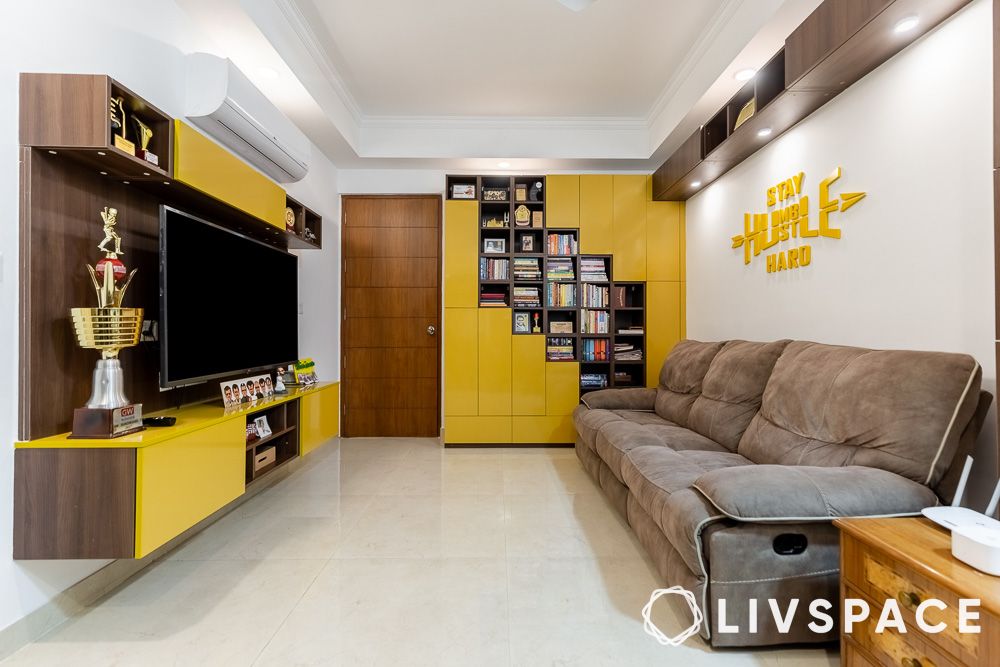 Love books? Have a full wall dedicated to a bookshelf that plays with concepts and shapes to create a stunning look. If you think bookshelves designs are basic, and can't help you play around with concepts and structures, think again!
Matching the colour scheme of the TV unit, this modern bookshelf mixes the right amount of quirky and extraordinary in the same design, to create a stunning impact.
How Can Livspace Help You?
Find the right bookshelves designs from over 20 lakh catalogue products
Our expert designers use the finest design principles to create designs that suit your lifestyle and align with your space needs
We use only the best, branded materials that undergo 146 quality checks
Book an online consultation with Livspace today.