They often say that our interiors form the heart and soul of our homes. While this may be true, what does this mean for our exteriors? After all, it's the first thing guests see as they approach your home. So, it's only right that the exteriors show off as much of your personality as your interiors! But how do you know what Indian house colour combination outside works and what doesn't?
Instead of running to Pinterest for some inspiration, you can find your next exterior wall paint colour combination right here! Our foolproof house exterior colour tips will help you choose the best exterior paints for houses. Let's get started!
1. What Are the Different House Exterior Colour Options for Home?
#1: Cream & Brown Exterior House Paint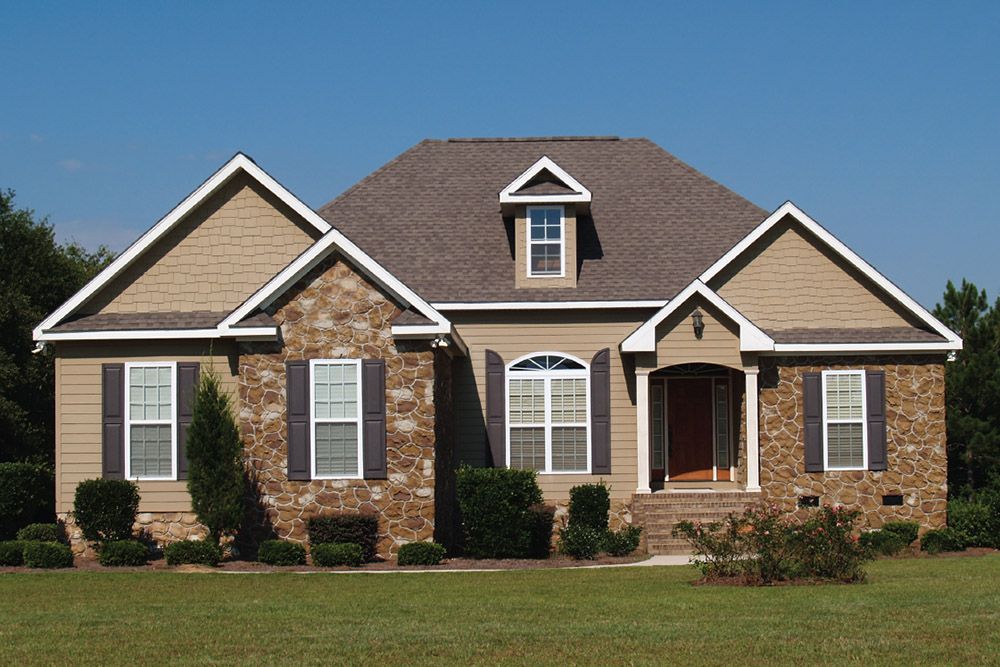 Cream and brown is a classic combination of exterior paint for houses. In fact, you can also refer to historical architecture to get some amazing inspiration for small Indian house colour combination outside.
Chances are you'll see a mix of these colours being used in traditional style homes too. However, be sure to choose the house colour outside that goes with the building's style.
#2: White & Blue Exterior House Paint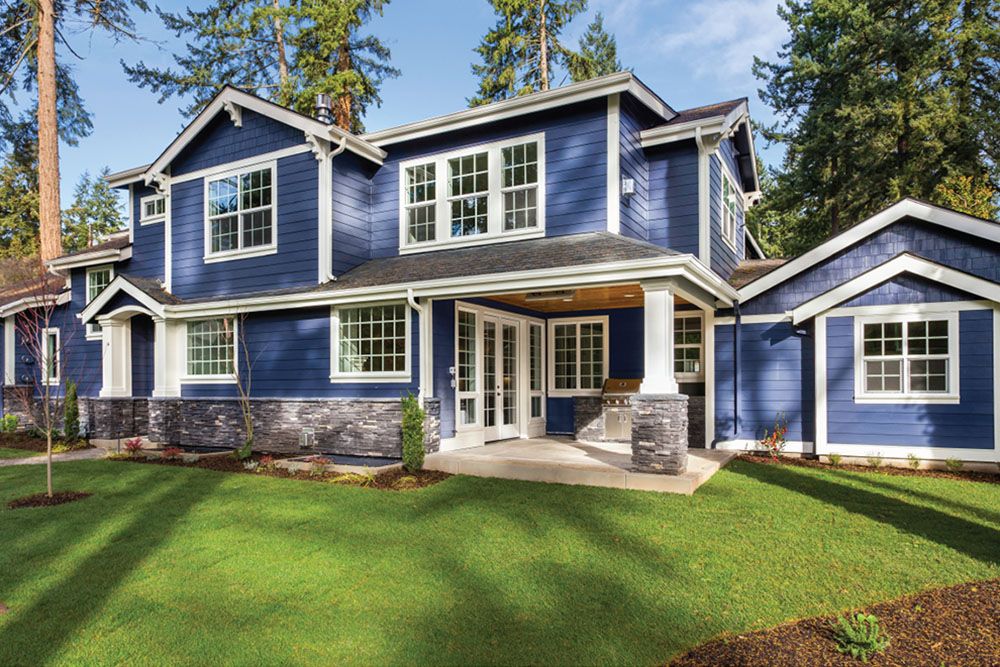 No Indian house colour combination outside is as timeless or evergreen as white and blue. In fact, going blue and white with your exterior paints for houses can transform the look of your home, creating a soothing and calming effect. Wondering which shade of blue to go with for your house colour outside? We have an easy tip.
If what you seek is a simple Indian house colour combination outside, consider your surroundings first. Make sure your exterior wall paint colour combination doesn't look jarring next to the surrounding landscape colours. Similarly, lighter shades of blue are best suited for a small Indian house colour combination outside.
#3: Yellow and Brown Exterior Wall Paint Colour Combination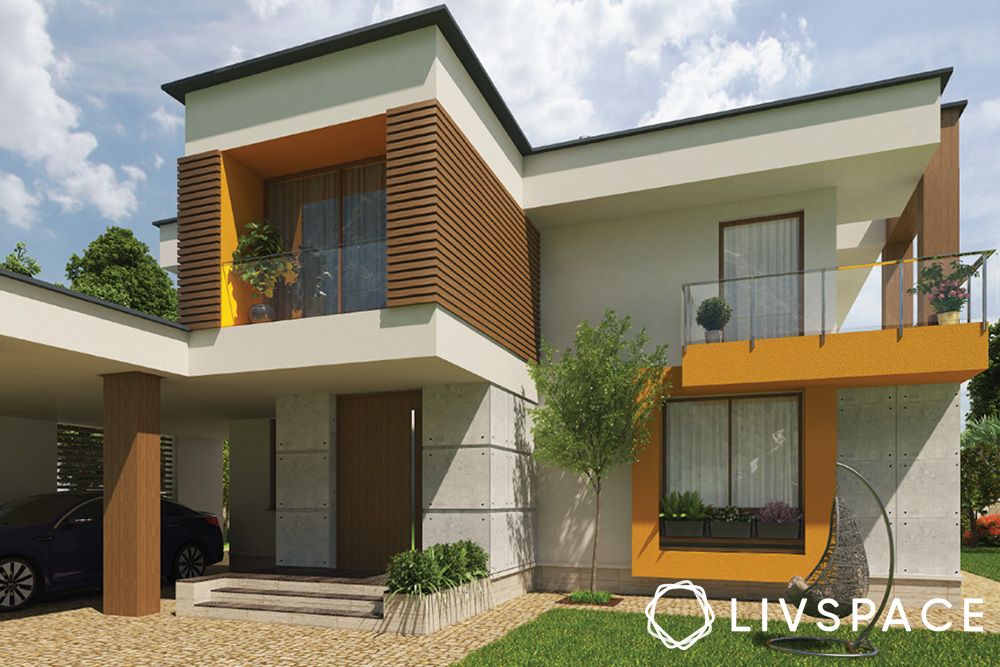 For those who want to take a turn for the unconventional, go for a bright exterior wall paint colour combination. Influenced by their European counterparts, our homes now don a simple Indian house colour combination outside. However, this doesn't mean you can't amp up the look with bright exterior house paint in the right places.
Moreover, there are a variety of yellow shades to choose from. If you're not a fan of bright yellow house painting colours outside, use them to outline windows or wall niches. Similarly, you can even go for a bold shade of mustard to give your exteriors the pop of colour it deserves.
#4: Grey and Red for House Outside Colour Combination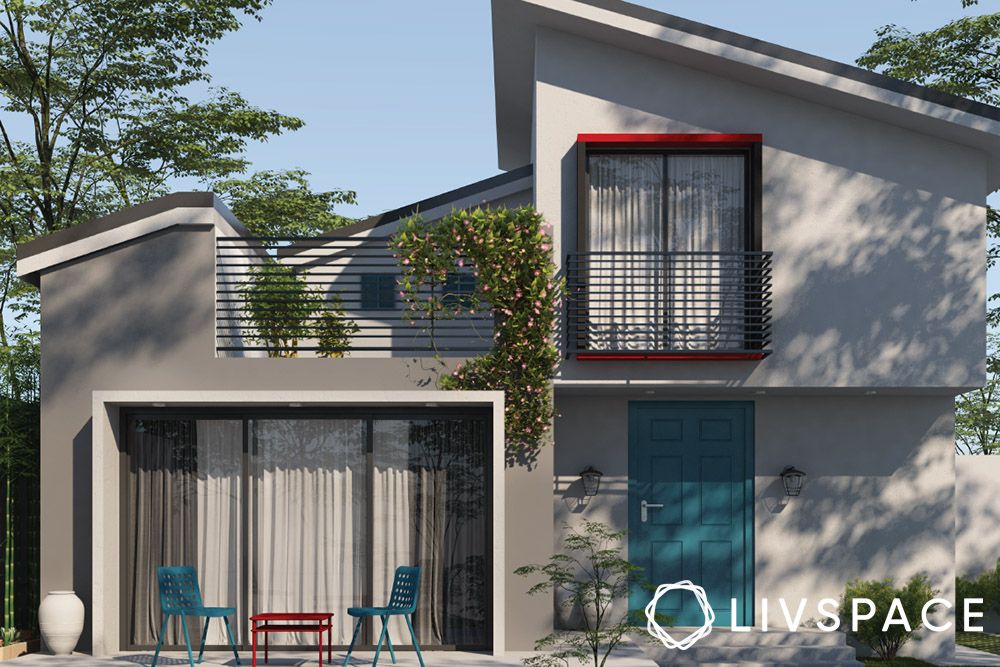 Your house exterior colour need not be limited to just the walls. Kick things up a notch by experimenting with painting doors, windows and furniture as well. Being a part of your exteriors, they can further highlight your Indian house colour combination outside.
Paint the door in a bright hue, such as a beautiful cerulean, and keep the rest of the house colour outside muted. This creates a focal point and helps you select the exterior colour from a wide range of basics.
#5: White, Gray and Brown for Home Colour Outside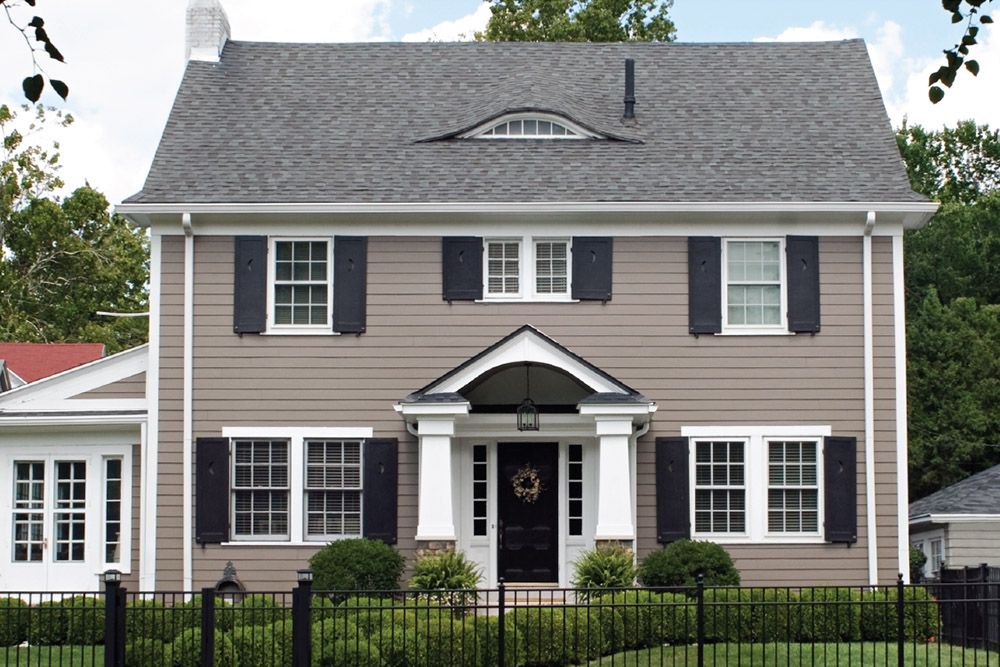 Tone-on-tone combinations have been used extensively when it comes to Indian house colour combination outside. In simple terms, it refers to pairing together different shades of the same colour family for your home colour outside. You can use any colour that suits your personality and have one or more walls in a complementary tone for added character.
Also Read: Latest Paint Colour Ideas to Make Your Home Look Stunning
#6: White and Slate Grey as House Painting Colours Outside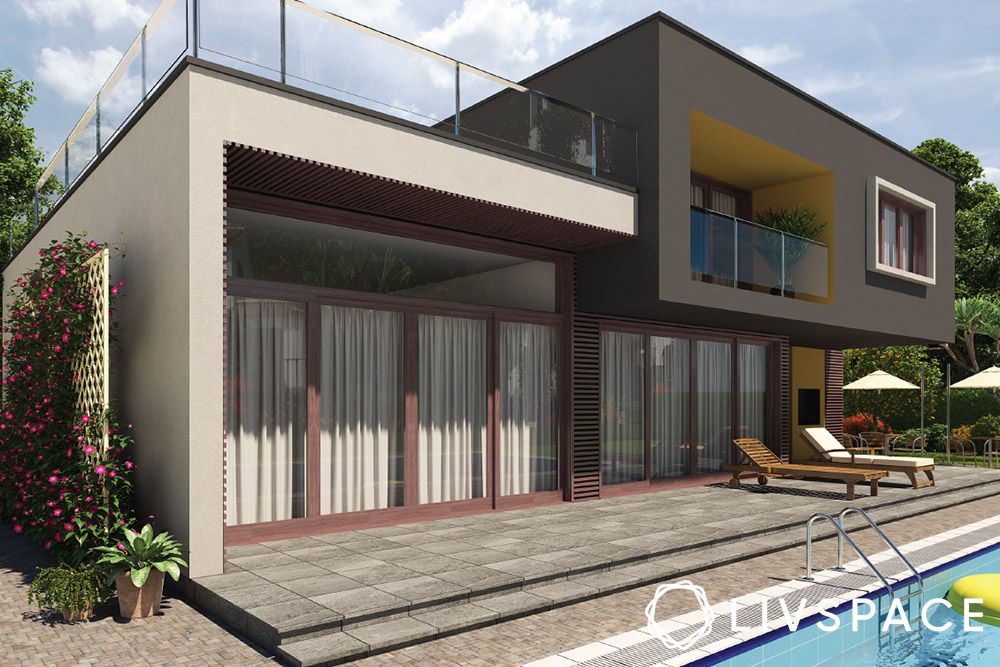 In line with exploring highlights for your home colour outside, consider pairing contrasting neutrals for a striking effect. If you're going for a modern Indian house colour combination outside, you can mix whites with dark shades of grey for a chic look.
Similarly, to avoid running the risk of making your house painting colours outside look dull, go for a bright colour to balance it out. The cheery canary yellow used inside the balcony stands out beautifully in this home complete with slate grey and eggshell tones.
#7: Brick Red, Gray and White as a House Outside Colour Combination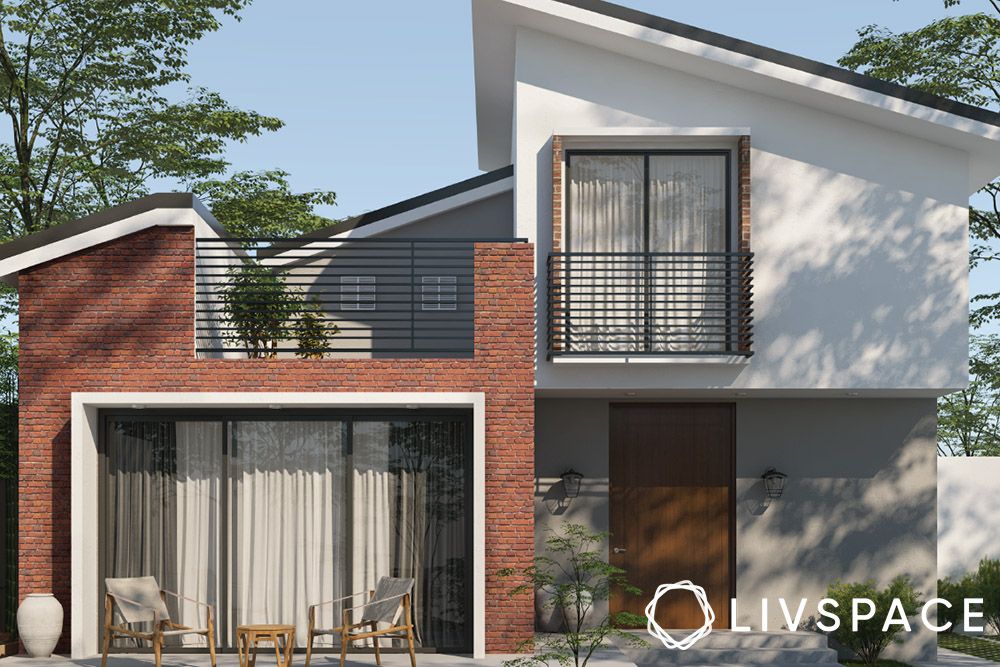 If you thought paint was the only way to decorate your Indian house colour combination outside, we'd like to let you in on a little secret. Textured walls with bricks or other materials can work just as well to bring in some colour. Moreover, a bright red brick wall can help lend a unique and rustic look to your house outside colour combination.
An exposed brick wall combined with pristine shades of white are just the right mix of the industrial and Scandinavian styles. In fact, you can even paint these bricks in another colour to match your style.
#8: White, Blue and Red as Exterior Paints for Houses
While painting the entire building in a single colour is a viable option, it can lack originality and look plain. Instead, consider breaking the monotony by painting your window trims in contrasting colours. Doing this can even give your Indian house colour combination outside a modern feel.
Shades of red, blue, yellow and green can look great when paired with white. However, be sure to go for a bold colour as lighter pastel shades might look washed out when paired with a strong white.
#9: Brown on Peach and White Exteriors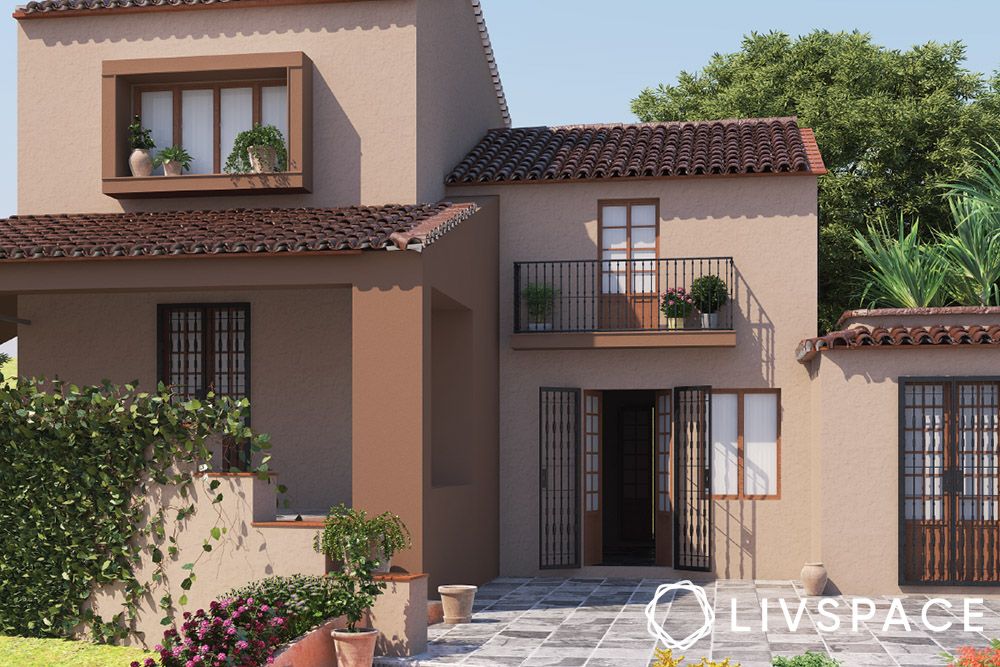 Love adding an earthy touch to your exteriors? Shades like brown and terracotta are an absolute must in such cases! What's more, going for a shade like brown or terracotta is a perfect way to target a traditional Indian house colour combination outside. Not only does it lend a warm touch to the home, it also blends into the usual style of modern homes.
House exteriors in sandcastle and latte colour varieties from the brown family paired with greenery make for a picture-perfect quaint home. Moreover, the roof tiles add to the beauty of the colour palette, giving it a nostalgic touch.
#10: Yellow With Cream or White for Indian House Colour Combination Outside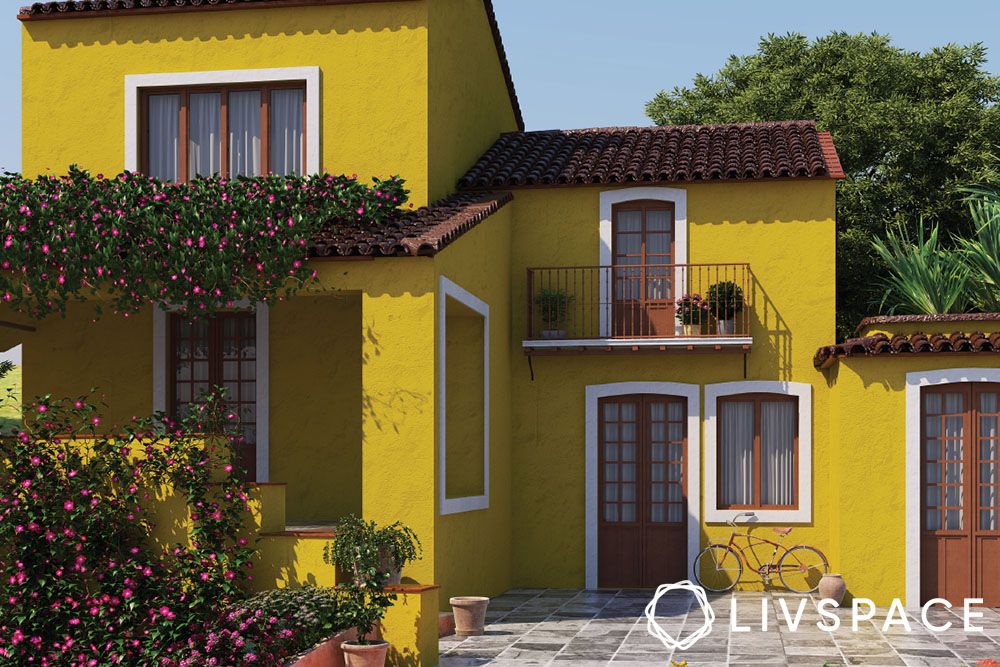 Are you a fan of butterscotch ice cream? What if we told you that you could douse your entire home in this hue? Among the many shades of yellow to explore for you Indian house colour combination outside, a rich butterscotch hue is not to be missed.
Since this is a bold shade, consider balancing it out with white window trims and painted doors. Go for neutral colours as highlights as bold colours can make the home look too overpowering.
Also Read: Everything You Need to Know About House Paints
#11: Green and Off-White for Exterior Walls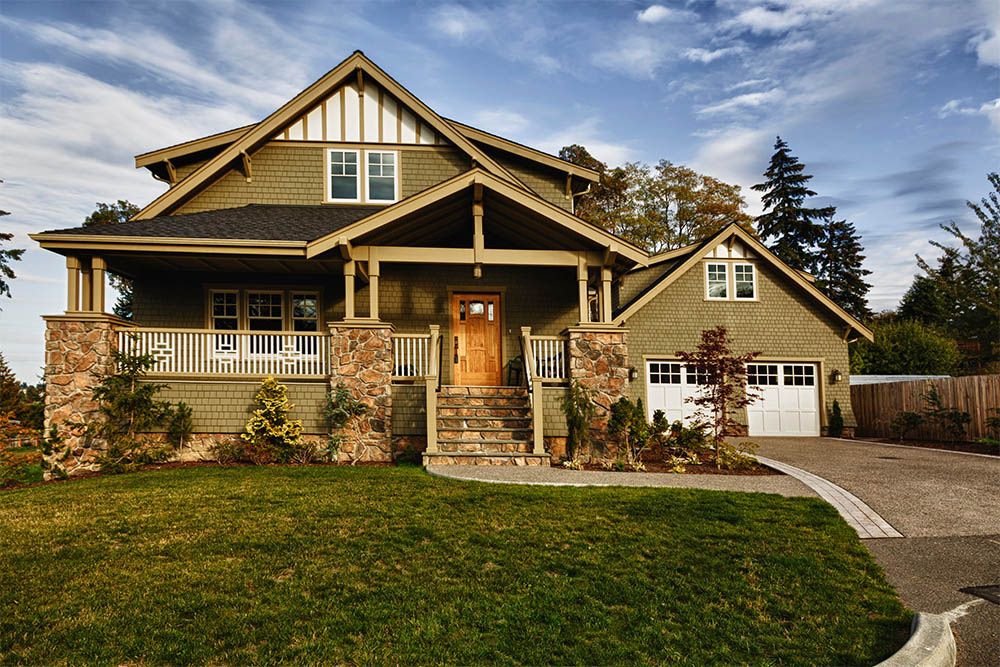 Green is a beautiful and energising shade that is reminiscent of all things nature. However, as an Indian house colour combination outside, darker shades can look jarring. Instead, you want to go for something calming and soft on the eyes. Here's where sage green can be the perfect fit for your home! Pair it with dark grey roof tiles and it's a match made in heaven.
#12: Orange for the Exteriors of Your Home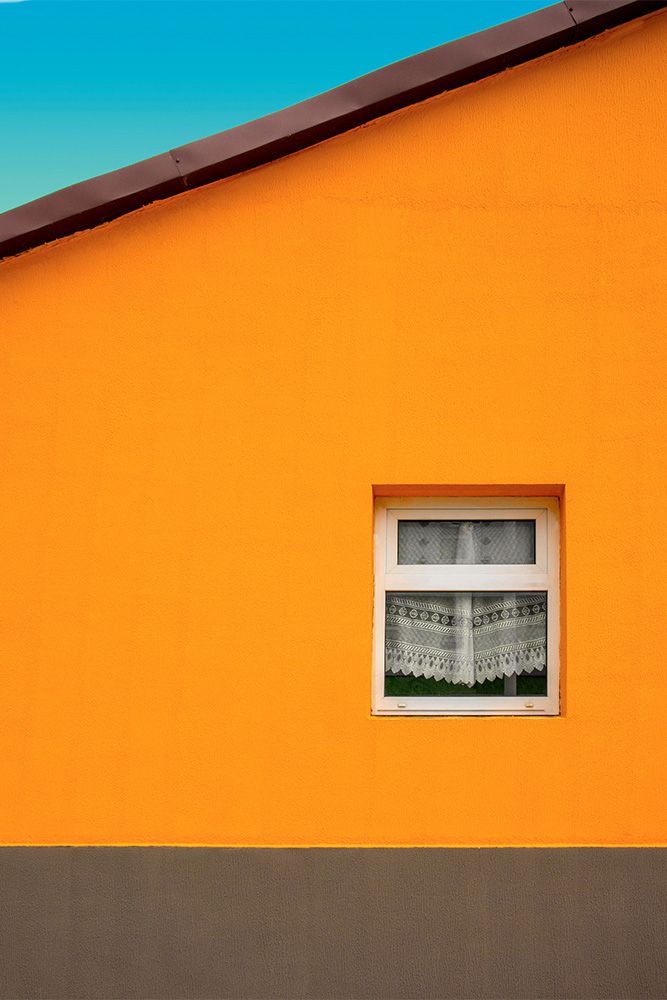 With a bright shade like orange, you either go bold or go home. Or in this case, you simply get a bold looking home! Being a bright colour, orange pairs best with contrasting shades. If your home is surrounded by a lot of greenery with a clear view of the bright blue sky, orange might be the perfect colour for you.
#13: Beige as a Standalone House Exterior Colour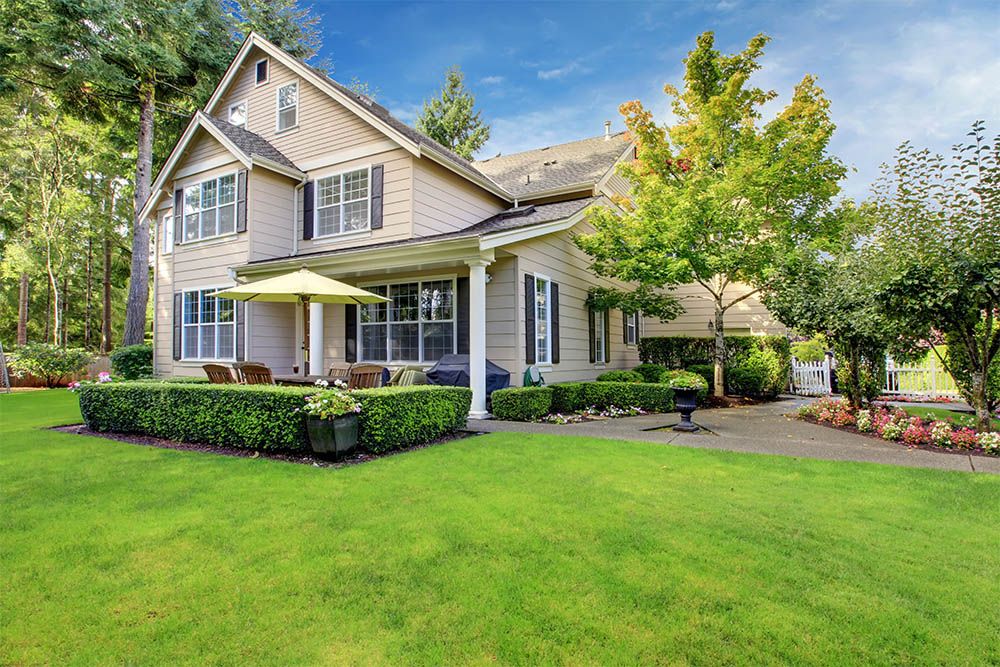 Live in a small house? Colours like beige can help create the illusion of a more expansive exterior. Being a neutral colour, beige lends an airy and open vibe to any space it decorates. In terms of your exteriors, this means it can give off the impression of a bigger home. So, if you're not keen on exploring multiple shades for your Indian house colour combination outside, keep it simple with beige.
#14: Peach for Your Home Colour Outside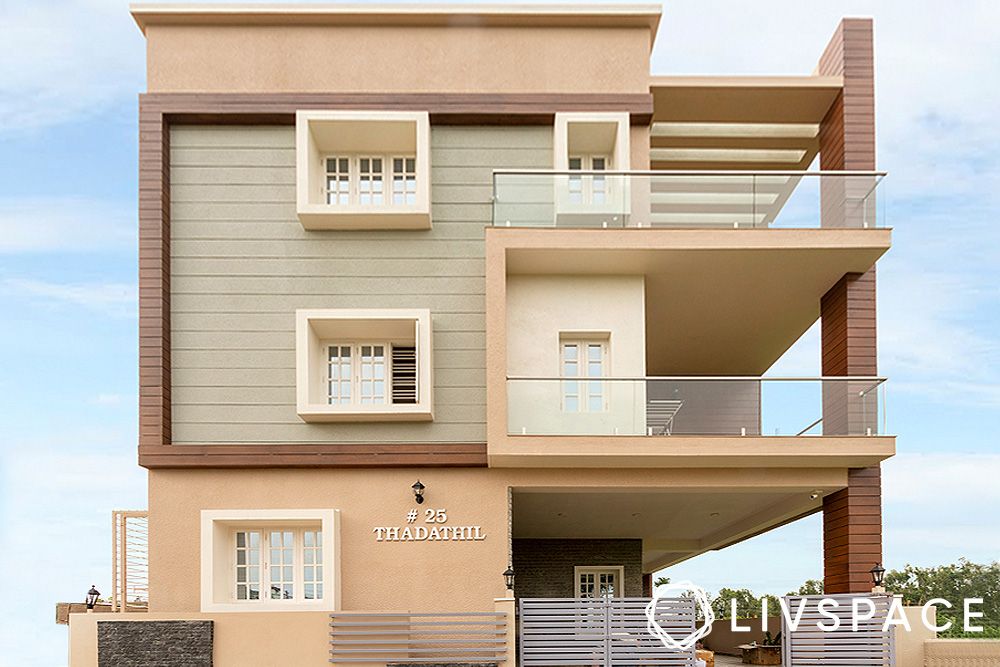 If beige is too dull for your liking, you can take things a step further by going for peach instead. As an Indian house colour combination outside, this saturated colour can lend a lovely rosy glow to your exteriors. You can pair it with shades like greige or taupe with brass accents to further accentuate it.
#15: Regal White and Red House Exteriors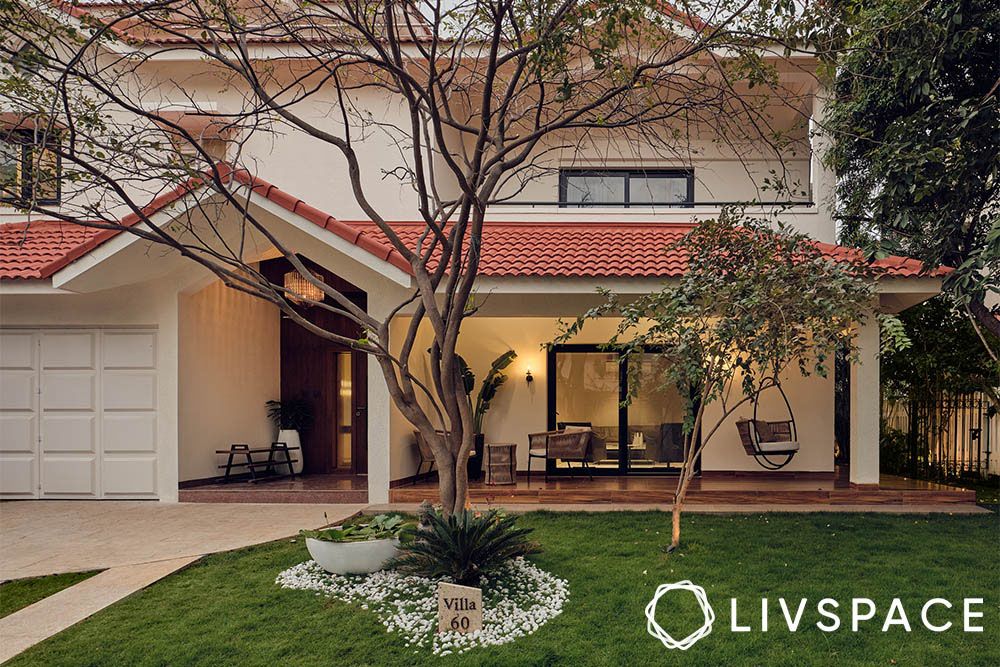 There's nothing like keeping it classic with a bright shade of white complemented by red roof tiles. These two colours create the most timeless Indian house colour combination outside.
However, if you choose to go for all-white exteriors, be sure to invest in weatherproof paint and materials as they can end up looking discoloured with extended exposure.
2. What Are Some Outside Colour Ideas for Your Indian Style Simple House?
If you want to stick to the basics, you might want to go with a universal colour that fits all.
a. White
White is a great colour for exterior house paint; it can help you create a timeless, inviting look – one for the stunners.
b. Beige
If white is too risky, a colour, and you don't want it to turn muddy, turn to beige for your house colour outside. It'll help you create a warm and welcoming look without running the risks of getting dirty.
c. Gray
If you're not a fan of white or beige, you can go the grey way for your outside home colour. It can help you create a soft, overall look.
d. Blue
When you don't want to take the neutral road and yet want to choose soothing house painting colours for the outside, try different shades of blue.
e. Brown
Not willing to try exterior wall paint colour combination? Go the all brown road to give your home a dash of character.
f. Yellow
This is for the ones who love bright colours; in fact, choosing yellow for your house exterior colour will also help you attract positive energy as per Vastu.
g. Green
Go for the colour that's all for life, fertility and renewal. Go green!
Also Read: 14 Types of Paints and Finishes: Which Ones Best Suit Your Home?
h. Red
Want an auspicious colour as per vastu? Choose red for your house exterior colour. This goes without saying that hues of red are for the people who love bright colours.
3. What Are Some Useful Tips on Outside Colour Combinations for Indian Homes?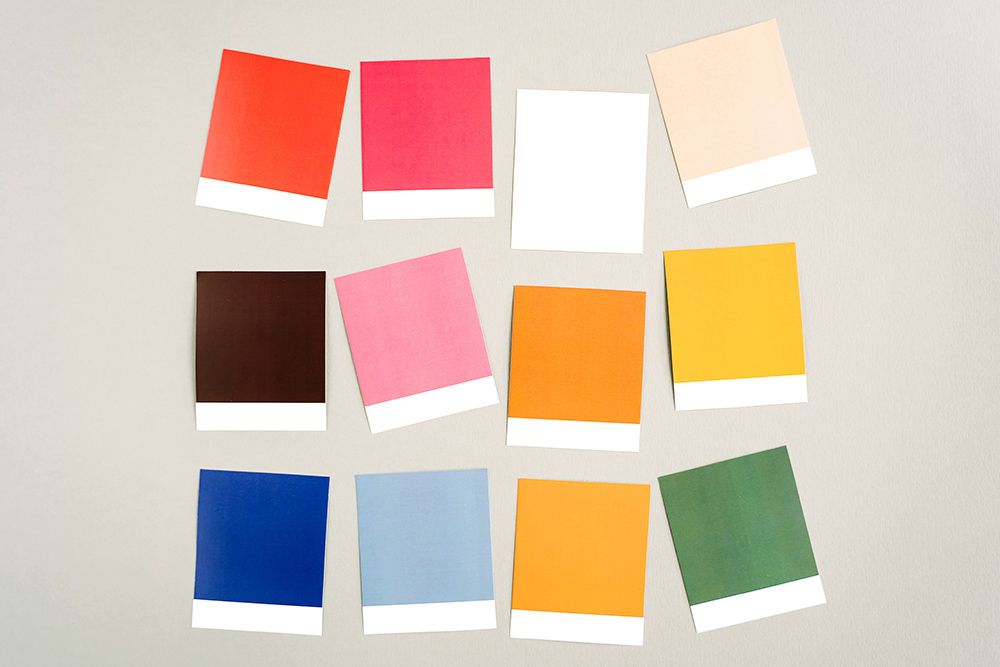 Choose a paint colour that matches your doors, windows, roof, and other exterior fittings to avoid visual clutter
Exterior decoration is not just limited to painting your walls. You can also paint your doors, balcony, and windows in contrasting shades to match your theme
Try to stick to durable paints and materials while designing the exteriors of your home to avoid weather damage. Cement, emulsion, and acrylic paints are best suited for your home's exteriors
Darker colours can lend a modern edge to your home. However, they might also fade faster than lighter shades. If you're going in for a dark shade, you might have to touch up your exteriors more frequently
Texture paints can be a great way to accentuate your exteriors, adding an element of interest to them
4. What Does Vastu Shashtra Say on House Exterior Colours?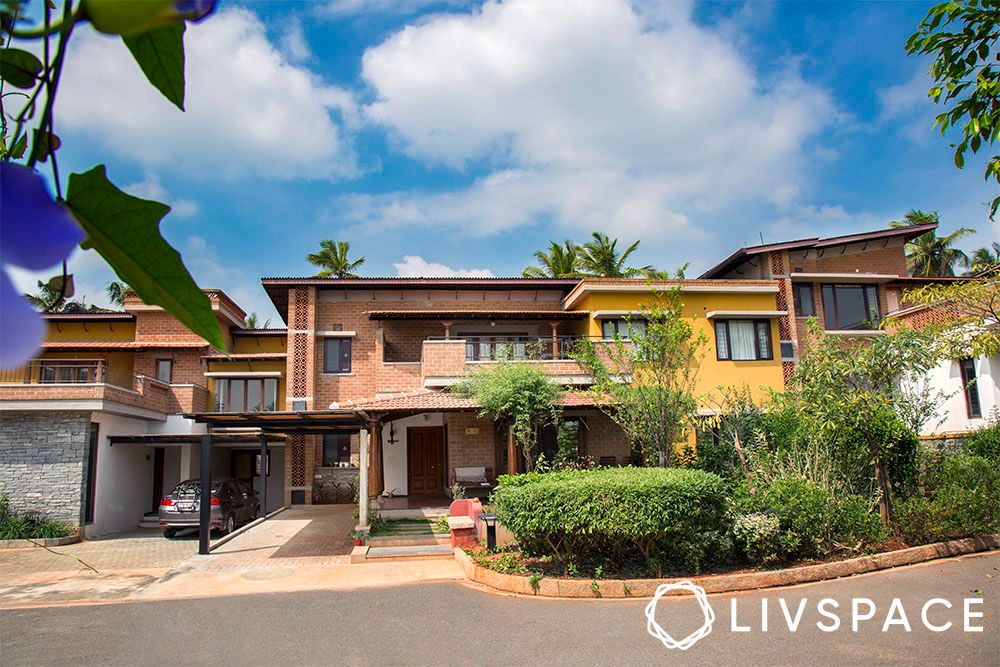 If you thought neutral shades were best suited for vastu, you might want to think again. In fact, most of the Indian house colour combinations outside covered in this list are vastu-appropriate! Here are a few house exterior colours that are considered auspicious for vastu:
| | |
| --- | --- |
| Exterior Paint Colours for Indian Homes | Vastu-Compliant? |
| Light blue | Yes |
| Yellow | Yes |
| White | Yes |
| Beige | Yes |
| Orange | Yes |
| Green | Yes |
| Purple | Yes |
| Brown | Yes |
| Peach | Yes |
| Pink | Yes |
| Dark red | No |
| Black | No |
According to vastu, these colours can refresh and calm your exterior, helping attract positive energy.
5. Dos & Don'ts For Interior & Exterior House Colour As Per Vastu Guidelines
Dos
Blue is a great exterior colour for ensuring peace in your home
Green is considered an auspicious colour to attract peace and good energy; perfect for new couples
Yellow as an exterior house colour can increase happiness
White colour for your exteriors can help you make the right decisions, when paired with another shade
For your home interiors, orange and red are great for the south-east direction of your home
Don'ts
Try to avoid red for bedroom interiors
Excessive use of white can have negative effects; don't use all white for your exterior house colour
Avoid the south-west direction as it isn't considered holy
Avoid dark or very bright colours for the kid's bedroom interiors
6. What Are the Important Factors to Consider While Choosing House Colour Outside?
Colour Combinations: When choosing house exterior colours, opt for contrasting or matching combinations. Don't overdo it, or it might look overwhelming
Colour Choices: You might want to avoid darker shades as they fade quicker than lighter shades, while lighter shades gather dust quickly. Depending on your neighbourhood, make a decision that fits your home the best
Consider Light: The sunshine your home receives can go a long way in determining how your house's exterior colour will look. Sample a few shades to see how the colour will turn out and try to avoid colours that fade quickly
Consider Surroundings: The surroundings of your neighbourhood can make your home appear brighter or darker, hence take into account the mood and your surroundings
Choose Durability: When you're picking a house exterior colour, be mindful to pick a weather-resistant paint like acrylic, cement and emulsion. Also, choose low-maintenance to reduce your workload
Accessorise Beyond Paints: While choosing the right colour combination is essential, you can try adding furnishings, plants and artefacts to add character and help your home stand out
How Can Livspace Help You?
We hope you found these ideas on Indian house colour combination outside useful! If you want beautiful interiors for your home, then look no further. Book an online consultation with Livspace today.
If you have any thoughts or suggestions you'd like to share with us, we're all ears! Drop us a line at editor@livspace.com.