Many Indian families prefer to have a closed pooja room for several reasons. It allows for privacy, you can light lamps and keep those pests away. It might also be a personal preference. But choosing a closed pooja room comes with the compulsion of picking a door design. While there is no dearth of options for pooja room doors, the most practical option would be pooja room door designs with glass and wood.
Need ideas? We have those, too, and they are from real #LivspaceHomes.
#1: Reeded Glass Door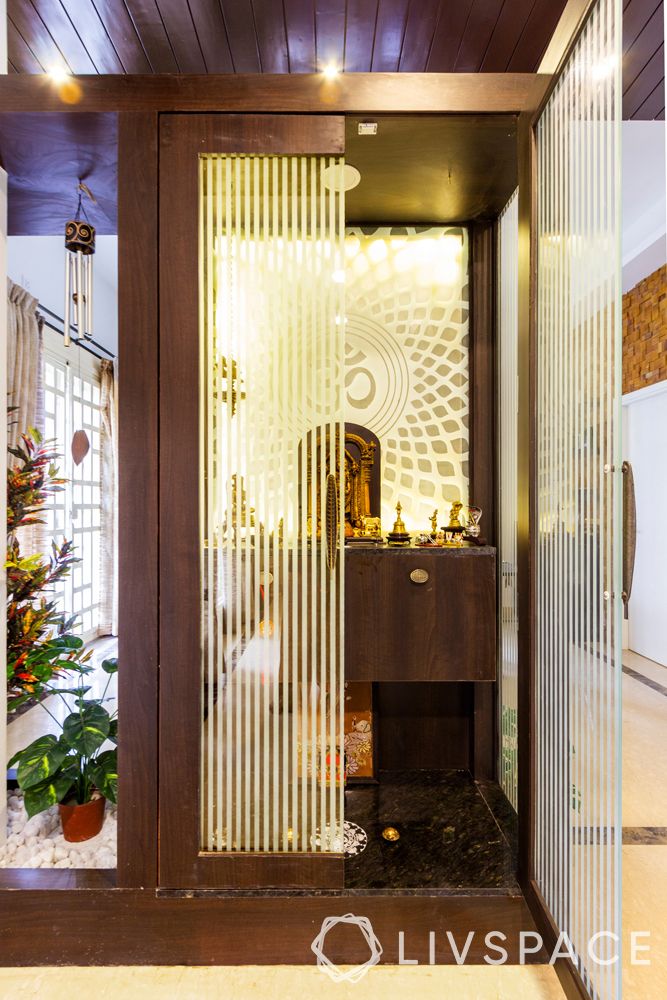 This is a contemporary pooja room with backlighting and a clean silhouette. The speciality of such pooja room door designs with wood and glass is partial visibility. In this case, reeded glass ensures that the door offers some visibility while closed. However, there is also a measure of privacy. You should ideally pick this is the kind of door design if the pooja room is part of your living room or other common areas of your home.
#2: Carved Wood and Plain Glass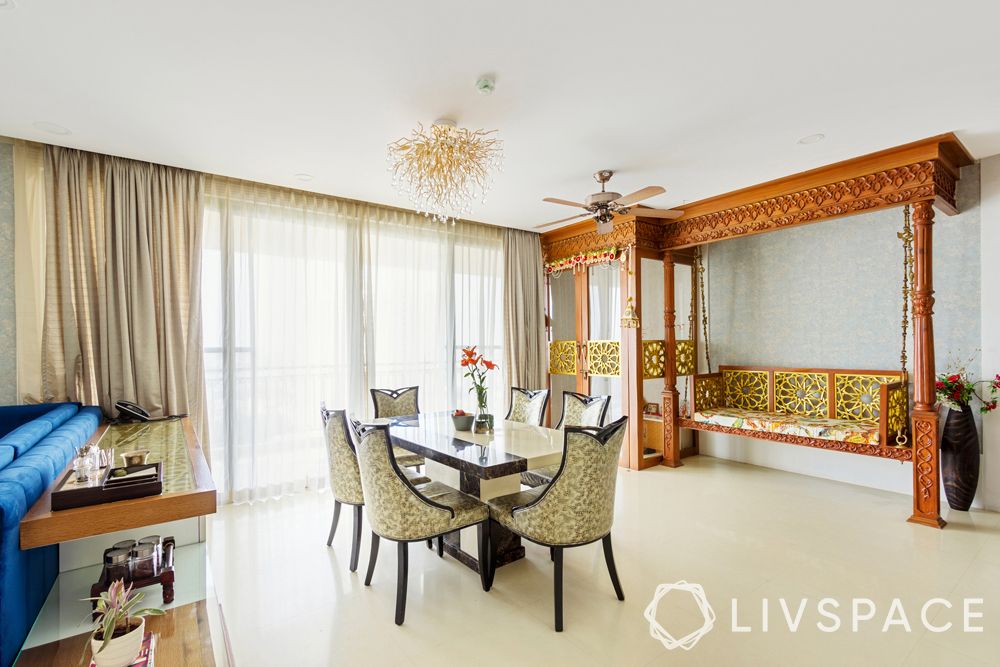 This pooja room stands out purely for its craftsmanship and attention to detail. If you notice, the pooja room is an extension of the swing and mimics the same design. The solid wood beams are polished and have jaali details, too. The glass panes over visibility to the pooja room while also creating an illusion of space. Such pooja room door designs with wood and glass are ideal for cramped corners in your home.
#3: Etched Glass in Wooden Frame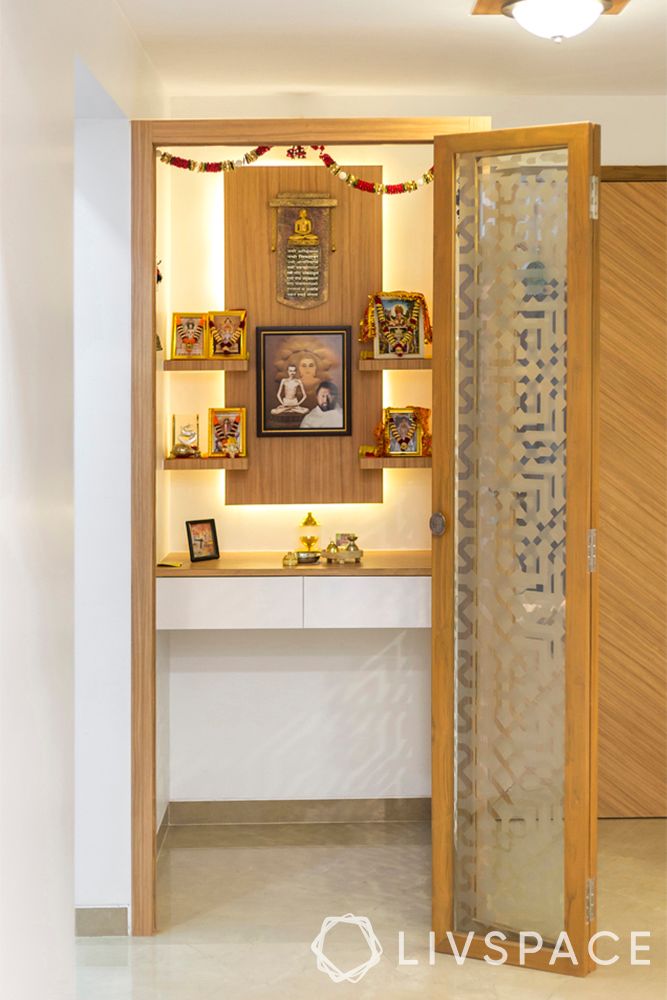 Many houses have a dedicated niche or space for a pooja room. If this space already exists, then you only have to pick the right door design for it. In this case, it is a plain wooden door frame with etched glass panes. The wood ensures that the door is sturdy while the etched glass offers partial visibility. This kind of door design is perfect for pooja rooms in the private areas of the house like bedrooms.
#4: White Wood Door with Glass Pockets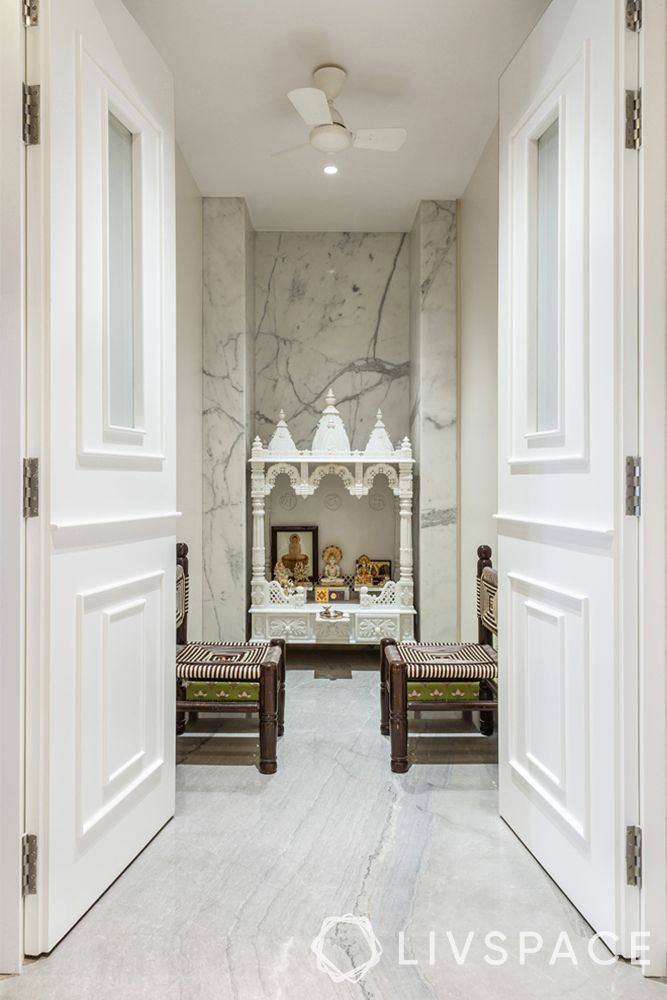 When you have a private and spacious pooja room like this one, you would only want the best door design for it. In this case, the wooden door is painted white and has grooves on it. The glass is fitted into the topmost grooves of the doors. A pooja room door design such as this allows you to see through the glass areas while offering sturdy wooden frames for the rest.
#5: Frosty Glass and Wooden Frame
This customised pooja unit is particularly interesting for its design. It is made of wood and jaali to give it sturdiness and ventilation. The purpose of using frosted glass is that it consumes less space than fully wooden doors. At the same time, frosty glass has an element of contemporary design. Such door designs are best suited to pooja rooms in compact apartments.
You also explore pooja rooms door designs using other materials here.
Check out pooja room designs:
Send in your comments and suggestions.