It is extremely common these days for modern apartments to have limited space with no dedicated room to turn into a pooja room. So what do we do in that case? We definitely need some space for our deities at home, so why not utilise the dead space (places with awkward space setting) which tend to be ignored. We have put together 5 ideas for small pooja room designs in apartments that do not have a separate room. You will not have to spare a lot of space to create these corners—just some clever thinking.
#1: Pick any silent corner at home and create your pooja room there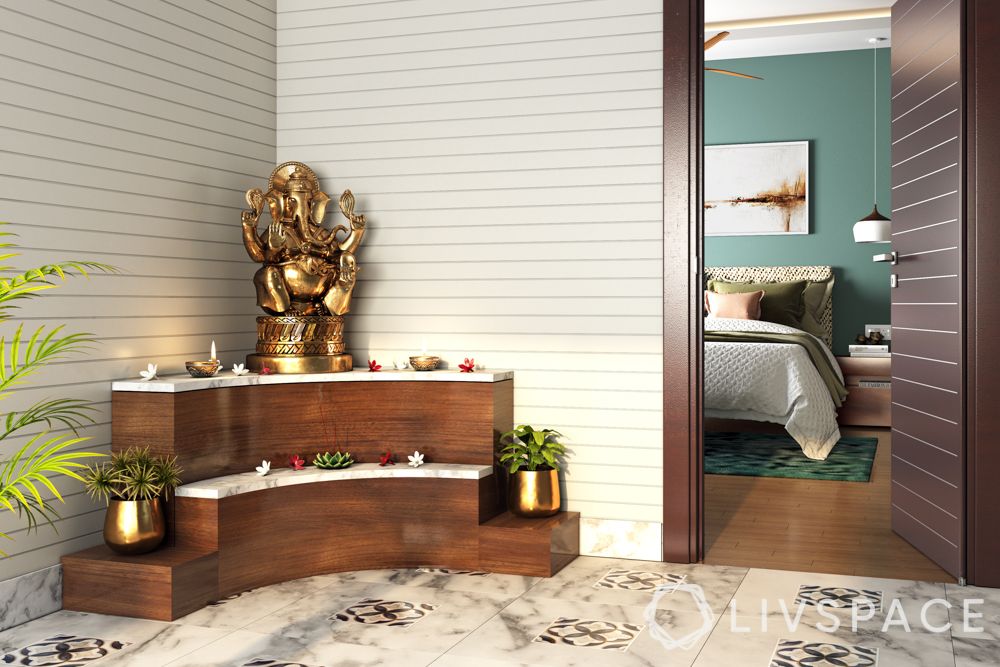 Corner pooja rooms are a saviour for those without an extra room to spare. To create this unique space all you need is a corner accessory or get some wooden slabs and place them in the corner to make a pretty wooden mandir area. Make sure you get something that fits the corner perfectly and is of appropriate height. Fitted pooja units are the best bet for such corner since they fit into the wall and do not take up much space.
#2: Create a wall niche for an open pooja room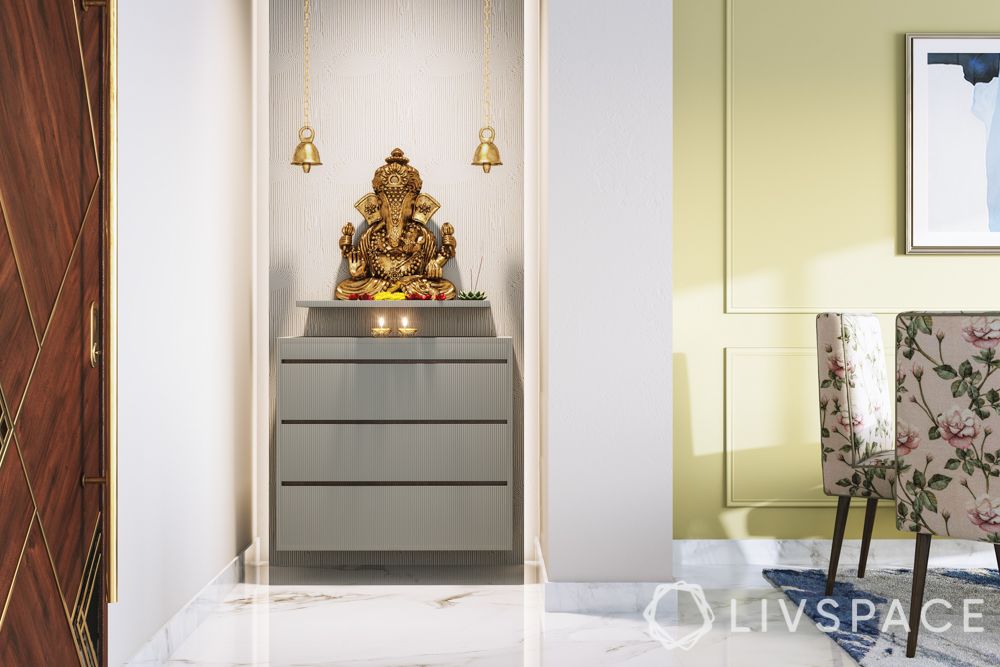 Very often we have unsightly niches in walls at home and we do not know what to do about them. Why not turn it into your very own pooja corner? A wall niche can act as an open pooja room with no doors. So you have the liberty to design it as you want. Make sure you deck it up well, with all traditional pooja elements that make this corner stand out. This is one of the best small pooja room ideas in apartments with a lot of niches.
#3: An empty wall can be converted into a pooja room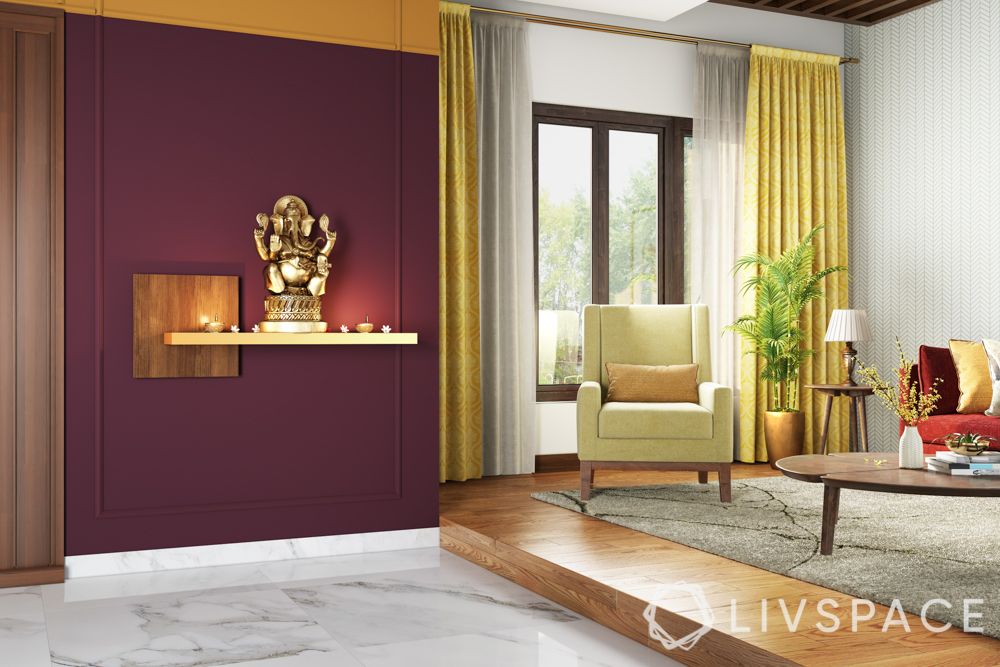 Even in the smallest of apartments, there will always be at least one wall that is empty. And this is where you can set up your open pooja room. All you need to do is paint that particular wall in an auspicious colour that is vastu-compliant and look for small pooja cabinet designs or wall shelves. We have curated a list of wall mounted mandir designs that you can take inspiration from.
#4: You can have a pooja room in your open hall as well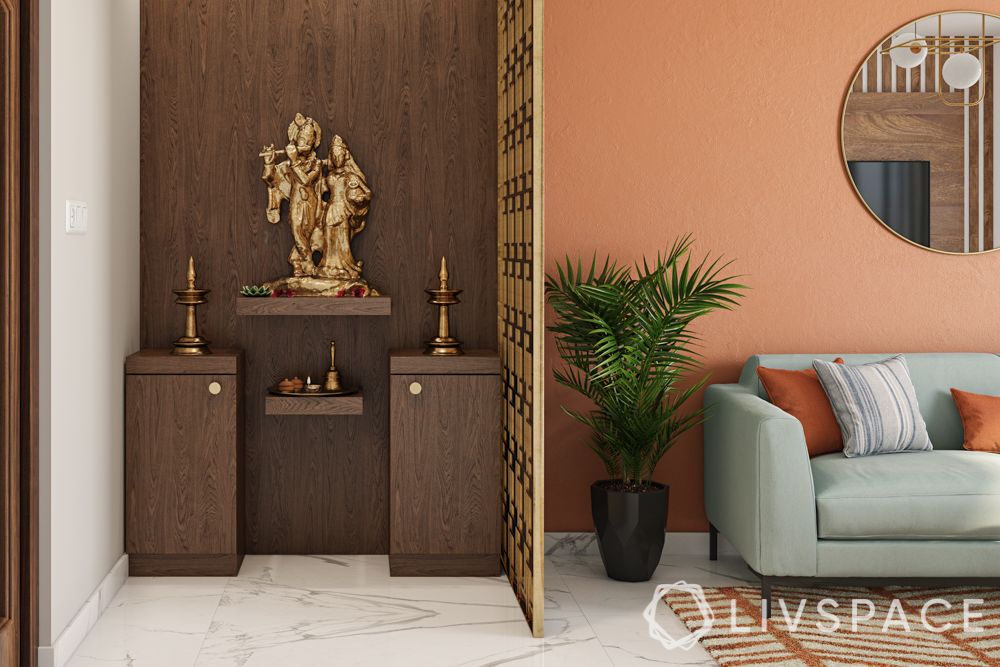 The easiest way to have a pooja room in your living room is to install a jaali to demarcate some space. This is for homes that have some extra area in their living room layout that they can spare. For a pooja corner like this, you will require some compact storage to make the space multi-functional. Highlight the area with appropriate lighting to create focus. This is the best way to create a faux small pooja room designs in apartments.
#5: Did you know that you can create a wall-mounted pooja space in your kitchen?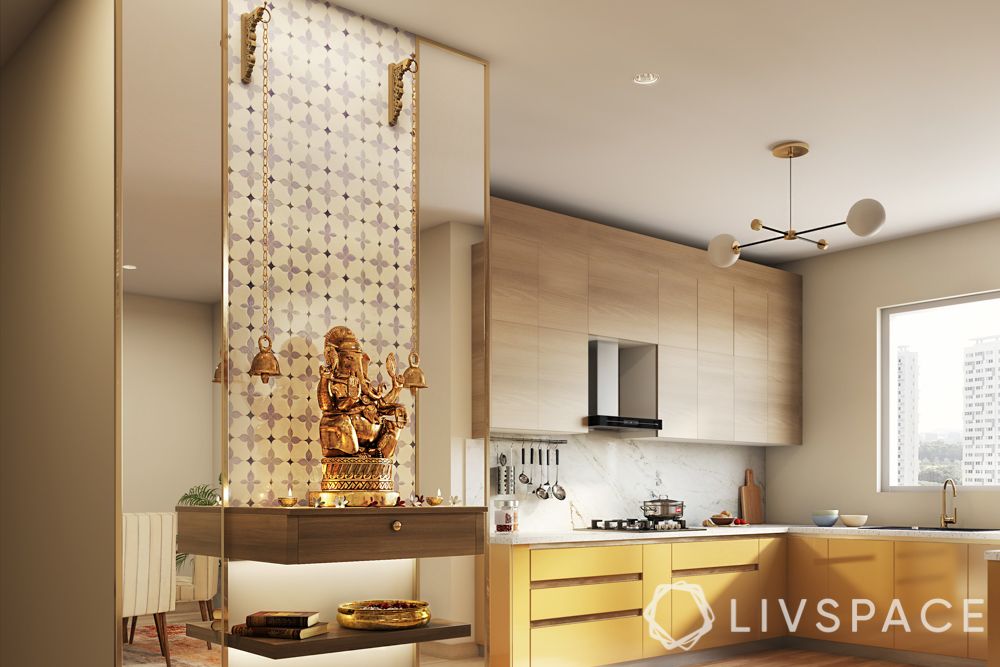 Can you have a pooja room in the kitchen? If there is no other place at home where you can place your idol then your kitchen is the next best option. Our vastu experts have thrown light on some vastu rules that you should follow while designing your pooja room. You can use one kitchen wall to turn it into your divine corner, just like we have done above. With mirror panels and hanging lamps, this space looks truly bright. Sounds exciting? Then we are sure you want to take a look at unique mandir designs for your home as well.
You can also check out this video for more such ideas
Once you have figured out the perfect spot for placing your deities in your compact home, do not forget about the things that go into designing that little corner. You'll Wish You Knew All This Before Designing Your Pooja Room.
Send in your comments and suggestions to editor@livspace.com.