Haven't we all heard of the 'in' design styles in the West like minimal, mid-century modern or bohemian and wondered how it would pan out in an Indian home? After all, our desi style sensibilities don't always fit into the framework of Western design principles. That is why, what you need is a modern interior designer who has the experience of working with Indian homes. And Ankita Gupta is one such designer; she also happened to be just the one Sajeevan and his family needed.. In fact, this 3BHK designed by her represents exactly what a modern Indian home would look like.
In terms of design and layout, this Bengaluru 3BHK is perfectly modern. And yet, there is an undeniably Indian vibe about this home. That is the magic of a modern interior designer! So let's take a deeper look.
The not-so Indian features of this home
#1: Open kitchen with breakfast counter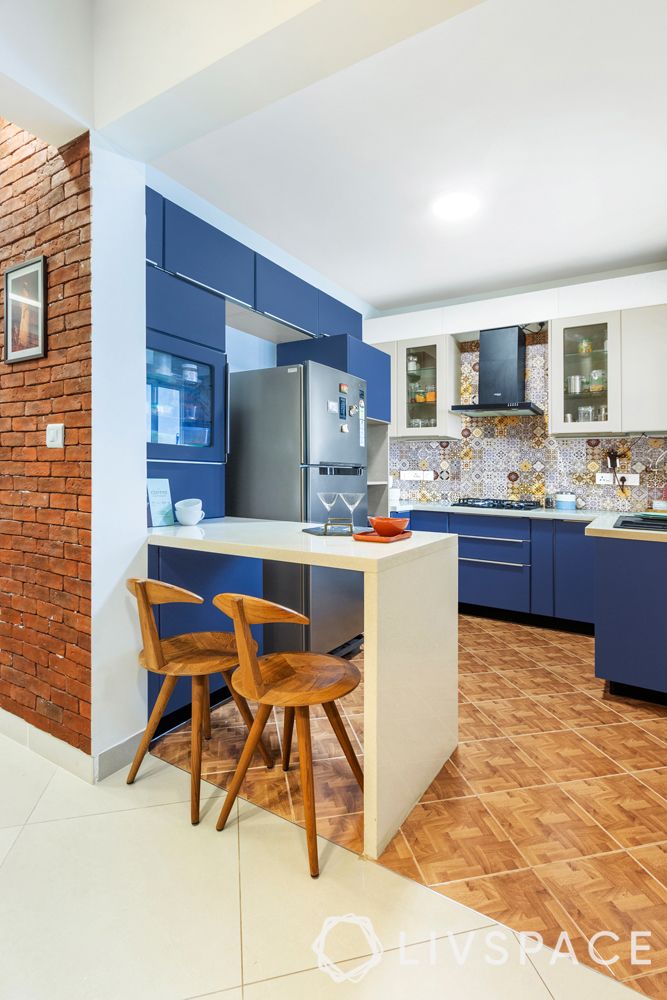 We may not be cognizant of this fact but open kitchens are a new phenomenon in India. And the attached breakfast counter is definitely a modern addition to factor in our busy lifestyles. This home features both, and hence, scores on functionality. This is clearly a home for a working couple who have to rush through breakfast before leaving for work.
#2: Compact modular furniture
We hear so much about modular kitchens, wardrobes and furniture that are modern interior design ideas. These might have become the norm but have you wondered why we keep using the word 'modular'? It's because the concept of modular furniture is new to the Indian interiors market. And Ankita has furnished this home with modular wardrobes, wall units (for storage and display) and kitchen as any modern interior designer would. This makes the furniture both sleek and seamless.
#3: Rustic brick wall borrowed from the industrial style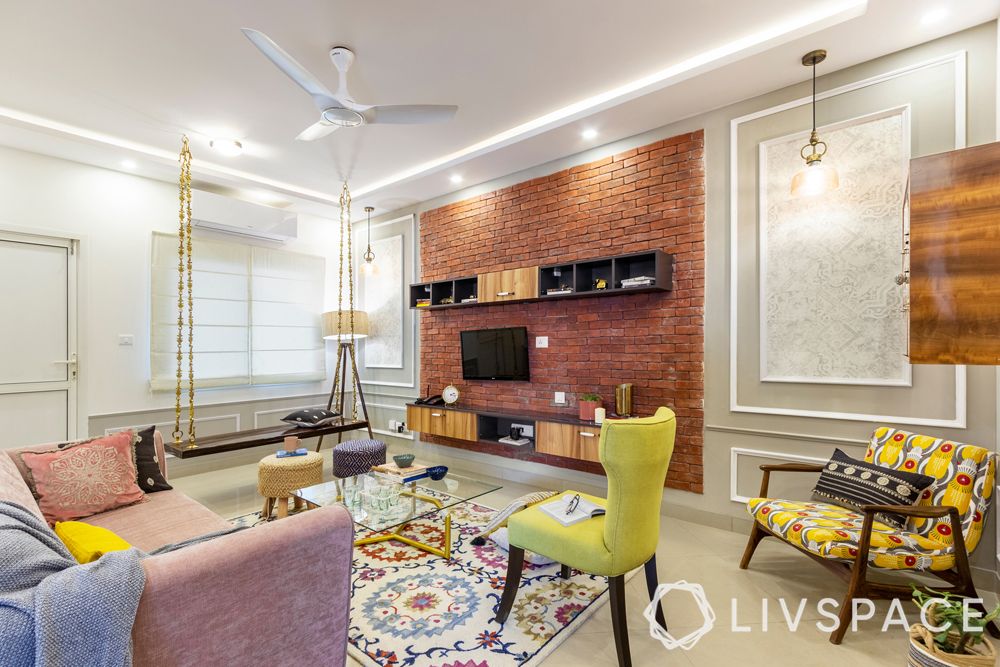 The 'exposed brick' wall' is essentially a design element borrowed from the industrial style, which is a modern interior design style. And Ankita has used it splendidly in this home to create visual interest and carve out zones within the living area.
#4: Sleek floating shelves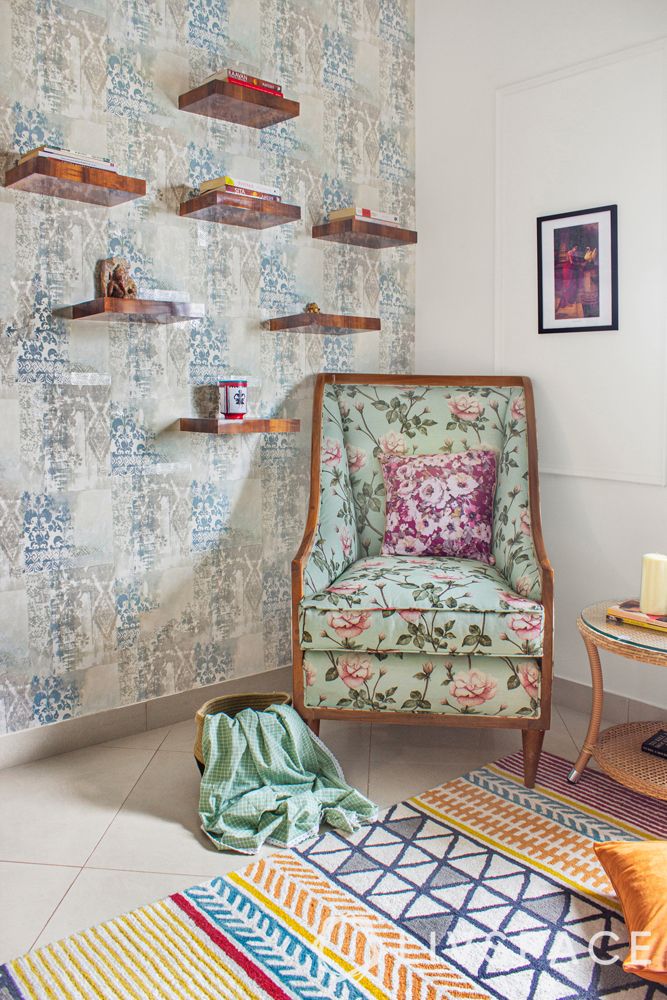 Floating furniture, in general, is a product of a modern life spent in cramped apartments where space needs to be optimised. In this case, the floating shelves along with the high-back chair form a reading area within the bedroom without occupying too much floor space.
Traditionally Indian Aspects of This Home
#1: The swing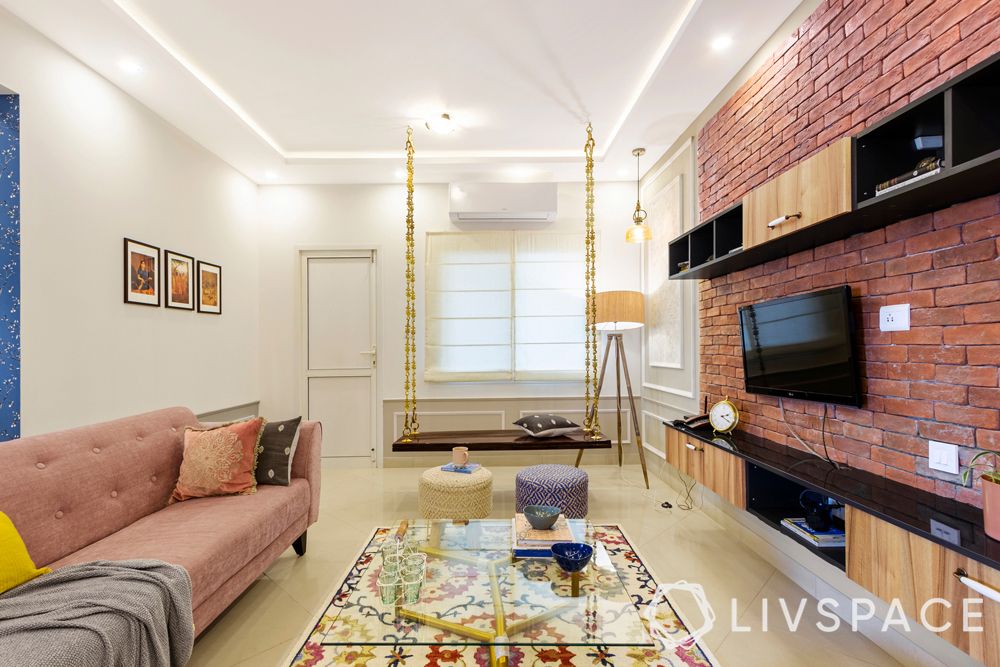 f you enter a home and see a large wooden swing in the middle of the living room, you instantly know that it is a desi home. The quintessential wooden swing is something we associate with much more than design; it reminds us of our playful past in those old ancestral homes. Within an apartment, it may not be the most space-efficient seating. However, it adds charm and variety for sure
PS: Did you see how dapper that swing looks next to the inherently modern tripod floor lamp?

#2: The use of ethnic prints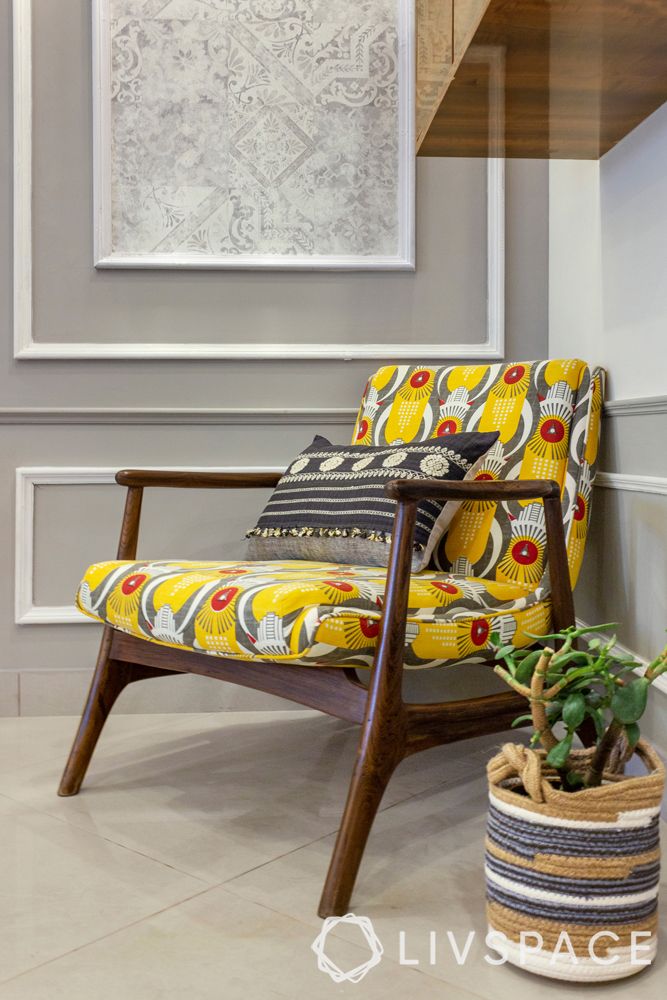 Our nation is a wealth of prints and patterns that have folk or tribal origins. And a good modern interior designer like Ankita is aware of that. No wonder she has used these bold prints from different parts of the country to upholster the furniture. Even the rugs and wallpapers display very familiar patterns we see in India.
#3: Intricately carved wooden furniture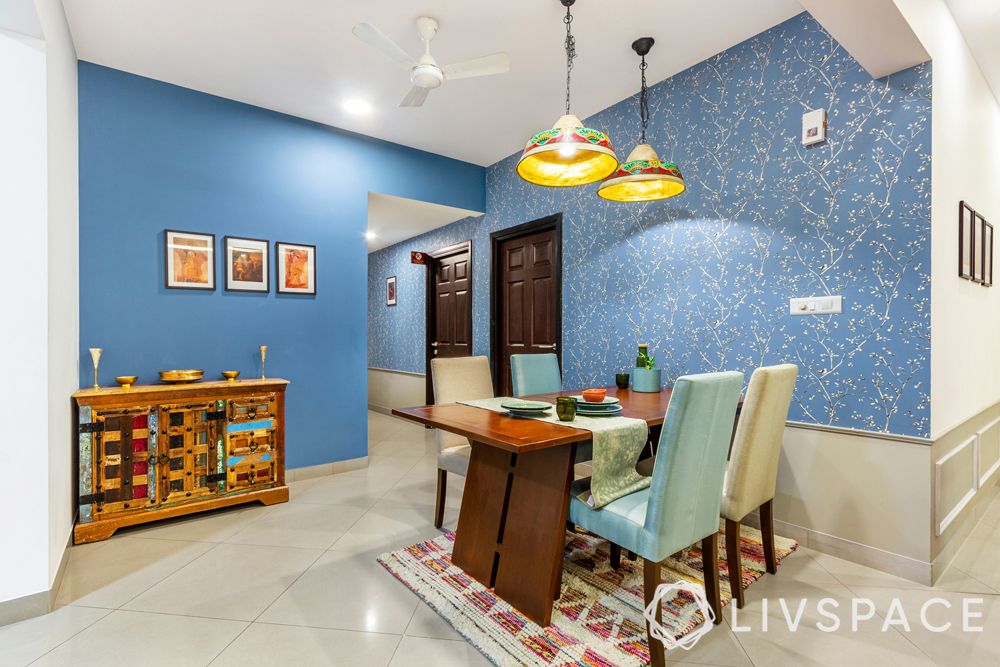 We have a long history of using wooden furniture in traditional Indian homes. This is particularly true for carved and etched ones. We see some very artistic pieces of such furniture in this Bengaluru home. The crockery cabinet in the dining area provides the perfect example.
#4: An array of distinctly Indian accessories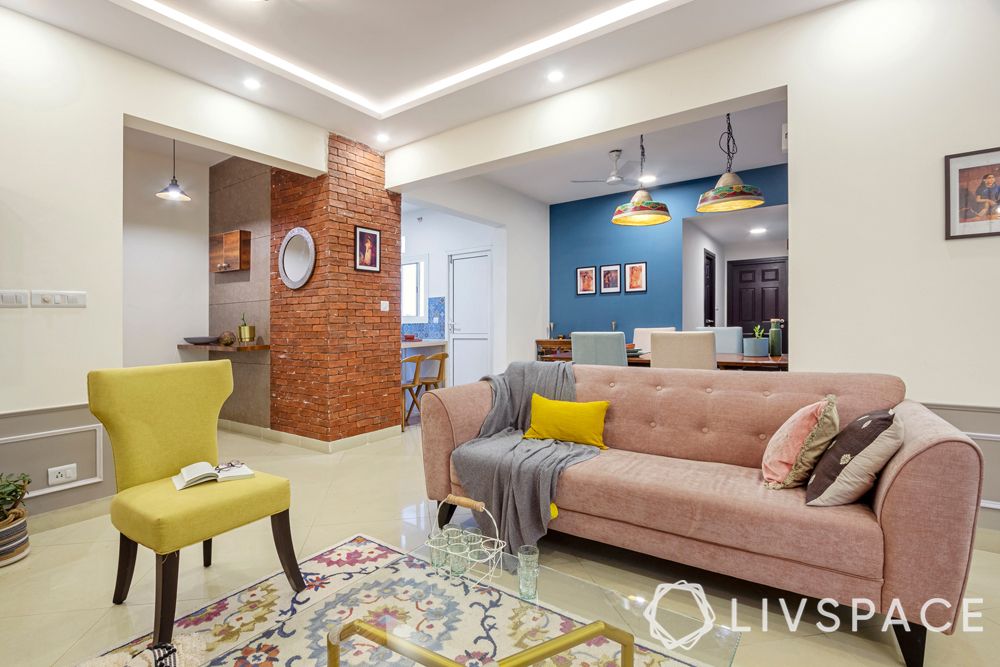 Whether it is the recreations of Raja Ravi Varma paintings or the spunky rungs used in all the rooms, Indian accessories rule the roost in this home. We must credit the taste of this family for this colourful melange!
And the magical mix
Now that we have broken down this home into Indian and Western design elements, the obvious question is this: is there a formula to get an optimum mix of the two? We believe that design is a creative process and thus, formulas are arbitrary here. However, we could give you home ideas that demonstrate this 'magical mix' directionally. Here they are: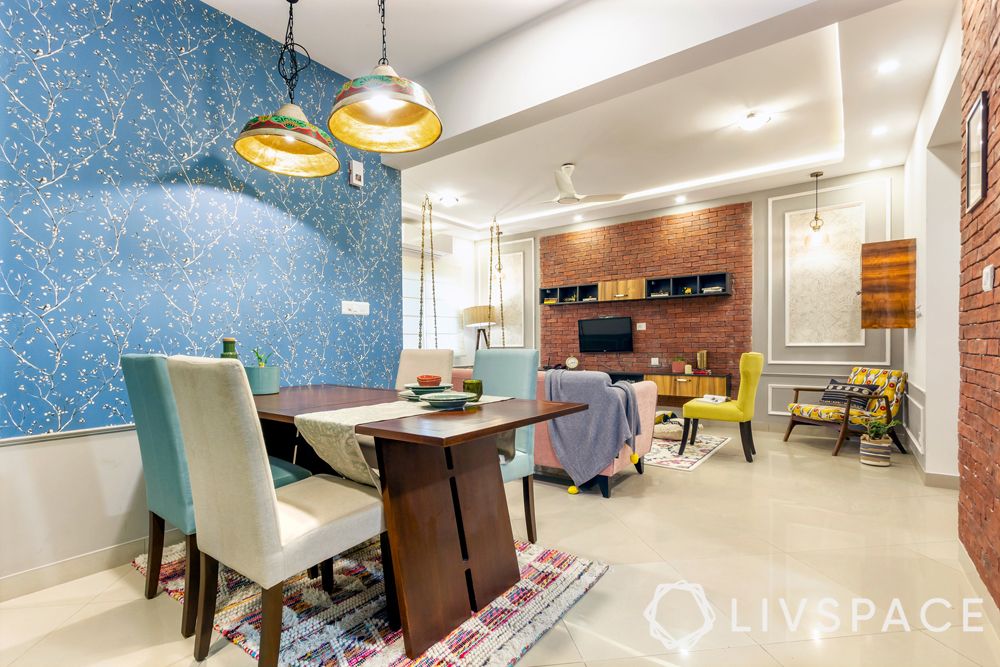 If you enjoyed touring this rather unique home in Bengaluru, explore another one from the tech city where personalised interiors take centrestage.
Write to us at editor@livspace.com