When it comes to your dream home, there's little you want to compromise on. After all, it's your safe haven away from the world – a place where you work, rest and entertain your friends and families. For Ajay and Priyanka's interiors for this 2BHK in Supertech Araville, the goal was similar. They wanted their home to be a safe haven that housed their dreams, fit their family needs, and helped them entertain their dearest guests.
If there's one thing you should know about Ajay and Priyanka, it's how they love entertaining their guests. So, they wanted Livspace designer, Namisha Gupta, to make their living room a perfect heaven that can house up to 15 people at once. But that's not all they had envisioned for their personal paradise.
---
Who Livs here: Priyanka and Ajay Chhabra
Location: Supertech Araville, Noida
Size of home: 2BHK
Design team: Namisha Gupta, Livspace Designer
Livspace service: Full home design (without kitchen)
Budget: ₹
What Drove the Vision for This Contemporary Interior Design?
When Ajay and Priyanka met our Livspace designer, Namisha Gupta, they were particular about their needs. The Chhabras wanted Livspace to blend their existing furniture seamlessly into the new decor. They had a budget of ₹7-₹8 lakh, and they wanted to stick to it under all circumstances.
In fact, they were very specific about the pieces of modular furniture and decor that they wanted to install, and also had a clear idea of where to place them. Thus began our Livspace designer Namisha's journey to curate a contemporary home design that was trendy yet timeless.
IN A NUTSHELL
Design Brief
To create a modern home that has ample storage and blends in with the existing furniture

What We Loved
Stone-look wallpaper in the living room that gives a 3D view and saves costs by 5x

Look Out for
The minimal wall treatments in the bedrooms that have given a fresh lease of life to the interiors

Biggest Indulgences
The multipurpose storage unit that functions as a bar, a shoe rack and a storage unit

Smart Buys
The wardrobe in the guest bedroom that has a built-in pooja unit


How Livspace Designed Bespoke Interiors on a ₹7Lakh Budget?
As the Chhabras wanted to work around their existing furniture, incorporate maximum storage and give their home a new lease of life, the challenge was to do it within ₹7 lakh. But at Livspace, we love challenges!
So, let's take a closer look at how Livspace designer, Namisha Gupta, made it all possible.
1. The Living-cum-Dining Room That Seats & Fits Them All
A. Maximum Seating
You must be wondering who are "they"? Well, they're the lovely guests Ajay and Priyanka love to host every once in a while. While designing the living room, one of the major prerequisites of the interior design of this 2BHK in Supertech Araville was to ensure it had maximum seating.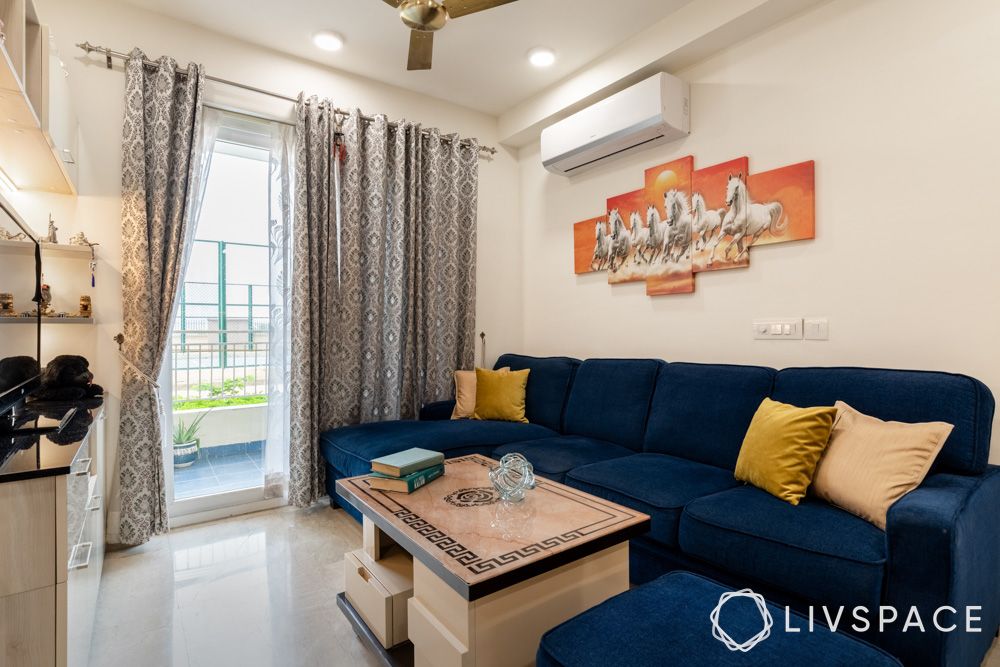 Our Livspace designer, Namisha, recounts that restructuring the layout and doing a few civil changes was essential towards fulfilling that requirement. The passage space was reduced, and a wall had to be removed to fit in the six seater sofa that sits lavishly in the living room. Designing the interior of this 2BHK in Araville, along with layout planning, was a task that we happily accomplished!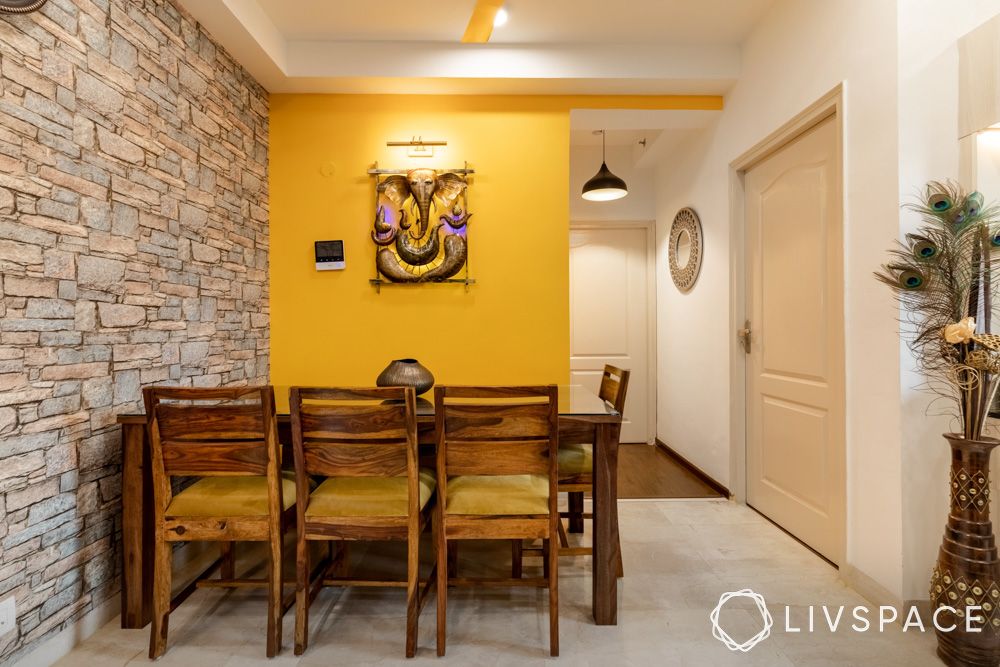 The dining room also occupies a corner, so as to ensure privacy during mealtimes. However, no segregation or wall partition has been done so that additional chairs can be roped in to seat more guests together.
B. Maximum Storage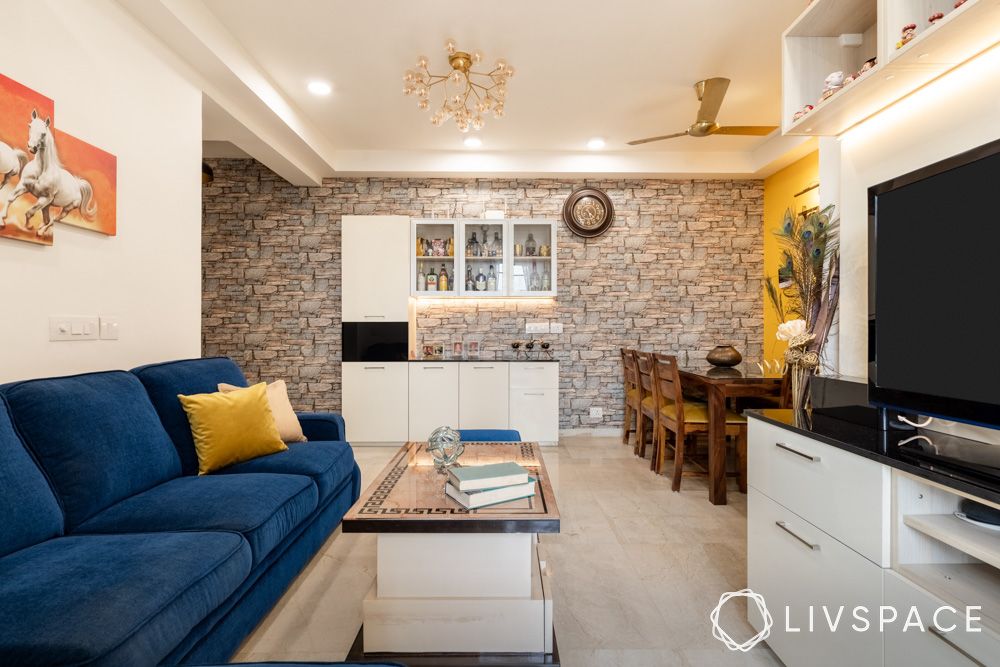 Add maximum storage to maximum seating, and you've the Chhabra's dream home. They needed more storage space and Namisha decided to use a multipurpose storage unit in the living room that has three functions. It serves the role of a shoe rack, a bar unit and an additional storage unit.
In case their storage needs increase, Namisha also added a TV unit with ample storage in the same room. With multiple options, they will never fall short on storage.
C. Minimal Wall Treatments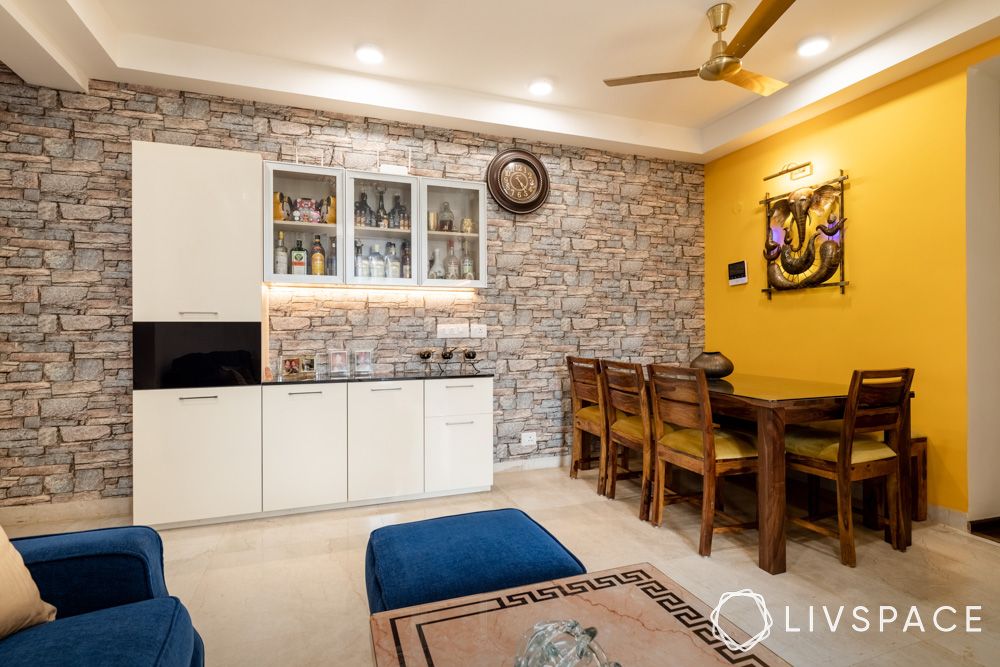 The Chhabras were very specific about having a yellow wall in their living room to give their otherwise simple interiors a pop of colour. Plus, they wanted a Ganesha decor to adorn their living room, so we did exactly that!
However, they also wanted to add a rustic look to their living space. Textured paint was a good option but that would have shot up the costs. So, we opted for a stone-look wallpaper that not only gives a 3D appearance but also cuts down costs by 5x, thus keeping it all within budget.
We love the depth it gives to the living room. How do you think it looks?
Also Read: This 3BHK Flat Interior Design for Aswan The Marquis, Bangalore Is Stunning and Under ₹10 Lakh
2. The Bedrooms That Are Oh-So-Soothing
A. The Minimal Wall Treatments With the Freshness of Flowers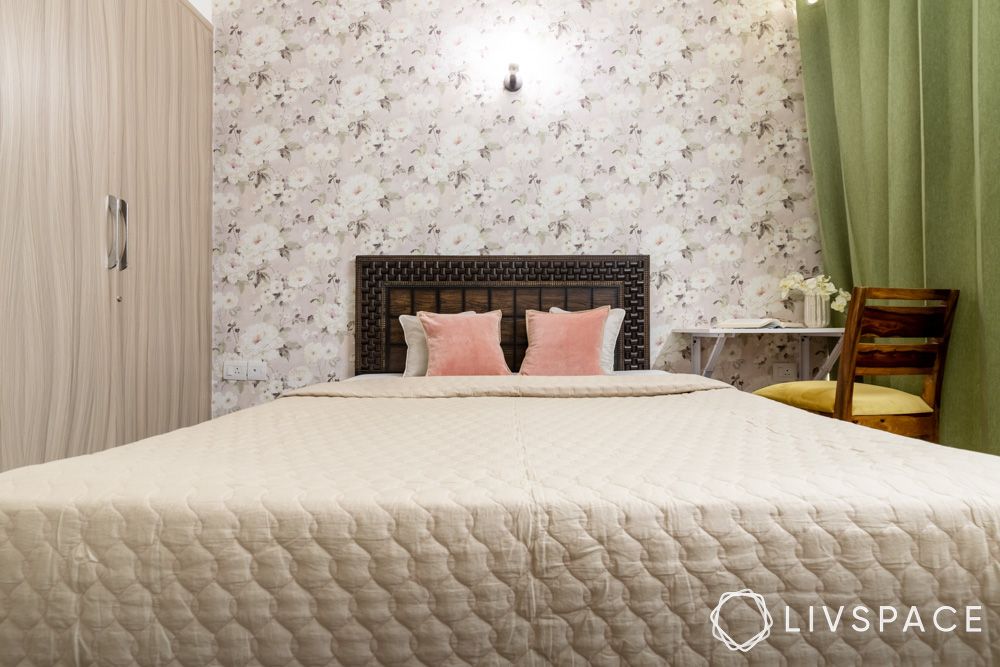 If you take a quick look at this 2BHK interior design in Supertech Araville Gurgaon, you'll see the colour palette is quite neutral. To give their rooms a spark of life and a sense of colour, the Chhabras wanted something minimal. Hence, we, at Livspace, recommended beautiful floral wallpapers.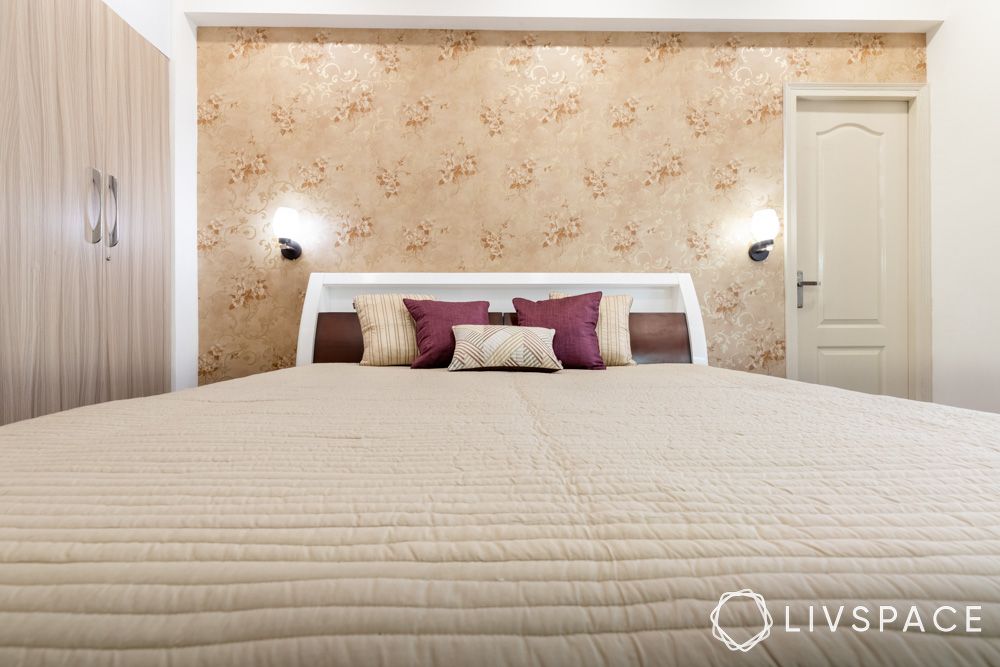 Without doing any heavy wall treatments like wall panelling or wall trimming, we managed to get a luxurious and sophisticated look that's so soothing to the eyes. To give you an idea, the wallpapers in every bedroom didn't cost more than ₹10,000 to ₹15,000.
B. The Curious Case of the Curtains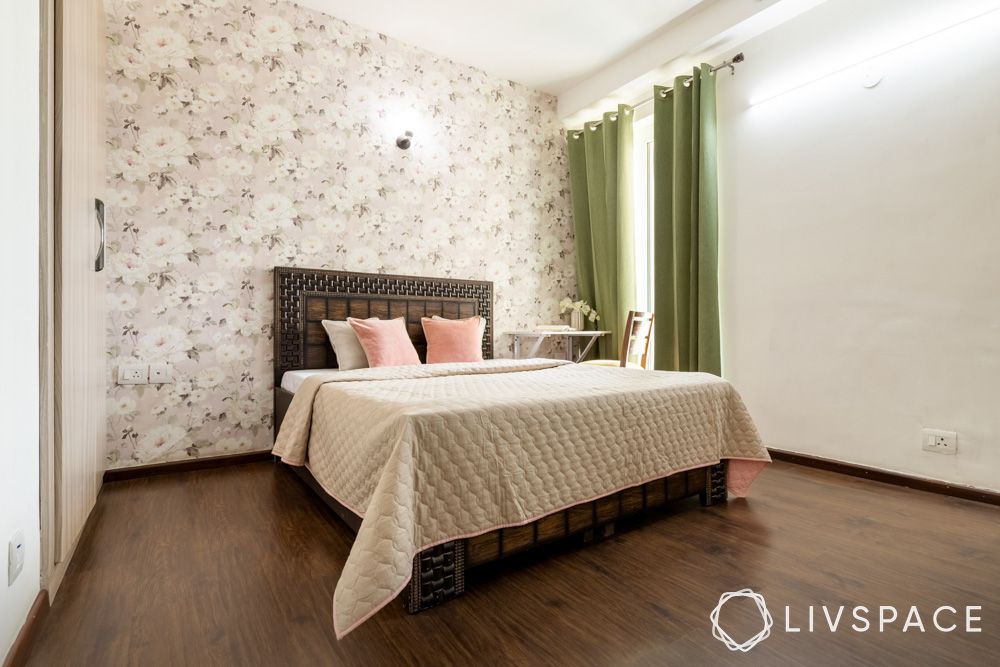 We used the curtains very pragmatically. Wondering what we mean? We decided to break the monotony of the colour palette by introducing curtains that played vibrantly with the wallpapers and were bright enough to add some 'oomph' into the decor.
For the guest room/mother's bedroom, we opted for olive curtains, as that was Ajay's mother's favourite colour.
Even, the coral bronze curtains of Ajay and Priyanka's bedroom are quite a stunner in their own way. Although they look simple, they still add a sense of regality and flair to the overall design.
3. The Wardrobes That Don't Fail to Wow
A. The Master Bedroom's Wall Wardrobe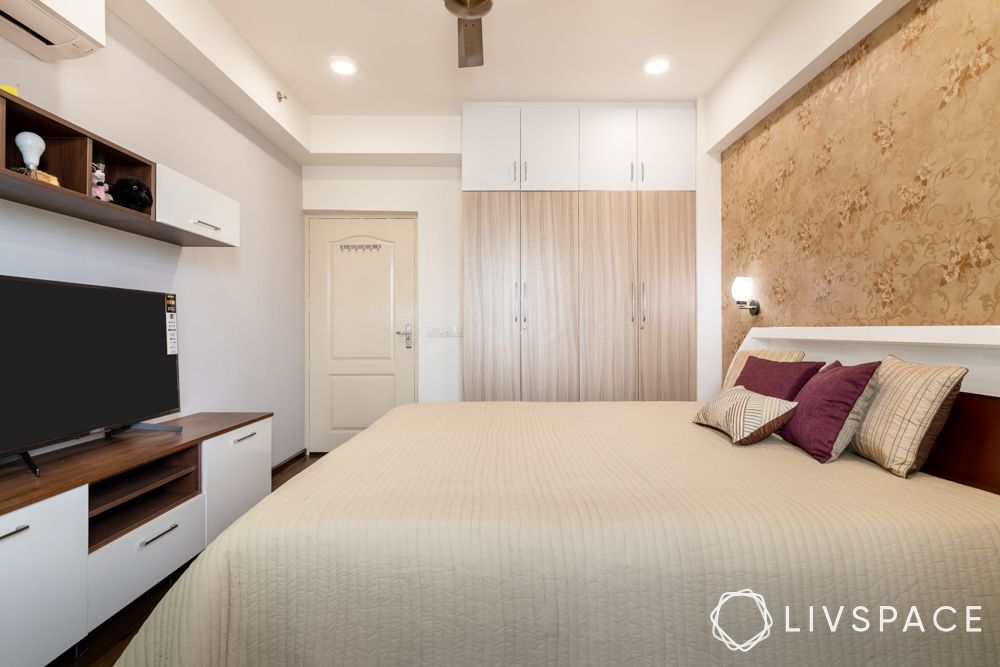 Priyanka and Ajay's bedroom features a minimal double-toned wall-to-wall wardrobe in white membrane and wood-like finishes. One thing that this 2BHK interior design in Supertech Araville, Gurgaon stands for is design simplicity. While ensuring they have enough room for storage, the wardrobe also blends in with the simple yet sophisticated vibe of the bedroom.
B. The Wardrobe With a Built-In Pooja Unit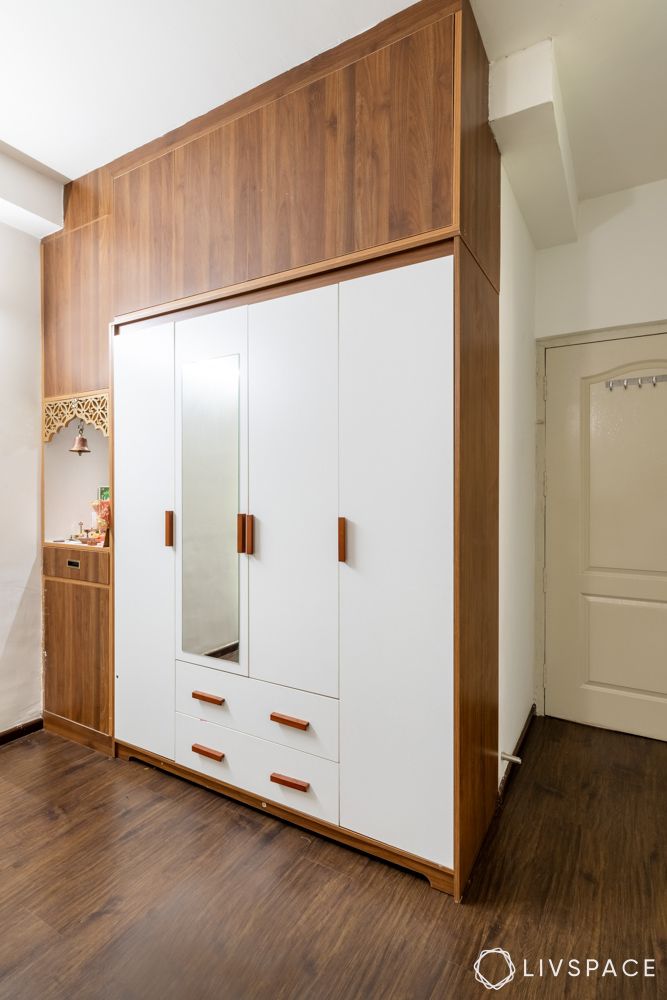 Ajay's mother's wardrobe required some planning, construction and detailing to get it right. The family wanted to incorporate a pooja unit in the wardrobe, while keeping costs low. We took a pre-laminated particleboard wardrobe that's ready-to-move and accentuated it to look like a single wall-to-wall wardrobe unit with an incorporated pooja unit.
All our offerings are from our Livspace catalogues. As you can see, we're always ready to personalise our designs to give your home that edge it deserves.
Also Read: 15 Stunning Bengaluru Home Interiors Under ₹10 Lakh by Livspace
4. The TV Units That Make Heads Turn
A. The Living Room TV Unit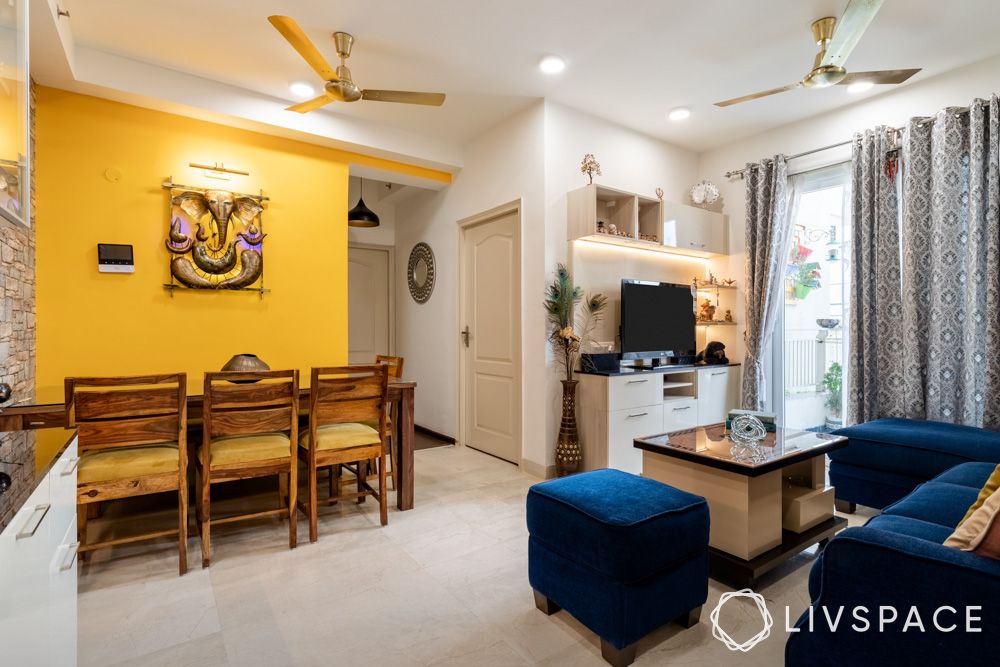 The TV unit that sits in the living room in front of the six seater sofa has ample storage, as you can see. This modular unit from Livspace also enjoys a 10-year warranty and the benefits of our superior technology (DuraBuild for sturdier cabinets, AquaBloc to keep the moisture out and AntiBubble to prevent air bubbles from getting in).
Priced at ₹70,000 – ₹80,000 (subject to market changes), this TV unit has the capacity to house dreams and essentials all at once.
B. The Bedroom TV Unit
Minimal, in comparison to the modular TV unit that occupies the living room, the bedroom TV unit is priced at around ₹40,000 – ₹50,000 (subject to market changes).
The double-toned look with wood-like finishes and a coat of white ties the decor of the room together, while looking seamless at the same time.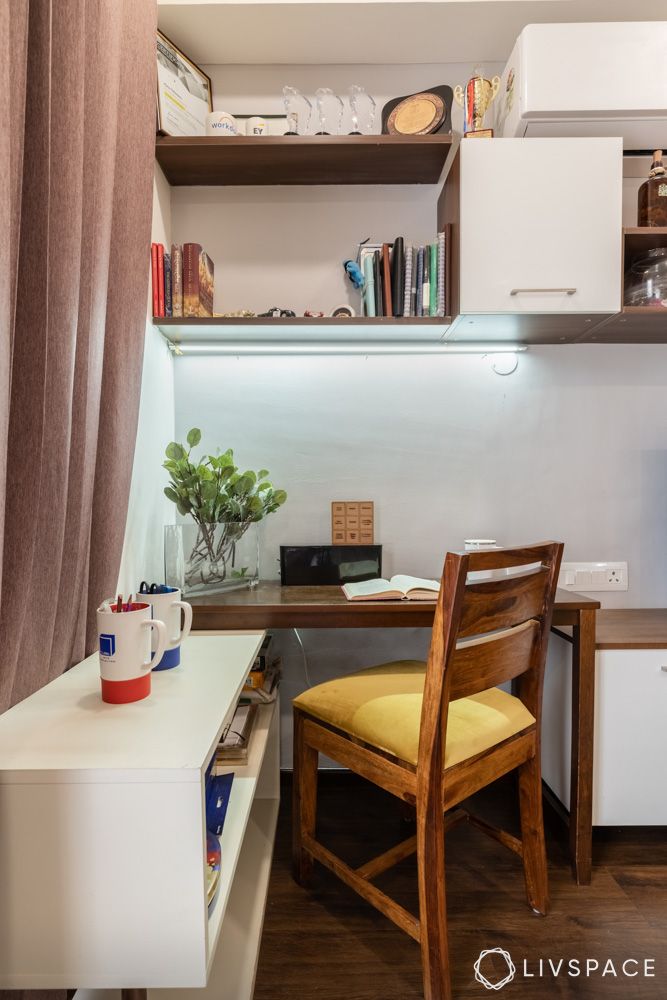 The TV unit also expands to fit in a desk. If you look closer, you'll notice how our Livspace designer, Namisha, has merged the desk and TV unit storage to look like a part of the same design component. It helps save space and cost, while ensuring that the room doesn't look too cluttered with so many furniture pieces!
Hear It From the Designer Herself
While designing the interiors for this 2BHK in Supertech Araville, our goal was to stick to the budget and make the magic happen. We broke down a few walls, made some structural changes, added ample storage and seating, and tried our best to fulfill the dreams of young homeowners Priyanka and Ajay.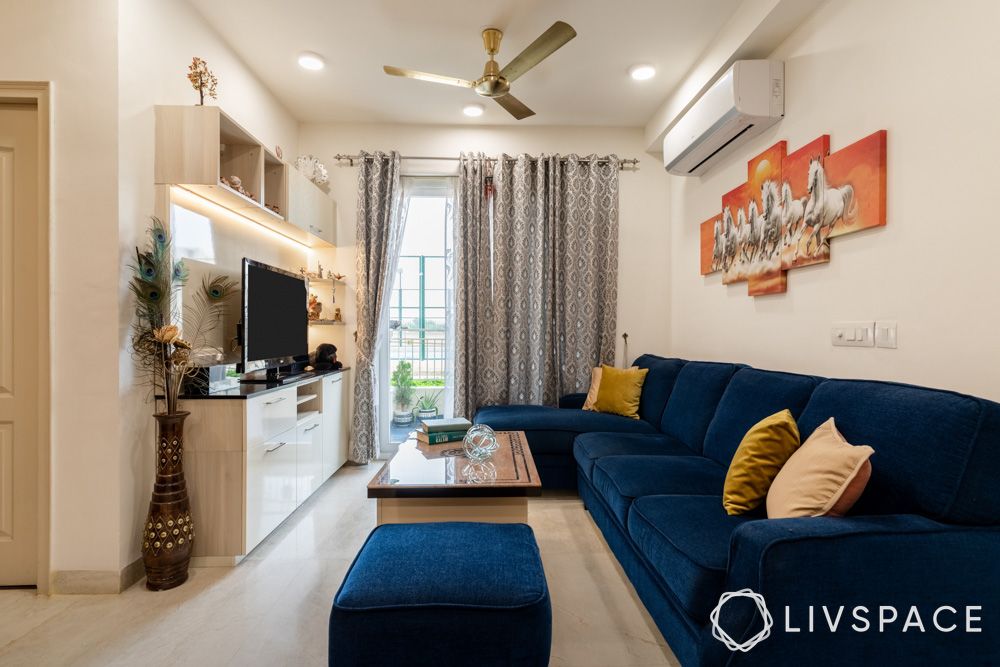 I tried my best to make Priyanka and Ajay's first home a dream come true for them. They wanted to use all the existing furniture available in such a way that it merged with the design and didn't look out of place. Doing this under a strict budget was difficult, but we managed it with cost-effective solutions.

Moreover, you'll see all the rooms have a different theme, thereby lending a different story to every corner while also ensuring maximum storage in unique and smart ways.

Namisha Gupta, Livspace Designer
How Can Livspace Help You?
We hope you found our ideas useful! If you want beautiful interiors for your home, then look no further. Book an online consultation with Livspace today. Have any thoughts or suggestions you'd like to share with us? We're all ears! Drop us a line at editor@livspace.com.