With different types of wardrobe finishes available in the market, we are already spoilt for choice! But what if we told you that by combining two wardrobe finishing materials, you can have a cabinet that looks completely unique? Sure, some combinations can be used to achieve a look specific to your bedroom's requirements, but our designers reveal their reasons for the mix 'n' match they do with wardrobe finishes. Read on as we tell you about the combinations favoured by Livspace designers, and why it works!
#1: To Get the Perfect Modern Wardrobe, Mix Mirror Shutters with Laminate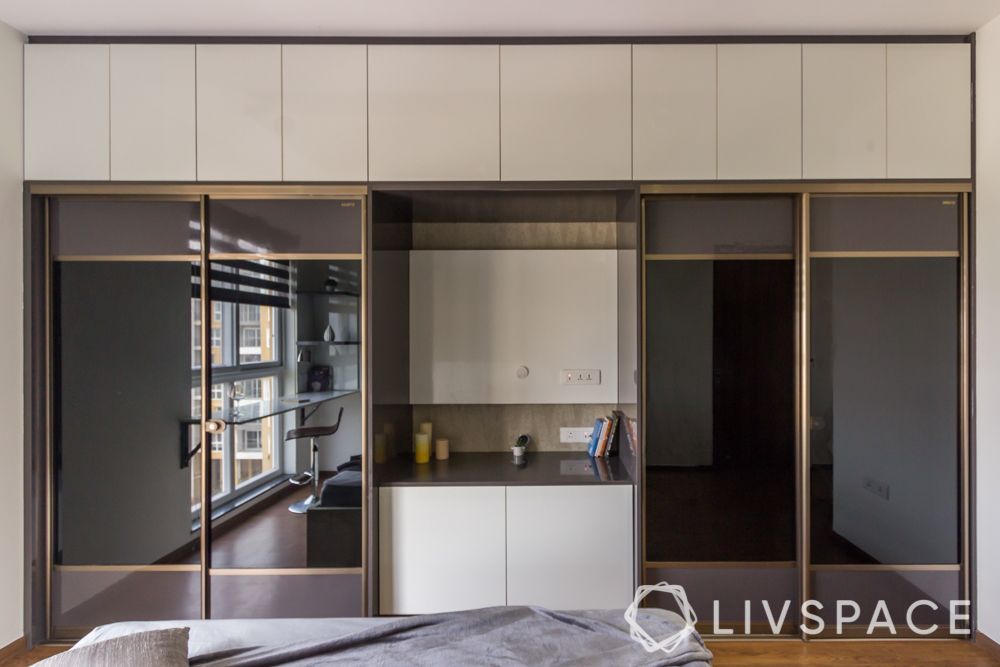 If you're looking for a modern cabinet in your large bedroom, let us tell you a secret. A modern, plush, wall-to-wall cupboard works best when you mix different types of wardrobe finishes. Check out this one with grey tinted mirrors, demarcated into sections by veneer strips. Our designers suggest tinted mirrors for wall-to-wall cabinets in large rooms, as plain mirrors can make already spacious rooms look too open. To balance the colour without compromising on design, finish the cabinet with white laminate lofts!
"Styling inside the wardrobe is important, but the shutters give you the first impression! So consider using tinted mirror shutters that add a modern touch to your room. For those spaces where you want to stay away from mirrors, consider using a neutral-coloured laminate that keeps the focus on the mirror."
– Sushritha Surya PS, Interior Designer, Livspace.
#2: Amp Up a Matte-finished Wardrobe by Adding Lacquered Glass!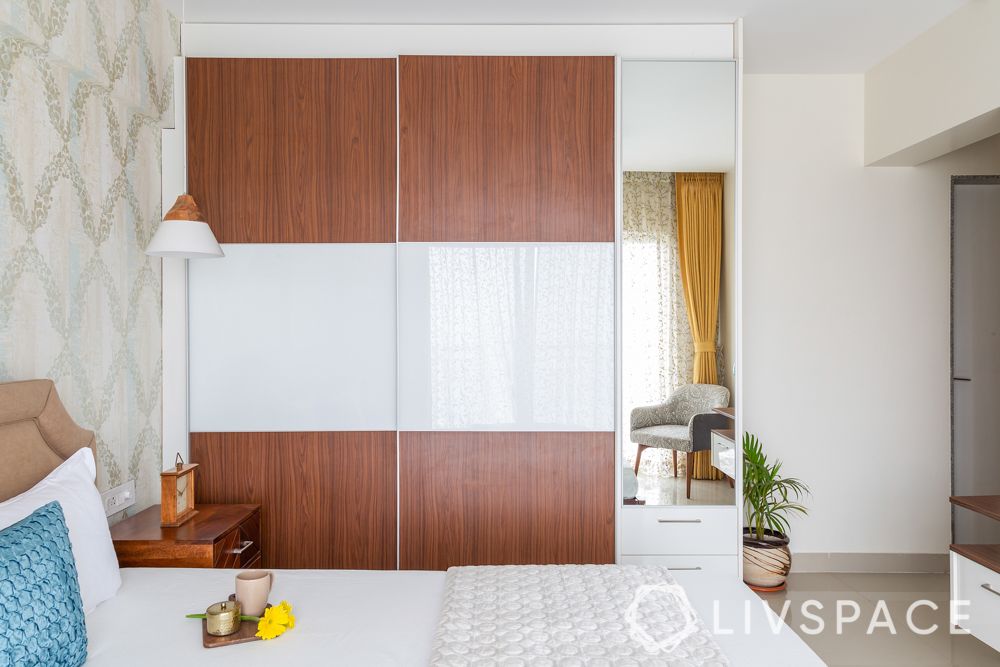 Longing for a sleek and glossy cupboard, but without spending a bomb? Livspace designers suggest wardrobe finishing materials that help you attain that rich look on a budget. A laminate wardrobe is durable, but lacks the richness that many homeowners seek. Lacquered glass, on the other hand, is highly delicate. By mixing these types of wardrobe finishes, you can create a cabinet that's at once elegant and pocket-friendly!
#3: Get Both Shimmer and Shine by Adding Lacquered Glass to Laminate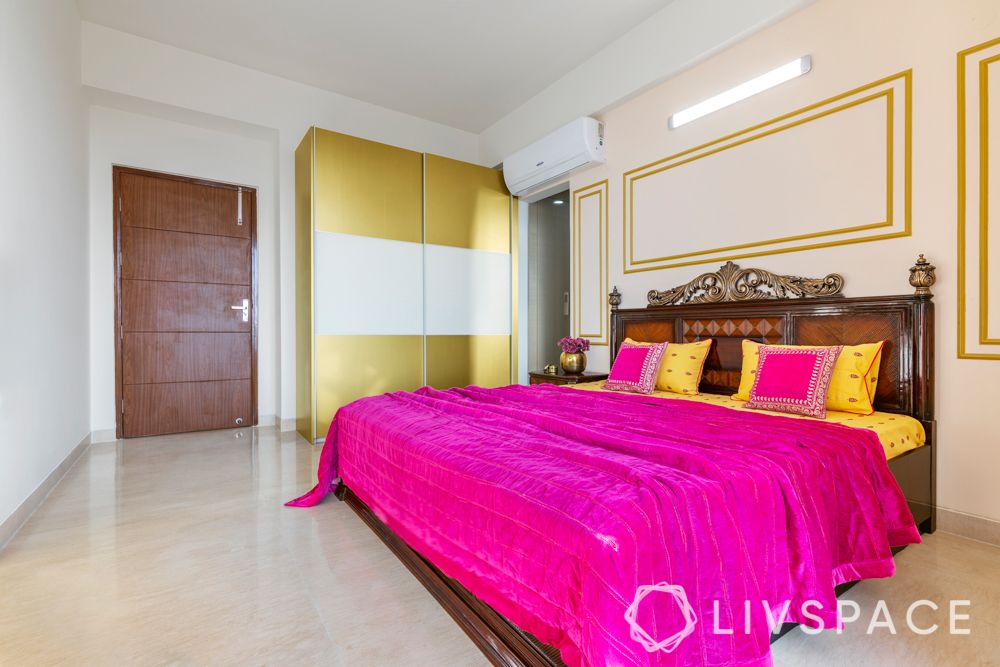 If you're looking for a shimmery wardrobe that fits right into your room, a satin matte membrane might be the way to go. However, if the shine seems a little less, then you can always add a lacquered glass panel in the middle! This delicate panel thrives on the support of the membrane finish over the cupboard. And it amps up the overall look as well!
"While using a satin-matte laminate, and especially one that's a shimmery golden, it's easy to go overboard. When you use a lacquered glass panel in the middle of the wardrobe, it tones down the colour and makes it look bright but not overpowering."
– Drishti Bhatia, Interior Designer, Livspace.
#4: To Open Up Compact Spaces, Add Mirrors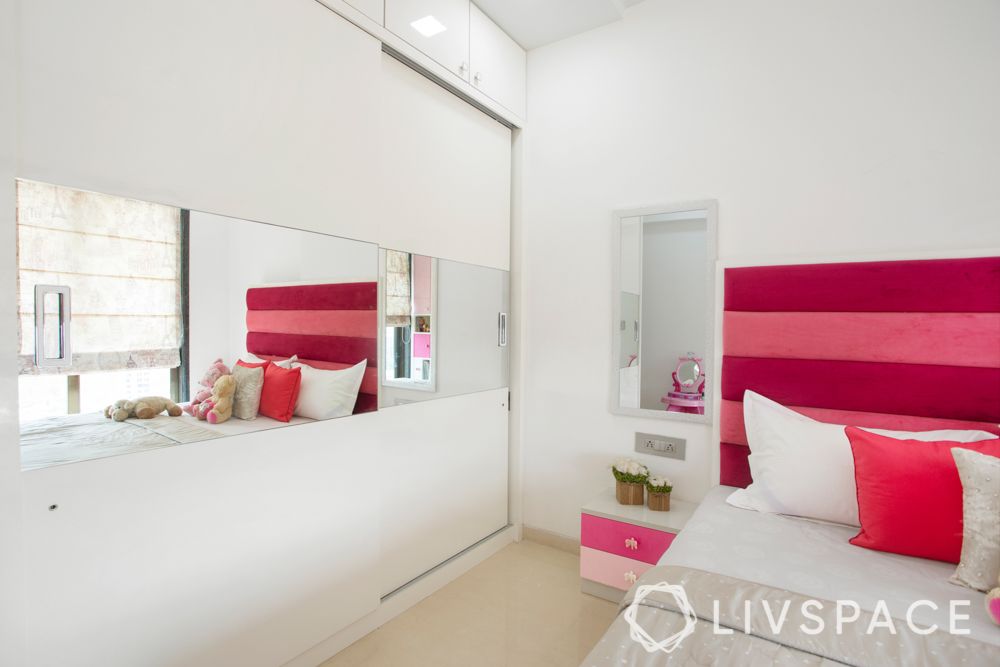 While a glossy acrylic cabinet can add a plush look to your space, it can do only so much to open up a small space. That's when a mirror panel becomes very useful! The mirror panel in the center helps make the room look as open as can be! So if you have a compact room, a combination of these types of wardrobe finishes will help make your room look spacious. Alternately, if you want to steer clear of glossy finishes, you can consider a cupboard with a matte laminate finish, with a mirror panel in the center.
"Having a mirror on the central panel of your sliding wardrobe adds to its space-saving features, but in a wholly different way. While sliding doors allow clear circulation of space, the mirror panel breaks the monotony of plain shutters and makes the room look more spacious!"
– Ar. Chitwan Mahipal, Interior Designer, Livspace.

#5: Frosted Glass Can Open Up a Small Bedroom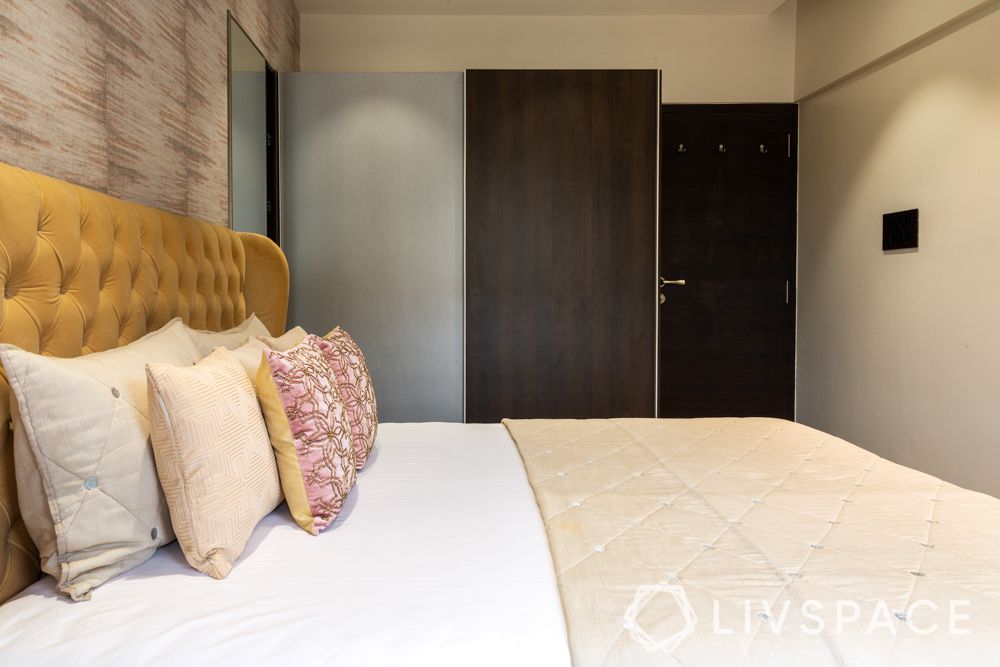 Here's a budget-friendly way to open up a compact bedroom without using a mirror. Consider having a frosted glass shutter on one side of your sliding wardrobe instead. With this, you won't have to worry about keeping the inside of your cabinet tidy all the time. However, you can still catch a glimpse of what's inside. If you're steering clear of glossy finishes, pair a frosted glass shutter with a matte laminate shutter on your sliding wardrobe, and check out the difference it makes to your room!
#6: Blending Different Finishes Helps Strike a Balance Between Too Glossy and Too Matte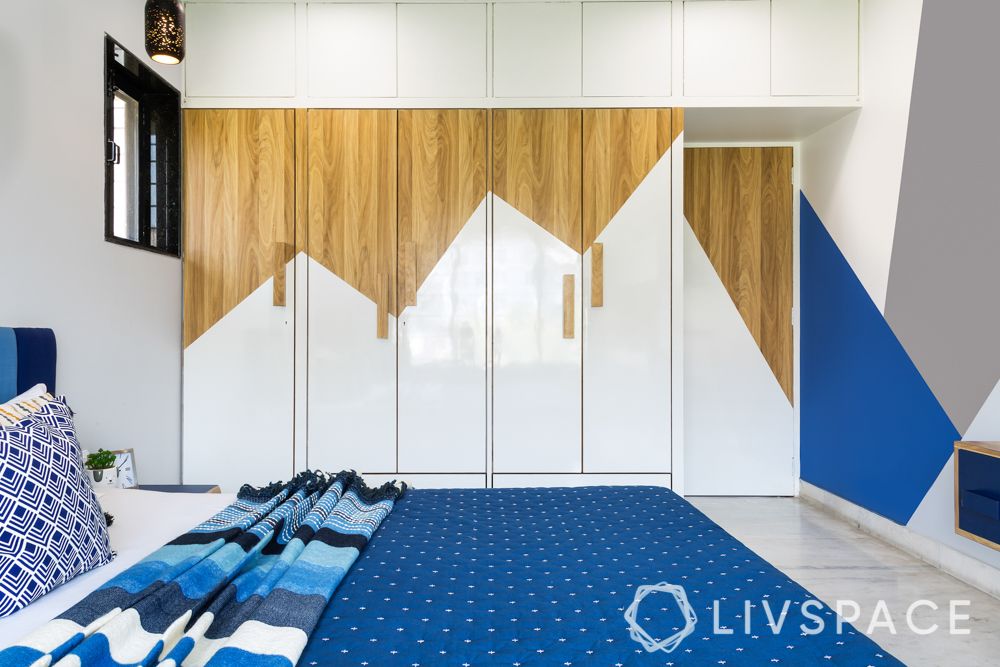 Some of us find both glossy and matte finishes too overpowering, so we look for a middle ground. If you're searching for the same, we have something for you! Consider a wardrobe with a blend of both types of wardrobe finishes, custom-made to a design of your choice!
#7: Combine Veneer and Glass for Evergreen Designs That Are Pocket-friendly
If you're a lover of clean lines and seamless designs, we've got a blend of wardrobe finishing materials that you're sure to love! Consider a wardrobe shutter made of back-painted glass. It's super delicate, which is why we suggest you hold it up with a veneer frame that adds to the rich look. With straight lines of veneer forming a grid over your painted glass cabinet, your design remains classy, and becomes slightly more sturdy!

"Veneer is a material that never fails to impress, but it can be expensive. On the other hand, glass shutters are too fragile to use on their own. Here, veneer adds to the sturdiness of the shutters, and due to its minimal usage, the design remains more pocket-friendly. By combining glass and veneer, you get a wardrobe that fits into both traditional and contemporary rooms!"
– Ar. Gunja N. Golcha, Interior Designer, Livspace.
#8: Veneer with Laminate Can Help Reduce Costs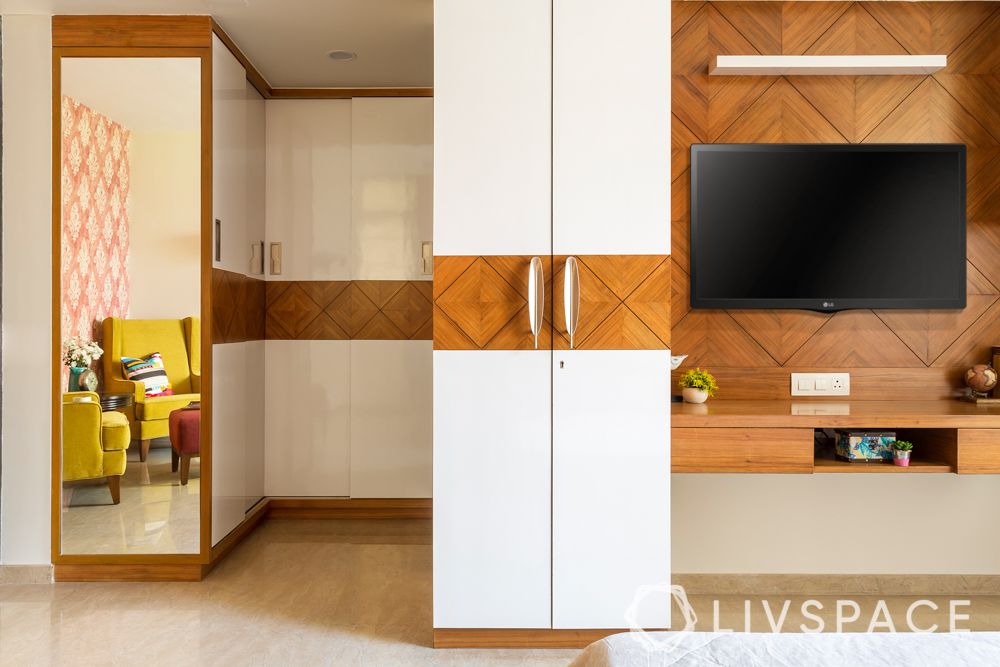 Love wooden finishes and nothing but the best will do? We'd suggest veneer in a heartbeat! But while such types of finishes can make your cupboard look plush and timeless, it can also prove pretty expensive. So why don't you try out a combination of white matte laminate with a veneer panel in the middle? The white laminate also helps highlight the veneer panel!
"While veneer looks gorgeous on wardrobes, it's also expensive. So instead of using veneer over the entire cabinet, we use it in combination with a light-coloured matte laminate. This also helps draw attention to the veneer!"
– Chinky Budhraja, Interior Designer, Livspace.
If you enjoyed reading this article on combining wardrobe finishes, also check out these 5 Flawless Finishes We Love for Wardrobes.
More wardrobe designs:
Send in your comments and suggestions.