Wood is a popular choice in most of our homes, especially if you love traditional style interiors. Its dependability and availability have made it a go-to material, especially for wardrobes. However, a real wooden wardrobe can be expensive, leaving wood-finished wardrobes as the next best alternative. Our range of modular wooden wardrobe designs have great storage capacity, look elegant and possess a universal aesthetic appeal. Here are some of the best wooden wardrobe design ideas. We're sure you'll find one that's perfect for your space!
#1: Get a Free-standing Wooden Wardrobe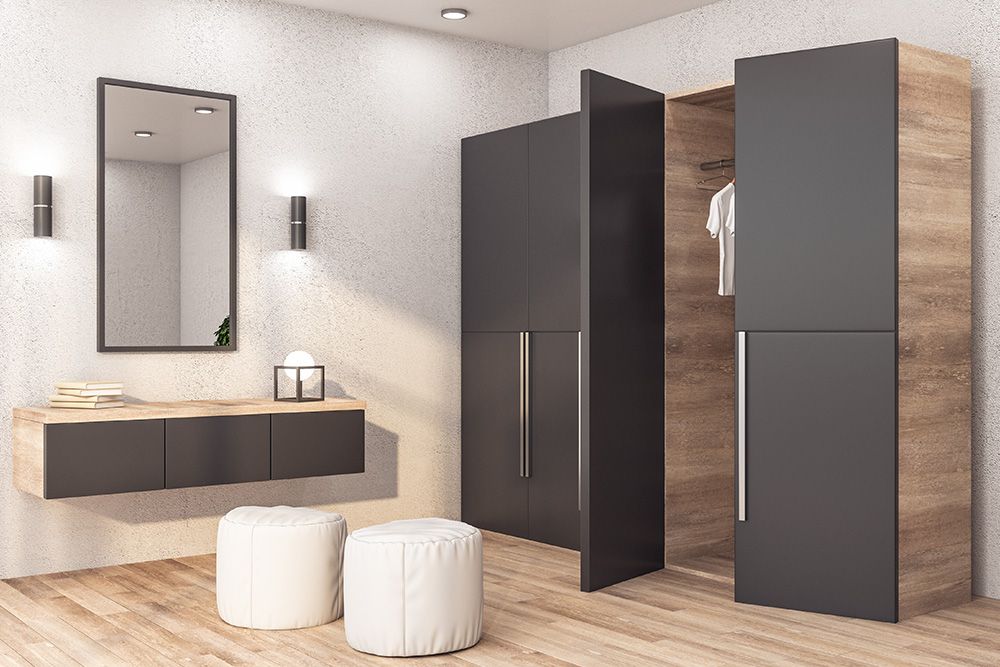 If your nomad soul refuses to be tied down to one home, pick a free-standing wardrobe. It is sturdy, has amazing finishes and can fit into any space.
#2: Opt For a Sliding Door Wooden Wardrobe Design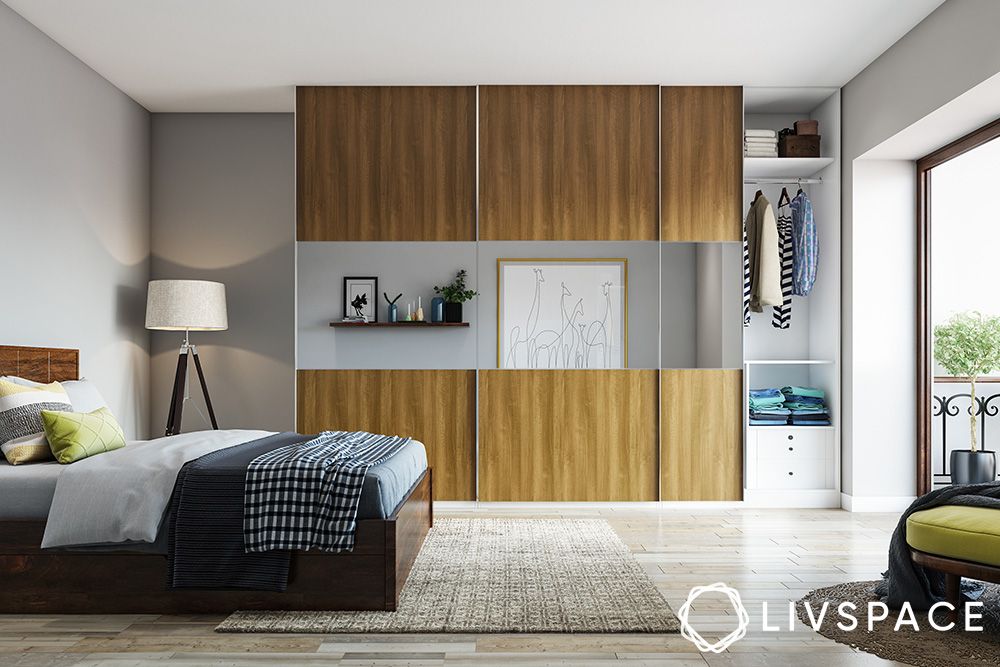 Have a compact space? Getting sliding doors is an ideal choice. Sliding doors, although an expensive pick when compared to hinged doors, can save space in a compact room.
Also Read: How to Clean Your Wooden Furniture?
#3. Your Wooden Wardrobe Design Doubles Up as a Dresser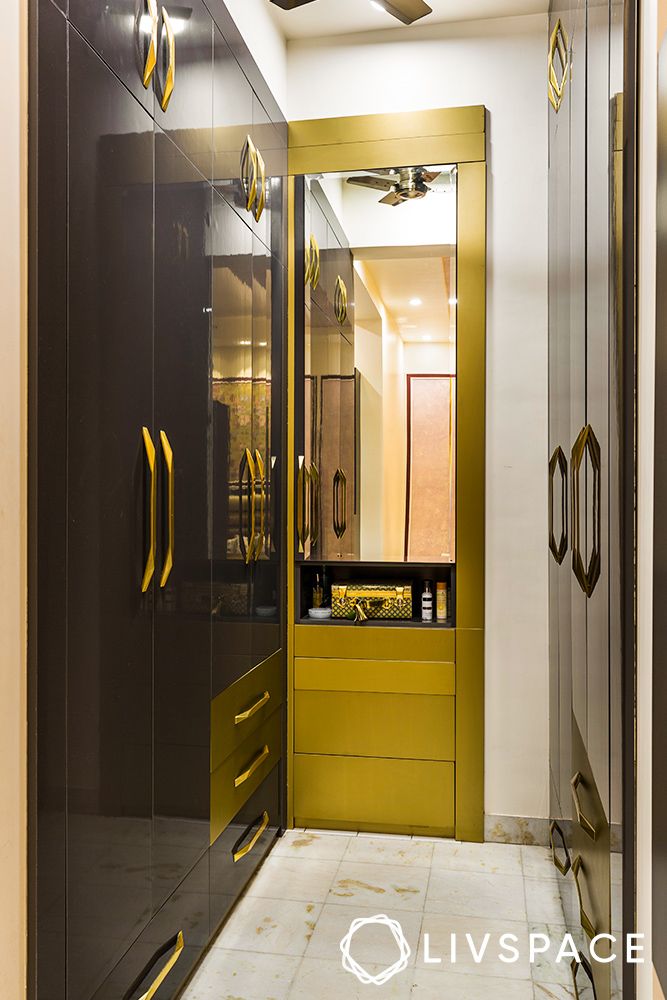 Make the best use of your wooden cupboard design by opting for a built-in dresser. Fit in a mirror and customise the wardrobe accessories to carve out a dresser. This makes getting ready on Monday mornings easier.
#4. Pick a Light-Toned Wood-Finish Wardrobe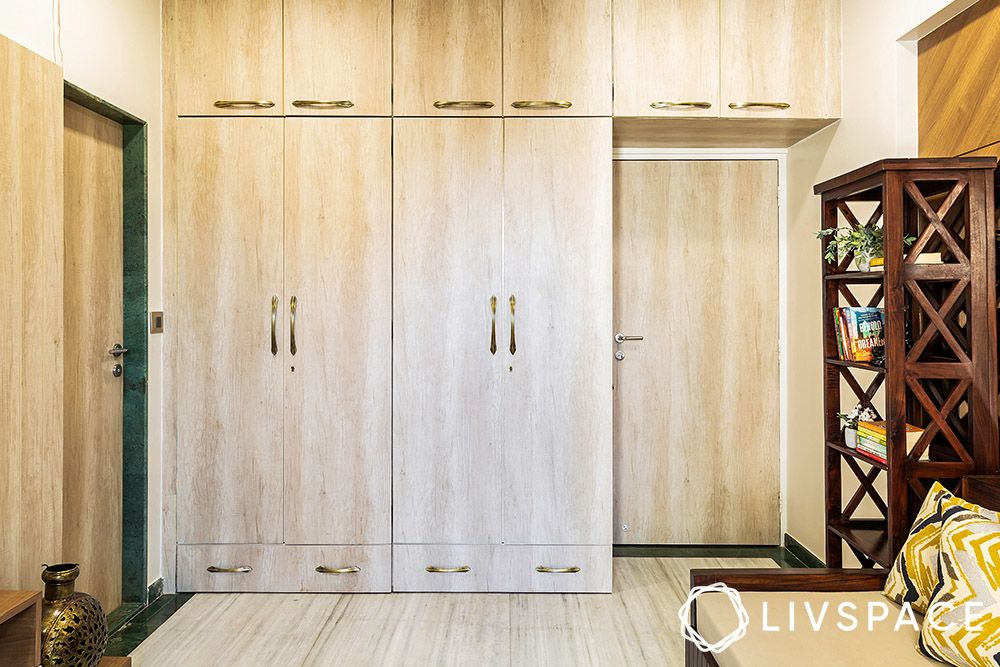 A wood wardrobe finish can give you many options to explore. Opt for a beige colour for your wooden cupboard design. What's more, it's also a vastu-approved option.
#5. Use Different Shades For Your Modular Wooden Wardrobe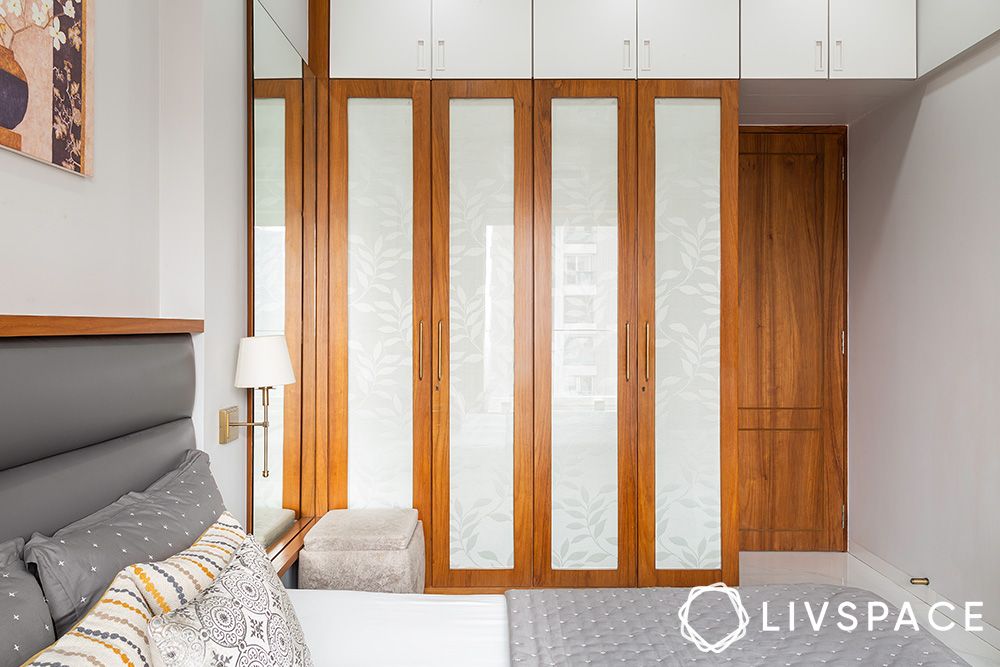 Dark mahogany wood and its variants are relatively sturdy and dependable. This kind of wood boasts a certain yesteryear's charm. With a bit of wax polish, you can amplify the look of modern wooden wardrobe designs. This kind of finishing on modular wooden wardrobes requires almost no maintenance if done professionally. The shade is simple and works best with subdued decor.
#6. Use Shutters to Get a Modern Wooden Wardrobe Design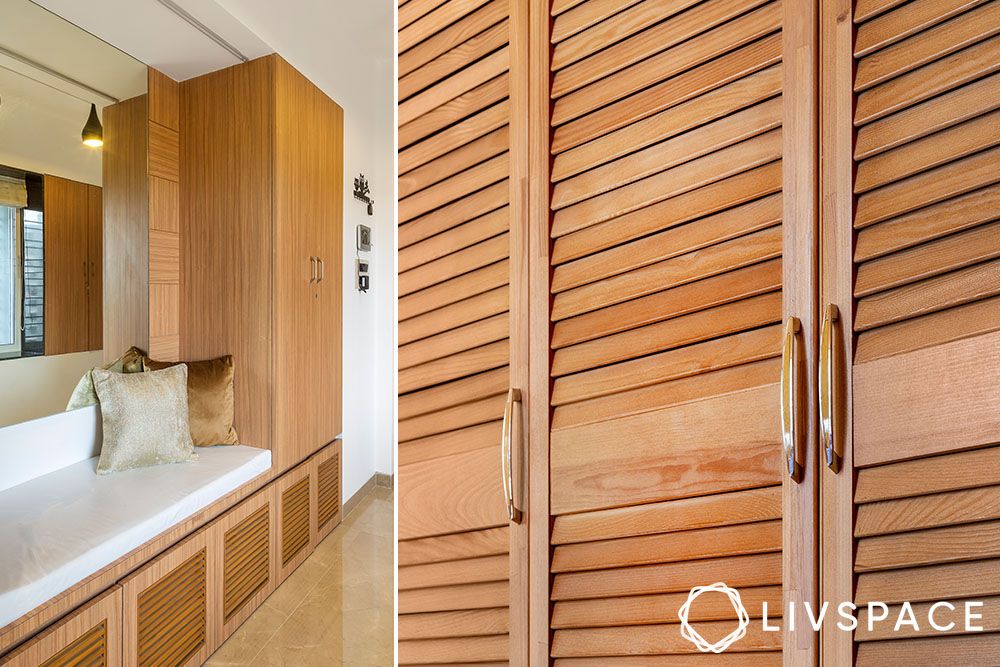 Shutters can add a contemporary touch to your Indian wooden wardrobe design. They not only match your furnishing but can also blend well with the background.
#7. Splurge on a Modern Wooden Wardrobe With Distinct Patterns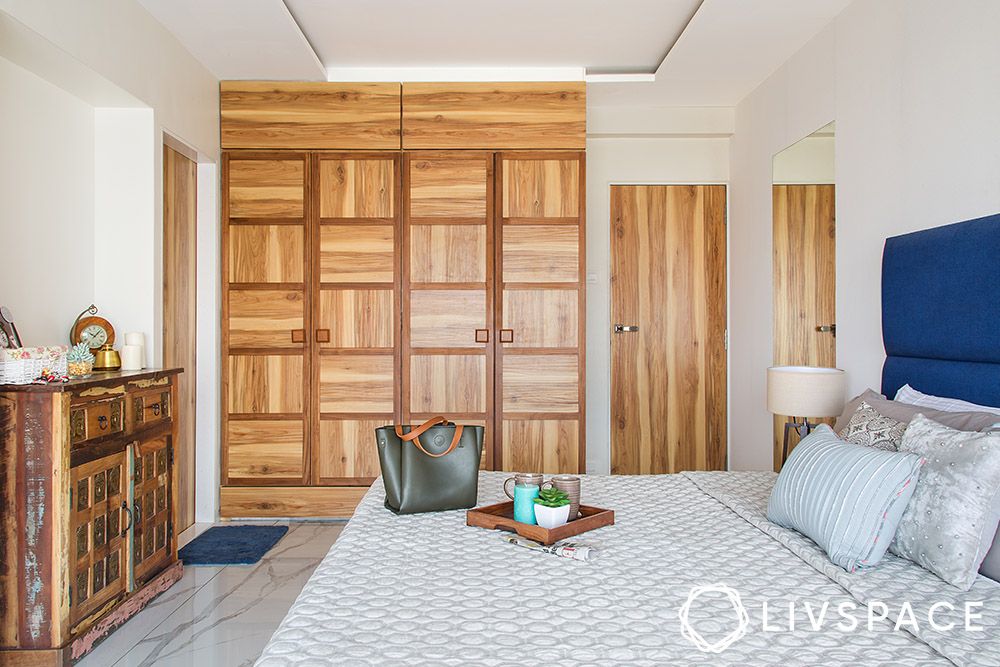 Now this is a wooden wardrobe design that stands out! A patterned wardrobe can easily become the centre of attention. You can customise your wardrobe finishes to chevron, herringbone or striped patterns.
#8. Add Mirrors to Your Wooden Wardrobe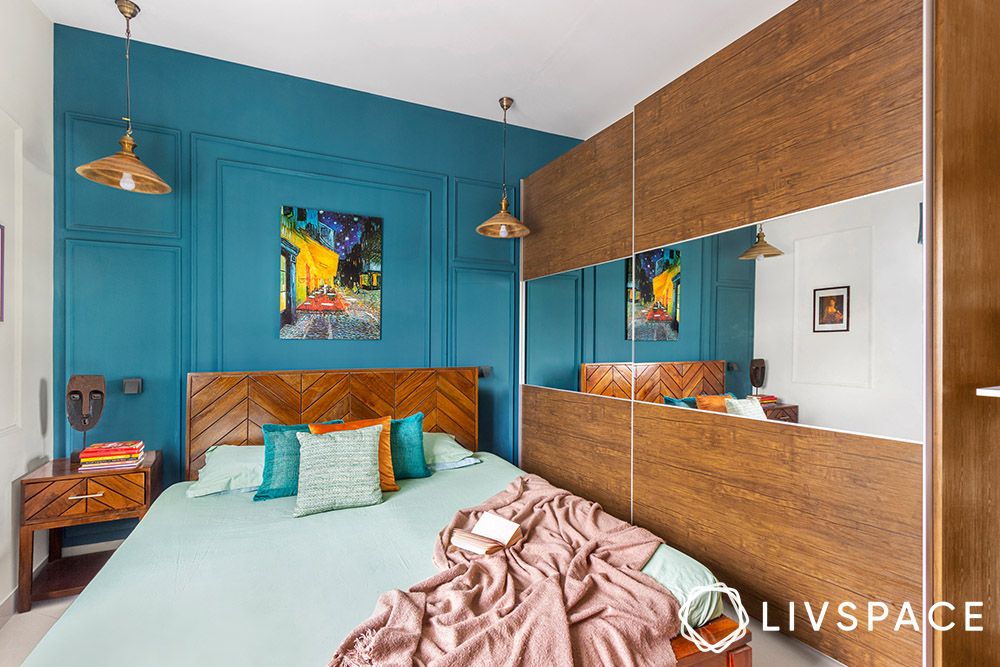 If you want to make an edgy statement with your wooden cupboard design ideas, mirror finishes are the way to go. They immediately add vibrancy to the setting and become a focal point. Also, these modular wooden wardrobes are functional as they can double up as dresser units when required.
#9. Go for a Dark-Hued Wooden Wardrobe Design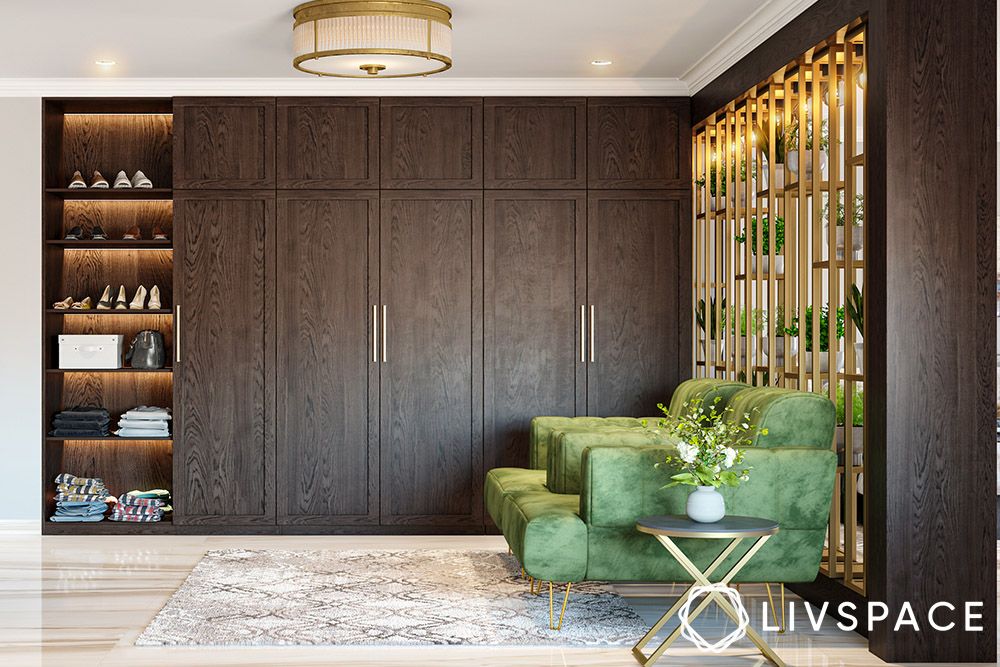 Dark hues can easily complement large spaces. They impart richness to the surroundings and create a contrast with muted shades.
#10. A Multipurpose Wooden Cupboard Design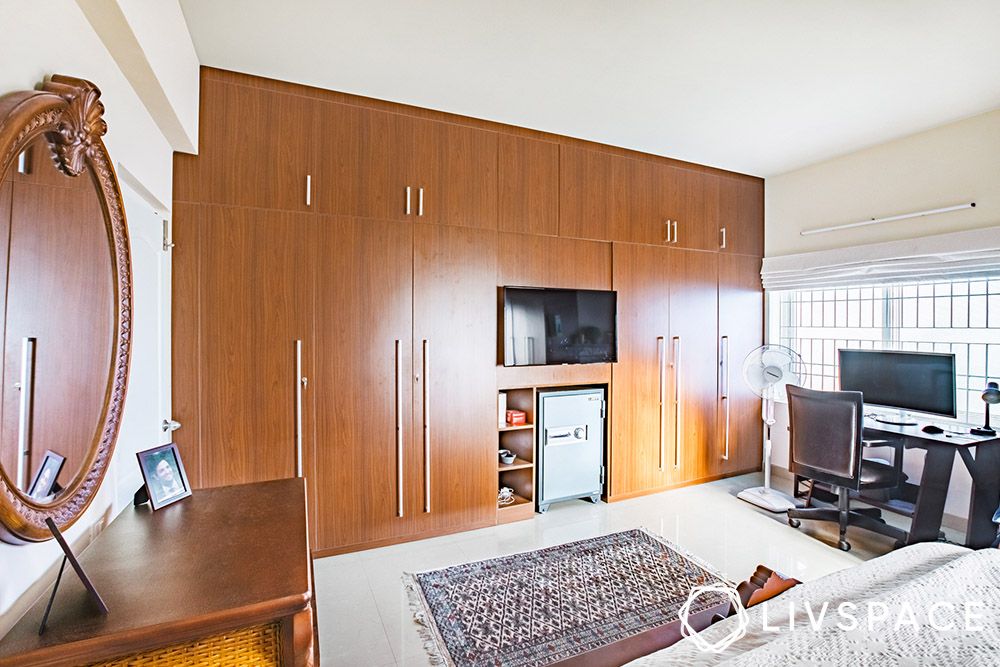 We love a custom wooden wardrobe design for its multipurpose nature. For example, in the picture above, you can see built-in shelves paired with a cut-out niche. This makes it easier for the homeowner to use it as a display area or to store appliances/furniture such as a mini fridge or safe.
#11. Try Out a Portable Wood-Finish Wardrobe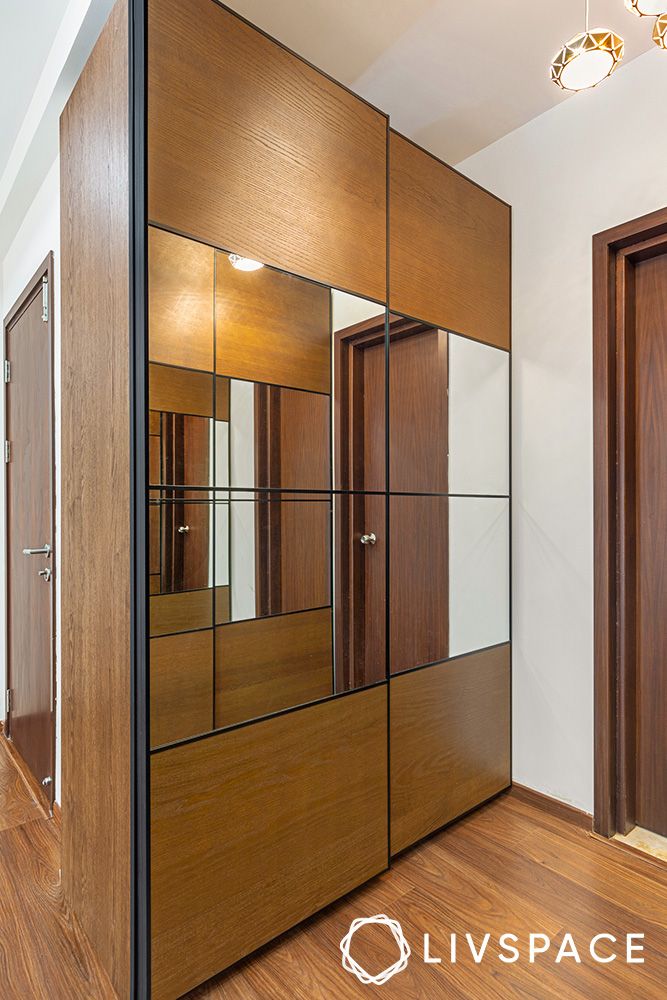 Portable wardrobes are for people on the go. They have loads of drawers and shelves so you can easily accommodate them in any space.
#12. Get a Handy Single-Door, Modular Wooden Wardrobe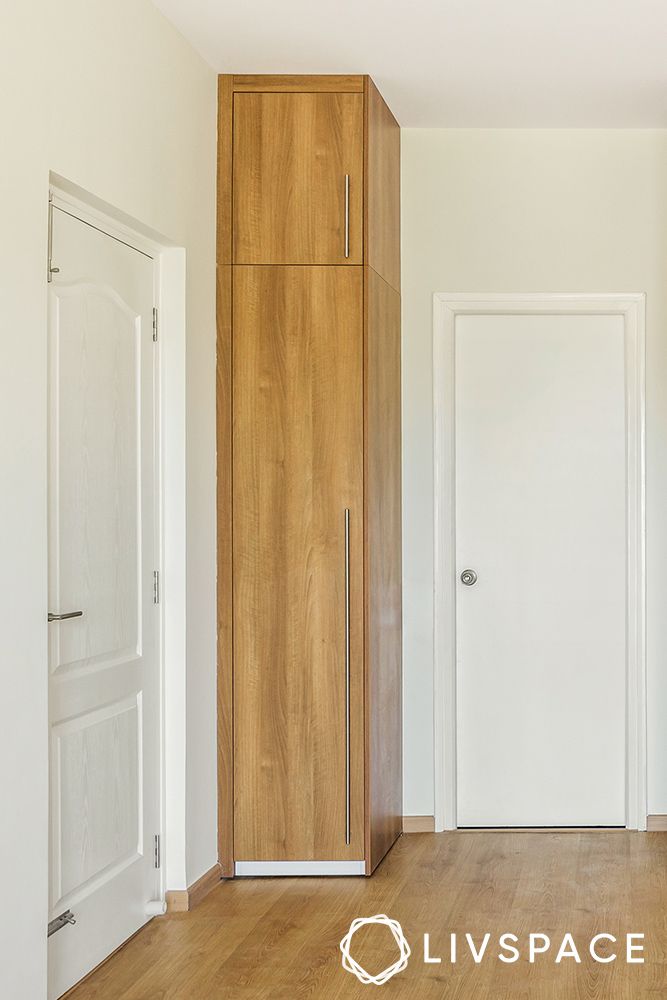 When space becomes an issue, your wooden wardrobe design needs to adjust accordingly. Thus, make sure to use vertical space and push for a single-door wooden wardrobe.
#13. Go for a Hinged Door in Your Modern Wooden Wardrobe Design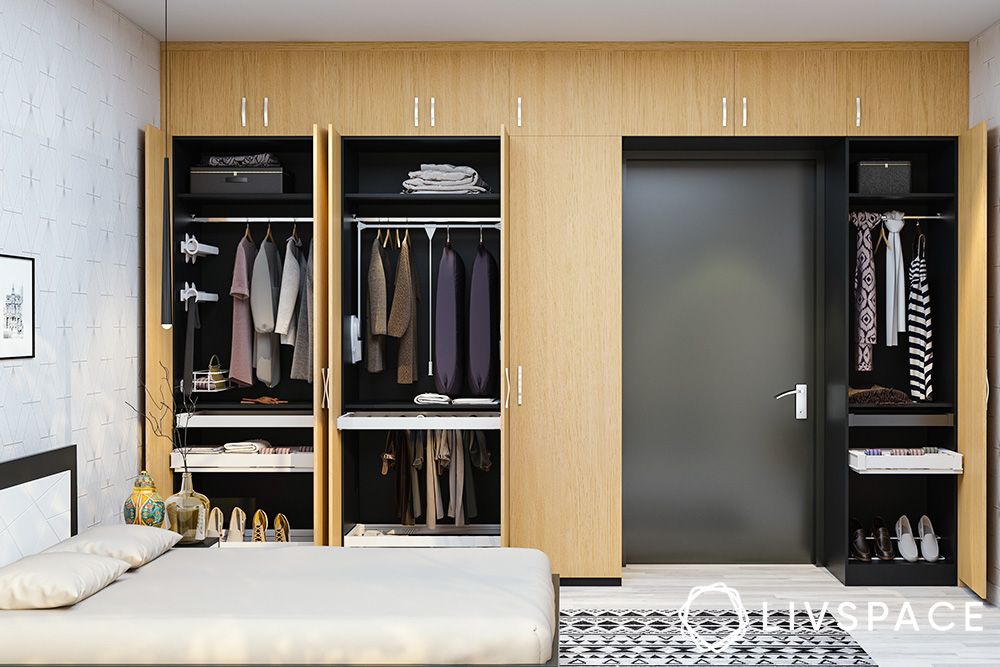 Hinged wooden wardrobe designs are the traditional go-to for most Indian homes. They are economical and can open all the way. You can also customise their handles to add character.
#14. Extend Creativity to Your Modern Wooden Wardrobe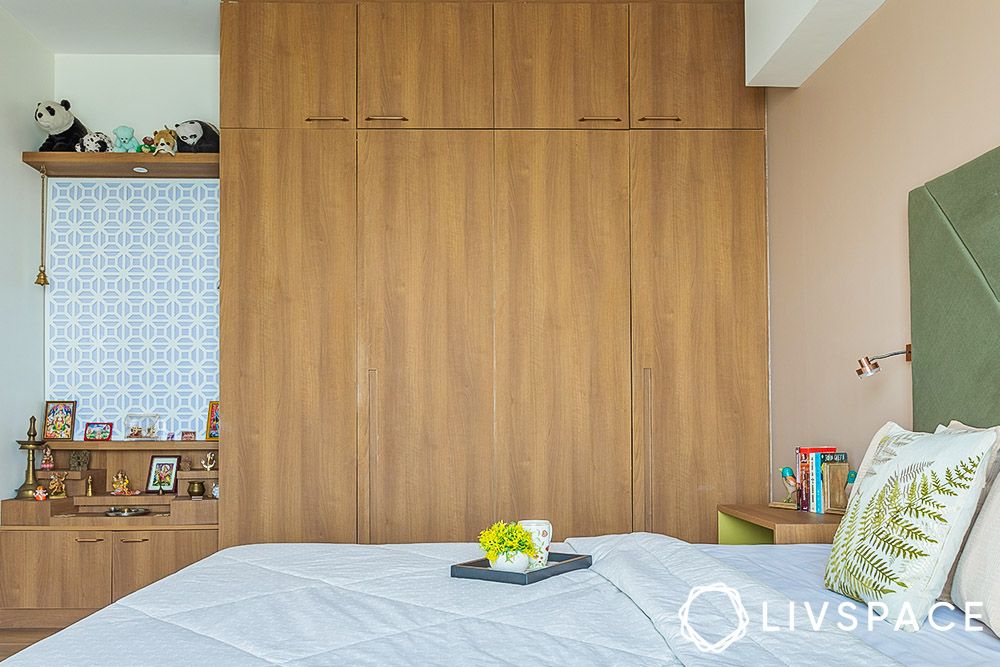 This wardrobe, extended to become a pooja room, is yet another example of custom design. It is easy to attribute some open shelves to the corner, turning it into a divine space.
#15. Get Creative With Your Modern Wooden Wardrobe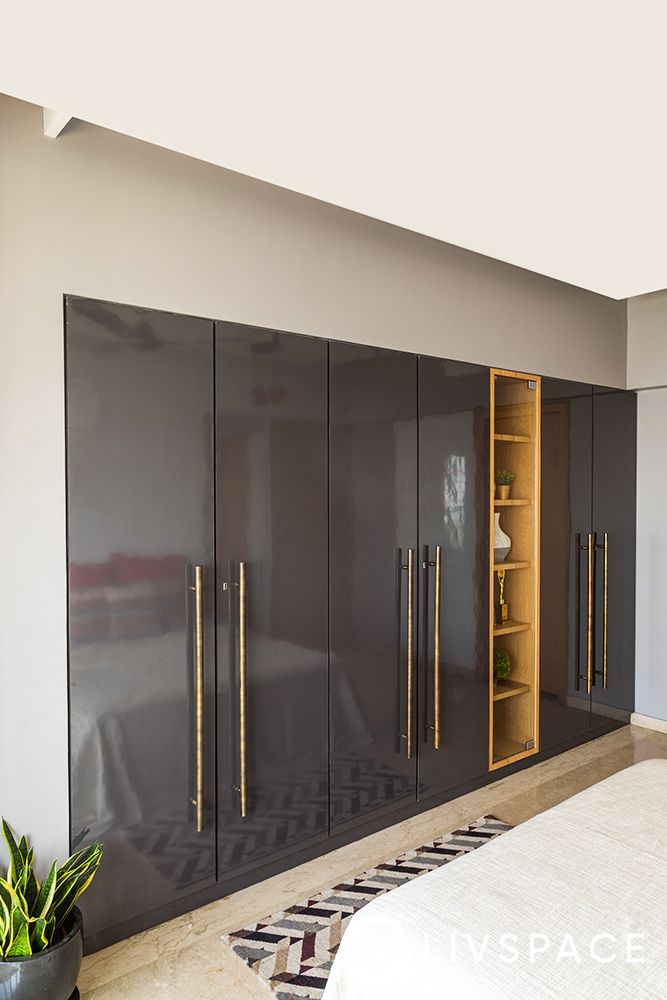 This two-toned wooden wardrobe design is all about style and storage. This three-door hinged wardrobe is made with glossy laminate, which lends a reflective quality to the design.
#16. Optimise Space With An L-Shaped Wooden Wardrobe Design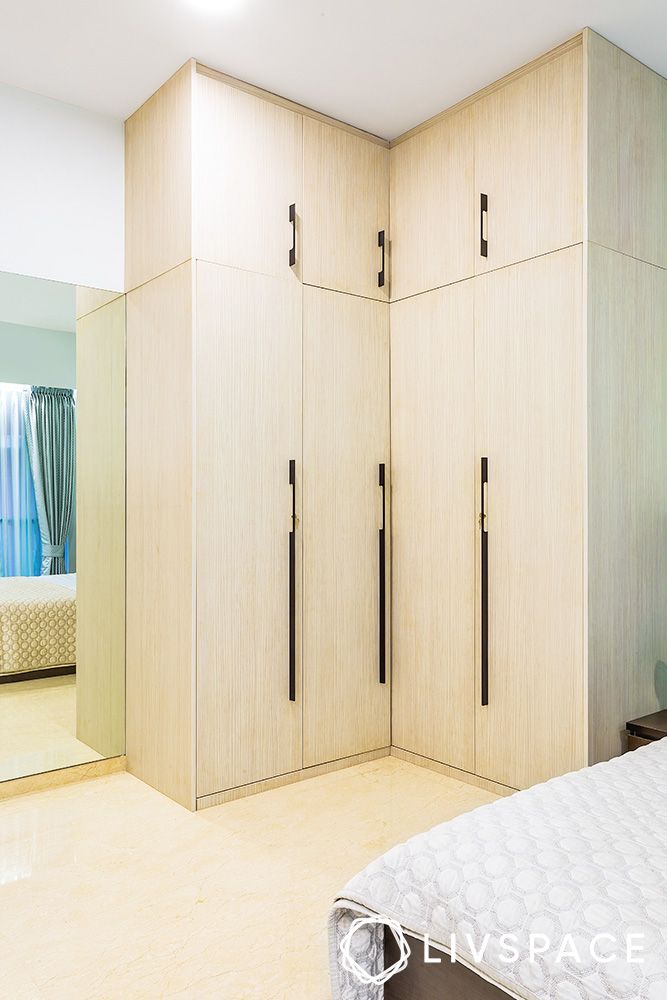 No corners go to waste when you opt for a custom wooden wardrobe design. L-shaped wardrobes optimise your corner for more storage. It also helps you easily create his and her sections in your wardrobe.
#17. Choose the Right Shades to Go With Your Wooden Cupboard Design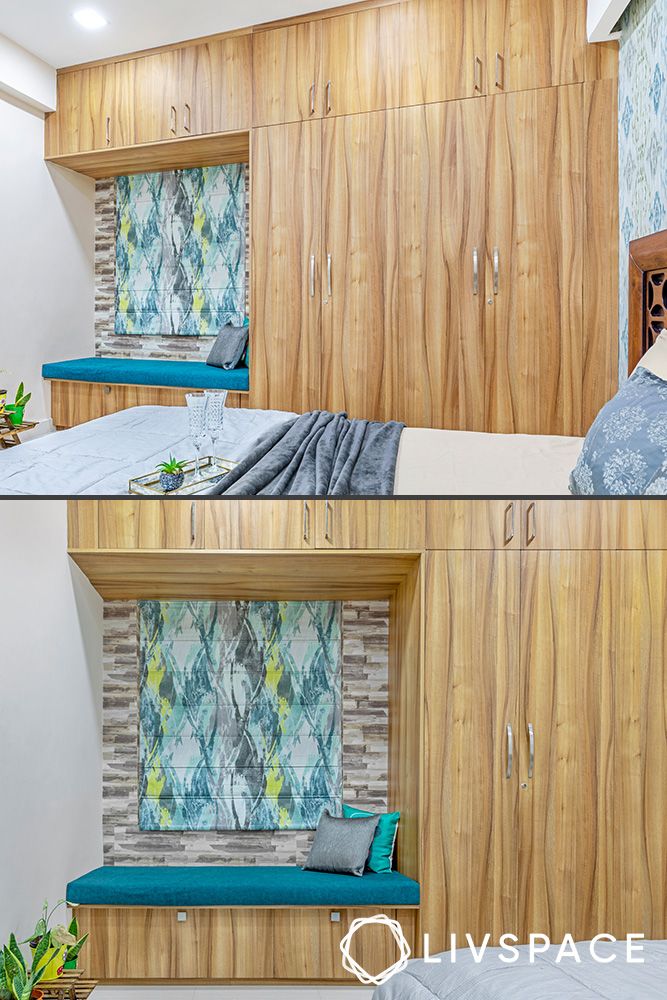 Your wooden wardrobe design can be infused with playful colours. Pick the right shades to go with them to add some contrast to the room.
Also Read: What Kind of Wood Makes the Best Bed?
#18. Dress Up the Plywood of Your Wooden Wardrobe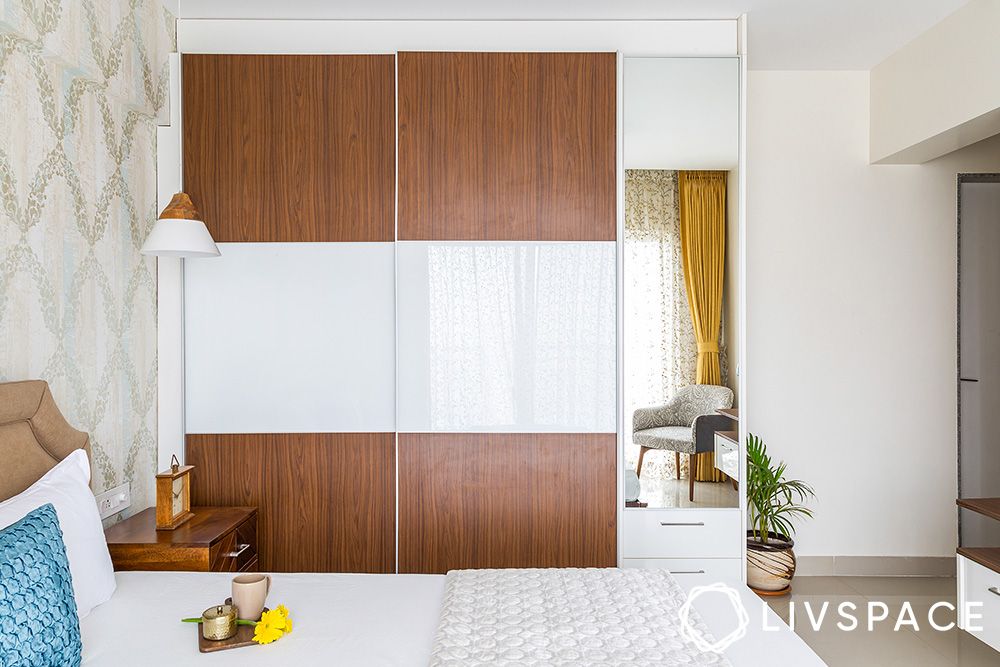 Plywood is a cheaper alternative to woods like teak or sheesham. It is sturdy and available in a wider range of options. To add the final touches, go with laminates to perfect the look of your wooden wardrobe.
#19. Accessorise Your Modular Wooden Wardrobe Right!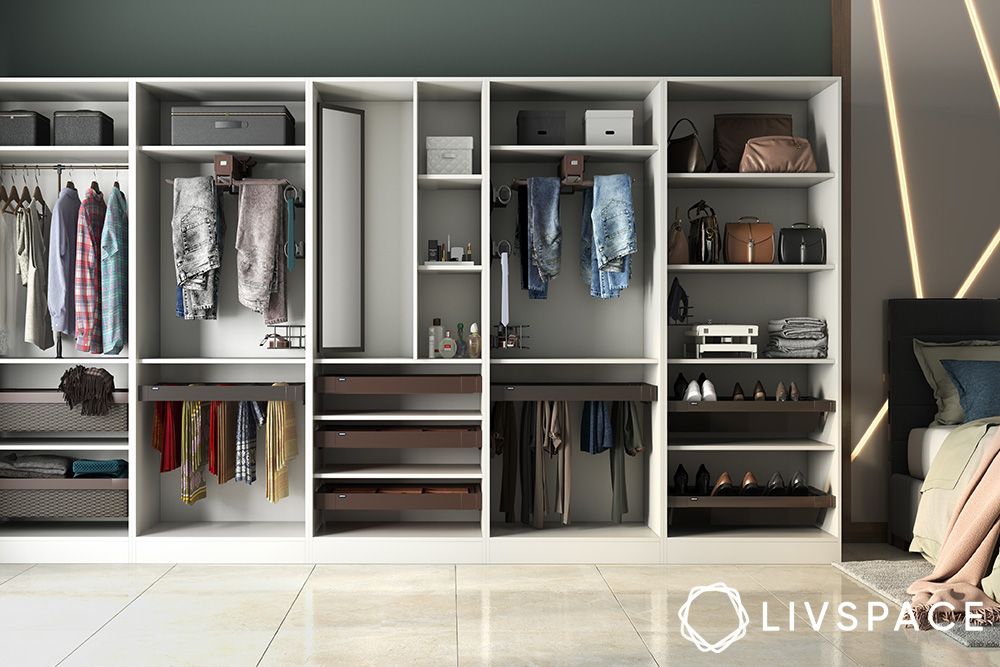 When it comes to wooden wardrobe design, it is no surprise that wardrobe accessories are important. For example, you can easily preserve your vintage sarees for longer with a saree rack in your wardrobe.
#20. Customise Your Modular Wooden Wardrobe Needs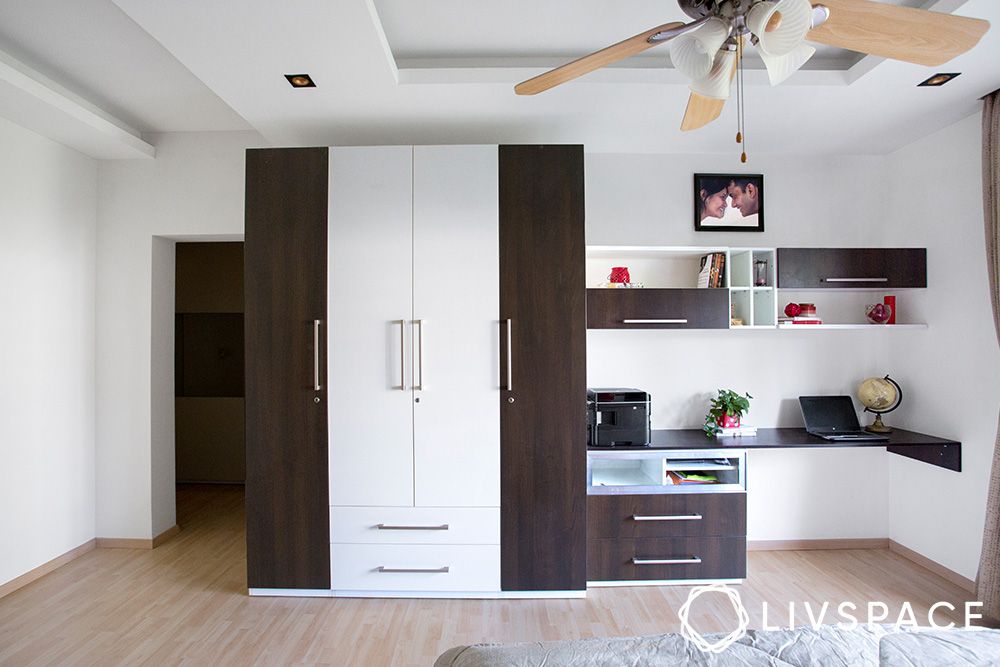 In most homes, space crunch is a huge issue. Thus, you should compartmentalise effectively to give yourself the extra space you need.
There are plenty of wooden wardrobe designs to suit your lifestyle. Wondering how our customers feel about working with Livspace? You can check out the Livspace wardrobe reviews here!
How Can Livspace Help You?
If you want beautiful interiors for your home, book an online consultation with Livspace today. Have any thoughts or suggestions you'd like to share with us? We're all ears! Drop us a line at editor@livspace.com.