Indians have an affinity for wood when it comes to interior decor. Its dependability and availability has made it a popular choice, especially for wardrobes. Real wood is very expensive and so wood finished wardrobes have become the next best and popular alternative. Our range of modular wooden wardrobe designs have great storage capacity, look elegant and possess a universal aesthetic appeal:
Wooden wardrobe design #1: Old is gold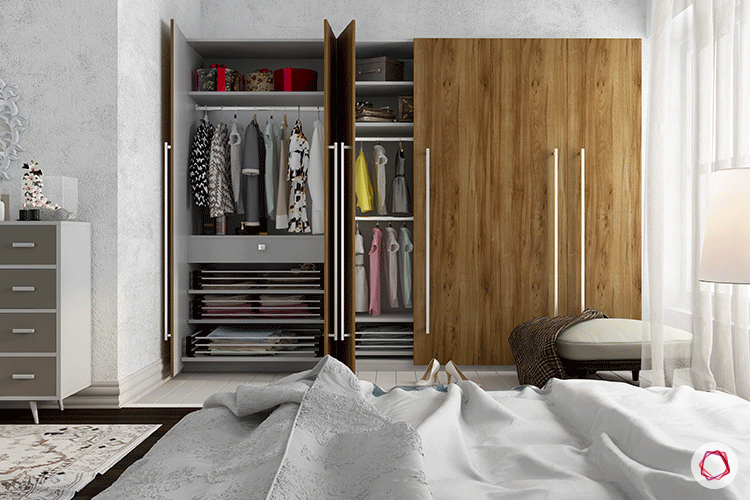 Going old school cannot go wrong. Oak and other such classic finishes which celebrate the richness of wood grains are the most trusted ones in the decor industry. The swirling, organic grains add a dynamic twist to the bedroom and work especially well in monochromatic settings.
Wooden wardrobe design #2: Muted and mild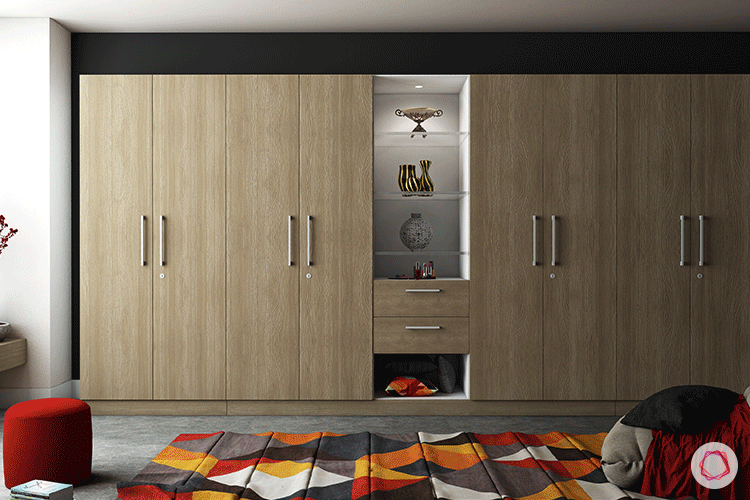 Wood that is muted and sober caters to modern sensibilities. Yellow or wheat hues help unify the aesthetic of a room is a subtle way.
This wooden wardrobe idea is great because it is eye-catching and yet does not overpower the surroundings.
Wooden wardrobe design #3: Bold cherry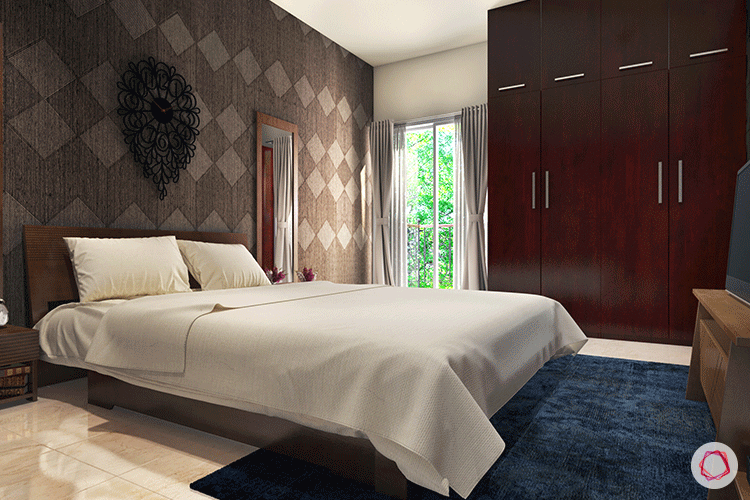 You should opt for a cherry wood finish if you want to make a classy but bold statement. The bedroom should be large in size for the finish of the wardrobe to make a spectacular impact. Since cherry is a deep and strong color, choose surrounding colors in the bedroom wisely so that they complement each other.
Wooden wardrobe design #4: Burnt hues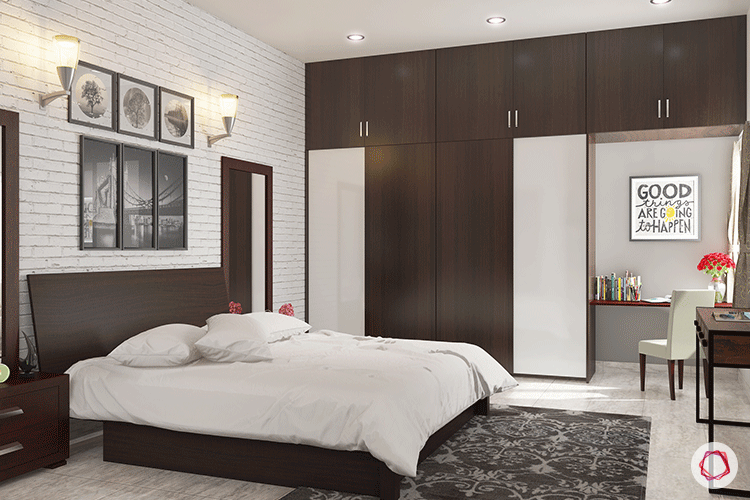 A burnt wood finished look comes in dark brown colors and shades. It is strong in terms of appeal but is also a dependable look for most kinds of decor. It can be used in contrast with lighter shades of woodwork too. It can cater to both traditional and contemporary decor.
 Wooden wardrobe design #6: Polished look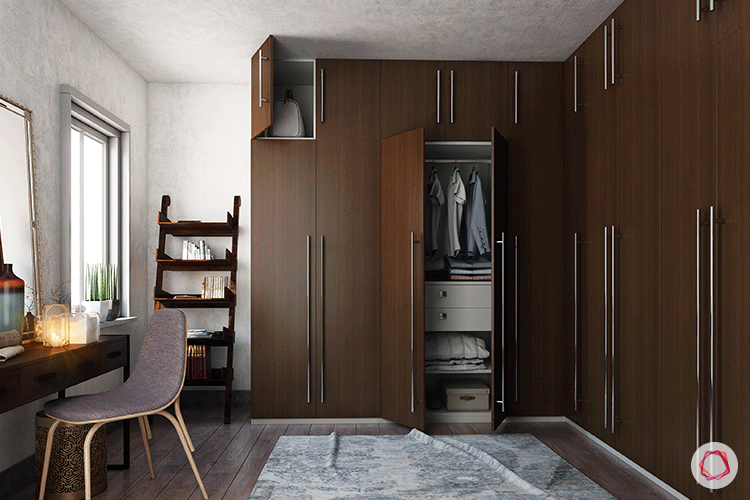 The dark, mahogany wood and its variants are sturdy and dependable. This kind of wood boasts yesteryear charm. With a bit of wax polish you can amplify the look.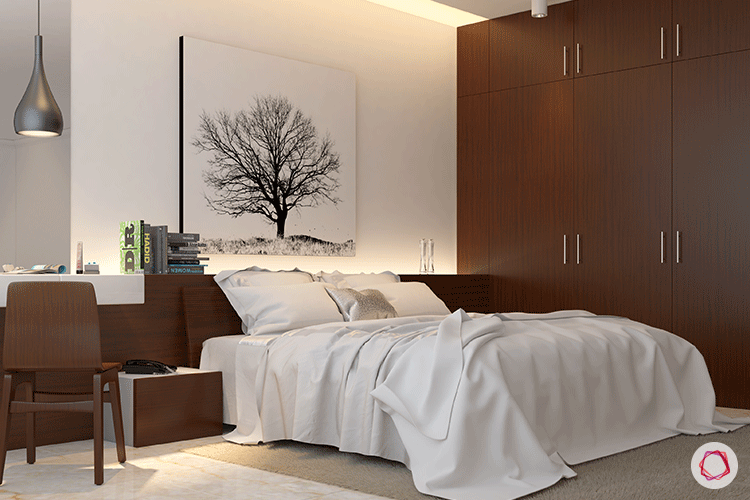 This kind of finishing requires almost no maintenance if done professionally. The shade is simple and works best with a subdued decor.
Wooden wardrobe design #7: Mirror finish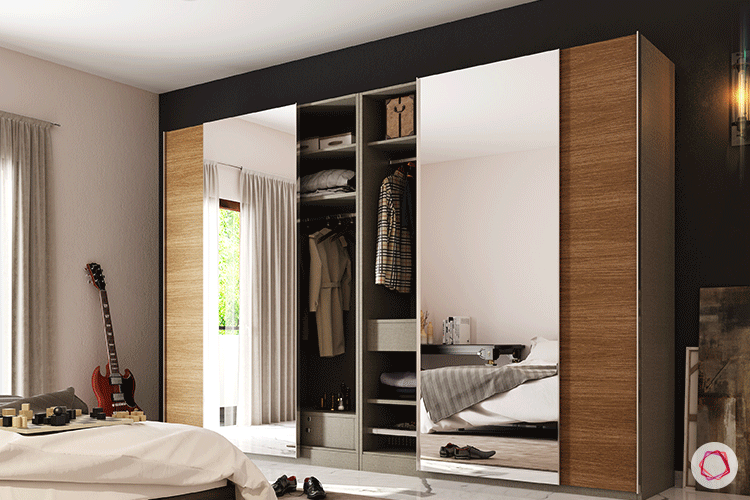 If you want to make an edgy statement, mirror finishes are the way to go. They immediately add vibrancy to the setting and become the center of attention. Also, these modular wardrobes are functional as they can be used as a dressing area.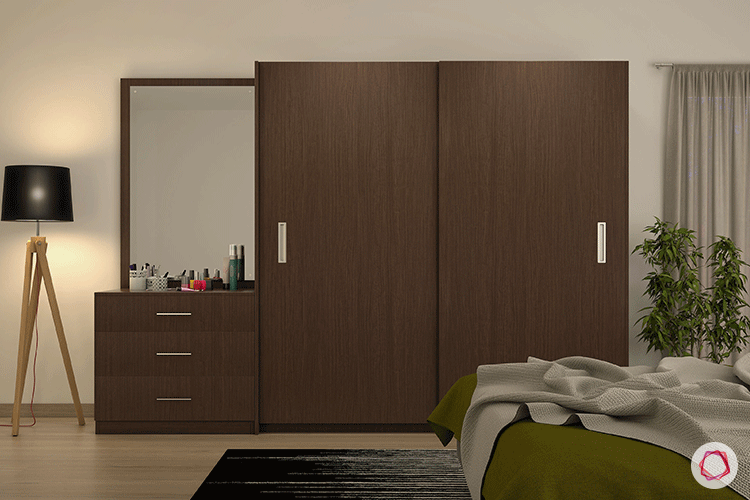 Alternatively, you can go for wardrobes that come with an integrated dressing area.
There are plenty of wooden wardrobe designs to suit your lifestyle. To understand what works best for you book a consultation with us today!