The beauty of interior design is all about mixing and matching to attain a perfect blend of colours, textures and patterns. So why restrict this process only to finishes and colour palettes? We have for you, a list of materials combinations in interior design that you can try at your home for a more stunning effect.
Material Combinations in Home Interiors #1: Wood and Stone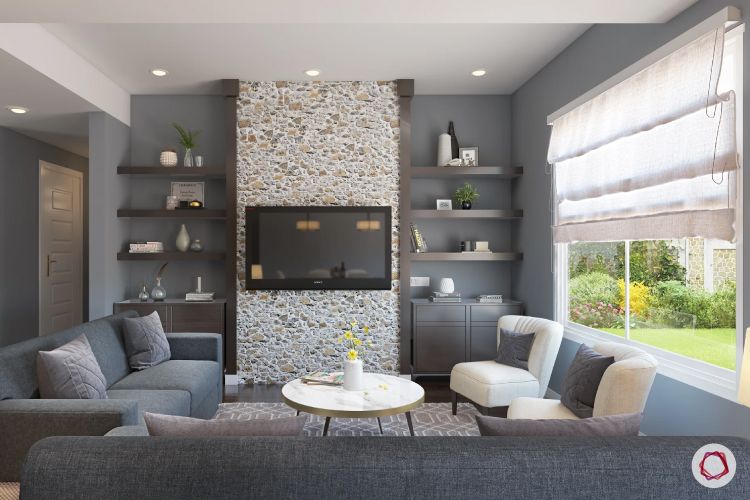 There is nothing more soothing than neutrals but when you infuse materials like stone and wood, the room becomes an abode to loosen up in. The entire theme feels natural and lasts longer than engineered products. A perfect accent wall that uses stone cladding framed with wooden beams is a brilliant addition to a tranquil space.
Material Combinations in Home Interiors #2: Wood and Marble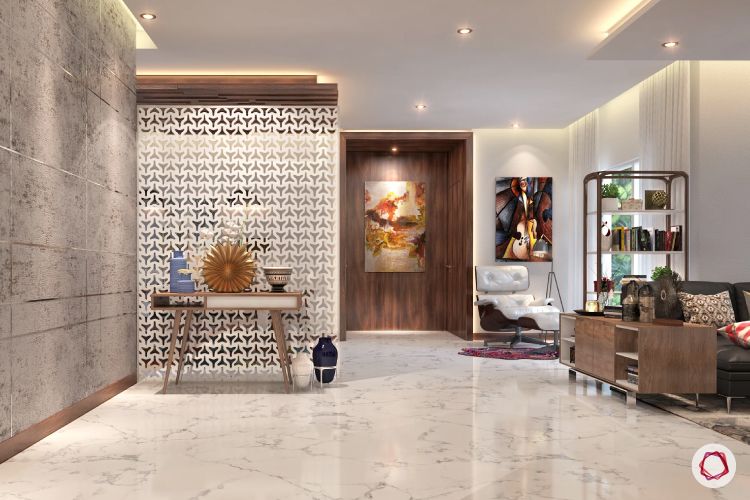 The beautiful contrast created by combining marble and wood soaks your home is a classy aura. While the glossy sheen of marble can lift the visual appeal, the rich texture of wood balances the vista. While the marble flooring looks great with anything, the wooden furniture brings about a soothing and warm aura.
Material Combinations in Home Interiors #3: Wood on Wood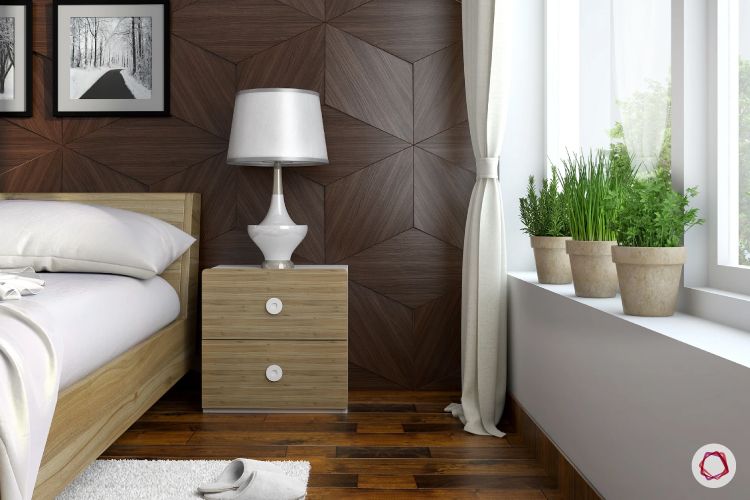 Wood is a versatile material that blends well with all interior elements, provided you pick the finish, texture and shades carefully. When mixed well, it can create an elegant design. The tone on tone technique employed in this bedroom is not just elegant, but it also elevates the pleasant and friendly atmosphere.
Material Combinations in Home Interiors #4: Metal and Glass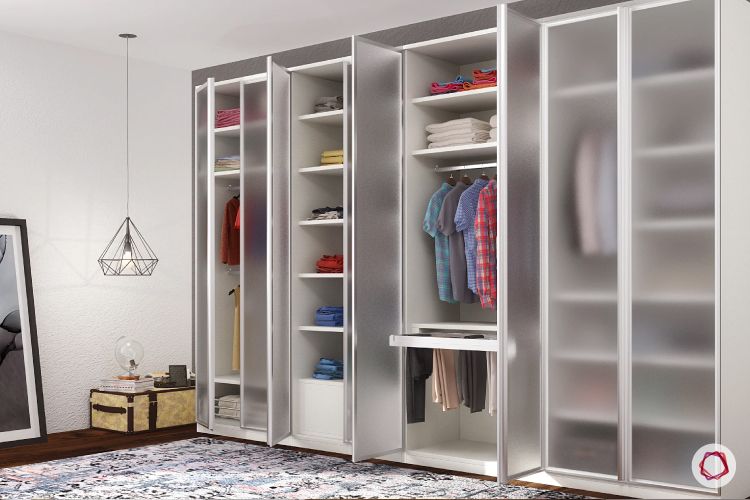 Metal and glass usually come across as a glamorous combination. The use of this fusion is not just limited to windows and architecture, but can also be used to give a stunning appearance in the form of furniture as well.
The fabulous wardrobe design is visually light while blending in perfectly into the room. The translucent frosted glass is visually stunning and makes it easy to spot the contents within, while keeping it tucked away.
Material Combinations in Home Interiors #5: Brick and Steel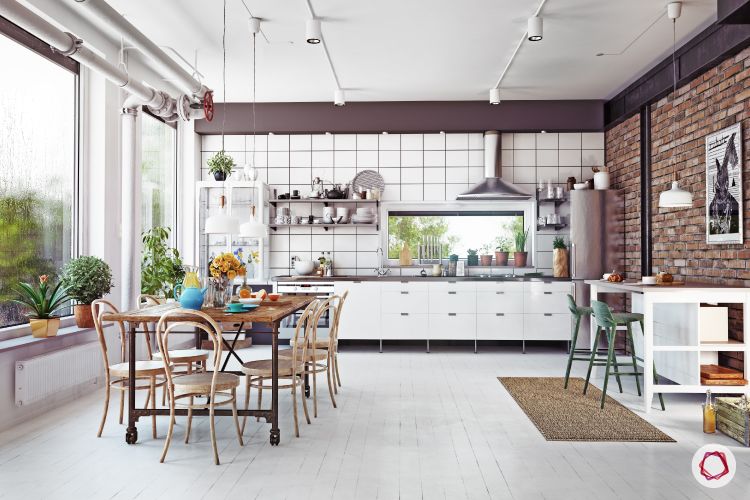 If you love an industrial design, then the union of metal and brick is a must in your home. This marriage looks rustic and feels exuberant when incorporated into the design. An industrial wall accentuated with metallic pipes makes the design more rustic and appealing.
Material Combinations in Home Interiors #6: Marble and Steel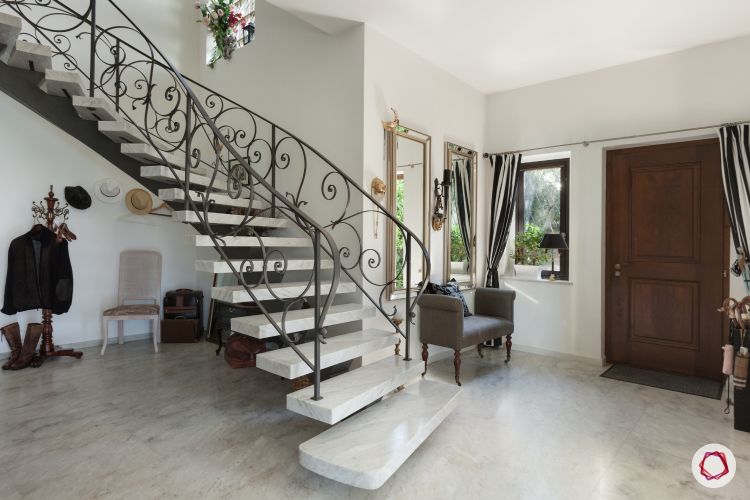 Steel and marble achieve a timeless look, which will not go out of trend even with the advent of modern designs. Give your home a sophisticated appearance by employing them in your home. Smooth marble stairs topped with steel railings bring a cool and fancy appearance to the room.
Material Combinations in Home Interiors #7: Wood and Tiles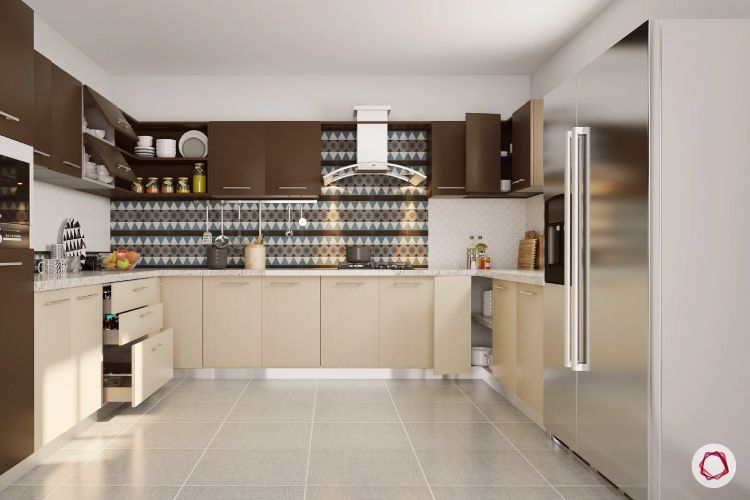 We've come a long way in designing kitchens, the incorporation of tiles as backsplash has enabled us to create more attractive designs. Moroccan backsplashes contrasted with wood-finish cabinets can create a perfect balance between fun and functionality.
Check out tile designs:
Material Combinations in Home Interiors #8: Wood and Mirrors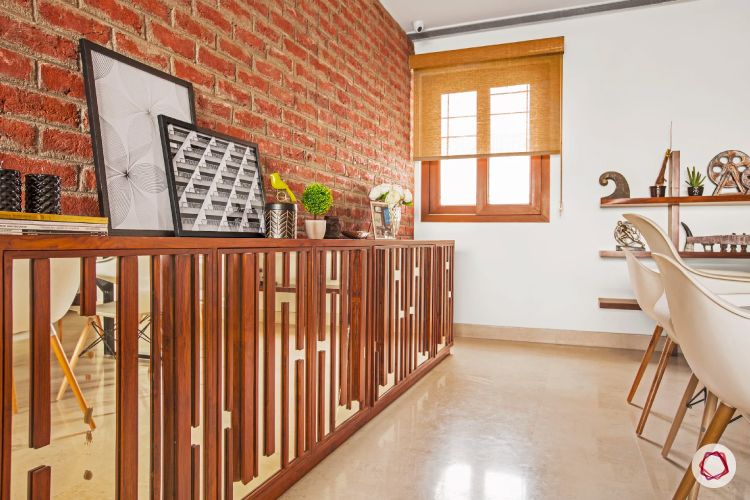 Mirrors work well in making a small space feel substantial. The addition of wood to this element can create a polished design for your home. The lustrous mirror toned down with wooden slats make the crockery unit the centre of attraction, while the brick wall makes the assembly complete.
Interior design doesn't have stringent guidelines on what materials to use. It leaves room for experimenting with different combinations that make each home unique and elegant. What wonderful experiments have you carried out in your home? Let us know at the email ID below!
If you enjoyed this post, head here for all material-related posts.
— editor@livspace.com