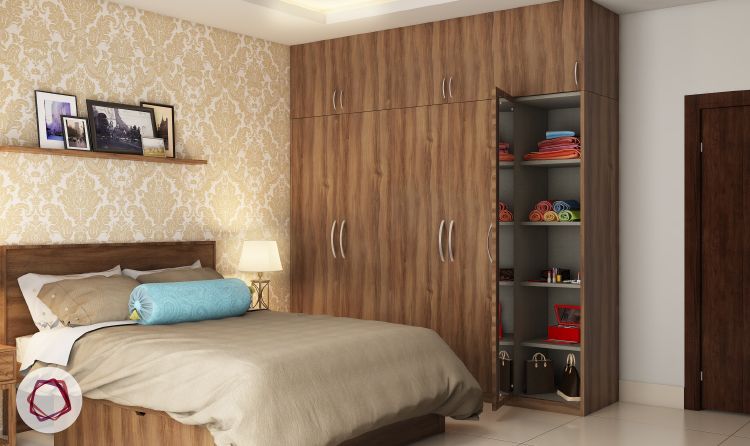 Lack of storage is often a persistent issue in every home. From clothes to luggage, your storage never seems to be enough. That's why those who are blessed with plenty of square feet opt for walk-in wardrobes.
But most of us don't have the luxury of space, and therefore we need modular wardrobes with lofts to swallow our excesses. Wardrobe lofts are a perfect solution for lesser-used items like suitcases s, old clothes, spare quilts, boots, and a hoard of unidentifiable items. This space tucks neatly above the wardrobe and cleverly hides away items that you don't want to see often.
Here's our pick of contemporary wardrobes with loft designs that are not only trending but are so seamless in design that you'll be wondering where the wardrobe ends and the loft begins.
Wardrobe loft design #1: Polished sandy grey

Stylish and functional, this wardrobe with loft can accommodate almost anything! The slightly elongated loft shutters are wide and tall enough to swallow even the burliest of suitcases. Choose shutters in greige and neutrals to amplify the size of your room.
Wardrobe loft design #2: Burnished beauty

*Click on the image to purchase wardrobe*
Say goodbye to your storage woes because here's a brilliant solution that will cater to all your needs. This extensive wardrobe has cleverly taken up a good amount of real estate but the multiple lofts provided can house a plethora of heavy-duty items and knick knacks as well. So who's complaining about space now?
Wardrobe loft design #3: All things white
*Click on the image to purchase wardrobe*
Purely Scandinavian, we love the crisp white and chic style of this medium-sized wardrobe with loft design. The shelf provided in each loft gives way for more items rather than stacking each item over the other. The sleek metal handles help in easily accessing the loft.
Wardrobe loft design #4: Sunny mustard

*Click on the image to purchase wardrobe*
A glossy wardrobe that can brighten up any room with its classy color palette and sense of practicality. The block partitions ensure organisation is a breeze.
Wardrobe loft design #5:Handsome off-white

*Click on the image to purchase wardrobe*
Enhancing the contemporary appeal of this full-length wardrobe is the seamless wardrobe with loft design. Your eye is easily tricked into believing a fuller, longer wardrobe, thanks to the no-handles loft. Not to worry, they're easy to use and simply require a gentle push to pop open. We love the deep woody tone of the long handles, which ties the whole look together.
If you're looking for additional storage, then overhead lofts are the solution. Check out our range of Livspace modular wardrobes that come in a variety of exterior finishes that you honestly wouldn't even notice the loft.
Another factor to consider is the different shutter mechanisms like hinged, lift-up and maxi-lift, which is precisely the brilliance of modular wardrobes — even lofts can be customised!