Lack of storage is often a persistent issue in most houses, but not our Livspace homes. We deliver modular solutions like wardrobes with loft that can take care of all your storage needs. From clothes to luggage, our cupboards can help you organise and enhance the look of your home.
What Is Loft in Wardrobe?
Wardrobe lofts are a perfect solution for lesser-used items like suitcases, old clothes, spare quilts, boots, and a hoard of unidentifiable items. This space tucks neatly above the wardrobe and cleverly hides away items that you don't use often.
Types of Wardrobes With Loft
There are 3 types of cupboards with loft based on the wardrobe styles:
The Traditional Loft Wardrobes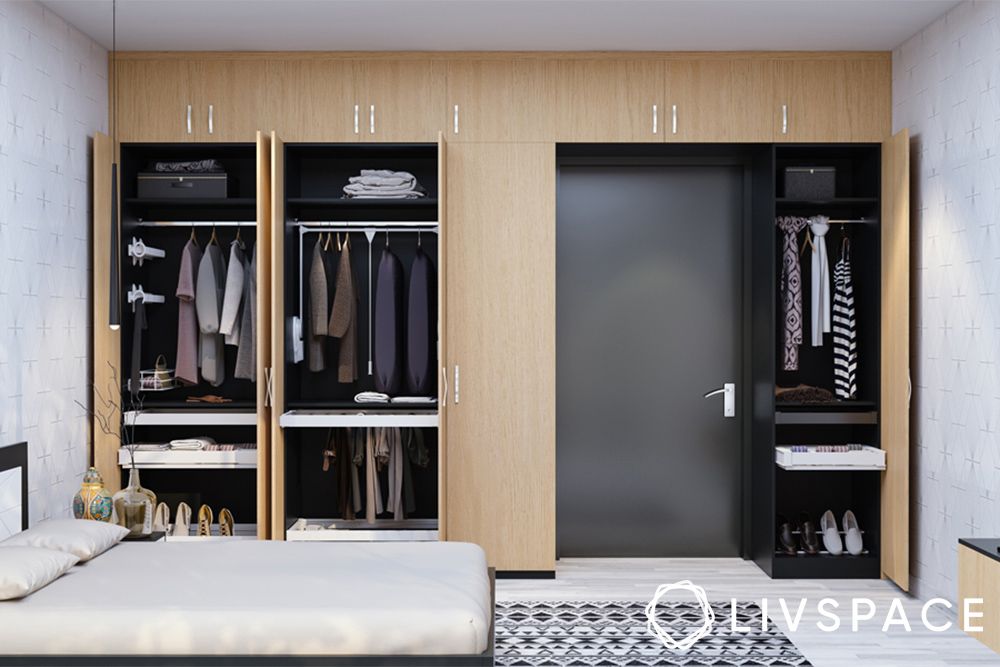 Traditional cupboards are basically swing door wardrobes that are generally lighter when compared to sliding door wardrobes. Fitting a loft above these modular units is easier because they are sturdier.
The Sliding Door Loft Wardrobes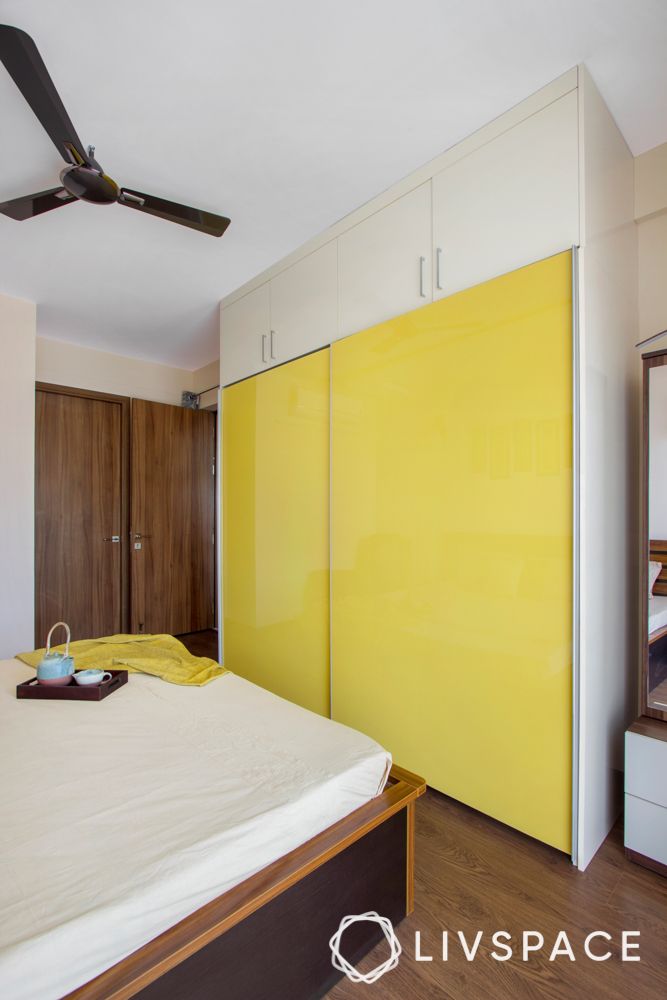 Since sliding doors are heavier than swing doors, hence, installing a new loft above such units can get challenging for carpenters. But Livspace's technology guarantees sturdy and long-lasting materials that can easily build such modular pieces.
The Built-In Loft Wardrobe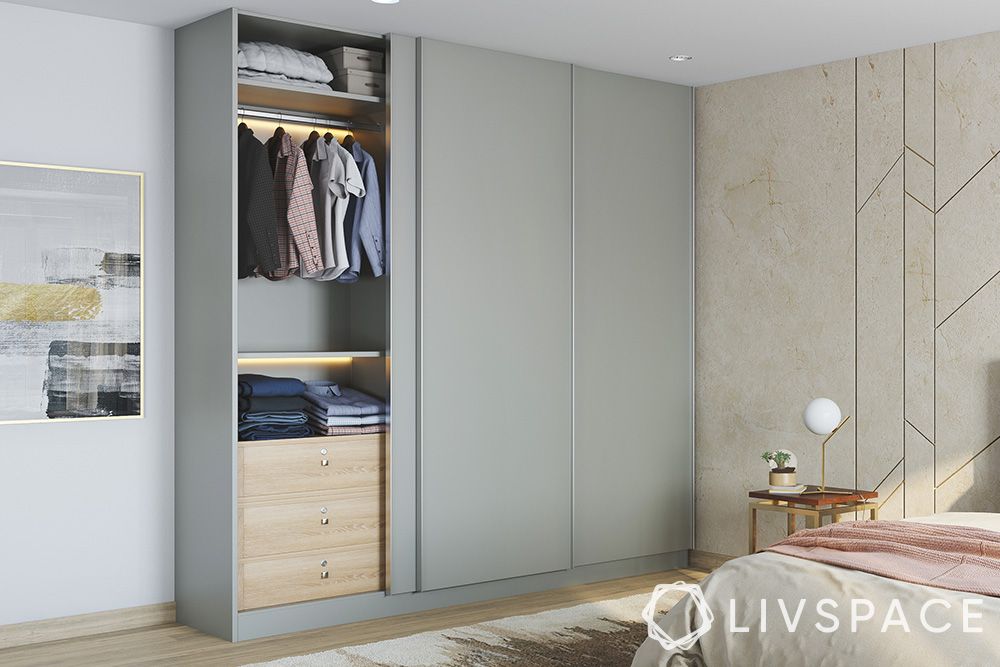 A built-in loft usually requires custom work, as doors and panels of standard sizes will not fit. This is why they come at a higher price than other wardrobes. But in homes that have low ceiling height or have false ceiling, these seamless loft wardrobes can look tall and elegant.
Latest Wardrobe Designs With Loft
Here's our pick of contemporary wardrobe designs with loft that are not only trending but are so seamless in design that you'll be wondering where the wardrobe ends and the loft begins.
#1: Glossy-Finish Neutral-Coloured Loft Wardrobes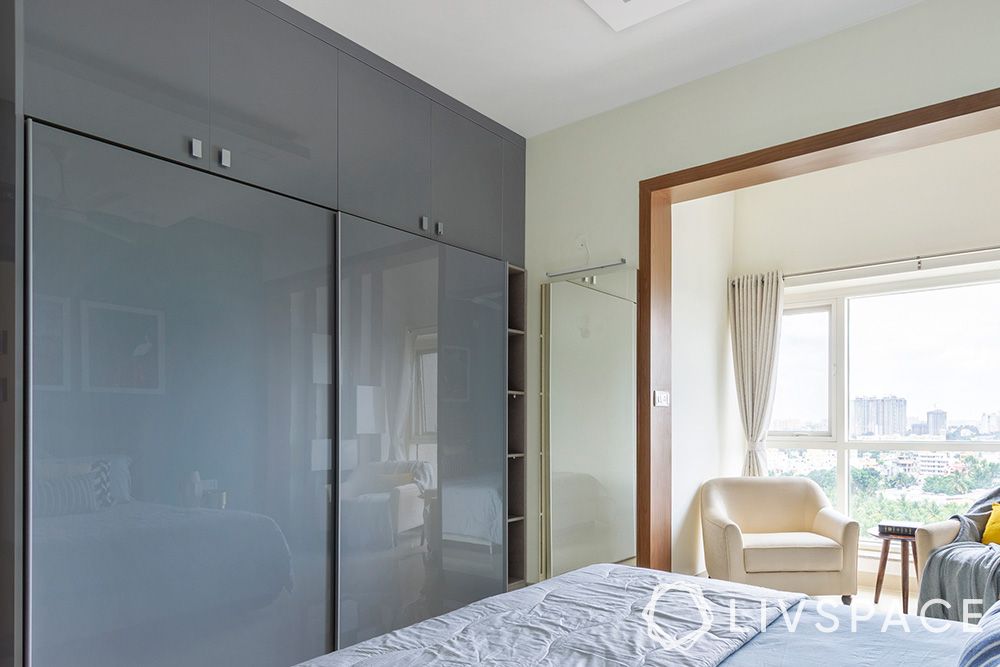 Since a loft wardrobe can be a bulky addition to your room, choose a neutral-coloured laminate with glossy finish to make up for the lost space.
Also Read: What Is the Best Way to Design a Wardrobe? All About Wardrobe Design
#2: Timeless Veneer Wardrobes With Loft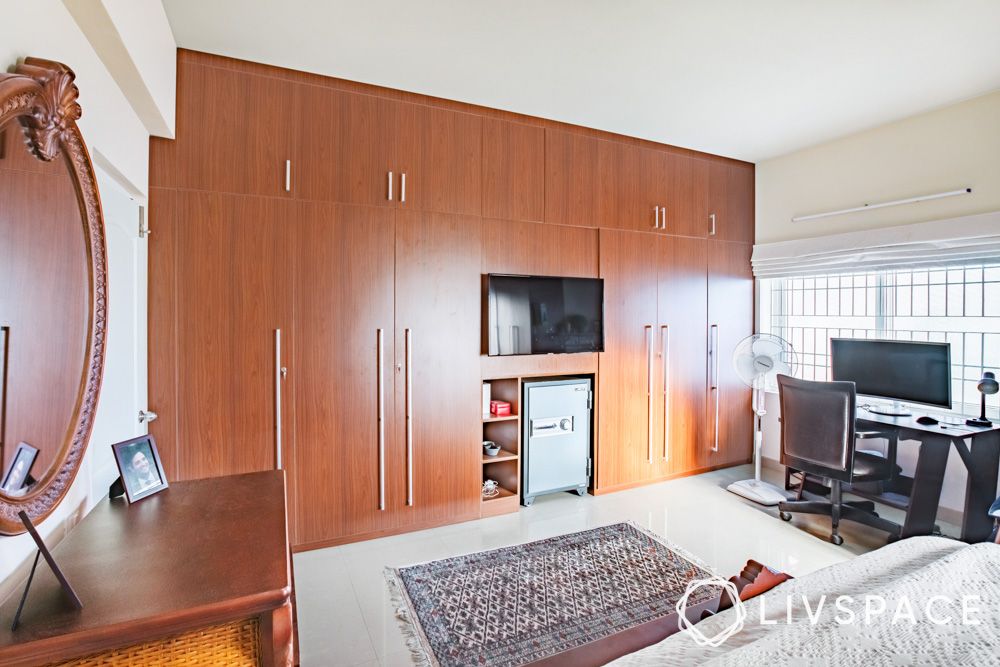 To make up for storage, you might often go for a full-wall wardrobes like this, but you'll soon realise the challenge of choosing the right finish for such a cupboard. Wooden finishes are usually the safest and best options in such cases.
#3: All-White Loft Wardrobe Ideas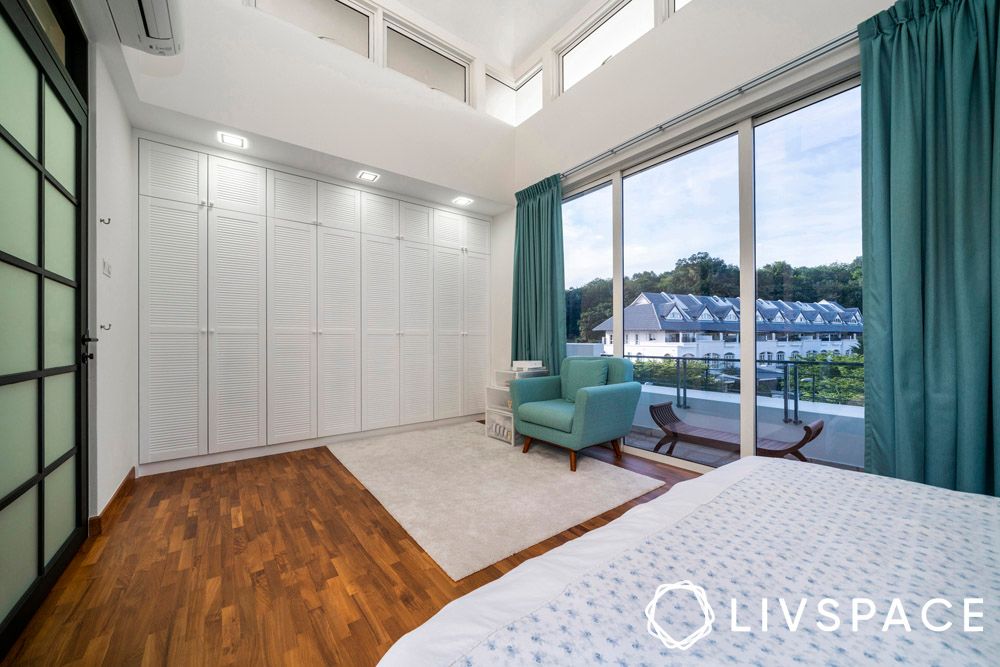 How seamless can a loft wardrobe be, you ask? Here's your answer. As seamless as you want it to be. (Some of these look even better than walk-in wardrobes, but shhh…)
#4: Sunny Mustard Wardrobes With Loft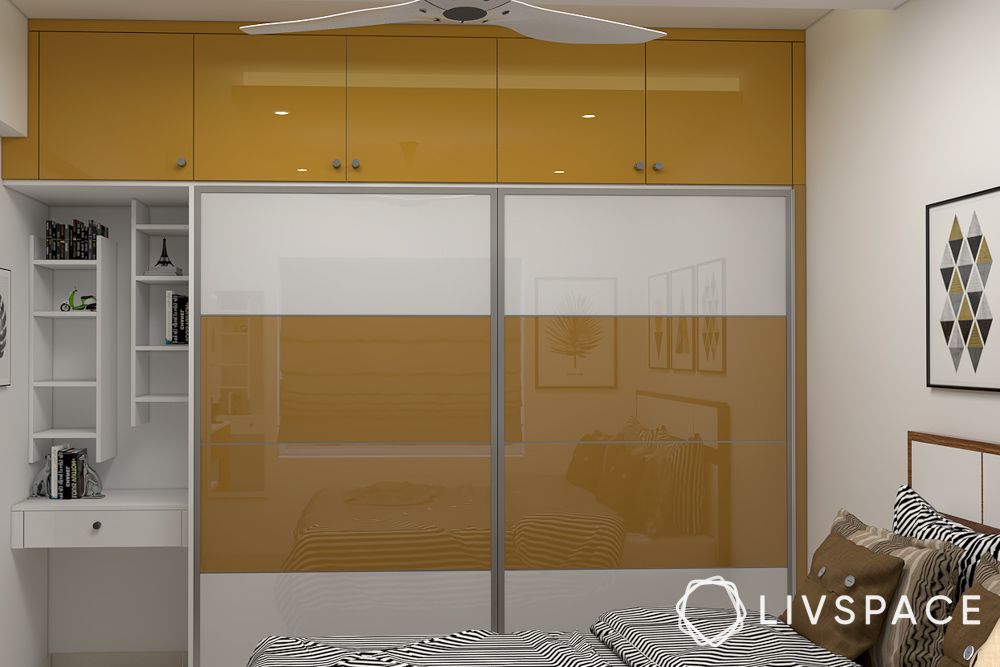 Colours like yellow, white, peach and beige are good for the vastu of your home. So here's a sliding wardrobe design with loft that isn't as boring as your conventional options.
#5: Handsome Off-White Bedroom Wardrobe With Loft Design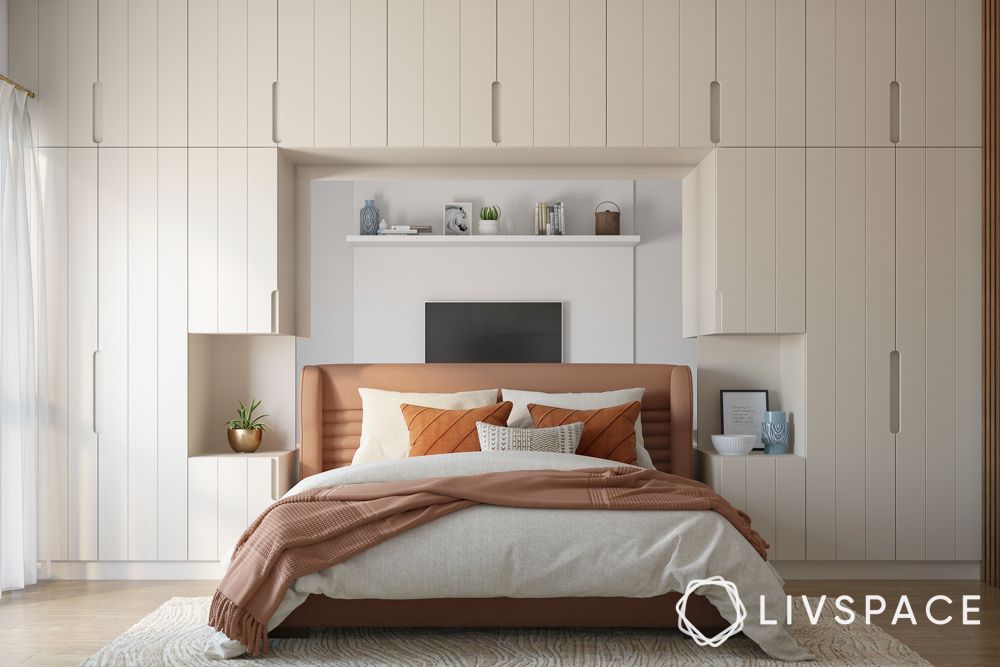 We are here so that you never have to talk about storage woes again. Never ever. Delivering practical designs in style is right in our wheelhouse.
#6: Sliding Wardrobe Designs With Loft and Mirror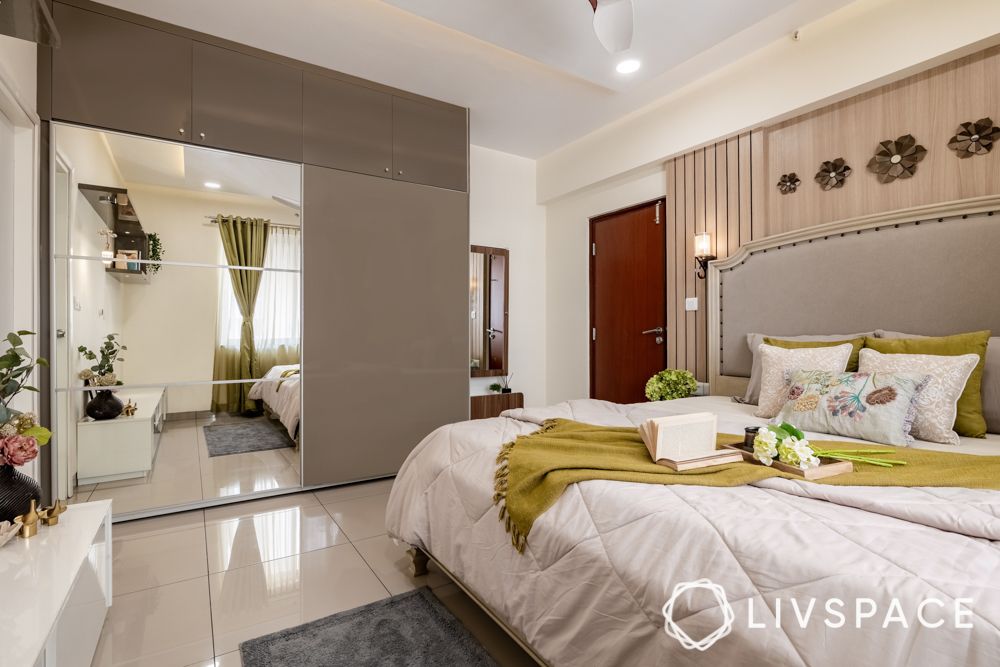 You can offset the bulky look of your lofty wardrobe with mirrors. The problem with sliding doors, although they save a lot of space in your room, is that they are wider and hence, even the loft shutters are big. This makes them look more elephantine and steal the focus from the rest of your room. Fix this with a mirror!
#7: Seamless Wooden Wardrobes With Loft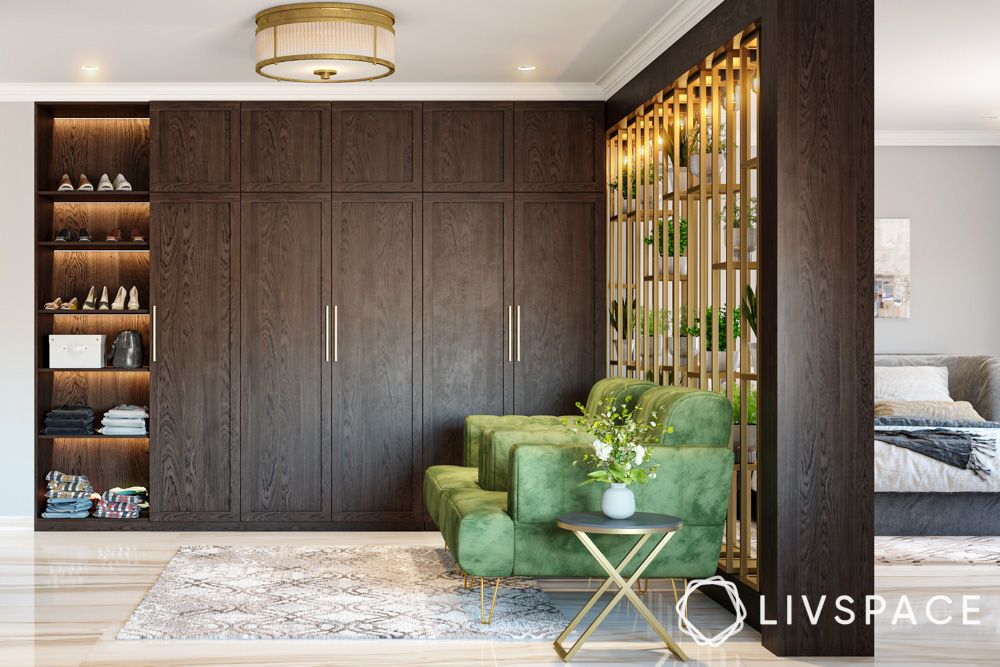 Wood can make any room stylish and bring warmth into it, especially the large ones. So if you have high ceilings, take advantage of seamless wooden wardrobes with loft designs to furnish your room.
#8: Luxurious Glossy-White Wardrobes With Loft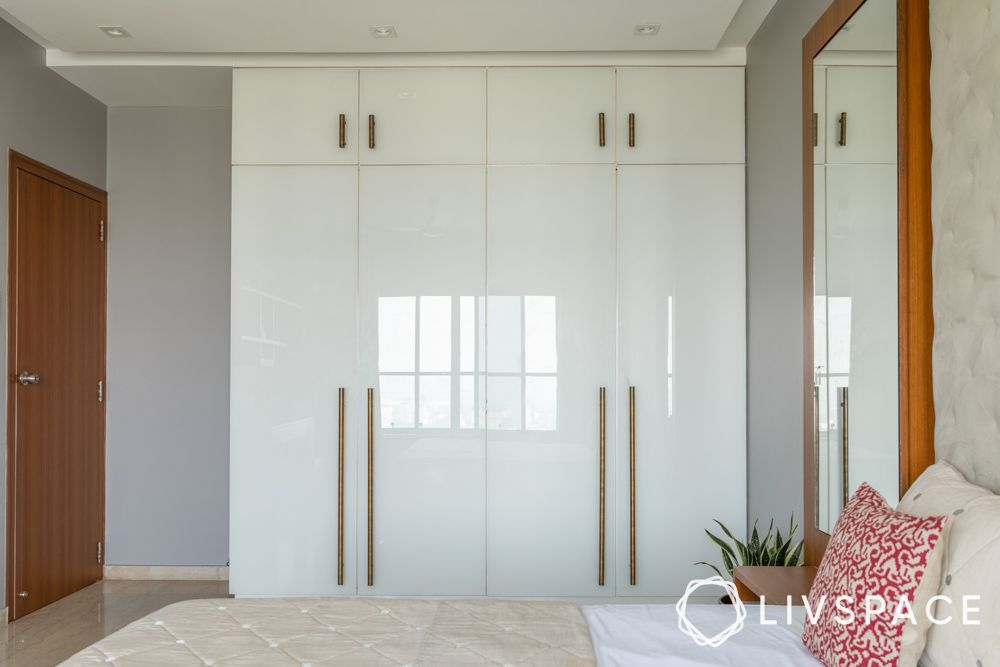 Nothing speaks luxury like a glossy-white wardrobe in your room. Additionally, accessorise it with the sleek metallic door handles to complete the look.
#9: Cupboards With Loft Over the Doorway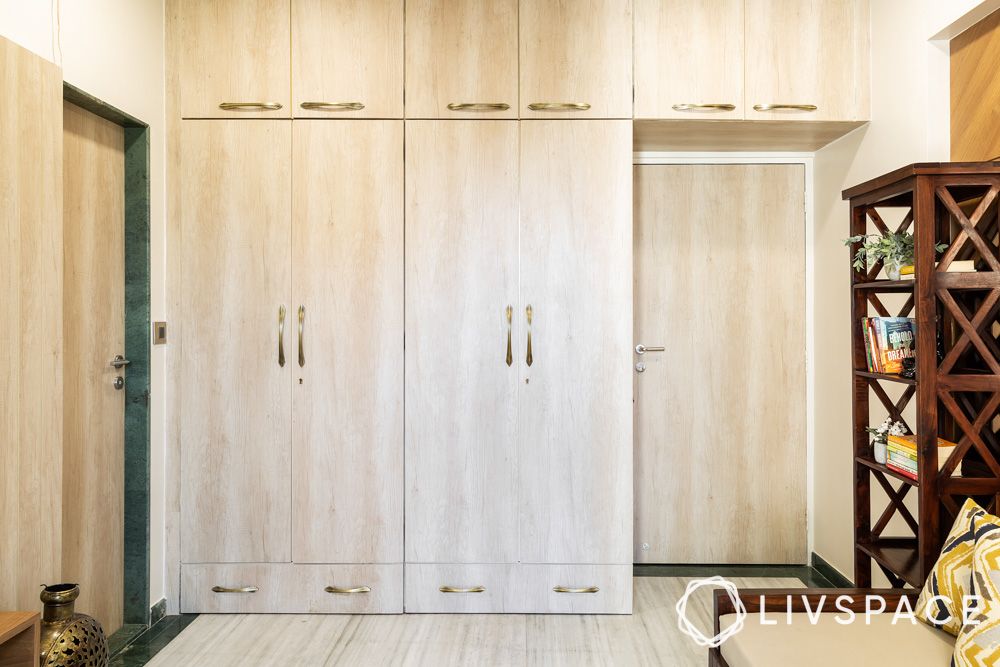 There's no reason why the space above the doorway of your compact bedroom has to go to waste. You extend the loft beside your door to make storage space above it.
Also Read: 4 Storage Problems and Wardrobe Accessories That Will Help You Solve Them
#10: Tricky L-Shaped Wardrobes With Loft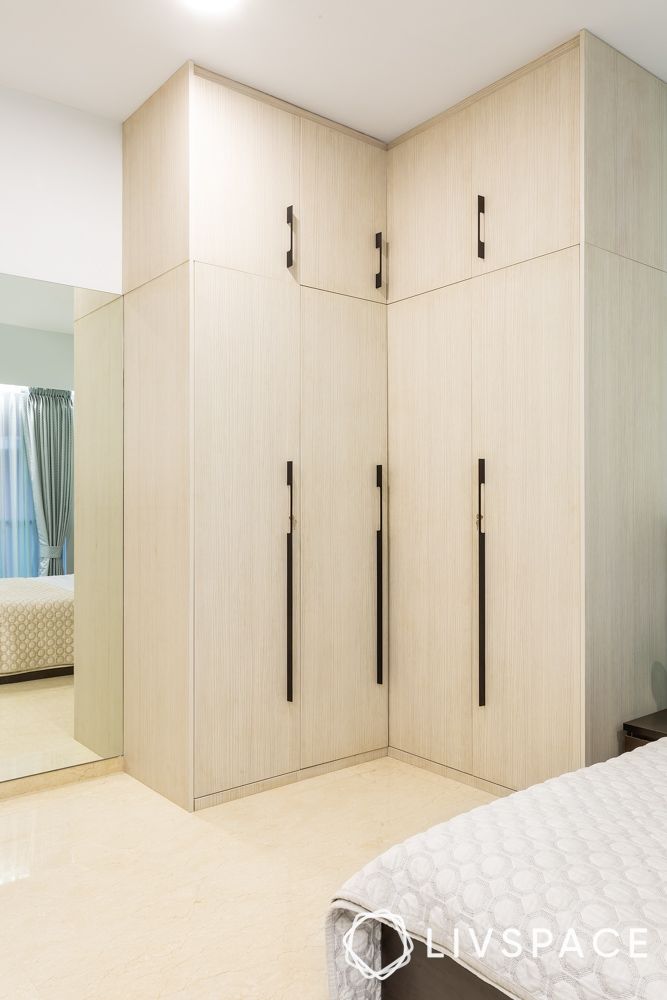 Stylish and functional, this wardrobe has a deep loft and can swallow even the burliest of suitcases. You should also choose shutters in greige and neutrals to amplify the size of your room.
#11: Loft for Walk-In Wardrobes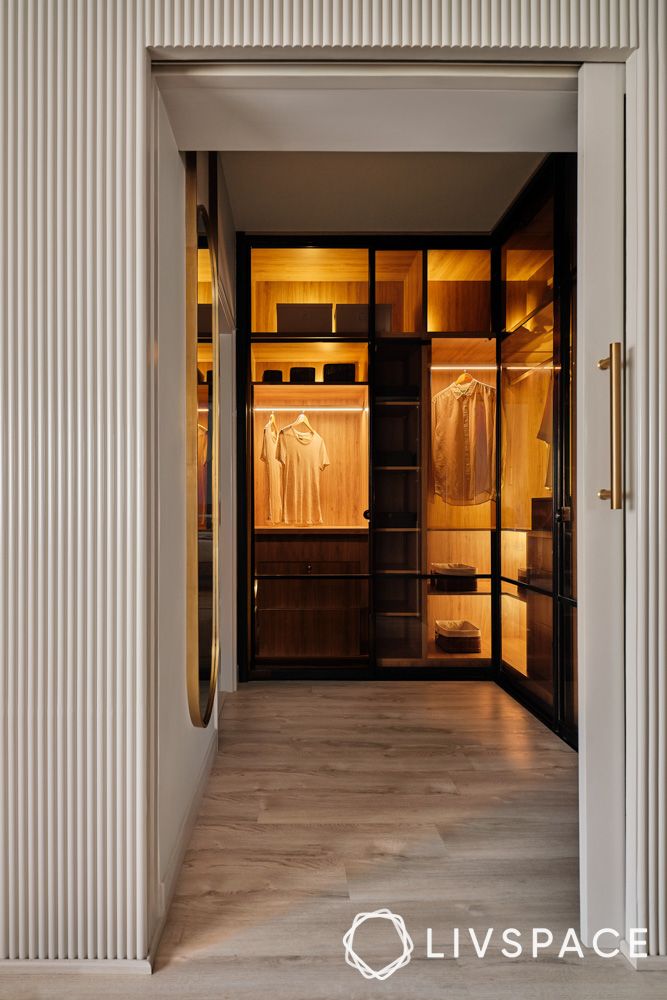 Say goodbye to your storage woes because here's a brilliant solution that will cater to all your needs. This extensive wardrobe has cleverly taken up a good amount of real estate but the multiple lofts provided can house a plethora of heavy-duty items and knick-knacks as well. So who's complaining about space now?
#12: Minimal Loft Wardrobe Design
Mostly Scandinavian, we love the crisp white and chic style of this loft wardrobe design. The lift-up shutters make this low-height storage possible and the sleek metal handles help in easily accessing the loft.
Advantages of Loft Wardrobes
There are many advantages associated with lofts:
They add more closed storage space above the wardrobes
The seasonal items that you may store here are safe from dust and damage
They make your wardrobes look taller with full height and add to the overall appeal of the room
The items stored here can be organised efficiently in a closed space
they can be built above an existing wardrobe without much hassle
We hope you found our ideas useful and have decided what's best for your room. If you still need more inspiration, you can also read: 25+ Gorgeous Wardrobe Designs From Livspace We Love (Cost Included).
How Can Livspace Help You?
If you want your home to be just as beautiful, then look no further. Book an online consultation with Livspace today.
We love hearing from you! Write to us with your comments and suggestions at editor@livspace.com
Disclaimer: All contents of the story are specific to the time of publication. Mentions of costs, budget, materials, finishes, and products from the Livspace catalogue can vary with reference to current rates. Talk to our designer for more details on pricing and availability.