Do you remember that feeling of warm and cosiness you get when walking into an IKEA store? The feeling of comfort is best described as 'hygge.' The 'it' word for Scandinavian design, this Danish term stands for wellness and contentment we often associate with IKEA furniture. And now, you could come out of IKEA stores feeling even more excited because Livspace is adding elation to the mix! Livspace is now the official renovation partner of IKEA in Singapore and you can come to either of their stores to get a free consultation with our interior designer. We've also got a few cracker HDB BTO package deals as well! 
What Do The Livspace – IKEA HDB BTO Packages Include?
4-Room Renovation Package
Prices starting at $15.600
Kitchen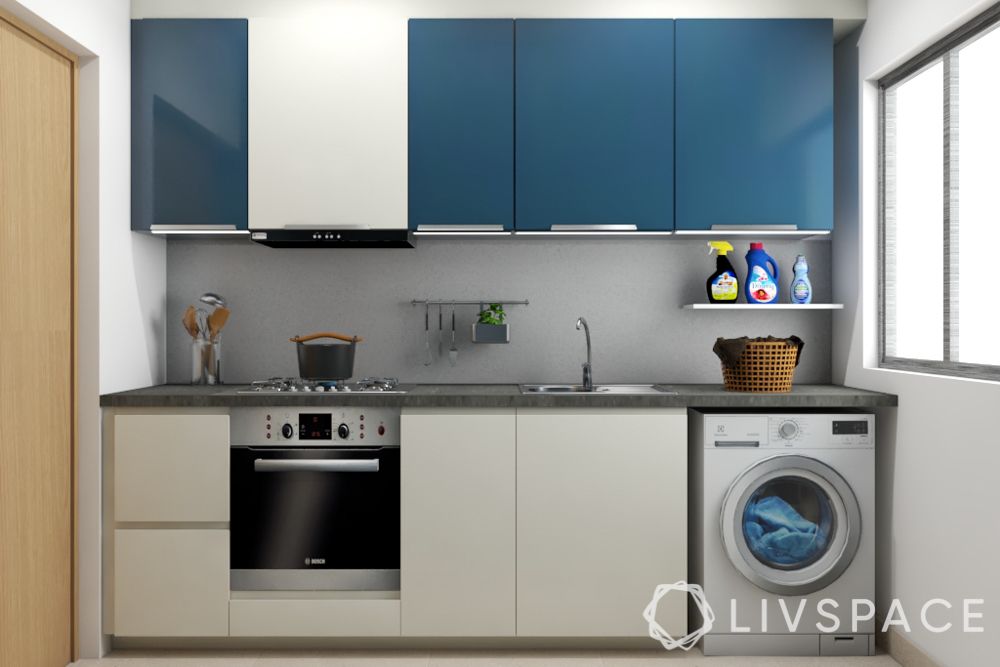 The kitchen that comes as part of the 4-room HDB BTO package can be best described as contemporary chic. The blue and white wall and base cabinets are very much modern. There and integrated cooking and baking appliances as well as tall and concealing cabinets to ensure sufficient storage and working space. Accessories include cabinets with plinth and glass door, open shelf and a rail with 5 hooks and container. The backsplash is grey acrylic and the worktop is laminate (looks like concrete).
Living Room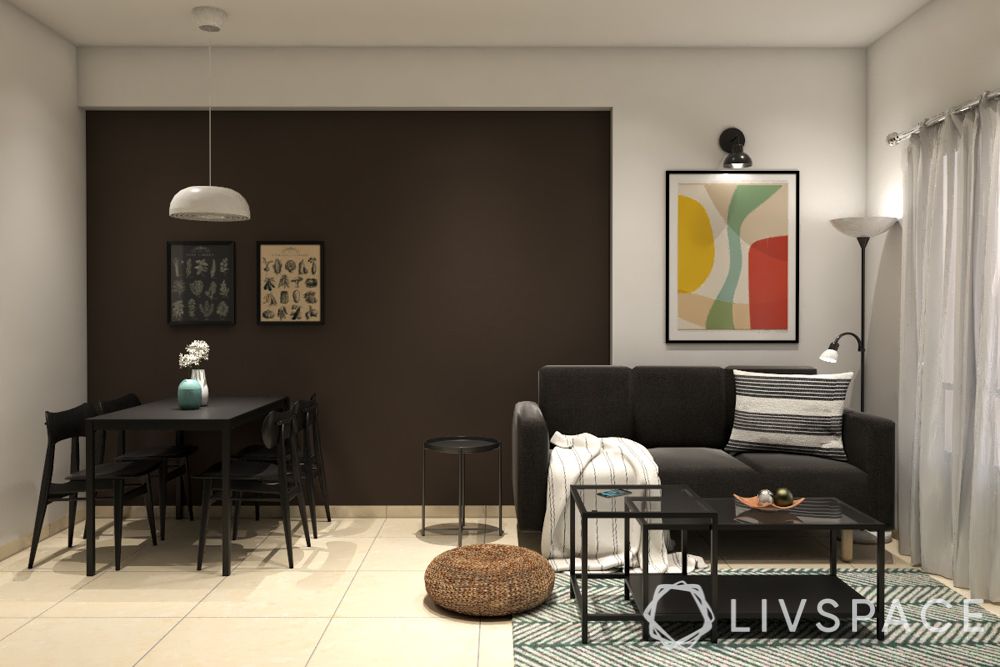 The living room in this package has a rustic vibe. The room is framed around a patterned IKEA rug that matches the deep grey accent wall. Metallic furniture pieces maintain the part-industrial feel of the room. Watch out for the iconic Norsborg three-seater sofa and Alseda stool from IKEA.
First Bedroom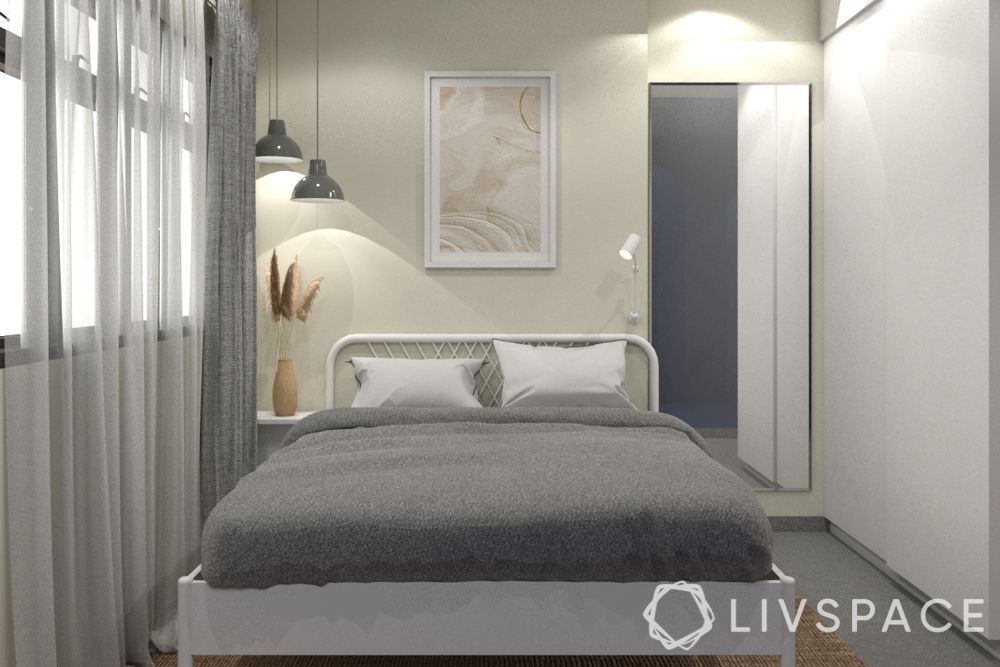 This grey heavy bedroom can be defined as a 'serene oasis' with its seamless simplicity. It includes white metal frame bed and a white sliding wardrobe to match it. The grey accent wall matched the grey pendant lights in the corner. So sweet and simple it is.
Second Bedroom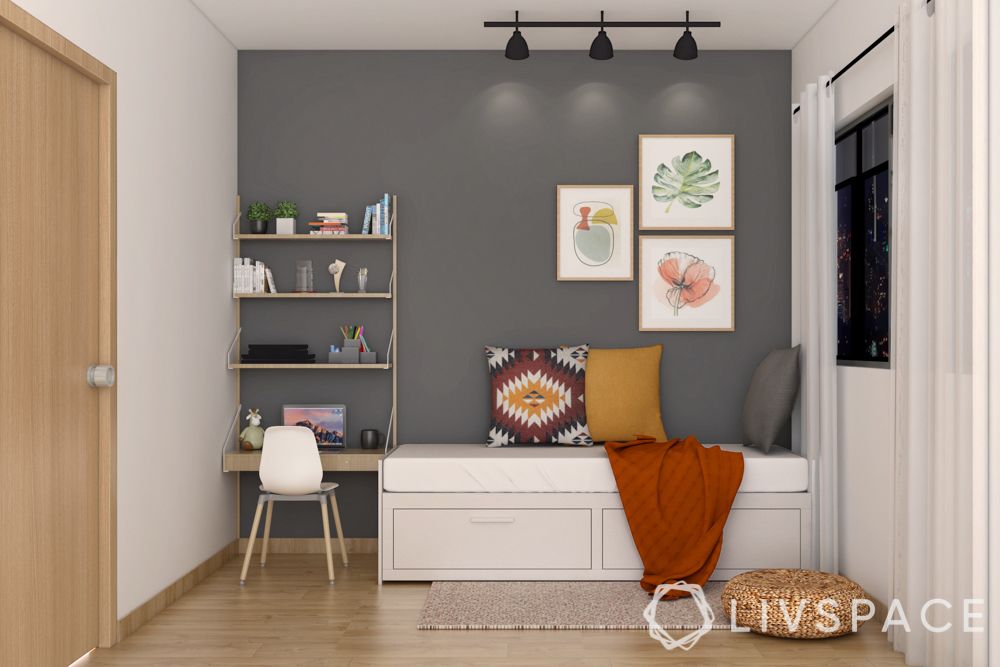 The second bedroom or the 'grey goose' is also heavy on grey. But it is not with pops of flamboyant colours. It has a daybed that can be used to lounge in and be pulled out to sleep at night. There is a multi-purpose ladder unit to supplement storage space already provided by a wardrobe.
Third Bedroom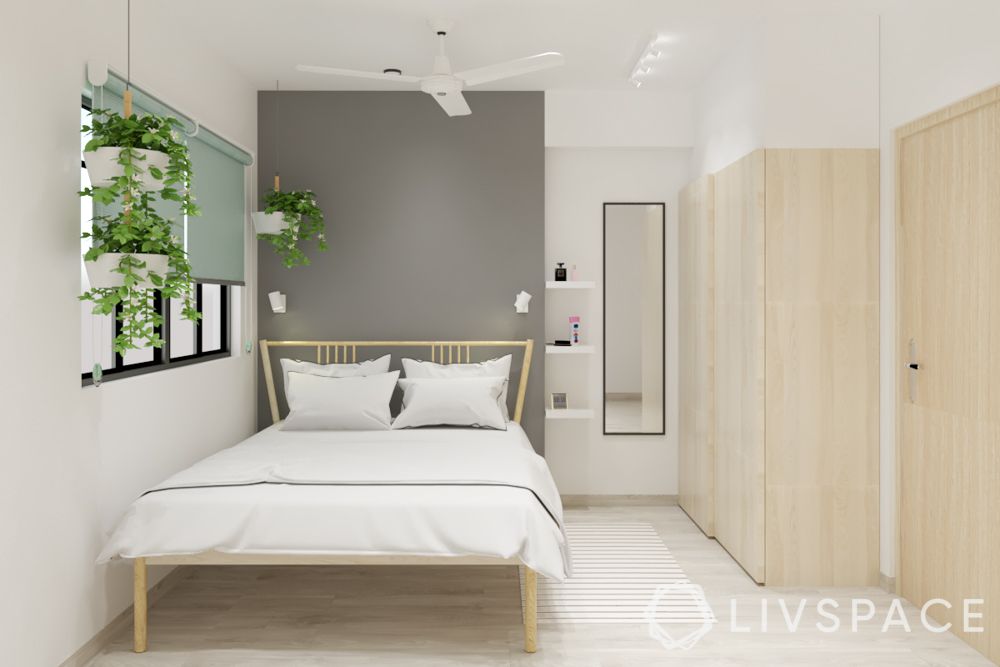 Another classic and compact bedroom in grey that stands out as 'pure simplicity'. The bed here is lithe suiting the small size of the room, as is the sliding wardrobe. The hanging with creepers add some much needed pops of green to this setup.
There is also a 5-room package starting at $16,000, 3-room package starting at $12,500 and 2-room package starting at $9,900. Click here for details.
So You Must Be Wondering
#1: Can the products be mixed and matched?
The answer is yes! Once you have a design consultation with us, you can give your preferences so that your home is a mix of the products available in the IKEA catalogue as part of a particular HDB BTO package.
#2: Will Livspace manage the entire project?
Again a definitive yes! Livspace will handle everything starting from design to installation. Terms and conditions apply.
#3: Is there a guarantee on the furniture?
The products are covered for defects in materials and workmanship for a varying number of years. Terms and conditions apply.
Why Should You Be Excited About These HDB BTO Packages?
Apart from the confidence one has in IKEA as a brand and the promise of a hassle-free renovation by Livspace, what is it that stands out about this offer? Actually, there are not one but three advantages that stand out!
#1: On-time delivery or we pay rent
April's circuit breaker has left homeowners grappling with a heap of problems. All renovation work was shut down with no completion date in view. To address this dire need for renovation services in Singapore, we offer an on-time delivery policy for our customers! If there is any delay beyond 15 days post the confirmed move-in date, we will pay either your actual weekly rent or $500 per week as compensation.
#2: IKEA's Hemsäker
Safety is one of the first emotions we associate with home and with the Hemsäker insurance, your safety will be insured. The Hemsäker insurance covers the damage to your home furniture and renovation in the event of any unpredictable event that happens. It also covers you and your family personal safety.
#3: Zero percent interest loan with Maybank
Get easy financing options with Livspace! Low interest renovation loan with 0% interest on the loan for the first year with Maybank. Does anything get better than that?
Come to IKEA with your floor plan now and get a design consultation from Livspace designers for free!
If you found these renovation packages to be useful, also check out How Much Does Renovation Cost in Singapore?