Are you one of those people who save aesthetically pleasing small home designs on your Instagram and wonder how you could implement some of those ideas in your own home? If your home is small and you are facing trouble organising or not finding enough storage space for your stuff, then worry not; we've got you covered. We rounded up five best small apartment designs of 2021 that we did for homeowners in the city. From customised rooms that maximise space to home with smart storage ideas, Livspace has got it all to give you renovation goals!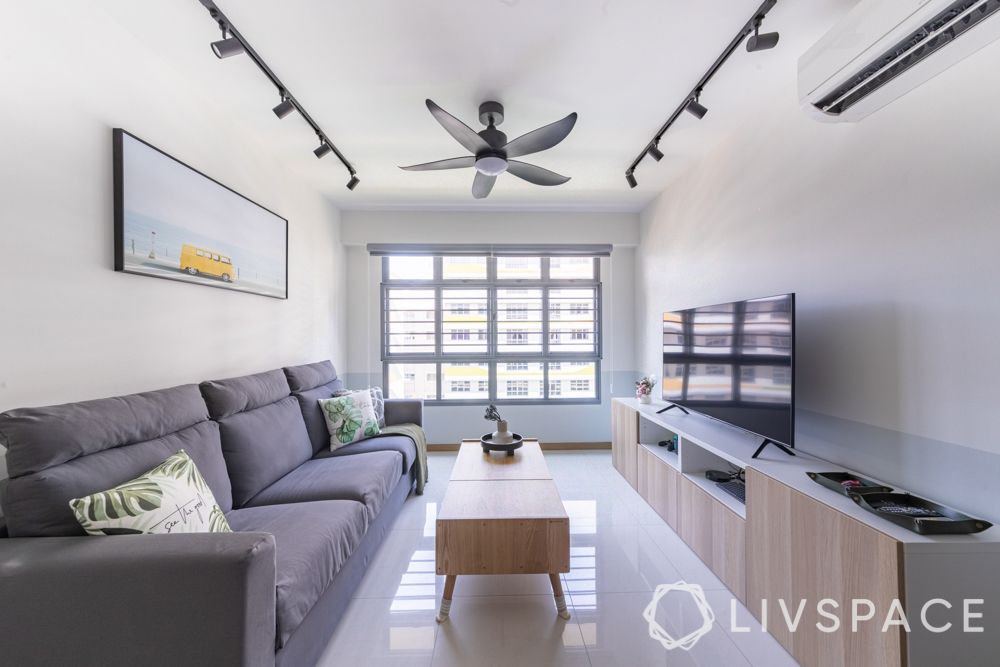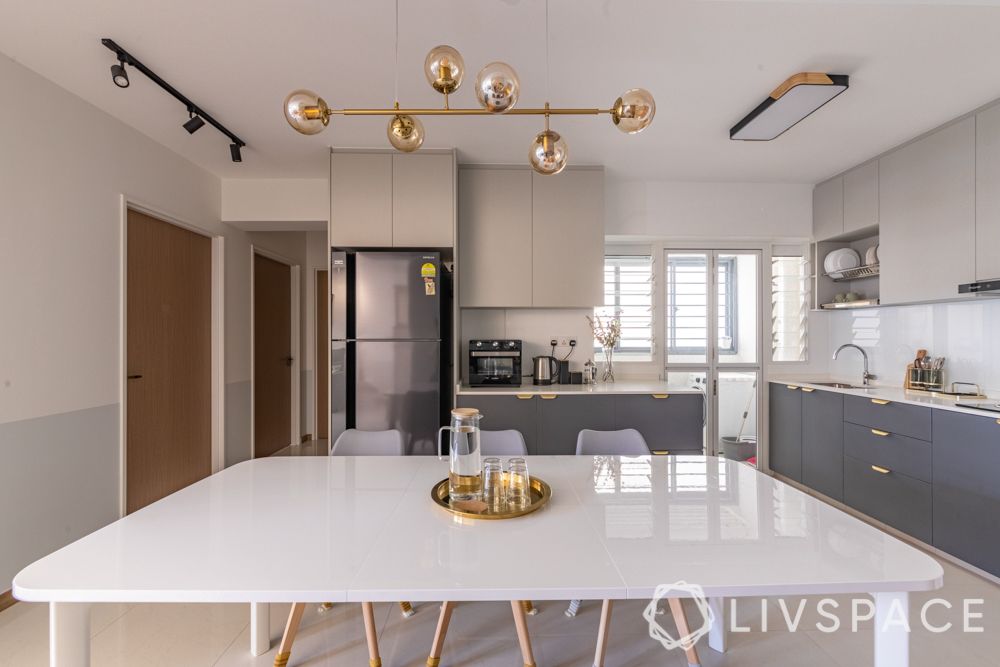 Who livs here: Alvin & Jeehui
Location: 620B Tampines St 61
Type of home: 4-room HDB
Livspace team: Interior designer Winny Widodo
Livspace service: Design, masonry, plumbing, carpentry, etc.
Budget: $$$$$ ____ 21
This HDB design is one of the best small apartment designs of 202. In a nutshell, it is simple, practical and cosy. This compact HDB has enough storage space for the couple. The interiors of this home are flexible to suit their needs if they want to extend their family. The living room is filled with elegant and soothing colours to give it a minimal look, with two-toned grey-and-white walls and light wooden furniture giving it a rather hygge vibe. Moreover, the house is packed with storage units.
The open dining area and kitchen are simple with a white six-seater table and grey chairs. The beautiful pendant lights add elegant detail to the dining room. The kitchen with its two workstations, one for the appliances and one for the sink, is the star of this home renovation. The design of the master bedroom is minimal as well with unmistakable Scandi vibes. The L-shaped wardrobe provides great storage and the flush-mount ceiling lights radiate an inviting warmth.
ALSO READ: This 4-Room HDB Renovation Perfects the Clean, Practical Look & HOW?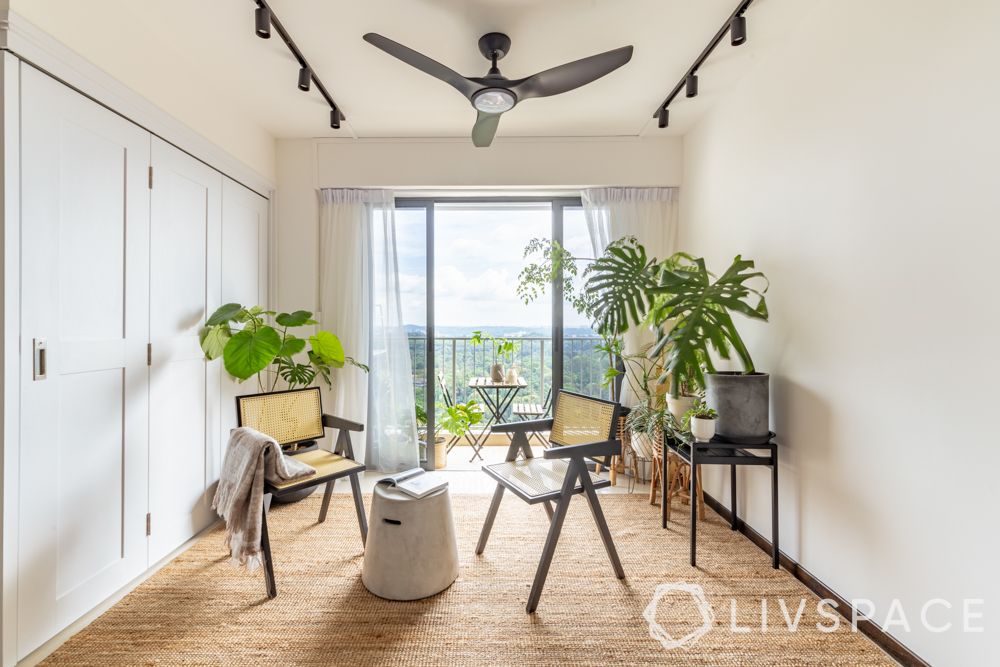 Who livs here: A young couple
Location: Blk 91 Lorong Toa Payoh
Type of home: 3-room HDB BTO
Livspace team: Interior designer Juhi Rajesh Shah
Livspace service: Furniture, decor, carpentry, electrical work
Budget: $$$$$ ____ 30K
This 3-room BTO designed for a young couple is a perfect example of a simple meditative space that is bright, energising and aesthetically pleasing. The primarily white colour theme makes this home really calm and peaceful. An open layout means that the entrance opens directly into the dining area, which comprises a four-seater dining table that doubles up as a work desk. The all-white colonial-style design of the open kitchen gives the illusion of space. The storage cabinets are also just right. Moving further into the house leads you to the extended living room which the couple decided to adorn with potted plants and rattan chairs.
The design of the bedroom is kept simple with a bed, bedside tables and floor-to-ceiling wardrobe. The bathroom contains a blue vanity unit and a glass partition divides the toilet into wet and dry areas. This is one of the best small apartment designs that we came across in 2021.
ALSO READ: This Resale 3 Room HDB Design Has Perfected the Contemporary Style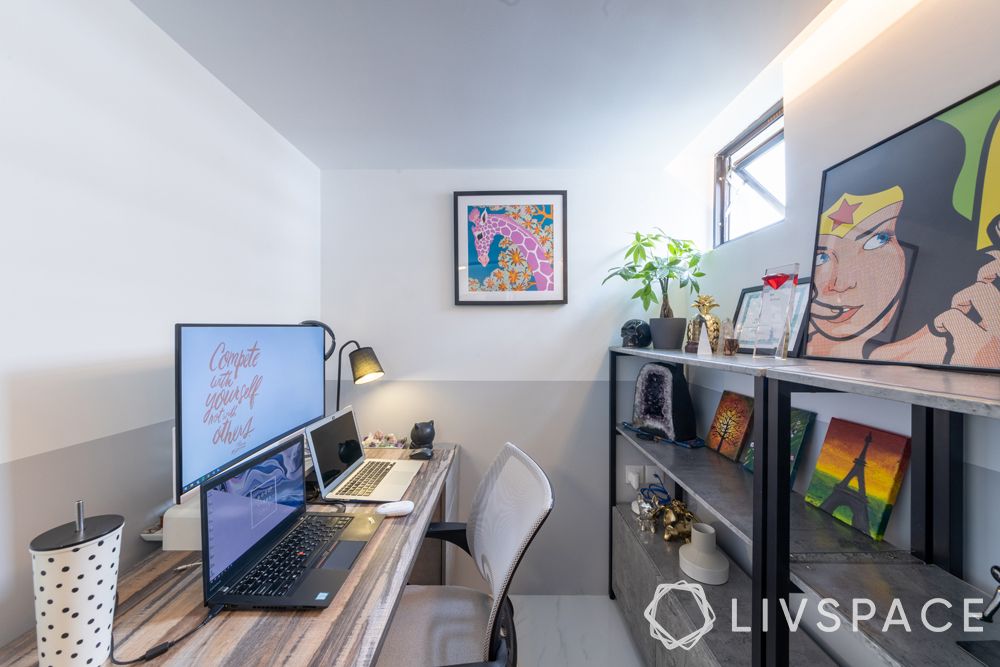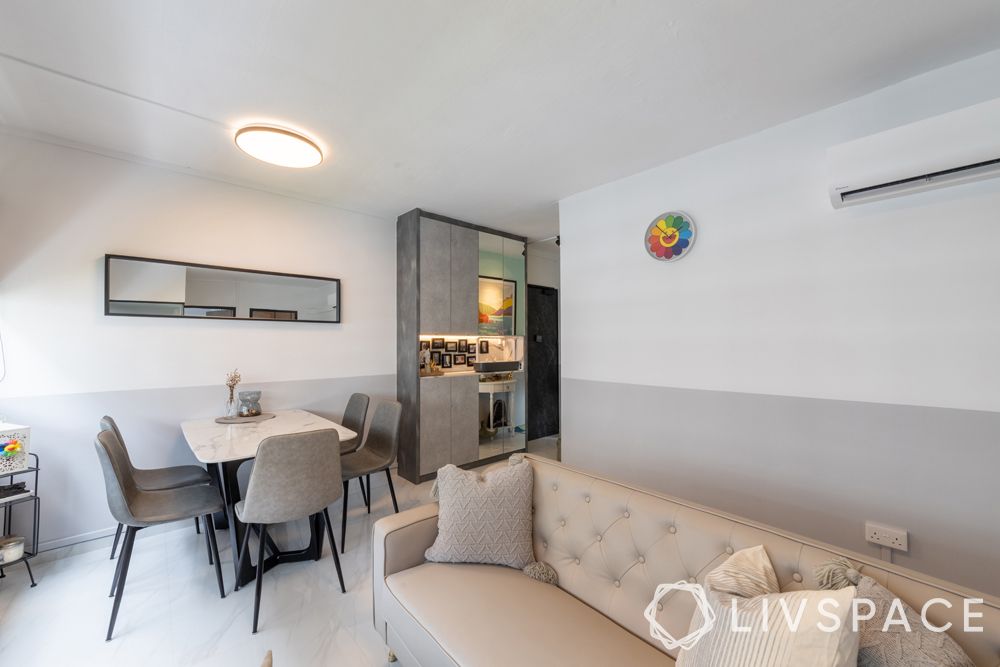 Who livs here: Yvonne Yeo
Location: 637 Veerasamy Road
Type of home: 3-room resale HDB
Livspace team: Interior designer Wanting Liu and project manager Kent Huang
Livspace service: Design, demolition, masonry, electrical, plumbing, ceiling, partition, painting, carpentry
Budget: $$$$$ ____ 45k
———————————
This is one of the best small apartment designs and was done for an interior designer herself, which proved to be a fun experience for our designers, as she knew exactly what she wanted — a homely and relaxed ambience with a fresh and neat aesthetic. The entrance to this resale flat is a corridor and the mirrors make it appear spacious. Beyond that is the dining area with a marble-top dining table and grey chairs. The living room is kept very simple with a 3-seater sofa and a white TV unit. The kitchen is also relatively understated and has a lot of windows, which means good ventilation is assured. The kitchen also has a hidden storeroom.
The bedroom is simple with a cosy queen-sized bed and a massage chair. The focal point of this room is a walk-in wardrobe between the bathroom and the sliding door. The wardrobe provides just the right amount of storage space that the homeowner wanted. The home office created out of the storeroom gives you design goals. The fun posters make the home office colourful, making the working atmosphere cheerful, we hope!
ALSO READ: This Resale HDB is Full of Quirky Corners and Every Shade of Grey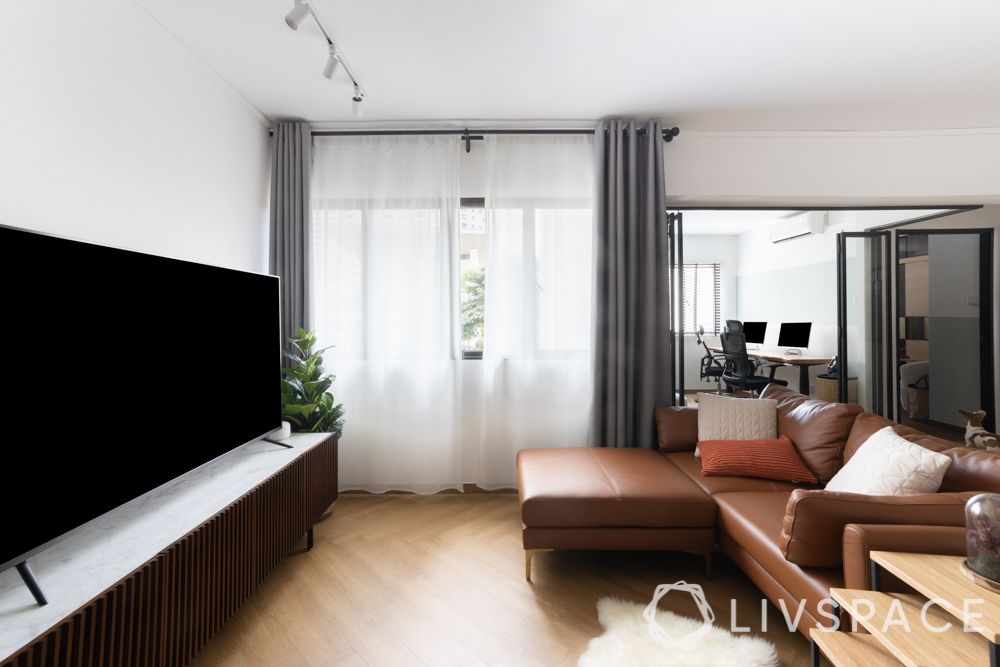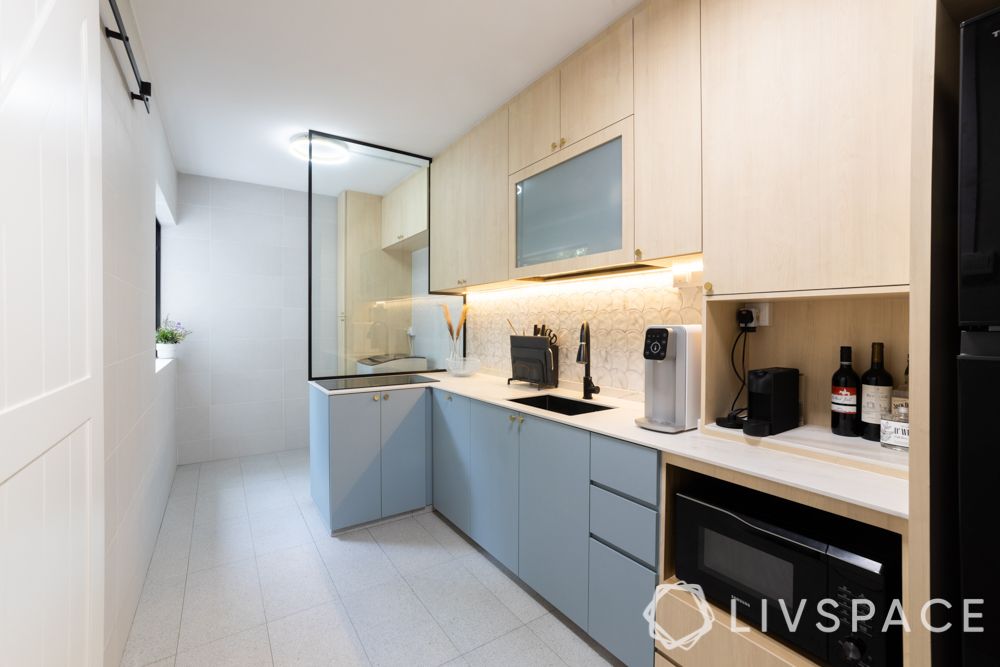 Who livs here: Wei Zhe and Dionne with their dog
Location: 21 Jalan Membina
Type of home: 4-room resale HDB
Livspace team: Interior designer Ami Yap and business manager Shivani Malhotra
Livspace service: Full design scope including design, build, masonry, carpentry, electrical etc
Budget: $$$$$ ____ 50k
———————————
A Scandinavian-inspired small apartment design with wooden earthy elements accentuated by warm pastels give this HDB a soothing, comfortable aesthetic. Each of the rooms perfectly balances the interplay of warm colours and metallic accents with clean Scandi walls. The entrance of this home opens into the living room that contains an L-shaped brown leather sofa sitting on a wooden floor. This living room is designed in warm brown colours, which gives it a luxe ambience. There is enough natural light pouring in through the windows to brighten up the space. An extensive study exudes a tranquil vibe with its pastel walls and no-fuss blinds.
The simple dining area in this home has a dining table set and versatile seating comprising of chairs and a bench. The bamboo pendant light gives it a soft glow. The feng-shui-compliant kitchen follows a pastel-and-gold theme with blue cabinetry and white countertops. The bedroom is designed to be that perfect sanctuary, with light colours and simple white walls, a lone bedside pendant light and layered drapes the only accents.
ALSO READ: 4 Room HDB Design for a Couple Who Loves Scandi and Clean Look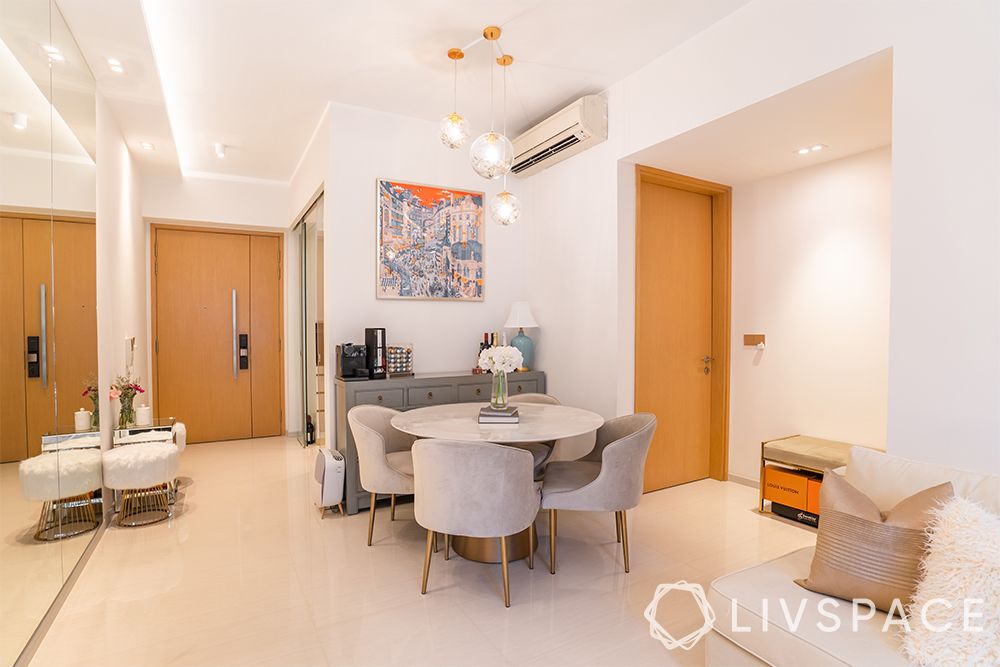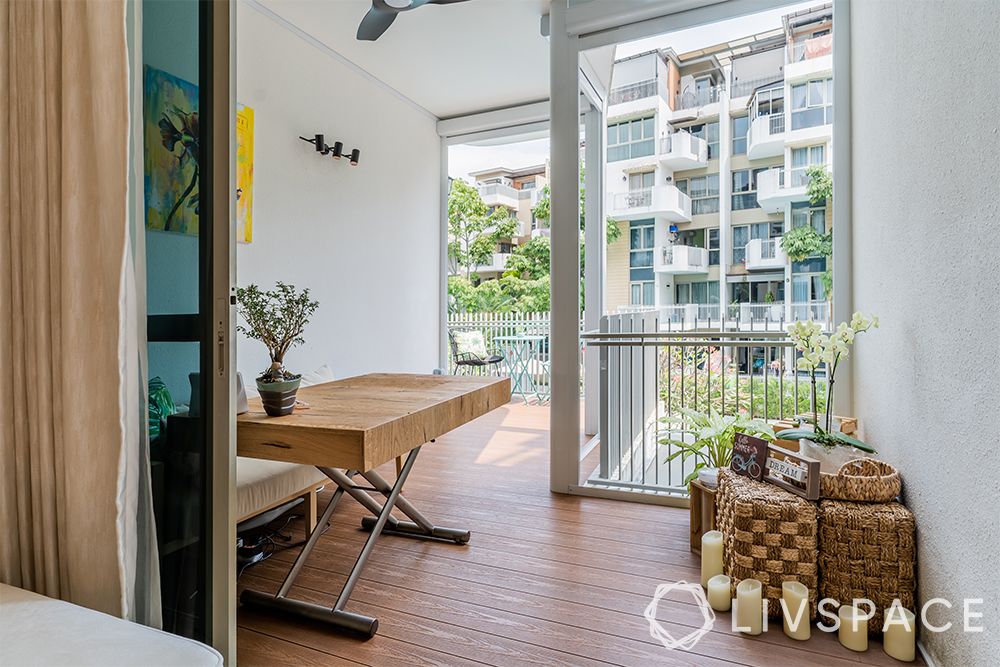 Who livs here: A young woman
Location: 25 Terrasse Ln
Type of home: 2-bedroom condo
Livspace team: Interior designers Songhao Chua and Jewel Lim
Livspace service: Design, carpentry, electrical work and furnishing
Budget: $$$$$ ____ 80
——————————-
This home is one of those small apartment designs that define a timeless space with luxurious elements and also incorporates smart technology. The condo follows an open-plan layout with the entrance leading into a foyer, living room and dining area. The mirrored wall in the foyer makes the space look larger than it is. The dining room colours tones are neutral — glossy off-white, beige and grey — with complementary brass and gold accents. The pendant lights enhance the look of this small apartment design.
The living room is also designed in neutral colours, minimally furnished and well lit with recessed lighting. The highlight of this condo, however, is the balcony Wooden flooring, comfy seats and a nice pool view — relaxing here is almost like lounging in a resort! The kitchen follows an all-white colour scheme and the countertop has a marble-like finish with under-cabinet lights. The master bedroom has an amazing headboard with a beige fabric-like laminate and LED lights.
ALSO READ: A Perfect Small Condo Interior Design With Pretty Neutrals & Luxe Accents
How can Livspace help you?
Did you find these small apartment designs inspiring? You can also get such beautiful interiors for your home with the help of Livspace. All you have to do is book an online consultation with our design experts to get safe and quality interiors. You can learn more about COVID-19 safety protocols here.
If you liked these homes, then be sure to check out this one too:This Compact 31 sq. m. Condo Has a Clean Design With a LOT of Ideas to Borrow.
Send in your suggestions and comments toeditor.sg@praveenlivspace-com