We can all agree that HDB flats in Singapore are getting smaller. Every single homeowner struggles to find space in their home, and this is especially true for those staying in 2-room flats. Despite its relative small size, there are still plenty of ways for you to maximise the space in your 2-room HDB flat. All it takes is some smart planning and innovative design solutions, and that's where we can help!
See how our Livspace interior designers came up with intelligent hacks (that DON'T require extensive renovations or major hacking) to make the most of the space in any 2-room BTO flat.
1. Install Sliding Doors Instead of Swinging Doors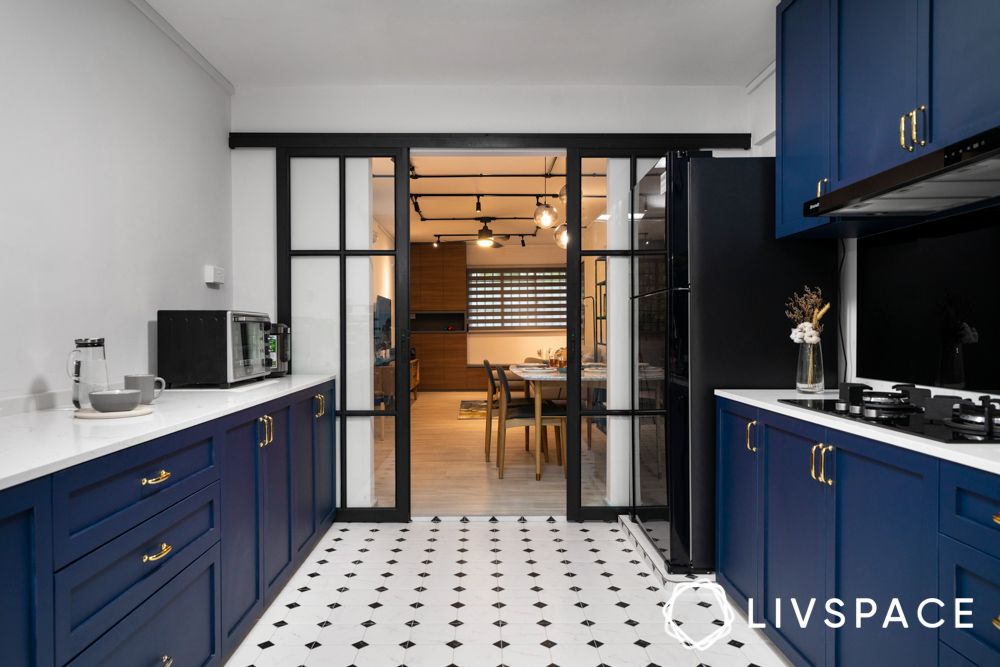 Swinging doors obstruct useful wall and floor space. You can liberate a lot of wall and floor space by swapping out the old swinging doors for the new sliding doors. Additionally, sliding doors are simple to open and close. For the sliding doors, you can choose any material you want. Wooden sliding doors, for instance, are a good choice for bedrooms, and glass sliding doors look nice in living rooms with open concept layout.
2. Go for an Open Concept Layout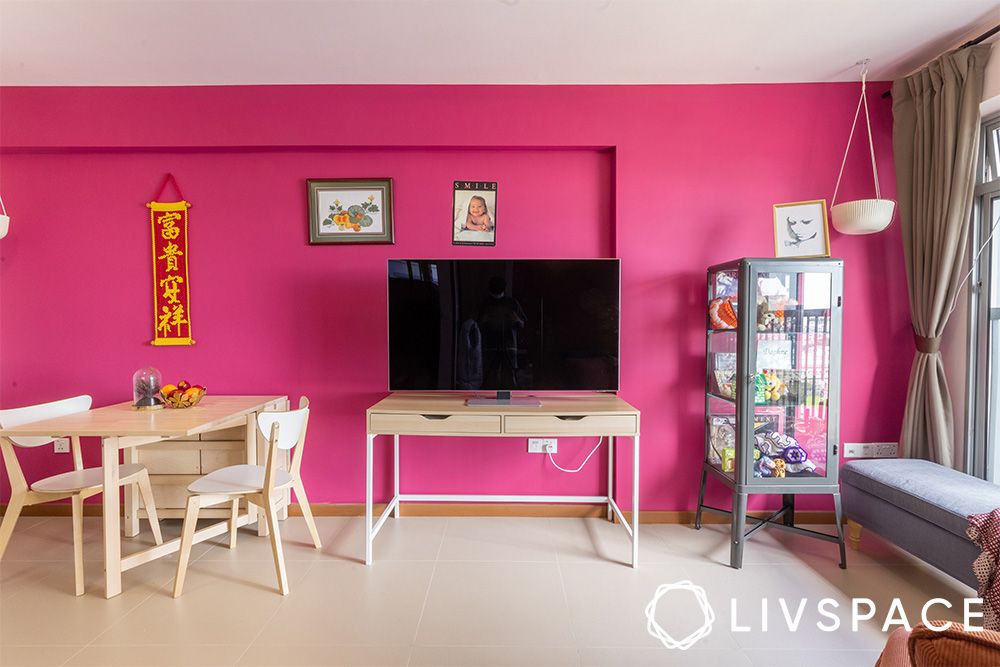 Choose an open floor plan if you want to maximise the available space in your 2-room BTO. Remove all partitions or hack down walls separating the living area, kitchen, and dining area. Make the entire space an open living room. However, by choosing different floor tiles for the kitchen and the rest of the space, you may visually split the area.
3. Go for Built-in TV or Storage Units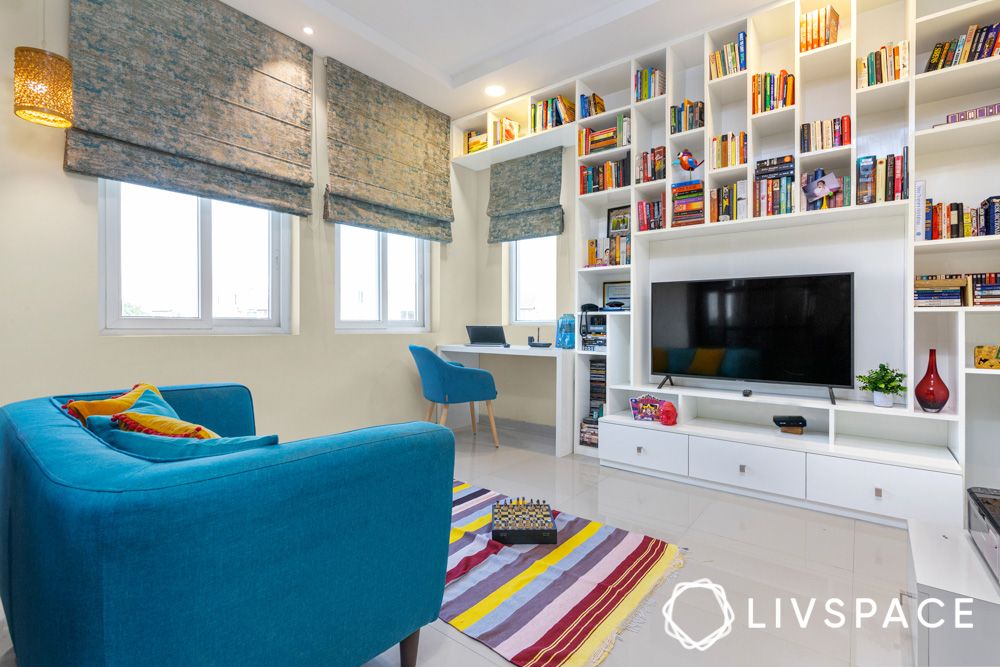 Make good use of the available space in your 2-room flat by choosing full-height built-in cabinets with a TV unit. Such built-in cabinets or TV wall units give you the best storage alternatives. They can be designed with a combination of closed cabinets and open shelves to help you stylishly showcase your literature, picture frames, and toys. Additionally, it eliminates clutter from your room and aesthetically expands the floor area.
Also Read: 5 Ways to Do More With Less Space in Your Bedroom
4. Use Loft Beds or Bunk Beds for Kids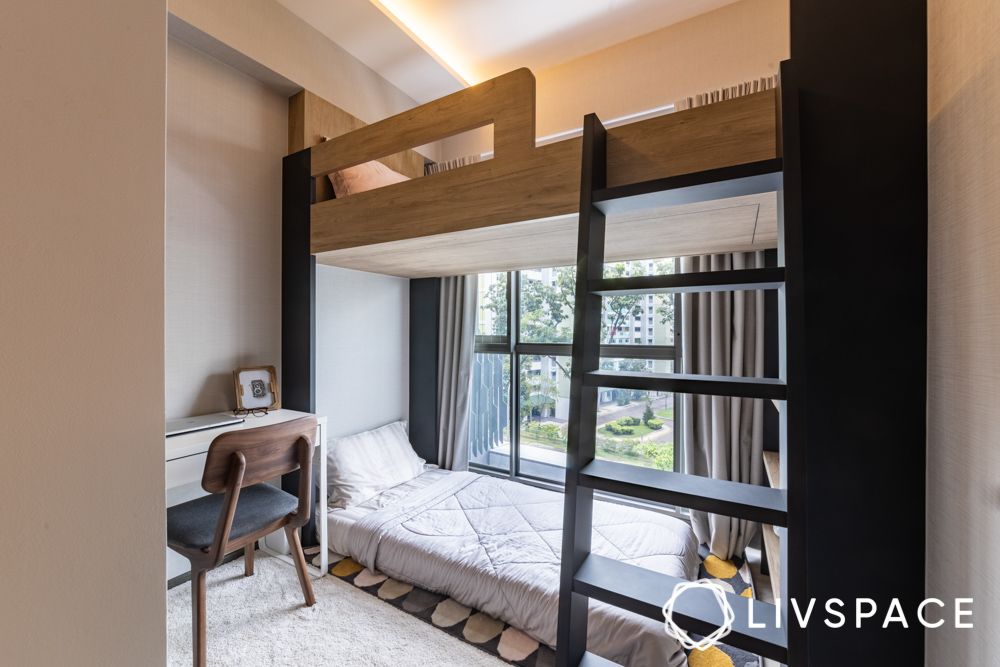 A bunk bed design is a terrific idea if you have children and are struggling with a lack of room. You can design a bunk bed with a raised platform close to a window in your one room. This will make the room more useful for children while saving a significant amount of space. also, use neutral colours to help the room appear bigger and brighter.
5. Use Raised Platform Beds to Save Space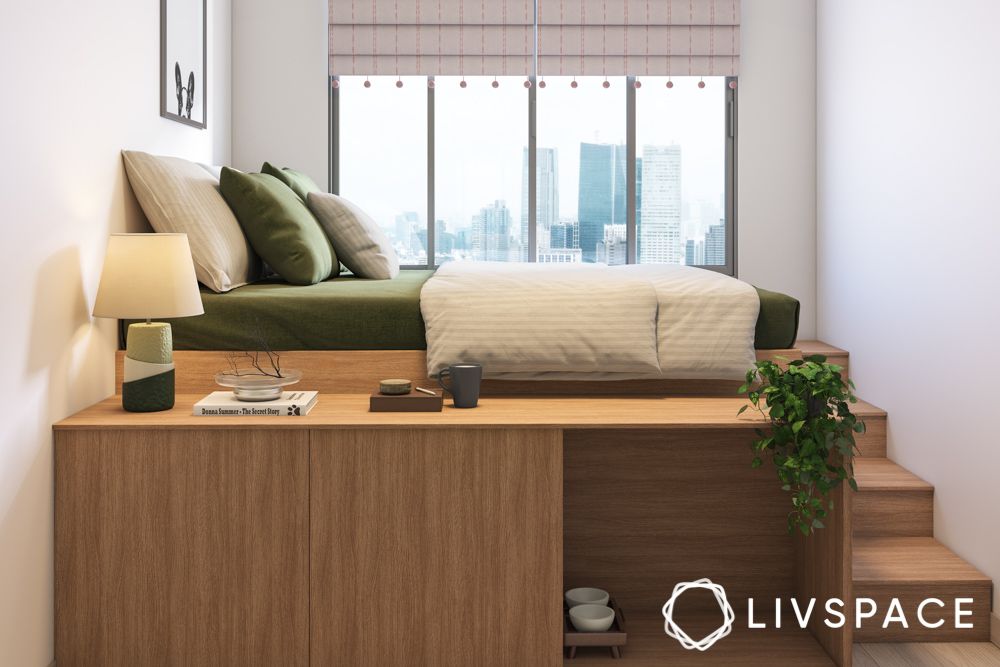 The furniture item that takes up the most significant amount of floor space in the 2-room flat is, most likely, the bed. Placing a bed on a raised platform is a good idea in these cases. You may easily set up a home office or a closet underneath your bed if you make it high enough. They can also be used as additional storage spaces.
6. Use Integrated Furniture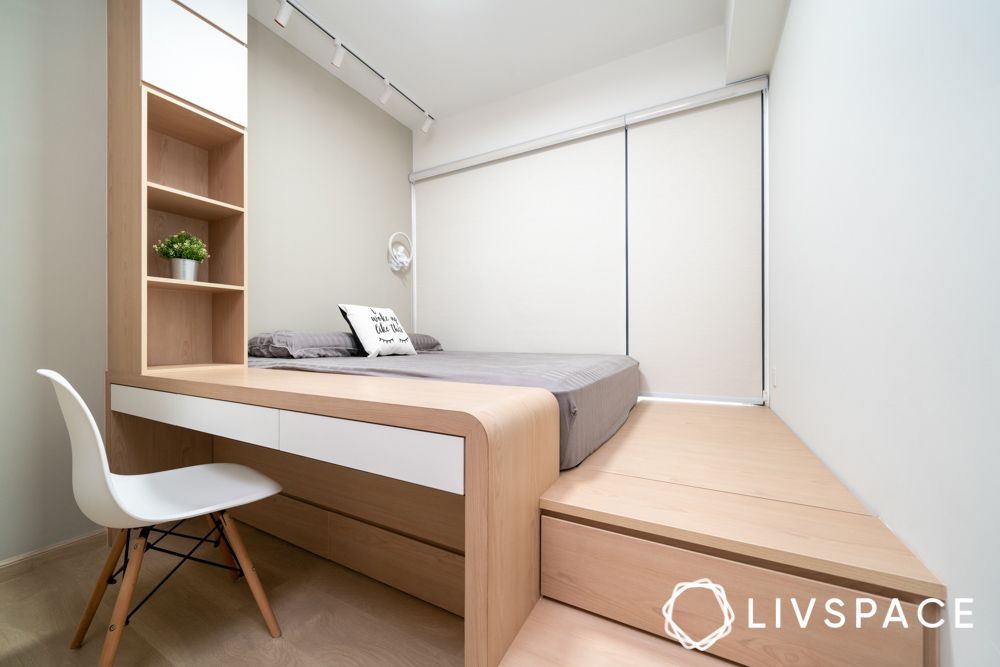 How can you fit a bed, a desk, and storage in a really small bedroom? Use integrated furniture, to put it simply. When you want to maximise the limited space in your bedroom, get customised furniture like this Livspace home. A raised platform can double as a writing desk or workstation, and it will be integrated into the design of the bed. Clothes and other necessities can be kept in the storage spaces under the platform.
Also Read: 7 Space-Saving Ideas That Will Blow Your Mind
7. Choose Sliding Wardrobes for Bedrooms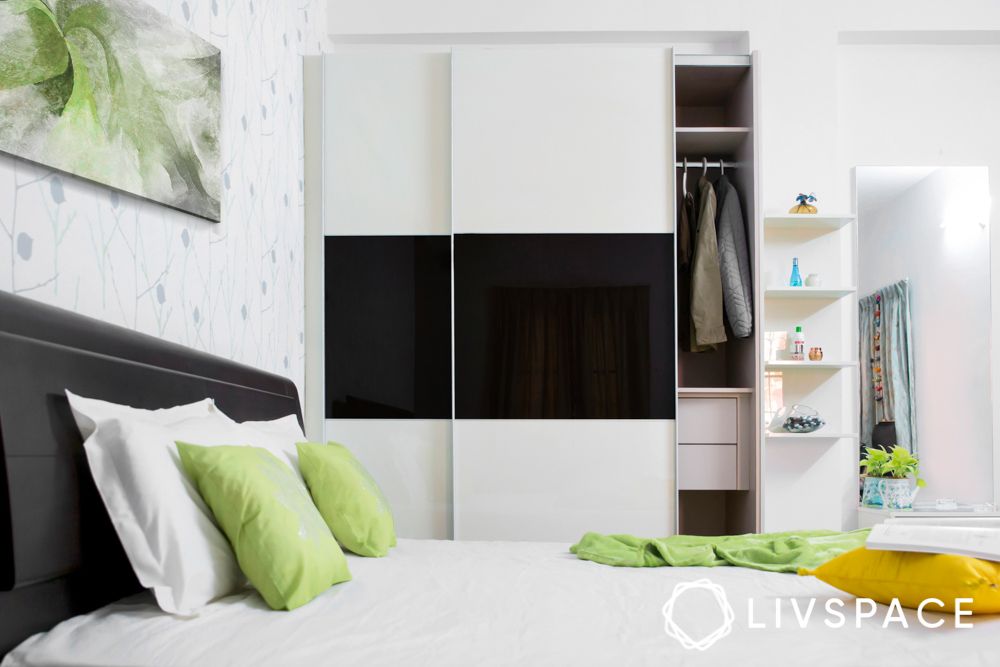 Don't hesitate to include as much practicality as you can while constructing a sweet and simple home. The wardrobe's sliding doors make it simple to open despite the restricted width in the bedroom. A floor-to-ceiling sliding wardrobe also takes care of the storage requirements as the family grows.
8. Go for Vertical Storage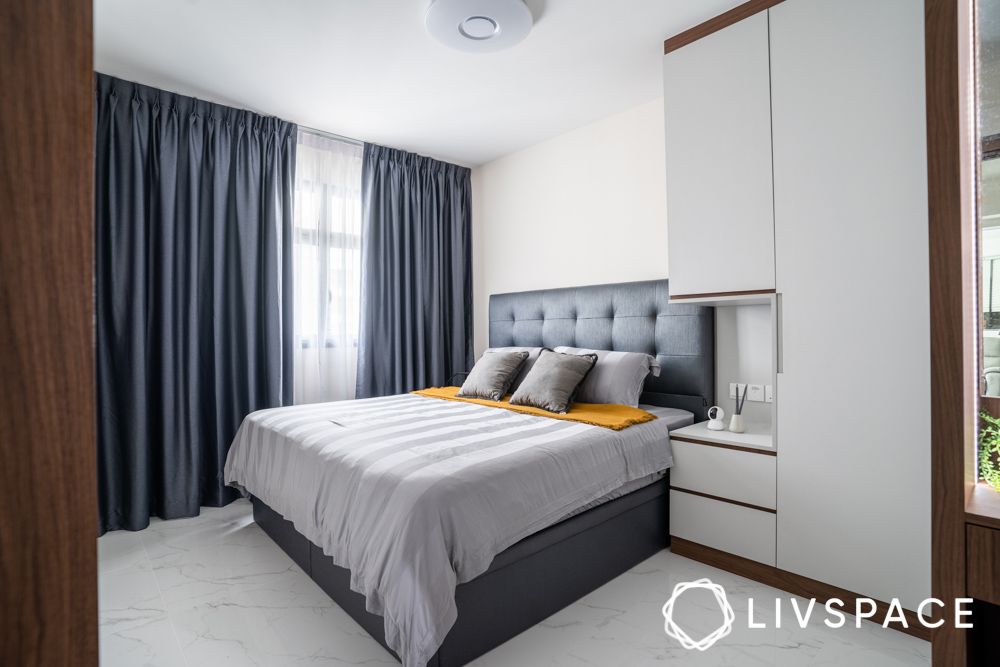 No matter the size of your home, storage furniture like cupboards and shelves will eventually take up all the floor space. That's why you should look at the verticality of a room. Use the wall and ceiling space by mounting shelves or building tall storage systems that won't take up any additional floor space.
9. Use Pull-Out Drawers for Compact Kitchens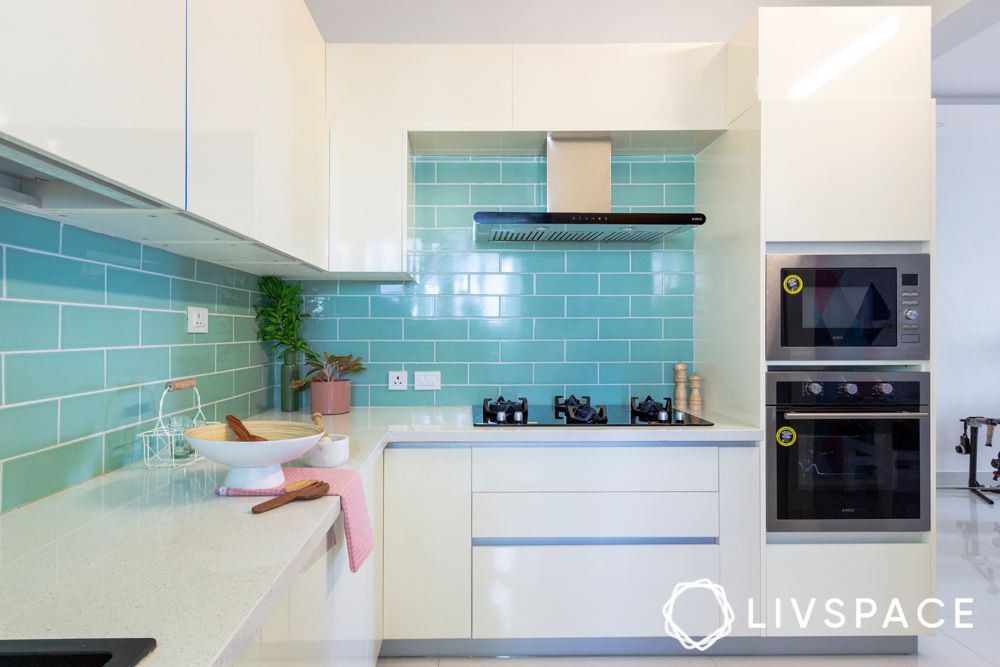 In small kitchens, pull-out drawers provide an ideal storage alternative. Trays, utensils, tablecloths, and tools can all be kept in these drawers. These drawers do not need all the space to open up and are best for compact 2-room flats with limited space and size. These slender shelves can keep all the jars, bottles, cans, and other essentials within easy reach but hidden.
10. Consider Hydraulic Beds Instead of Normal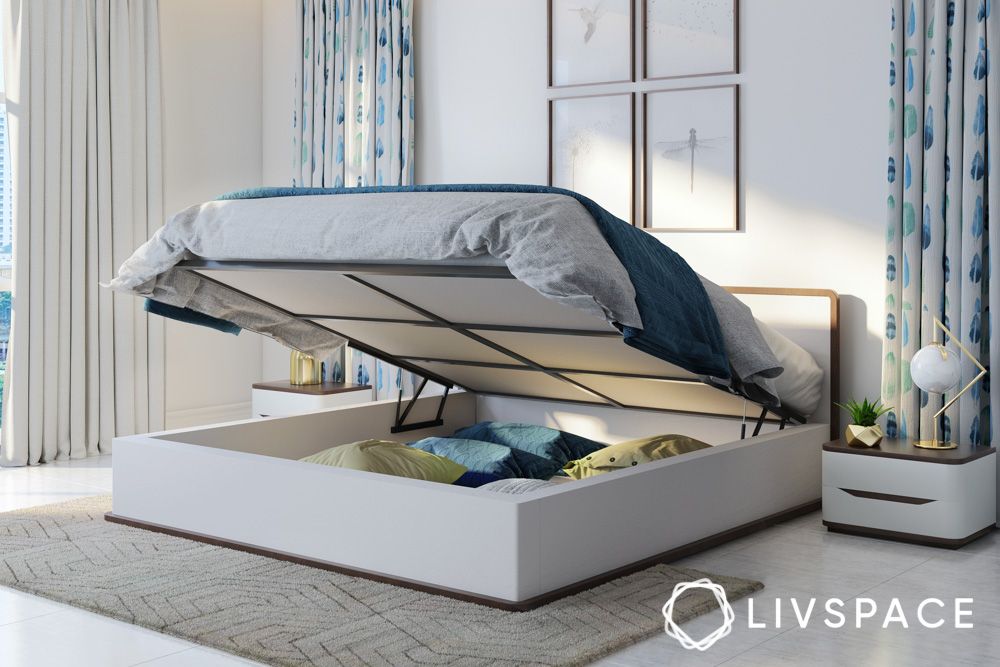 Your bed serves as the centrepiece of your bedroom but it also takes up a lot of room. So why squander the room? Get a hydraulic bed with storage rather than a standard bed. Because hydraulic beds have a lot of internal storage space, they are perfect for keeping heavier, less-used goods like blankets and clothing. An ideal option for a 2-room flat in Singapore.
Also Read: 15 Hacks for a Modern House Design Inspired by Livspace Homes
How Can Livspace Help You?
Did you find these modern house design hacks inspiring? You can also get such beautiful home interiors for your home with the help of Livspace. All you have to do is book an online consultation with our design experts to get safe and quality interiors. You can learn more about COVID-19 safety protocols here.