Fed up of compact house renovation ideas coming from palatial mansions compared to your average sized HDB or condo? We hear you. Compact flats require detailed planning and a lot of forethought. Even so, the lack of space has resulted in these ingenious design hacks that can make the most of the square footage available. These are tried and tested tips from Livspace designers.
#1: Kitchen island doubles up as a dining table
When square footage comes at a premium, some design aspects need to take a backseat. However, dining in comfort is not one of them! If your flat does not have space for a dining table, a kitchen island can do the trick. A sleek kitchen island can serve your cooking and dining needs. Any island can work as a table as long as the seats are at a height of approximately 91cm while the counter is approximately 100cm.
#2: No walls? No problem!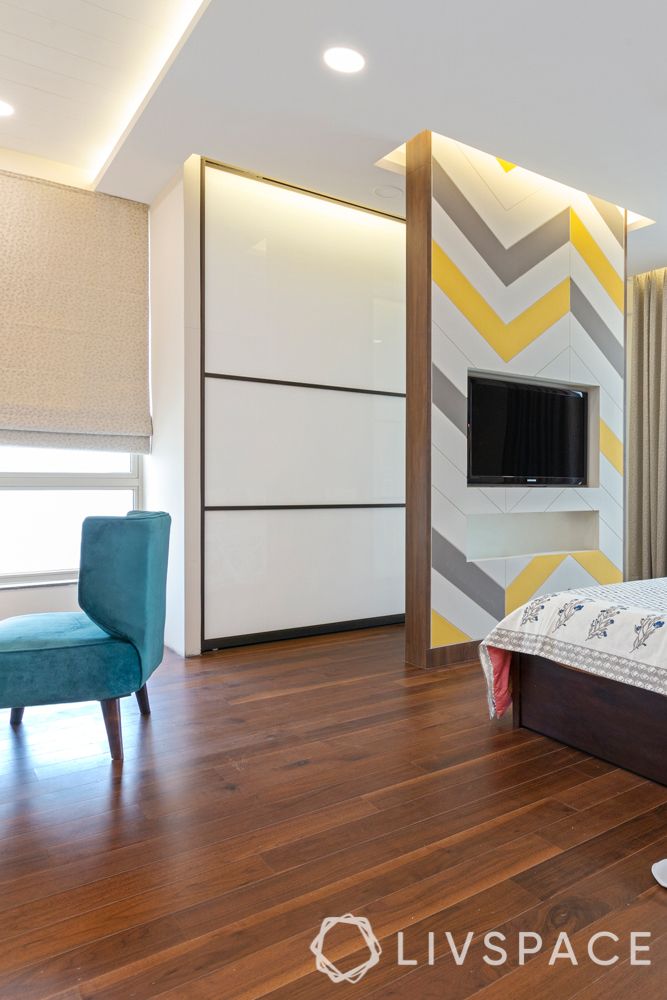 One way to get a TV or vanity unit in your bedroom is by opting for a wall partition with a built-in unit. While this house renovation ideas requires a little more floor space, it's multipurpose and works as a private screen for the wardrobe. Take some cues from this stunning demonstration of a multipurpose room divider.
#3: Make way for multi-purpose units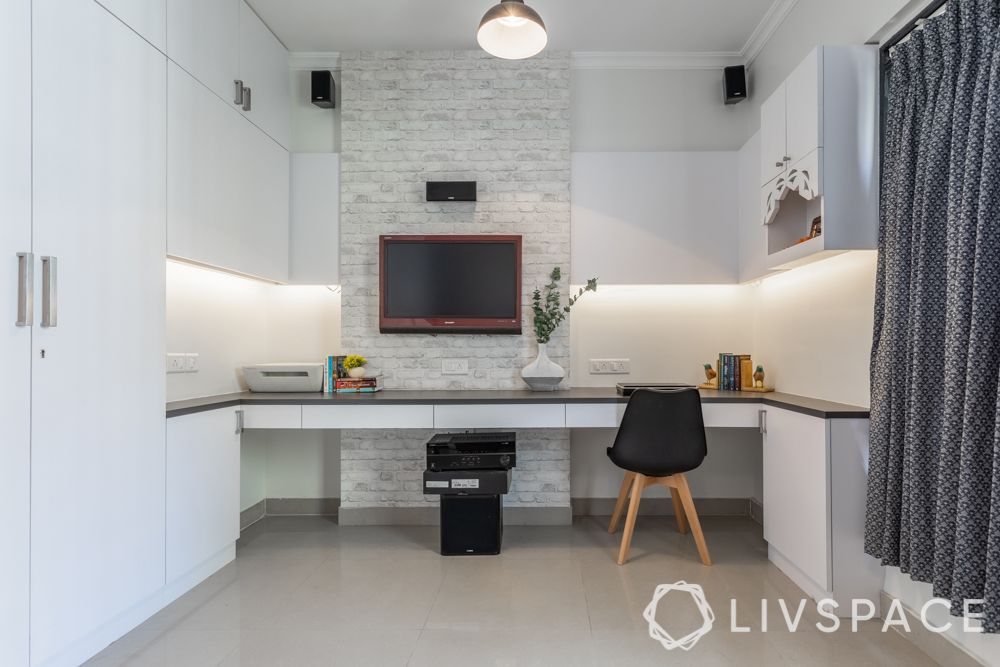 Modular TV unit designs are versatile and allow customisation with multiple arrangements. Wall-mounted TV units are a great way to maximise on floor space. With a standing unit out of the way, you now have space to add a "floating" table that can double up as a study unit. Additionally, you can also pair it with a comfy chair as and when you need it.
#4: Small savings with sliding wardrobes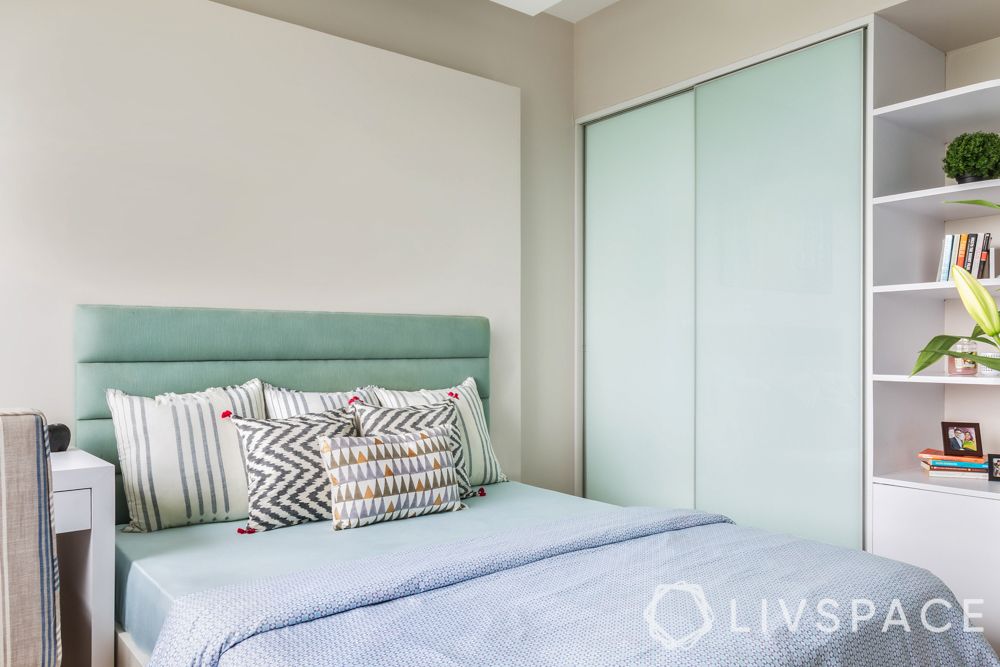 Here's an obvious hack to end your wardrobe conundrum. Since hinged doors take up extra floor space, sliding doors free up a considerable area for you to get a larger bed or facilitate unhindered movement around the room. Moreover, the light green hue of this wardrobe doesn't give the room a cramped feel.
Pro tip: You can also opt for sliding bathroom and bedroom doors to save more space.
#5: House renovation ideas to add storage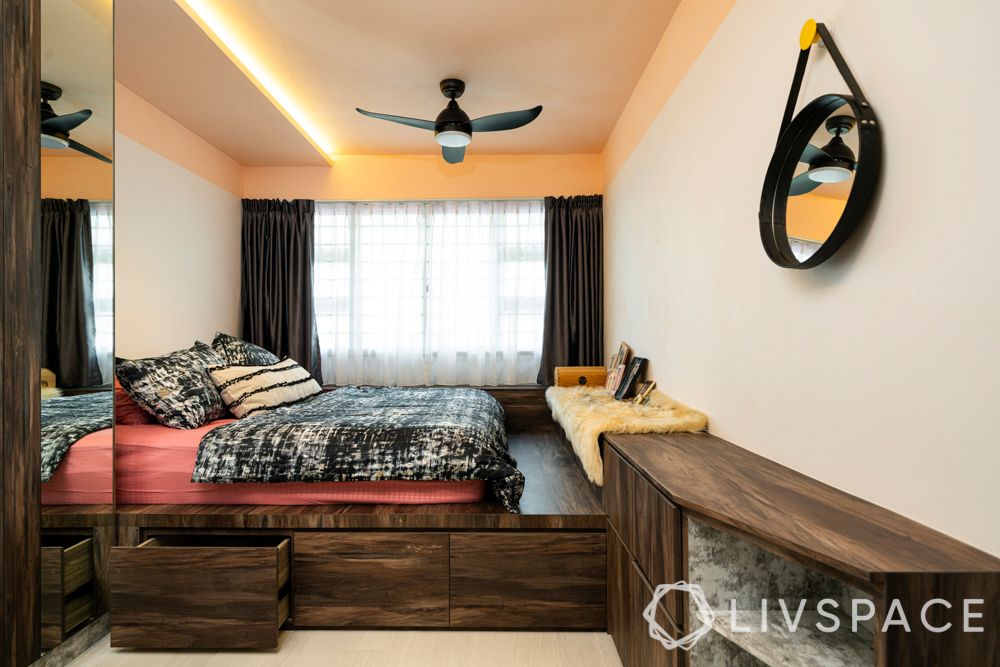 One part of your home that you are neglecting as storage space is underneath your bed. A platform bed incorporates the foundation of floor storage and the design of a bed. This house renovation ideas allows you to place a mattress right over the storage box without a bed frame. Moreover, you can store twice as many items in your platform bed compared to a wardrobe.

Here are a few things to keep in mind before getting a platform bed:
Look for a strong structure and perfect installation that will support the weight of a mattress.
Ensure that the storage box has holes for ventilation in order to prevent mold and mildew.
Opt for sliding drawers or lift-up hydraulic storage. While accessing drawers in the middle of the box will be difficult, hydraulic beds require mechanism maintenance.
#6: Finding furniture hacks with vertical shoe racks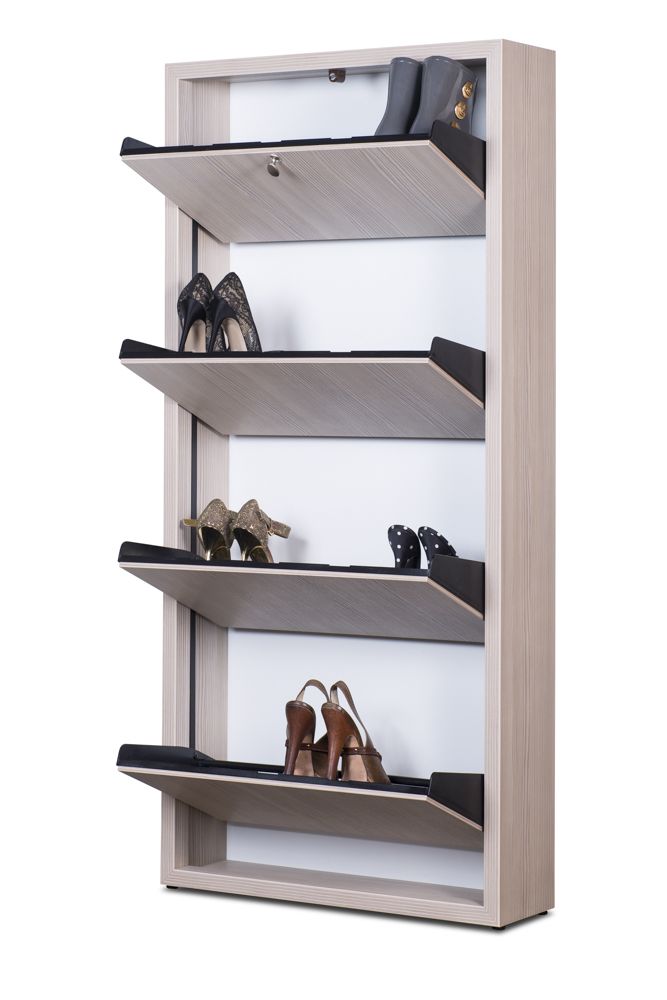 Livspace designer Songhao Chua highly recommends opting for a space-saving furniture piece such as this one. A vertical shoe rack takes up less space when compared to a regular shoe rack due to its sliding shelf mechanism. This innovative piece can hold several pairs of shoes and can be attached to the back of your door or at the end of your entryway.
#7: Nestling tables can save space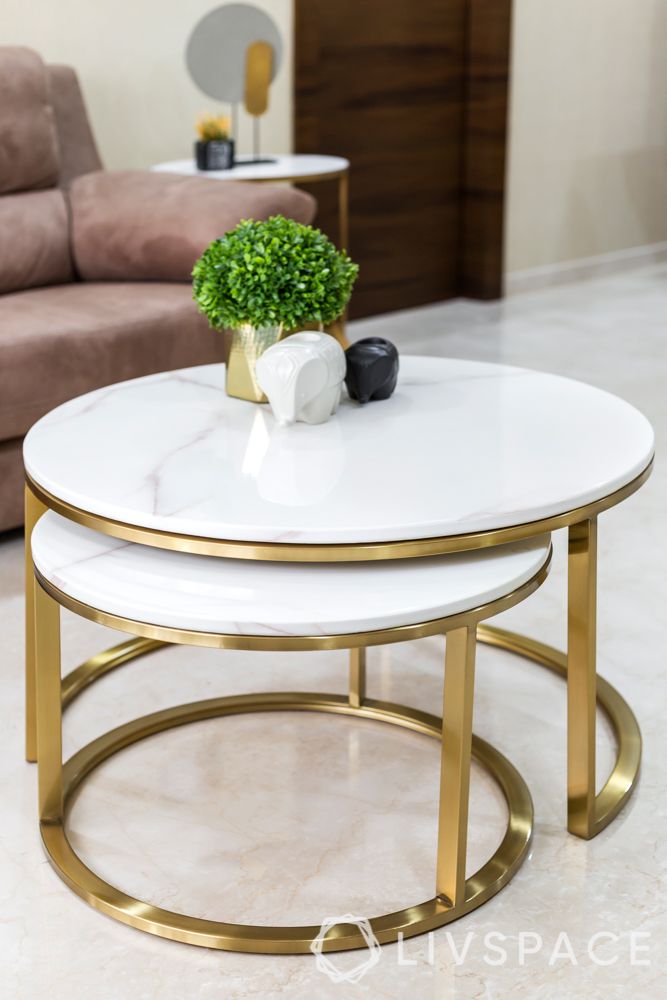 Another great way to save a few inches is by investing in a beautiful set of nestling tables. These compact wonders can be moved around when in use or can be stored away without taking up too much space. Moreover, they can be used as nightstands, coffee tables and vanity units.
If you are looking to renovate your flat, take a look at: How Can an Interior Designer Help You With Your Condo?
Check out this storeroom transformed into a home office:
We would love to hear from you! Write to us at:
– editor.sg@livspace.com