Bathrooms are one of the most-used spaces at home and, as a result, one of the most commonly renovated areas as well. Whether it is the bathroom in your new flat or you are just in the mood to give your current bathroom a makeover, you have come to the right place for some inspiration! It is absolutely possible to renovate a bathroom on a budget and still manage to rehaul the entire space. This time around we have some amazing bathroom transformations lined up for you. From dull and drab to bright and fab, these before-and-after remodels will surely inspire you to make some changes to your bathroom. Check them out.
#1: Giving those tiles an upgrade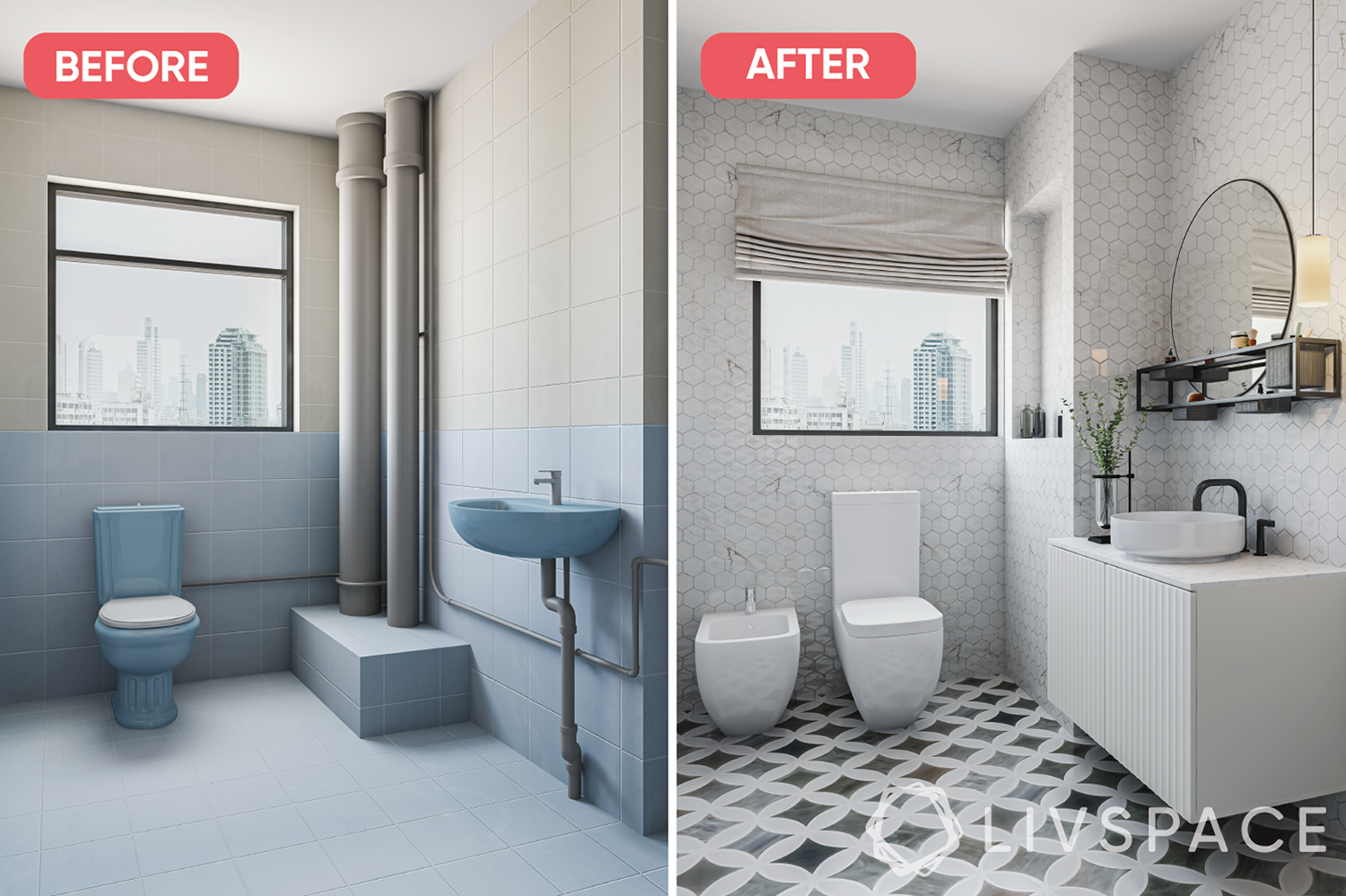 First up, we have this typically dull and boring bathroom that was given a twist with the right tiles. Choosing tiles for your bathroom is a very important step that takes you closer to achieving the right look. You can pick bright tiles for the floor and simple honeycomb-patterned tiles for the walls, just like we did. Not only does it give your bathroom a clean look but also uplifts the entire space. We also suggest opting for a floating vanity unit if you are low on square footage. Lastly, cover up the window with waterproof blinds.
Here are some small bathroom designs: The Best Small Bathroom Ideas to Make the Most of Space
#2: From shabby to modern with clever design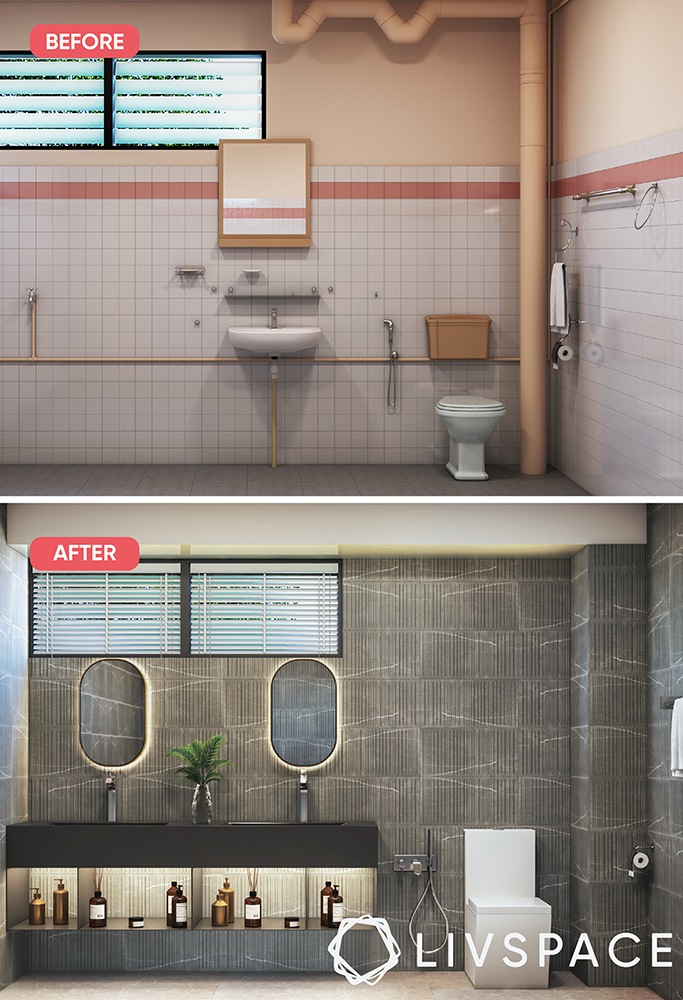 A rule of thumb to follow when you renovate a bathroom is to make sure that you make optimum use of available space. When you buy a very old resale flat, you end up with old fittings and fixtures in the bathroom. We suggest you do away with those and opt for sleek, modern fittings and accessories that make your bathroom more functional,like we've done here. A major portion of the wall is utilised by adding a long vanity counter with open shelves. Your designer can elevate the aesthetic by concealing ugly pipes (that are very common) with columns that blend with the design.
Here's how you can choose the right lights for your bathroom: Here's a Guide to Help You Choose the Right Bathroom Lights
#3: Add one highlight feature to make it stand out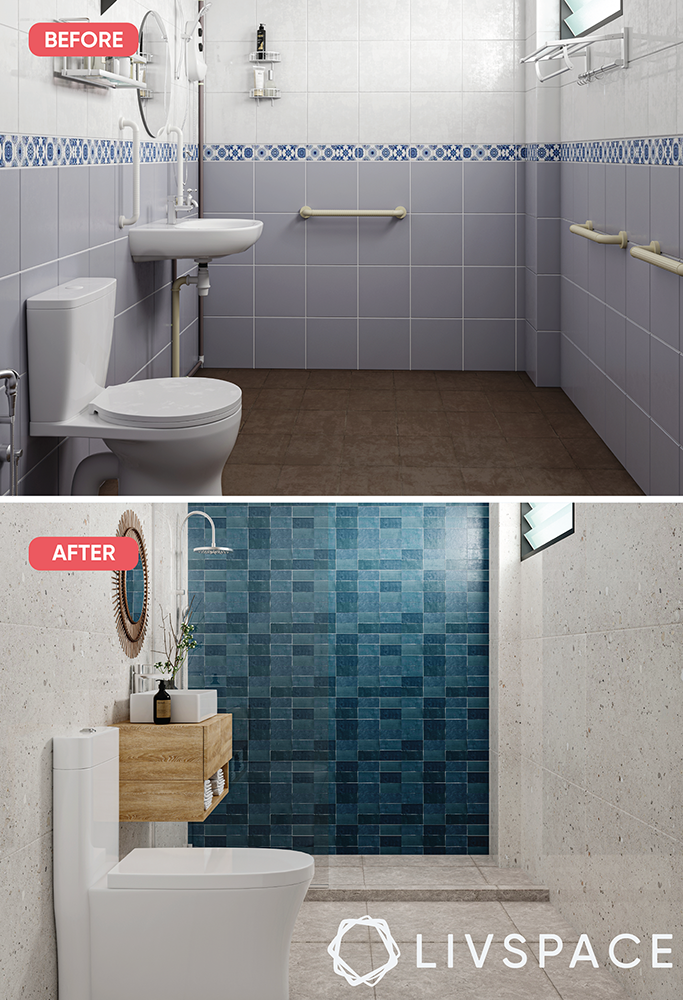 While you might feel that the before-renovation toilet looks okay-ish, it definitely lacks a much-required design touch. Adding that one highlight when you renovate a bathroom can upgrade your design. All we have done is replace the old sink with a wall-mounted vanity and added bright blue tiles to highlight the shower area here. This is all you need to do to change the look of your bathroom.
#4: Concealing pipes with smart design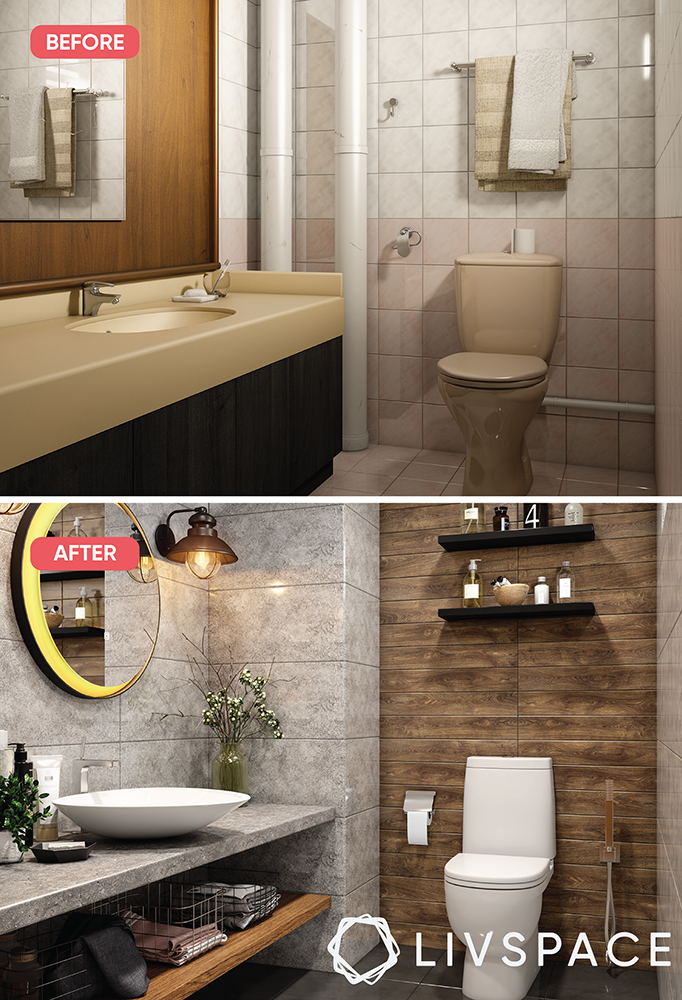 How often do you spot unsightly pipes in the bathroom of your flat? Everytime, right? This is a common concern with homeowners in Singapore but there is a workaround for this. Your designer can conceal or hide these pipes by adding wall columns that do not look awkward at all. Also, in a compact bathroom like this, we suggest you opt for a vanity with open shelves that do not make the space look cramped. Notice how we have added some extra wall ledges for toiletries and pendant lights on either side of the mirror.
Check out all about bathroom trends here: The A-Z of Bathroom Design and Trends That Are Hot This Year
#5: Sleek fixtures and a pop of colour to brighten it up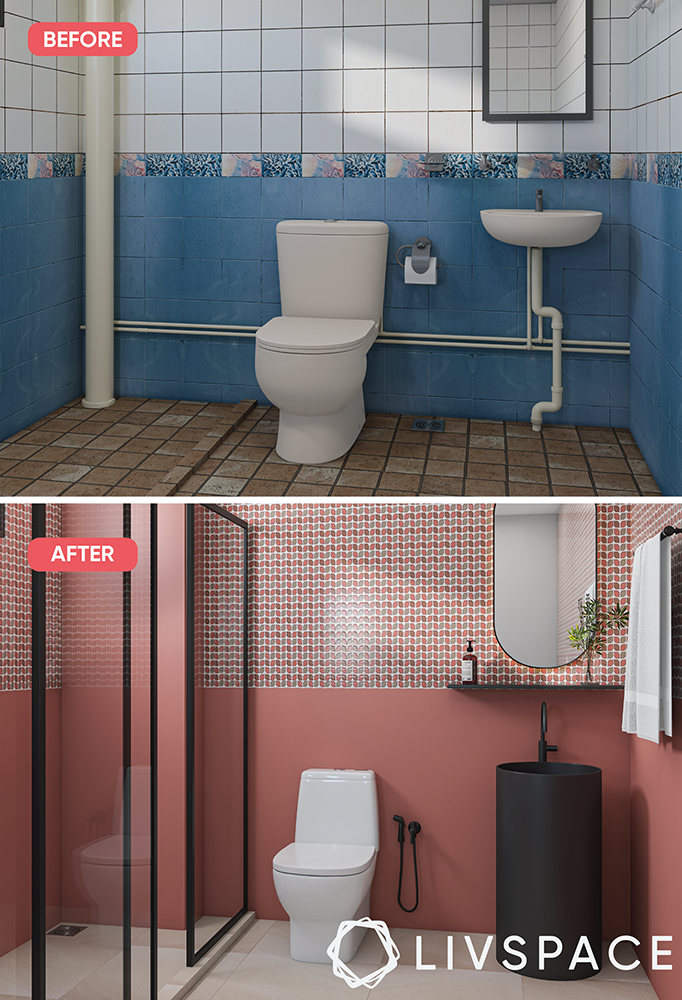 Let us introduce you to a huge trend in bathrooms this season — black fixtures. Yes, matte black bath fittings and fixtures are going to be big this year. So if you are not looking for a lot of storage, we suggest you opt for stylish and trendy fittings like the one we have used here. To complement that striking element, you can choose bright tiles for the walls and keep the rest of the look simple. Also, make sure you separate the shower area with a glass partition to keep the wet and dry areas demarcated.
#6: Adding a large mirror to make the space appear bigger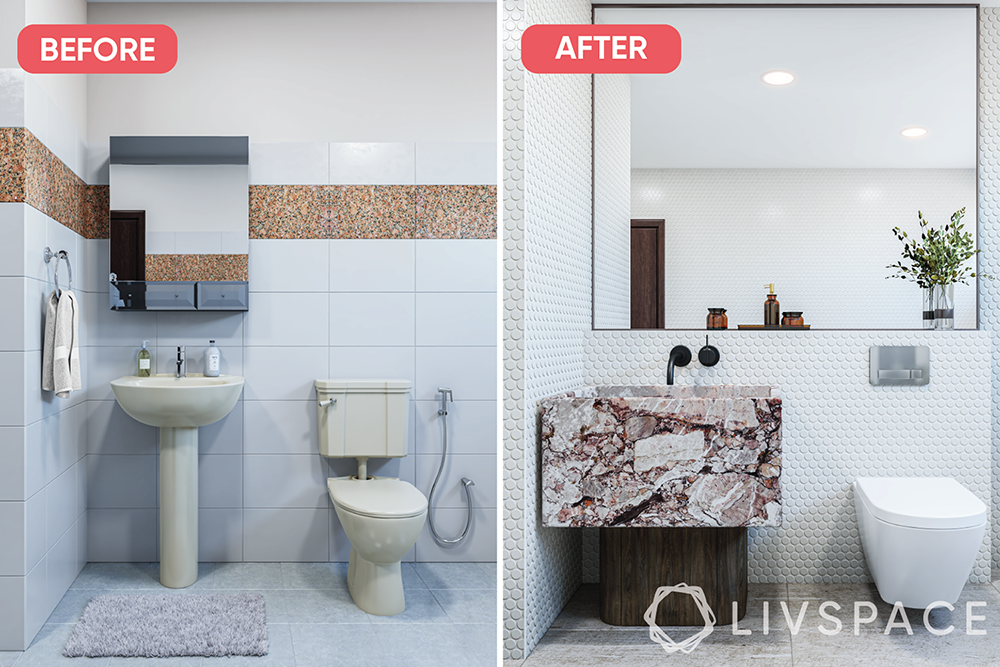 We often get questions about ways to make a compact space look bigger. When you renovate a bathroom, you will also come across this problem. While there are many ways to deal with it, a simple trick is to use mirrors and light colours, preferably white. Adding a big mirror on the wall as opposed to a smaller one will add considerable visual depth to your bathroom. Also, floating fixtures and trendy patterns can be added to make your bathroom look modern.
Here's How to Design a Bathroom That Stands the Test of Time
How to renovate a bathroom step by step?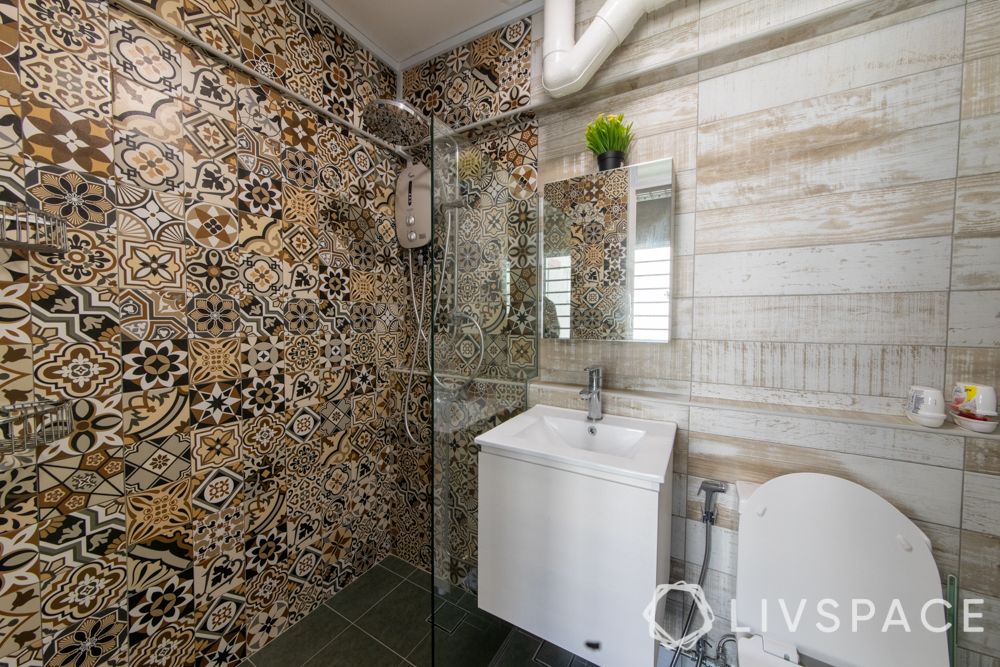 Here are 8 easy steps to a perfectly renovated bathroom:
Plan your bathroom renovation in advance
Think about your likes and dislikes while choosing a design
Remove the current fixtures
Install new plumbing fixtures
Install floor tiles
Work on the walls next
Install new cabinets and vanity
Add accessories and extra storage shelves, if needed
How to remodel a bathroom on a budget?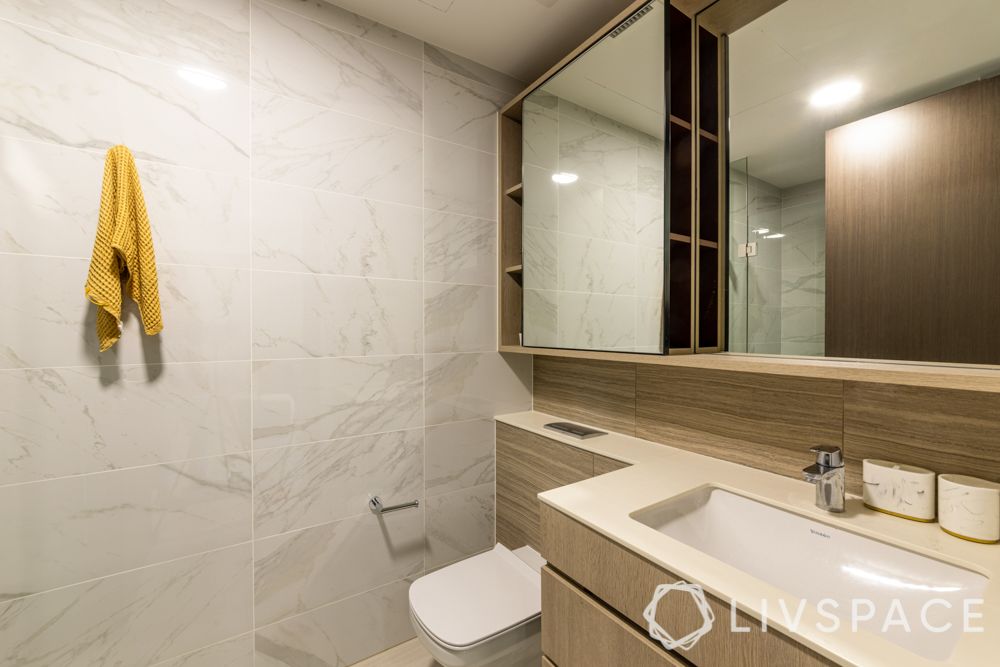 Everyone loves saving a few bucks on renovation, especially when it comes to bathrooms, which are in constant use. So how can you save money when you renovate a bathroom? Here are few tips:
Use low-cost lookalike materials
Refinish your bathtub instead of replacing it
Paint or polish your wooden floor
Refresh cabinets with new hardware
Install a prefabricated shower
Try some DIY ideas
Resist the urge to break down everything at once; do it in parts
Use extra material in other bathrooms
Check out this stunning family home:
How Can Livspace Help You?
We hope you found our ideas useful! If you want your home to be just as beautiful, then look no further. Book an online consultation with Livspace today. Delivering safe home interiors has been our No. 1 priority. Click here to find out how interiors are being delivered following all safety protocols.
Loved these transformations and ideas? We hope you did! If you are thinking how much money you should be spending on a toilet renovation, check this out: Toilet Renovation Cost: Breaking it Down and Tips to Get it Right.
Send in your comments and suggestions to editor.sg@livspace.com