Dining tables are the strongholds for dinners and get-togethers. Whether your family likes to have their Sunday meals together or you like to enjoy spending lazy Sundays at home with your partner, the dining table is a convenient spot where you can park yourselves for languid conversations. Thus, it is important to make the space as aesthetically pleasing and comfortable as possible. When it comes to decoration ideas for dining tables, we have quite a few. Skim through this list to discover some new decor for dining table ideas.
#1: Decide on the Dining Chair Designs
This is a no-brainer. You need dining chairs to complete your dinner table decor. Thus, it is important to pick from the plethora of dining chair designs available in the market.. Here are some of our picks for popular dining chair designs.
Pick Understated Wooden Chairs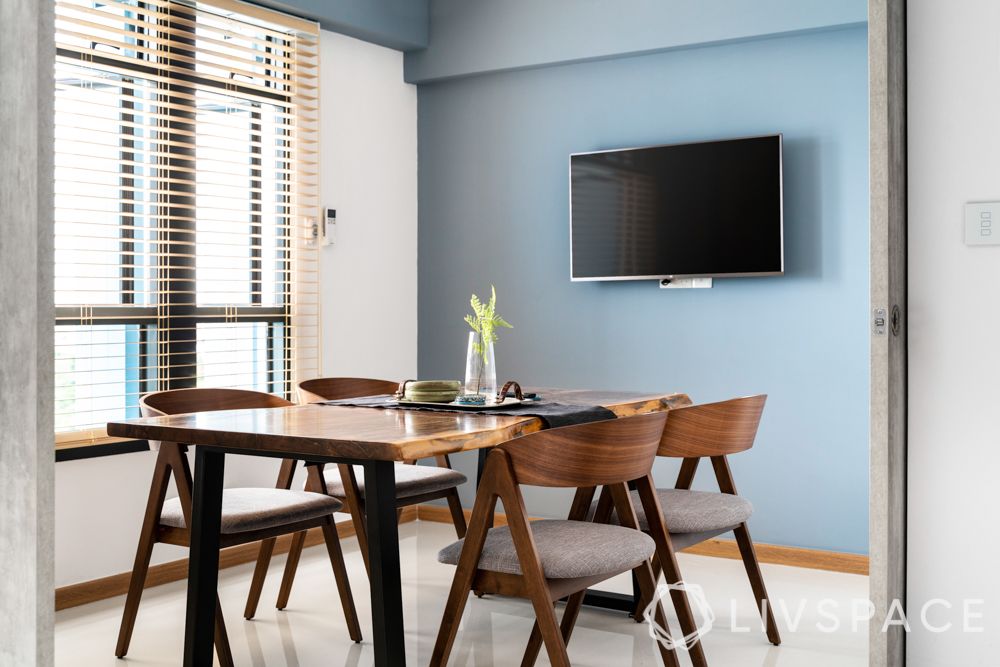 One of the favourites, wooden chairs are the go-to option when it comes to classic dining chair designs. They are sturdy, available in various sizes and lend an air of sophistication to your dining space.
Get Leather Chairs for Easy Maintenance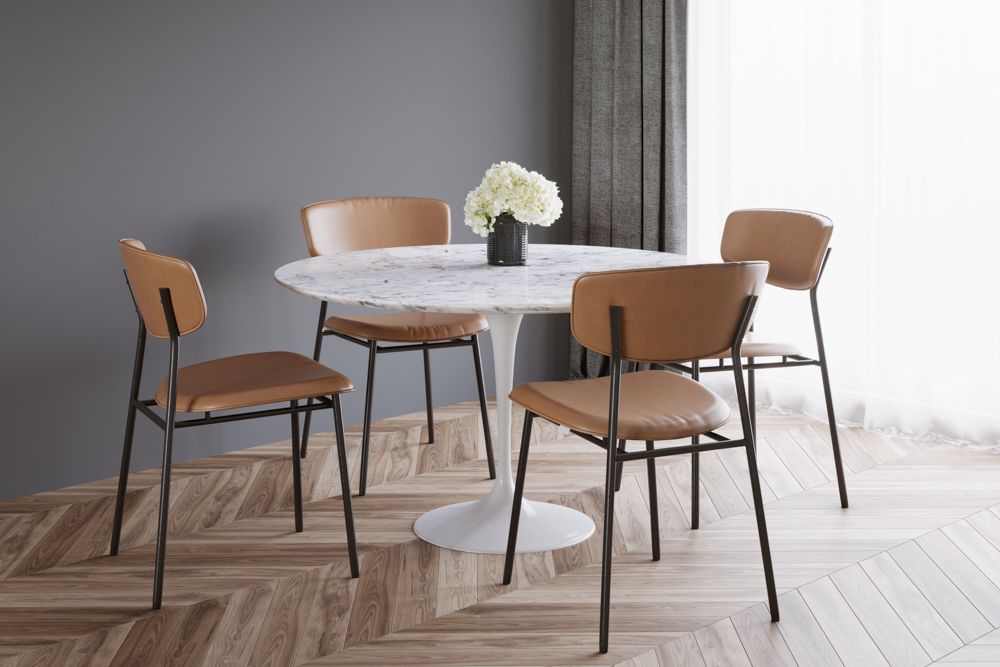 Leather chairs are also a preferred alternative  as they are easy to clean, irrespective of what you end up accidentally spilling on them. However, they may not be the most comfortable during humid days. On the upside, leather dining chair designs come in a range of colours.
Keep It Environmentally Friendly with Wicker Chairs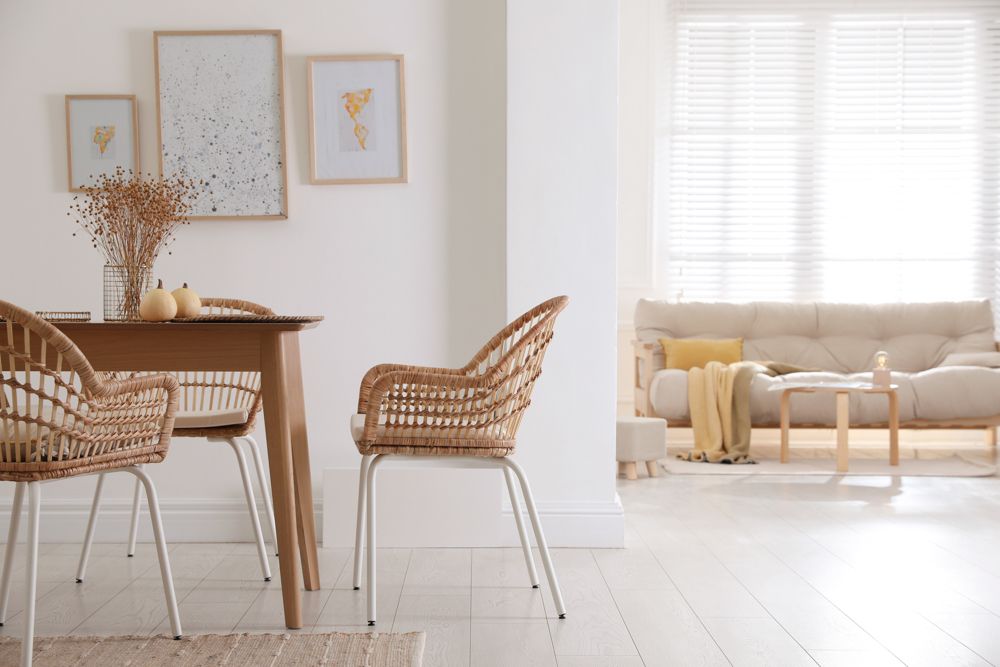 Wicker chairs are usually made of bamboo or reed, which makes them quite a sustainable option. They are also lightweight, stout and durable. If you are looking for economical dining chair designs, opt for wicker chairs.
#2: Get Comfy With a Cushion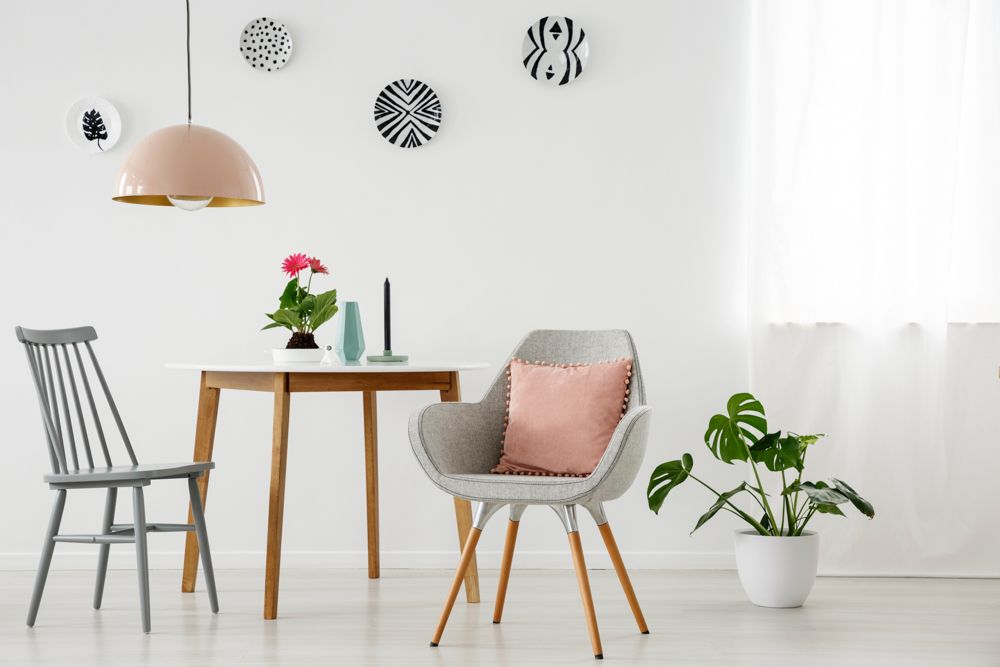 When it comes to decoration ideas for dining tables, a cushion is an instant favourite. It is one dinner table decor that not only makes for more comfortable seating, but can also be used to infuse more colour into your dining space.
#3: Turn to Wallpaper or Painting Ideas to Decorate a Dining Table Area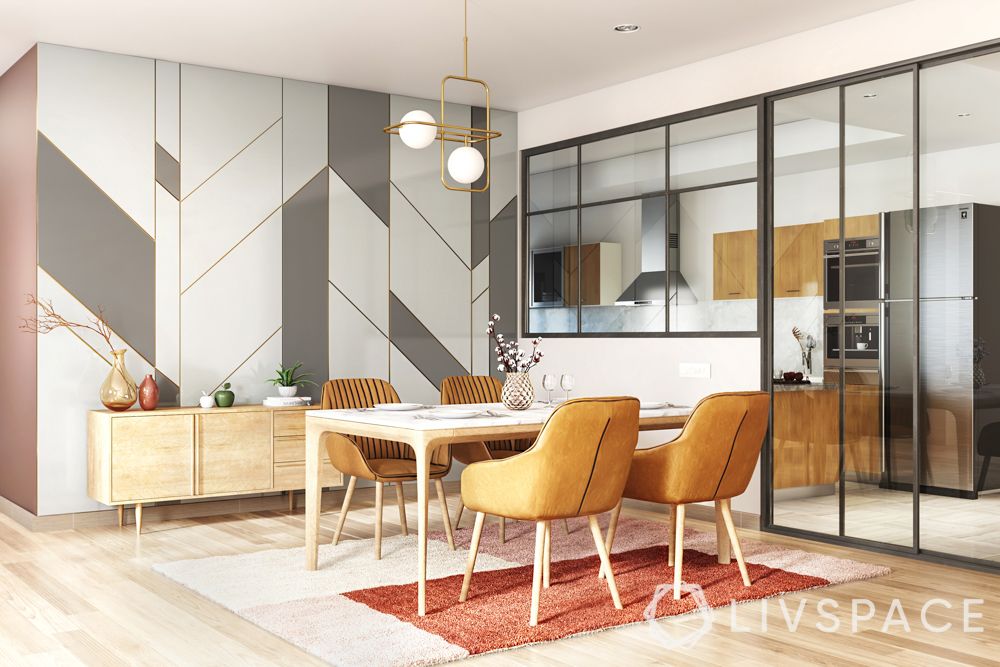 When it comes to decor for dining tables, the decoration ideas for dining table spaces are not just limited to the table. Take a look at the wall to give it a character of its own. In fact, the wall can be used as an feature wall that becomes the focal point of the dining space.
#4: Adorn Your Dinner Table with Unique Centrepieces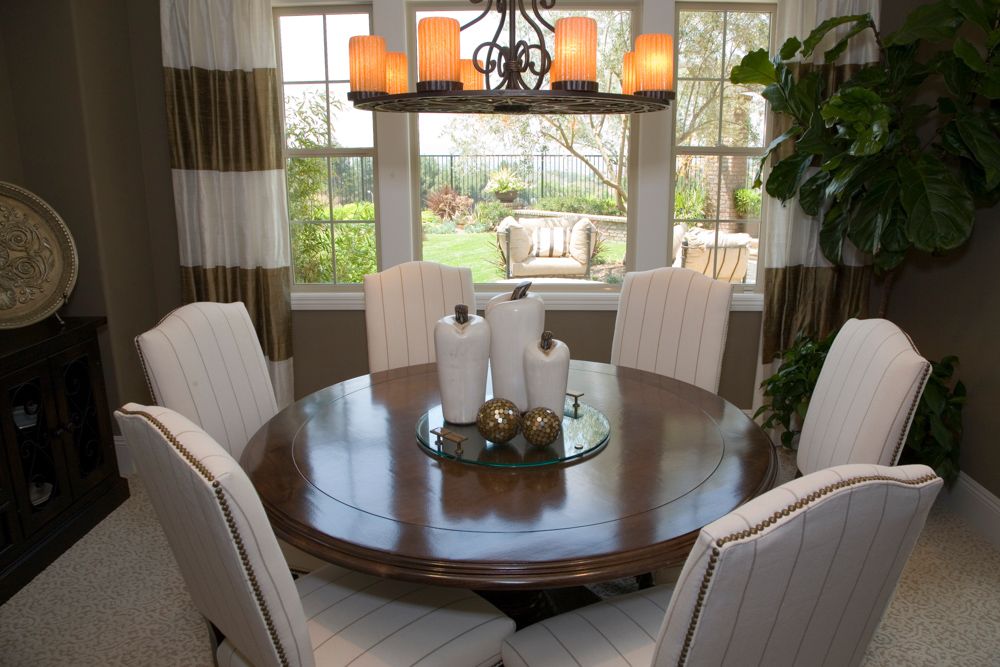 Centrepieces are usually the first things that come to mind when we talk about ideas to decorate a dining table. They are an easy way to add a unique character to your dining tables. Thus, pick a distinctive design that reflects your aesthetic and taste.
#5: Let the Tablecloth Serve as Decor for Dining Tables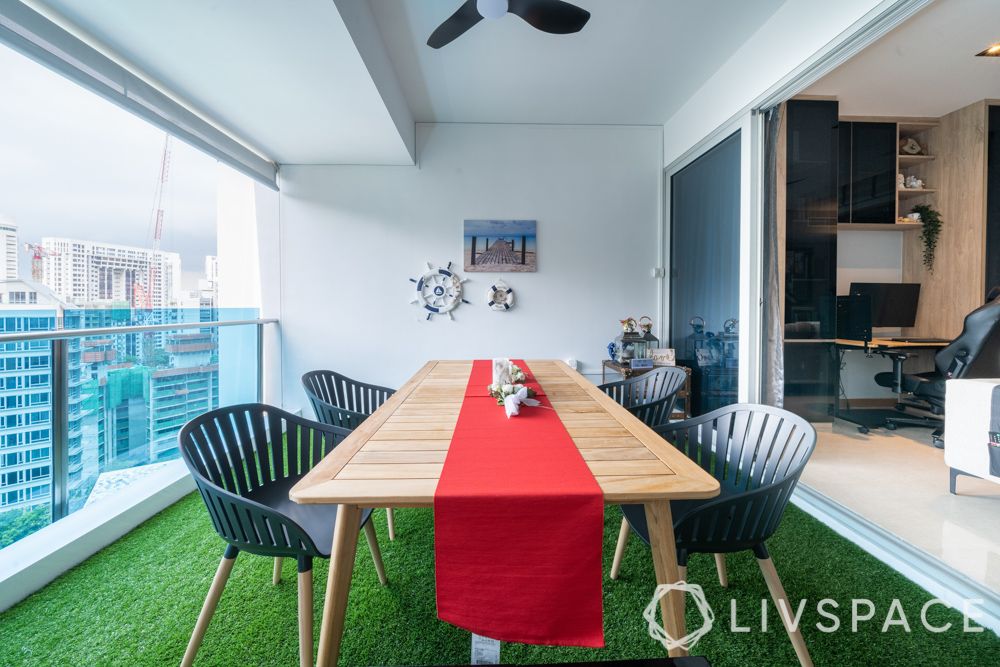 If you love table rugs, mats or runners, you can easily use them as one of the ideas to decorate a dining table. Pick one that is embroidered or has an eye-catching colour, and voila! You have dinner table decor that is functional and adds to the appeal of your dining room.
#6: Make Lighting Count for Your Decoration Ideas for Dining Table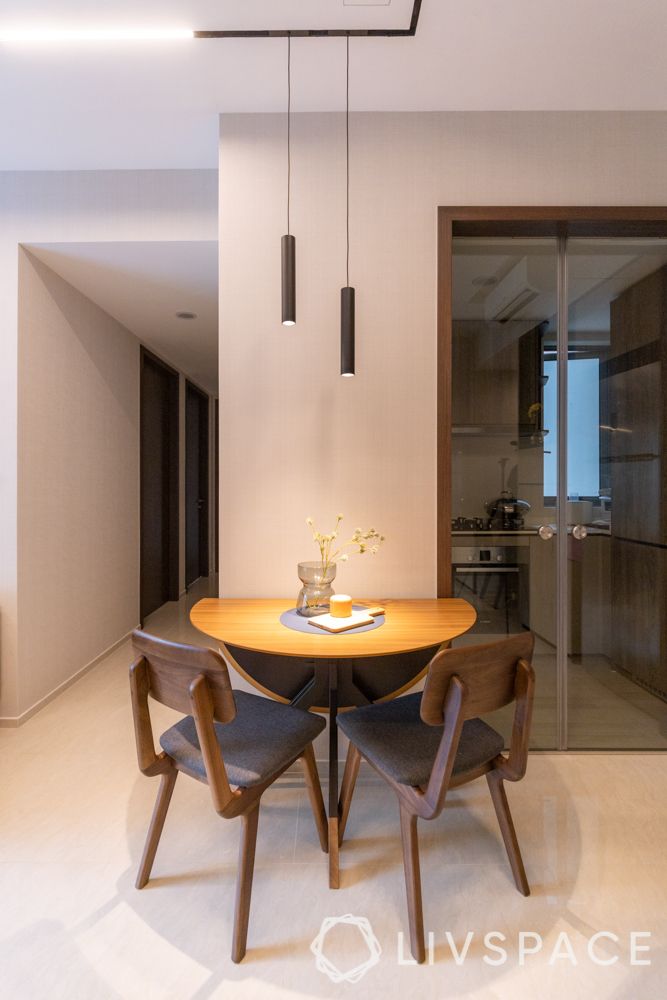 Lighting is a crucial element in dining rooms, so why not turn them into decorative features that will increase the aesthetic appeal of your dining area? Picking pendant lights is the best way to do so. They create focused lighting, which is ideal for dining rooms. Not to mention that they look pretty too!
#7: Consider Plants as Decor for Dining Table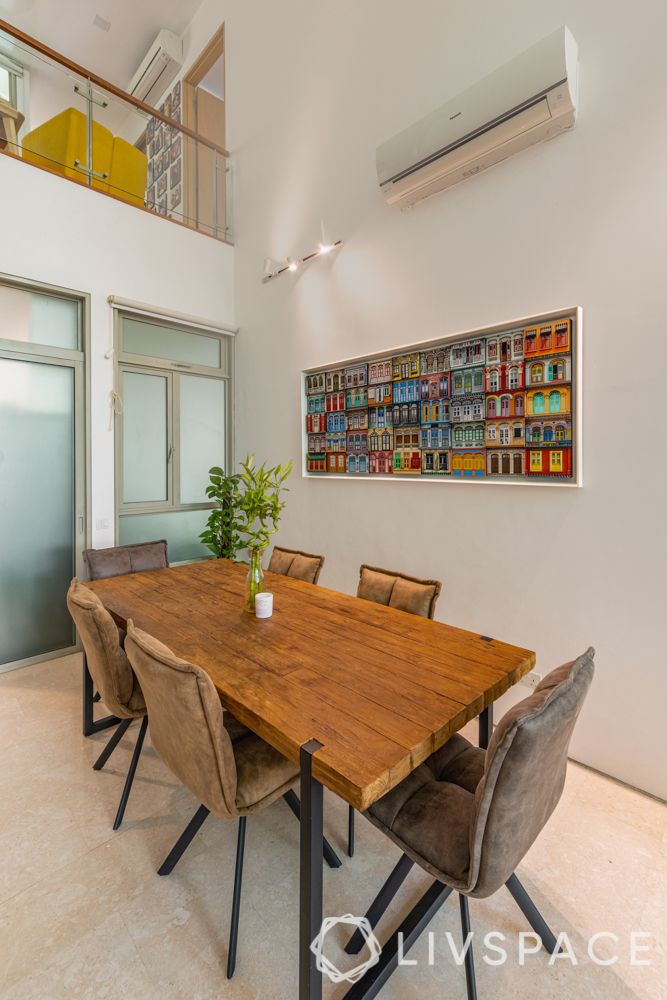 When looking for ideas to decorate a dining table, plants are an affordable and environment-friendly option. You can place one (or more!) potted plants on the table and it will be enough to add life to the space. Don't have green thumbs? Pick indoor plants that are easier to maintain!
#8: Indulge in Wall Art to Redeem Your Dining Area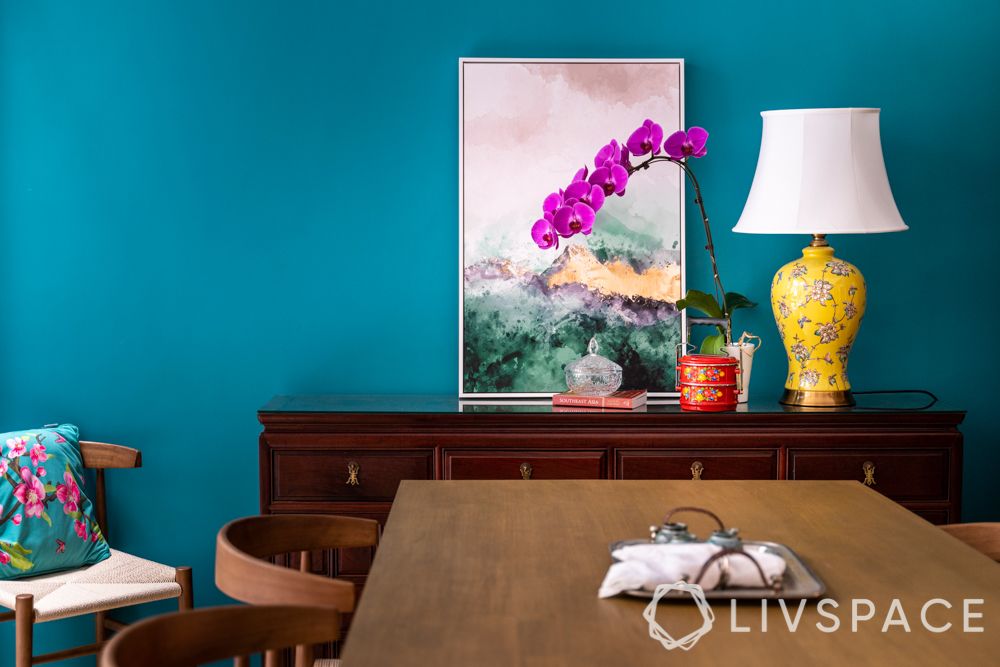 Using wall art to increase the aesthetic of your dining room is not a new idea. You can pick any type of art to go with your dining room aesthetic. In fact, you have the option to save or splurge when it comes to this decor for dining table idea.
#9: Go Monochrome on Decoration Ideas for Dining Tables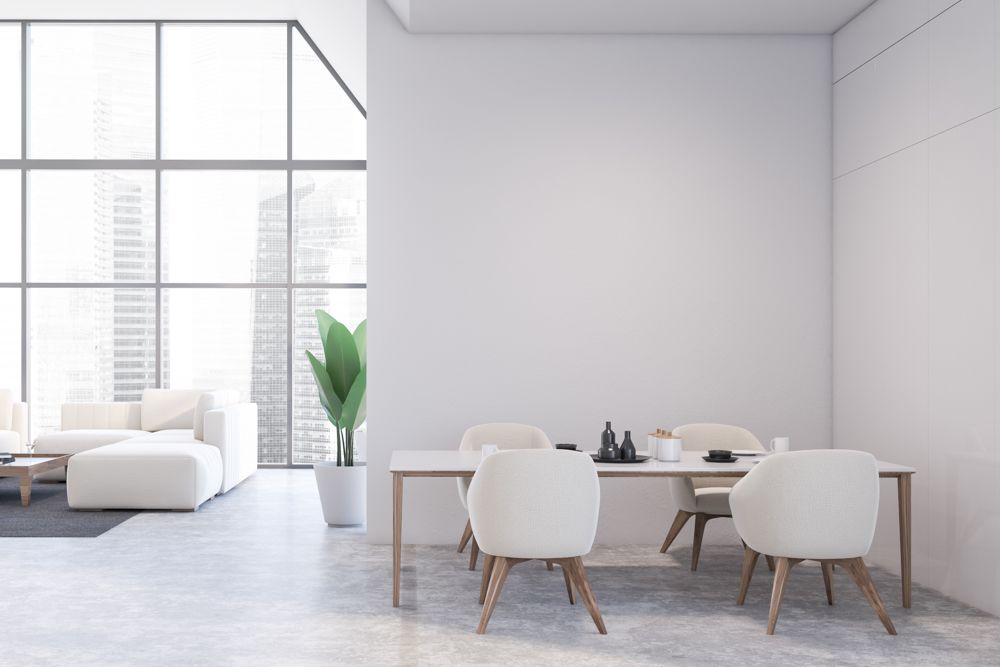 Going monochrome is a really effective idea for compact dining areas where using a lot of decor elements will make the space appear cluttered. It is therefore better to opt for a minimal look to make the decor for dining tables match the room. This creates the illusion of space and makes for a cohesive look.
#10: Factor in the Flooring in Your Dining Area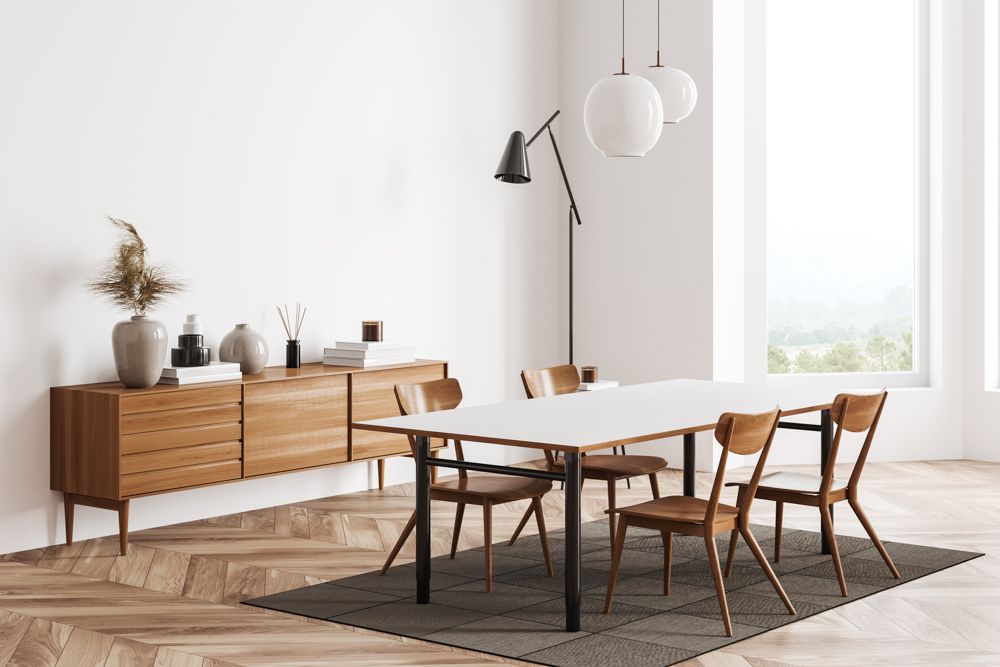 The floor can be your friend when it comes to enhancing your dining room. Pick a flooring option that stands out. For example, this dining area has striking panelled flooring. You can play with colours, patterns or material to draw attention to the floor in your dining area.
#11: Use Mirrors as Part of the Decor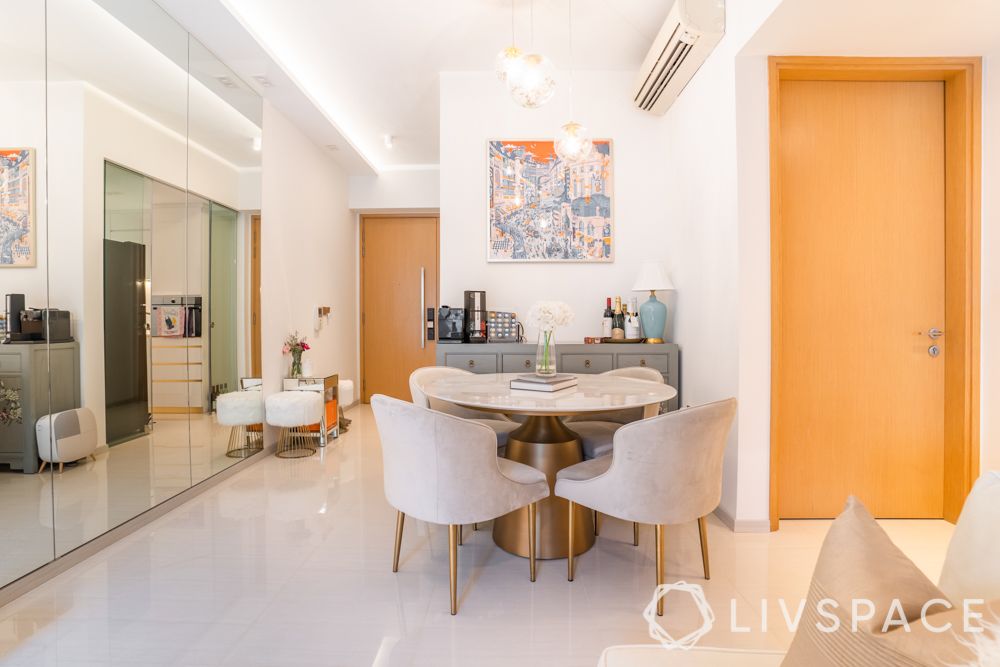 Mirrors are often considered a part of the bedroom or bathroom. However, they also serve as decoration ideas for dining tables. Usually recommended in compact spaces, this decor idea serves the functional purpose of creating the illusion of space. It also is a preferred option as it doesn't wear easily.
Decorating your dining space looks easy now, doesn't it? Read 10+ Things To Consider When Designing a Stunning Dining Room. Need an interior designer? Contact us!
How Can Livspace Help You?
Want stunning interiors? Livspace can help you! All you have to do is book an online consultation. If you prefer meeting in person, you can also find Livspace designers at the IKEA Damansara store. Hurry up and get quality home interiors from the best in the industry!