Wall painting and wall decor are some of the most tried and tested methods of designing our walls at home and both methods are slightly more cost-effective than using wallpapers for rooms at home. However, this is not always true when it comes to designing your walls as room wallpaper can be used in a variety of ways. The cost of wallpaper designs for rooms depends on the area of the room being covered and the labour required to install it.
To keep things budget-friendly, you can opt for purchasing an inexpensive room wallpaper and consider DIY-ing it yourself. Now that you have an idea of the installation methods you could go for, let's look at the various ways you can use wallpapers for rooms at home.
#1: Light Blue Wallpaper for the Foyer/Entryway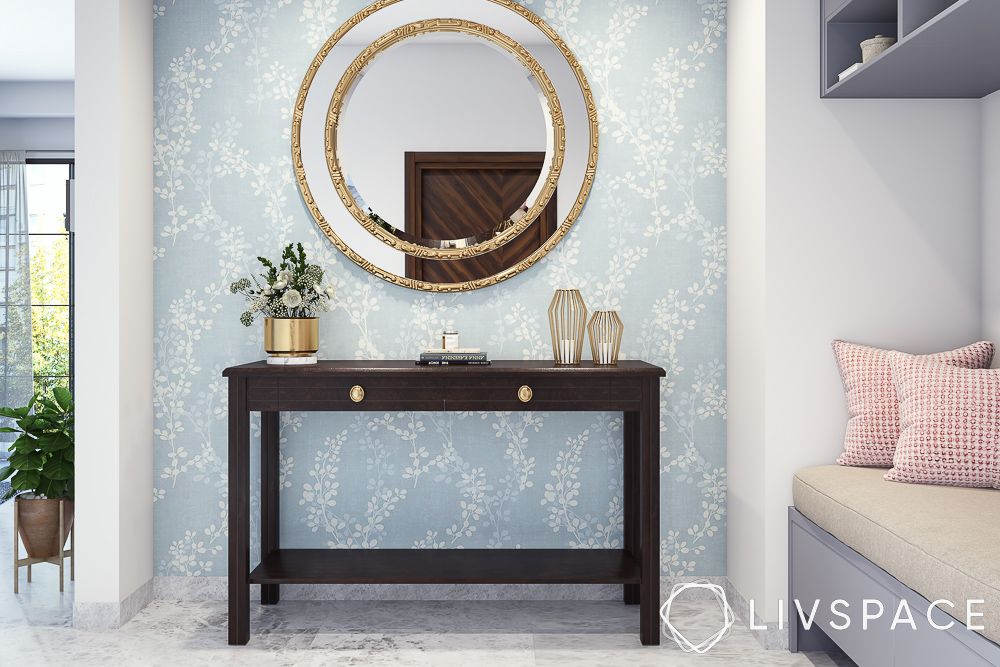 Among the many calming colours available on the spectrum, we have a tranquil light blue wallpaper that dresses this entryway. Notice how this room wallpaper acts as a feature wall for the entryway as it is confined to a single wall. It offers just the right amount of colour to complement the white interiors, making your room wallpaper subtle yet inviting.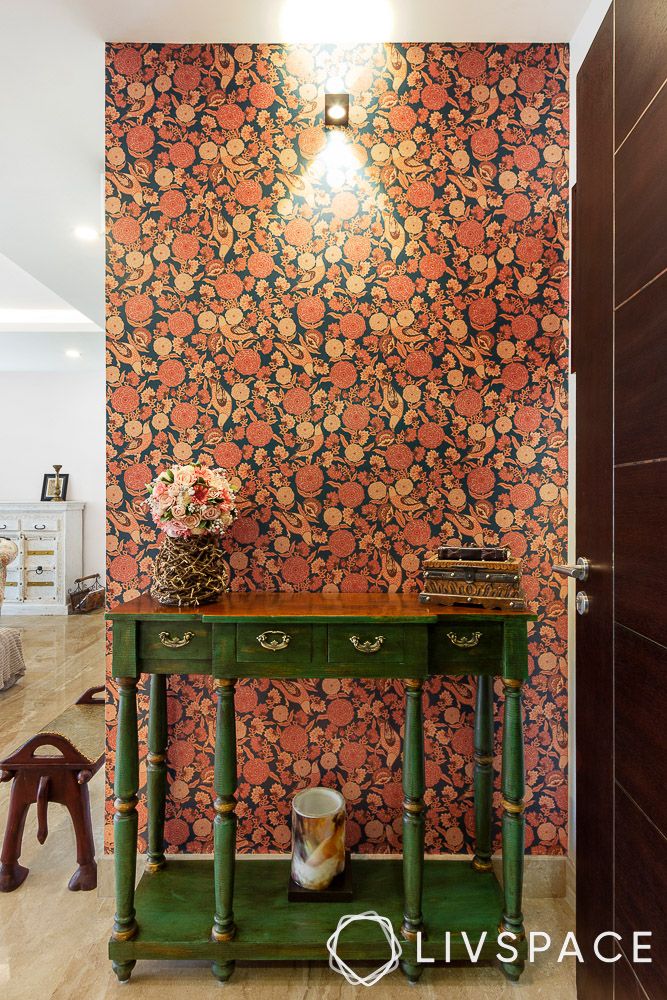 If light blue wallpaper doesn't match your interiors, maybe colourful wallpaper can do the trick. Depending on the style of your home, you can go for a room wallpaper that stands out in the best possible way.
For antique-style furniture, consider using colourful wallpaper in floral patterns to make a statement. This type of room wallpaper also works great for entryway design as it does not overpower the rest of your interiors.
#2: Wallpaper Designs for the Living Room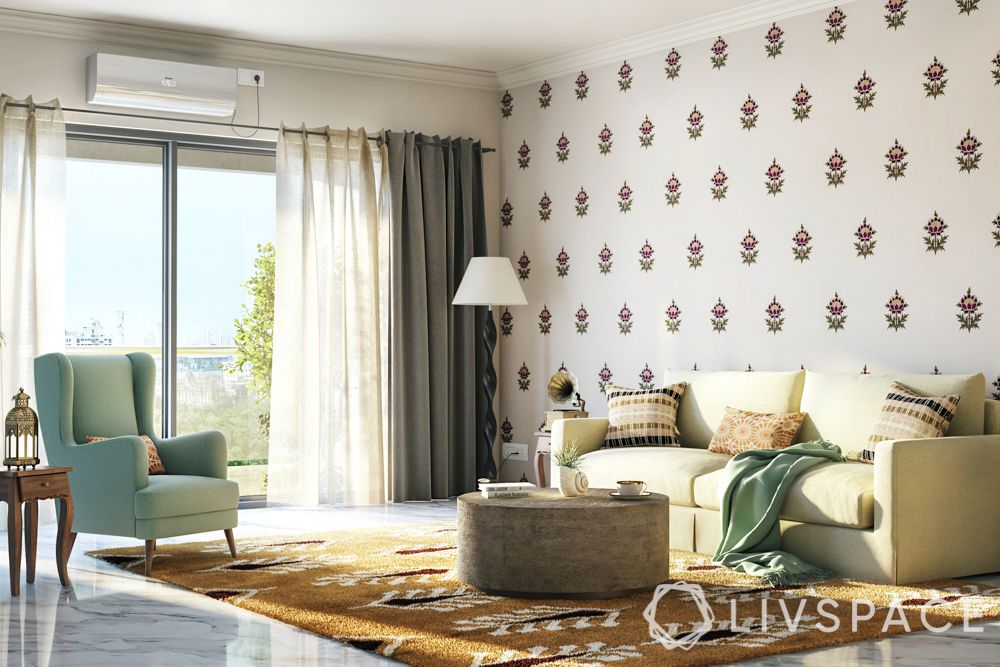 One of the most common placements for wallpaper designs for rooms is in the living room. When used as a feature wall, wallpaper designs for the living room can make quite the statement. While selecting your room wallpaper, try to make sure that the design adds cohesiveness to your space. Go for large, spaced-out block prints for a clutter-free room wallpaper design.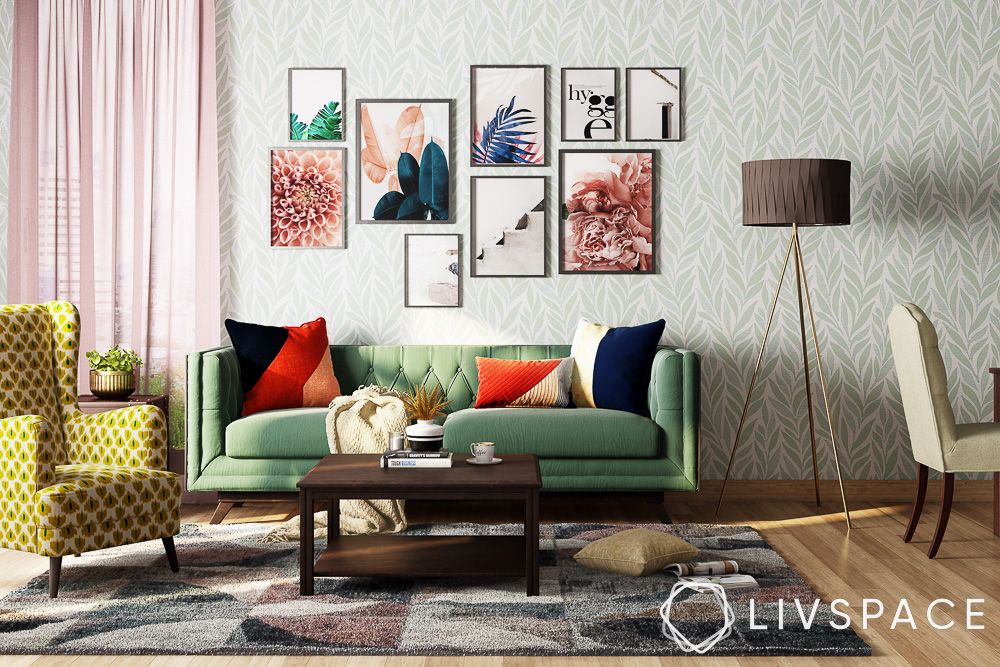 Besides using your wallpaper designs for the living room as a feature wall, you can also consider using it for the entire room. However, this type of room wallpaper application can turn out to be more expensive. For smaller rooms, stick to a light or neutral coloured living room wallpaper to make the space appear bigger.
Your Living Room Wallpaper Can Also Be Used as Ceiling Decoration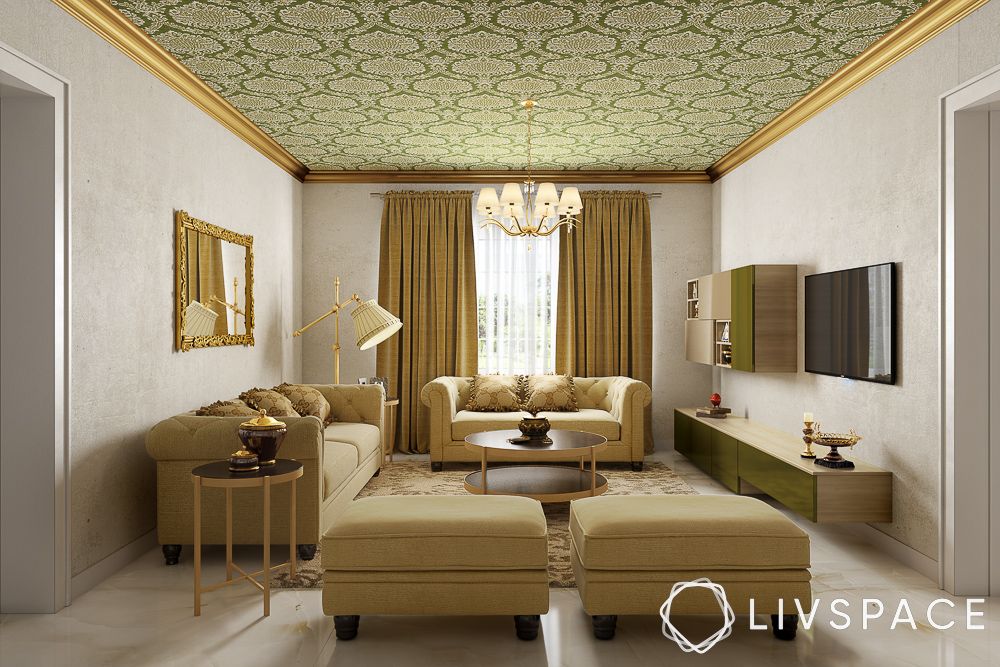 If you thought your living room wallpaper is only good for your walls, you'd be surprised to know it can also work as ceiling decor! Add a bit of drama to your space by draping your ceiling in fun wallpaper designs.
Such wallpaper designs for rooms work best when the rest of the interiors are kept plain or minimal. You can also choose complementary accents to match your room wallpaper to maintain continuity in the design.
#3: Wallpaper for the Hall and Dining Room
Do you have a reading nook in your hall that looks like it needs a bit of something to add character to the space? If yes, room wallpaper for the hall is one sure-fire way to bring in some interest to your hall design. By using wallpaper for the hall, you can effortlessly decorate a small space in a simple way.
However, be sure to choose a room wallpaper that complements the furniture and decor you have in this area. If not, you can end up with a space that looks cramped and cluttered.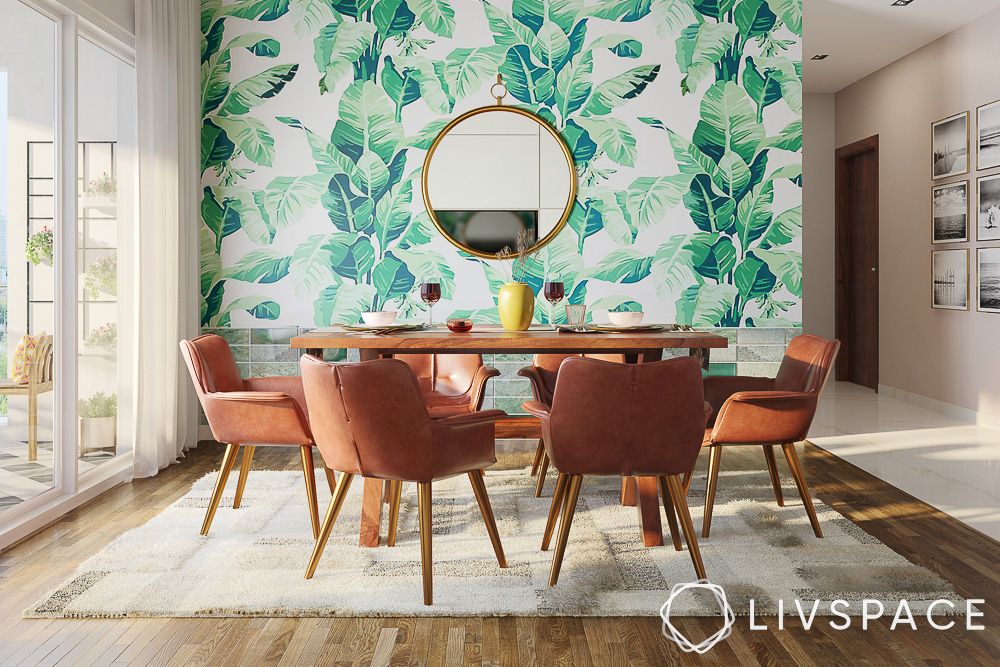 Everybody loves a good view while eating their meals, and what better way to do it than with room wallpaper for the dining area. If you don't have stunning green vistas to look at from your dining room window, go for a leaf-print room wallpaper. This can help bring in some greenery to your space while also working as fun wallpaper for the hall.
Also Read: 10+ Easy Decor for the Dining Table to Enhance Your Dining Space
#4: Wallpaper for the Kitchen Backsplash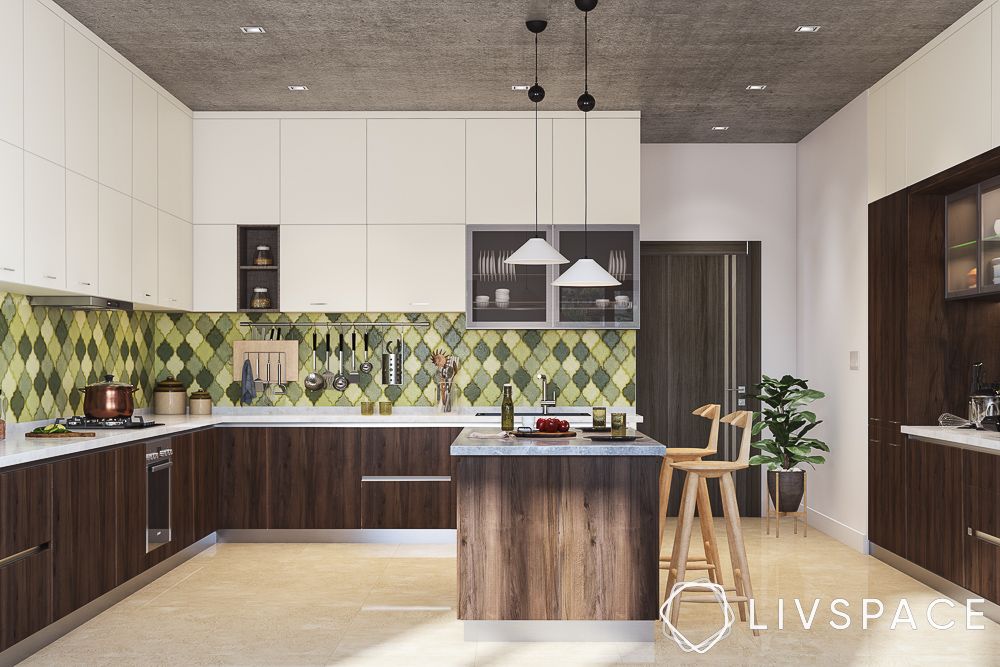 Walls are probably the first thing you think about when it comes to the placement of your room wallpaper. While this is one of the most common surfaces to install it on, you can also get creative with it.
In the case of your kitchen, you can use a wallpaper on the kitchen backsplash to break the monotony in design. What's more, using room wallpaper for the kitchen backsplash can also be relatively cheaper than using tiles.
#5: Wallpaper for Bedroom Interiors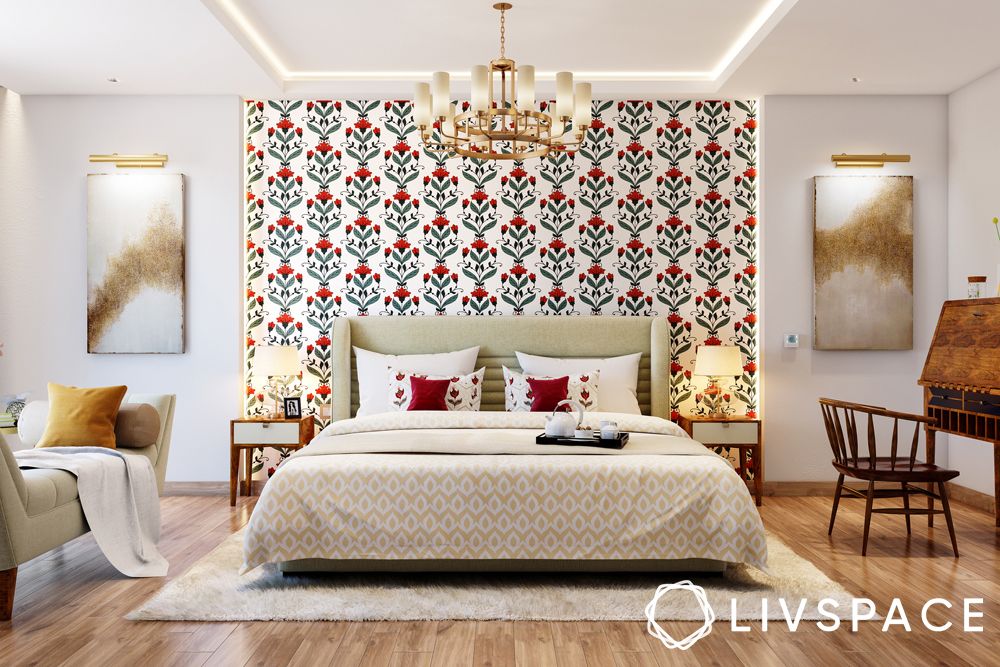 Bedrooms are undoubtedly one of the most popular spaces to use a room wallpaper as it can elevate the look and feel of your room instantly. You can even frame your wallpaper for the bedroom within existing wall niches for a feature wall design. To take it a step further, consider adding LED light strips along the wall to highlight your room wallpaper.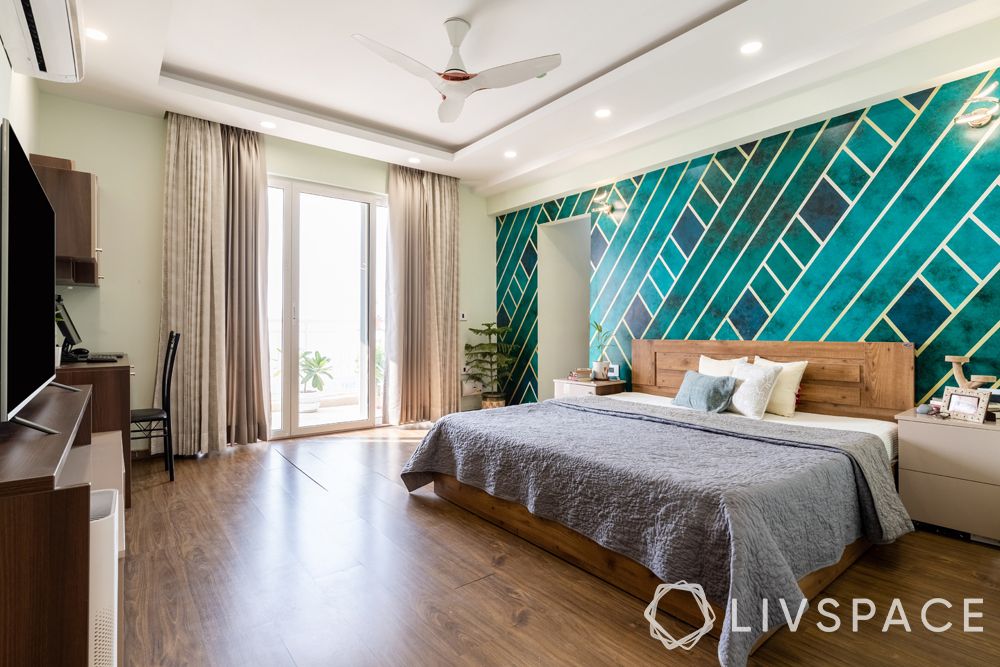 Also explore different colour combinations for your wallpaper for the bedroom like this home does. The pairing of teal green wallpaper with acacia flooring is a match like no other. For a similar look, opt for patterned room wallpaper to complement open spaces with minimal design.
#6: Decorate the Kids' Bedroom in Fun Wallpaper Prints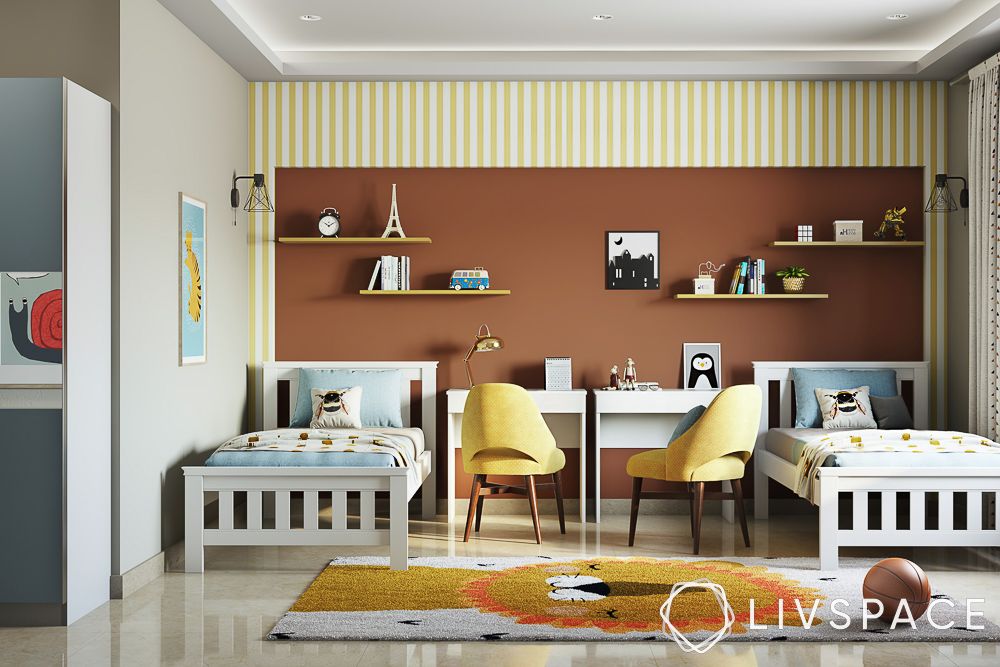 If you can't settle on a specific paint colour for the kid's room, maybe a fun room wallpaper is a good choice. You can either try something minimal that the child can grow into, or you can go for popular kids' themes for their room wallpaper.
#7: Room Wallpaper Can Be Used in Bathrooms Too!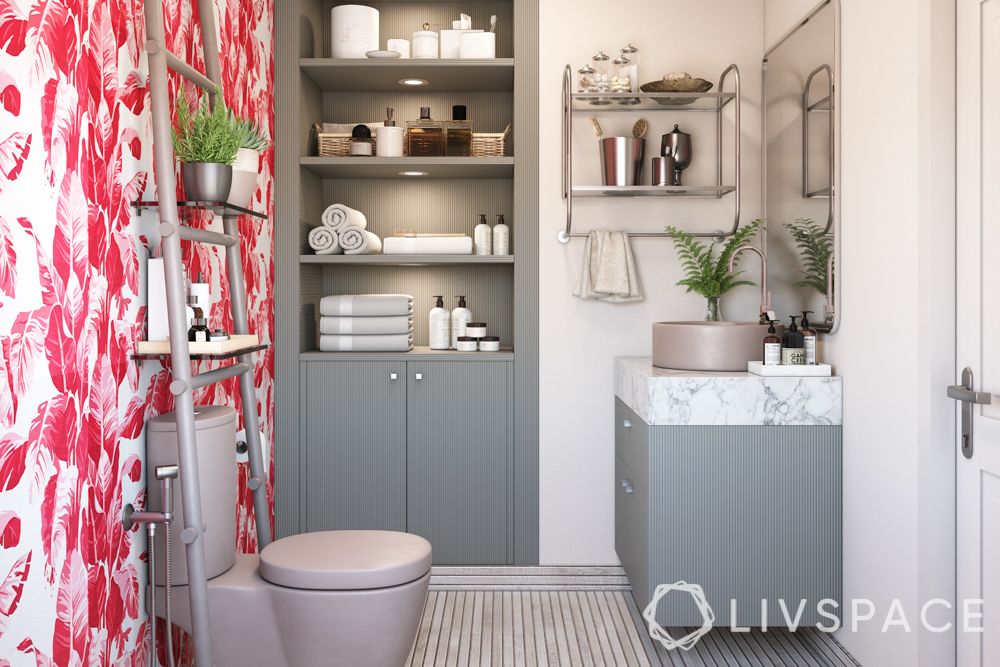 You might think that tiles are the only type of wall decor that suits bathrooms. While they do make a great fit, room wallpapers also stand to be strong contenders for it. Create a statement in your bathroom with a one-wall room wallpaper design in bright colours.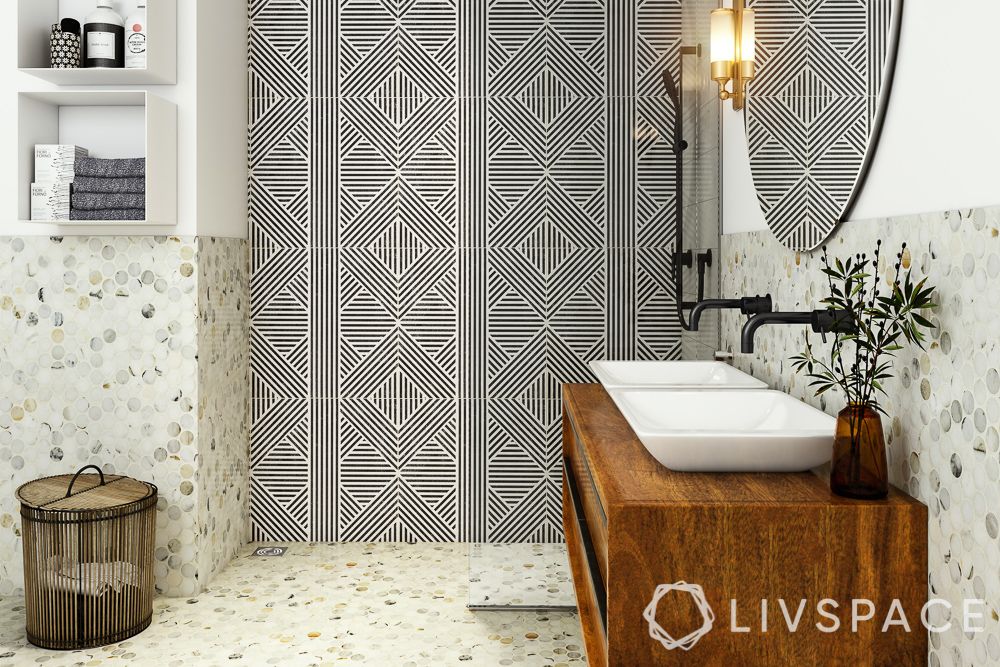 Similarly, you can also cut down on the cost of tiling your bathroom by opting for room wallpaper instead. However, be sure to only go for a moisture-resistant room wallpaper in wet areas. While room wallpaper is a relatively affordable option for the bathroom, it can also end up being a bit more high-maintenance than tiles.
Also Read: Don't Commit These 10+ Common Bathroom Design Mistakes in Your Home
How Can Livspace Help You?
Want stunning interiors? Livspace can help you! All you have to do is book an online consultation. If you prefer meeting in person, you can also find Livspace designers at the IKEA Damansara store. Hurry up and get quality home interiors from the best in the industry!