Kitchens are undoubtedly the heart of every home as families gather here to prepare food for the household. Since this is known to be a vital space in every home, it's important to ensure its design reaches maximum functionality. Similarly, one sure-fire way to improve the utility of your space is by using the right lighting for the kitchen.
You might already be familiar with the basic types of lighting for the kitchen but it's also good to know what other options are available in the market. Lighting options such as ambient lights, task lights and accent lights are often the most popular fixtures in use. So, read on to know how best you can optimise your kitchen by using these different types of lighting ideas for the kitchen.
#1: Ceiling Lights for the Kitchen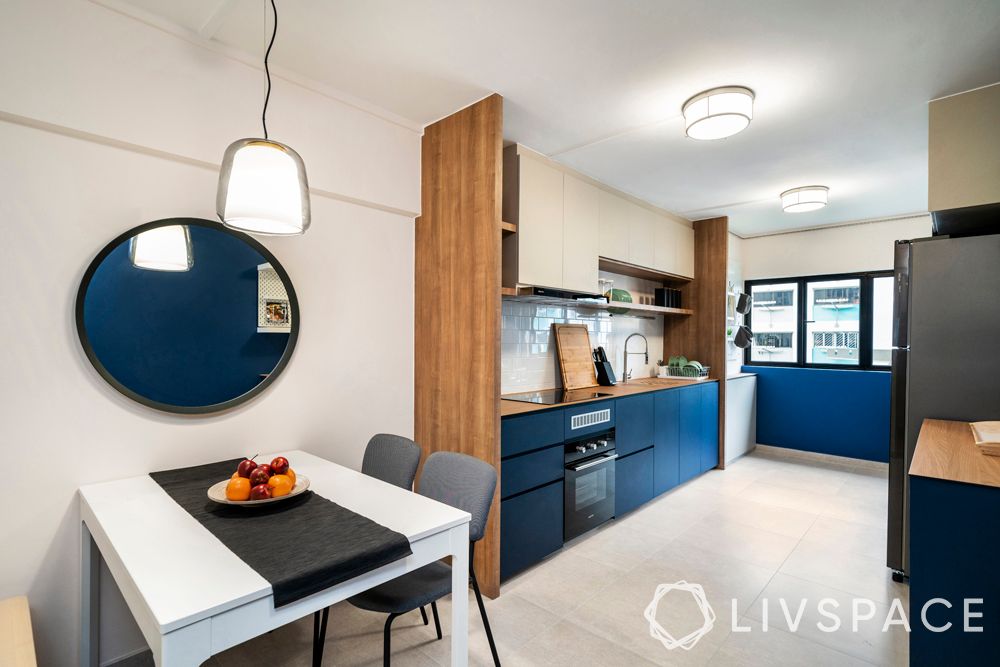 If you're someone who is big on creating the right ambience at home, ceiling lights are a must-have. This type of lighting for the kitchen is a popular choice for creating ambient light in your space.
For small- to medium-sized kitchens, ceiling lights work wonders in illuminating the space. Depending on the ambience you want to build, you can either go for white lights or warm ceiling lights for the kitchen.
Also read: 7 Kitchen Organisation Accessories You Need for a Clutter-Free Space
#2: Recessed Kitchen Lighting Ideas for Added Ambience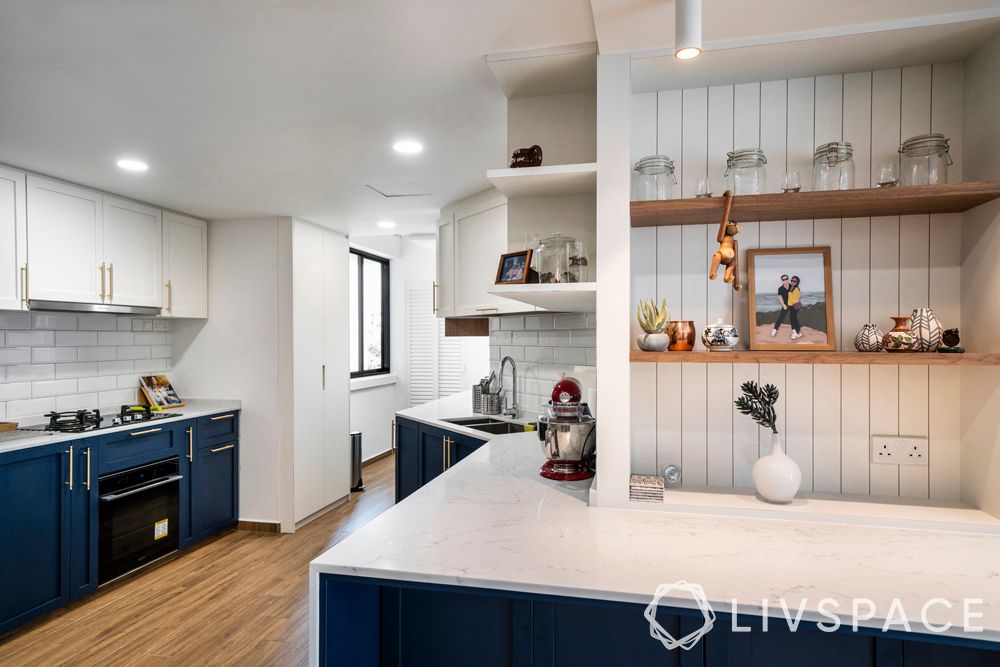 Another common type of ambient lighting for the kitchen are recessed lights. The reason recessed kitchen lighting ideas have gained popularity over the years is because of the sleek modern look they lend to the home. Since they are concealed within the ceiling, they offer a clean finish as opposed to hanging lights for the kitchen.
Depending on the size of your space, you can choose the number of recessed lights you would need as lighting for the kitchen. A medium-sized kitchen typically uses around three to six recessed lights for a well-lit space. Additionally, for best results, opt for white lights instead of warm lights for a brighter look.
#3: Track Lights for Kitchen Interiors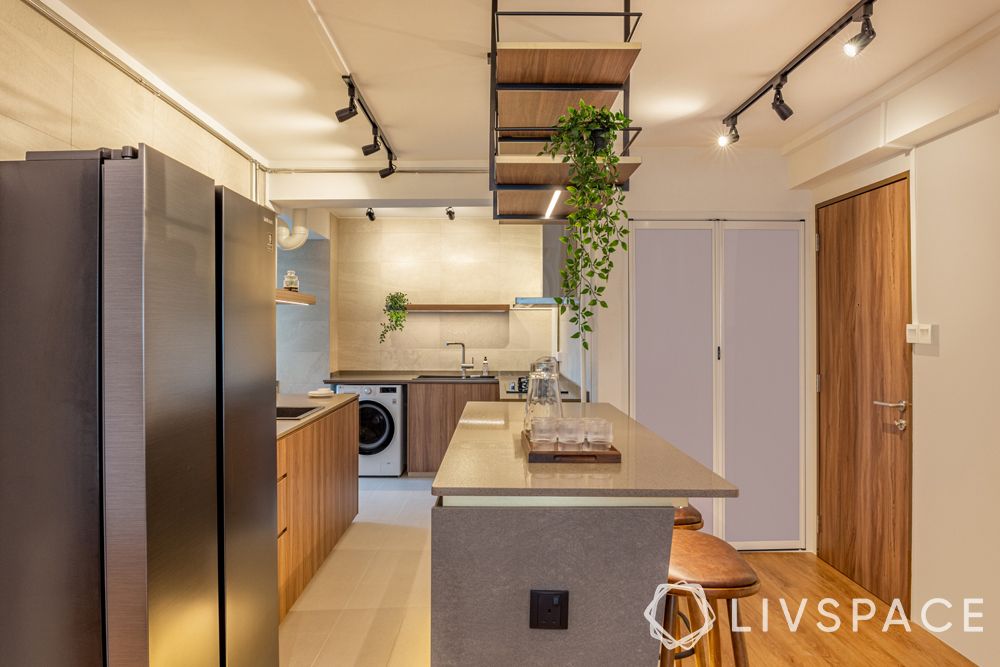 Similar to the sleek modern look of recessed kitchen lighting ideas, track lights are another stylish yet functional option to consider. In terms of lighting for the kitchen, track lights are typically laid in a straight row with spotlight-style bulbs placed along it.
Track lights for kitchen interiors work especially well as focus lights as you can easily position them to illuminate any dark corners. What's more, if you opt for LED track lights, it becomes an energy-efficient form of lighting.
#4: Under Cabinet Lights
Under cabinet lights are probably no new concept to most homeowners as it is one of the most convenient forms of lighting for the kitchen. Much like track lights, under cabinet lights also fall under the umbrella of task lights which help brighten up task areas such as countertops.
Under cabinet lights illuminate the nooks and crannies below your cabinets to help you better focus on your worktop. You can achieve this with simple LED light strips below your cabinets for a bright look. Another interesting thing to note about this type of lighting for the kitchen is the way these lights react to your backsplash and counters.
Try to pair warm lights with warm/neutral-coloured backsplashes and counters or cool lights with cool-toned colours for best results. Curious to know what type of backsplash you can use with your lighting ideas for the kitchen? Read 6 Popular Kitchen Tile Designs You Can Experiment With at Home for more details.
#5: Wall Mounted Kitchen Lights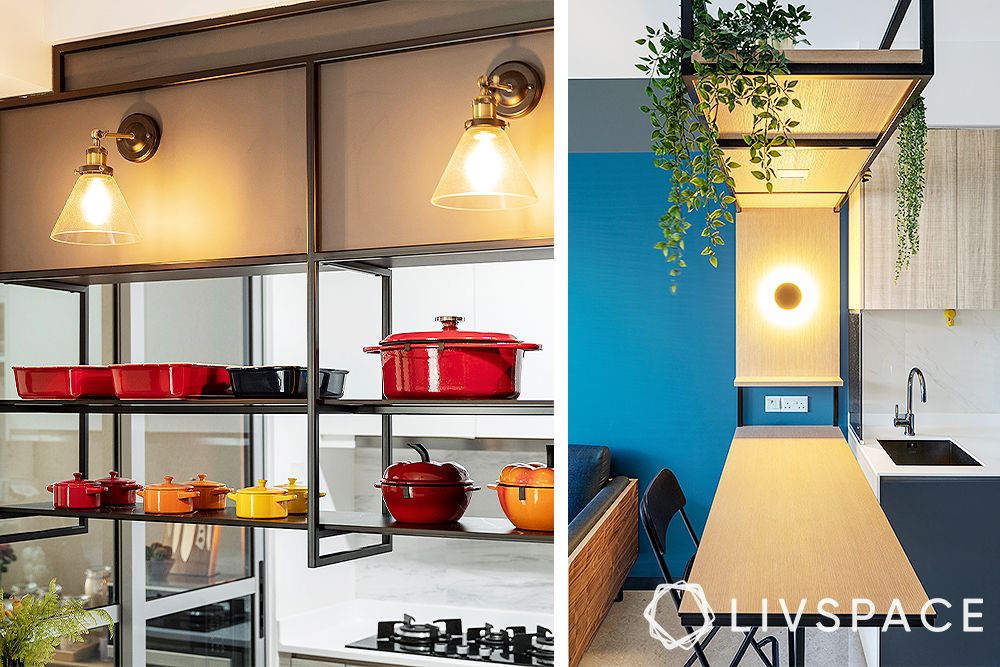 Wall mounted kitchen lights might not be the most commonly used type of lighting for the kitchen. However, these lights can be fairly handy depending on their placement. For areas that do not receive a lot of light, or require extra focus, you can consider installing wall mounted kitchen lights or sconce lights.
Besides illuminating your space in an ambient and focused way, kitchen wall lights can also help make a statement. Since sconces are often known to add a bit of contemporary magic to your interiors, try to match their design to the general style of your kitchen. Also consider opting for kitchen wall lights that offer warm lighting for a cosy look and feel.
#6: Pendant Lights for the Kitchen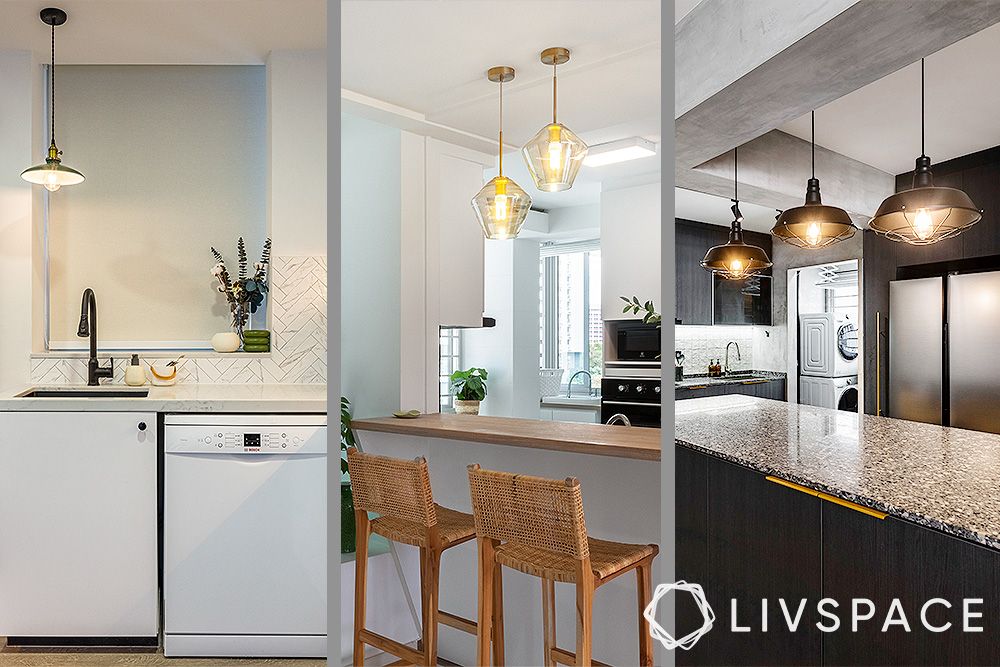 Hanging lights for the kitchen are a great way to anchor the space, especially in open-floor homes. If you have a kitchen island or an extended breakfast counter that you'd like to highlight, pendant lights are the way to go! Being the type of lighting for the kitchen that suspends from the ceiling, you can also use it as a statement installation for the kitchen.
These fixtures also come in a variety of designs and shapes that are sure to suit every style of interiors. However, it's also important to measure your pendant lights for the kitchen before installing them as you wouldn't want something obstructing your view.
Here's What Kitchen Lighting You Must Have in Your Space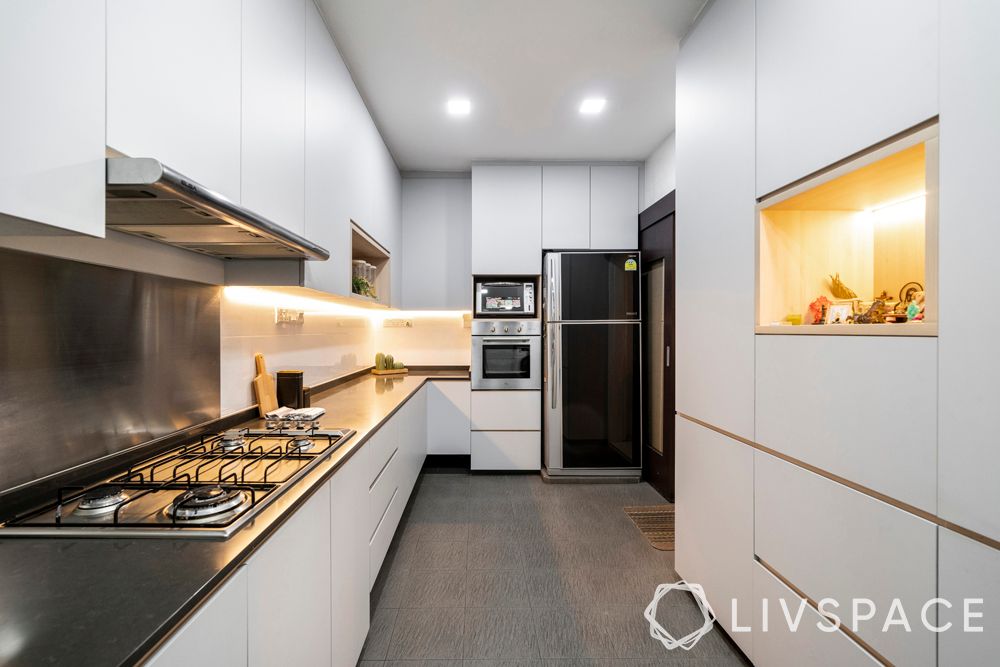 While each type of lighting for the kitchen comes with its own purpose, it's not necessary for you to have them all. If your kitchen already has a good flow of natural light streaming in, you might not have to infuse as many fixtures for day time use.
Kitchen lights that you most certainly should make use of in your space would be a mix of ambient lights such as ceiling or recessed lights. If your kitchen houses an island, a pendant light is the best way to illuminate the area above it. Similarly, consider using kitchen cabinet lights as alternative lighting ideas for the kitchen. Add Kitchen cabinet lights inside your cabinetry for better visibility.
How Can Livspace Help You?
We hope you found these lighting ideas for the kitchen informative! For more kitchen-related design inspiration, check out 7 Popular Finishes and Materials for Kitchen Cabinets You Need to Know About. If you're looking for stunning interiors with the best of design, Livspace can help you. All you have to do is book an online consultation.
Prefer meeting in person? We've got you covered. You can also find Livspace designers at the IKEA Damansara store. Hurry up and get quality home interiors from the best in the industry!