Most homeowners, after living over a year at home because of the pandemic-induced lockdowns and precautions, have been forced to take stock of their interior style. Making their homes personal and easily manageable has been a goal and a challenge at the same time. This is why homeowners seem to have been bitten by the minimalist trend. While minimalism has been steadily gaining popularity, this year, the need for creating a zen space along with low-maintenance interiors has triggered further interest in this design aesthetic. So, we decided to help you out in putting together a minimalist living room in your home.
What is Minimalism?
Minimalism is all about doing more with less. Minimalist interior design urges homeowners and interior designers to keep the decor and design of their home simple and basic. That doesn't mean depriving the home of vibrant character and elegant design but functionality takes centre stage over grandeur. Minimalist interiors take on a clean, neat and soothing look. From multifunctional furniture to a neutral colour palette, the home is designed to be subtle and understated while still being well-designed. Especially in small-sized HDBs, this trend is considered the best design style to go for.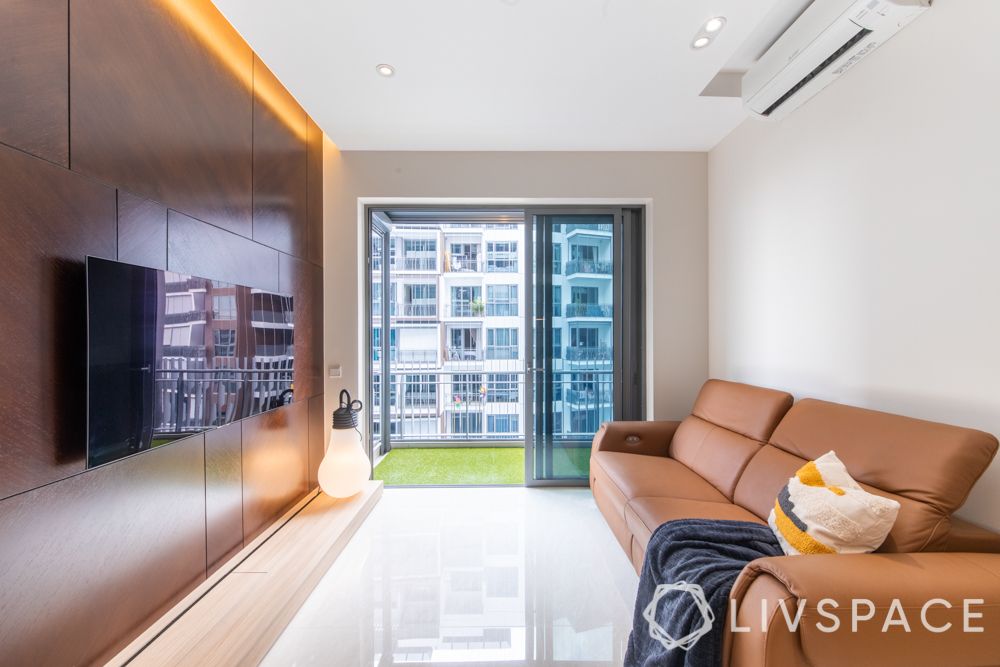 In this fast-paced life, the need to reduce chaos—at least at home—is of the utmost importance. A minimalist living room design is meant to reduce stress, be low maintenance and be all about creating a personal sanctuary, a place where you can relax and unwind after an exhausting day of work.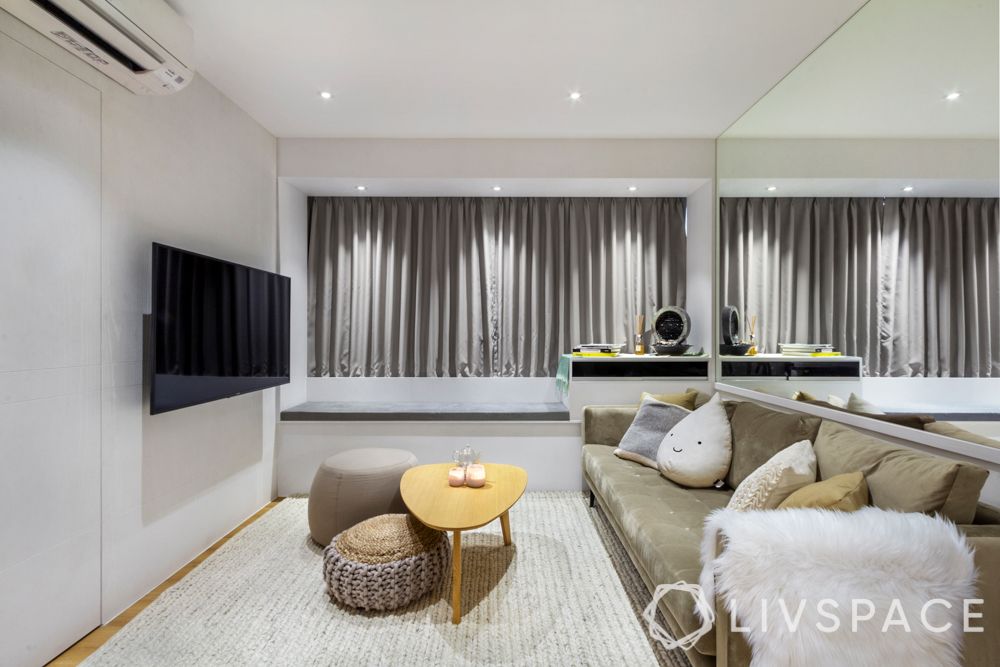 Decorating a Minimalist Living Room
Minimalist living room ideas revolve mostly around creating a soothing home free from chaos and clutter. Here are some tips and ideas to get that look for your living room:
#1: Create a Clutter-Free Zone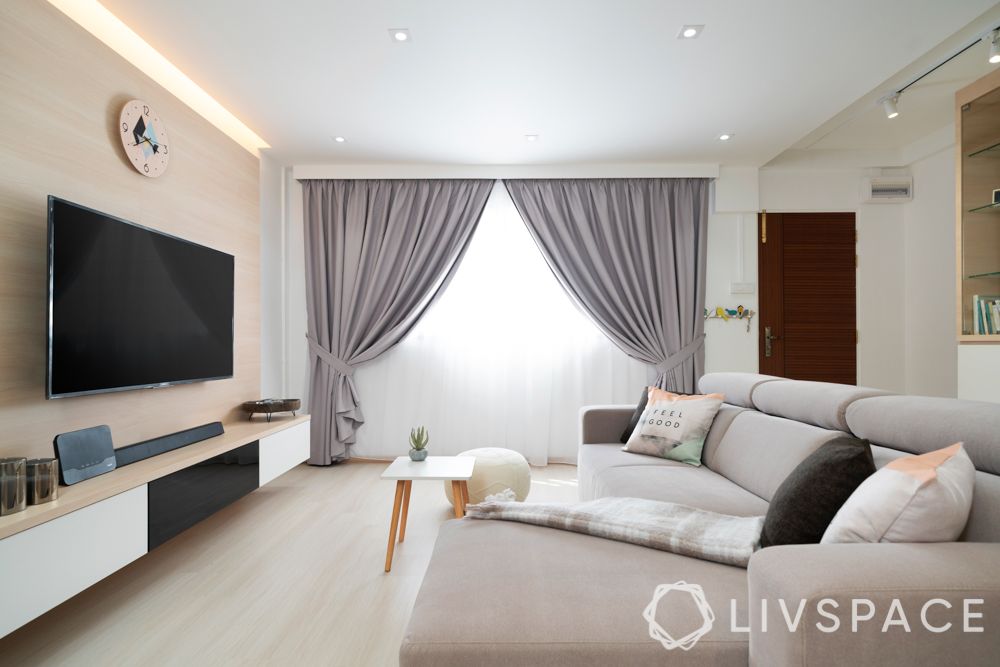 Most of us are hoarders. We can't help but collect knick-knacks and we loathe to part ways with things, even if they are not used at home! Either we're emotionally attached to them or simply think that they would be used in the future. That is the exact opposite of what modern minimalism calls for: decluttering your home as often as possible. If you're a regular on Clubhouse, the audio-based social platform, there are rooms scheduled every week that are meant to set aside time for decluttering the home. Some even find the experience therapeutic!
#2: Personalise Your Minimalist Living Room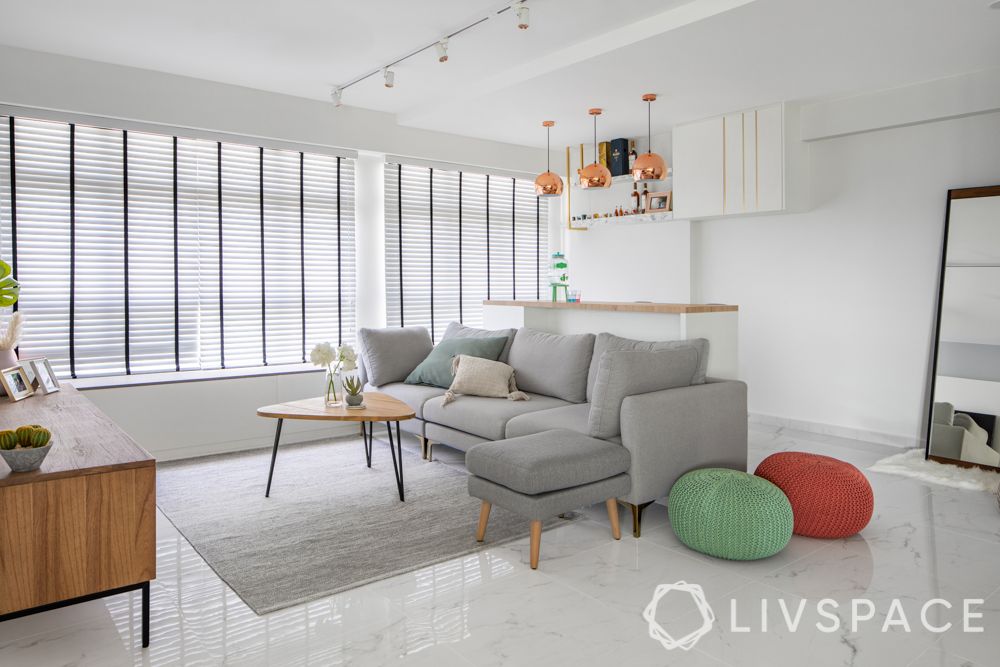 Many associate a minimalist interior design with cold, clinical looks. In some cases, they're not wrong. When you design a minimalist living room in an apartment, ensure you give it a personal touch. It could be the colours you like, a warm seating area or even handmade decor items that give a sneak peek into your personality. Minimalist homes don't have to be completely devoid of colour and charm. With the help of a designer, you can pull this off with ease.
#3: Choose a Minimalist Sofa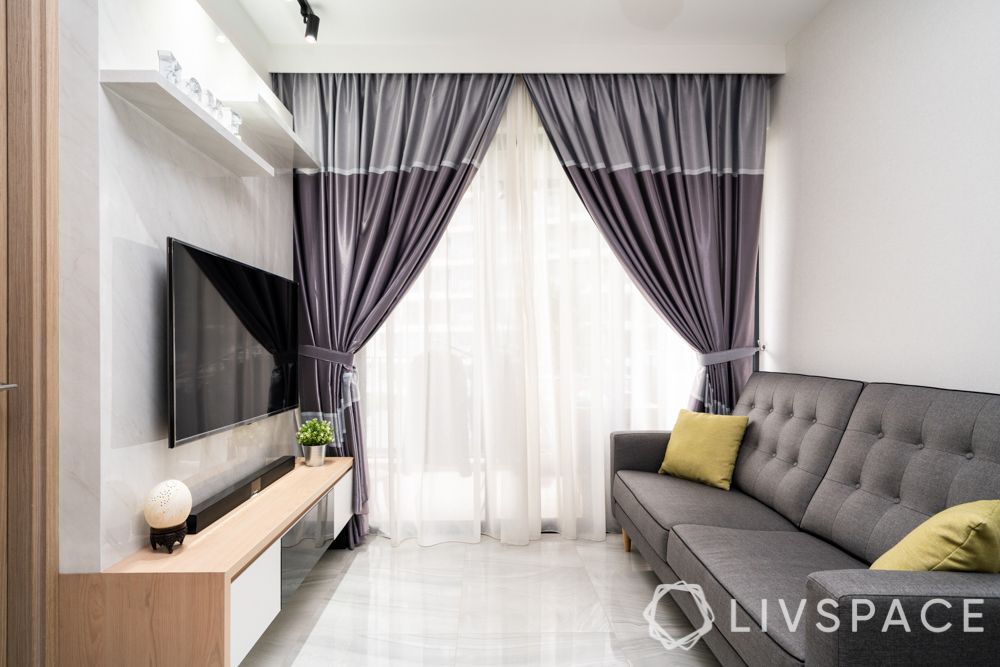 A sofa counts as the biggest furniture piece in your living room. The bulk of the design definitely takes over the space. While creating a minimalist living room, ensure you go for the right colours—neutrals, pastels, light-coloured variants. This not just balances the look but also gives you the chance to build on the colour palette. Also, the sofa should be low maintenance to reduce your cleaning burdens. However, you can get creative with the textures and materials, from tufted cushions to comfort levels.
#4: Go with a Neutral Colour Palette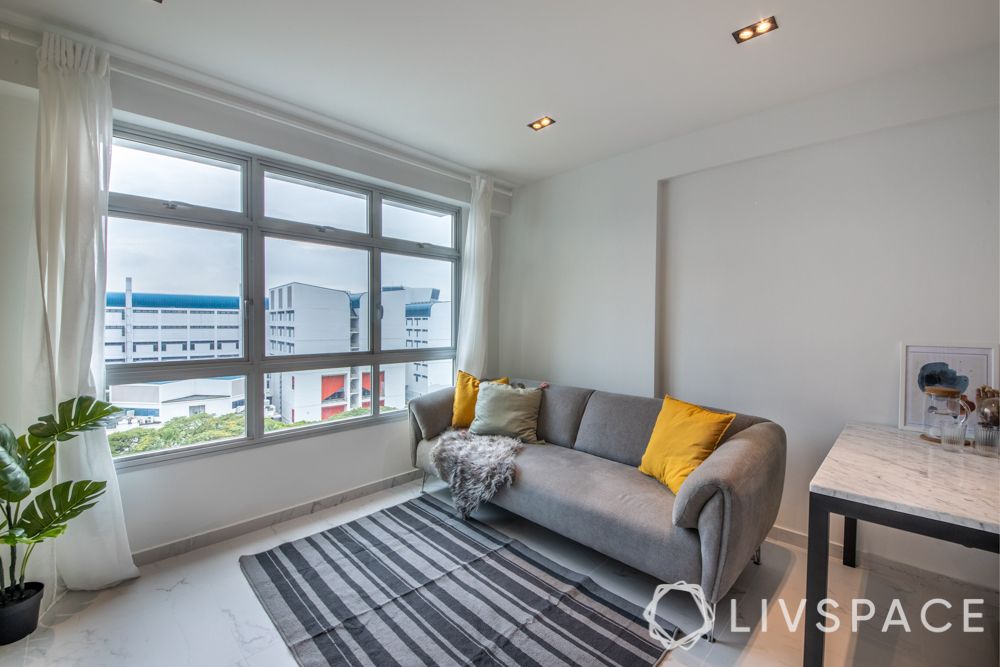 Minimalist living rooms are easy on the eyes. Neutral colours such as white, grey, beige and more in this spectrum are used while picking out furniture and wall colours. Also, it acts as a base if you decide to implement colourful decor at any point. For example, the orange throw pillows bring in a cheerful ambience even in this grey-and-white-toned living room. A minimalist living room with plants can also bring in a refreshing vibe.
#5: Opt for Sleek Furniture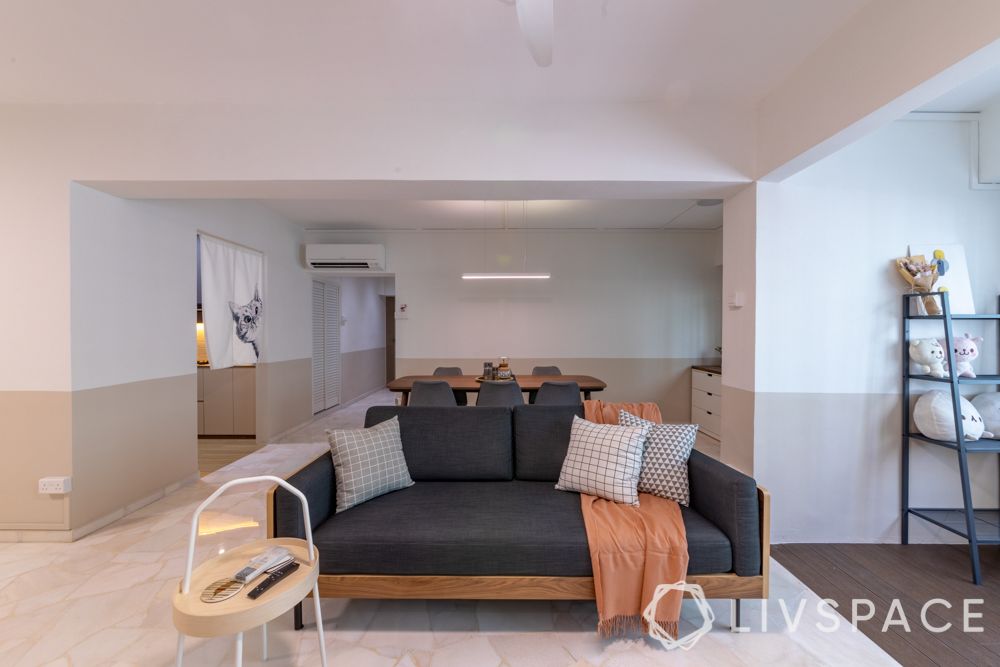 When choosing furniture for a minimalist living room, always go for pieces that aren't bulky. Sleek furniture with exposed legs can give the room a bright, airy and cheerful look. Also, arrange the furniture in a clean-cut way that easily creates zones and looks neat and tidy. Modern minimalist interior design also allows for furniture that is a mix of different materials and styles.
Decorating a minimalist living room may seem like a challenge. However, with the help of the right interior designers, this can be an easy task. Livspace takes care of interiors from start to finish, ensuring you just have to focus on getting the best for your home. For more inputs, read this article on Minimalist Interior Design.
Tour this monochromatic HDB:
How Can Livspace Help You?
If you are thinking of redesigning your home, then consider Livspace. Book an online consultation with our designers now to turn your dream home into a reality. We are all about quality and safe interiors.
Let us know your comments and suggestions by writing to editor.sg@livspace.com