You might already know that homogeneous tiles are one of the most popular flooring options for Singapore homes. However, did you also know that these tiles are actually derived from porcelain? In fact, porcelain tiles can be used in many different ways in your home, lending both flexibility and durability to your design. Curious to know more about this wondrous material? This handy guide can give you some detailed insights.
1. What Are Porcelain Tiles?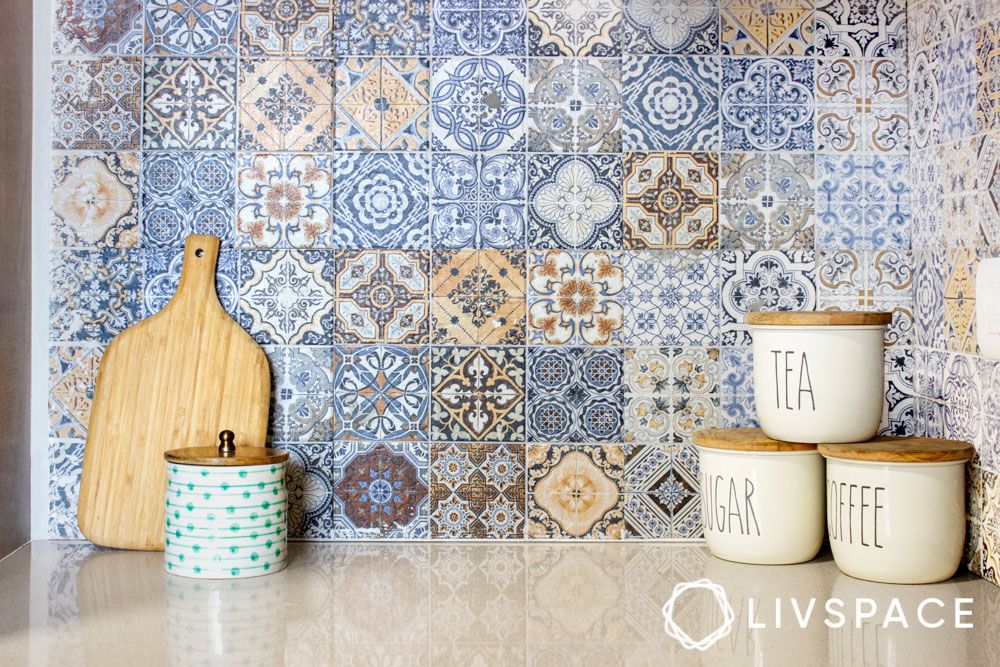 Porcelain tiles are derived by heating clay at high temperatures, making it a lot stronger than ceramic. Due to the way these tiles are constructed, they're resistant to a range of elements and are highly durable.
These tiles can therefore be used in many different ways. A few uses include, but are not limited to:
Porcelain floor tiles for high-traffic areas
As look-alikes for other materials in the form of porcelain wood tile flooring
For tiling on kitchen and bathroom walls
Apart from using it as flooring and wall tiling, these tiles can also make for good decorative elements in the form of mosaic tiles. These patterned porcelain tile designs can work especially well to create a statement piece in your kitchen, living room, balcony, or bathroom.
2. What Are the Different Types of Porcelain Tiles?
There are two common types of porcelain tiles: full-bodied tiles and glazed tiles. Let's take a look at how they differ from each other:
Full-Bodied Porcelain Tiles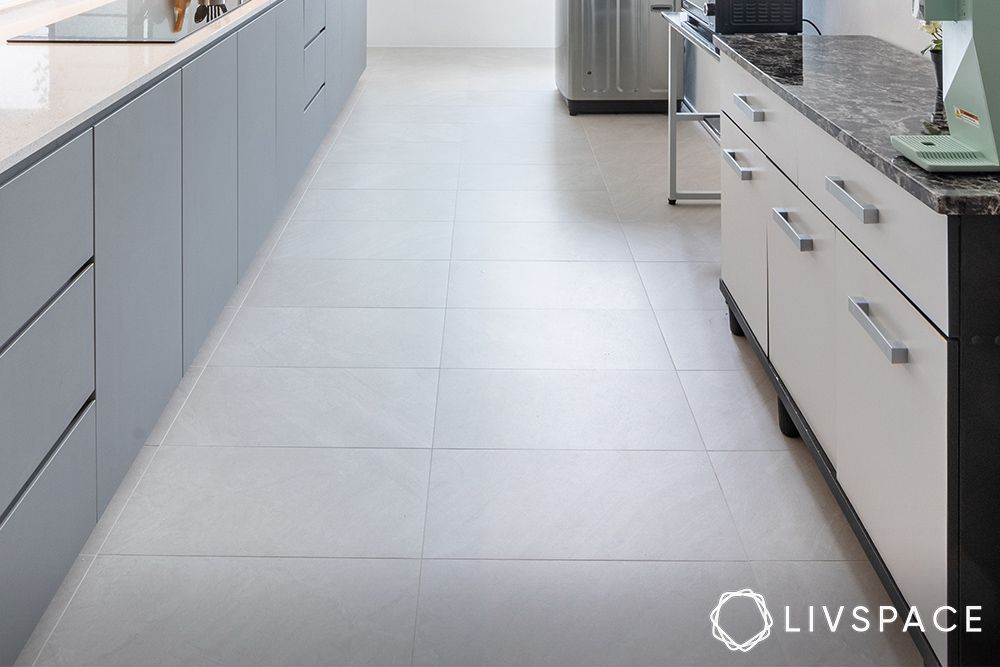 As the name suggests, these tiles are entirely composed of natural clays. Once fired through high heat, these tiles are left unglazed with a uniform colour throughout. This quality makes full-bodied tiles ideal for high-traffic areas, as their homogeneous colour easily conceals wear and tear.
Moreover, full-bodied tiles provide better traction, making them a great non-slip material for use in bathrooms or kitchens. If you live in a multigenerational home, homogeneous tiles can be a safe option for kids and the elderly.
Glazed Porcelain Tiles
Unlike full-bodied tiles, glazed porcelain tiles are coated with liquid glass to give them a smooth and shiny surface. However, since these tiles carry a layer of glaze, their overall density is relatively lower, making them susceptible to damage.
This is because scratches and stains are more visible on a glossy surface as compared to full-bodied tiles. Similarly, their smooth surface can be relatively slippery when wet, so they might be better used as wall tiles in bathrooms or kitchens.
Also Read: Homogeneous Tiles Vs Vinyl Flooring: 7 Things to Consider Before You Invest
3. What Are the Advantages and Disadvantages of Porcelain Tiles?
| | |
| --- | --- |
| Advantages | Disadvantages |
| They can be water-, scratch-, and stain-resistant depending on the type of tile you choose | Porcelain tiles might not be the easiest to install due to their high density |
| These tiles are easy to maintain and are long-lasting | Depending on the type of porcelain you choose, it can be relatively expensive to invest in |
| Porcelain tiles are available in a variety of designs and styles, making them a versatile flooring or tiling option for different design styles | Not all porcelain tiles are easy to repair once damaged |
| Due to its durability, these tiles are great for use as kitchen or toilet tiles | These tiles can be more susceptible to cracking due to their high density |
4. What Should You Consider Before Going for Porcelain Tiles?
Placement and Installation: Different types of porcelain tiles come with their own pros and cons. Full-bodied porcelain tiles are better used in high-traffic areas such as living rooms, bathrooms, and kitchens. On the other hand, glazed porcelain tiles might work better as a decorative accent or as wall tiles. Consider where you'd like to place these tiles as well as the purpose you want them to serve before you invest in them
Pick the Right Class: These tiles are typically divided into five different categories when it comes to abrasion and wear and tear. Class 1 tiles are more delicate, class 2 to 4 are of light to moderate toughness, and class 5 tiles are highly durable and ideal for high-traffic areas. If you're only looking at using these tiles as a decorative element on your walls, class 1 is your best option. Class 2 and 3 are best suited for low-traffic areas
Choose the Best Type: Both glazed and unglazed tiles come with their own pros and cons. Depending on the area you'd like to tile, one type may be more suited than the other. Unglazed tiles can be used as flooring for living rooms, kitchens, and bathrooms and glazed tiles can be used as backsplashes or shower tiling
Also Read: How Much Does Kitchen Tile Installation Cost in Singapore?
5. Where Should You Install Your Porcelain Tiles?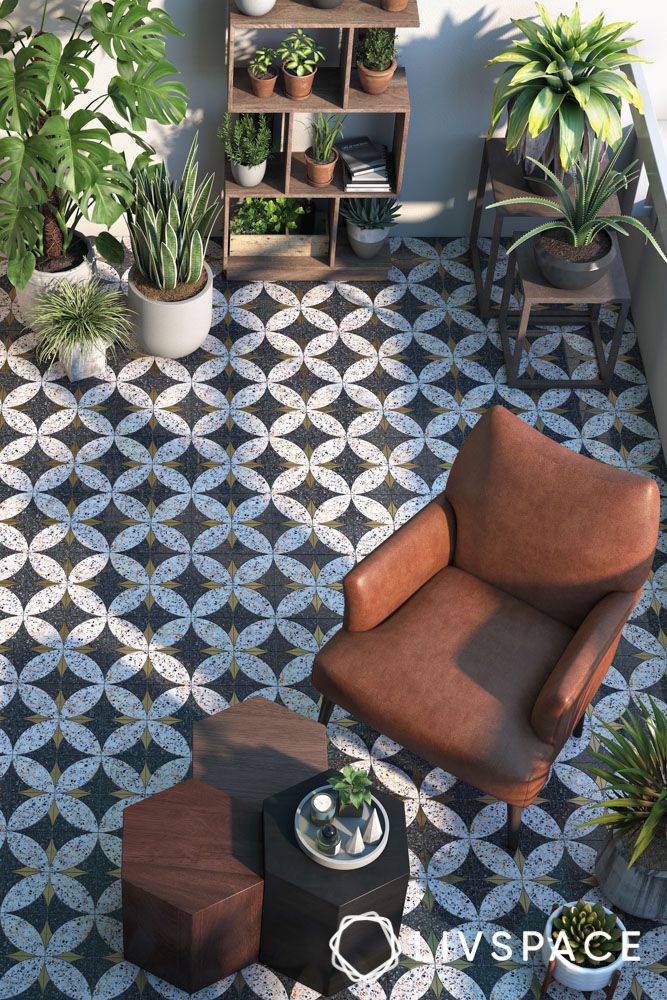 Due to its water-resistant qualities, porcelain is ideal for use in areas that receive high moisture, such as kitchens and bathrooms. In fact, you can even use these tiles outdoors in your patio or balcony.
Another reason why these tiles are great for high-traffic or moist areas is due to its non-slip properties. You can rest assured of your loved ones' safety with these tiles underfoot.
How Can Livspace Help You?
We hope you found this guide useful! If you want your home to be just as beautiful, then look no further. Book an online consultation with Livspace today.
Have some comments or suggestions you'd like to share with us? We're all ears! Feel free to write to us at editor.sg@livspace.com.
Disclaimer: All contents of the story are specific to the time of publication. Mentions of costs, budget, materials, and finishes can vary with reference to current rates. Talk to our designer for more details on pricing and availability.