The dining table is an integral part of homes—it is where the family comes together for meals and conversations flow easily with food. However, if you have a small home, this essential space is the first to be compromised. Compact flats need their own kind of planning. And when every inch of space becomes crucial, the best way to utilise it is to opt for functional furniture. Peek into this curated list of custom dining tables, and find the best fit for your home!
#1: Kitchen island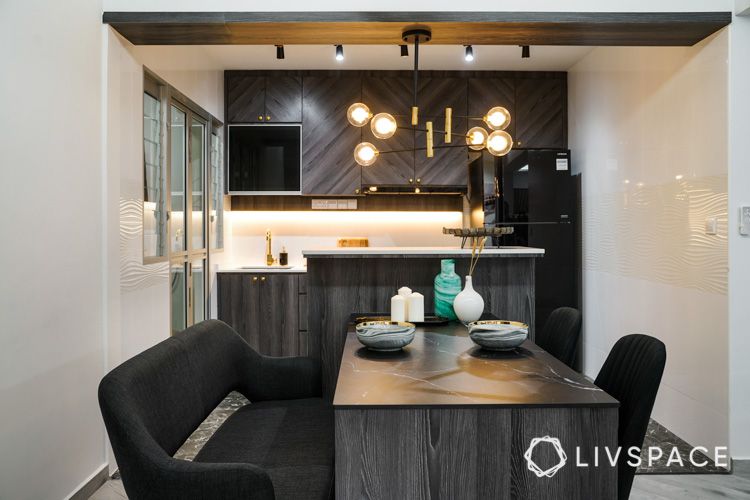 If this is the first thing that comes to your mind in case you don't have space for a dining table, we absolutely understand! Add some comfy chairs around your kitchen island. You can even hang up some pendant lights or a chandelier to create the perfect ambiance to sit and share meals with friends and family!
#2: Pull-out table
If you do not have enough space to fit dining furniture into your home, consider a pull-out unit instead. You can keep it neatly out of sight while not in use. At the same time, you can have a proper space to sit and eat when needed!
#3: Bar counter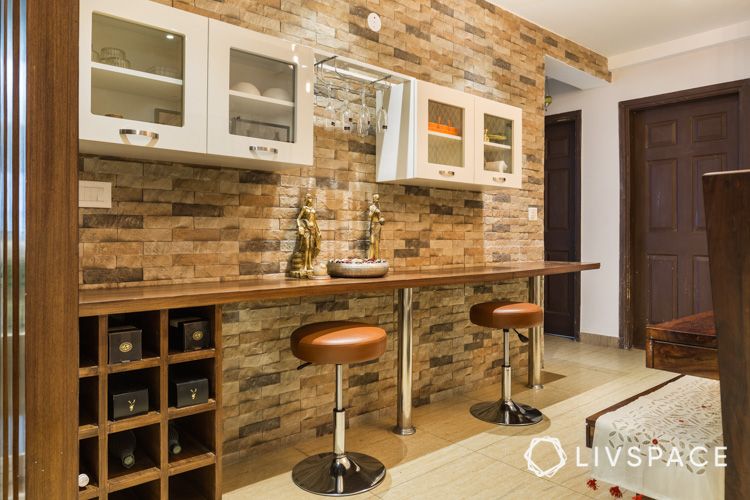 Your bar counter can double up as the perfect place to eat with friends and family. Moreover, if you opt for a minimal bar table with just a basic frame, you can slide your stools or chairs underneath it. This allows you to save up on space. Opt for an accent wall in warm hues to create a pleasant, comforting space.
#4: Wall-mounted table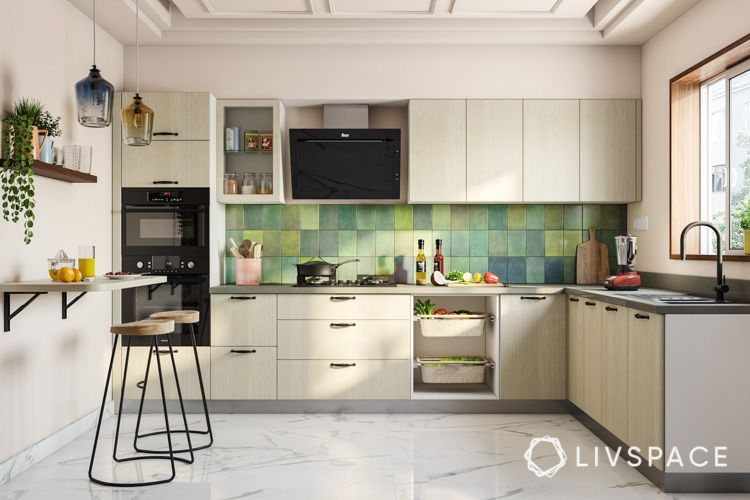 You can opt for a wall-mounted table that can be folded back when you want. This allows you to have a sleek dining area, which takes up no additional space when not in use! Opt for bar stools or folding chairs to save space.
#5: Island/counter extension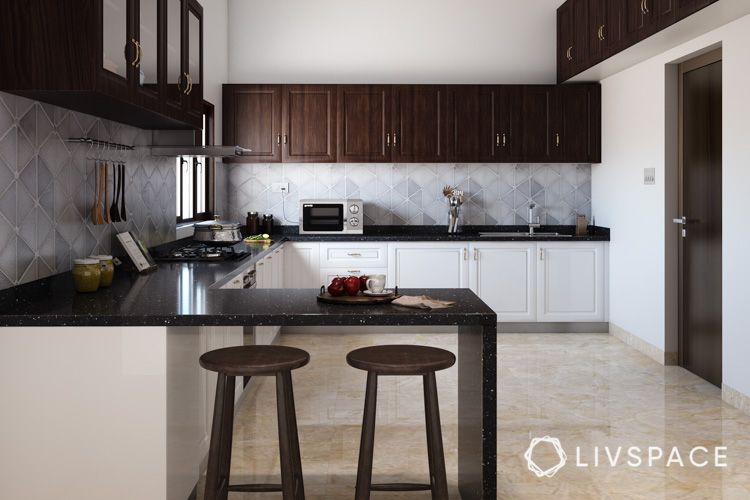 You can extend your kitchen counter to create a dedicated seating zone, which can then be used for meals with family and friends. Bonus points for a hollow extension, which allows you to tuck away your stools or chairs neatly when not in use!
#6: Multipurpose table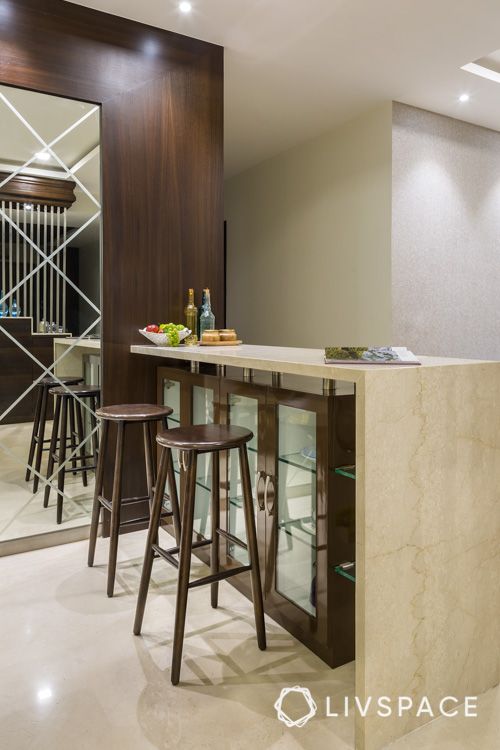 A compact home comes with the need to utilise space best. So why not opt for a hollow dining unit instead? In the niche underneath, you get space for additional storage. Take your cue from this home and use the space to accommodate the crockery unit here!
#7: Folding table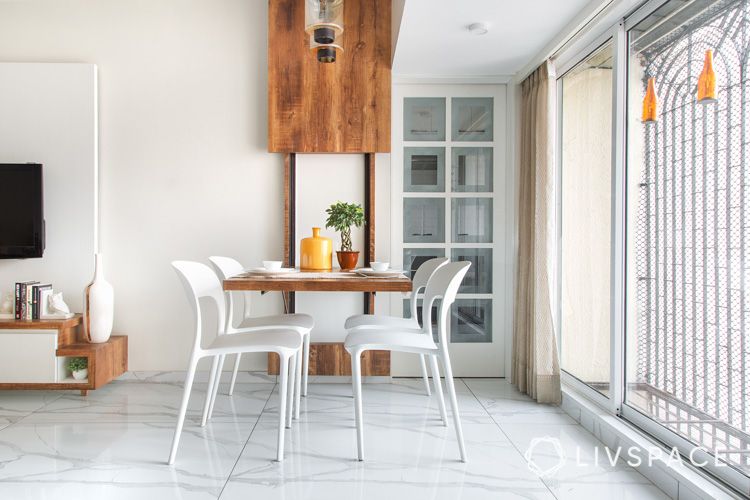 At times, we have enough space in the house to accommodate a small dining nook. However, the idea of a more spacious living room makes us wary of the same. If you're in such a situation, why not pick a folding table instead? When not in use, you can simply keep it out of sight. However, you can come together as a family for meals and conversations that you'll remember for the years to come!
#8: Breakfast counter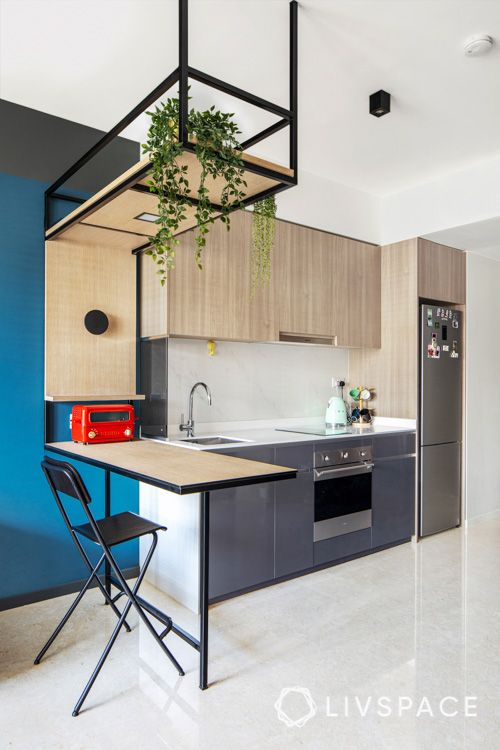 If you have a breakfast counter, you can simply set it up for your family meals. Keep it simply yet elegantly furnished with the essentials. If you have an open kitchen, the breakfast counter becomes the perfect place to start conversations even while the food is being cooked.
#9: Balcony space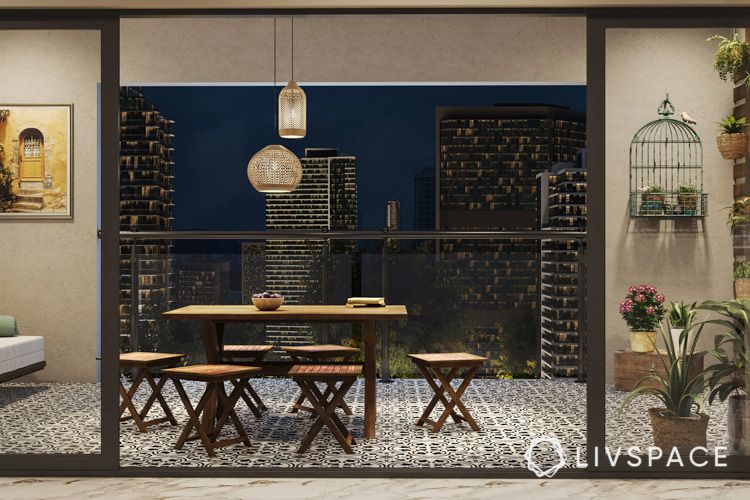 If you'd rather not clutter up the house with dining furniture, you can set up the same in the balcony instead! Opt for lightweight tables and folding stools. Complete the look with pendant lights. And then you can enjoy the view from the balcony with every meal!
Need more space-saving hacks for compact homes? Check out these ideas!
Send in your thoughts and suggestions to editor.sg@livspace.com