Functional ceiling designs offer wonderful features to any HDB or condo. From better acoustics to concealing wires, a false ceiling is a seamless way to solve a number of your problems. Livspace designer, Samuel Tan helps us explore the various false ceiling options and their pros and cons. But before diving into those, here are some basics first!
What is a false ceiling?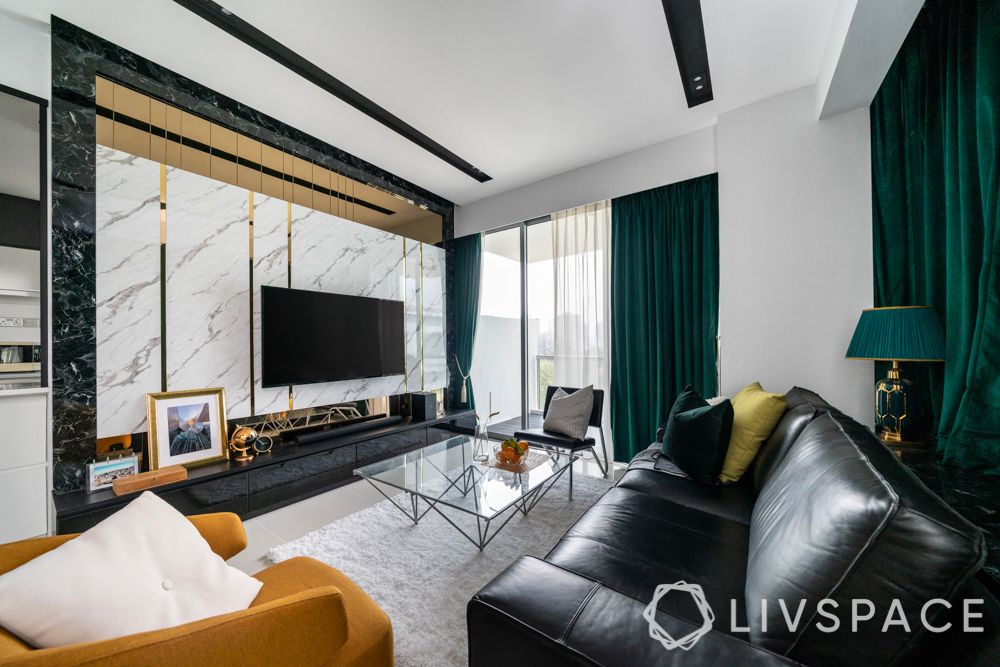 A popular and functional ceiling option among homeowners is a false ceiling. Also known as a secondary or dropped ceiling is a structure that is suspended from the ceiling. This is done with the help of wooden or metal rafters to which the ceiling board is fitted. These modern installations come in a variety of colours, materials, customisable sizes and patterns.
What are the different types of false ceilings?
Gypsum: Gypsum boards are more environmentally friendly and easier to install. They are known for their fire resistant features.
Plasterboard: Plasterboard and gypsum are similar in composition. However, plasterboard is a more cost-efficient option and perfect for home renovations.
POP: This durable material is perfect for ceilings that feature intricate work or unique shapes and patterns. It is also a cost effective option.
Wood: Ceilings with wooden elements add just the right amount of warmth to a room. However, wooden ceilings can be a challenge in humid areas as they expand and contract. This can cause the ceiling to warp or crack.
Metal: These ceilings are one of the strongest and most durable materials you can opt for. However, this material is susceptible to corrosion.
Is a false ceiling necessary?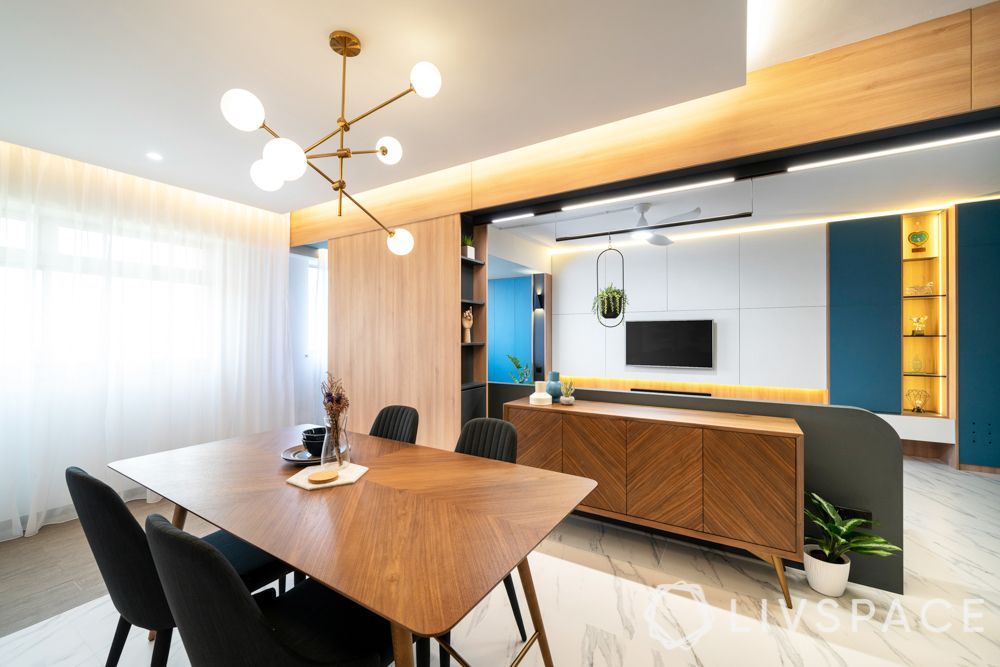 If you are looking for more brightness in the room, a false ceiling might be necessary. But as a part of modern interior design, false ceilings may seem more like an indulgence than a necessity. If you're still on the fence about installing a ceiling, Samuel suggests a few reasons that should help you decide:
Advantages of a false ceiling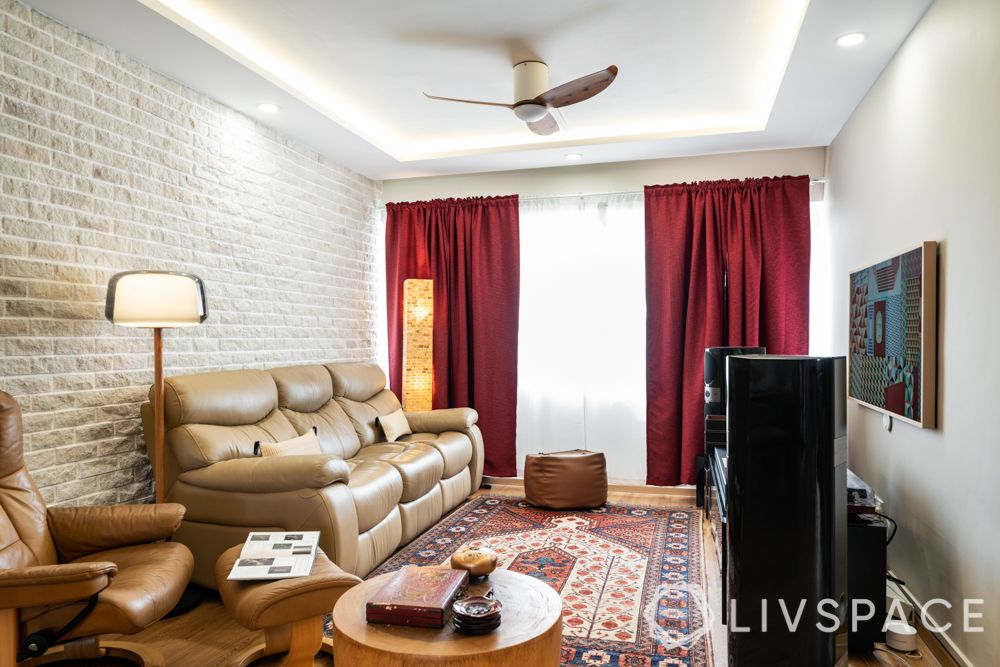 #1: Great acoustics
Adding an additional layer to the original ceiling creates better acoustics within a room. This makes this a perfect interior design treatment for living rooms, home theatre and AV rooms where movie-watching or listening to music is to be the primary activity.
#2: Hides wires
If you've got a mess of wires on your ceiling or along walls, a false ceiling is a perfect place to hide them. A false ceiling can also be fitted with sunken or hidden lighting. This takes care of illumination without the need for additional fixtures and wiring.
#3: Brings lofty ceilings lower
Homes with lofty vertical space that dwarfs furniture in a room can consider installing a false ceiling to restore proportions. This purely aesthetic change allows you to alter the look of the home without changing the structure.
#4: Insulates the room
For homes in colder regions of the country, this offers up an added perk of insulating rooms. The additional layer creates a gap between itself and the original layer, which traps air and cools the room down. It also optimises the functioning of air conditioners. Because it reduces the square footage to be cool and slashes energy bills.
Here are 5 Practical Tips That Will Make Your Living Room Feel Bigger.
Disadvantages of a false ceiling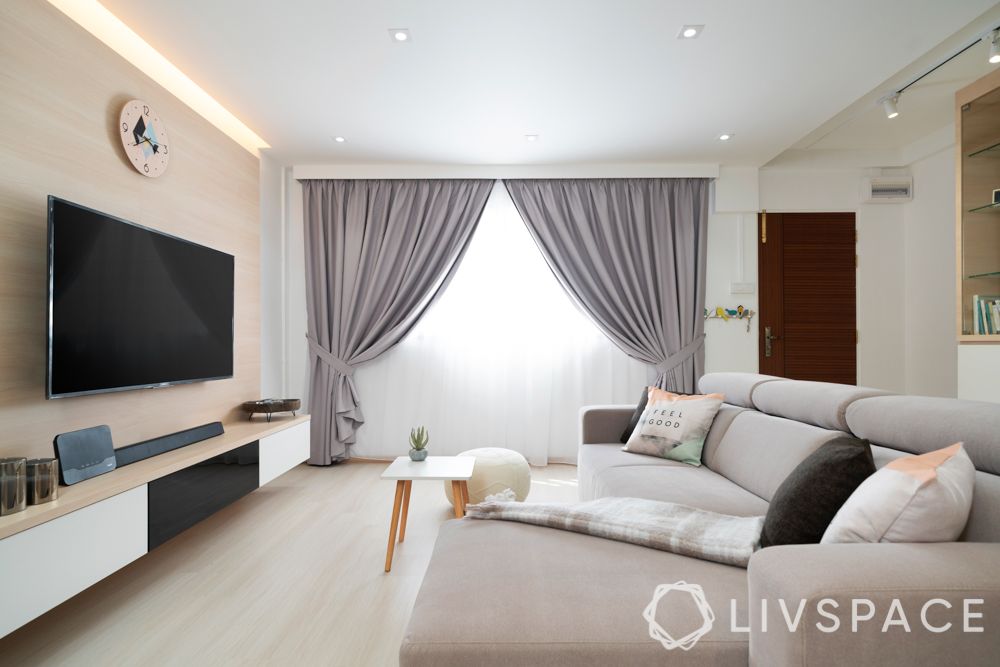 #1: Installation requires precision from experts
Installing a false ceiling is a far cry from being a DIY project, despite the commonplace material used. It requires precision in design, calculation and installation and must only be put in place by experts. Depending on the shape and details of your ceiling, you may also need advice on additional support and wiring.
#2: Not feasible for low-ceiling rooms
Since it needs to be at least 8 inches away from the original wall, it is always recommended that the ceiling height be 11 feet or higher. For compact homes, this could be a drawback. Because too much detail on the ceiling could make the space look cramped. There's a way about this, however– owners of small homes could opt for a partial ceiling in a corner of the room. They could also choose to extend a wall or TV console to the ceiling for extra dimension.
Trendy false ceiling designs
#1: L-box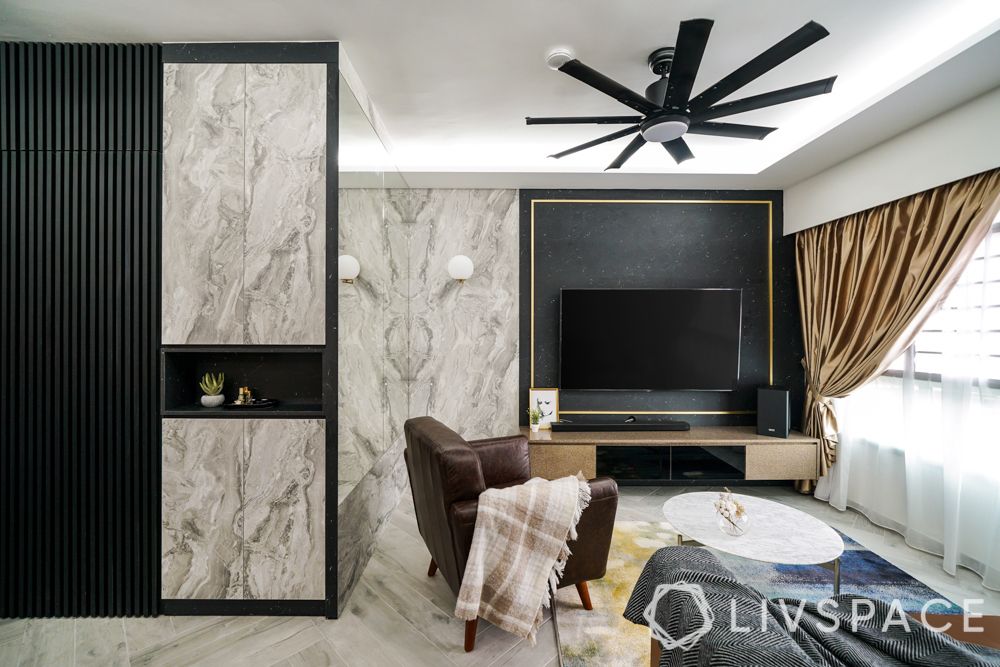 The L-box ceiling design is one of the most preferred designs because of its minimal design. The ceiling is installed on the perimeter of the actual ceiling, keeping the height the same.
#2: False ceiling with recessed lighting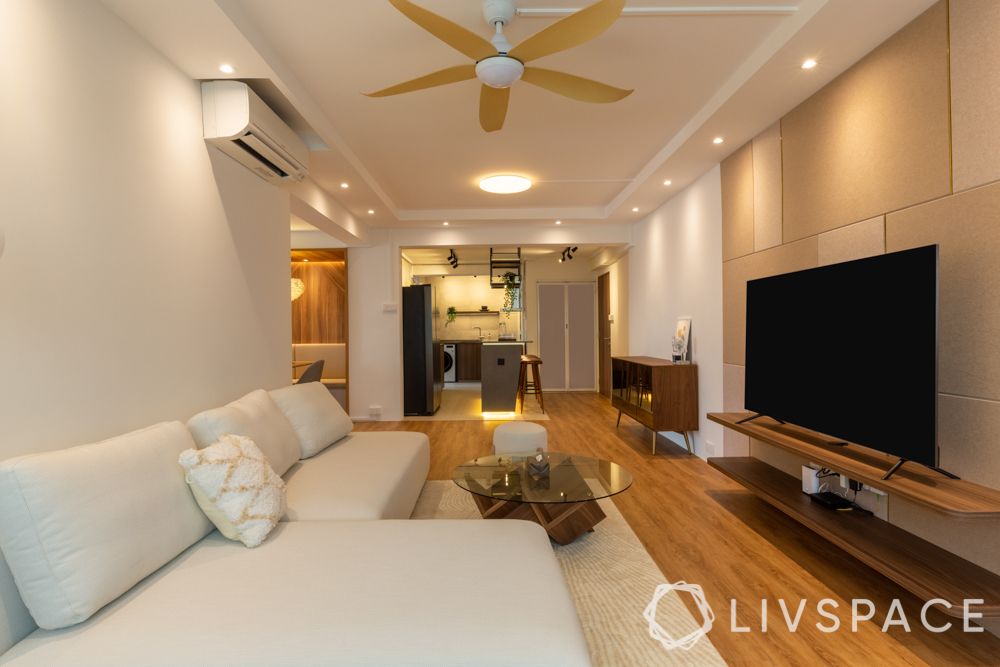 If you are looking at false ceiling designs, you have definitely come across recessed lights. It's the perfect lighting for a modern home with a false ceiling. Moreover, they are cost efficient and act as ambient as well as task lights.
Here are some Lighting Options for Great Ambience!
#3: Cove lighting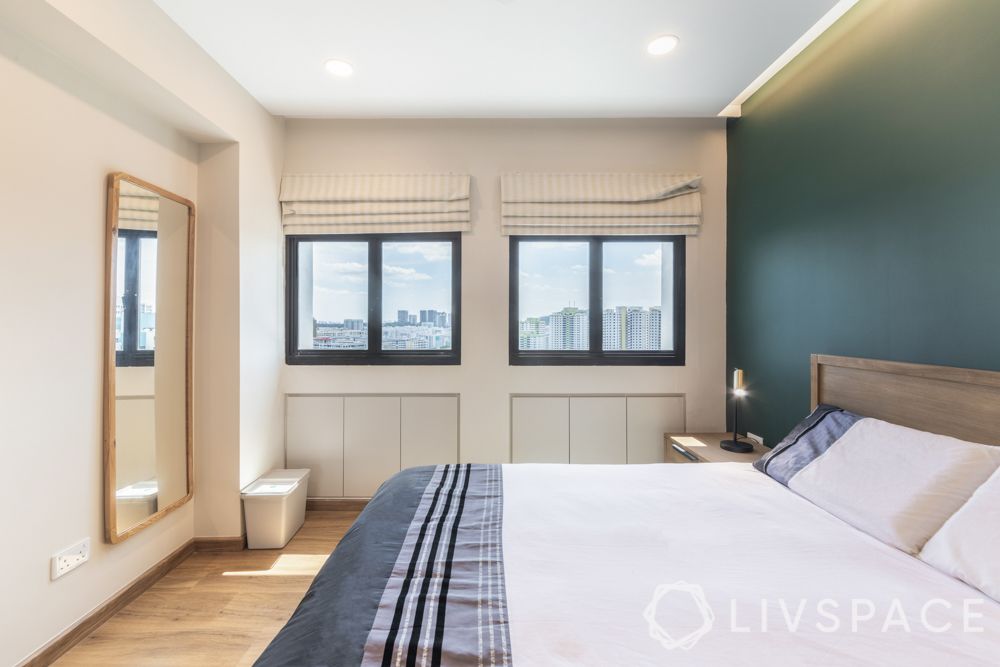 Another popular and sleek option is a ceiling design with cove lighting. Installed with LED lights, it emits light towards the ceiling or the walls, giving the room a cove or domed feel. They can be designed in a number of patterns and colours. Moreover, this false ceiling can be used to accentuate a wall or ceiling design in the home.
#4: False ceiling with cove and recessed lights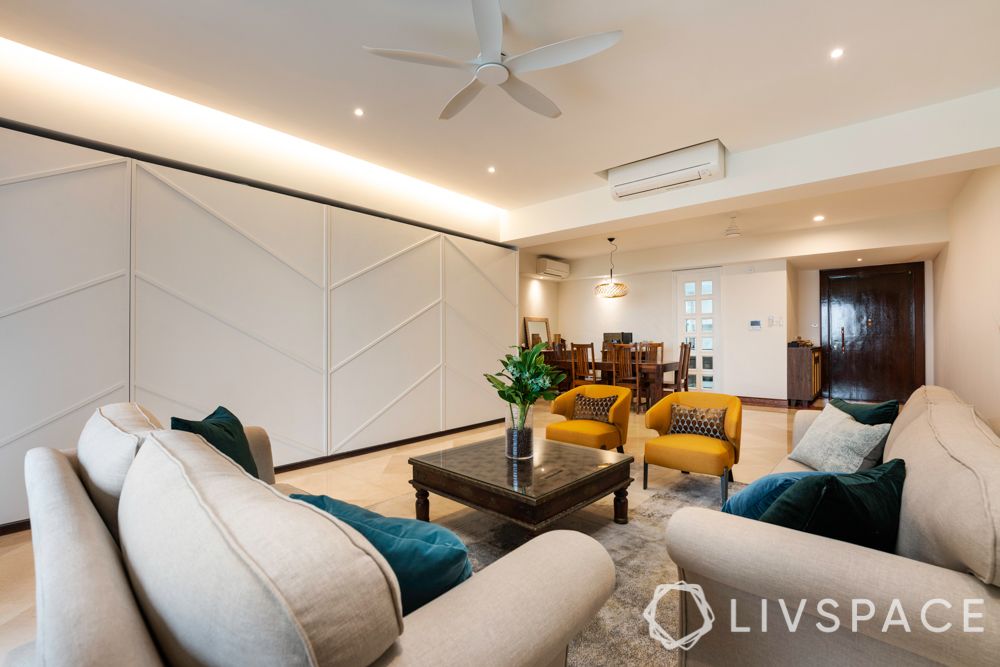 You can also opt for both the lighting options mentioned above. This way you can maximise the amount of overhead lighting in a room without taking up any more space.
#5: Cornices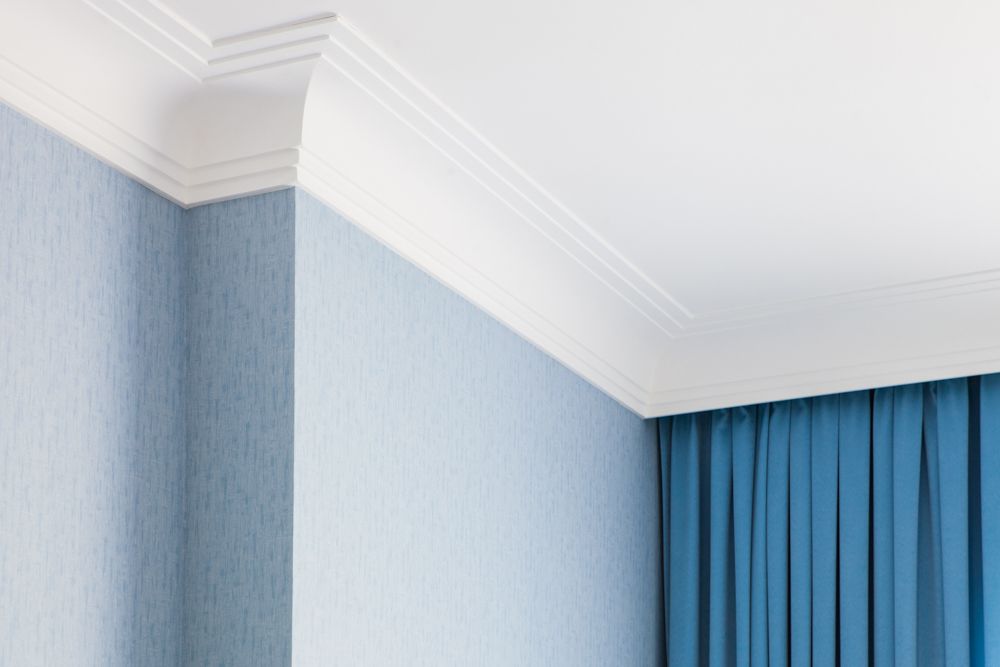 These kinds of ceiling designs are dated in comparison to newer designs. They are also more than just intricate decorative designs on wall moulding. They are installed along the joints between ceilings and walls as a finishing touch as well as concealing cracks and water damage. However, these designs are more prevalent in themed restaurants.
#6: Carpentered false ceiling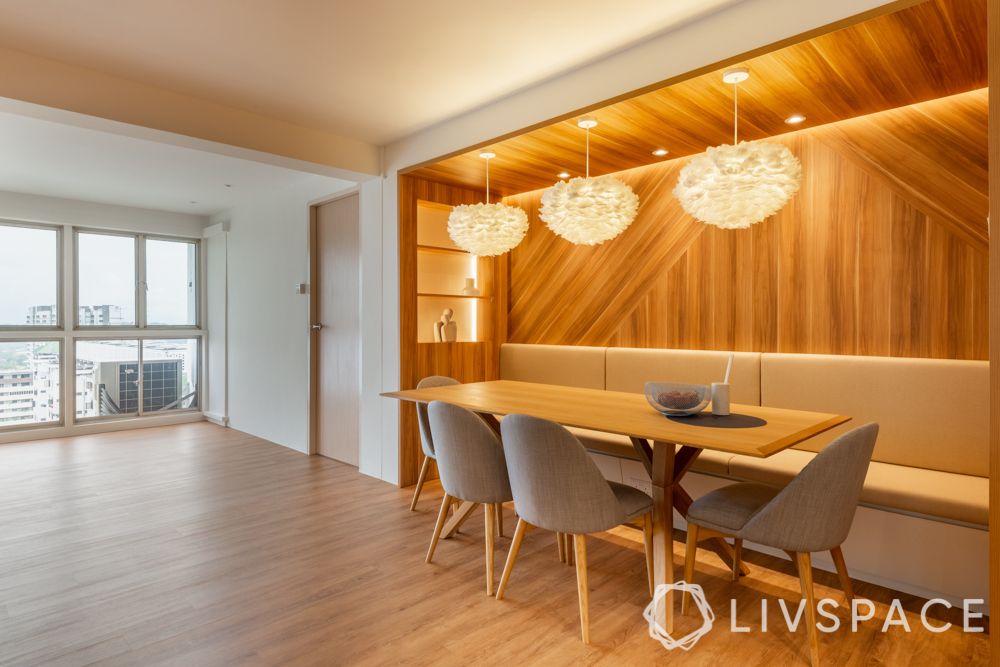 If you're looking for a false ceiling that has wood work like rafters and extended ceiling you will need to call on a carpenter. Subsequently, these designs include ceiling structures that require shaping or installing of wooden fixtures.
How much does a false ceiling cost in Singapore?
Now that we know the different types of false ceilings, you need to know the pricing of each type so that you know how to decide which one to get, depending on your budget. Here is a list of indicative/approximate prices that we at Livspace offer as part of our services:
Plasterboard false ceiling will cost you SGD314 for 100 sq ft
L-box false ceiling costs SGD232 for 25 sq ft
U-box false ceiling will cost around SGD250 for 25 sq ft for Plasterboard and SGD 374.50 for Gypsum Board
Curtain pelmet costs around SGD303 for 25 sq ft for Plasterboard
Now that you've picked out your ceiling design, take a look at all you need to know about marble flooring & how to maintain it.
Send in your comments & suggestions to editor.sg@livspace.com.