Wardrobes are quite an essential part of our bedrooms and usually demand as much space as a bed. When one thinks of a functional wardrobe, the typical image that pops into our head is an extravagant one, usually of walk-in wardrobes or custom-fitted ones with multiple shelves and more. For a larger bedroom, that is not much of an issue. For a smaller one, however, some complications arise when we look for big enough wardrobes to hold everything we have. But small bedroom owners need not worry, because sliding door wardrobes are here to save the day! While a walk-in wardrobe can be spatially efficient for storage, a sliding door wardrobe is efficient for more. It gives you ample storage while maintaining the minimalistic and modern design of your bedroom, leaving you with more floor space.
That's not all. There are many ways in which a sliding door wardrobe can be the ultimate choice for your compact bedroom.
How Sliding Door Wardrobes Save Space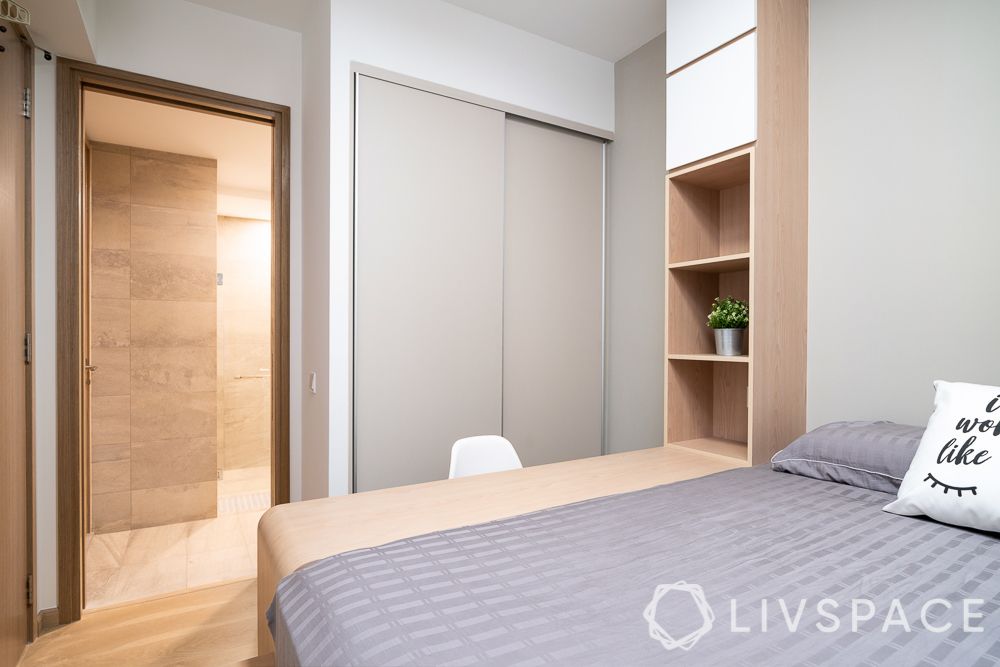 Space is essential for a compact bedroom. Your apartment might be your comfort zone but your bedroom is the real safe haven. Creating a designed space that is efficient, comfortable and within your budget might seem complicated, but you don't have to feel overwhelmed, because we're here to help.
If you're low on square footage, your best option to save space is a sliding door wardrobe. Sliding wardrobes are extremely functional, space-efficient and are a preferred go-to furniture option for minimalist interiors. The best part about these wardrobes is that a well-fitted one can be just as space-efficient in terms of storage as an open-door wardrobe. They're not just practical but aesthetically appealing as well. They're not just perfect for smaller rooms, they can also be a great part of styling a larger room. Think about it. It's better to have a wardrobe door that optimises space and opens horizontally rather than one that swings open and makes your room feel cramped. The cost of a sliding door wardrobe is between 400 SGD and 700 SGD per foot run.
A Gallery of Sliding Door Wardrobes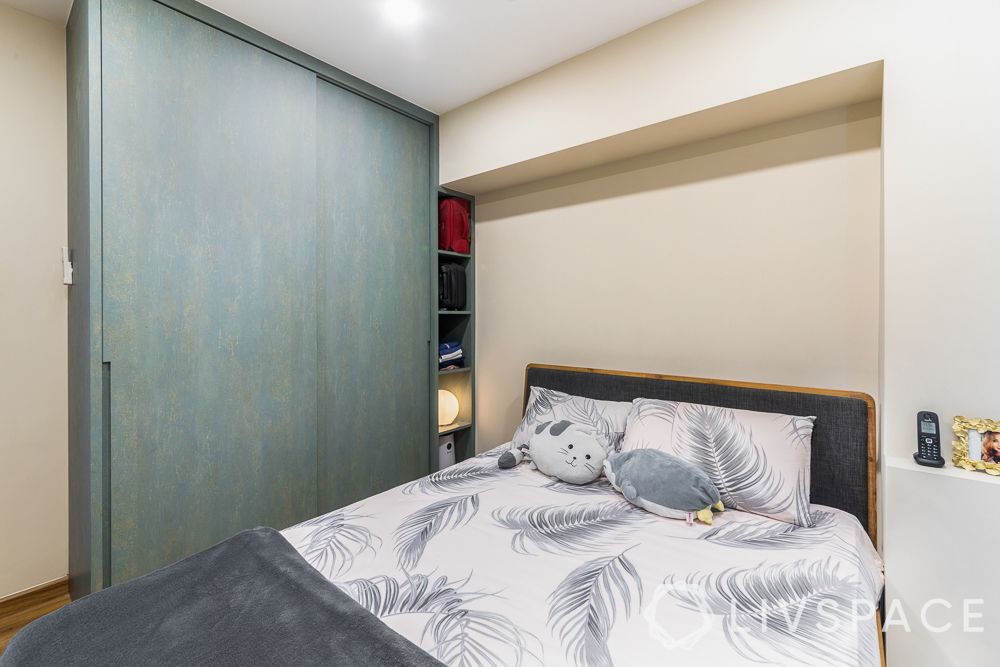 One of the most amazing perks of having a sliding door wardrobe is that you can style it in many different ways. Take for instance this beautiful turquoise-coloured wooden finish on the sliding door wardrobe. It effortlessly complements the beige walls of the bedroom, adding a lovely accent to the space.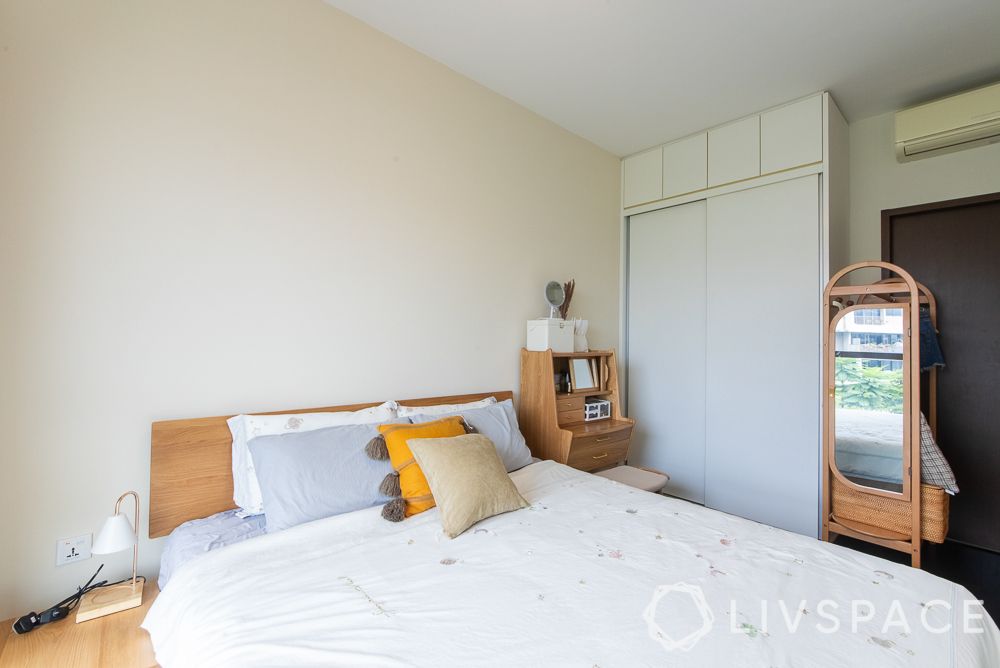 Create a uniform theme for your bedroom by matching the finish of the sliding door of your wardrobe with the other furnishing elements in your bedroom. This all-white look creates visual cohesiveness and brightens up the room, enough to make it look bigger too.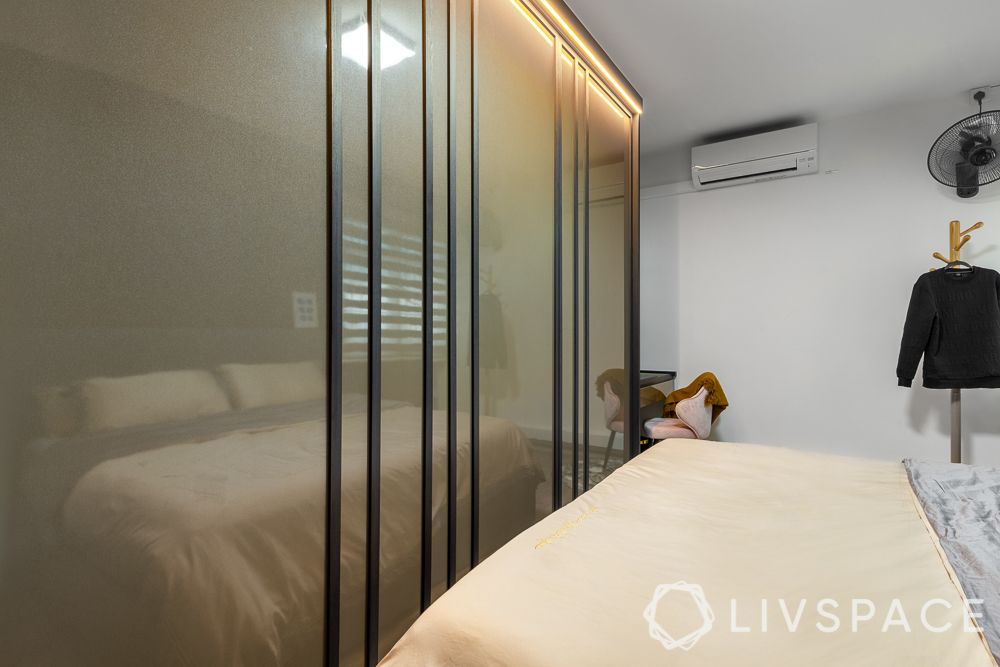 Customise your sliding door wardrobe with a dual finish that is half-reflective and half-matte. This gives your bedroom quite the modern edgy look while visually altering the look of the room to look bigger as well.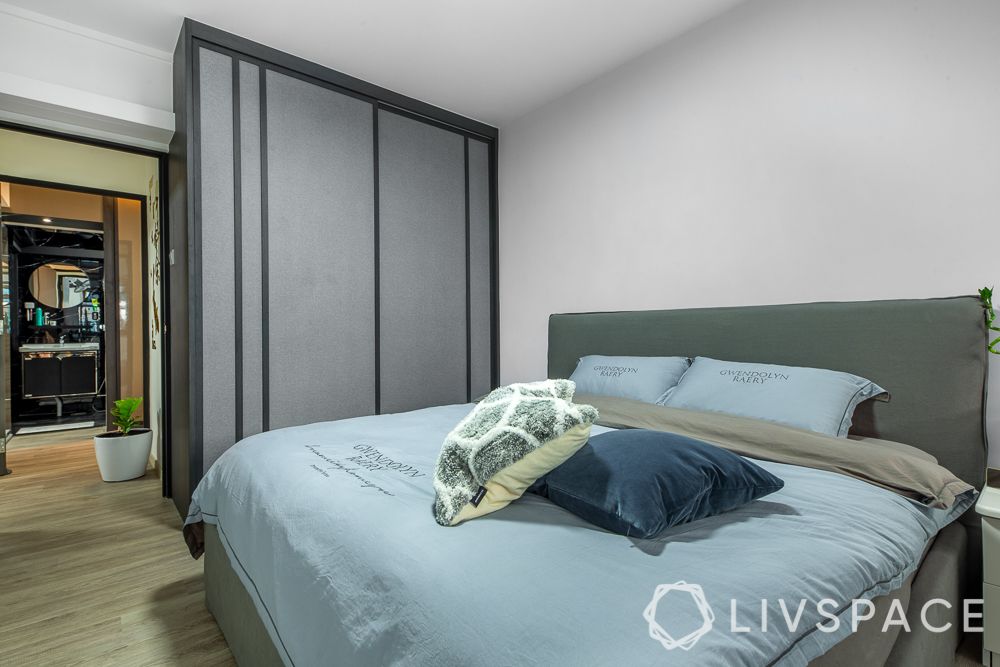 Most modern wardrobe designs bank on the cohesiveness of the bedroom to create visually appealing interiors. This wardrobe design, for example, is perfectly in sync with the room by virtue of the colour palette chosen. The top-to-bottom wardrobe creates ample floor space for a compact bedroom while the cohesive grey palette visually declutters the room.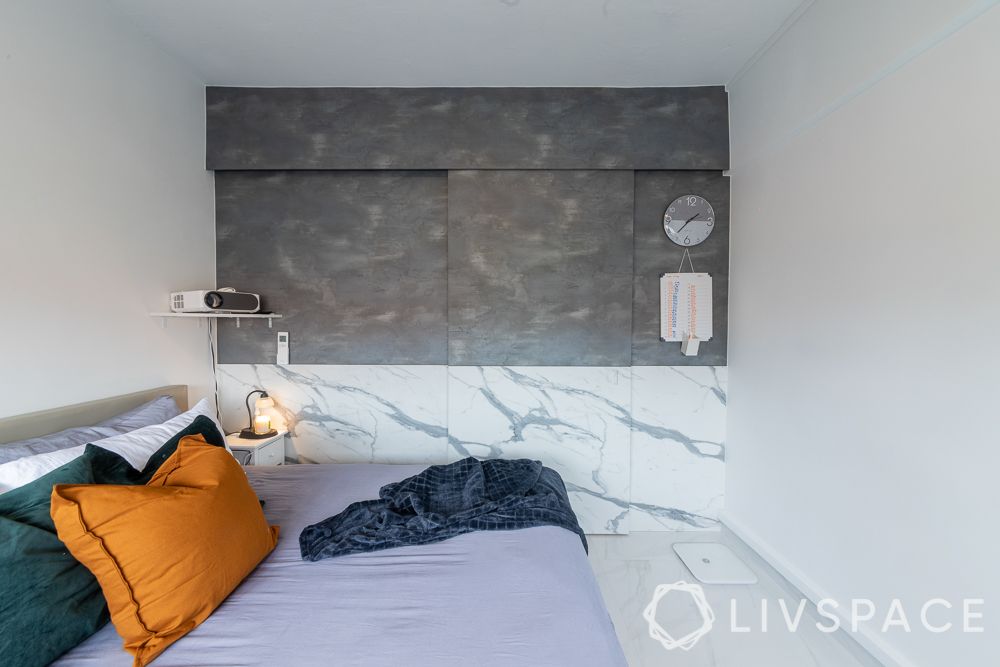 Custom designing your wardrobe has great perks. And, what's more, having one's wardrobe designed to one's preferences and specifications can be quite uncomplicated. At the crux of it, there are always two things that matter the most — the look of the wardrobe and the storage capacity. This sliding door wardrobe puts both these ideas to work. This smartly designed wardrobe, for example, is cleverly placed so as to be concealed, and the lower half of the wardrobe is almost seamless with the flooring, creating the illusion of free floor space.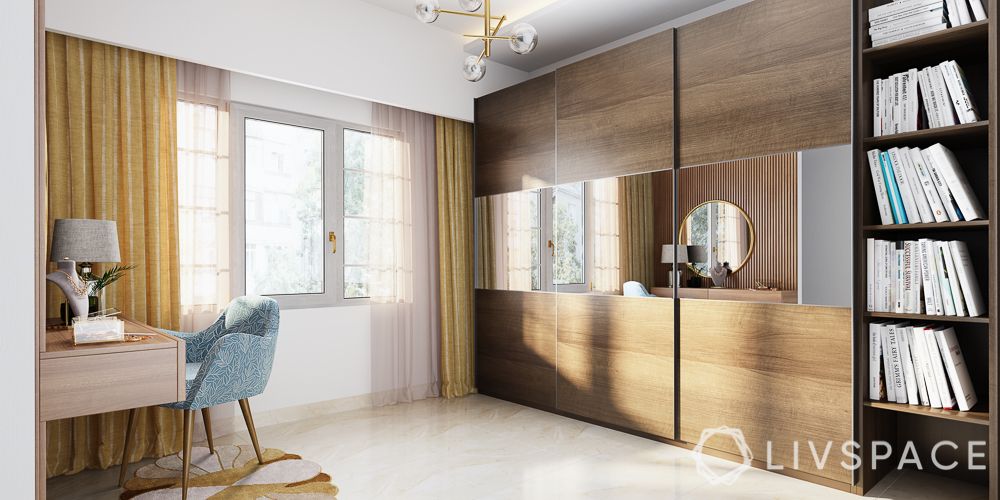 You can never go wrong with a wooden finish but why not take things up a notch? Try opting for a half-wooden half-mirrored finish so you can get the best of both worlds. The look is as elegant as it gets. The wooden finish stands out from the minimalist design of the whitewashed walls and flooring and the mirrored half creates an angular spatial design thus giving the illusion of more space.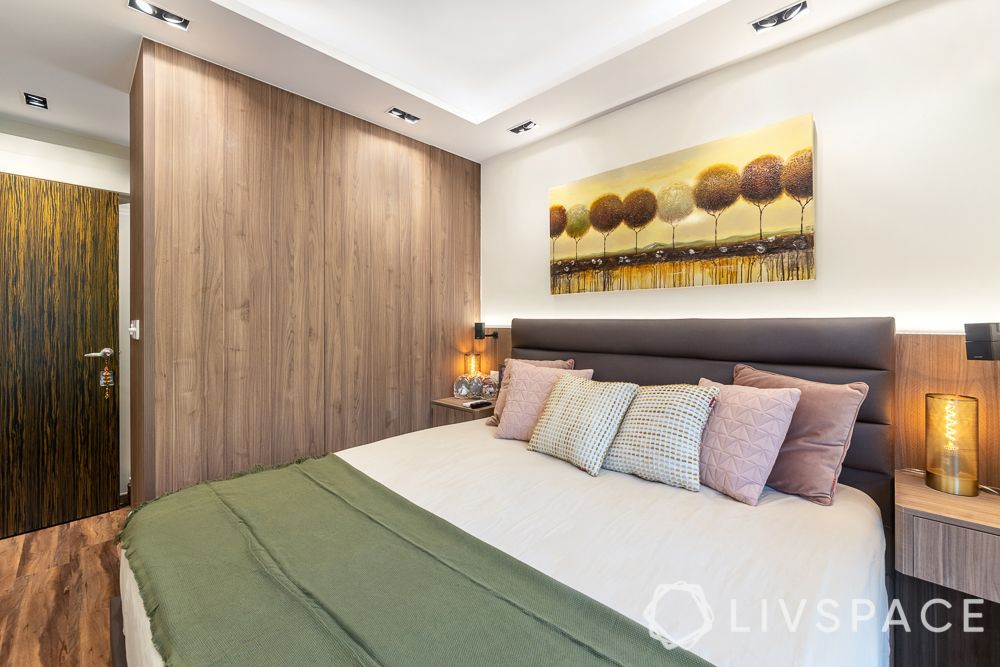 Another way to style your bedroom is to match the door with the flooring. Take, for example, this wooden-finished sliding door wardrobe that matches the wooden flooring. It creates a seamless look, bringing the whole room together.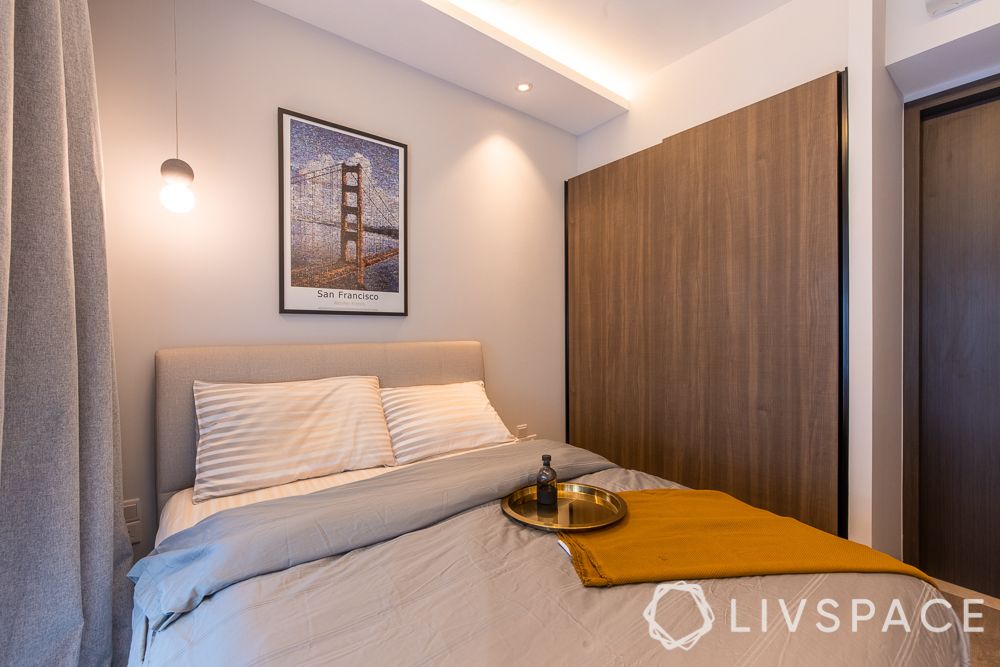 Crunching space? Don't worry. Put your bed directly next to your sliding door wardrobe and save yourself the complication of a door that swings open. Your floor space might get a little occupied if your bedroom is small but your wardrobe certainly won't add to the cramming up of space.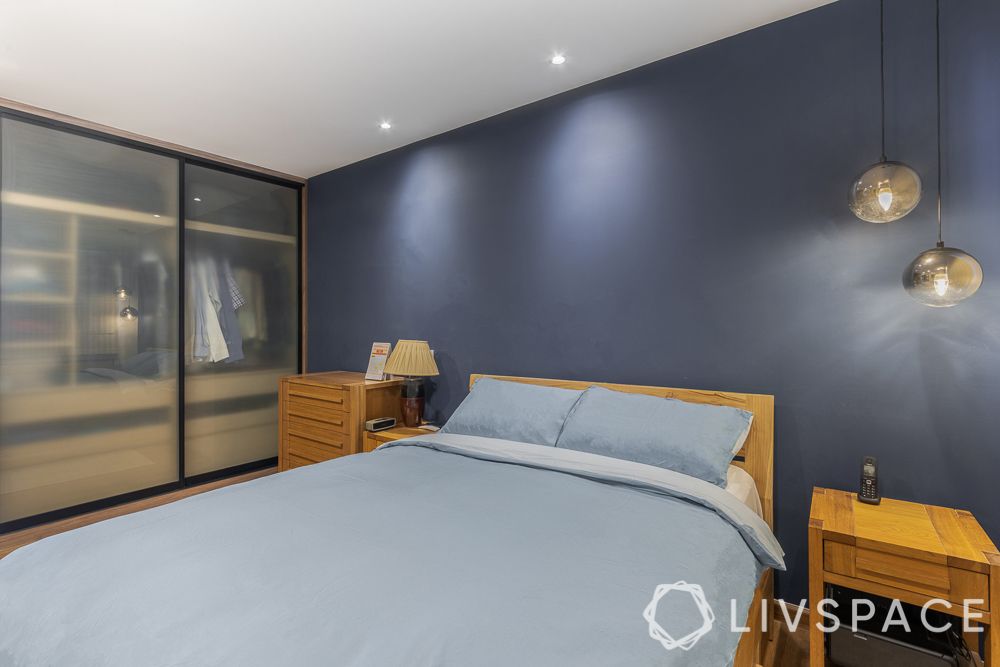 One of the most ultra-modern looks in closet design currently is a sheer door for a wardrobe. Nothing is fancier than a see-through wardrobe door. The only setback is you might have to keep your wardrobe tidy all the time! And there are quite a few options to choose from too — tinted, lacquered or frosted.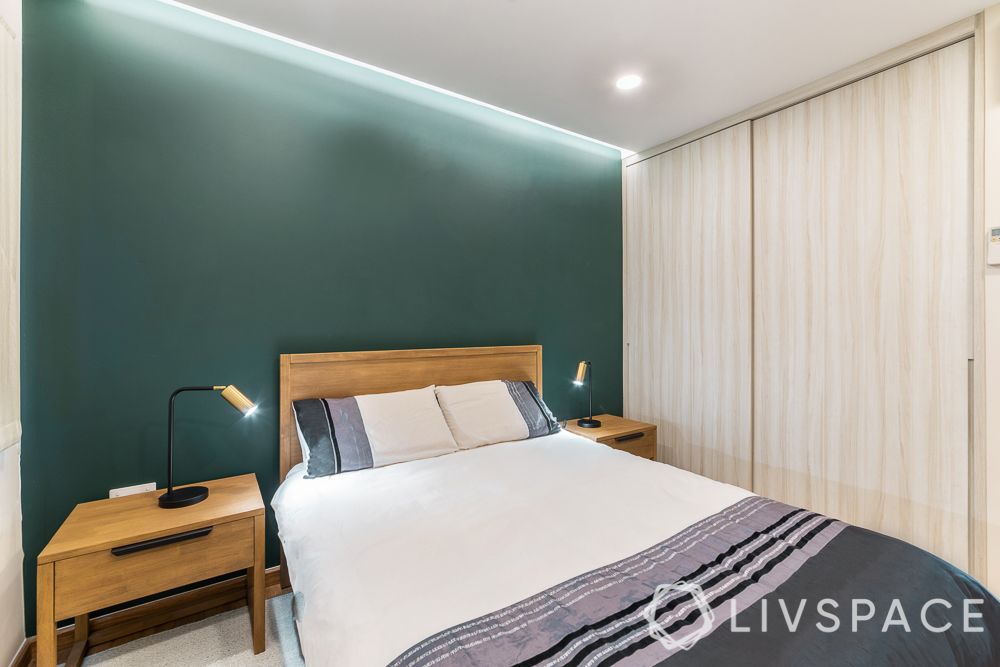 This muted matte-finished wooden wardrobe breaks the monotony of the colour palette of the bedroom. The practical design and the light brown patterns on the door are great accessories for your bedroom.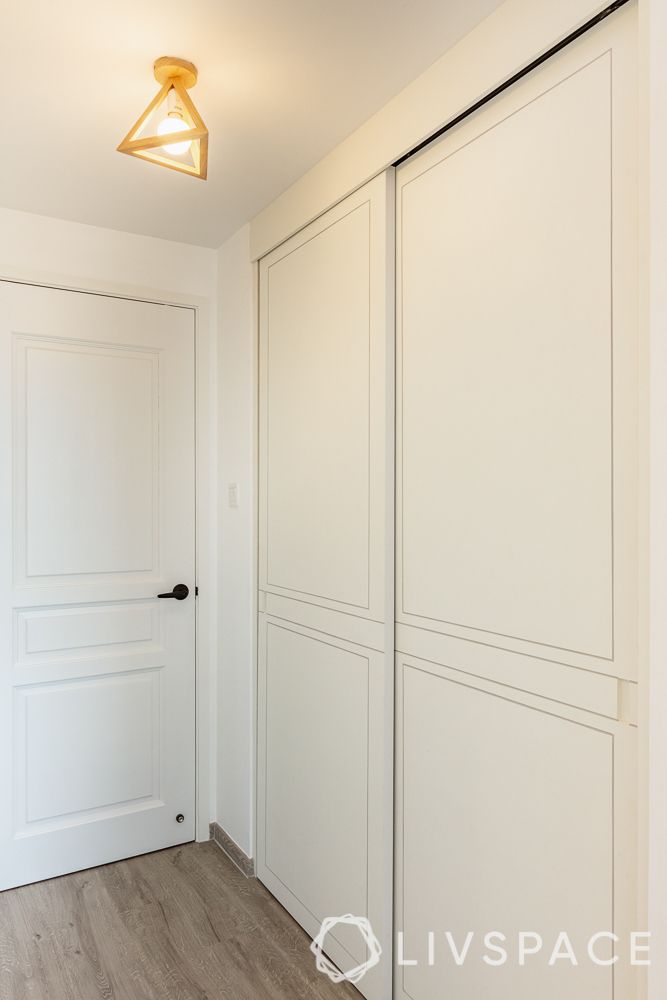 Be it your bedroom door or the door of your sliding door wardrobe, go with all-white. If you have wooden flooring, it will add to the charm of the space. Look at the seamlessness of the all-white doors in this example. The similarity of the finishes not only creates a way to visually maximise space in the room but also brings in a classic style factor. Sometimes, monotony can be quite rewarding.
Want expert advice? Read 10 Bedroom Design Ideas you Would Want to Save for Inspiration
How Can Livspace Help You?
If you are thinking of redesigning your home, then consider Livspace. Book an online consultation with our designers now to turn your dream home into a reality. We are all about quality and safe interiors.
Let the pandemic not stop you from attaining your dream home. We follow strict COVID-19 safety protocols, which you can read about here.
Send in your comments and suggestions to editor.sg@livspace.com