These 3 room HDB renovation designs are topping the list of design game changers.
With new properties coming up and older developments being refurbished everyday, there are a number of housing options to choose from. Among these, HDB flats are the most preferred for high quality and affordable housing with more than 80% of the population residing in them. Some of these properties are 3-room HDBs that are perfect for newly married couples and soon-to-be parents. So we put together the city's most stunning 3 room hdb renovation designs for you to draw inspiration from.
#1: A 85 sqm 3 room HDB gets a major renovation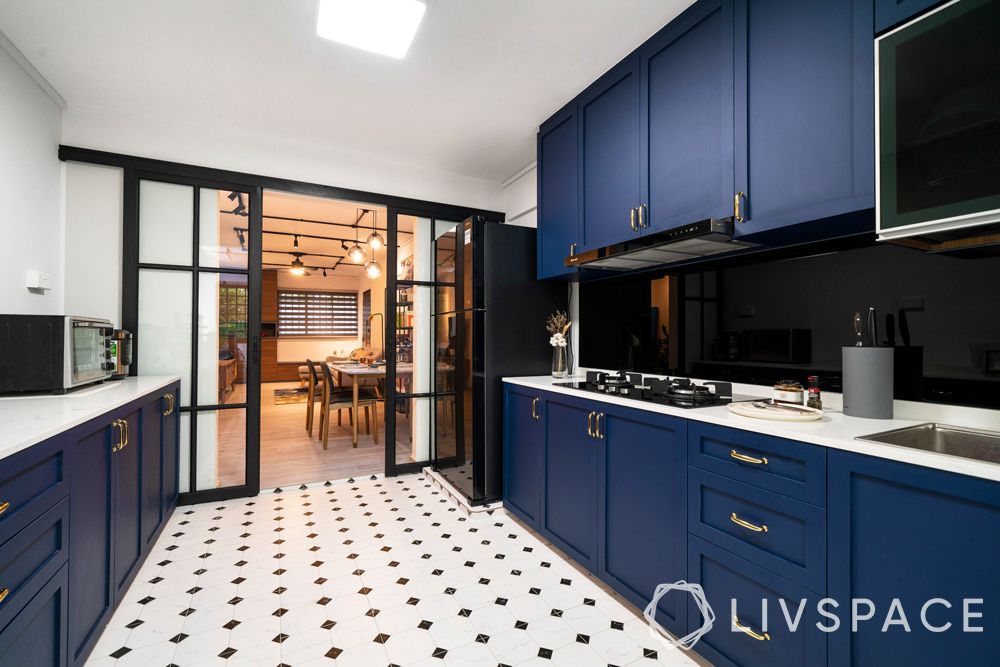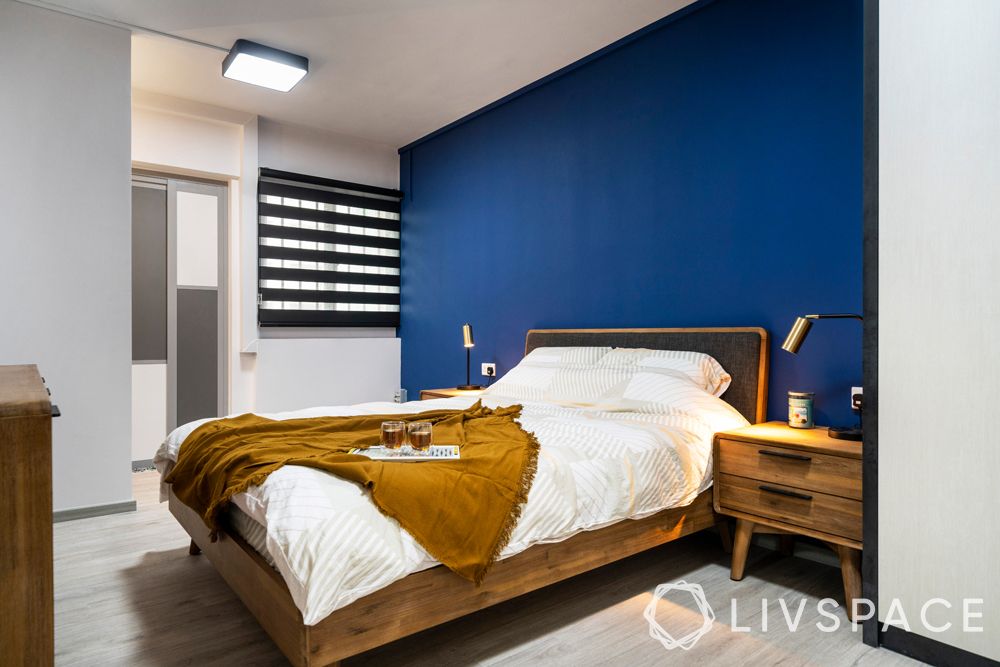 This young couple's 3-room HDB is the perfect balance between old and new. The 40-year-old property designed by Livspace designer Shim Chen has a neutral colour palette with splashes of blue in the kitchen and bedrooms. The highlight of the home is definitely the country style kitchen which is a rare sighting in the city.
Another distinctive and rare feature in this project is the kind of renovation that took place. In most cases, major civil changes are almost unheard of. However, this home was renovated to give the homeowners exactly what they want.
Some of the changes included making the kitchen entrance bigger and installing a set of black, aluminium powder-coated sliding doors. But that's not it! The couple's bedroom wall was knocked down and reconstructed to increase the floor space. Lastly, the compact bathroom called for a smart design so Shim removed the vanity unit and installed it outside the bathroom entrance, giving the bathroom more space for a shower enclosure.
#2: A 30-year old HDB personalised to a T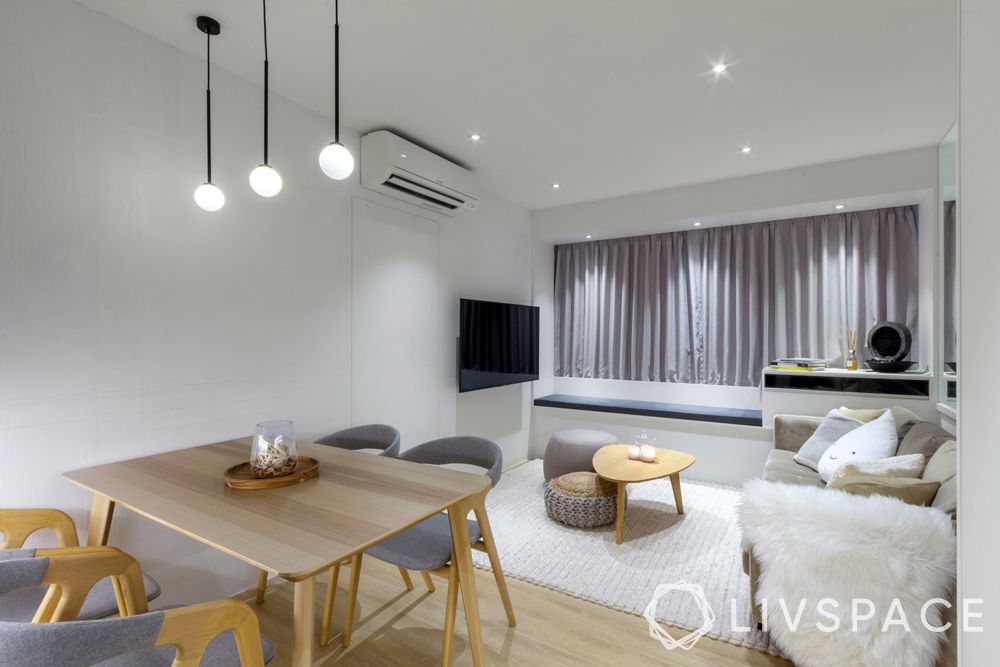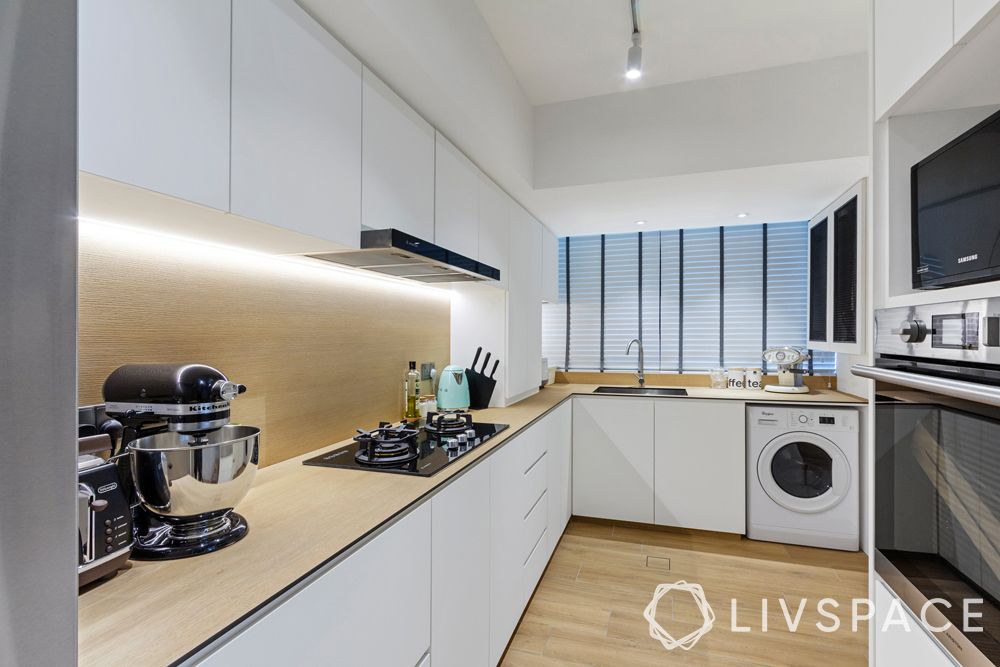 Homeowners of this beautiful HDB, HuiMin and Ivan wanted their 30-year old property to reflect their preferences and lifestyle. Situated on Havelock Road, its neutral colour palette, ceiling to floor storage solutions and sleek grey themed bedroom is a dream come true. Subsequently, Livspace designer William Chong has gone all out to give the homeowners a personalised space with functional features.
One of the features of this HDB renovation is a custom designed bar unit for the private couple. It is made of black metal and tempered glass, giving the ]living room just the right amount of style and utility. For the baking enthusiast, HuiMin, William has designed a low maintenance kitchen with handleless cabinets for a sleek look. Moreover, the bedrooms come with their own custom features. The master bedroom is packed with a vanity and study unit to make the most of the space while the guest bedroom is packed with ceiling to floor wardrobes.
#3: 3 Room BTO Design For A Maximalist's Home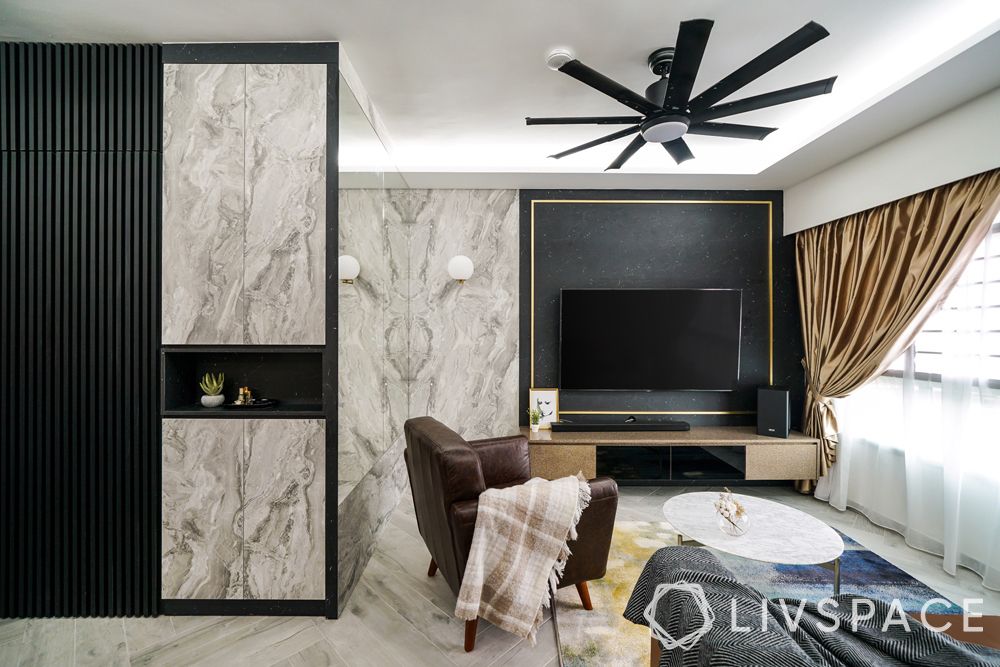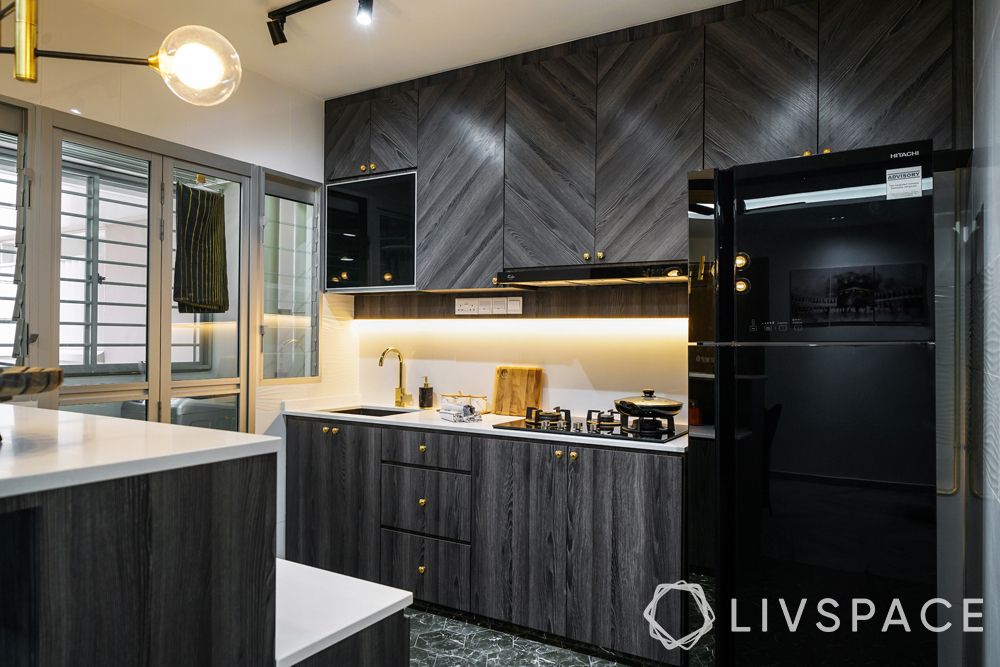 This home with a myriad of stunning designs belongs to Habib Noor. He stays here with his wife Zullaihah with their baby boy. What's eye catching about this home is the dark colour palette and luxurious textures used. Consequently, Livspace designer Sheik Kader took the opportunity to pack the home with as many unique features as possible.
Starting with the TV unit, it has a unique laminate finish back panel in black with a gold border. Subsequently, these dark laminates are balanced out with grey marble looking laminates. Moving on, the storage in the home features a black and grey colour to go with the theme. However, the herringbone or hexagonal flooring pattern steals the spotlight.
Not to mention, one of our favorite elements in the 3 room HDB renovation is the integrated kitchen island in the compact kitchen space. It gives the family more counter space and a place to eat their meals.
Take a look at our favourite HDB renovation stories that are sure to spark your creativity.
Send in your thoughts and suggestions at editor.sg@livspace.com.