Who doesn't want to save a few bucks on home renovation? When you already have a long list of things to take care of, finding a way to save money is a welcome opportunity. And no, before you start worrying, budget home ideas don't mean that you have to compromise on the aesthetic or functionality of your home! All you have to do is select the materials and finishes carefully and opt for low-cost alternatives wherever possible. Zhibin and Tong Shuyi's BTO shows you how to do it right. We've listed our favourite budget ideas from their home for you.
#1: Save cost and time with vinyl tiles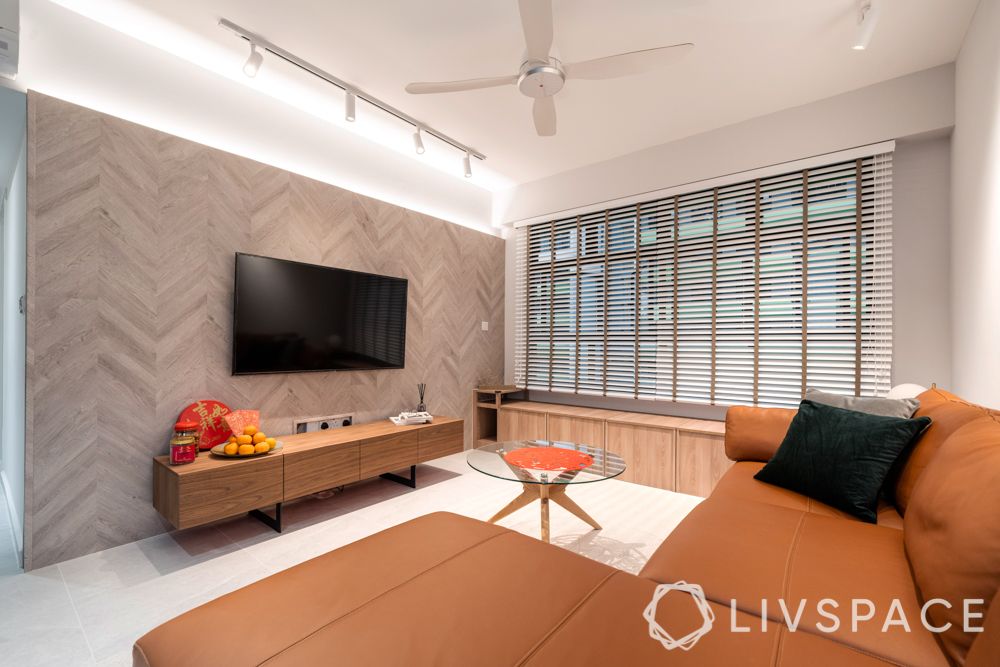 You must have heard about vinyl tiles being used for flooring but have you thought about using them on walls? Our designer, Jake Tong wanted to highlight the TV unit wall, yet keep the budget in check. Therefore, he decided to experiment with the material and fixed vinyl tiles on the TV unit panel to create a feature wall. Cove lighting and track lights emphasise the texture of the wall and showcase it in the best way possible. This budget home idea is sure to get your friends and family talking!
#2: Laminate finishes for a budgeted yet clean look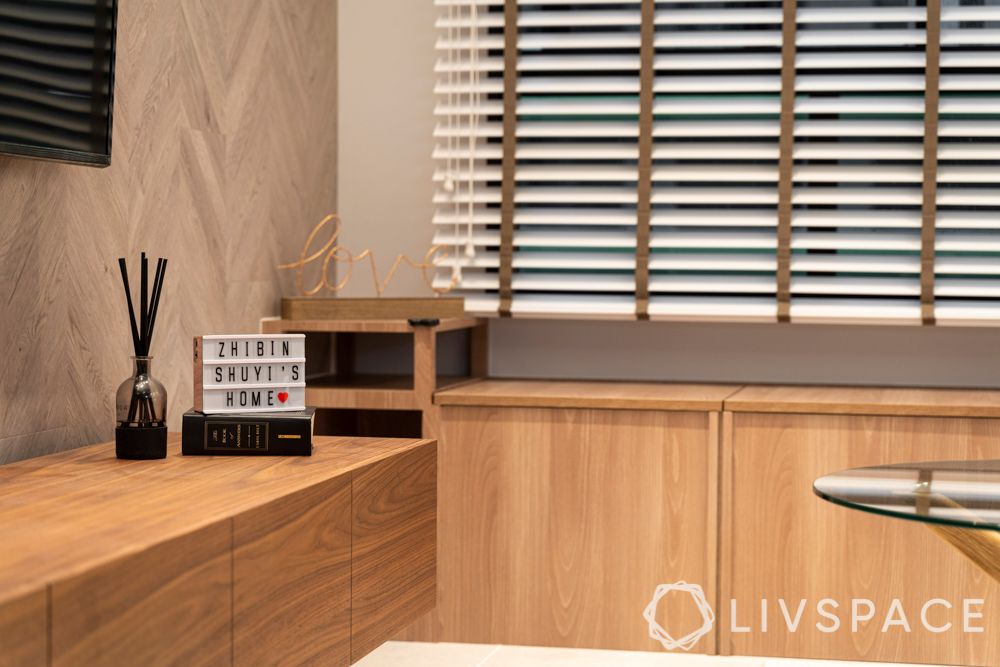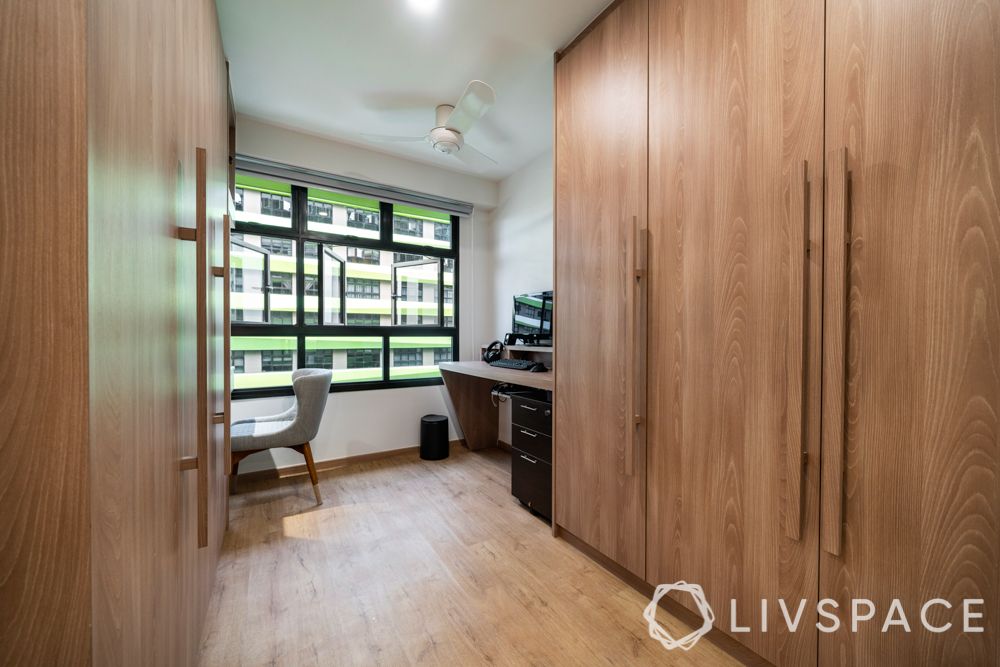 If there's one finish that is popular and cost-effective, it has to be laminate. This warm wooden finish creates a soothing ambience in any room and is super easy to maintain. This HDB BTO is filled with laminate finishes in practically every corner. From the living room to the kitchen and bedroom, this budget finish has been used liberally on the furniture and cabinetry. Infuse your budget home with laminate if you do not want to blow your renovation expenses.
#3: Try ceramic floor tiles instead of other expensive flooring materials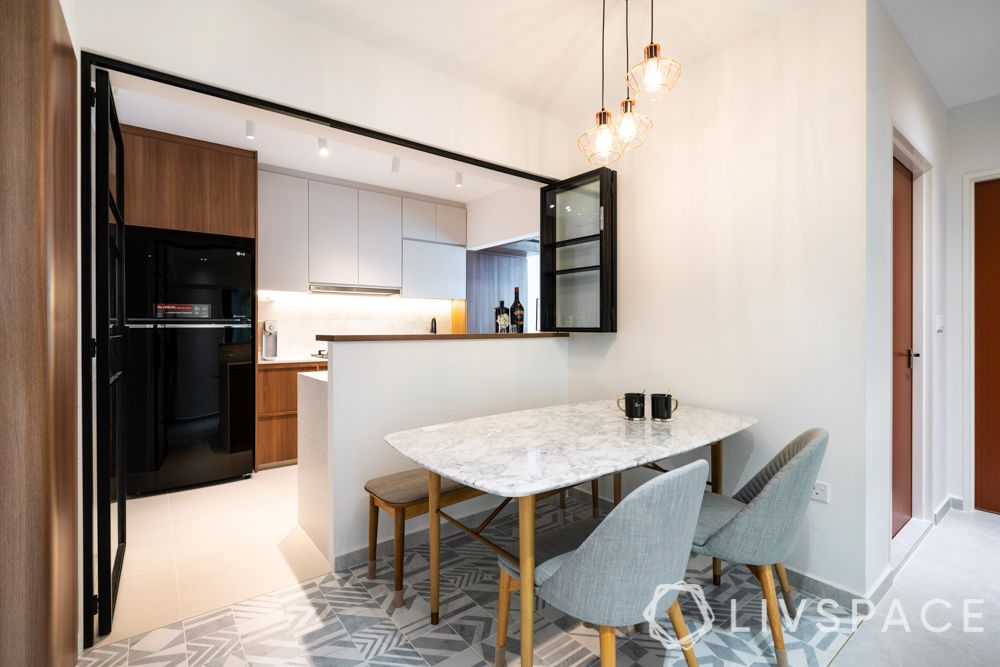 Sure, there are numerous flooring options available in the market today, and you will be tempted to go for hardwood and other warm-coloured flooring. But, we recommend that you curb your instincts if budget is a consideration and let us introduce you to ceramic tiles instead. When it comes to budget home flooring ideas, ceramic tiles reign supreme. In this HDB BTO, we used these tiles to demarcate the dining area. It sure looks unique and while it can take some time to get used to, you won't regret it once you take the leap of faith.
#4: Wall-mounted lights cost way lesser than ceiling fixtures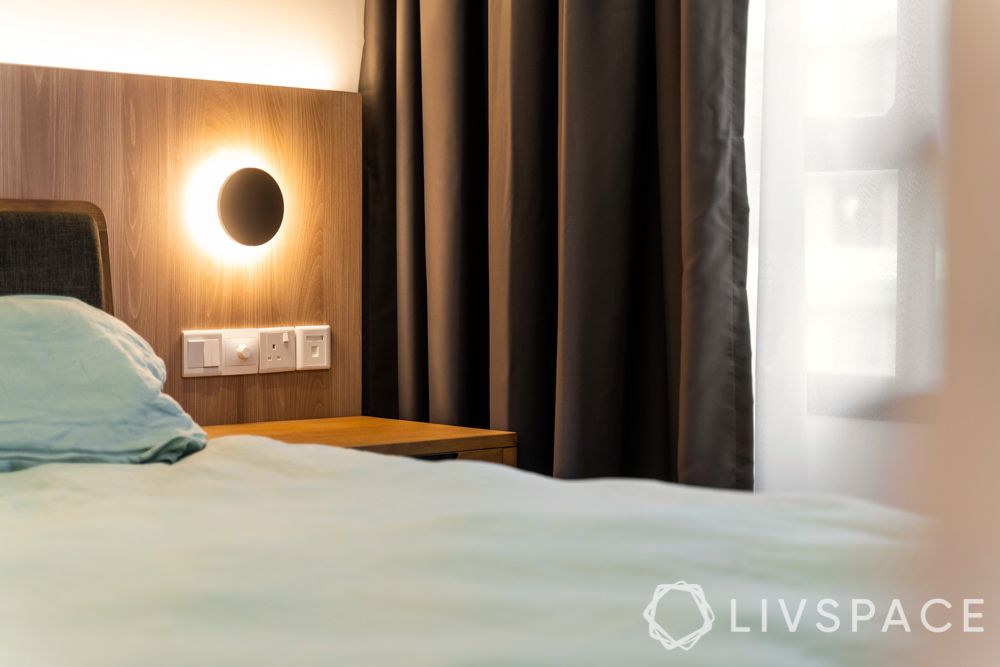 Are you one of those people who loves exploring offbeat lighting options for your home? While fancy pendants and ceiling lights might attract you, we want to bring your attention to this sleek wall-mounted lamp. For lovers of minimalist lighting and fixtures, this bedside lamp fits right into the wall panel and makes for lovely ambient lighting. Since it does not provide bright illumination, it's perfect for bedrooms. A great budget home idea that's also very neat!
If you try these 4 budget home ideas for your next home renovation, we can assure you that you will end up saving a good amount of money. If you want more tips, check this out: 8 Ways to Save At Least $20,000 on Your Home Renovation.
How can Livspace help you?
We hope you found our ideas useful! If you want your home to be just as beautiful, then look no further. Book an online consultation with Livspace today. Delivering safe home interiors is our No. 1 priority. Click here to find out how interiors are being delivered following all safety protocols.
Send in your comments and suggestions at editor.sg@livspace.com