The fact that marriage changes everything stands true for living arrangements too. Redecorating your bedroom is one of the most important (and exhausting) tasks after tying the knot. It is so because the bedroom you share with your partner should reflect the balance, love and harmony in your relationship. Therefore, we have collated some master bedroom ideas and tips to help you in this feat.
Read on to find out how you can renovate the bedroom to mirror your style and needs.
#1: Know what you like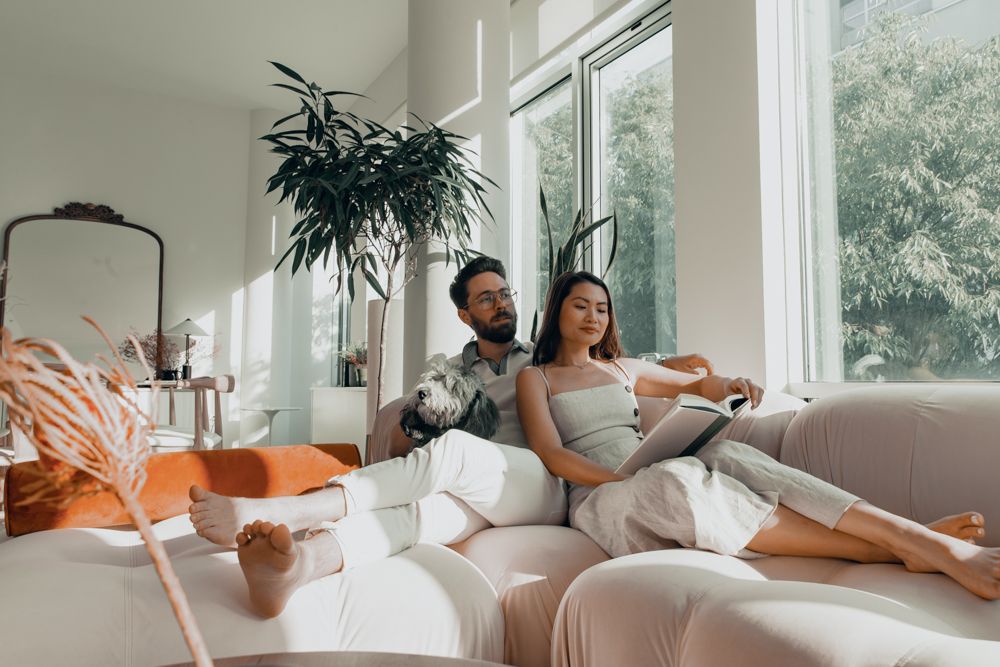 The first and foremost thing to do for a couple sharing a space is to know and understand the tastes and sensibilities of each other. Remember that not communicating your likes and dislikes can lead to a muddled bedroom that you will start to dread. So, sit down and share your ideas. To attain a design style that works for you and your partner, finding the balance is key, no matter where your differences lie.
#2: Draw out the budget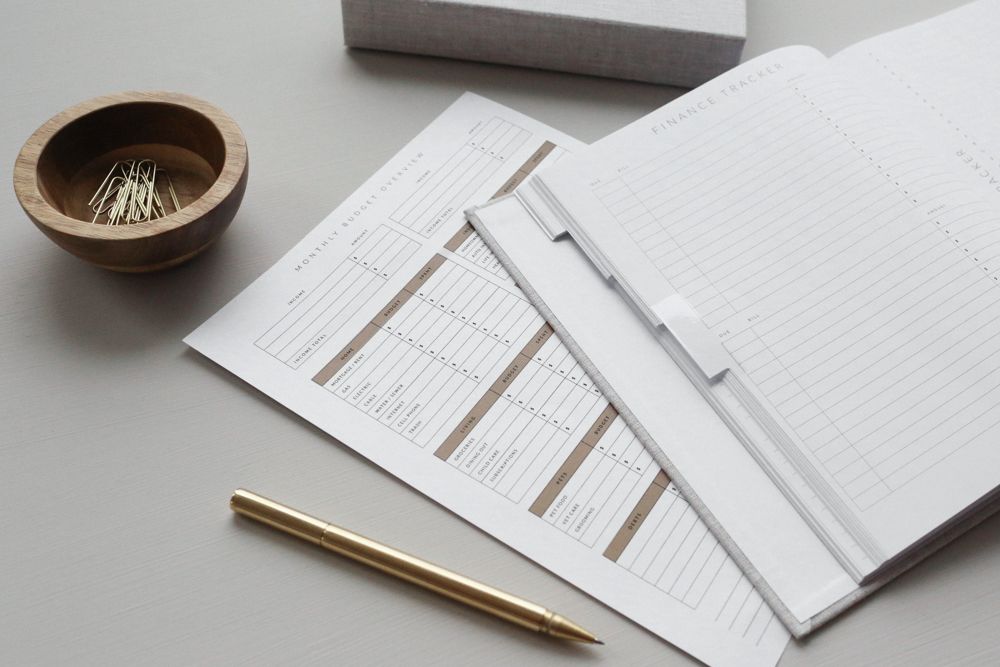 This one is pretty obvious and essential. Once you've both decided on the basics, be aware of your finances and decide how much you are willing to shell out for your master bedroom ideas. Chalk out the things that you need and want in the room to draw a working budget. Do not forget to account for contingencies.
#3: Choose a colour palette that you both like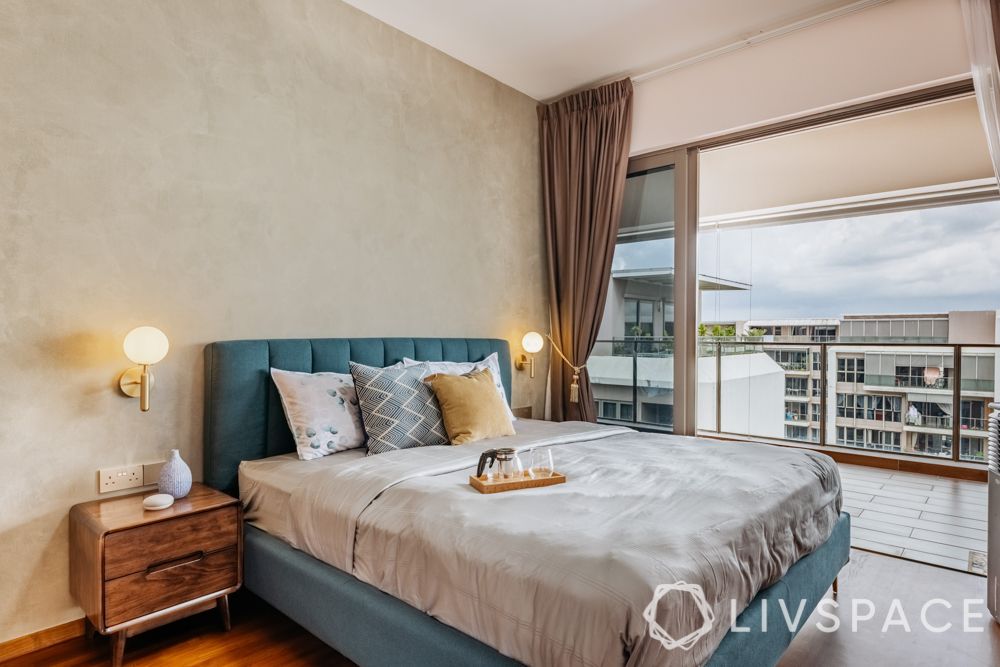 Colour selection is a crucial decision to make. Colours bring out the essence of the room and your relationship. Since painting the room with your favourite colours may not work here, we advise you to go with a neutral colour setting and add colours with furniture and soft furnishings.
Take this master bedroom idea as an example, the blue bed and plush brown curtains add a pop of colour in the neutral setting. The best part of a subtle backdrop is its nature to blend seamlessly with other colours.
Here are 6 Best Paint Ideas for the Most Enviable Bedroom
#4: Keep space in mind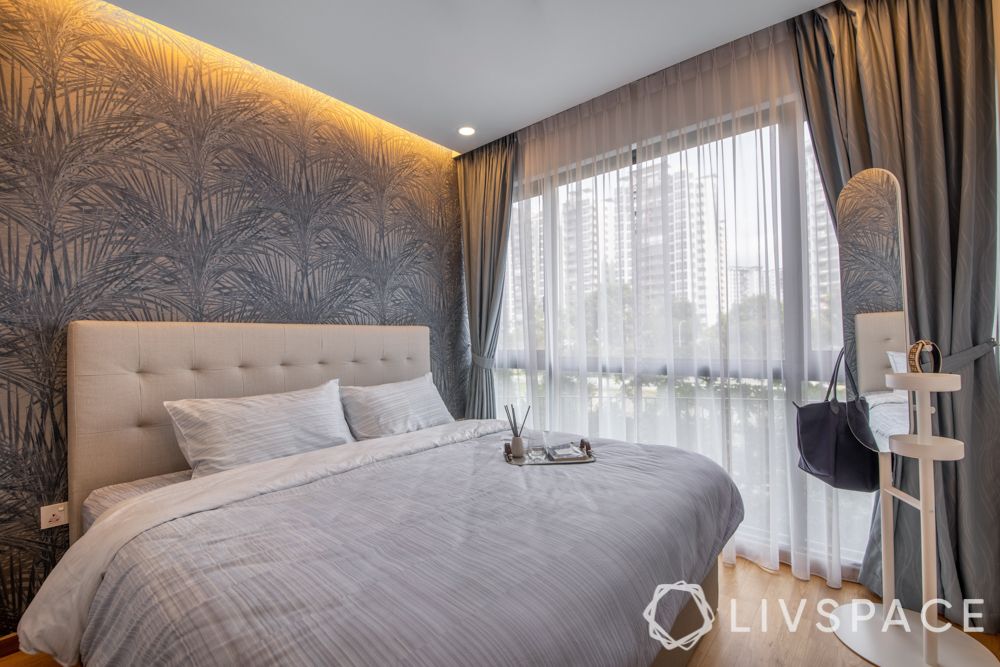 If space is a constraint or you just want to have more floor space, then this is for you. Try these tips to make the most of the available space in your bedroom:
Use floating shelves to store or display any prized possessions and elevate the look of the room
Placing large mirrors can make the room appear more spacious
A queen-size bed can perfectly accommodate two people. So go for it to save space (and cost)
Sliding doors for wardrobes is a space-efficient option
Check this out for more: How to Design a Master Bedroom Efficiently
#5: Go with an interesting headboard
The bed, without a doubt, is the focal point of a bedroom. So, why not make it a bit interesting. Instead of going for a regular bed, try picking one with an attractive headboard. A headboard, like the one you see in this image, can alone add a lot of character to the room. And who knows, this could be a common liking for the two of you!
#6: Have space? Consider a walk-in wardrobe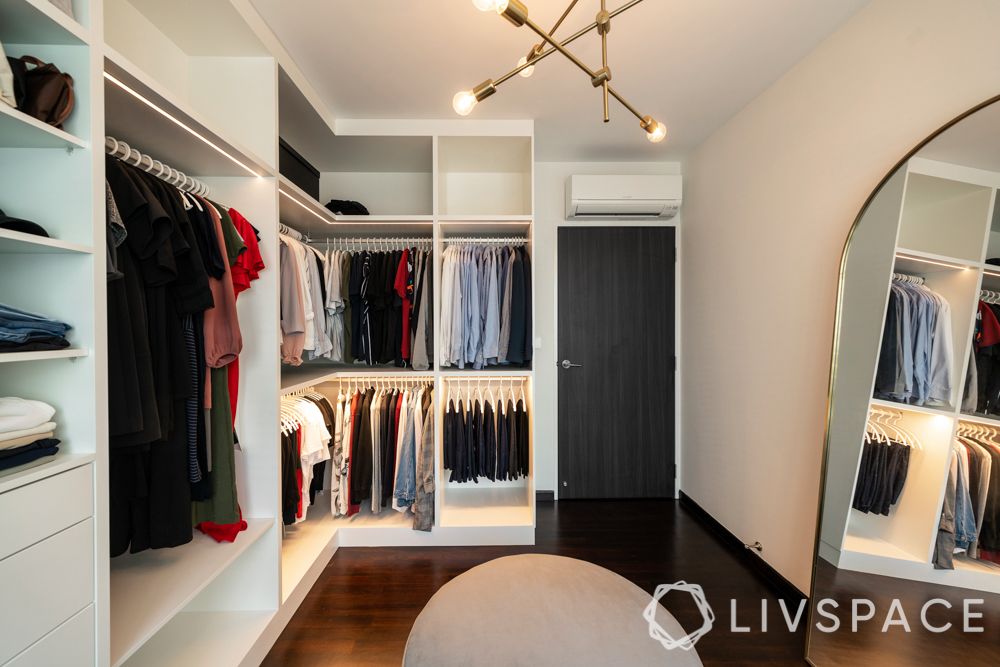 There ought to be a tiff when it comes to dividing the wardrobe. So, if your room is big enough, try having a walk-in wardrobe. All your essentials can be stored away here, leaving more room near the bed. If you can't accommodate a walk-in wardrobe, it is best to go with a large wardrobe with a seamless finish to accommodate all your possessions.
Here's How to Solve Every Storage Problem With the Right Wardrobe
#7: Accentuate with soft furnishings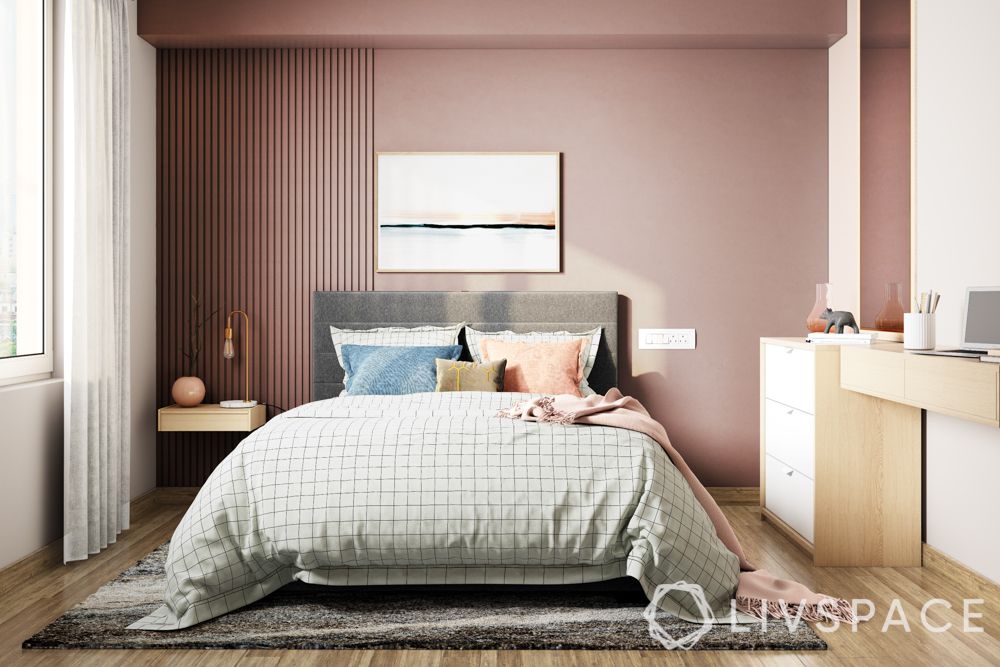 Remember we told you a neutral setting is ideal for experimenting with soft furnishings. It is because they can add that much-needed pop to a neutral coloured room and can be changed whenever.
Soft furnishings include curtains, rugs, bedding, linens etc., that build the room's aura. They are to rooms what clothes are to us. So, if you are a couple who admires an occasional dose of freshness, then this is one of the master bedroom ideas you can surely work with.
#8: Experiment with additional furniture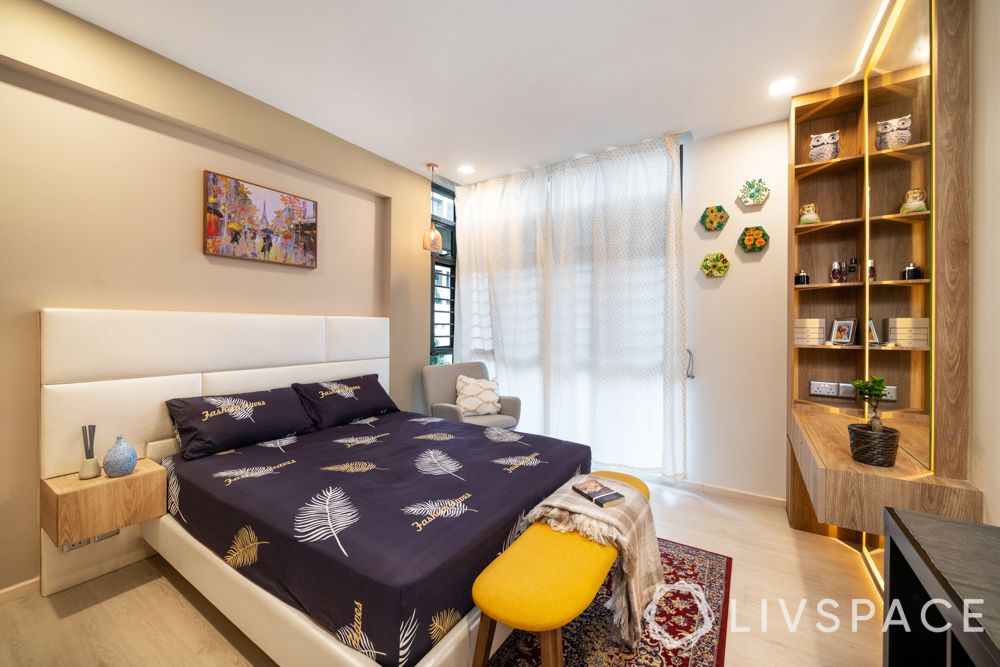 A bedroom can be more than just a bed and wardrobe. For convenience, try adding more furniture like a nightstand and bed bench. Furthermore, you can place single-seaters or even a love seat by the window for those cosy date nights.
#9: Clear the clutter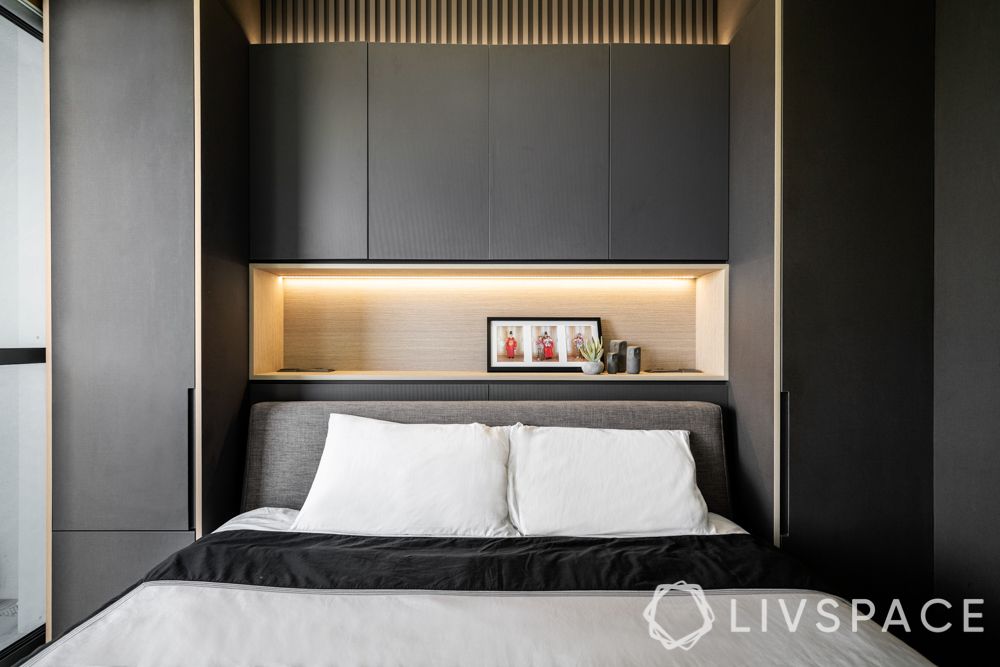 A clutter-free bedroom is what ensures a clear and positive mind. And what is more important in a relationship than a clear and positive mindset?
If you have a lot of possessions, make sure that your bedroom has ample storage space for better organisation. If you have a compact bedroom, utilise vertical space around the bed by installing units like the one in the picture. It is a good master bedroom idea that's functional and classy.
How can Livspace help you design the perfect master bedroom?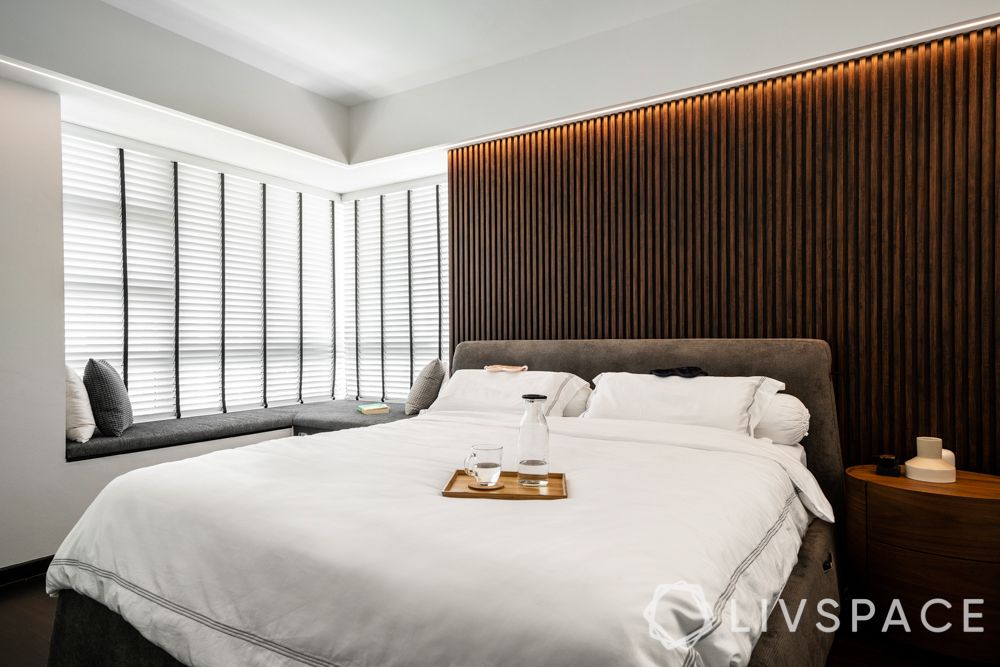 We hope our tips helped you align your master bedroom ideas. But where do you start? We believe that seeking professional help always yields a better result than doing it all by yourself. At Livspace, all you have to do is book a consultation with our expert interior designers and communicate your needs, and the rest is taken care of.
Your bedroom will be designed by involving you every step of the way and delivered after conducting countless quality checks. The bedroom designs that you have seen so far are designed by yours truly and stand as a testimonial to our work. To know more, read How Can an Interior Designer Help You With Your Condo?
For more fresh and simple master bedroom designs, check out 15+ Stunning Bedrooms We Selected From Homes We Have Designed So Far.
Send in your thoughts and suggestions at editor.sg@livspace.com