One might think that compact HDBs ought to be cramped but this home that you are about to see entirely contradicts that notion. Adorned in whites, pastels and wooden grains, this compact 3-room HDB BTO looks airy and spacious. Moreover, this Scandinavian-style home does not hold back on visual appeal too! So if you are battling for space in your compact house, this home has some inspiring small house design ideas for you. Read on.
Best Small House Design Ideas
#1: An Open Layout for a Visually Light Look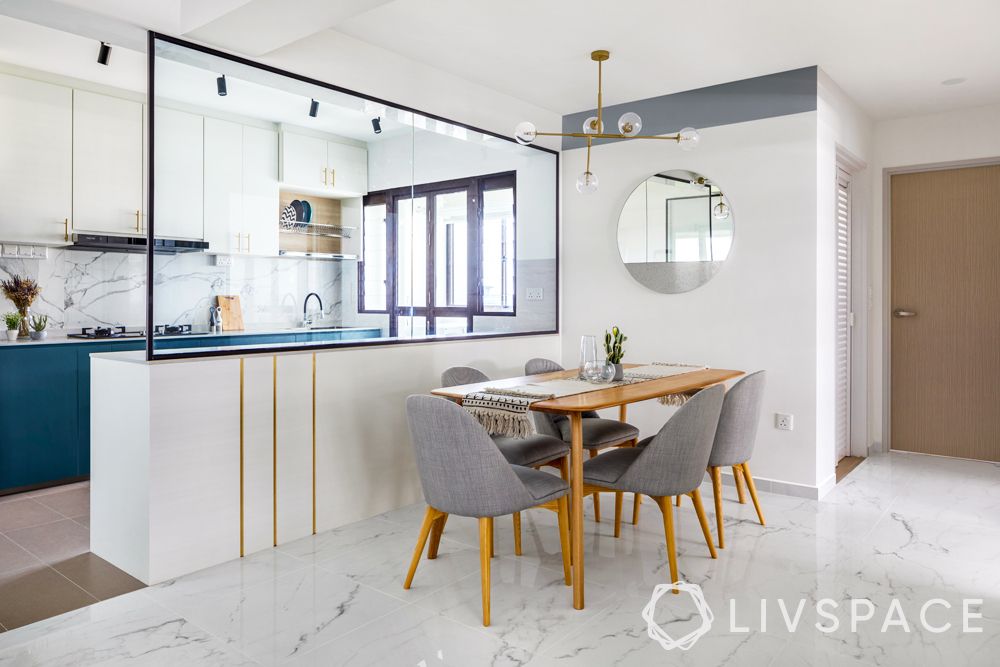 Open floor plans create an illusion of space as there are fewer divided rooms. In this home, only the bedrooms and bathrooms are confined. The living room, dining room and kitchen follow an open layout. So the home looks spacious as soon as one enters.
An open floor plan also allows the home to receive ample light and ventilation. And as we know, with more light the space feels bigger.
#2: Follow a Neutral Colour Scheme
One of the first small house design ideas an expert designer would suggest is to expand a compact space is to follow a neutral colour palette. Neutral colours are light on the eyes and open up cramped spaces.
In this BTO, we can see the extensive use of white and blue hues and a light wood material palette.
#3: Light it Up!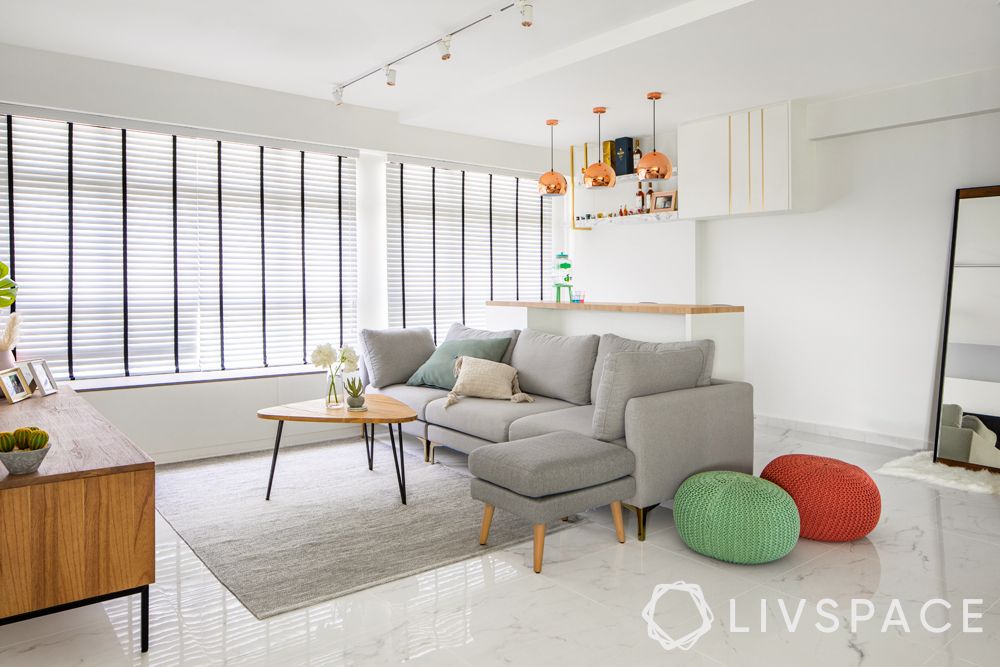 One of the important small house design ideas to pay attention to is lighting. Thanks to the large windows in this home, there is a flood of natural light in the interiors. If you don't have such windows, this HDB has a solution for that too — lighting fixtures. Track lights, pendant lights, floor lamp, etc. are some of the fixtures we see in this home.
PRO Tip:
#4: Use of Glass and Mirrors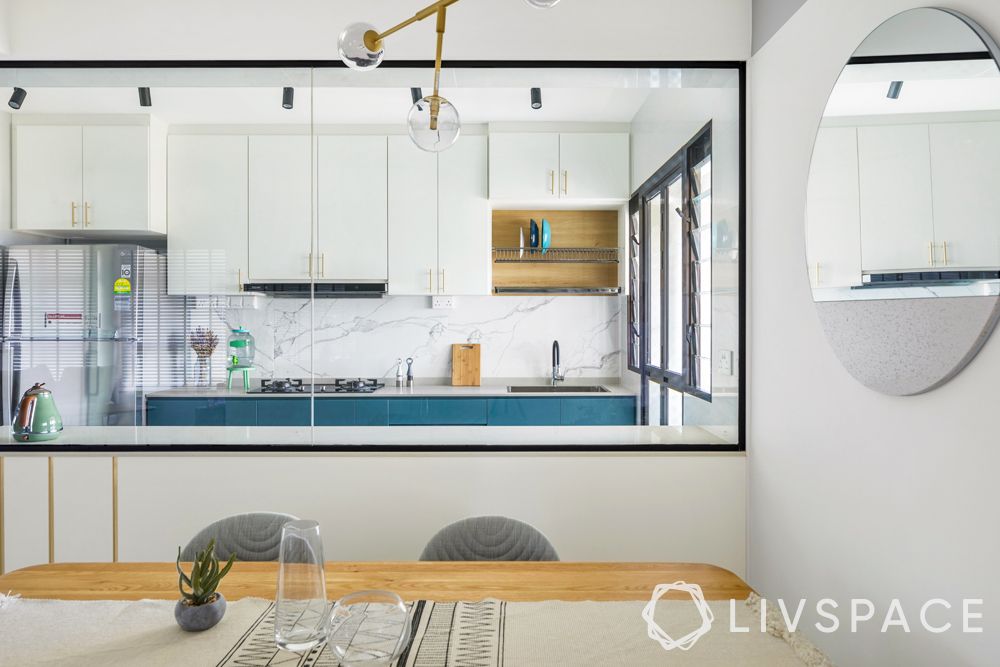 This compact house also strategically uses glass and mirrors in every room. Since glass is see-through, it visually reduces the sense of bulkiness. As for mirrors, they reflect and bounce off light, creating an illusion of space. It is one of the simplest small house design ideas to adopt.
#5: Vertical Wall Space Optimised for Storage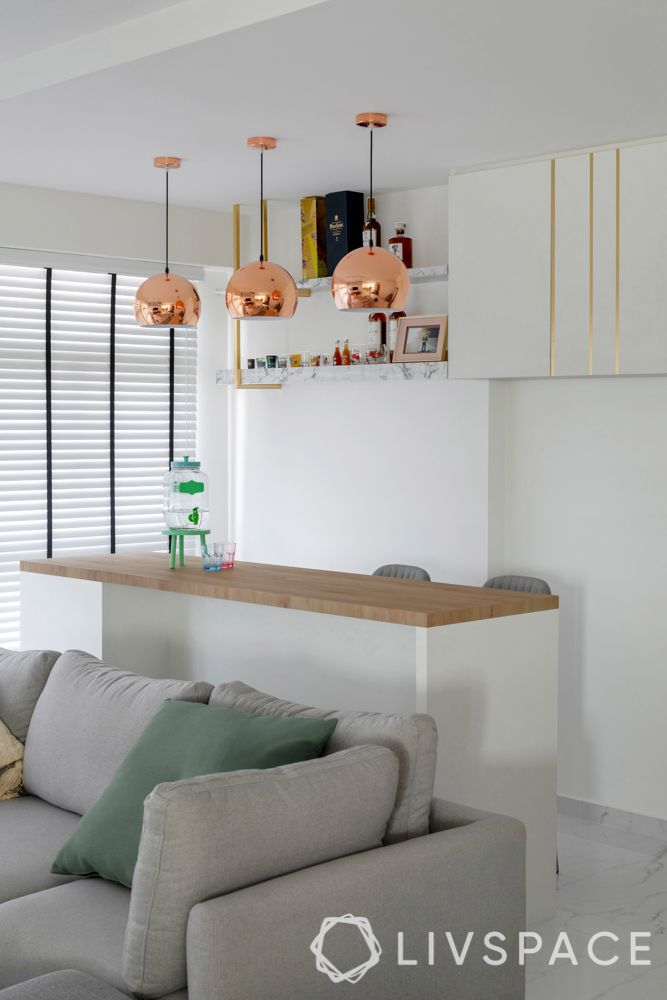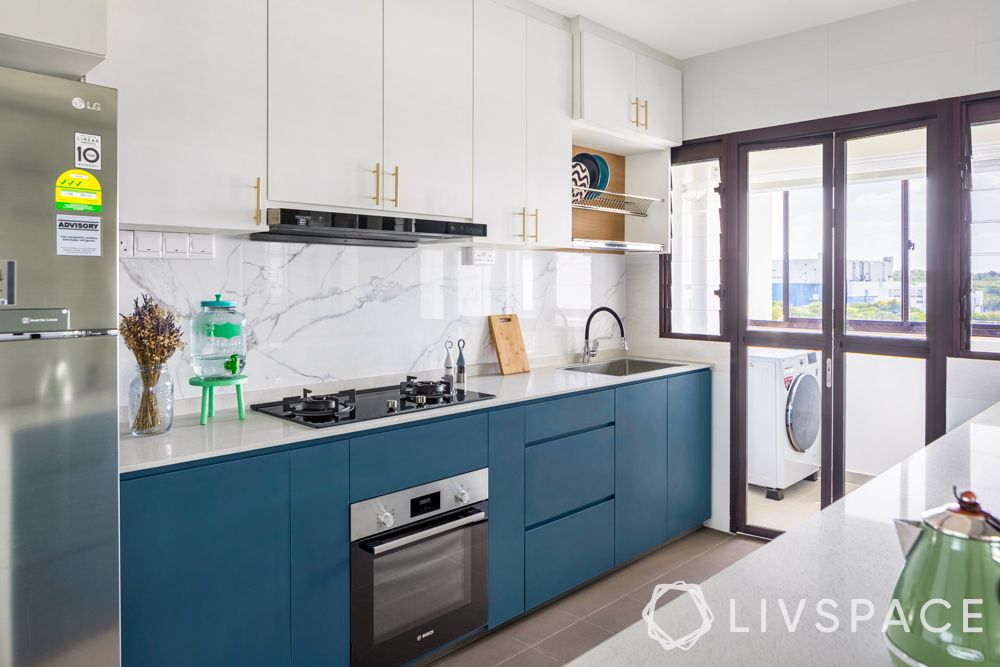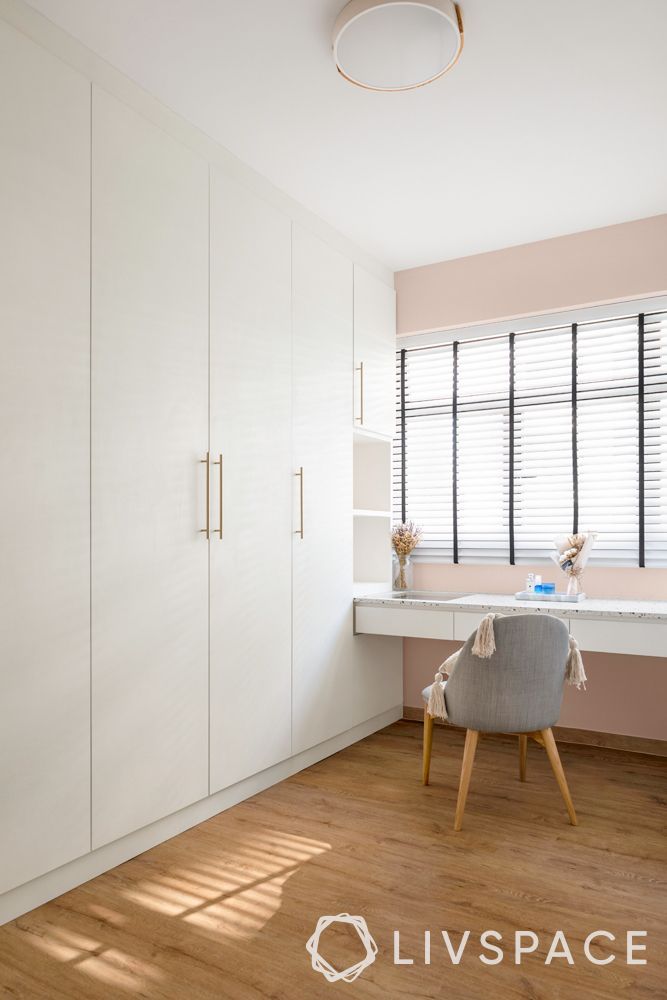 In this home, the kitchen has overhead cabinets that extend right up to the ceiling, while the bedroom has parallel floor-to-ceiling wardrobes. The bar area in the living room too has shelves and a cabinet near the ceiling for storage. Observe that all the units use the vertical wall space efficiently. This is another trick to expand your small house design.
By using the vertical wall space, you can keep the floor clean and uncluttered. So, take a cue from this home for vertical space storage ideas.
#6: Use the Right Furniture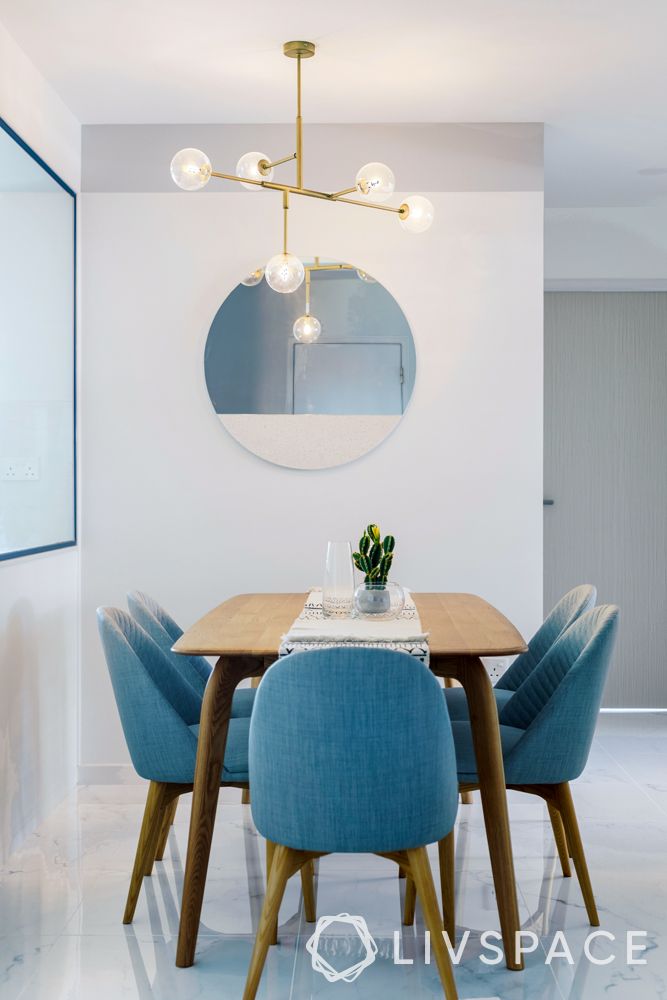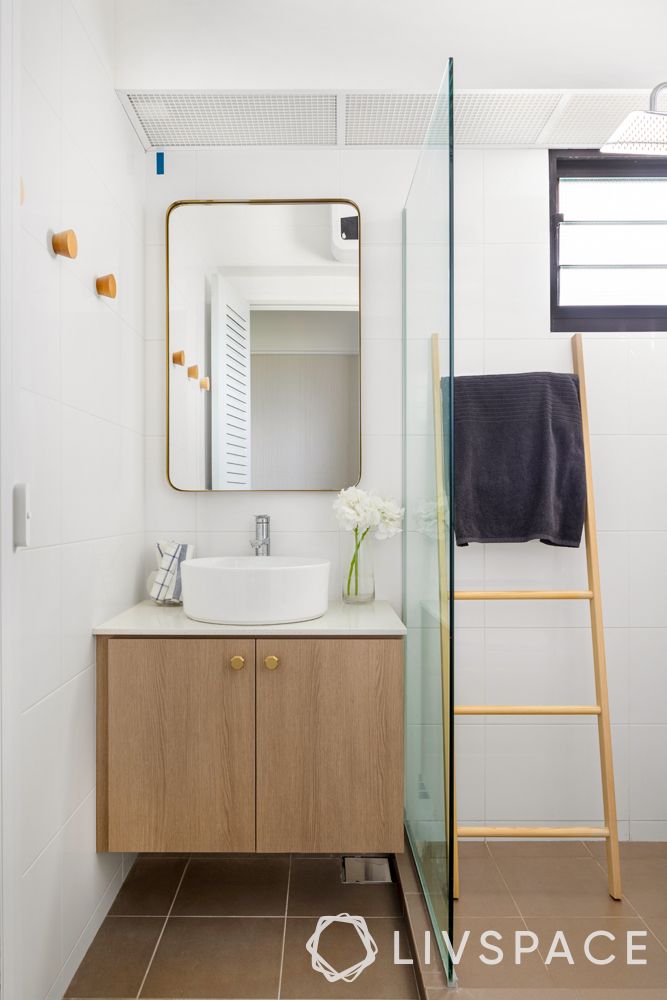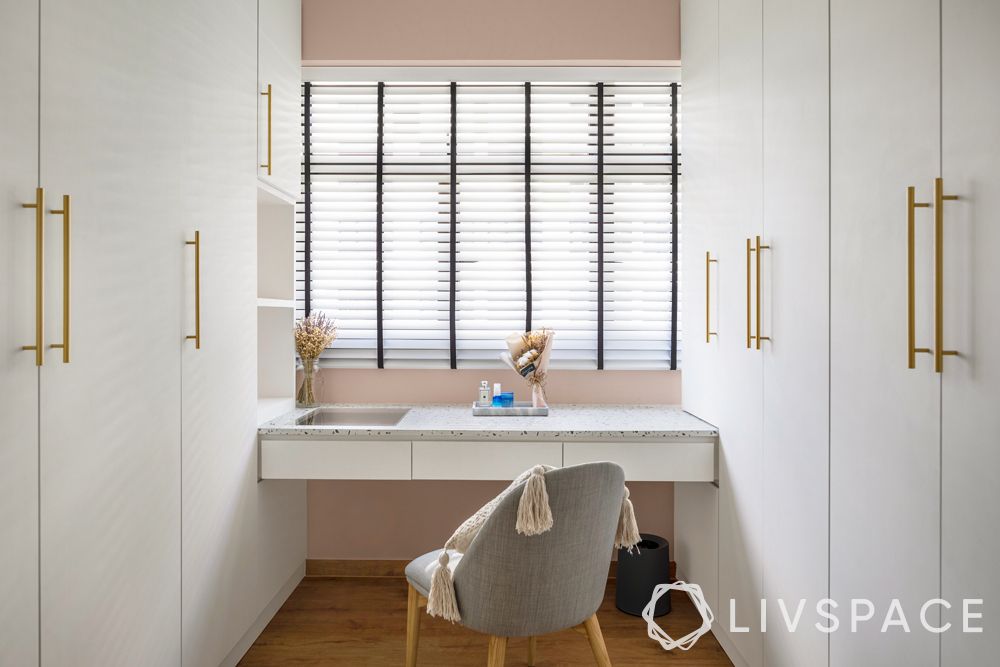 This BTO has floating units and slender-legged furniture. These types of furniture pieces are some of the most-recommended small house design ideas as they occupy less floor space, making the home look more spacious.
How can Livspace help you?
We hope you find our small house design ideas useful! If you want your home to be just as beautiful, then look no further. Book an online consultation with Livspace today. Our expert designers will deliver quality and safe interiors. Click here to find out how interiors are being delivered following all safety protocols.
Want more small house design ideas? Here are Top 10+ Space Saving Ideas for Compact Homes That are Worth Trying.
Send in your comments and suggestions to editor.sg@livspace.com