In the era of open concept homes in Singapore, privacy is something we can't afford to overlook, which is why partitions and room dividers play such a significant role in interior design today. But they do more than just offer privacy. The right kind of room partition ideas help to divide a space, create clean lines and even elevate the aesthetic of your home. Those who want to clearly define space in their living room, without using walls, will need something different, that is, sleek room partitions! You can rely on these sleek room divider ideas to demarcate spaces in your home without cutting them off completely.
How to Use Room Partitions and Dividers in Your Open Concept HDB or Condo?
1. Separating Living and Dining Room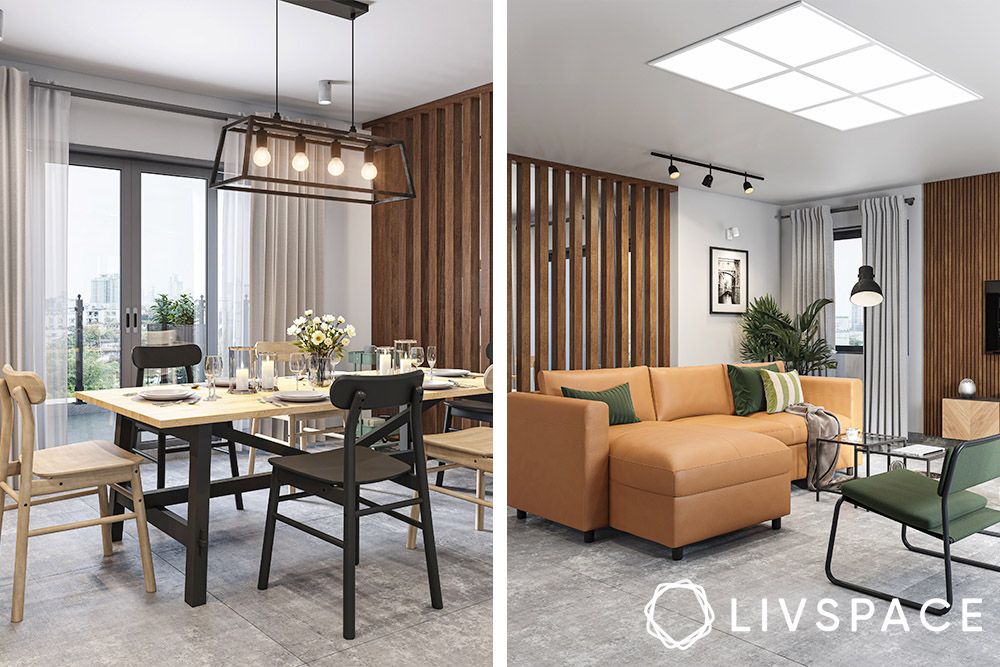 Most of our Singapore homes come with an open layout. So, the demarcation of spaces is really necessary, specially the living area and the dining area. You can use any of the dining and living room partition ideas we mentioned above to keep the personal and guest space separate. If you ask us, wooden wall partition ideas are recommended here.
2. Separating Living Room and Kitchen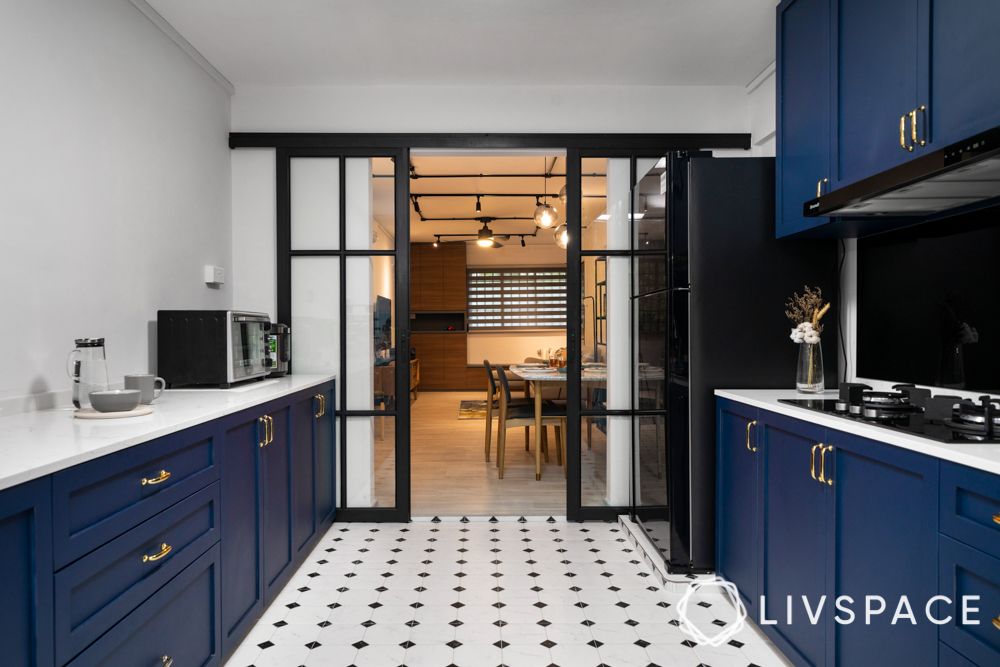 You might definitely need to separate your kitchen from the living room in an open concept house. Sliding doors are the best types of partitions to be used here.
3. Separating Bedroom and Wardrobe
Use a glass partition between bedroom and the vanity area to demarcate the zones. It makes a separate changing room as well as creates an illusion of space.
4. Separating Foyer and Living Room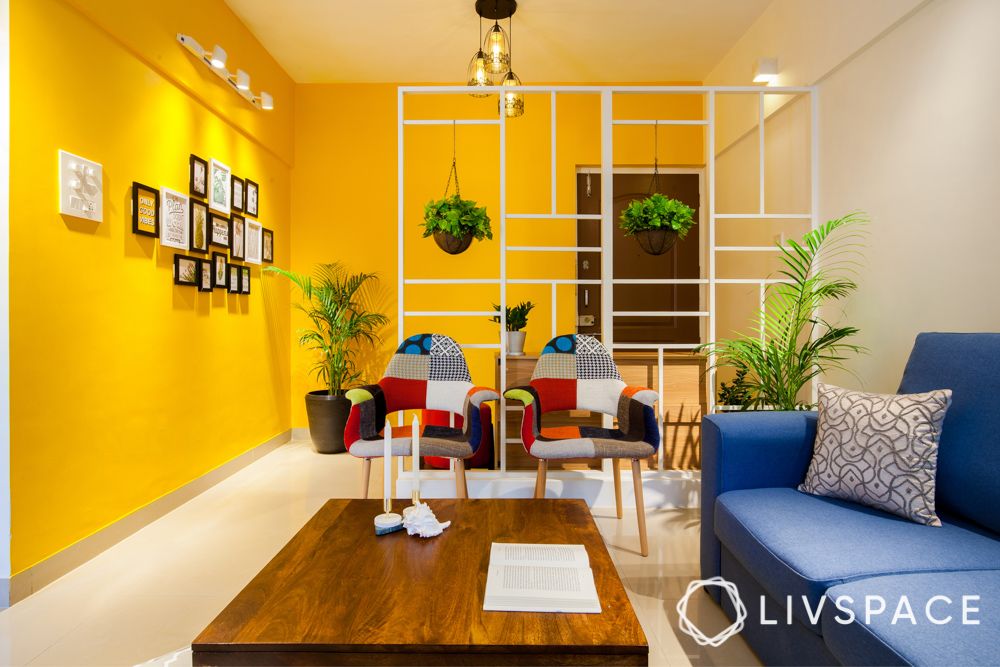 Keeping the foyer separate from the living room is a good idea. It ensures privacy by not giving the direct view of your living room to the guests. Open slat room partition will be the best choice for these to maintain the flow of space and light.
5. Separating Living Room and Bedroom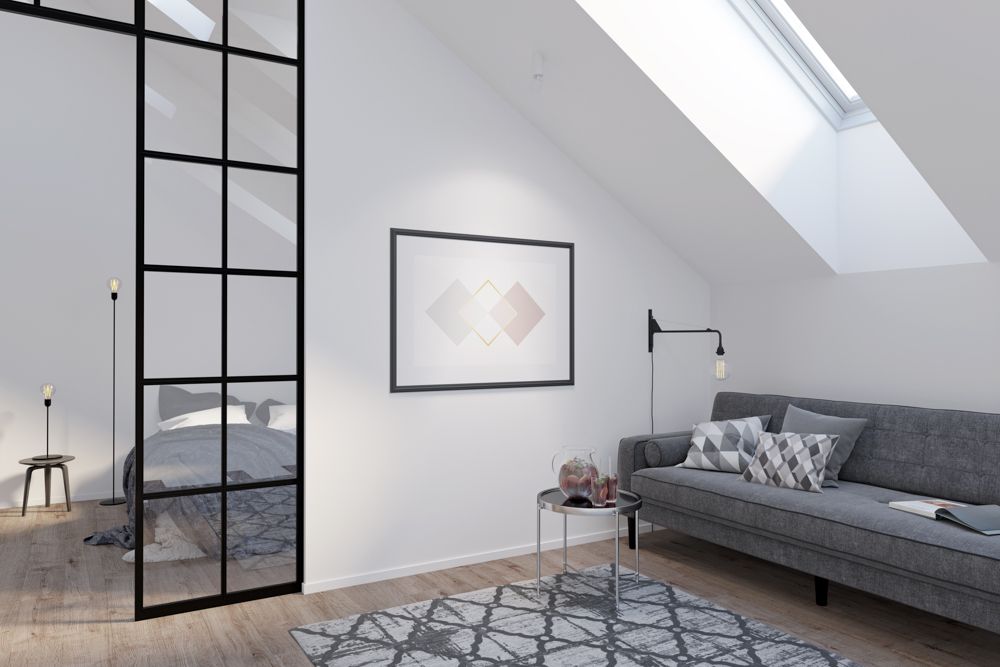 This is an ideal partition idea for a studio apartment where the entire home follows the open concept. Bedrooms need to be segregated from the rest of your house to maintain privacy.
Also read: What Kind of Room Divider Will Best Suit Your Condo?
Room Partition Ideas #1: Fixed Partitions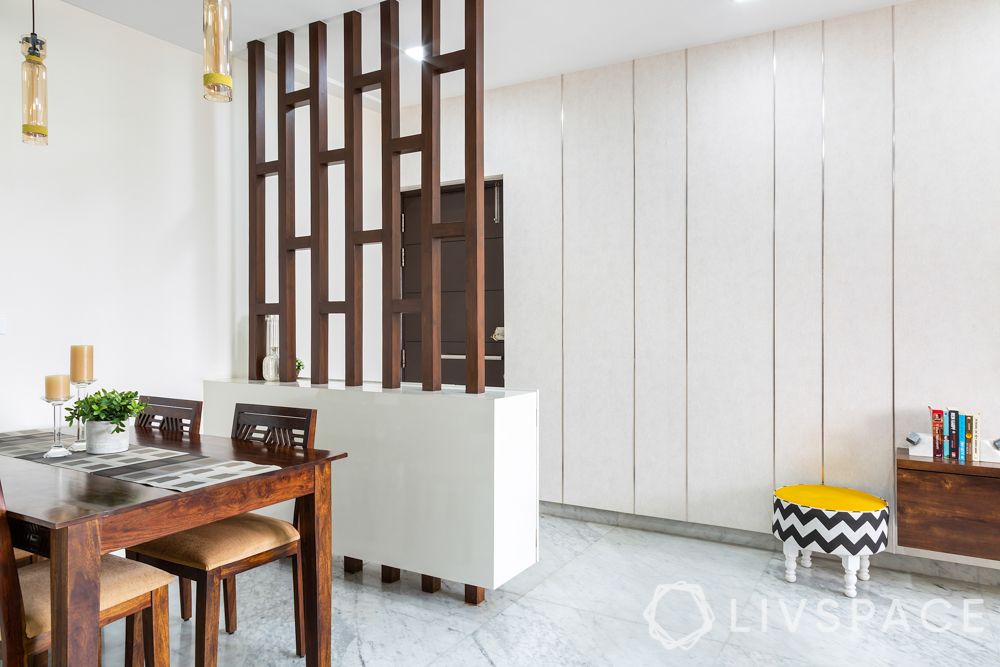 As the name suggests, these partition wall designs are fixed to a spot. These living room partitions are great in spaces where kids and pets are constantly running around. The chances of such a partition falling or moving from its dedicated place are minimum.
Room Partition Ideas #2: Folding and Sliding Partitions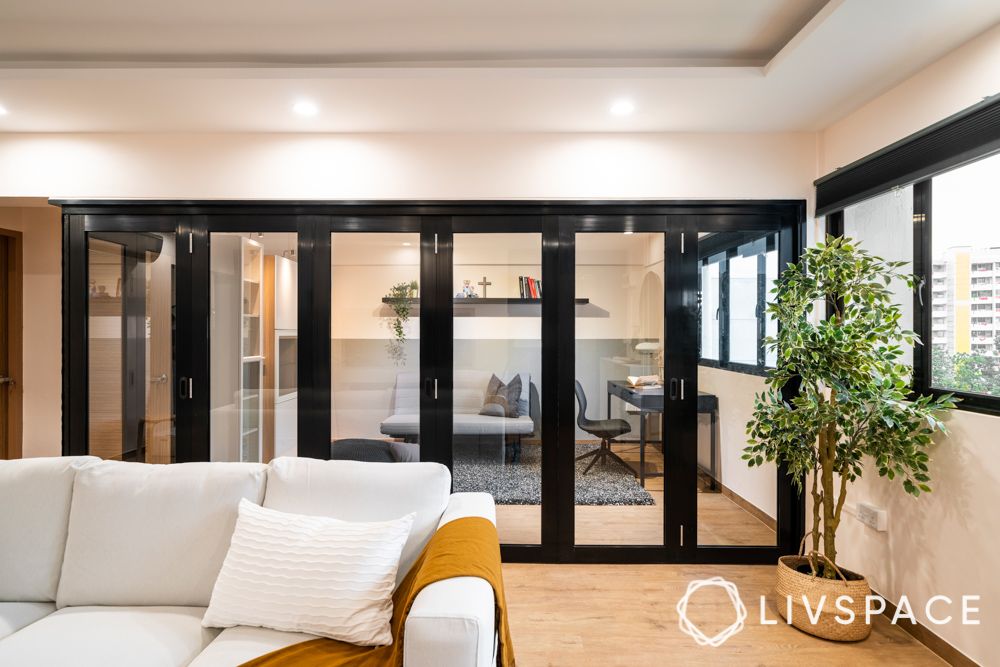 Ideal for Singaporean homes, these sliding partition walls for home can instantly make your home look spacious and bright, and accommodate more guests. Studio apartments also benefit from these stunning dividers. You can choose from sliding or folding options.
Room Partition Ideas #3: Stand-Alone Partitions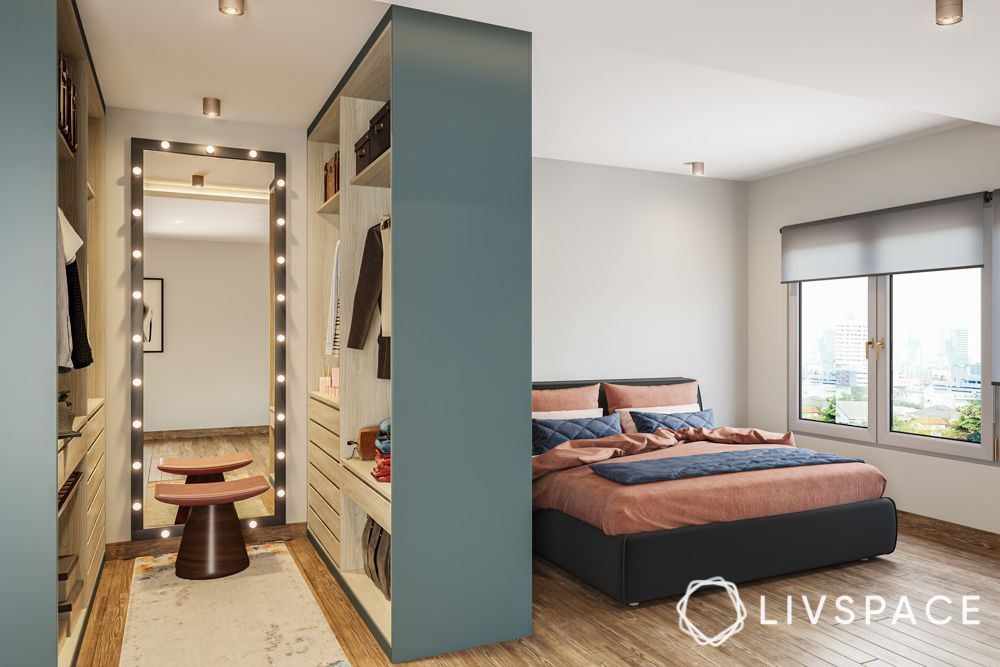 The beauty of these stand-alone partitions is that they can be shifted to any part of the house. Even layout changes can seem like a breeze — all you need to do is lift it and place it in a new area.
Room Partition Ideas #4: A Book-Shelf Partition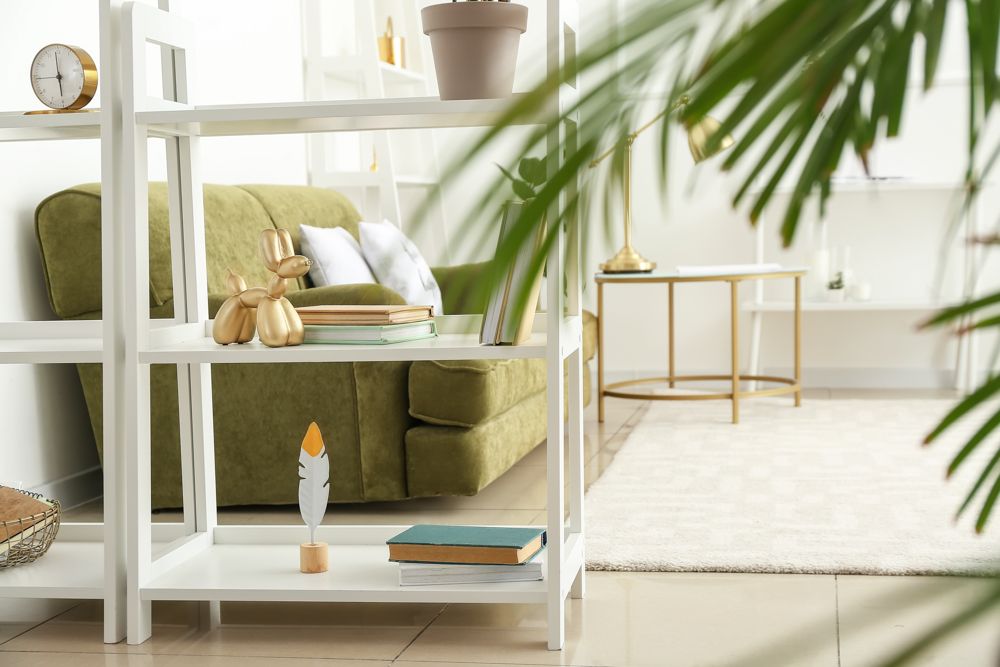 Do you like to read books to unwind yourself? These living room partitions can serve you well as you can keep your books here. They not only segregate your living space but can also be used for storage.
Room Partition Ideas #5: Floor-to-Ceiling Rope Wall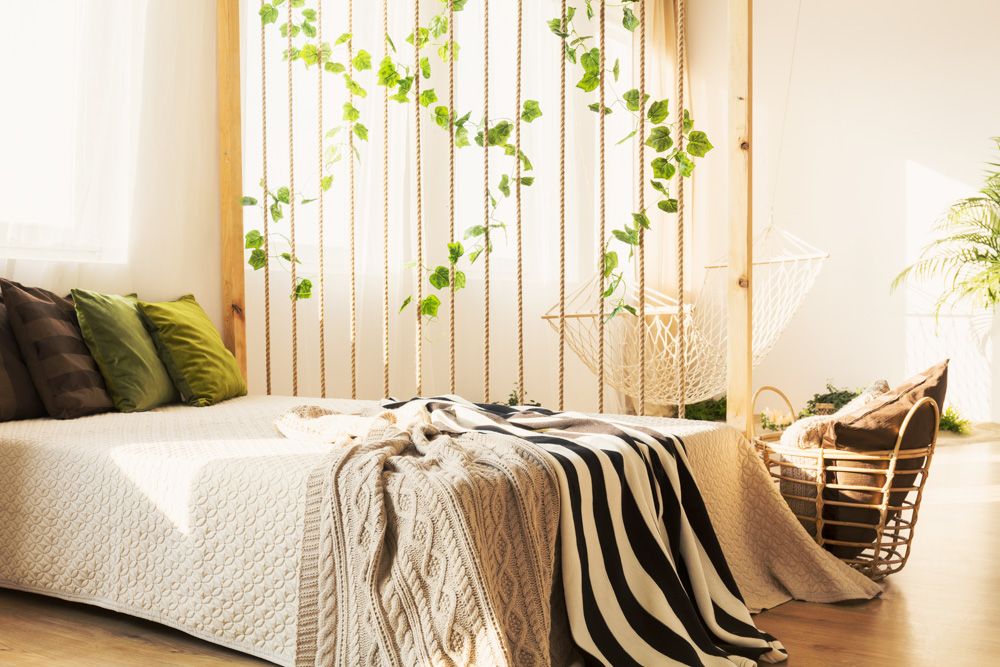 This partition wall design is best suited for people who want to create demarcation within a main room of the house. For instance, this room has a floor-to-ceiling rope partition separating the reading nook from the bedroom.
Room Partition Ideas #6: Salvaged Window Partition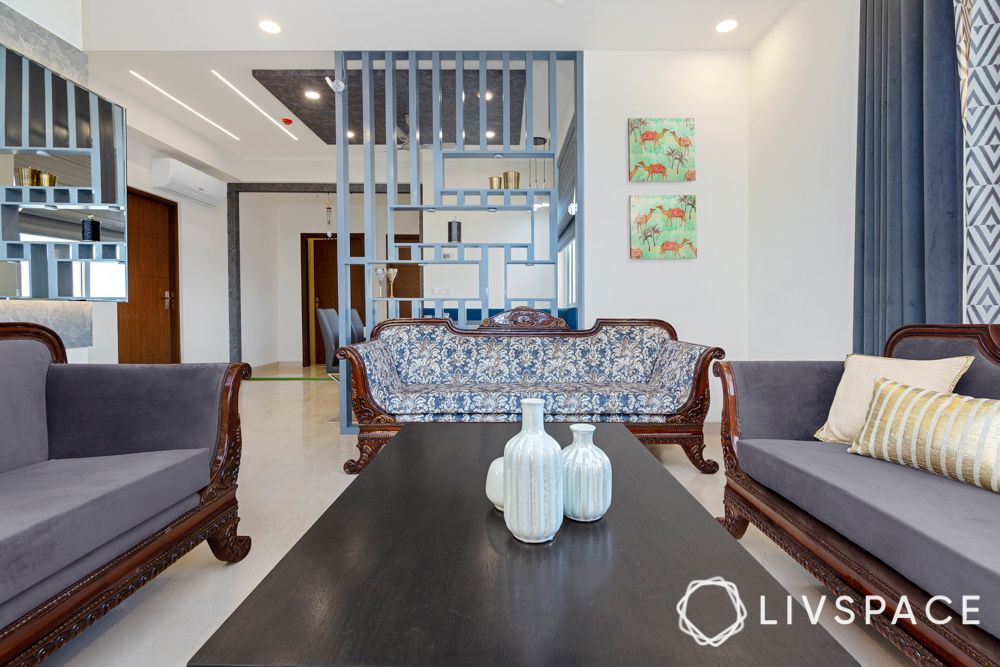 Are you a rustic decor fan? Then, this unique partition design will serve you right. Metallic partition, just like salvage window grill, will work as an ideal divider between your open concept living and dining area.
Room Partition Ideas #7: High Glass Rolling Doors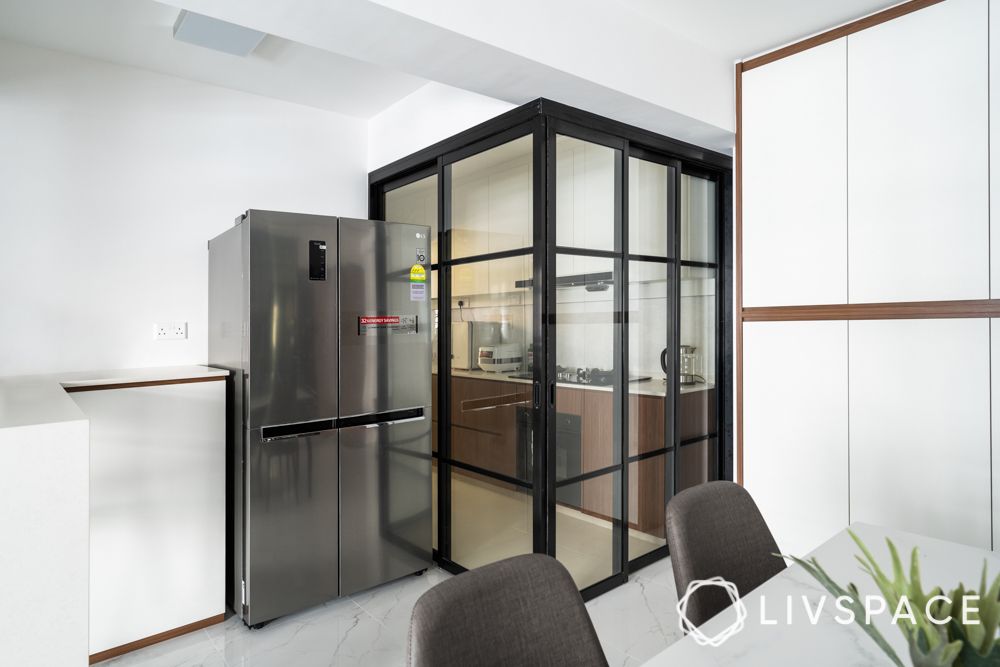 If you do not want sliding partition walls for home, you can go for rolling glass partitions. The glass-door partitions instantly make your room look spacious.
Also read: 10+ Best Interior Design Ideas From Livspace for Your New BTO in Tampines GreenCourt
Room Partition Ideas #8: Wooden Slats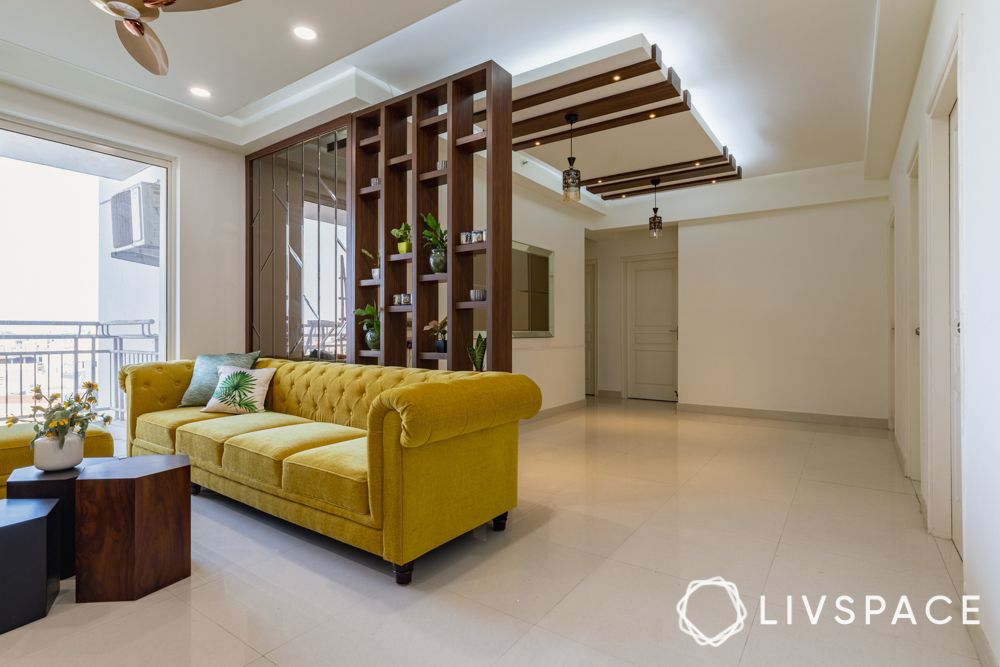 Wooden slats give the space a warm look even as they demarcate the areas. You can choose to place the slats close to each other for better privacy. What's more, these wooden partition walls can be used for enhancing the home decor or storage too.
Room Partition Ideas #9: Lattice Dividers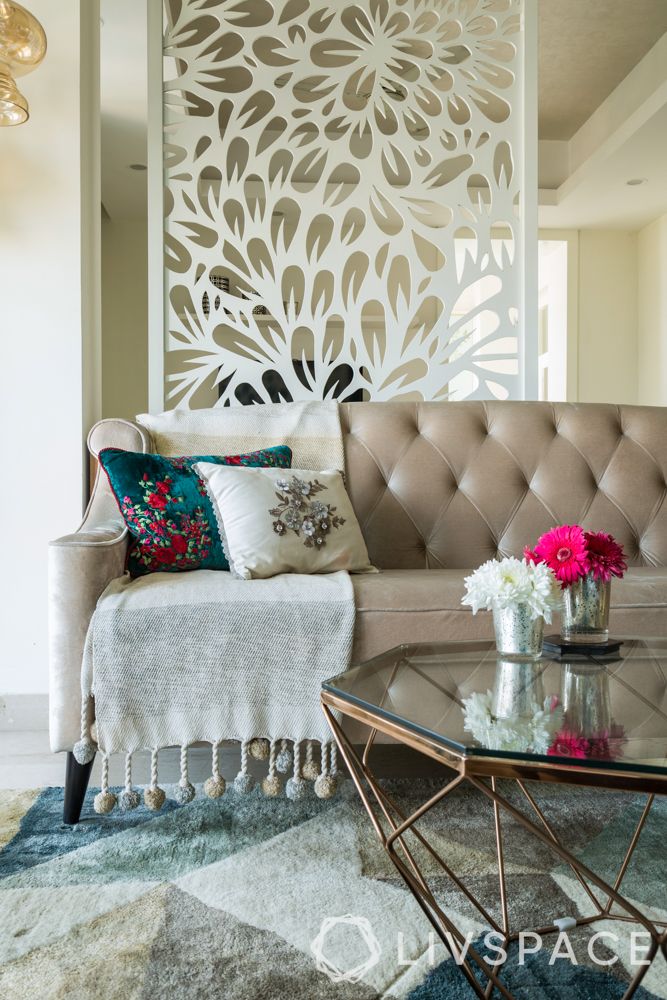 It's hard to resist the beautiful lattice patterns that are available in the market. These intricately designed partitions can enhance the beauty of your room while keeping the look graceful and chic. There are multiple designs to choose from, making it an interesting option for your home.
Room Partition Ideas #10: Glass Partitions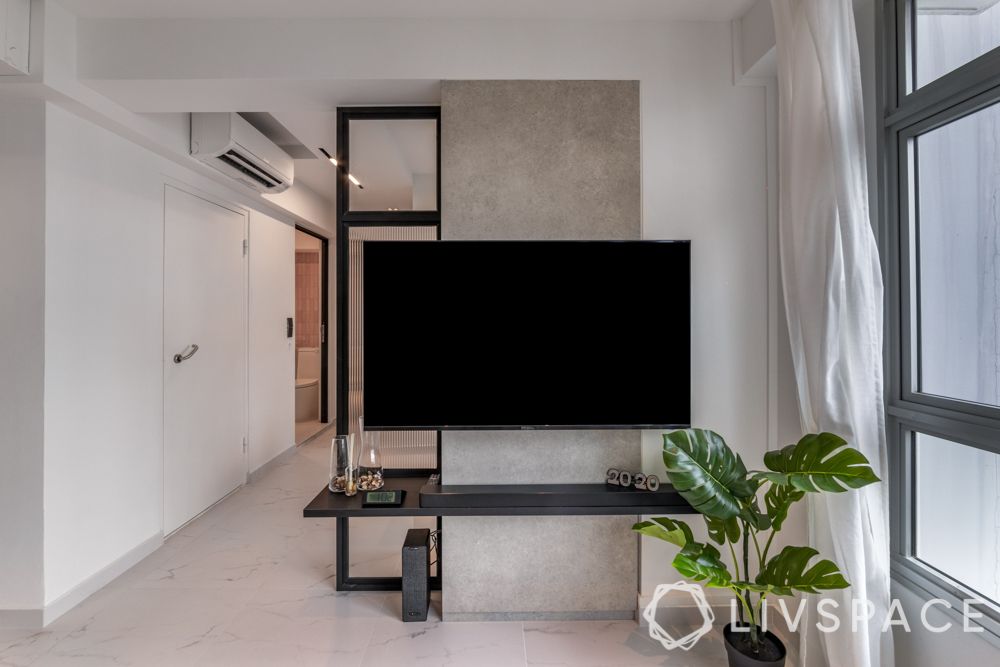 Glass works great in creating boundaries while keeping the aesthetic visually light. It's a great choice in homes where the lighting options are meagre; it lets in a smooth flow of natural light. Here, the glass partition design helps to complete the layout, which would have otherwise looked awkward.
Room Partition Ideas #11: Dual-Purpose Dividers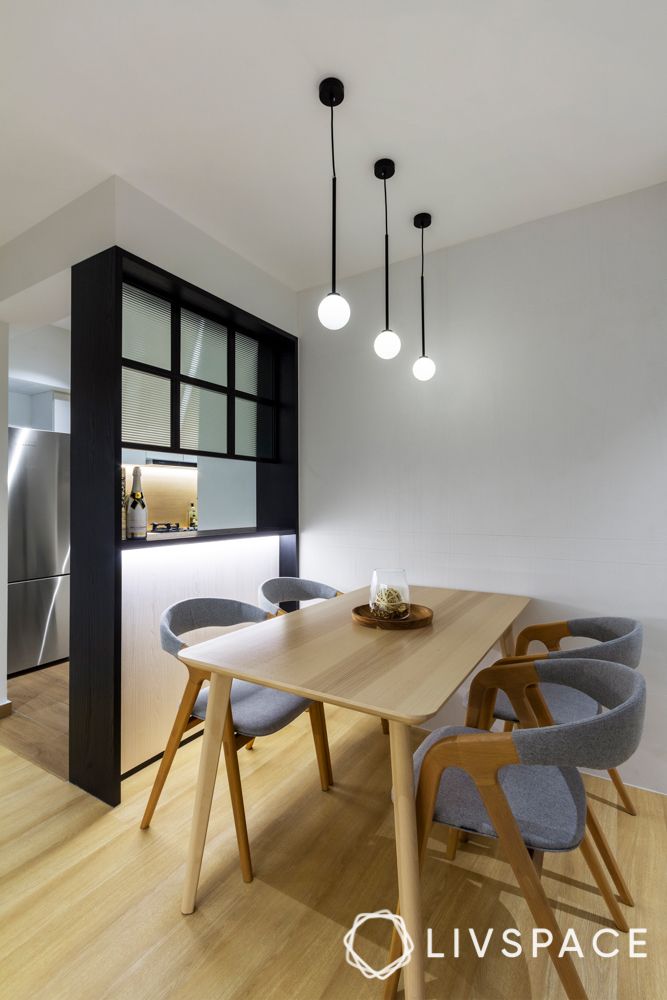 The concept of a functional partition works great not just for compact homes, but also large homes. It can be a bookshelf, a mini bar or even a display rack. If your home can spare some space, it can also double up as a storage unit. Finding the right partition just requires some thought on where it should be placed and on the lighting and size of the room.
Room Partition Ideas #12: Vertical Garden-cum-Divider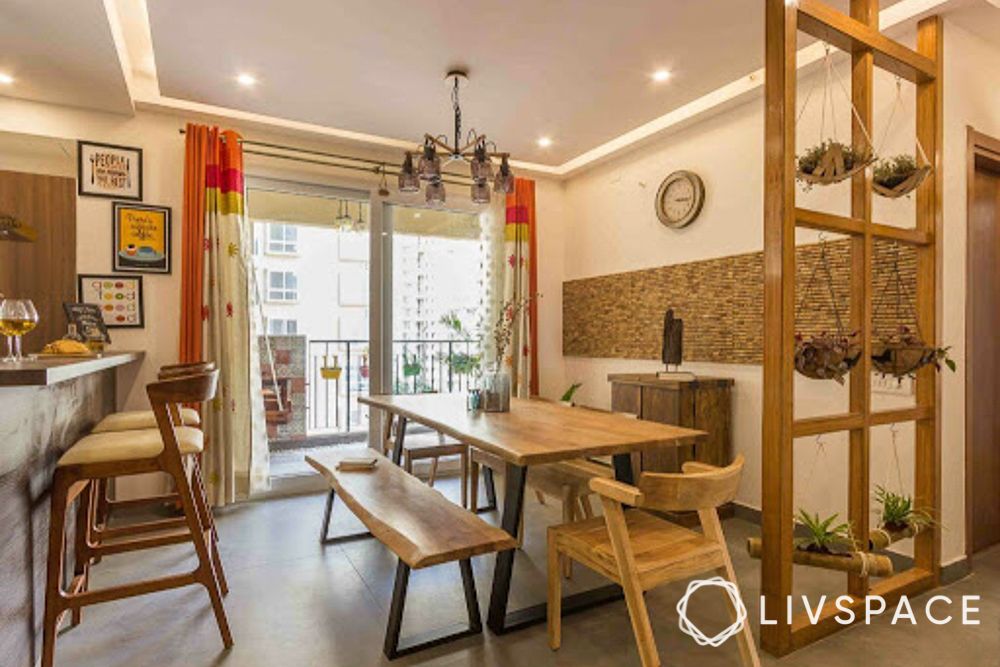 Your modern partition for the living room can be more than just a decor element; it can serve as a vertical indoor garden or simply display rack as well. When working with a modern design, a sleek wooden wall partition design like this can serve as a perfect hanging spot for planters and vertical gardens.
Room Divider Ideas #13: Half-Wall, Half-Glass Partitions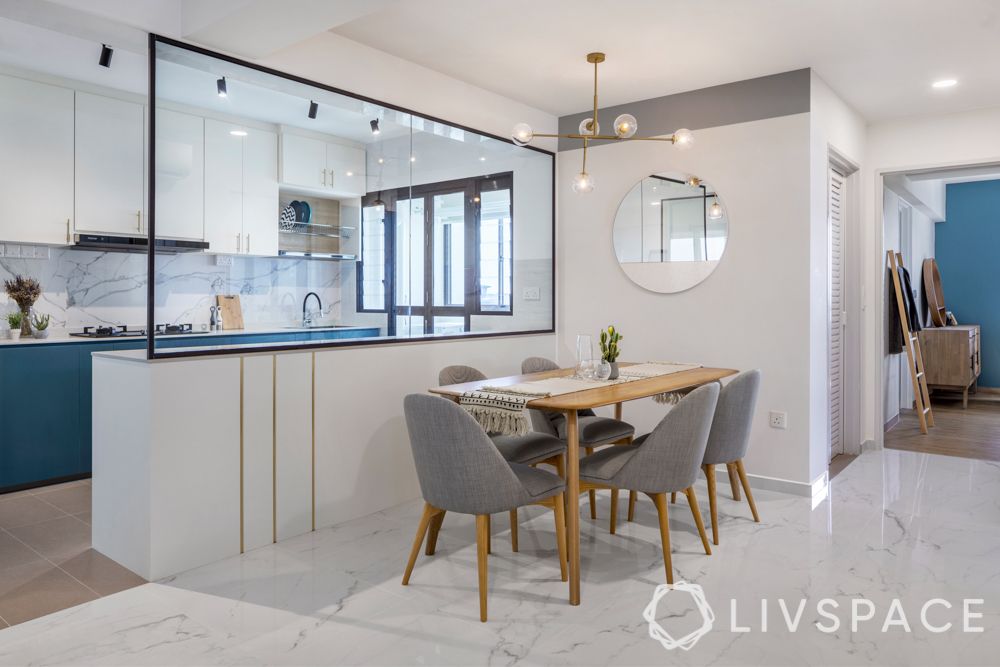 For those who cannot decide between a wall and a completely transparent partition, this partition wall design is ideal. A half-wall partition topped with a clear glass panel can work wonders when you do not want to cordon off an area.
Room Divider Ideas #14: Painted Glass Partitions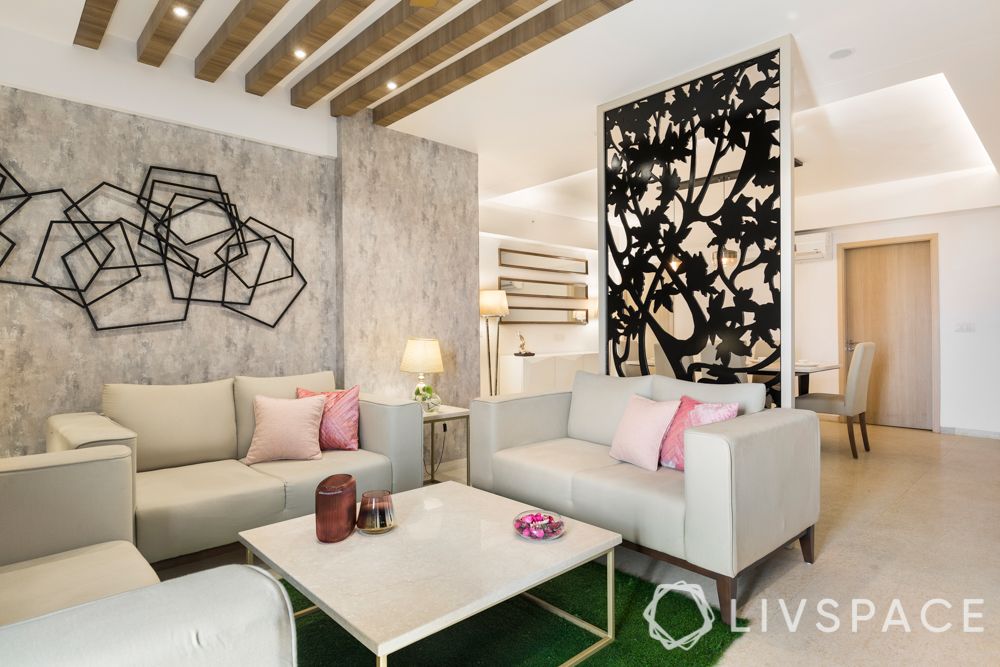 Glass, as mentioned above, is a terrific way to define boundaries while keeping the atmosphere light and airy. Rather than opting for a simple glass partition, however, you can get a painted glass panel for your open plan living room.
Why Do I Need a Room Partition in Singapore?
Room partition ideas are frequently used in open floor plans to distinguish between different spaces. In most Singaporean homes, it's common to see partition wall ideas that separate the dining area from the living room. The idea of a room divider is to help you establish different zones in your home. You can use them to create a peaceful reading nook, home office or even just to offer some structure between your living and dining rooms.
Get your partition right away and demarcate spaces at home without building walls. Meanwhile, check out this interesting read: Small House vs. Tiny House: The Difference in Huge But Simple
Send in your comments and suggestions at editor.sg@livspace.com
How Can Livspace Help You?
Our expert designers can take care of your HDB renovation from rules, designs and everything else. Book an online consultation with Livspace today. Meeting Your Interior Designer for the First Time? Here are some pointers to get you started!