There is a certain perception about owning a condominium apartment. With the price tag associated, condos are perceived to be stylish, modern, comfortable and have a touch of luxury. As a form of private housing, staying in a condominium comes with a certain level of prestige. This however, doesn't mean that HDB owners can't achieve a similar level of glam! Livspace has many versatile design ideas that can make an HDB look like a condo. Here are some spiffy condominium design ideas that Livspace designers can bring into your own HDB flat.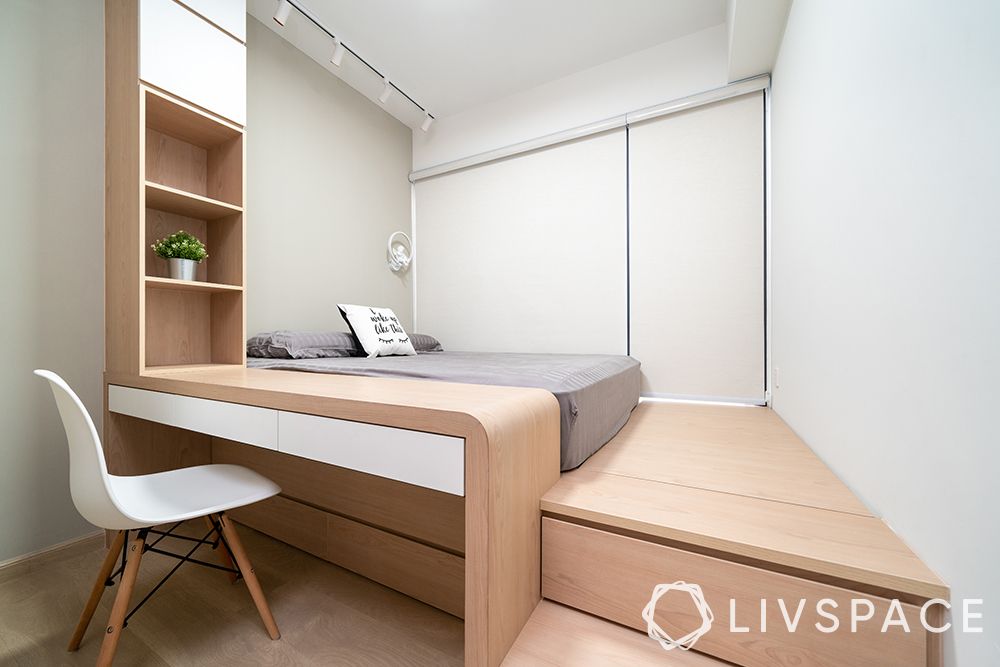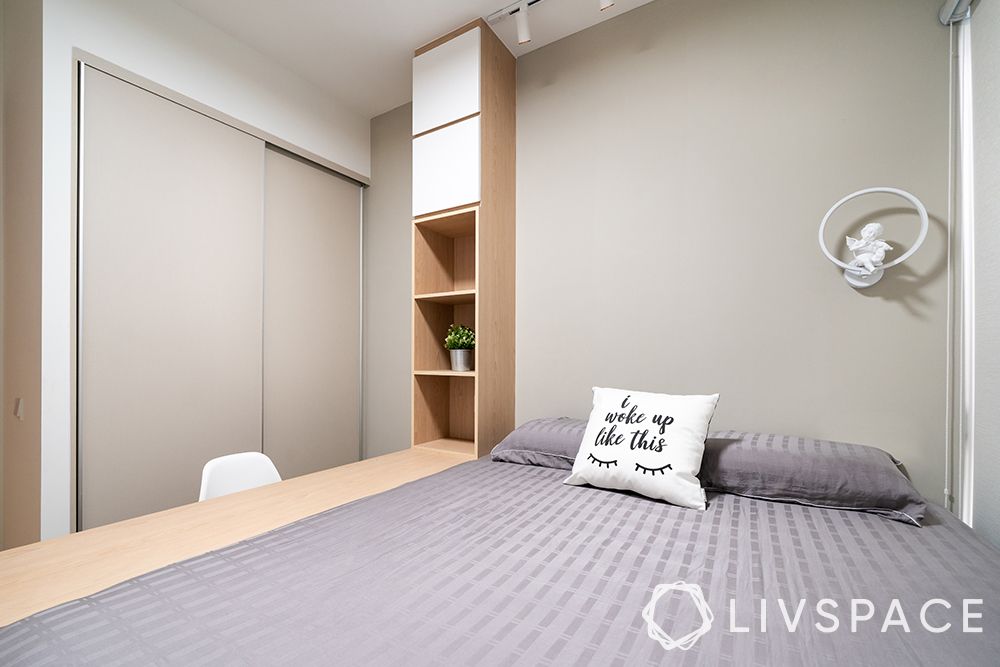 This compact condo is made with unique designs to suit the needs of two sisters. Given that 55 sqm. isn't a lot to work with, Livspace designer Willian Chong decided to customise their interiors to the best of his abilities. You can take the full home tour here. However, we think that one design that will fit well from HDB to condo, is the bedroom.
Design Takeaways from This Bedroom:
See your bed as a multifunctional piece of furniture that can do much more. In this case, this bed also doubles as a study table.
When dealing with compact spaces, concealed storage is the key. This bed is led up by stairs which have concealed storage.
Opt for a mixture of open and closed cabinets to visually balance a space.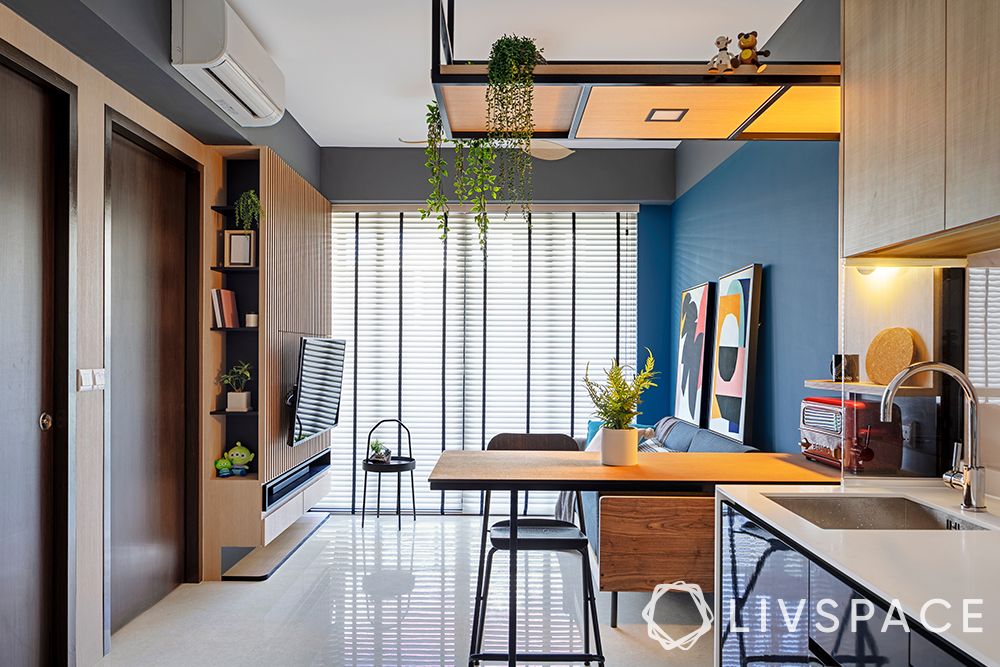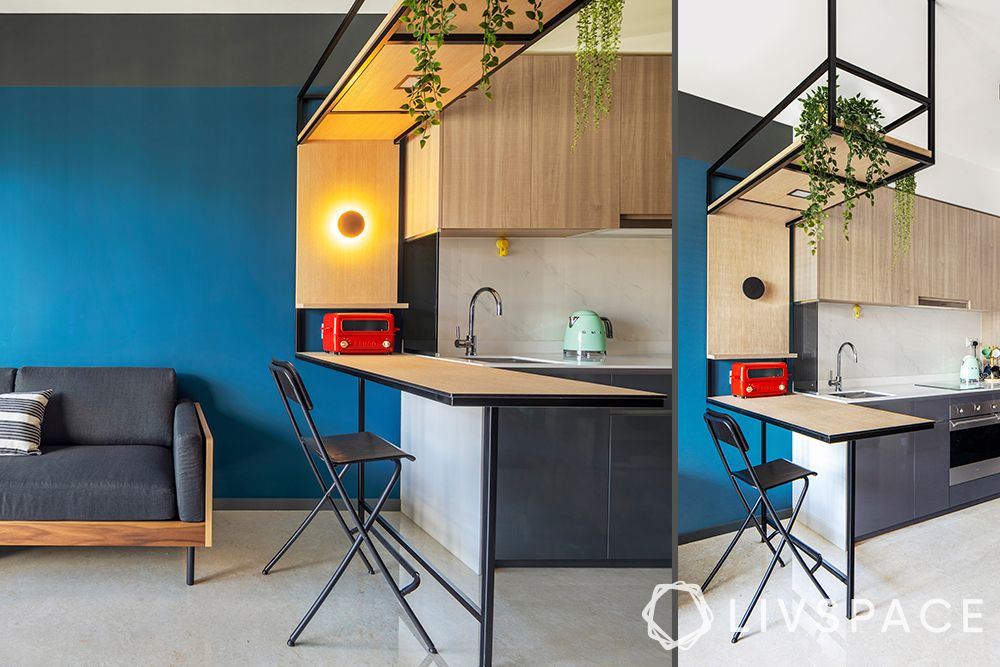 A relaxing vibe is all we need in both our HDB and condo design. Livspace Designer Desiree Ng's condo manages to establish just that in a tight space. Splashed with teal tones, this design gives us a lot of ideas on how to make your HDB look like this condo. Take the hometour here.
Design Takeaways From this Cafe Vibe Exuding Condo:
Experiment with contrasting colours. Since more people are preferring to use colours, it is good to contrast a bold colour with your furniture.
One quick way to get an HDB that looks like Condo is to add artwork. It will instantly add an air of sophistication to your space.
Make smart choices by adding leggy furniture to your compact spaces. It will lighten up the room visually.
Here are The Best Wall Paint for Singapore Homes in 2022 You Should Not Miss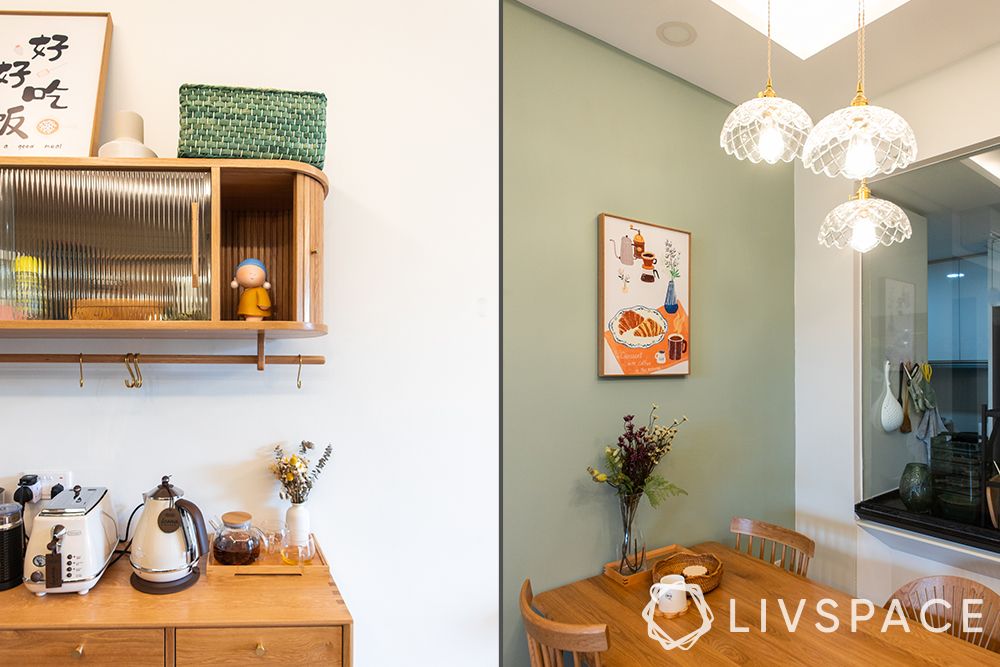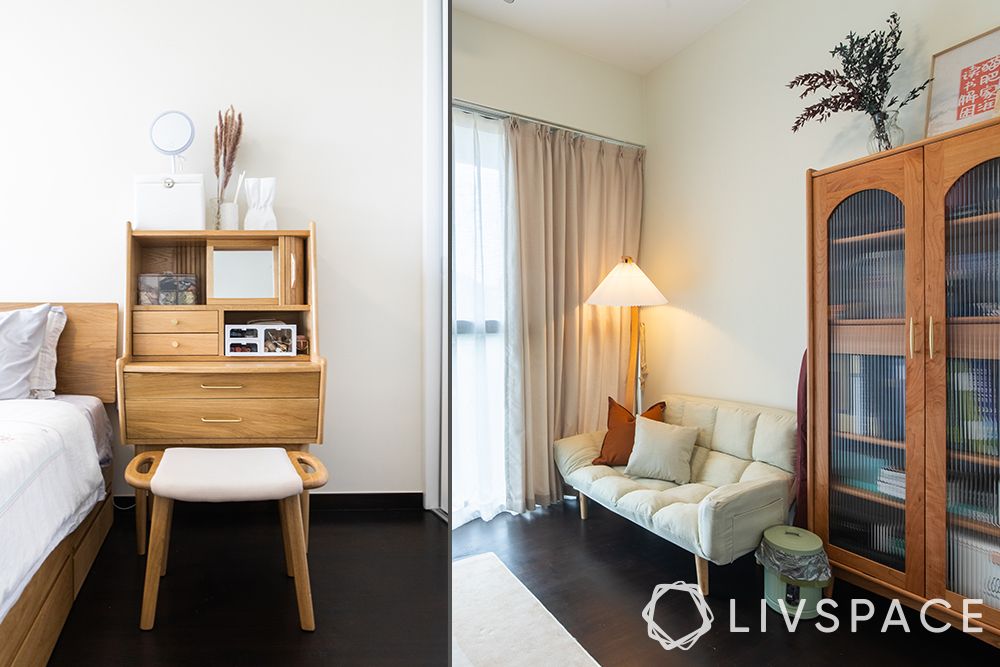 Do you think only a full house renovation can change an HDB to a condo lookalike? This condo will prove to you otherwise. With only a few changes in flooring, painting and decor, Livspace designer Wanting Liu worked magic into this 31 sq.m. condo to create a functional and aesthetically-appealing space. There is so much more to explore in this condo design so you can take the hometour here. However, the furniture is our favourite part so allow us to talk about that for a hot minute.
Design Takeaway from This New Furniture:
Keep colour continuity throughout the house. It makes every HDB condo design put together. Pops of green appear throughout the condo interiors.
Warm lights win all the way! They are not harsh as the white lights and give a subtle look to your space.
Do not wait for someone to walk in and label a furniture as multifunctional. A furniture is multifunctional if you decide it to be.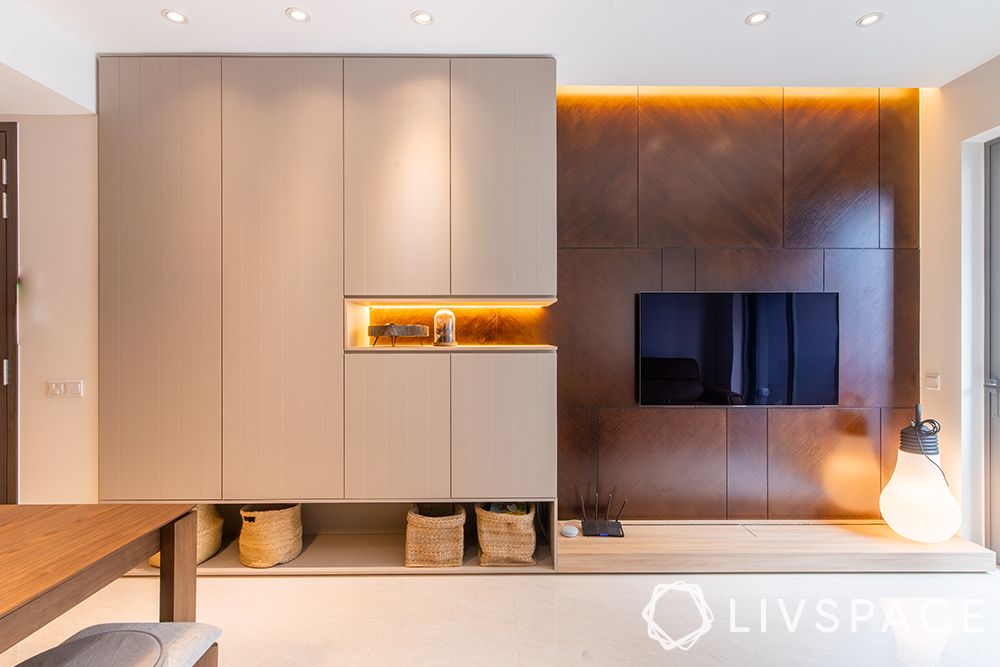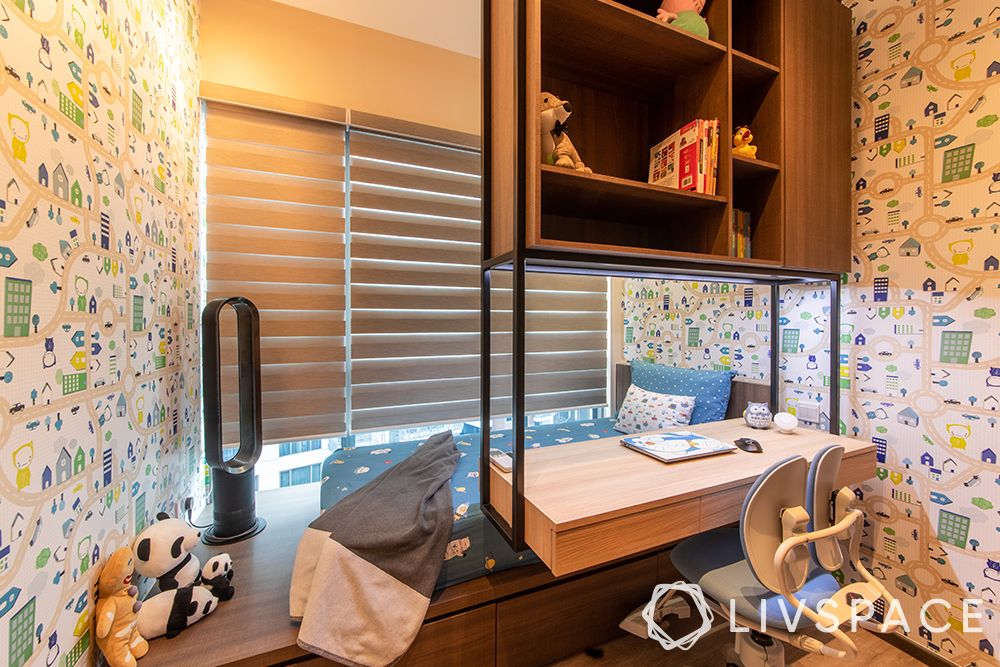 Let's face it, a good home renovation can really change the way a place looks and feels. In fact, they are one of the most efficient ways to make an HDB look like a Condo. We particularly love the kids room and the living room in this home design. There are so many other design takeaways from this place that can turn an HDB flat into a condo, so you can take the hometour here.
Design Takeaways to Make an Inspired HDB That Looks like Condo:
Do not shy away from statement lights. Pick one or two statement pieces and watch your HDB to condo journey unfold.
Allow the space for ample natural light, especially if you have a compact space.
Want to copy this condo's subtle texture and visual depth? Swap the paints for a wallpaper. It is easier to clean and durable too.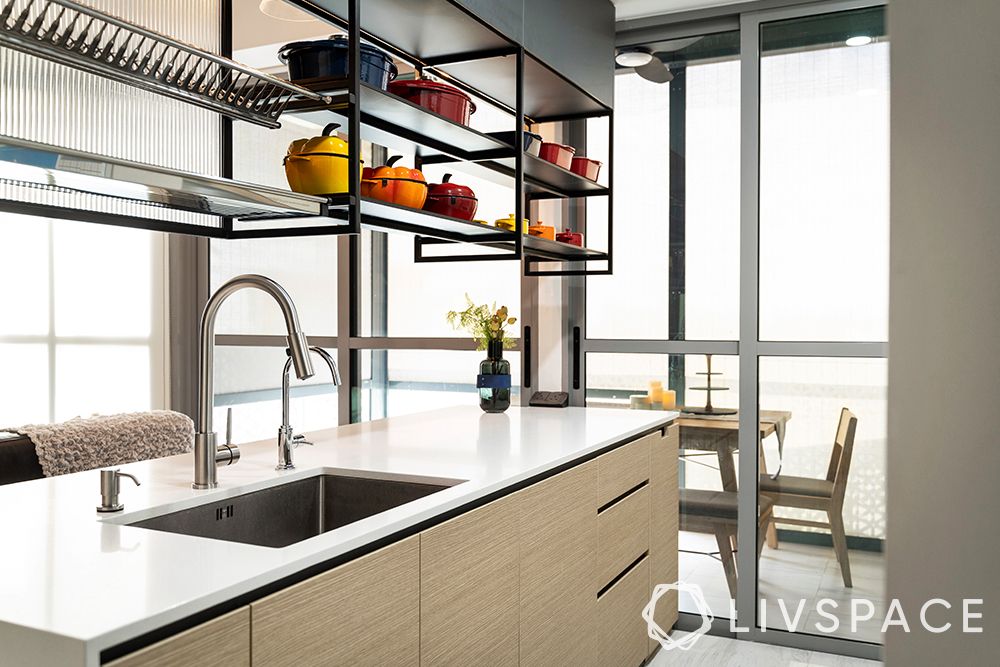 Singapore loves to make compact HDB condo designs. This definitely makes your job harder especially when you are trying to figure out how to make HDB look like a condo. Livspace designer Shalom Hong saw this as an opportunity to work with dark hues in this compact condo. You can find gorgeous pictures of this condo here.
Design Takeaways to Turn HDB Flat into Condo:
Consider dark hues in compact spaces to give it an alluring appeal and blur the edges of the wall, concealing the lack of space.
Use vertical spaces, in case, you run out of floor space. Any HDB that looks like condo knows how to optimise space like a condo does.
Steal the foyer design. Just steal it directly from this condo. It's a perfect cosy corner.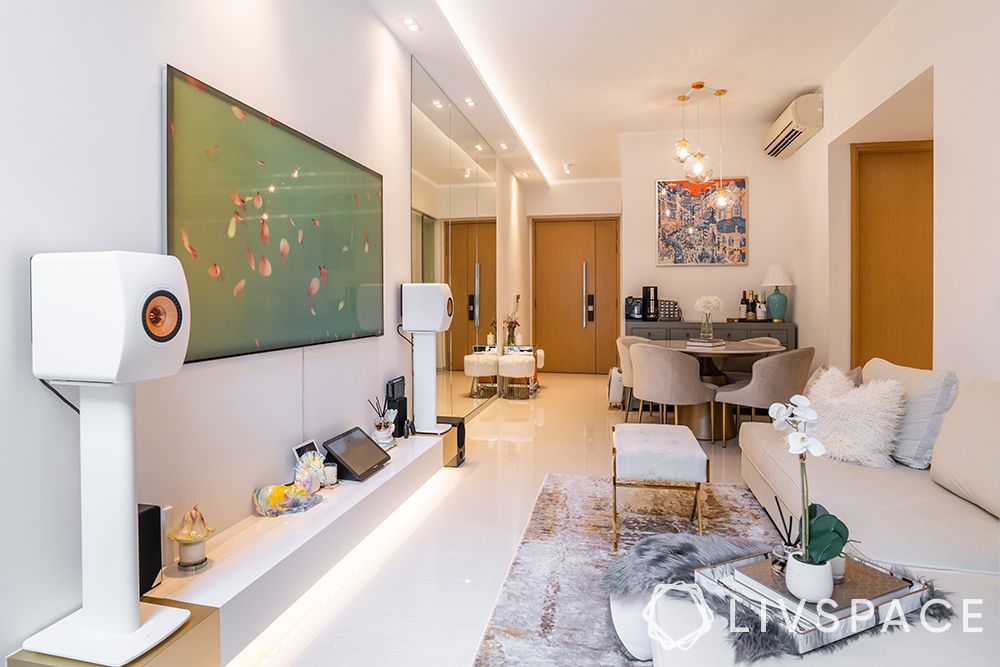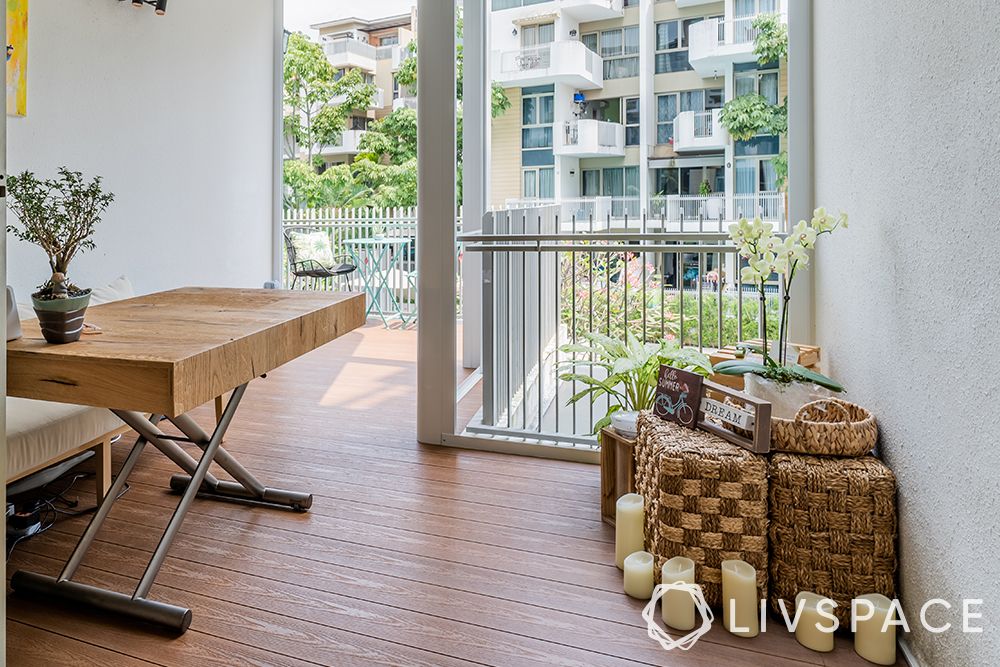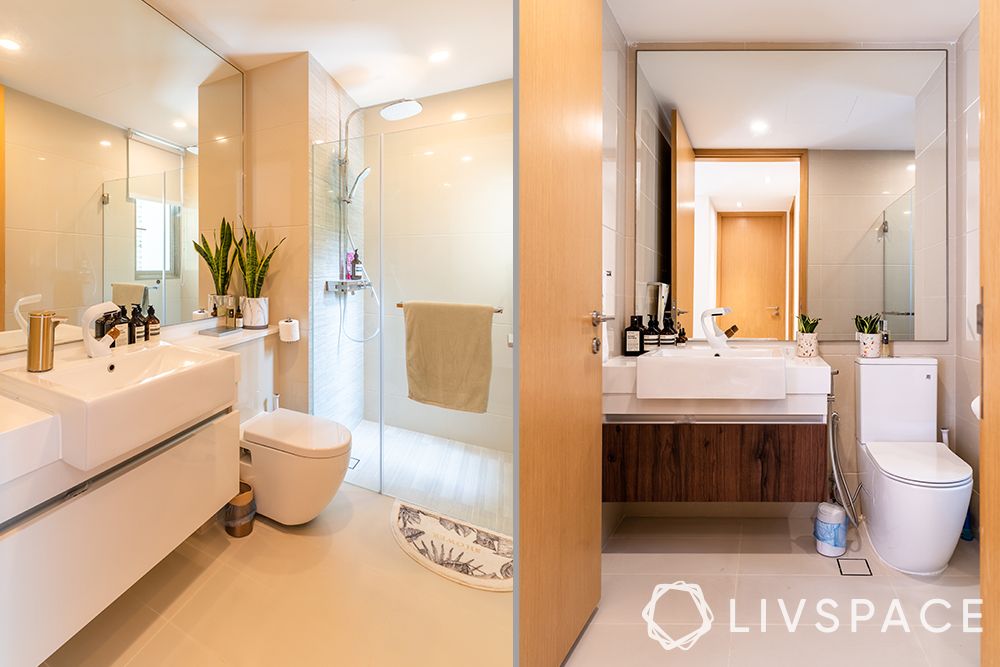 Turn a dingy space into a dazzling one? Sounds like a job for us! We renovated this beautiful 2-bedroom condo with luxe accents and pretty pastels. Our material girl loved how her house turned out! Want to translate the same in your HDB? Keep reading here!
Design Takeaways That will Turn Your HDB to Condo lookalike:
Use mirrors and reflective elements. Not only do they give any compact spot the illusion of space, they also add an uber chic vibe to the place.
Never forget to use the balcony space. No matter how limited it is, squander the space with scented candles and apt seating to get that resort vibe.
White is the way to go if you want to stick to a generic colour pallet. Make sure to break the monotony with accents or a splash of bold colours.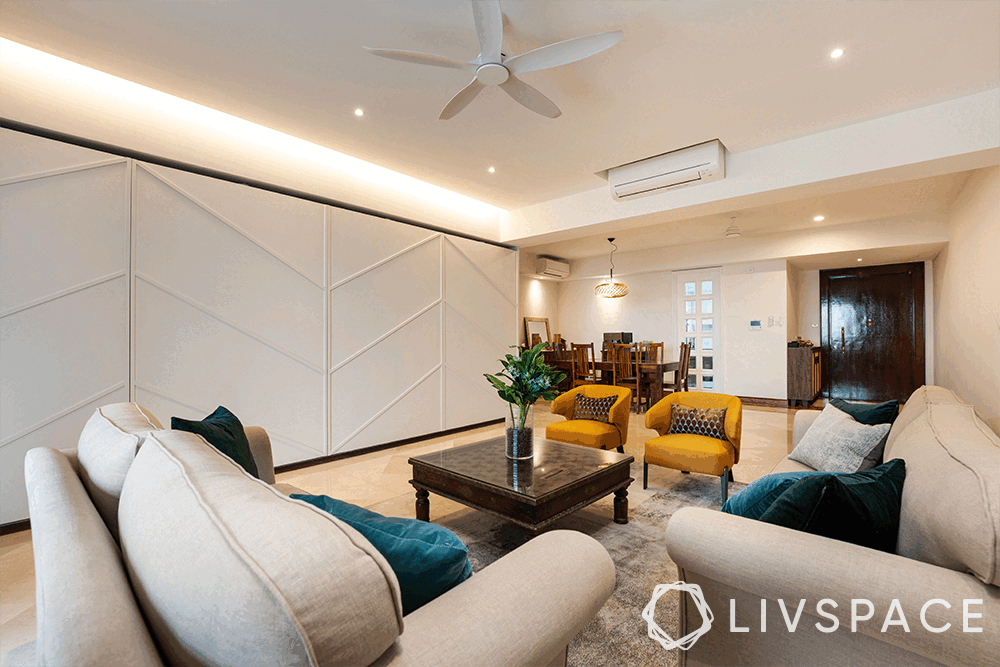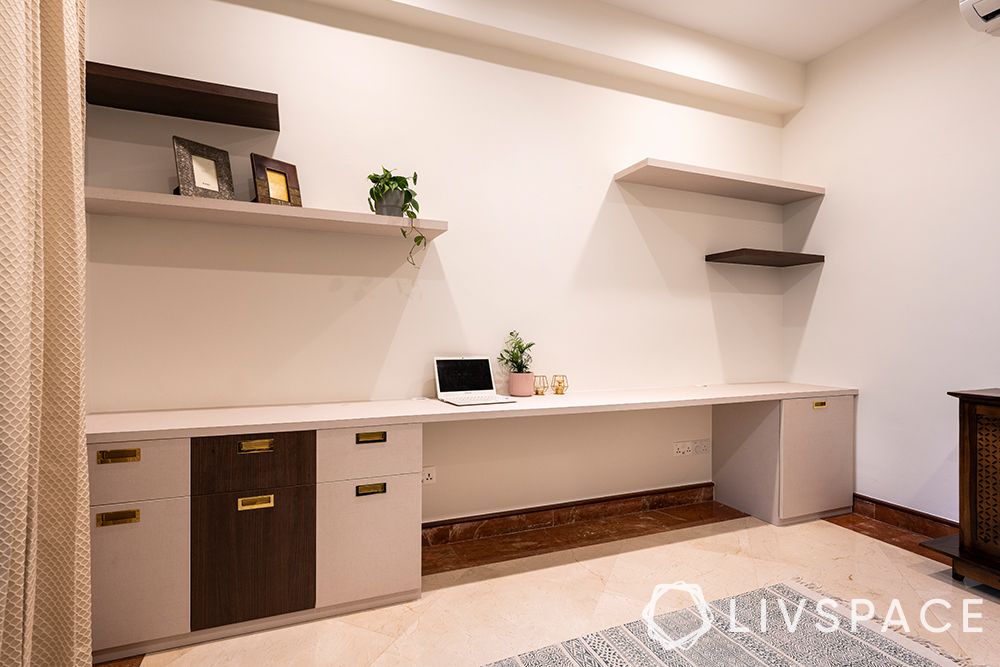 A classic design with a modern twist! This will sit well for an HDB that looks like a condo. This is because of the sheer versatility of the style that focuses on functional furniture pieces with an aesthetic appeal. This Pebble Bay condo nails the look. You can check the home tour here while we show you how to make HDB look like this condo.
Design Takeaways to Inspire HDB That Looks Like Condo
A foyer is an opportunity to add more storage at times and you can see that from loads of Livspace homes. Customise your foyer to give you that much extra storage space.
Sliding doors are a boon for compact spaces and seamlessly turn HDB flat into condo. These also make for an effective way to hide bomb shelters into your home seamlessly.
Grab the opportunity to get a home office on a simple wall. This will give you more space to work with and may even bless you with extra storage.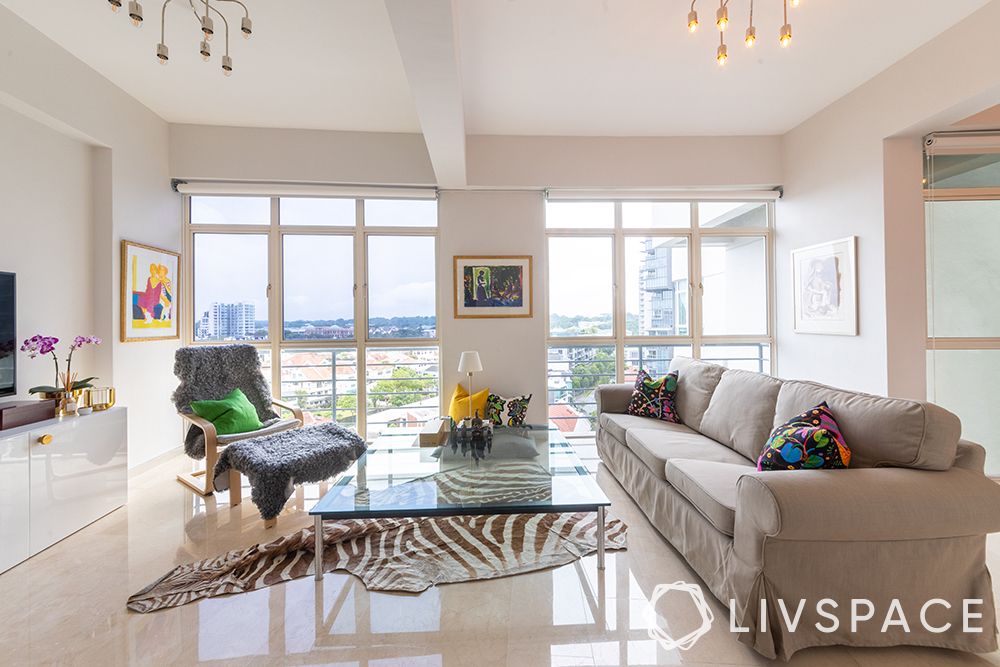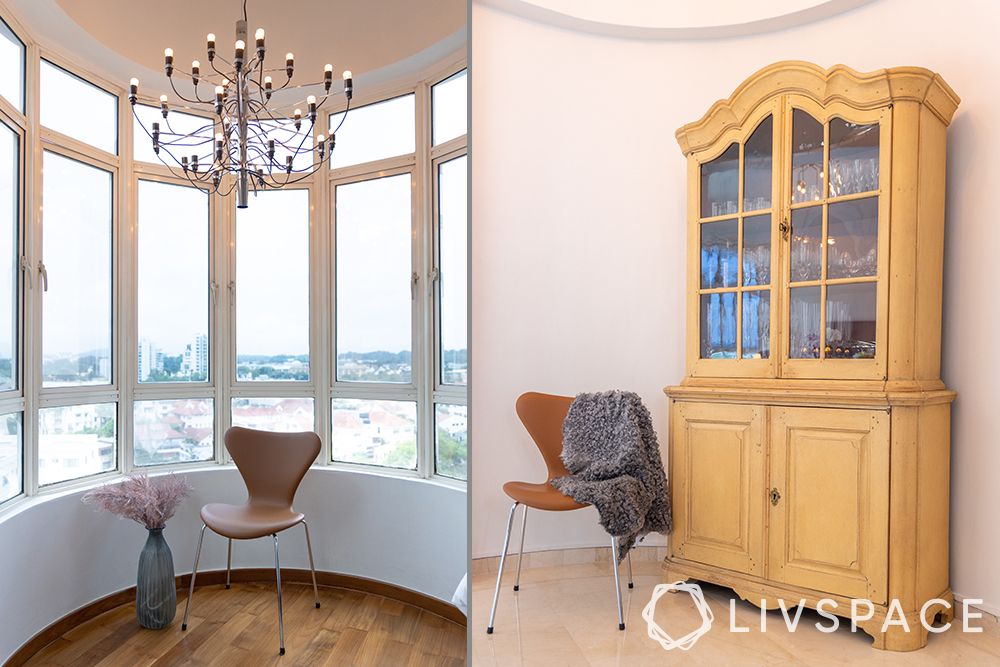 Looking to inspire the design of your HDB to a condo design that looks like this? We realise that an HDB may not look that spacious but we do know how to layer accents, lights and colours just to give your home the illusion of space Read all about it here!
Meanwhile, here are some gems to take away:
Combine sleek, modern furniture with vintage furniture for that mid-century modern aesthetic. It will help balance out the overall look.
Adding pops of patterns here and there is a crafty job. But once done right, they will give your space an expensive look.
HDBs may not have such large, unobstructed windows. However, do your best to ensure that natural light filters make the space look instantly uncluttered.
We hope we gave you some valuable insights into how to make HDB look like condo. If you want something like this for yourself, reach out to us. Also check out our recent story on 7 Décor Ideas for Your Minimalist House, HDB or Condo Apartment.
How Can Livspace Help You?
We hope you found our ideas useful! If you want your home to be just as beautiful, then look no further. Book an online consultation with Livspace today. Delivering safe home interiors has been our No. 1 priority. Click here to find out how interiors are being delivered following all safety protocols.