Before the pandemic, most Malaysians would have considered a home office as an unnecessary luxury. However, when work from home became common, getting a home office became one too. Now we have customers walking through our Livspace doors asking if we can design a home office for them. And the first question most of them pose? "Does my small home actually have space for a home office?"
Any of our design experts will tell you that not only are small home office ideas possible, but there are more than a few ways to accommodate them. Here are some modern home office ideas straight from Livspace homes that we love.
#1: Extend Your Display Unit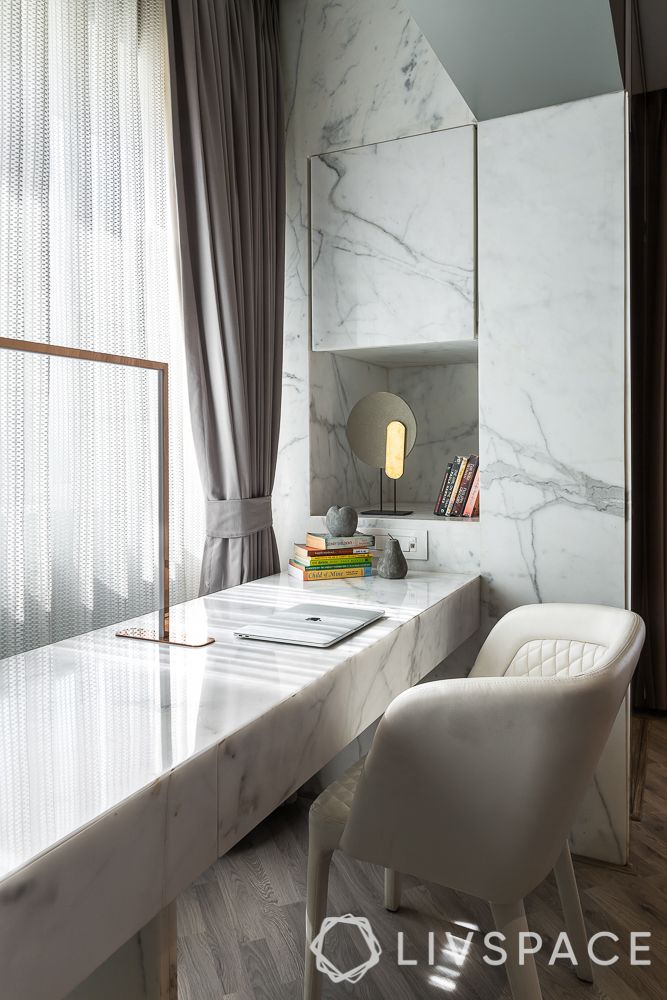 Have a little space beside your display unit? Extend it to make room for a compact office. This particula small home office interior design is made from marble, giving it a luxe and glamorous appearance. If you want, you can also opt for an extendable table. That way, it can be customised to be tucked under the display shelf, taking up even less space.
#2: Get Small Home Office Ideas for Your Bedroom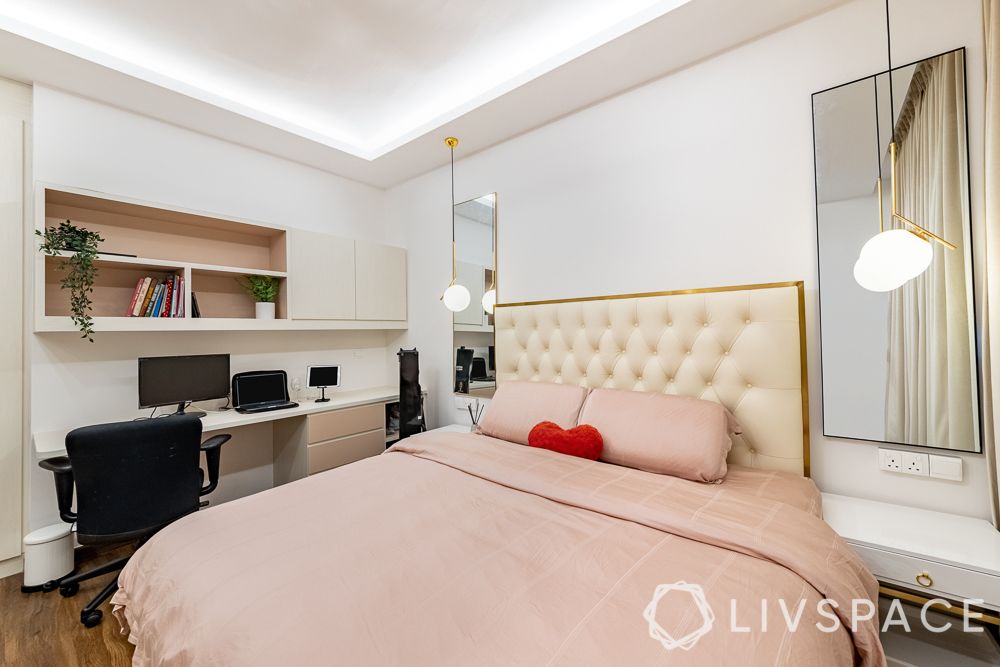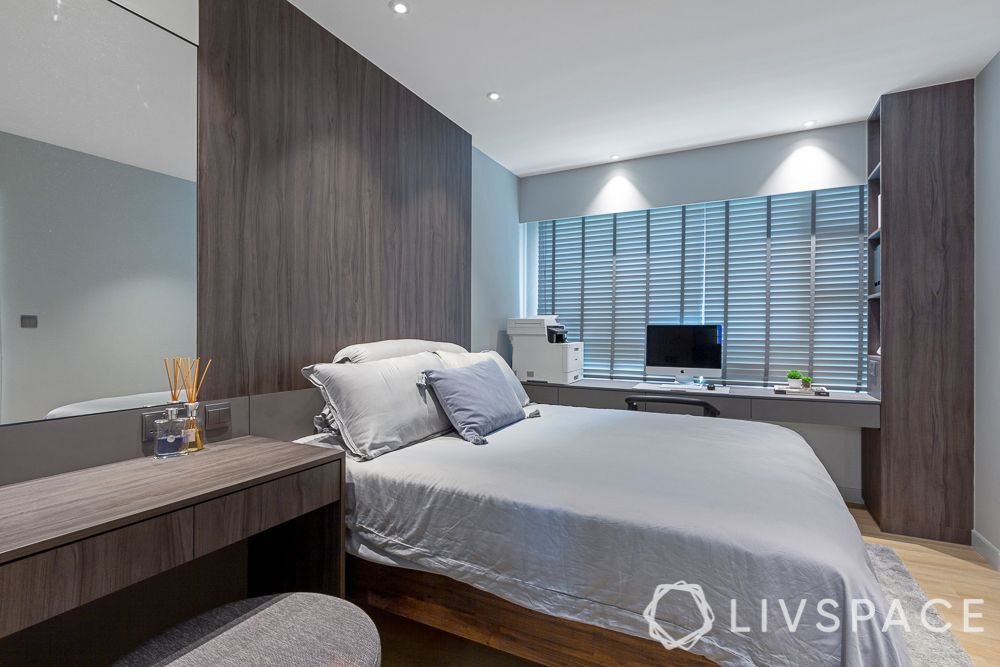 If you can, spare some bedroom space to squeeze in the home office. This is quite an effective way to tuck in a home office in a private room. If you notice, the home office decor includes the display shelves just above the desk, and can be a space to store work-related accessories as well .
#3: Partition a Corner for a Small Home Office Interior Design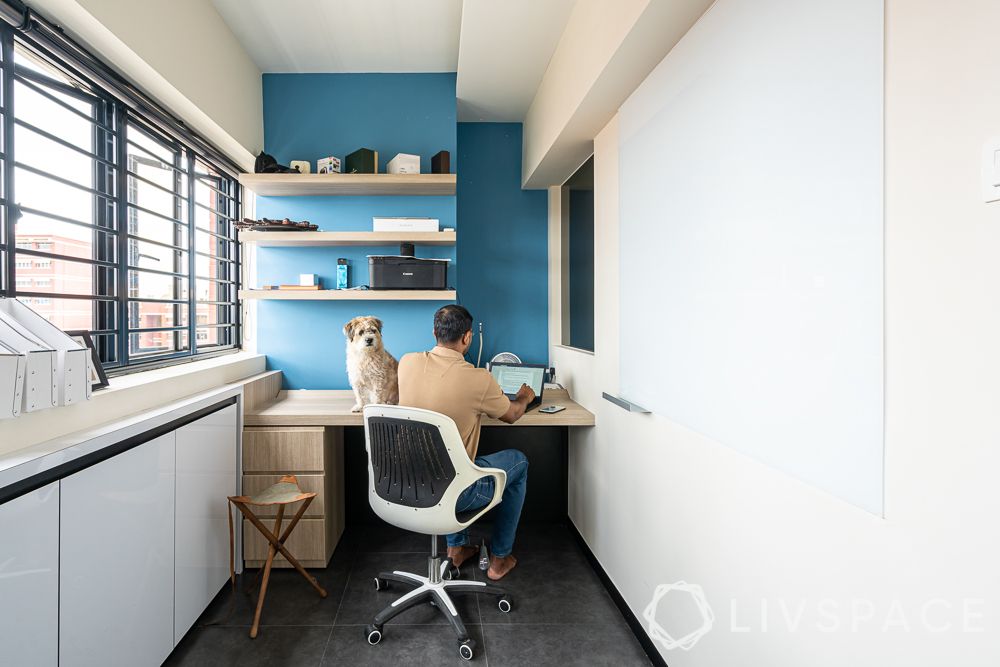 Find a bedroom office too distracting? We have got more small home office ideas for you. Create a light partition in a room that has space to spare and you can easily tuck in an office in that space. For example, you can see the homeowner and his doggo on the work desk hidden behind a partition created in the master bedroom.
#4: Take Small Home Office Ideas for a Spare Room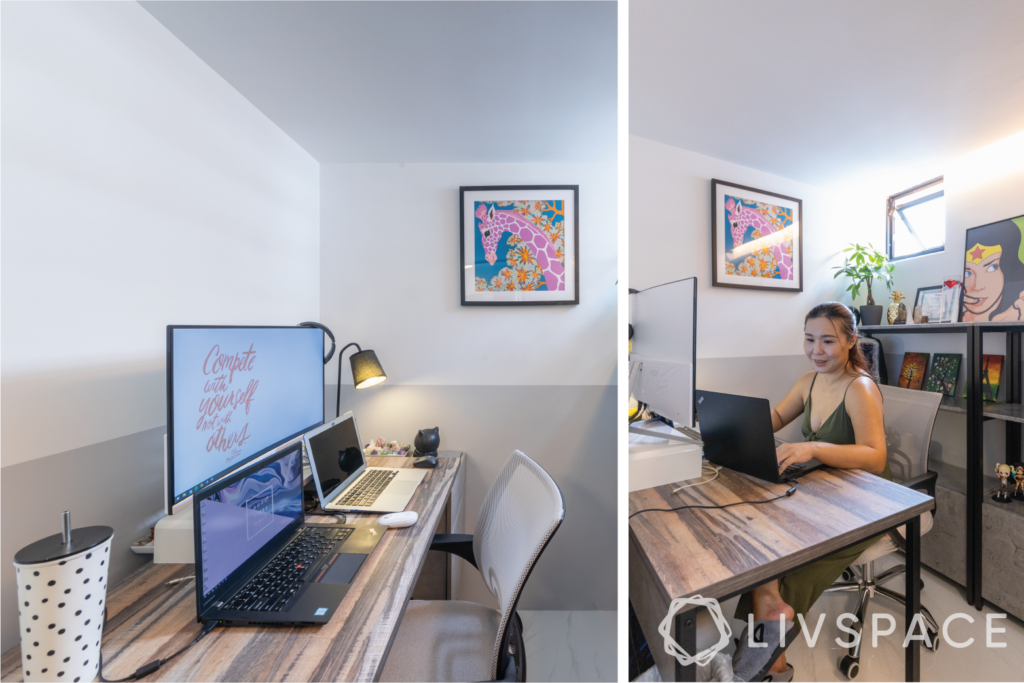 If you are lucky enough to have a spare room or even a small store room that you don't know what to do with, well, here's a nifty idea! Modern home office ideas include transforming an unused room into a study room. In this particular small home office interior design, the homeowner made her small store room into an efficient, DC-themed office and we absolutely recommend you steal this idea!
#5: Use Small Home Office Ideas to Fill in Awkward Spaces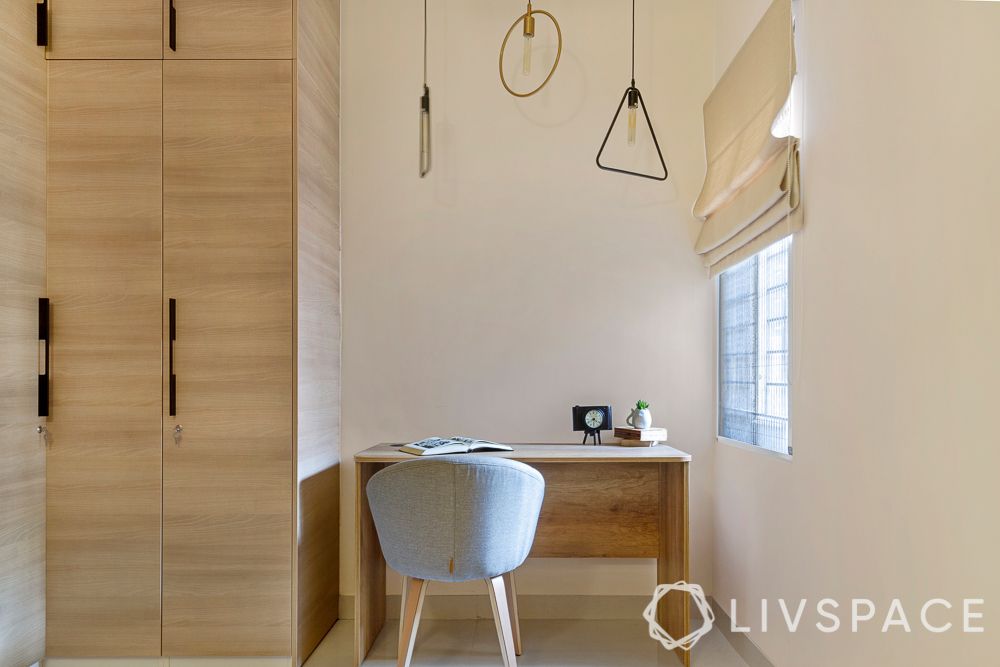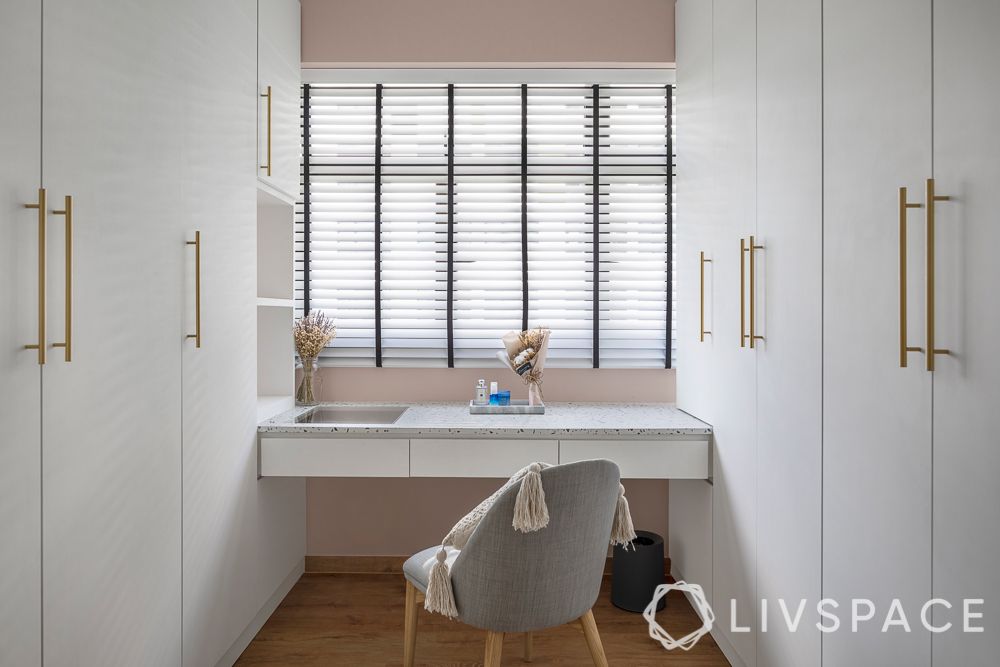 The two modern home office ideas pictured above have one thing in common — they make efficient use of awkward spaces. In both cases, there was a wasted corner near the window that could not be utilised. Hence, the decision to create a small office space is the perfect decision. Isn't it clever?
#6: Hide Your Office in a Cabinet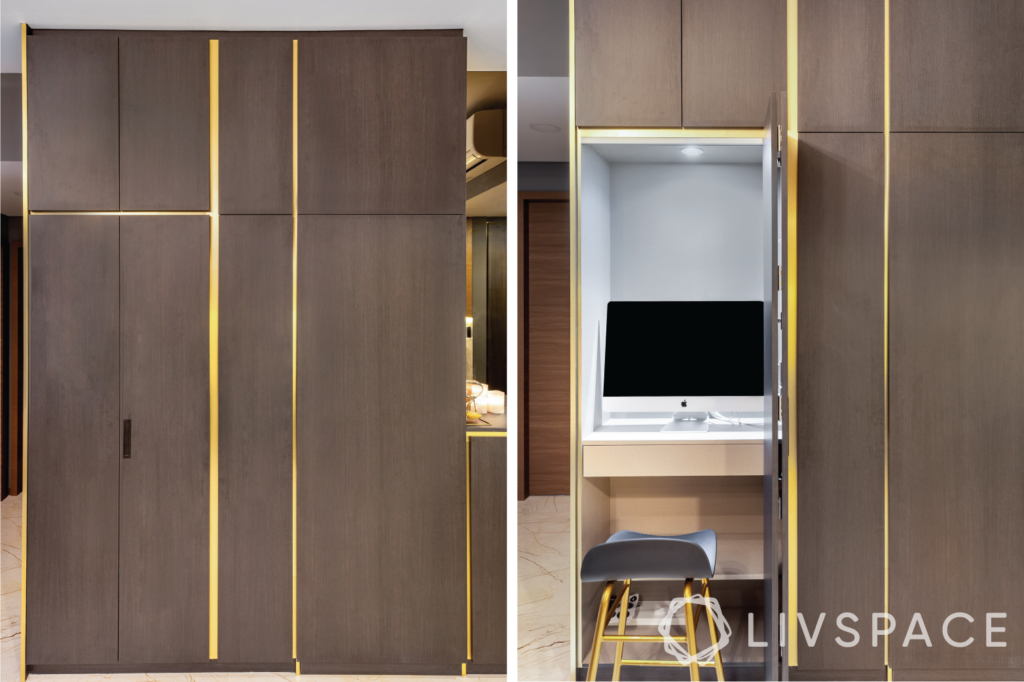 This is for folks who think that they absolutely cannot spare any more space to make for a home office. Then one of the small home office ideas we recommend is to tuck it in a cabinet. Make sure to keep this at your height so that it is comfortable for regular use.
#7: Innovate a His-and-Hers Small Home Office Interior Design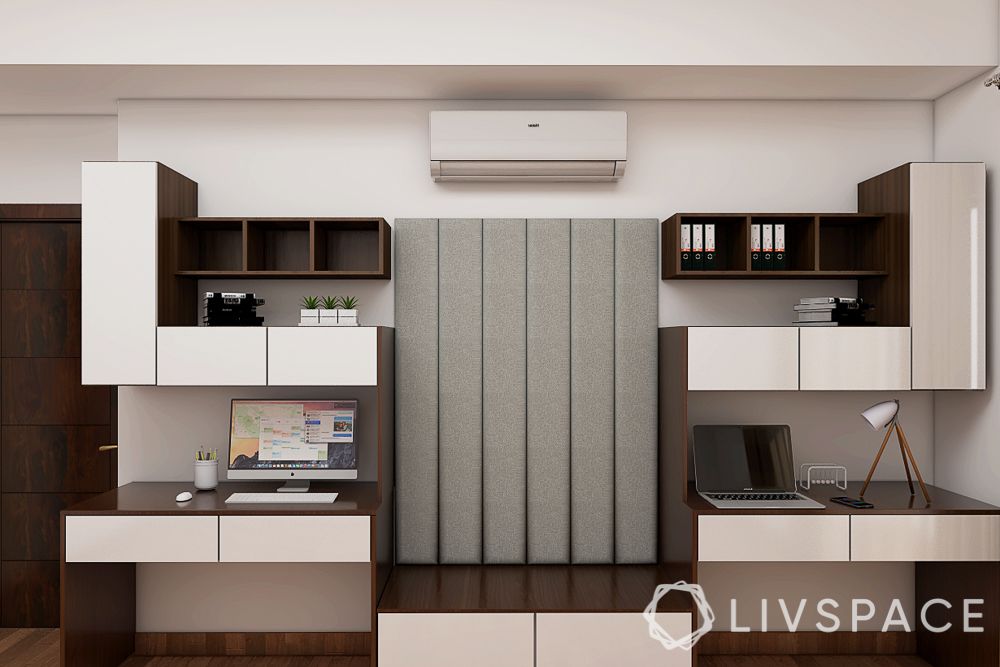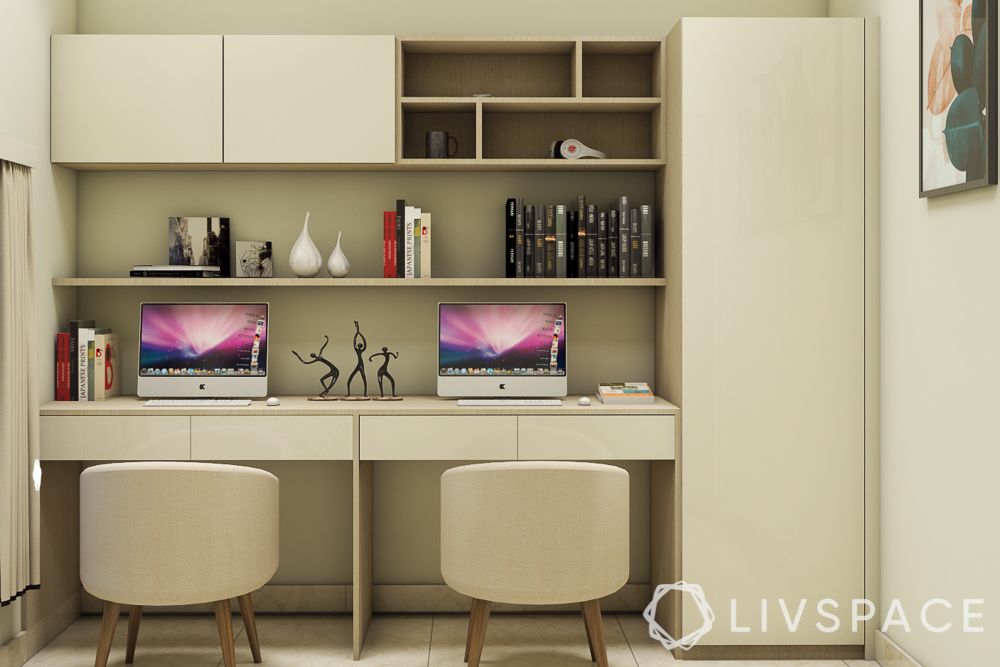 When you are a working couple, sharing one office space can be hectic. Also, what's better than one office? Two! Try out these small home office ideas for you and your spouse. They are sleek, fit in all your individual home office decor and what's better than sharing a table with your spouse?
Pro Tip: These can also be an inspiration for a study desk for two kids. As we said, the possibilities are endless.
#8: Minimalist Small Home Office Ideas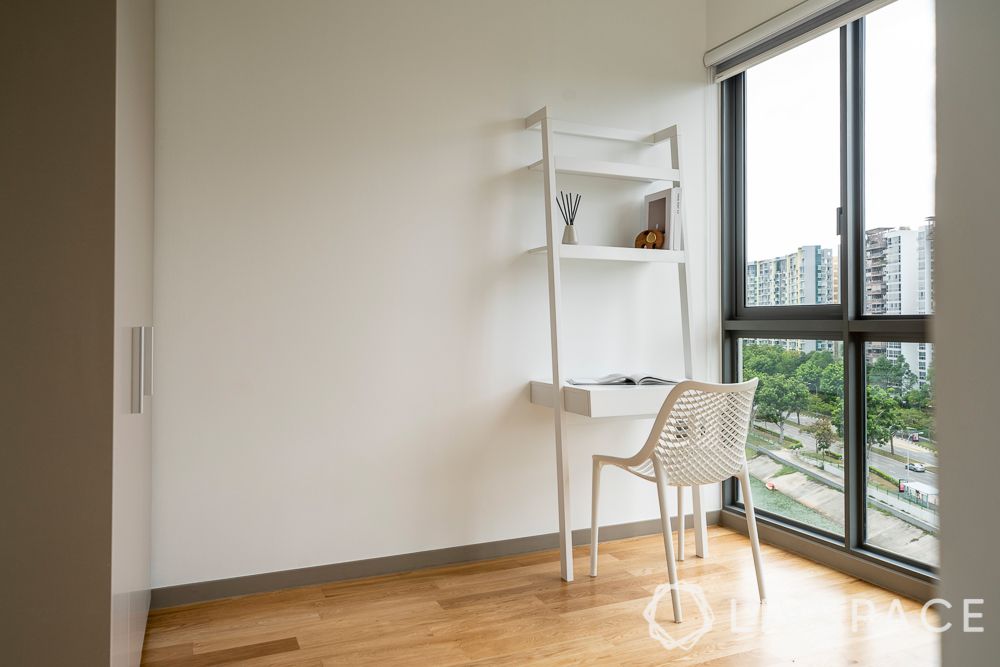 If you love modern home office ideas, you will love this minimalist-inspired home office that can be set anywhere. This one is set in a room where there can be no distractions. However, this can be moved anywhere you need it to be.
#9: Turn Your Display Unit into Your Sacred Working Space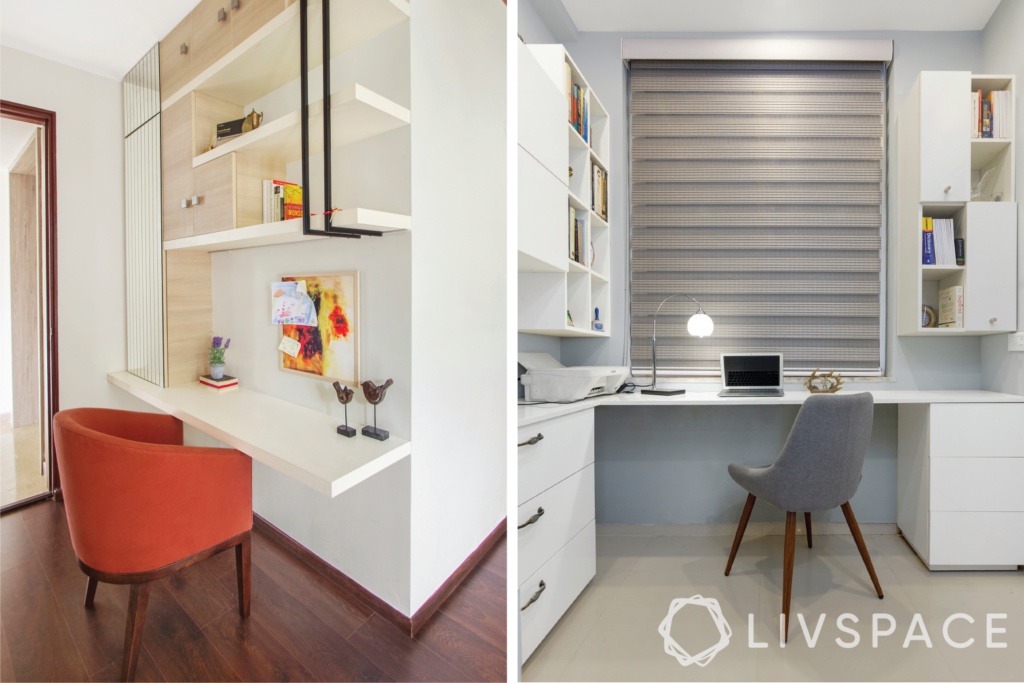 Who says your small home office ideas need to involve a renovation budget? If you're really in a space crunch and can't renovate, take off the decor from your display unit and turn it into your personal office. Saves you space, time and money. Try it today!
#10: Build a Sleek Design Near a Tall Window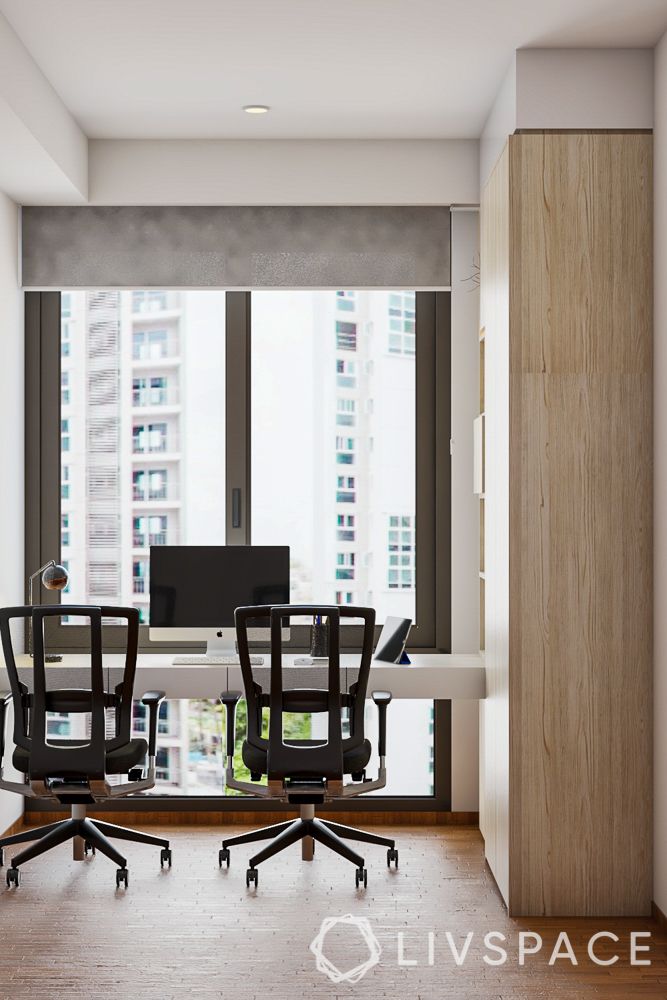 Blocking a window is typically a bad design practice. However, desperate space crunch can result in trying some modern home office ideas like this one that serves the purpose without disrupting the natural light coming in from the window. Also, enjoy the beautiful view while you work.
#11: Thought of Getting a Corner Office?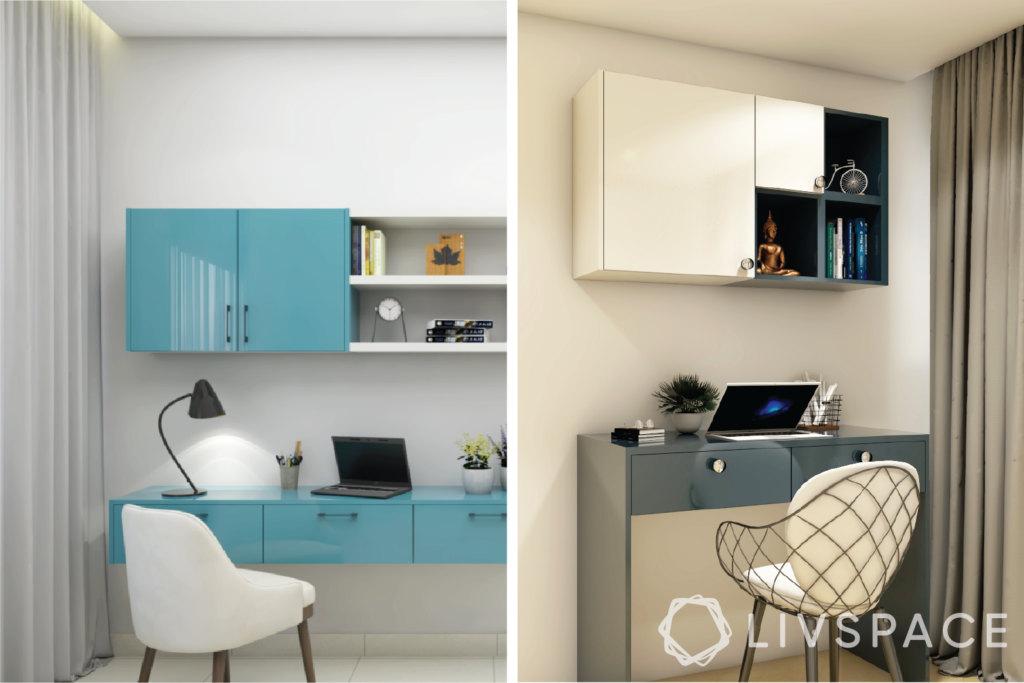 We love a small home office interior design tucked in a corner (as you may have noticed in the above examples!). If you do have an unused space, we'd love to customise a small office for your personal use. These above are our winners. With ample storage space for home office decor, these optimised corner offices are irresistible.
#12: Sleek, Modern Home Office Ideas for Small Homes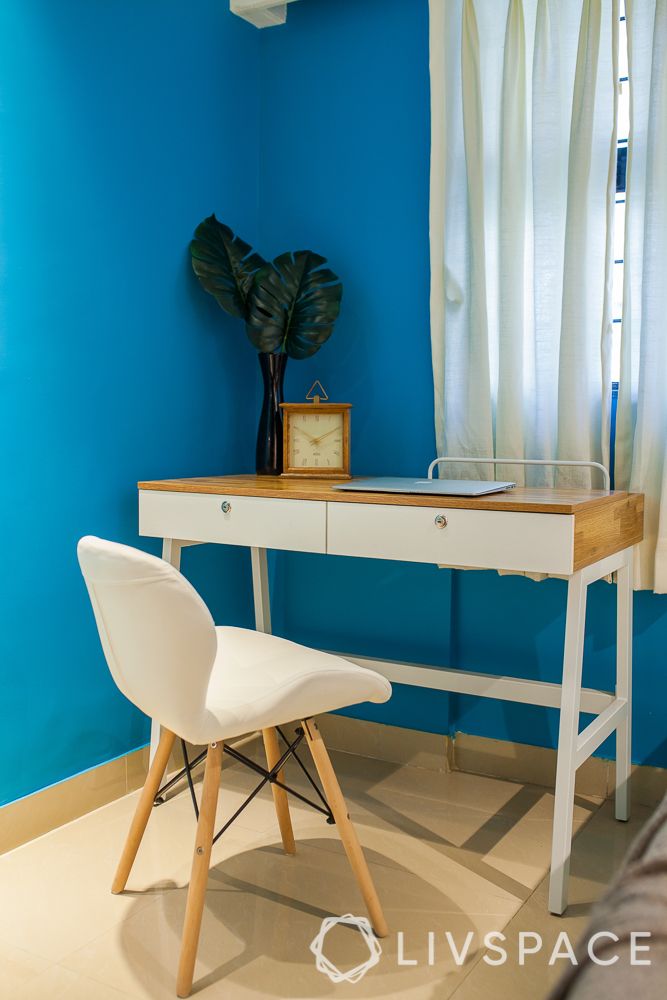 Nothing beats a classic table and chair when it comes to small home office ideas. This sleek white table is complemented with a white chair with wooden legs. Contrasted against a royal blue background, this home office is an aesthetically pleasing unit we'd all love to have in our own homes!
#13: Consider Your Balcony for Your Small Home Office Ideas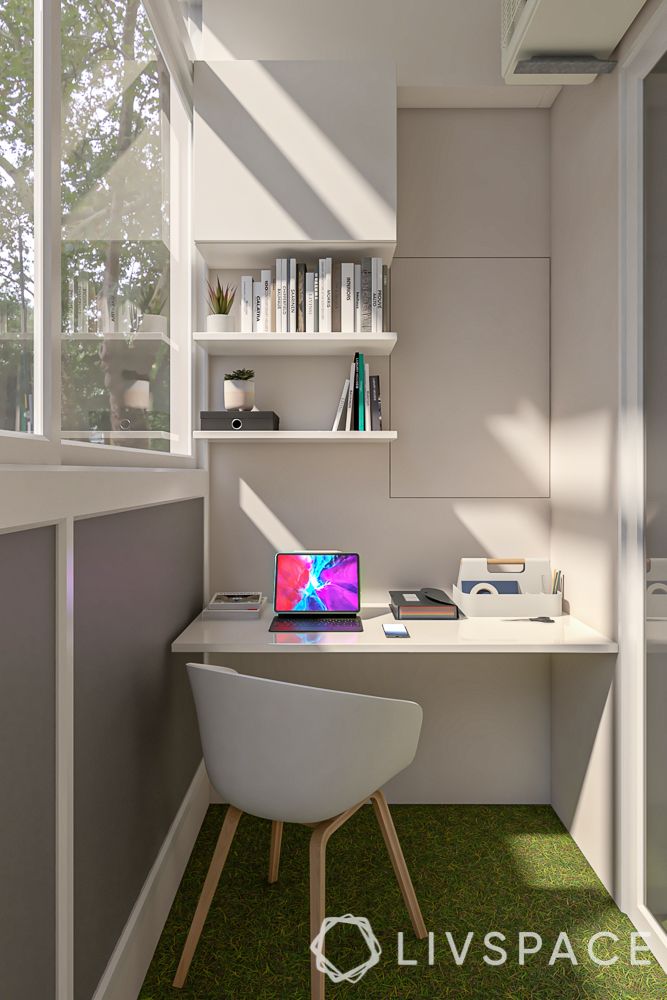 No matter how unconventional it may sound, having a small office on the balcony is a clever idea. Swap your hanging chair for a sleek home office on the balcony where you can enjoy the view while you work. Also, we love a breath of fresh air in the home office. So, what better way than to accommodate a work desk on the balcony?
We hope you enjoyed reading this article. If you want to keep your home office decluttered, read 7 Creative Yet Simple Ways to Hide Cables at Home. If you want something like this at home, reach out to us!
How Can Livspace Help You?
Want stunning interiors? Livspace can help you! All you have to do is book an online consultation. If you prefer meeting in person, you can also find Livspace designers at the IKEA Damansara store. Hurry up and get quality home interiors from the best in the industry!