1. Play with Patterns on Your TV Feature Walls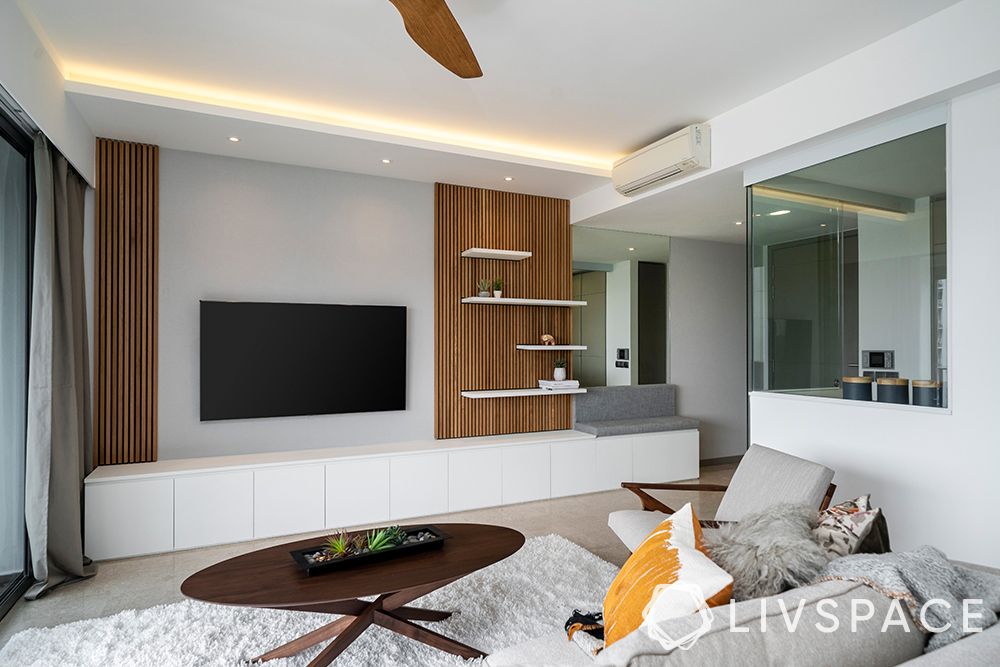 It's all about playing with the viewer's line of sight when it comes to patterns. It can easily provide the illusion of space to your room if done appropriately. Stripes or geometric forms can quickly lengthen or widen a space. Getting TV feature wall designs in this form will have the similar effect, and because feature walls are the focal points of any space, they can influence how the room is perceived as a whole.
2. Neutral Feature Walls for a Spacious Look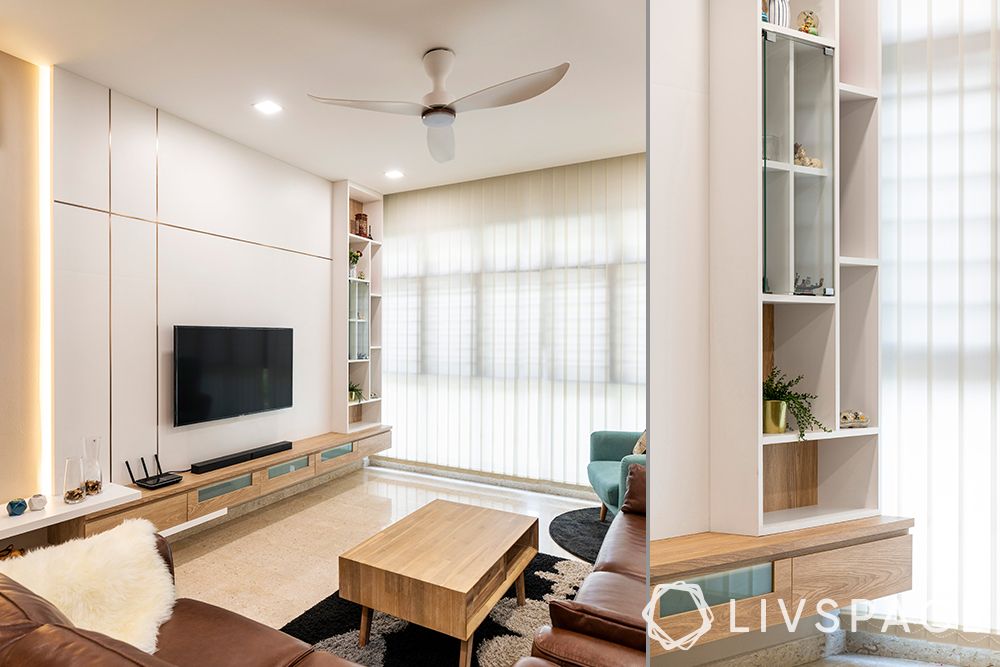 When it comes to choosing prominent colours in the home, neutrals and whites have become a cult classic. Neutral-coloured TV feature wall designs are generally perceived as more spacious and airy. Feature walls, in particular, look stylish when painted white.
3. Flaunt Modern and Luxe TV Feature Walls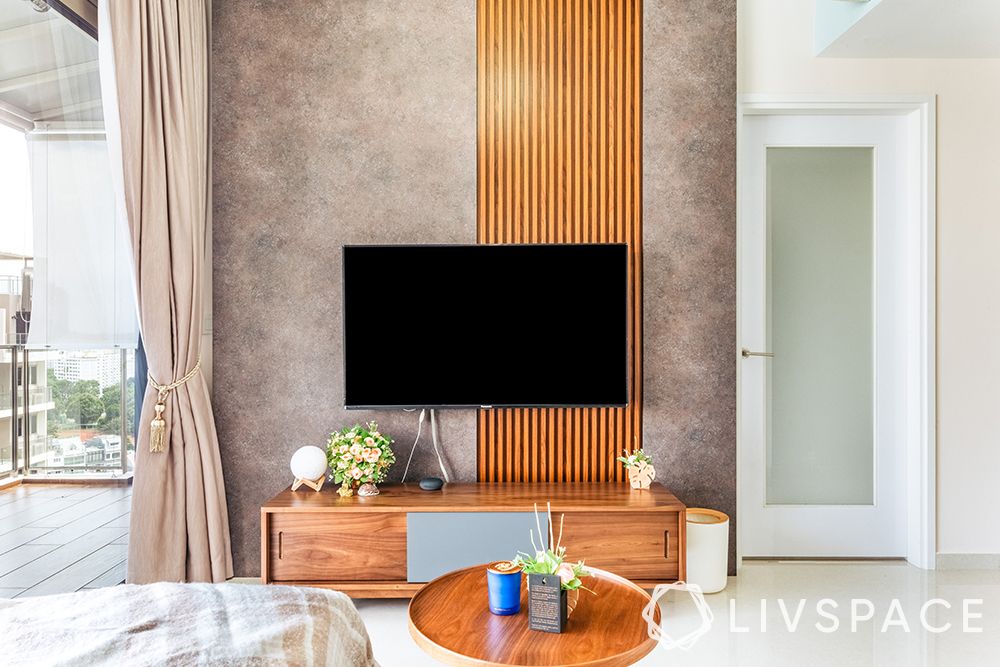 If your objective is to have a luxurious living room, a TV feature wall can help reflect that — as the one depicted above does. With its neutral palette, the glossy marble-finish laminate and its reflecting surface lends space to the room. The floating unit also saves room on the floor.
Also read: 7 Best Living Room Designs For Your Malaysian Homes
4. Shuttered Feature Walls with Concealed Storage
Why not conceal your television behind sliding panels? Believe us when we say that shuttered TV feature walls are a great way to add space, storage and style to your living room. Choose a simple design and then add pattern, wallpaper or colour to make it pop.
5. Light up Your Feature Wall Correctly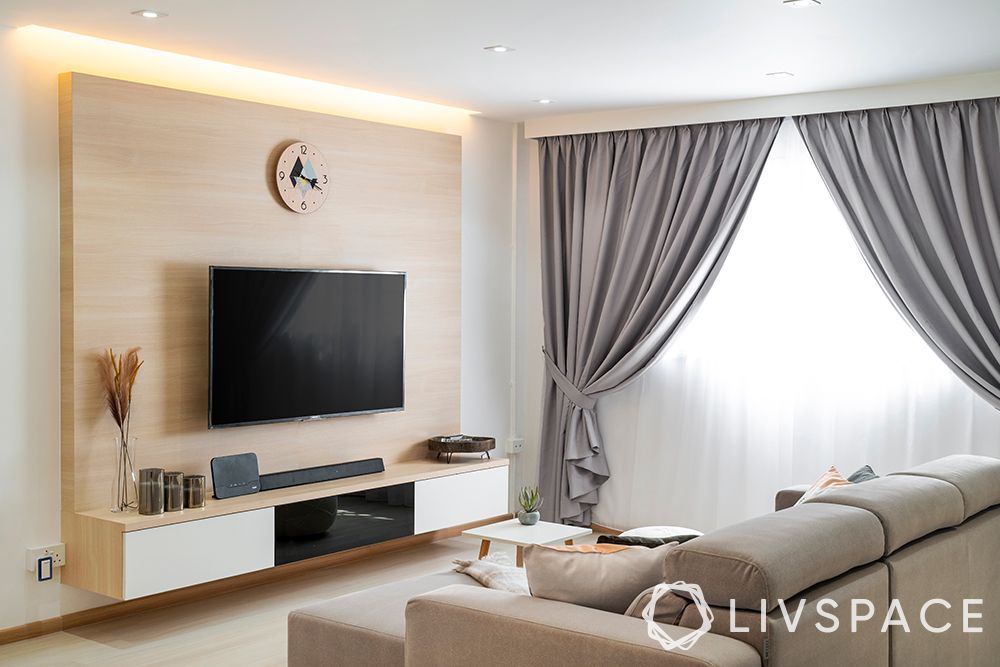 This living area is not only bathed in a neutral palette that helps to make the space look bigger, but it also has enough lighting that further enhances the spaciousness. The recessed lighting behind the floating modular TV unit brightens the space while also removing gloomy shadows.
6. Play with Colours on Your Feature Walls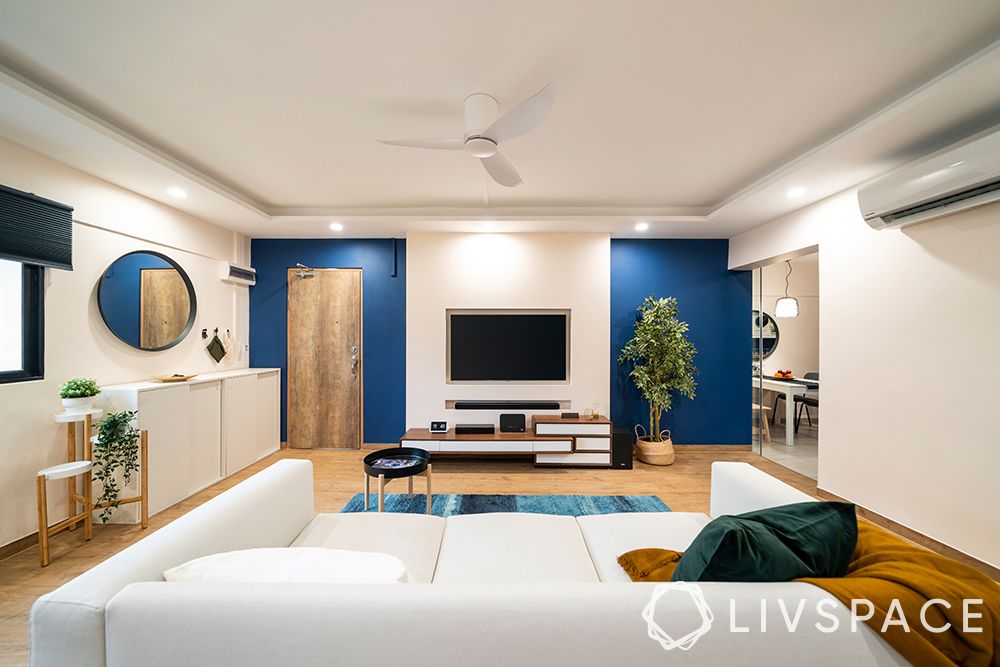 This is a general concept that can be implemented to make your living space appear larger. Use a contrast of light and dark colours to make the living area appear larger. The darker hues enhance the lighter hues. Carefully place the two tones to allow the contrast to shine through.
7. Consider Monochromes for Your TV Feature Walls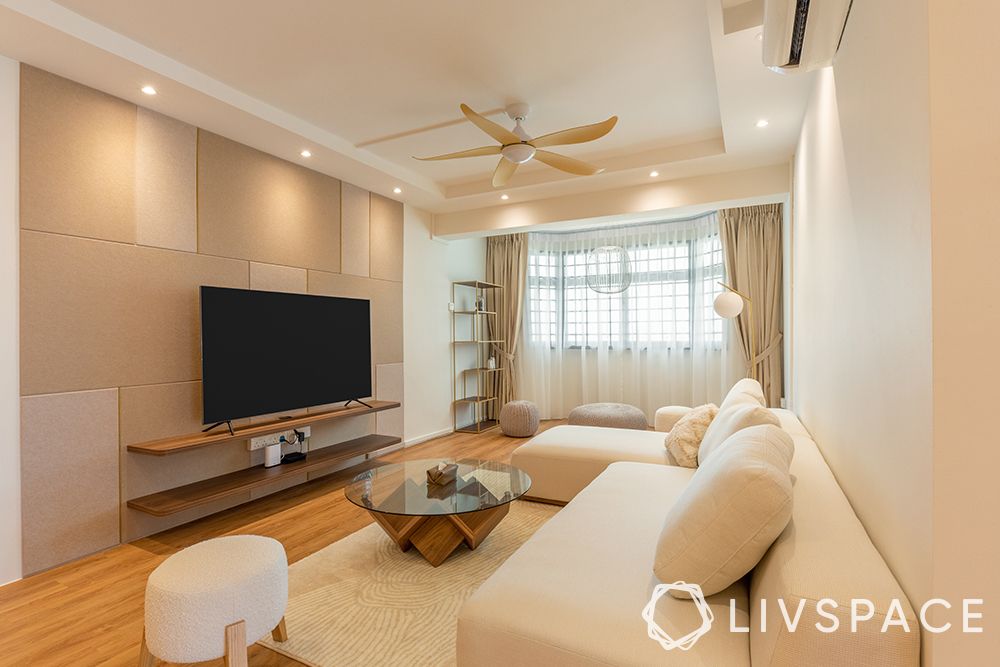 Do you prefer monochrome? If you have a small living area, this could actually make it look bigger. Monochromes can appear confining but when combined with the proper accents, they can create attractive TV feature walls while also making the area feel larger.
Also read: A Complete Guide to Interior Design for Your Living Room
How Can Livspace Help You?
Want stunning interiors? Livspace can help you! All you have to do is book an online consultation. If you prefer meeting in person, you can also find Livspace designers at the IKEA Damansara store. Hurry up and get quality home interiors from the best in the industry!