The new year is a transformative time, not just for us, but for our homes too. And with this desire to upgrade, you might find yourself in search of new trends that have set the world of design abuzz. Whether you're designing your own home, or curating a niche space to lease out, some trends are worth giving a shot. Join us as we take a few pointers from this trendy 3-room condo at Reizz Residence that was designed by Livspace, using some neat picks from IKEA.
Be sure to keep your eyes peeled for some hot tips that you can steal for your own space. PS: Some of these ideas are budget-friendly too!
---
Who Livs Here: Leased by Dao Viet Nga
Location: Reizz Residences, Kuala Lumpur
Size of Home: 3-room condo
Design Team: Interior Designer Chew Xuan Qi and Business Manager Chin Wai Fan
Livspace Service: Bedroom, kitchen, and bathroom interiors
Budget: RM 30,000 to RM 35,000
---
IN A NUTSHELL


Brief

To design a renter-friendly home that's perfect for leasing out

What We Loved

The seamless use of colour throughout the home

Look Out for

— The unique take on feature walls, with paint used to create trendy designs
— The interplay of different shapes and angles in each room



1. Leverage Angles and Lines to Create Unique Shapes in Design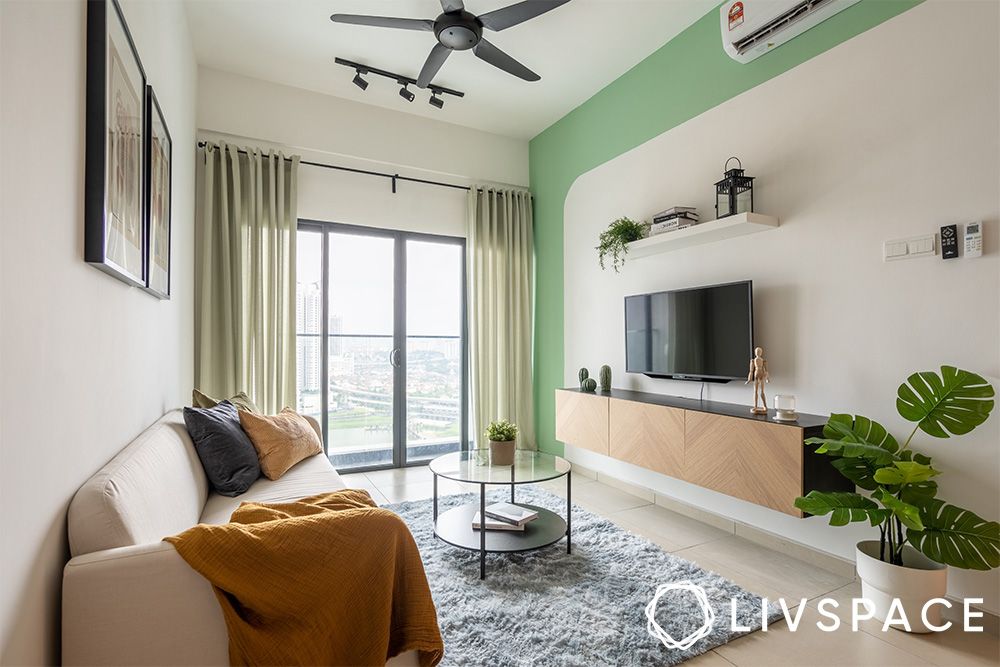 You might have thought your tryst with geometry ends once you graduate from school. But if you pay close attention, it's all around you! This is especially true when it comes to design.
So, how do you use lines and angles to your advantage? It's all in creating symmetry and balance. Take this living room for example. Notice how the wall paint is used to create a curved inner wall? This helps add form to the space.
Similarly, the curved edges on the couch and coffee table also play into the round shapes used in this room. However, that's not all. We balanced out the space using angular lines with the help of shelves, the TV cabinet, and the curtain rod. Together, these elements combine to create harmony in design.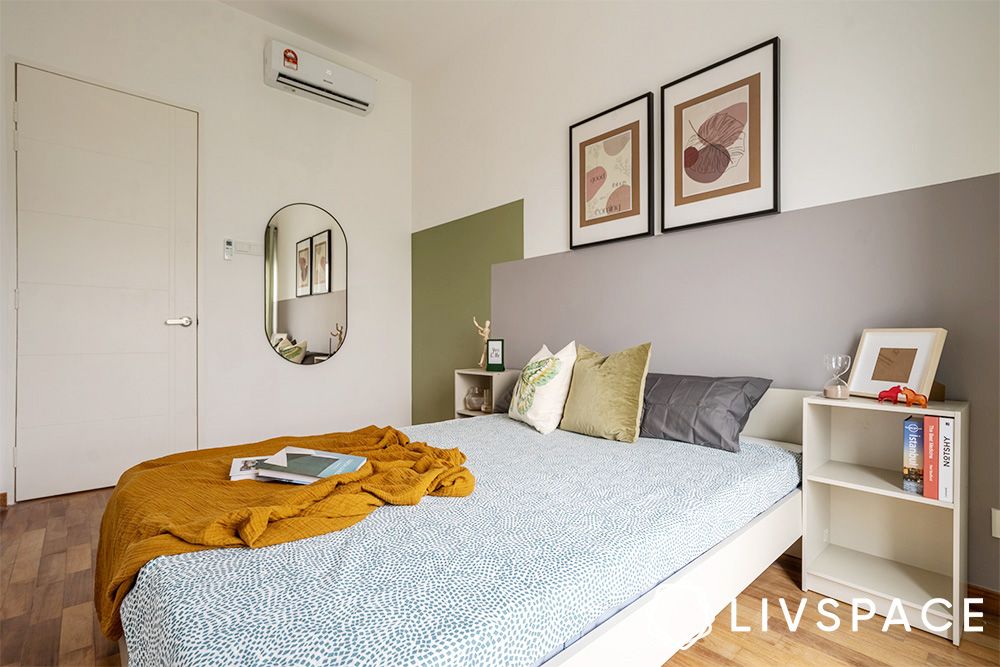 Just like we brought together curves and lines in the living room, we employed the same approach in the design of the bedroom too. However, this space focuses more on angular lines with limited curves.
Using paint, our designer created blocks of green and grey to highlight the walls. These blocks form the main shapes in the room and are complemented by the boxy shape of the bed and side tables. To break the monotony in these repetitive shapes, an oval mirror does just the trick!
2. Embrace Popular Design Trends Like Arches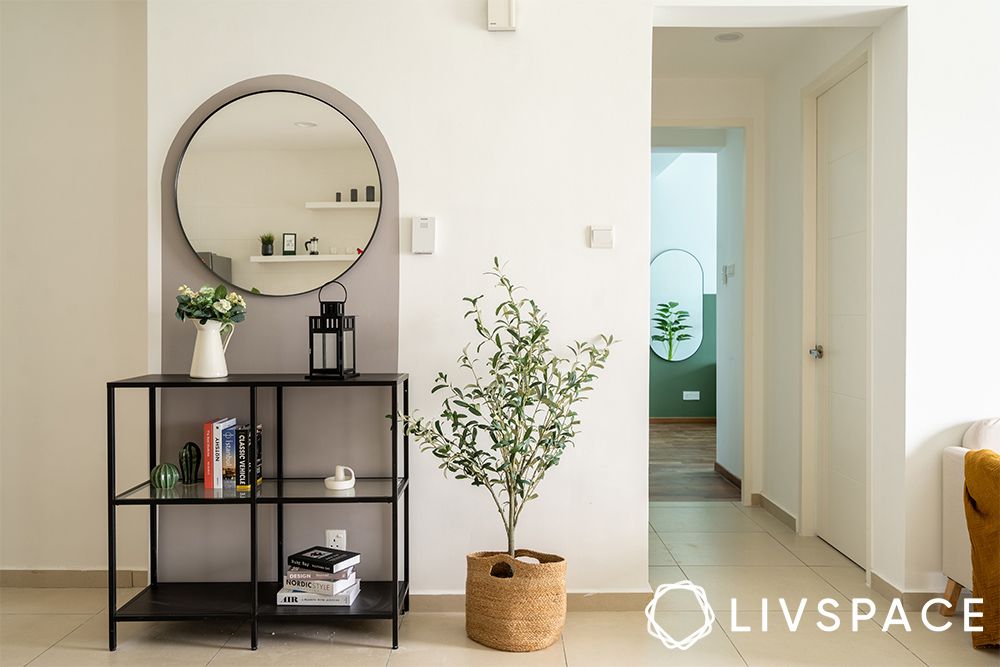 How often have you scrolled through your feed on Instagram and spotted a home that has some sort of wall arch incorporated into its design? This is because wall arches are currently trending, with most homeowners on the lookout for ways to add them into their homes.
There are two ways you can get the look: by using flexible plywood to create an arch structure, or with paint. The latter can be a more cost-effective solution to design. Since arches are meant to act as a wall accent, be sure to choose a colour that adds a contrasting element to the space.
You can either leave the painted arch plain, or you can further detail it with mirrors, shelves, or even outline it with string lights!
Hear What the Homeowners Had to Say About Their Trendy Renter-Friendly Interiors:
Our designer, Xuan Qi, was responsive to our requests and was able to propose design ideas and solutions that met our needs and budget. The service and quality were great. Even though there was a delay on IKEA stocks, everything went well by the end of the project. We even got a tenant signed off in just two weeks' time, which made me extremely happy. Overall, we were satisfied with Livspace and IKEA's products.

Dao Viet Nga, Livspace Homeowner
Also Read: This 78 Sqm Home With Instagrammable Vignettes Is Perfect for an Influencer
3. Use Paint Creatively to Stay on Budget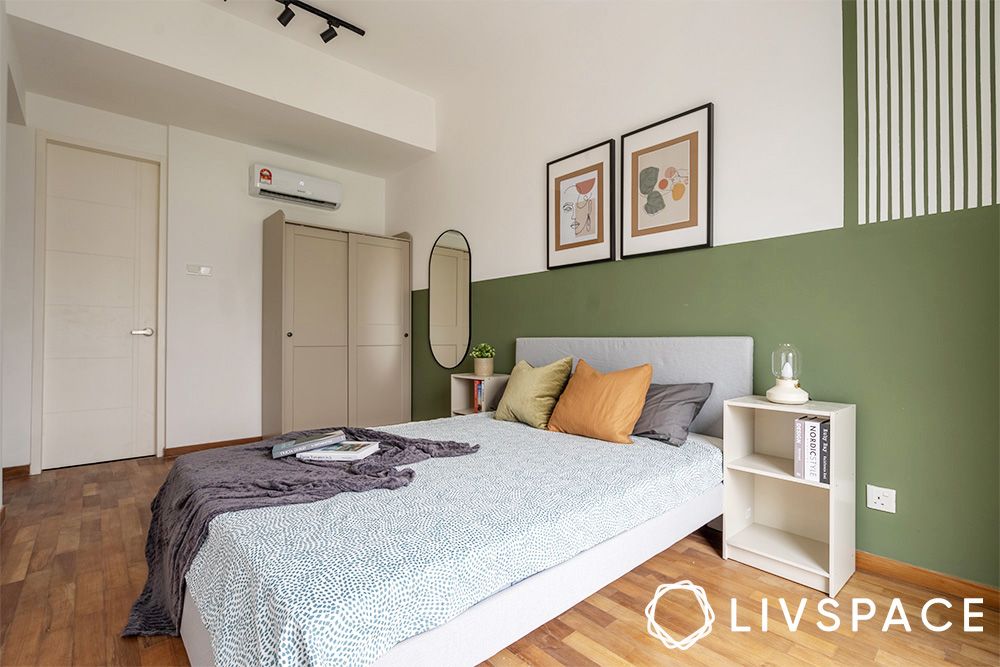 Nothing beats a resourceful design that helps cut costs without compromising on style. And that's exactly what these interiors at Reizz Residence are all about! Whether it's the living room or the bedrooms, you'll notice all the walls have been coloured with paint instead of wallpaper or panelling. Why is this important? Because other materials can be relatively more expensive.
Here, our designer finds a cost-effective solution to giving each space its own personal touch when it comes to how the paint has been used. The bedrooms take on a half-painted wall approach, where the lower half of the wall has darker colours.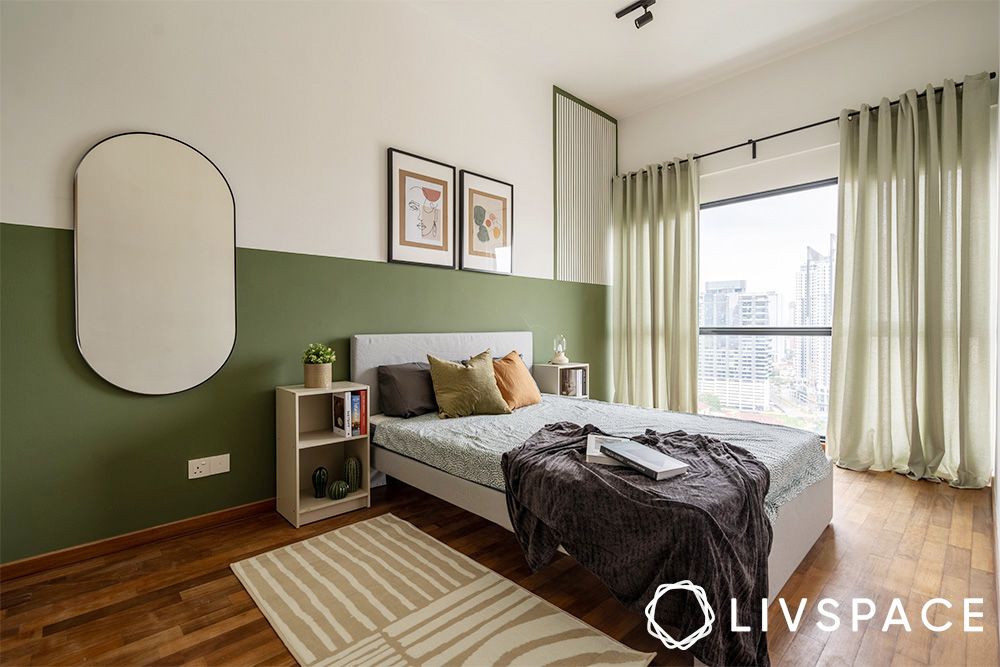 What's special about this, you may ask? Well, half-painted walls help create a cool visual illusion that makes the ceiling of the room appear higher than it is. A darker colour occupying the base of the wall helps elongate the room, creating vertical depth.
Apart from this, you can also use paint to create patterns and shapes instead of using wallpaper. Take a close look at the striped section of the wall towards the window. It serves as a unique addition to this room's walls and helps decorate bare corners.
4. Play With Colour to Curate Distinct Spaces That Still Appear Cohesive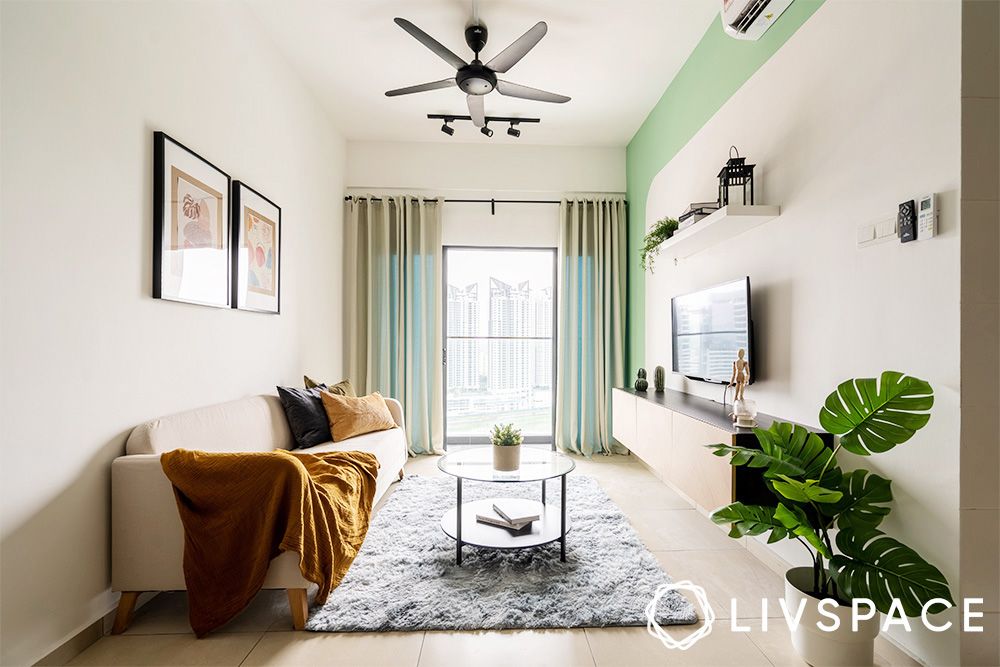 We talked about how paint is a miracle material that can help you achieve different styles of design. Similarly, you can use colour to draw out different zones in an open layout, depending on the function of the space. For example, the living room is kept light with white walls and neutral furniture, but a splash of green on the TV wall helps give this space its own identity.
Similarly, the kitchen uses wood-grain cabinets in a light wooden shade to decorate the space. Though both areas use complementary colours, they're still able to stand on their own without merging into the open layout.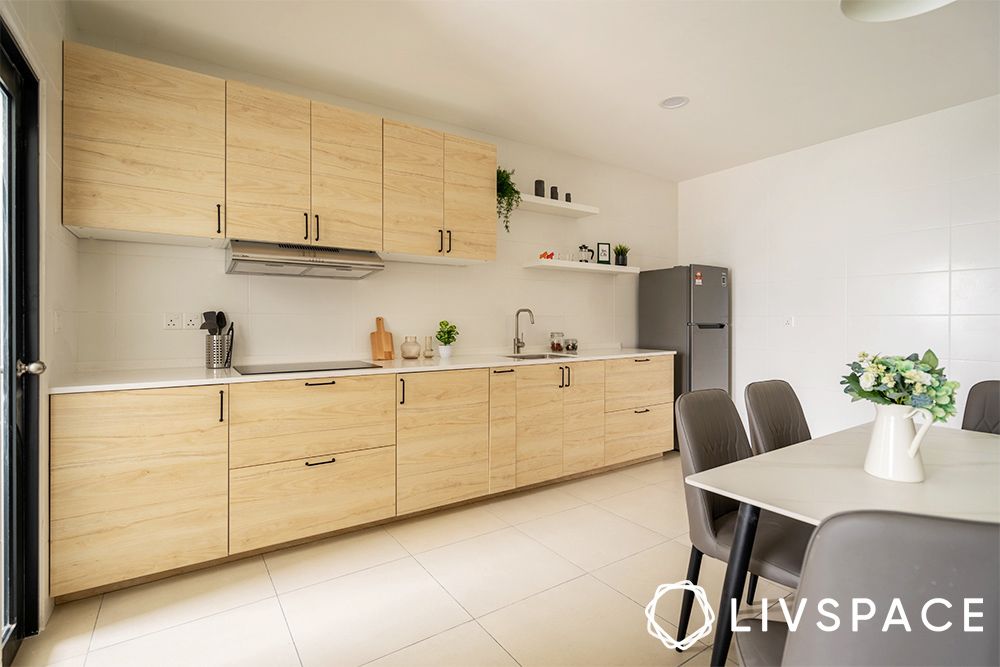 Apart from paint, you can also use visual effects like wood-grain patterns to add some texture to each space. In the kitchen, the cabinets have wooden finishes, bringing a subtle cosy charm to the layout.
What's more, the entire kitchen space champions the visual balance of rough and smooth surfaces by using tiles and wood-grain elements. You can also play around with soft furnishings in accent colours to highlight the space and give it more personality.
Also Read: 7 Wall Painting Design Techniques That Are Perfect for Malaysian Homes
5. Accessorise With the Right Furniture Pieces and Decor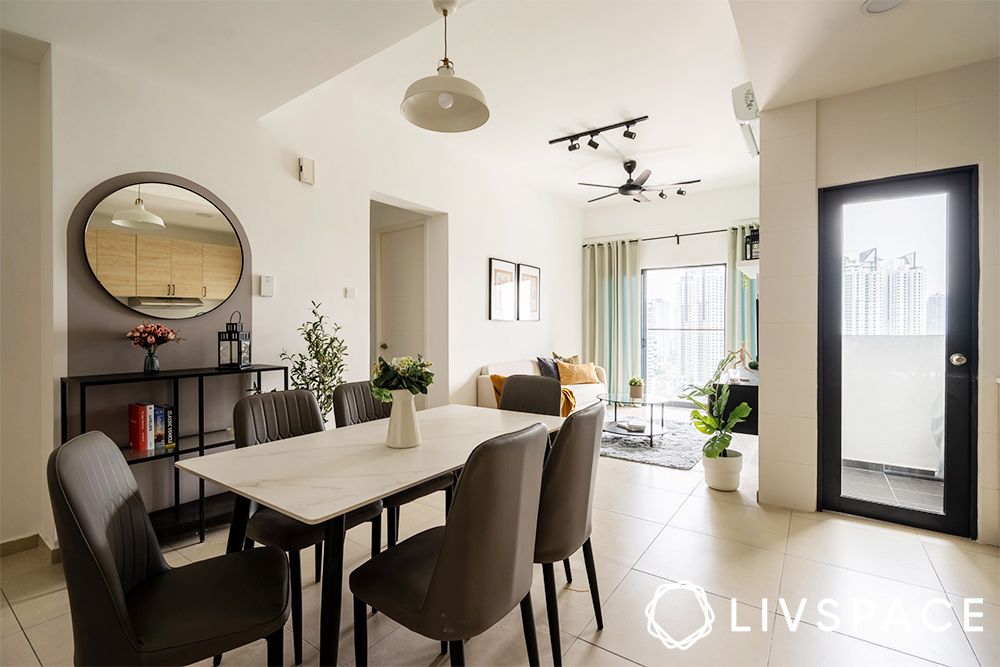 Wondering how to get your home to look like this 3-room condo at Reizz Residence? It's all in the details! The details here being some clever additions from IKEA. 😉
Here are some of the IKEA products featured in this home, so you know what to pick while designing your space:
| | |
| --- | --- |
| Room | IKEA Furniture |
| Living Room | Linanäs 2-seater sofa, Vittsjö coffee table, Bestå TV bench, Moalina curtains, Skurup track lights, and the Förenlig pot |
| Dining Room | Vittsjö shelving unit and the Lindbyn mirror |
| Bedrooms | Gladstad upholstered bed frame, Trädkrassula duvet cover, Gursken bedside tables, Ribba picture frames, Lindbyn mirror, Hauga wardrobe with sliding doors, and the Vejstrup rug |
| Kitchen | Askersund drawer fronts and the Bagganäs handle |
How Can Livspace Help You?
Want stunning interiors? Livspace can help you! All you have to do is book an online consultation. If you prefer meeting in person, you can also find Livspace designers at the IKEA Damansara and IKEA Cheras stores.
Disclaimer: All contents of the story are specific to the time of publication. Mentions of costs, budget, materials, and finishes can vary with reference to current rates. Talk to our designer for more details on pricing and availability.