Efficient and perfect kitchen cabinet designs should allow you to find your necessities within easy reach. Furthermore, you shouldn't have to twist yourself into unimaginable angles merely to take out the needed item in time so that your cuisine doesn't get sabotaged. So, what if your current small kitchen cabinet design isn't working out? You'll need to learn everything there is to know about kitchen cabinet designs and come up with a design that fits your family's lifestyle while also accommodating any specific needs.
Let's take a look at the various components of kitchen cabinetry to see what will work best for you.
1. Materials and Finishes for Cabinet Design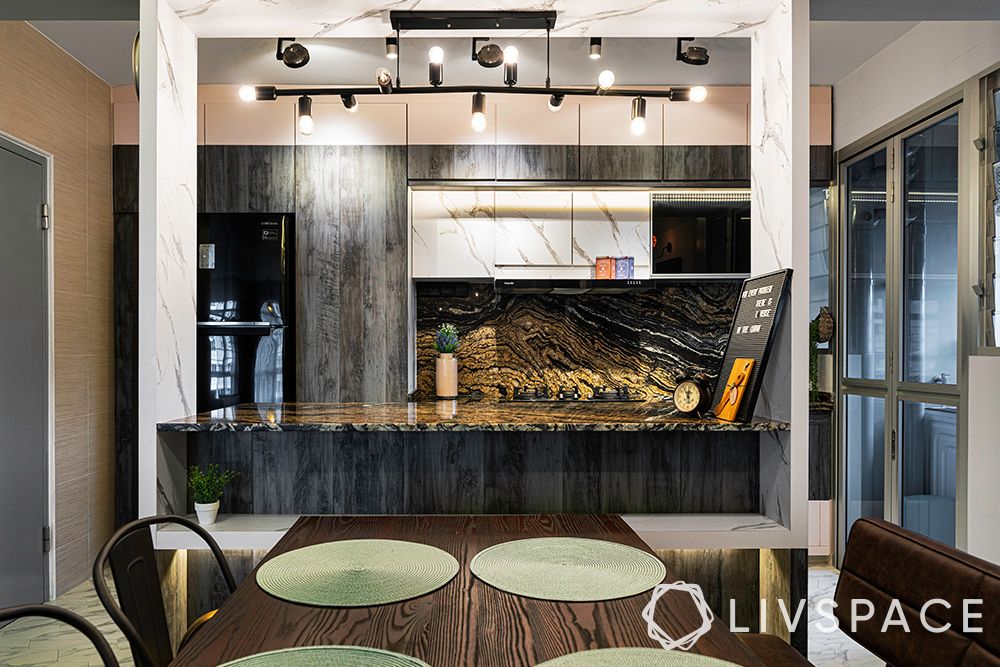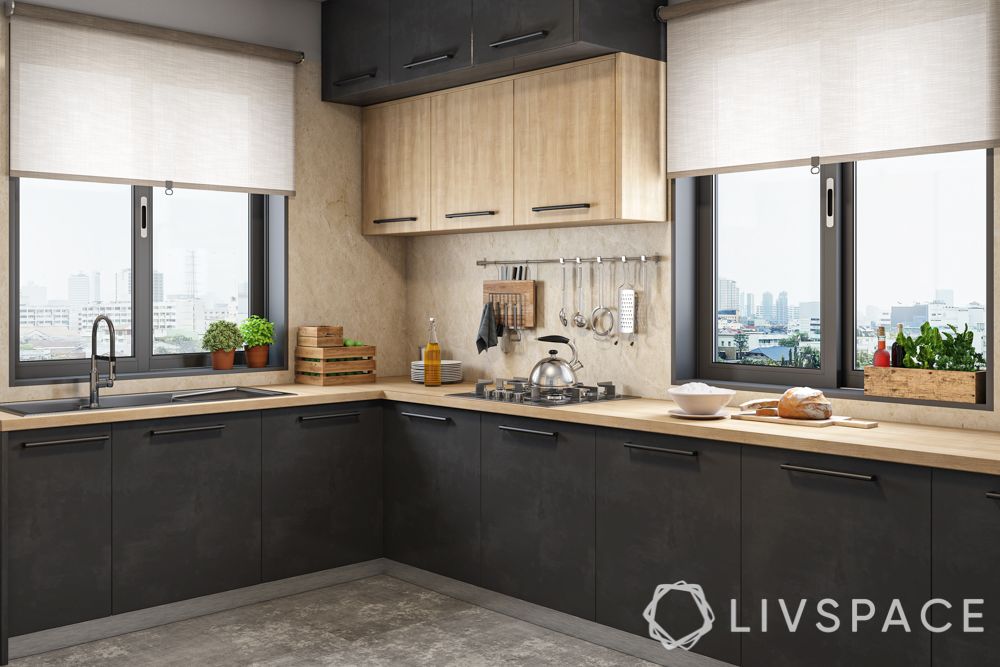 The combination of plywood cabinets and laminate finishes is unquestionably timeless in Malaysian kitchens. This combination is not only long-lasting and waterproof, but also cost-effective for a simple kitchen cabinet design. Furthermore, laminate comes in a wide range of colours and finishes, allowing homeowners to customise their space.
If you're wondering what material to use for your kitchen cabinet designs, we've got some suggestions for you! If you require materials to sustain heavy-duty cooking, consider a stainless steel kitchen cabinet design, which includes a backsplash and countertop made of the same material. Stainless steel kitchen cabinet designs for small space are an economical investment, especially if you have a home-based baking or cooking business. They are built to endure high heat and humidity, and are designed for easy cleaning and maintenance.
Also read: 7 Popular Finishes and Materials for Kitchen Cabinets You Need to Know About
2. Cost of Cabinet Design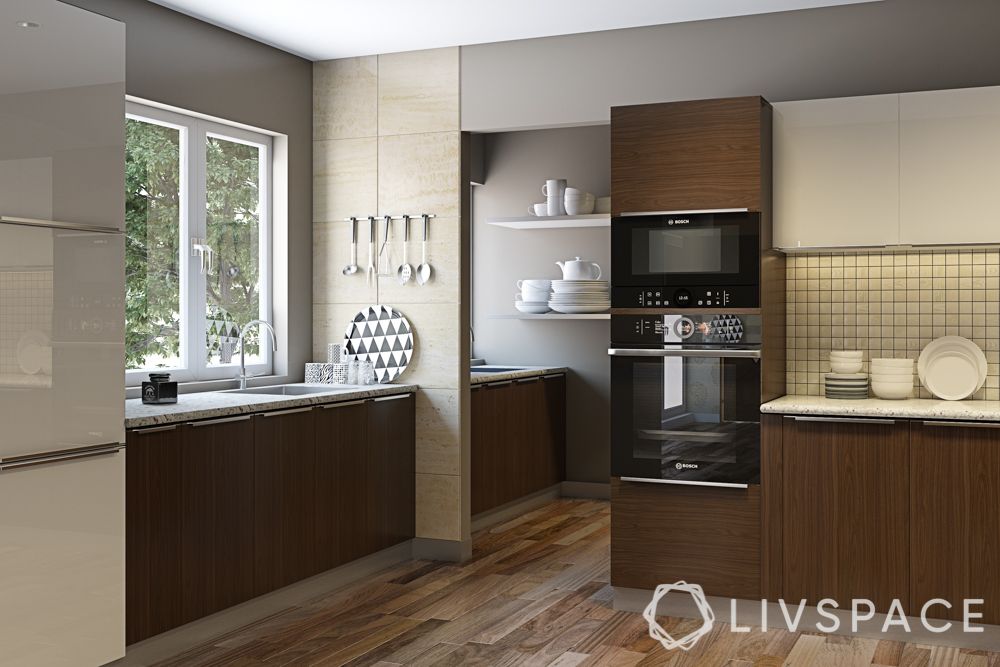 Custom yet simple kitchen cabinet designs are ideal if you want a kitchen that is completely tailored to your needs. These can be inexpensive or costly, depending on the size of your kitchen, how you plan to split it for different tasks, the quantity of storage needed and the appliances necessary.
In a typical Malaysian kitchen, for example, base cabinets with plywood carcasses and glossy laminate finishes are common. These cost-effective solutions have become popular since they are both durable and simple to maintain. You might also use wall cabinets if you need more storage space. For a small kitchen cabinet design with 6 to 8 feet wall length, you may need to pay about RM3,000 to RM7,000.
However, If you want to make your kitchen stand out, you can use different materials for your cabinets, such as quartz or marble, but this will raise your expenditures. The cost of kitchen cabinet design with these high-quality materials may range between RM7,500 to RM9,000. The cost of your kitchen renovation will rise as you add more cabinetry but then, you should realise that this is a one-time investment that will pay off over time.
3. Cabinet Design for Space Optimisation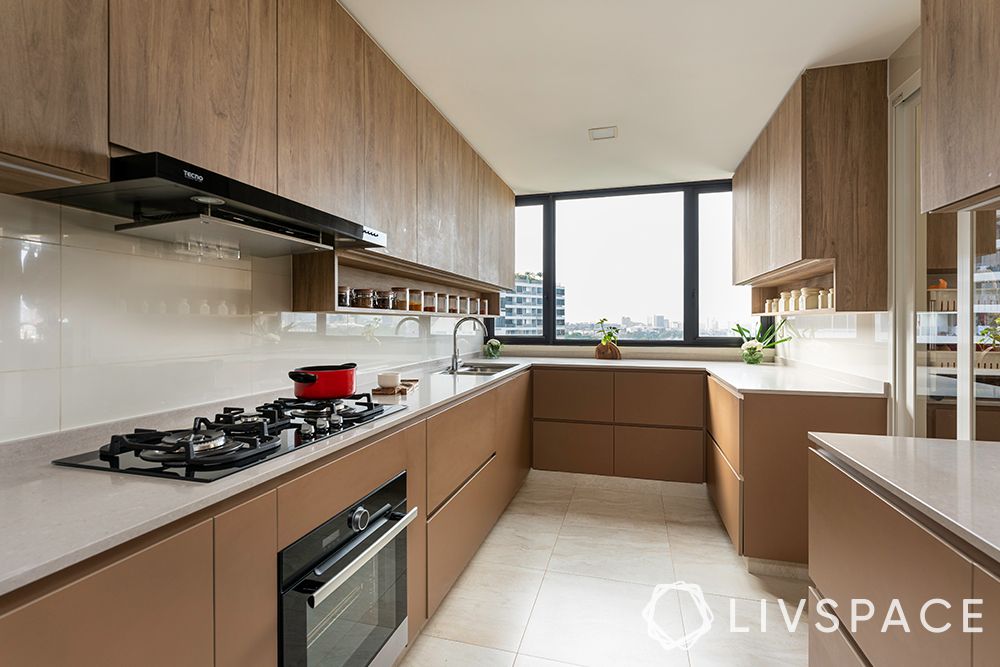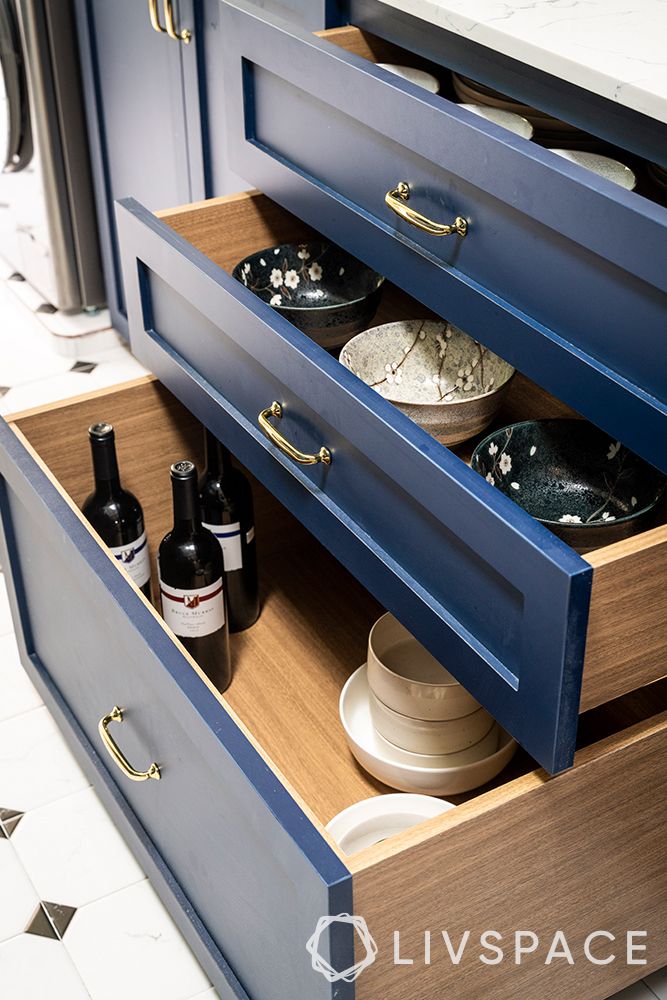 Kitchen Cabinet Ideas for Regular Cooking
You'll need plenty of storage in a kitchen intended for regular cooking. If you have a large kitchen, creating distinct cooking zones will help you make better use of the space. For optimal space efficiency and minimal tabletop clutter, we recommend both wall and base cabinets.
A pull-out pantry cupboard with various shelves for jars and containers is also an option. Because these units are too hefty for youngsters to open by themselves, they are also child-safe! Such units are recommended by Livspace designers, especially if you want to keep your kitchen well-stocked with groceries. Nothing gets lost in the back of a cabinet this way!
Kitchen Cabinet Ideas for Occasional Cooking
If your cooking is limited to the weekends or is a rare occurrence, we recommend getting plenty of base cabinets but fewer wall cabinets in a kitchen built for occasional cooking. This creates an open and uncluttered appearance in your kitchen. What if you have a lot of kitchen space but don't cook much? Rather than throwing away all of the cabinet space, utilise it to store breakfast goods, coffee powder, wine, or even books!
Also read: Want a Beautiful IKEA Kitchen? Here's How to Design One
Kitchen Cabinet Ideas for Professional Cooking
Chefs and bakers who work from home should consider the following kitchen cabinet ideas: Multiple hobs or ovens, a range of gadgets and enough storage. These all are necessities in your kitchen. As a result, pantry cabinets and a large refrigerator with a freezer on top are a good choice. To keep your essentials close to reach, we also recommend personalised kitchen cabinet designs.
Pull-out drawers, corner drawers and wall-mounted shelves are just a few of the options available for kitchen cabinet designs for small spaces. Cleaning up might be easier with a larger sink. You might also have a unit that keeps cleaning supplies close to the sink. If you don't have enough counter space, consider adding a table extension to help you prep in style.
4. Colours and Styles for Cabinet Design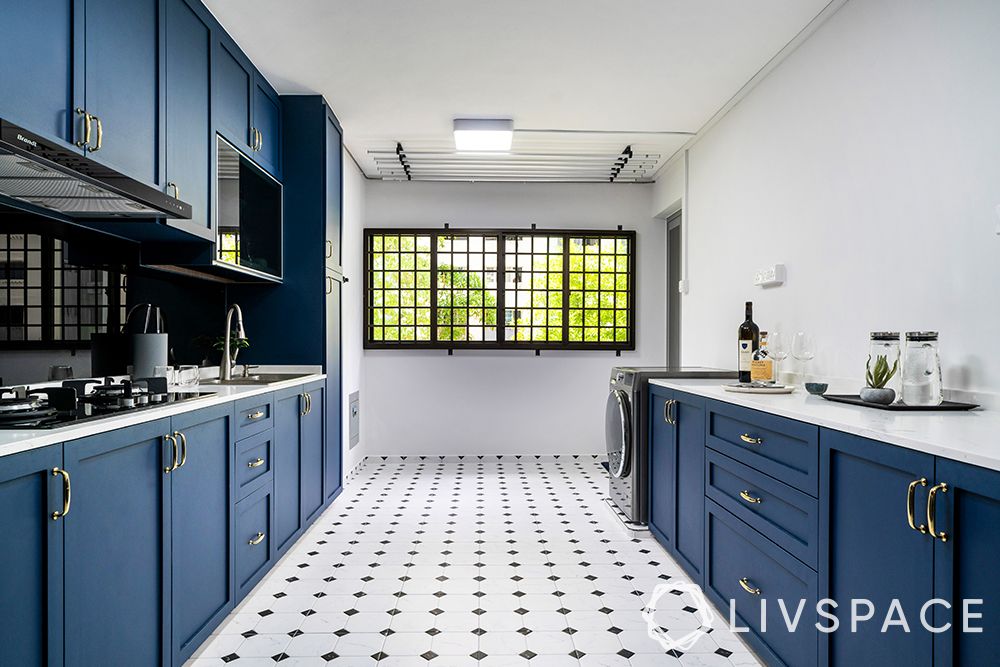 Why is it surprising that simple kitchen cabinet designs are trending in the Malaysian market as we work our way through tiny kitchens? Both minimalist and Scandinavian kitchen cabinet designs are in high demand since they have less clutter and maximise efficiency. These are not only visually appealing, with muted colour palettes and simple yet elegant designs, but they are also extremely useful!
Solid colour palettes are now trending in the Malaysian market, according to Nigel Og, business manager at Livspace. White kitchen cabinet designs for small spaces are becoming increasingly fashionable as going with variations of is white perceived to give the illusion of space. While pure white kitchens will never go out of style, Livspace designers have noticed a trend towards using light colours such as wood tones or soft grey tones in conjunction with white. Consider a white kitchen with hints of light' to medium-coloured wood, if you enjoy the texture of wood grains. If white kitchens aren't your style, you can use rich blues like royal blue and teal to make a statement in your kitchen!
5. Cabinet Design with Unique Requirements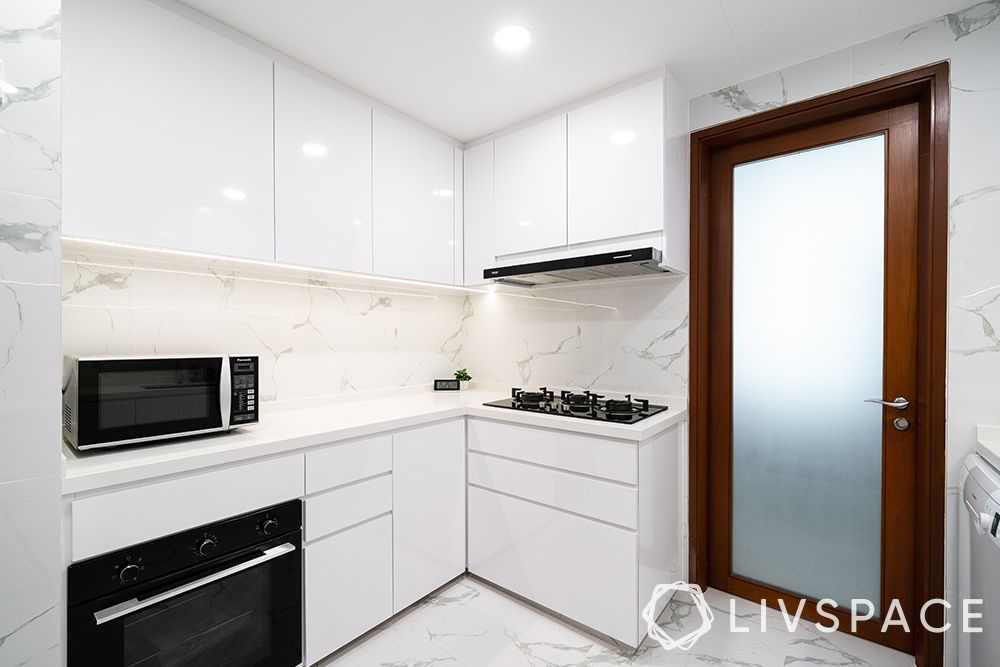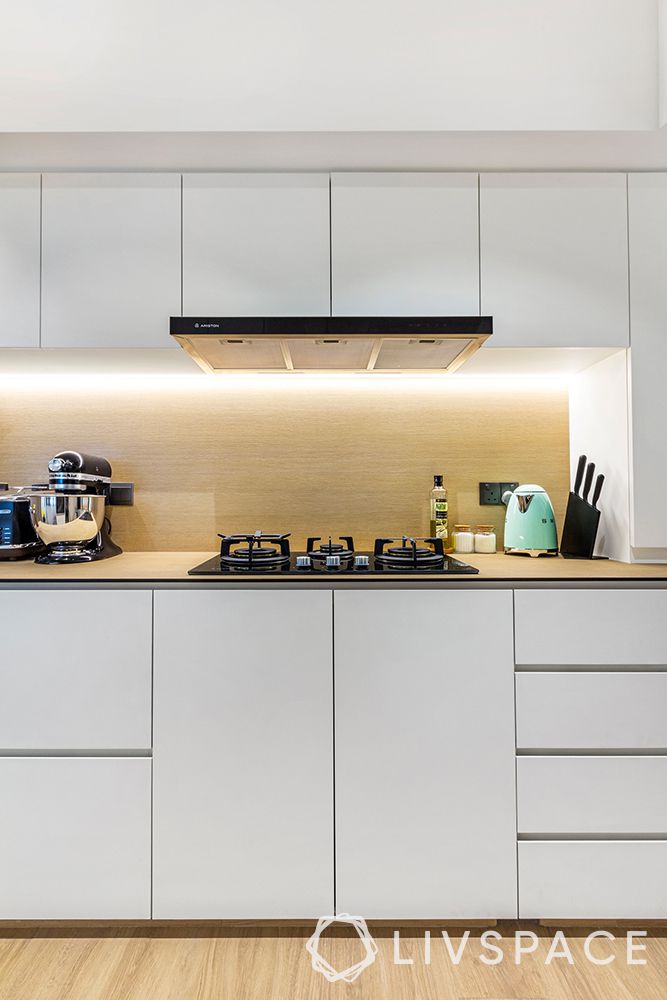 Cabinet Design for Regular Cooking
A cooker and an induction hob will be included in your cooking space. You might also use an oven or other kitchen appliances. If you choose built-in units, you may require a bespoke kitchen cabinet design that maximises the amount of space available around the unit. You can also arrange the neighbouring apartments so that you have easy access to all of the necessities. Consider adding an island to your kitchen if you have a large kitchen but need more counter space.
Cabinet Design for Occasional Cooking
If you only cook a few times a week or only on weekends, you can go with less cabinetry in your kitchen. Instead, choose open shelves to give your kitchen a sense of openness. You can reduce the number of closed cupboards to make the space appear more open and breezy. Do you enjoy your morning coffee? You may install a coffee maker on your counter to ensure that you always have a scalding hot mug of freshly brewed coffee to start your day.
Cabinet Design for Professional Cooking
If you have a baker in the family, make sure to organise the kitchen around their needs. In addition to a standard oven, a convection oven is required. Furthermore, they may require various appliances, such as heavy-duty mixers, thus determining the kitchen's in-built equipment requirements is a must. You may determine the best location for it in relation to the stove and sink, and organise your small kitchen cabinet design appropriately.
How Can Livspace Help You?
We hope you found this curation of ideas to get the best kitchen cabinet designs informative! For more ideas, check out 10+ Brilliant Kitchen Ideas That Will Make You Want to Redo Yours. If you're exploring different types of kitchen cabinets materials to try in your home, Livspace can help you!
To get the best kitchen cabinet designs for small spaces, all you have to do is book an online consultation. If you prefer meeting in person, you can also find Livspace designers at the IKEA Damansara store. Hurry up and get quality home interiors from the best in the industry!