We all agree that tiles are a predominant aspect of bathroom design, whether it is bathroom floor tiles or ones meant for the walls. Therefore, it is important that you take a lot of care while selecting them. Tiles for bathroom design are available in a wide variety of sizes, colours, forms and styles. Here are the most popular varieties of toilet tiles that people in Malaysia chose for the walls and floors, along with the pros and cons of each to help you choose the best alternative.
1. Ceramic Tiles for Bathroom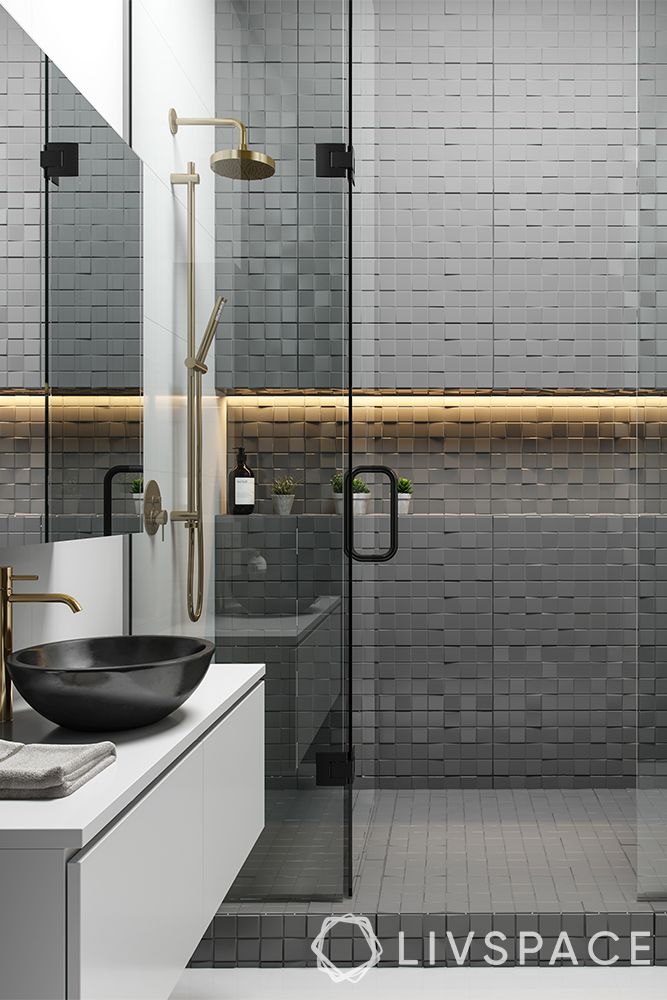 These tiles are made out of clay, water and minerals and are cooked in a kiln. These tiles come in a variety of colours and patterns, but if left unglazed, they can be porous and delicate. Because of their moisture-resistant and easy-to-maintain characteristics, ceramic tiles are a popular alternative as bathroom floor tiles as well as bathroom wall tiles. In summers, these toilet tiles keep the floor cool, and in winters, they keep it warm.
Pros:
Ceramic toilet tiles are quite versatile.
They are easy to clean.
They are very long-lasting.
Cons:
When wet, they're a little slick. To minimise slipping, use a bath mat on the floor.
They are quite hefty.
Are you planning to give your bathrooms a new look? If you are, take a look at this: 7 Best Small Bathroom Decor Ideas to Make the Most of Space
2. Terracotta Tiles for Bathroom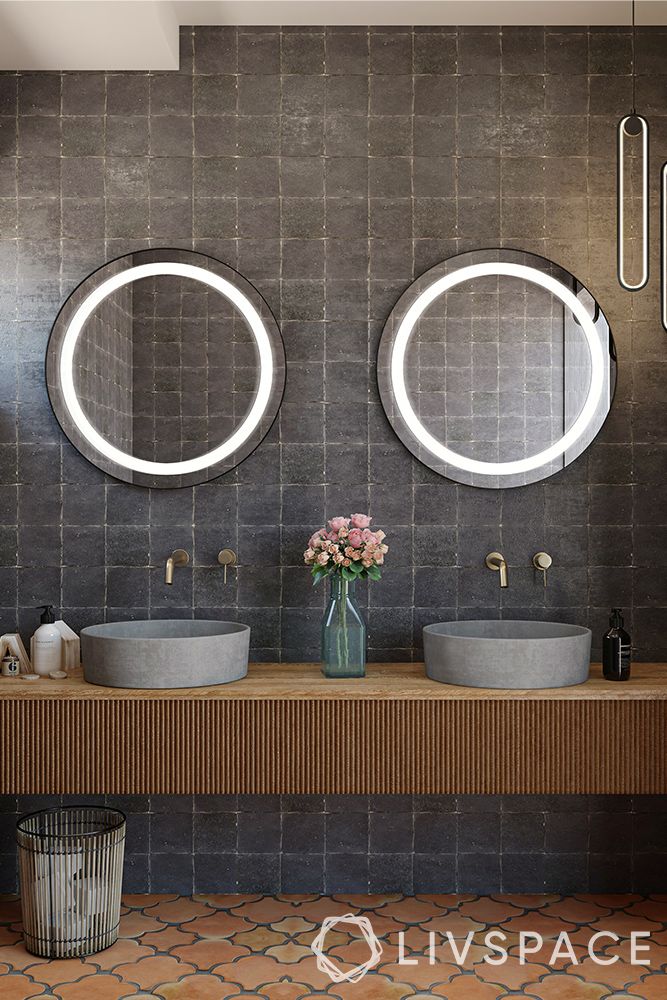 In the bathroom, terracotta bathroom floor and wall tiles create a pleasantly old-world feel. They are constructed of red clay and work well in both traditional and rustic bathrooms. These tiles stand out because of their aesthetic appeal and earthiness, and you'll often see red clay designs in Mediterranean-style homes. In terms of upkeep, you will need to seal the tiles every two years to keep them from getting damaged.
Pros:
Mould and bacteria can't grow on them
Unlike ceramic, which is cold when touched, terracotta feels warm
Extremely long-lasting. If properly cared for, they will last for decades
This is an amazing option for achieving a rustic look in your bathroom
Cons:
They are porous and absorb water quickly and hence, must be sealed every few years
A lot of upkeep is needed
3. Porcelain Tiles for Bathroom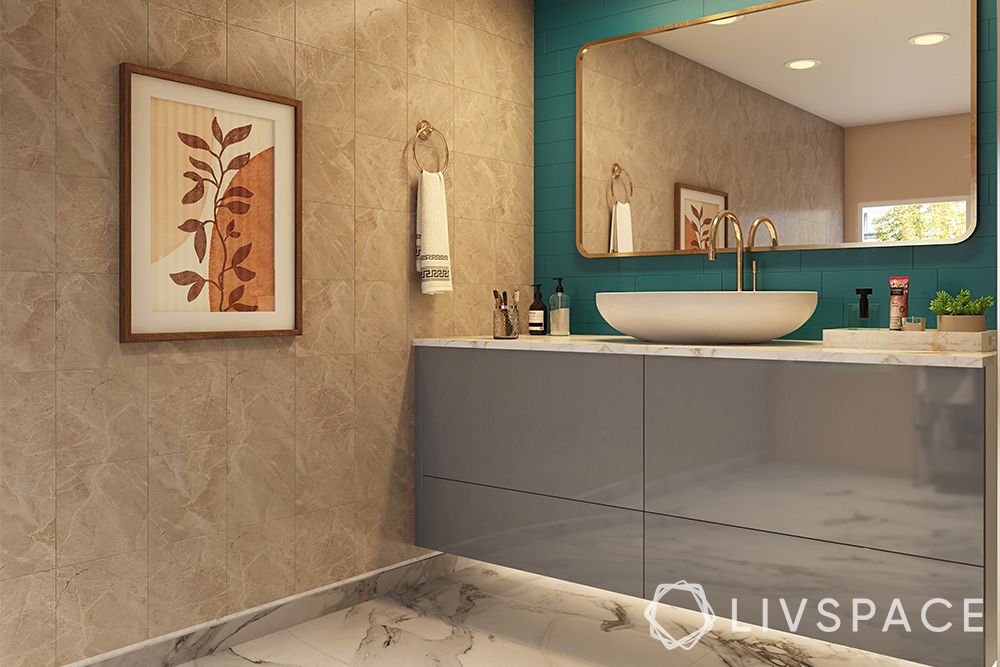 These tiles are comparable to ceramic ones but they are durable and are more robust due to their high density. This material is also stronger and more scratch-resistant than ceramic since it is manufactured at higher temperatures. It is a popular material for bathroom floor tiles and bathroom wall tiles because it is less porous and has better water-resistance. These tiles come in a wide range of styles, so you'll have no trouble picking the appropriate one for your bathroom.
Pros:
These tiles are of high quality and can boost the value of your property
Cleaning them is very easy
Scratch-resistant, moisture-resistant, and stain-resistant
They don't fade even after heavy use over the longer term
Cons:
Because these toilet tiles are tough to cut, this is not a DIY project; you'll need to hire an interior designer for their installation
When wet, they're quite slick
4. Limestone Tiles for Bathroom
Limestone tiles are composed of calcium carbonate salt, which is a natural mineral. Because of the wide range of designs and colours in which they are available, they are suitable for any bathroom decor. Limestone's visual attractiveness is one of the reasons for its popularity in modern bathrooms in Malaysia. Limestone gives the bathroom floor an earthy and warm tone. Limestone will last for many years if properly sealed. In terms of installation, you may wish to entrust the task to professionals because limestone tiles are quite hefty.
Pros:
Extremely long-lasting
Limestone, if properly sealed, will survive a long time without deterioration
The tile chips can be simply removed and replaced in the event of a chip or break
For individuals who appreciate natural materials, this is one of the cheapest toilet tile selections
Cons:
In comparison to marble, it has a medium durability
Installation is complex and time-consuming
ALSO READ: 10+ Practical and Stylish Bathroom Ideas To Save Your Bathroom from Clutter
5. Mosaic Tiles for Bathroom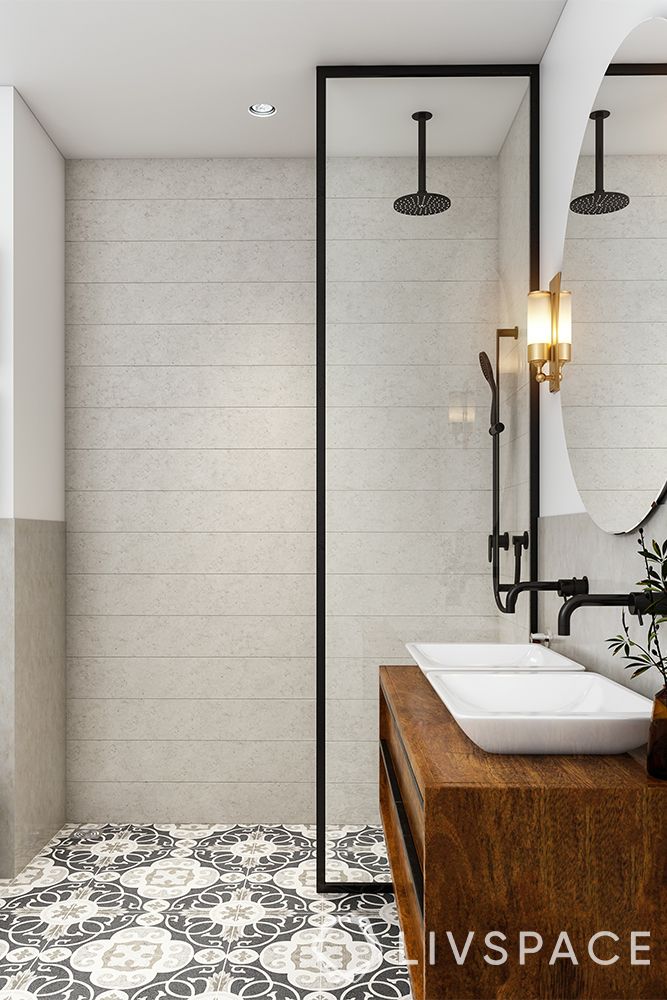 These bathroom floor tiles can be constructed out of a variety of materials like tile, stone and glass. But it is the small size and lovely patterns that set these tiles apart. They are also extremely durable. Mosaic tiles are highly resistant to water damage and can last for decades. They provide modern bathrooms a touch of beauty and style.
Pros:
Designs, patterns and colours are extremely adaptable
Mosaic is less expensive to install than ceramic or marble
These tiles are simple to clean and resistant to damage due to cleaning chemicals
Cons:
Mosaic tiles are more vulnerable to damage because of their tiny size
Mosaic bathroom floor tiles are prone to cracking, especially if heavier items are dropped on them
6. Marble Tiles for Bathroom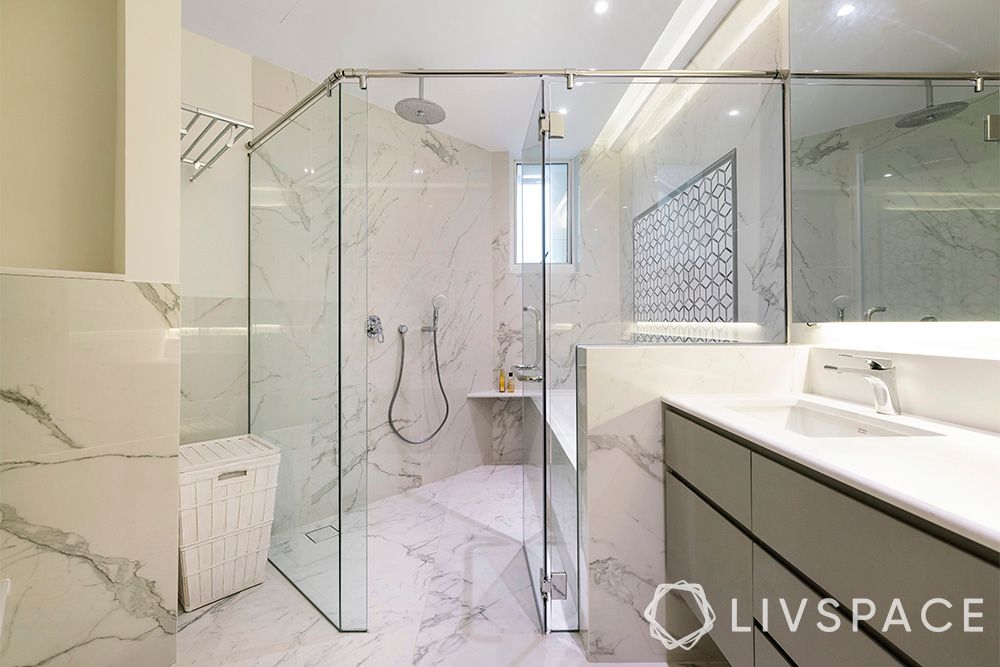 The beauty of marble tiles is undeniable. Because these natural stone tiles come in a variety of hues and designs, no two marble tiles are alike. In fact, multicoloured marble toilet tiles have lovely aesthetic qualities that may be matched to any bathroom design available. Marble's waterproof properties make it a suitable choice for bathroom floor tiles. These tiles are ideal for bathrooms that exude sophistication.
Pros:
Marble tiles provide elegance to bathroom design
Because of the versatility of these tiles, you can mix and match colours to create a pleasing colour scheme
They have a very appealing appearance, with each marble tile having its own vein-like design that makes it unique and striking
Cons:
Marble is porous and hence must be thoroughly sealed during installation
It is easily scratched and cracked and therefore it is a good idea to stock up on extra tiles in case you need to replace any
Marble, like other stone tiles, has a soft and a hard side. Because its structure is prone to denting after prolonged usage, ensure that the tiles are firmly sealed during installation
Marble costs more than other types of natural stone tiles
ALSO READ: 7 Best Small Bathroom Decor Ideas to Make the Most of Space
7. Glass Bathroom Tiles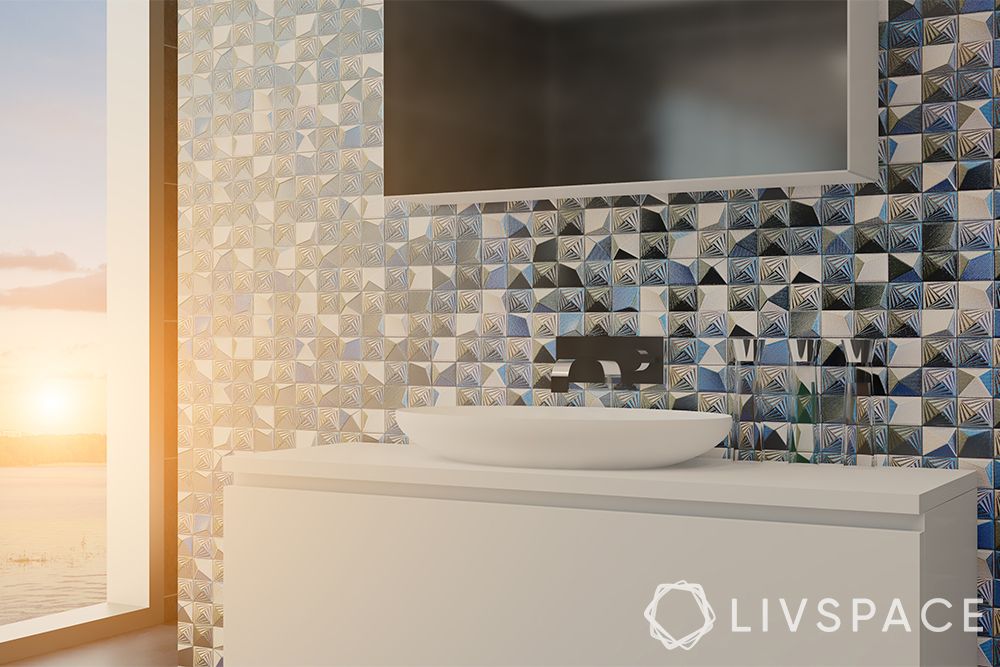 Glass tiles are a unique way to make your bathroom stand out. To produce authentic designs, these toilet tiles can be stained in various tones and shapes. The most appealing feature of glass tiles is their aesthetic appeal. Many customised styles are available to match the design of your modern or traditional bathroom.
Pros:
Glass tiles are translucent and come in a wide range of colours, making them an ideal choice for bathroom wall tiles
With a single wipe, dirt and stains can be removed
Resistant to mould and mildew growth
Cons:
Glass tile installation is not a DIY project, so you will want to leave it to the pros
When wet, they're a little slick. For the best results, use them as bathroom wall tiles.
8. Slate Bathroom Tiles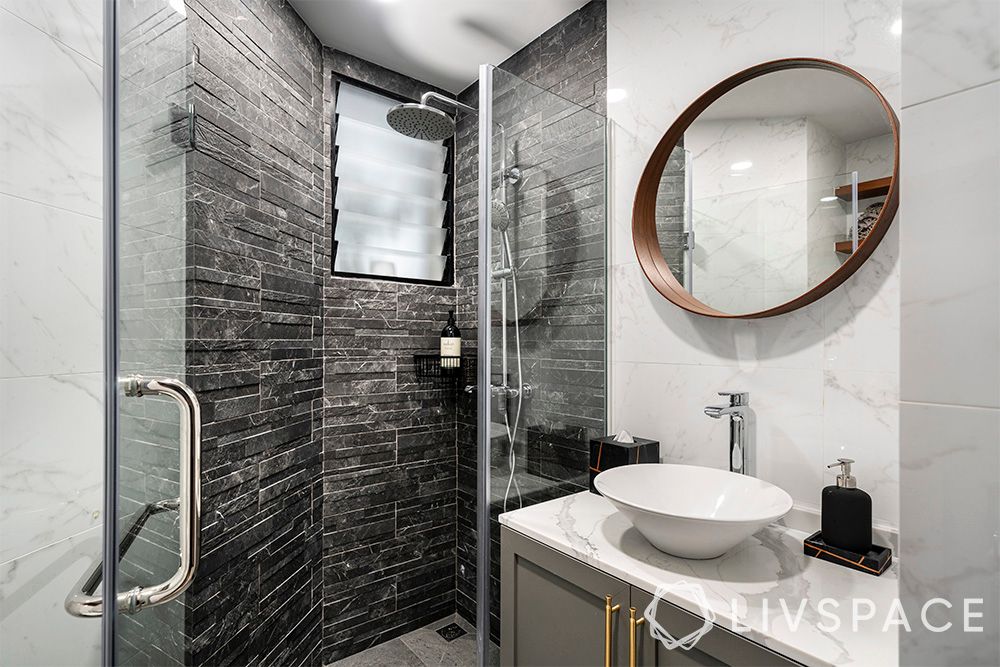 Slate is another natural stone material for tiles that is both durable and appealing. Metamorphic rocks are carved into flat shapes to create these tiles. Slate is an amazing option for your bathroom floor and walls if you are looking for distinctive and long-lasting tiles.
Pros:
Extremely long-lasting and hard-wearing
Waterproof and resistant to dents, scratches and scrapes
Slate is a low-maintenance material; it only takes a short sweep with a damp towel or mop
Slate tiles have a rough texture, making them excellent anti-slip bathroom floor tiles
They don't appear dirty easily, especially if you use grey tiles
Cons:
When compared to synthetic tiles, they are quite costly
We do not recommend standing barefoot on slate tiles for lengthy periods.
How can Livspace help you?
Did you find these bathroom tile materials inspiring? You can also get such beautiful bathroom tile designs for your home with the help of Livspace. All you have to do is book an online consultation with our design experts to get safe and quality interiors. You can learn more about COVID-19 safety protocols here.