Toilet design may not be everybody's cup of tea given the amount of work it takes. But when done well, it can certainly enhance the vibe of your space. So if you're in the market for a new toilet design but don't know where to start, this checklist is for you! We've put together a few basic things you should keep in mind before you start your design process. Also, be sure to read till the end if you're looking for some trend-based inspiration to get you the bathroom of your dreams!
An Easy Checklist to Follow During Your Next Toilet Design
To keep things simple, we've pooled in a few basic things you should look out for as and when you plan your toilet design:
#1: Measure Your Space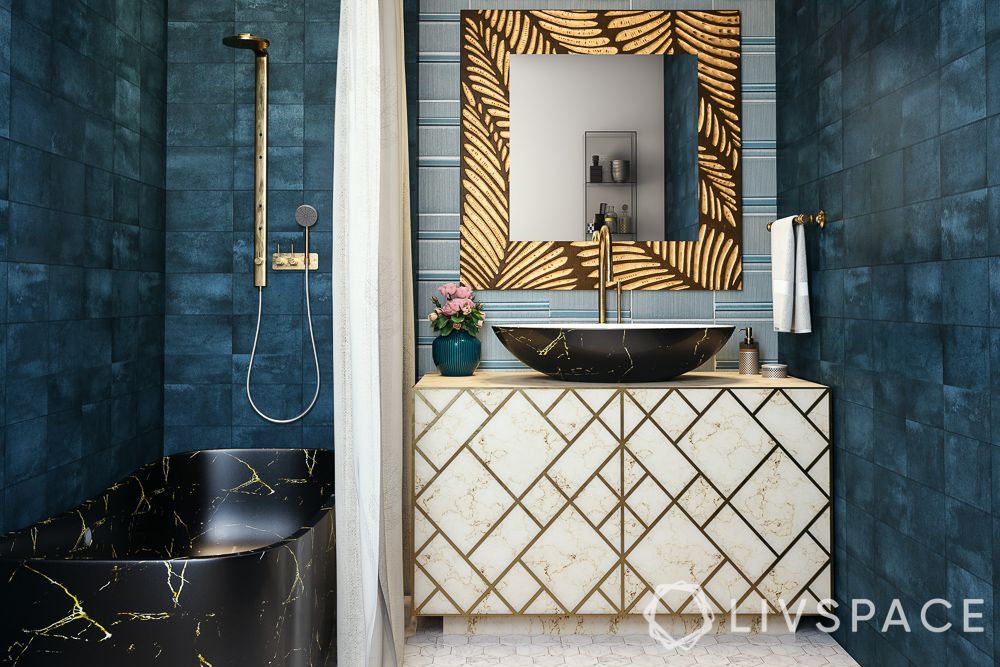 It should come as no surprise that the first thing you should do is measure your space. When you have the exact dimensions in hand, it's easier to know what can and cannot work for your toilet design. If you have a lot of space to work with, you probably have the liberty to experiment a bit more with different styles. But what do you do if you have a compact space with big dreams for it? We might have a few tricks up our sleeve to help you with this.
Here are two simple design hacks to make the most of your small toilet design:
Embrace the principles of Scandinavian design with neutral palettes and bathroom accessories made of natural materials as much as possible
Try to incorporate built-in storage units wherever possible to avoid cluttering your floor space with freestanding units
#2: Plan According to Your Ceiling Height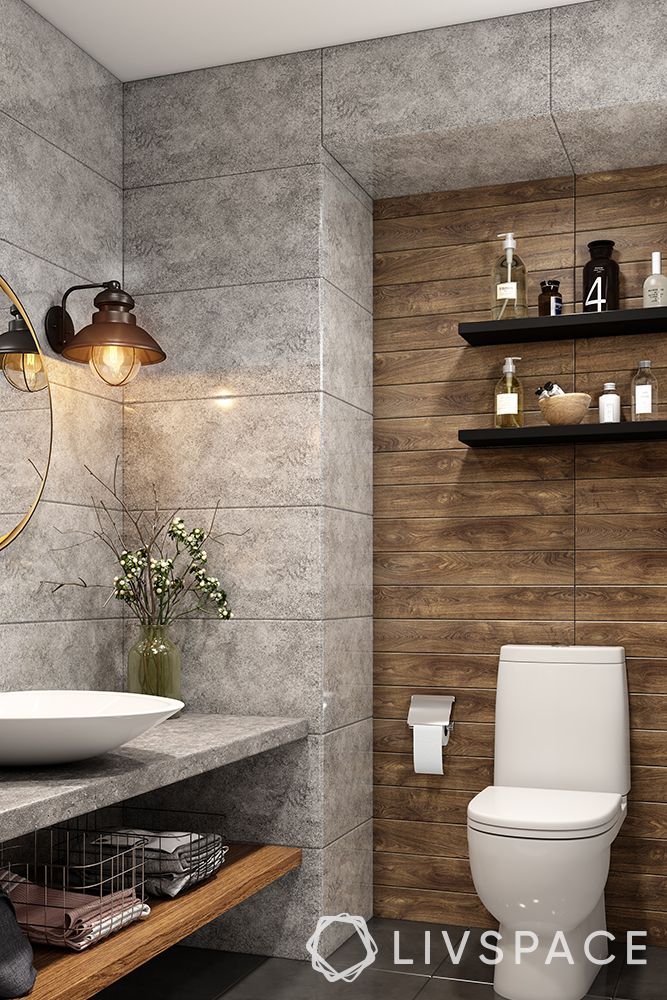 You might not always be able to control or change the height of your ceiling but if it's very low, this could affect your toilet design. Lower ceilings give the impression of lesser space, which can make your bathroom appear more compact than it is. And in a small toilet design, this could also make showering or the evaporation of water extra difficult as well. If you have an existing false ceiling which cuts out your ceiling height, consider doing away with it to give your ceiling added height.
#3: Consider the Flow of Traffic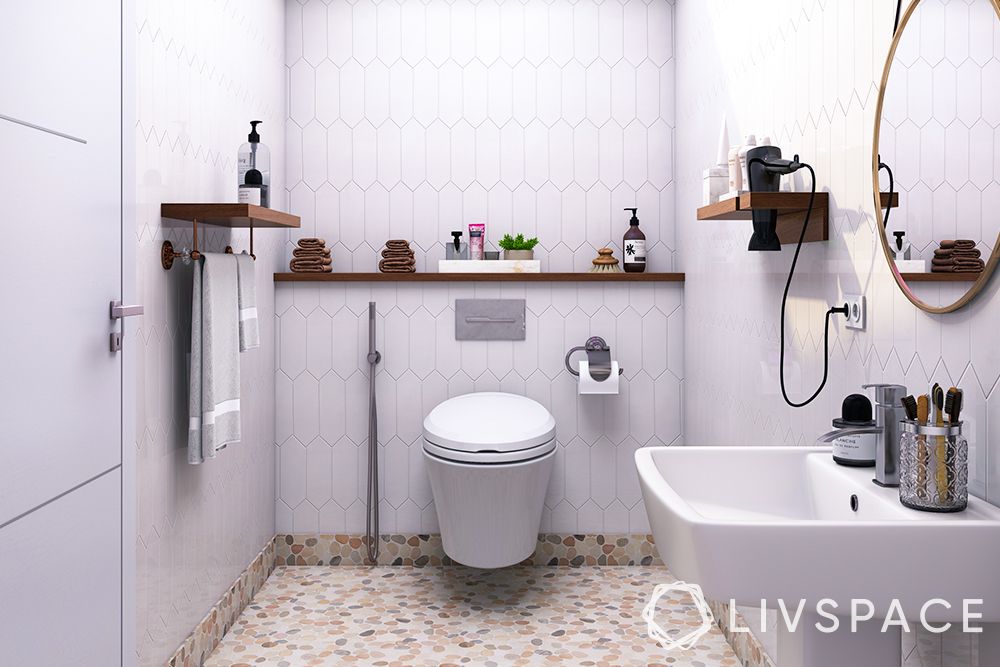 When you plan the various bathroom accessories you'd like to bring into your toilet design, you will also need to account for the flow of traffic around these areas. This is especially important based on who will be using this space. For elderly family members, not having sufficient floor space to move around could be potentially dangerous. To avoid this, be sure to segregate your bathroom into functional zones with a clear pathway to access each of these areas.
#4: The Optimal Placement for Your Lavatory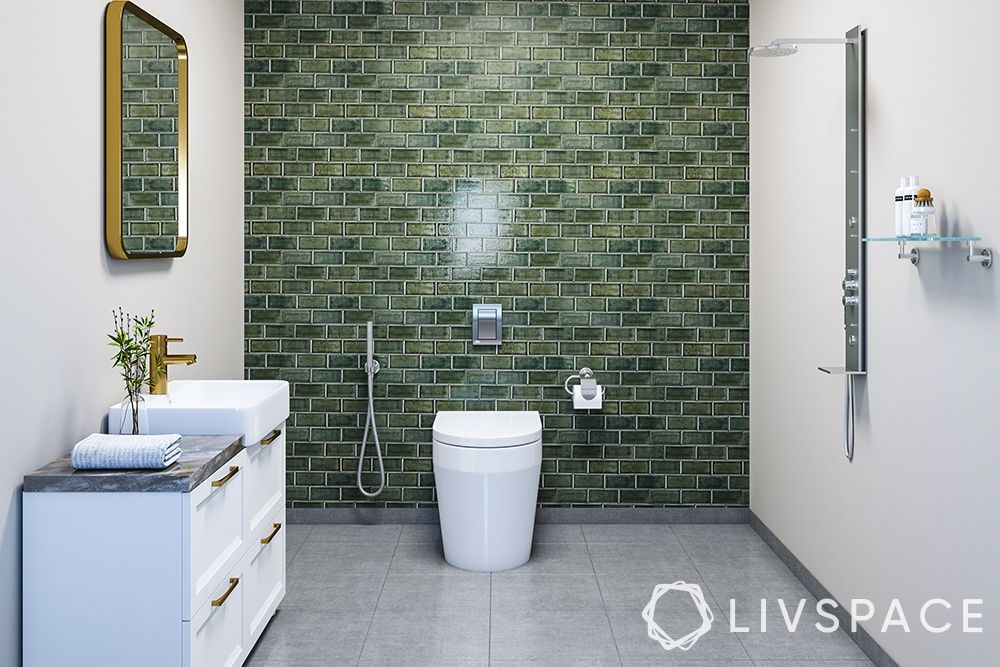 A good way to go about working on this area in your toilet design is to leave sufficient room around your lavatory. By doing so, it becomes easier to access from all sides of the bathroom while in use. What's more, leaving a bit of space between the lavatory and the wall it's placed against also makes it easier to clean from all angles.
#5: Give Your Toilet Design Sufficient Space for the Shower Area
Nobody likes to have their showers interrupted by hitting their elbows against the walls in a compact bathroom. And if you're not a fan of it either, you might want to be extra careful about how much space you allot for your shower area. You'd want to maintain at least 3 x 3 feet of distance for your shower so you have enough room to move around. But this can also be subjective based on your needs so make sure you measure the area before you add a shower.
#6: Build the Right Ambience with Lighting Options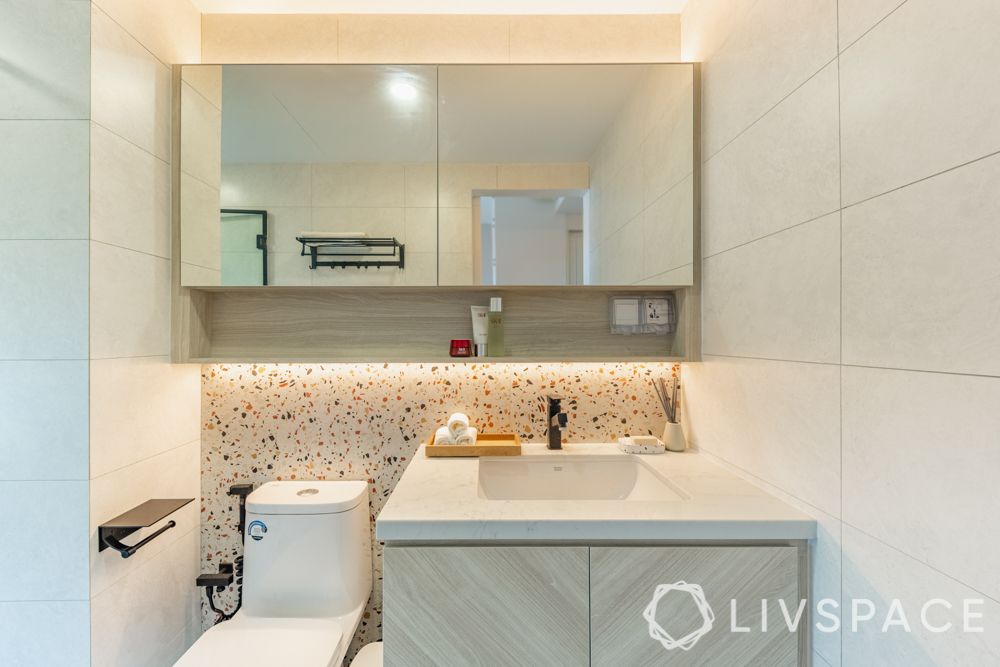 Even if you have the most beautifully designed bathroom, your toilet design is still incomplete without the right lighting options. Based on how you want this space to look, you can either go for warm- or cool-toned lights. As their description suggests, warm lights bring an added level of warmth to your space and pair really well with neutral colours. You can do this with simple under-cabinet task lights or wall sconces depending on the look you prefer.
#7: Always Plan for a Storage-Intensive Design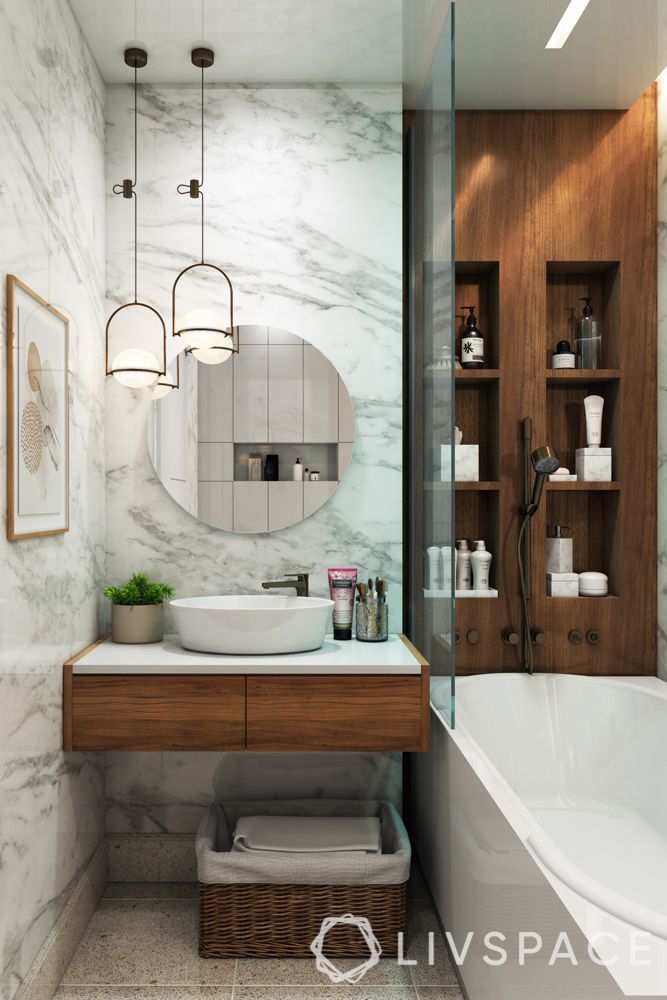 A good toilet design is one that does not require frequent renovation and changes to make it more storage-intensive. After all, you want to invest in a design that can take care of all your requirements for a long period of time. So, how do you make this happen in your toilet design?
An easy way to do this is by making use of your vertical or wall space. If you have empty walls, use them to add built-in storage units like modular shelves. Or you can also opt for a wall-mounted vanity cabinet to give you more floor space in a small bathroom. This under-cabinet space can then be used to store simple storage boxes or laundry bins.
Toilet Design Trends to Explore (2022 Edition)
Are you someone who loves being on-trend and in style? If yes, you don't want to miss reading these new toilet design trends that are hot this year!
#1: Feature Wallpaper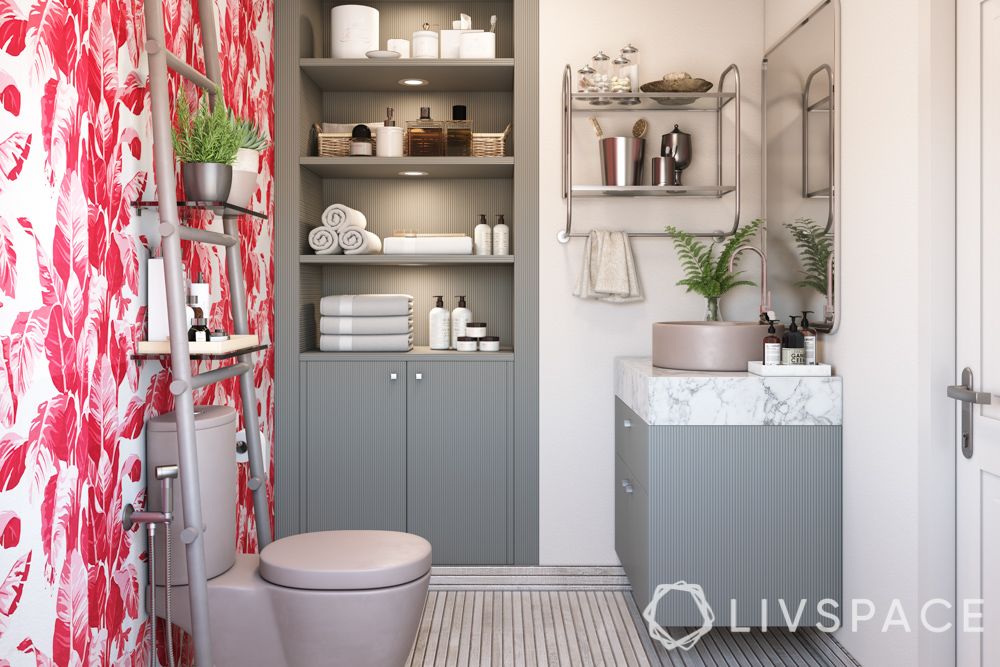 Tired of plain old bathroom interiors and looking to add a point of interest to your space? Go for a feature wallpaper! Just pick one wall to highlight with your favourite wallpaper design and you're good to go.
#2: Minimal Colour Palettes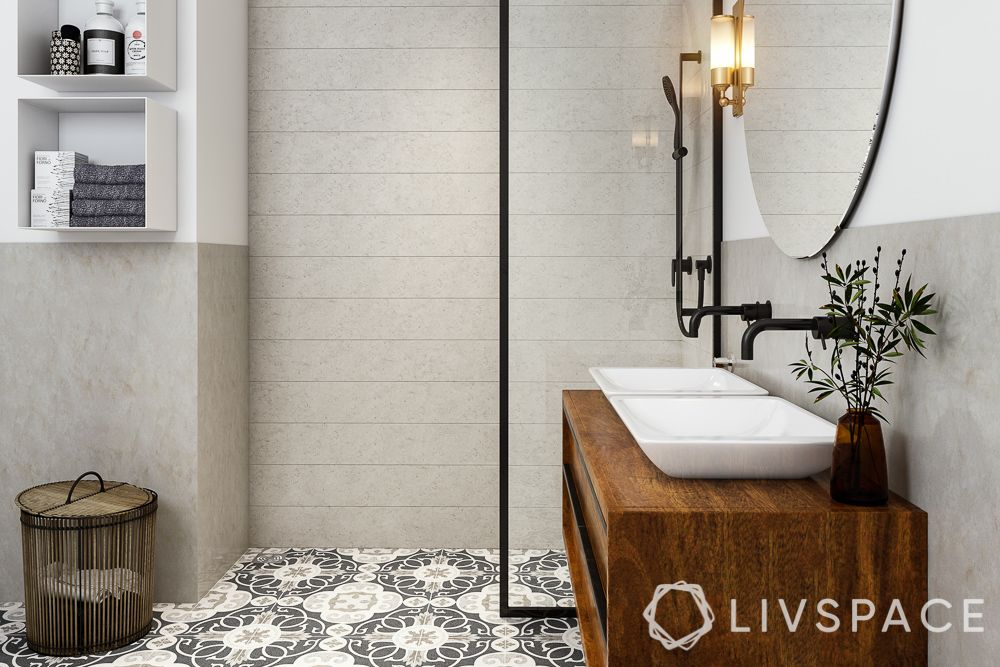 Minimalism is no new concept when it comes to toilet design but it sure has maintained relevance throughout the years. This is because neutral colours have a wide variety of advantages that can improve the overall look and feel of your space. So if you like a simple and pared-back vibe, declutter your bathroom and embrace muted colours in your design.
#3: Natural/Organic Elements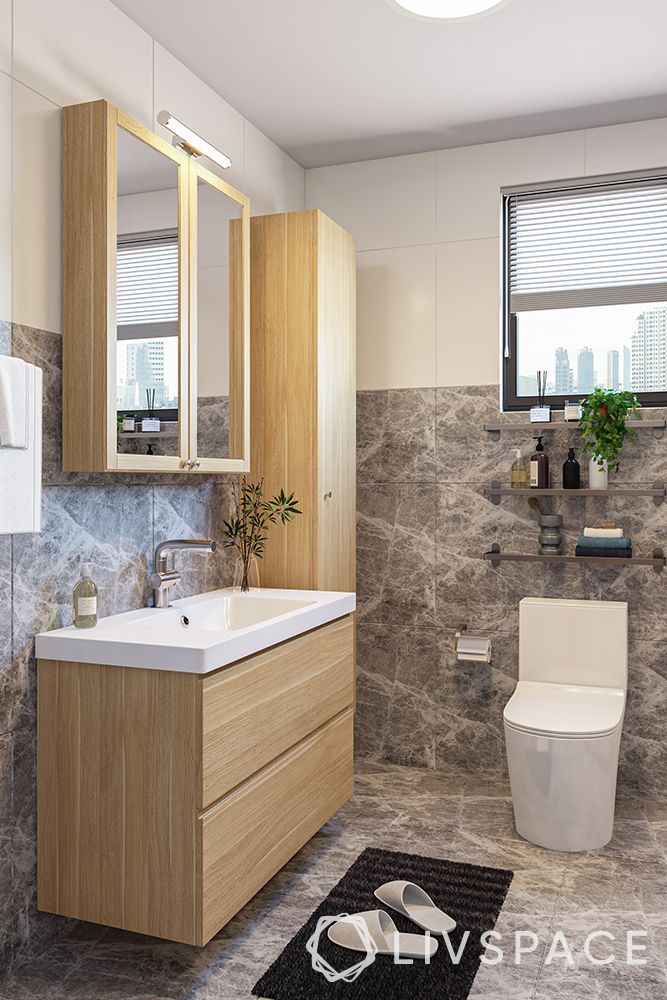 If you're big on sustainability in design, this trend might be just what you're looking for. By using natural elements like indoor plants, you also get the added benefit of air-purification based on the type of plant you use. And in terms of using wooden accents as a natural element, there are a couple of things to bear in mind.
While real wood as a material might not be everyone's first choice for a toilet design, there are wood look-alike options you can choose from. Similarly, though not all types of wood work well in high-moisture environments, a few specific water-resistant strains can still be used.
#4: Marble Features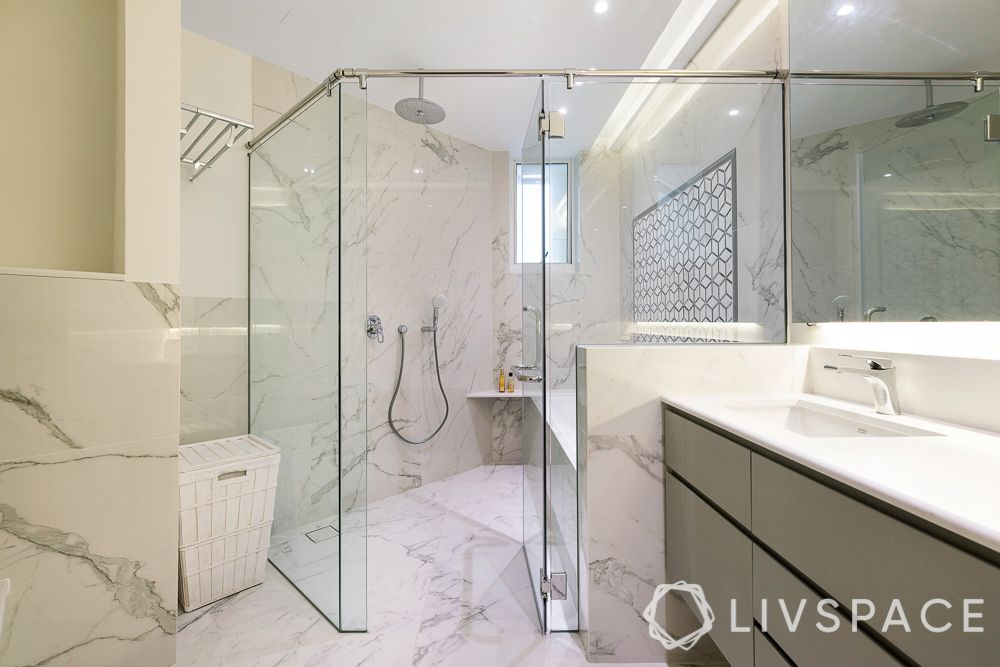 Known to be on the high-maintenance side of bathroom materials, marble has always been a timeless contender for toilet design. This is because marble has the ability to create an effortlessly elegant and high-class ambience based on how it is used.
But before you invest in this material, you should know that marble is not water-resistant. So if you are to use it in a bathroom, you will need to seal it regularly to keep it from discolouring.
#5: Calm Shades of Tiles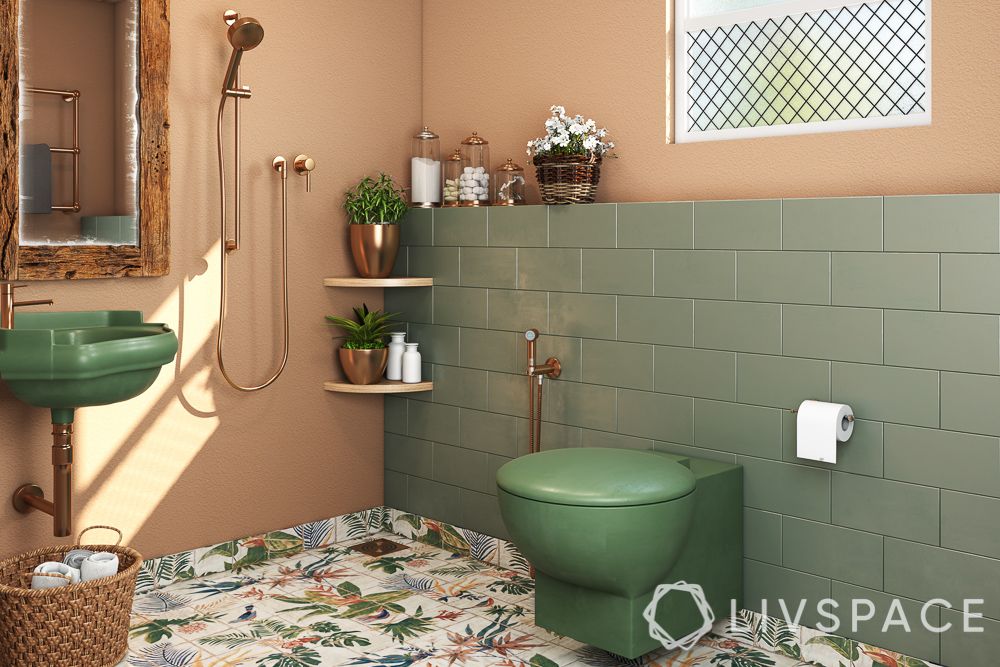 If you've always wanted your bathroom tiles to be a reflection of your personality, this trend is sure to be your new favourite. What's more, some of the hot colours making the rounds this year include cool blues and light greens that amplify the idea of 'calm' spaces.
So when you're picking out your bathroom tiles, go for some simple muted colours or brushed-metal accents to bring this look to life. This can also help you bring in a bit of contrast to your toilet design, based on the colours you choose to experiment with.
We hope you're able to use these toilet design tips and trends as inspiration when you start your next renovation! For more ideas, check out 10+ Practical and Stylish Bathroom Ideas To Save Your Bathroom from Clutter.
How Can Livspace Help You?
Want stunning interiors? Livspace can help you! All you have to do is book an online consultation. If you prefer meeting in person, you can also find Livspace designers at the IKEA Damansara store. Hurry up and get quality home interiors from the best in the industry!