Any empty space provides an opportunity to exercise your creative skills and freshen up your home decor. However, far too frequently, homeowners focus on the walls and flooring rather than what's above them, the ceiling. This often-overlooked area is one of the most important aspects of a bedroom, capable of tying a whole decor plan together in a heartbeat. So if you're looking to spruce up your bedroom ceiling design. Here are a few trendy bedroom plaster ceiling designs along with some ideas for bedroom lights that get you looking up!
Interesting Bedroom Ceiling Designs for Your Home
Plaster Ceiling Design #1: Put up a False Ceiling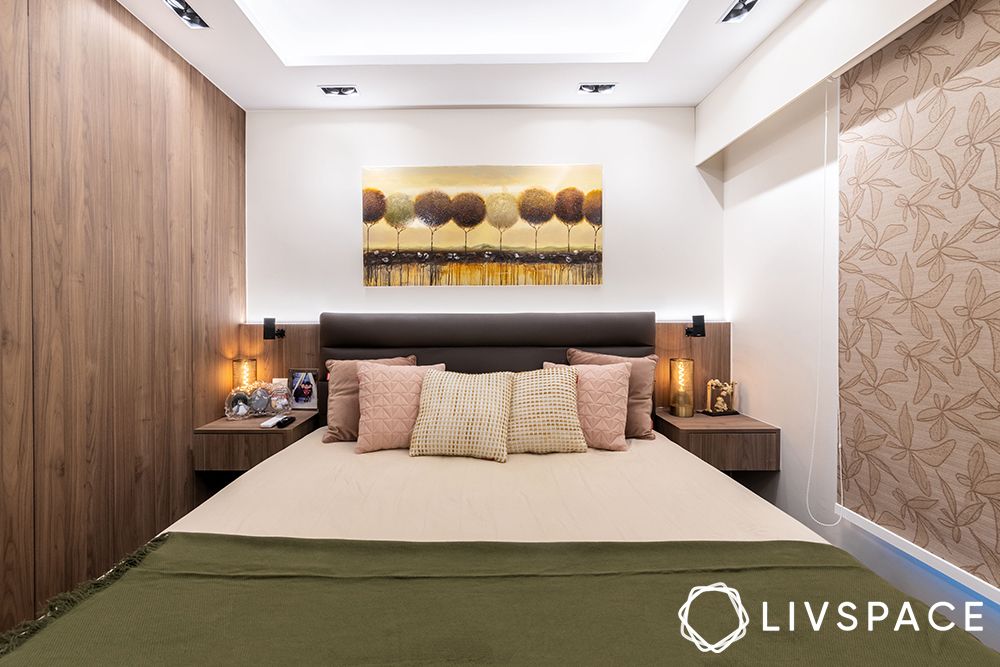 False ceilings are modern bedroom ceiling designs that are found in many Malaysian homes, and they are a style statement that need no introduction. These plaster ceiling designs are fashionable, long-lasting and completely personalised, even down to the colour and shape. You can choose from pared-down, layered or curved ceiling designs, depending on the impact you want to make. This ceiling design for bedrooms has a lot of advantages, including keeping the temperature under control and allowing for recessed and ambient lighting without a lot of cords.
Check out False Ceilings: Types, Cost, Pros & Cons for more information about false ceilings.
Bedroom Ceiling Design #2: Try Some MDF Panelling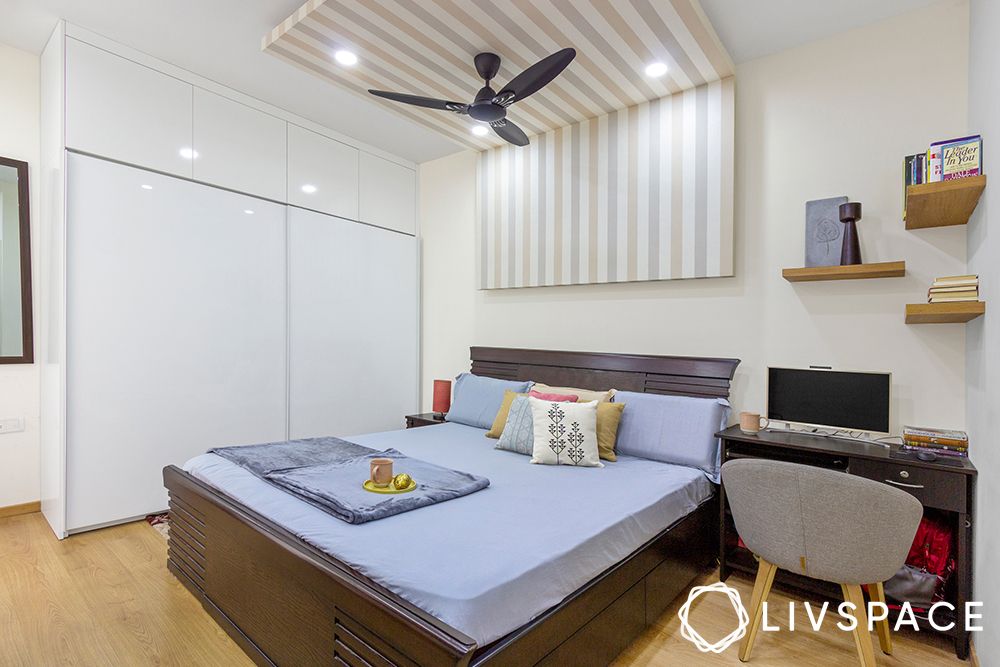 This bedroom ceiling design has a sophisticated striped style, thanks to MDF panelling and wallpaper for the canopy-like effect in this bedroom. When compared to other plaster ceiling designs or gypsum, it is smart and cost-effective, not to mention it looks great! These decorative bedroom design ideas are placed on ceilings or walls to give them the desired texture or architectural look.
Ceiling Design for Bedroom #3: Bring in Some Earthy Tones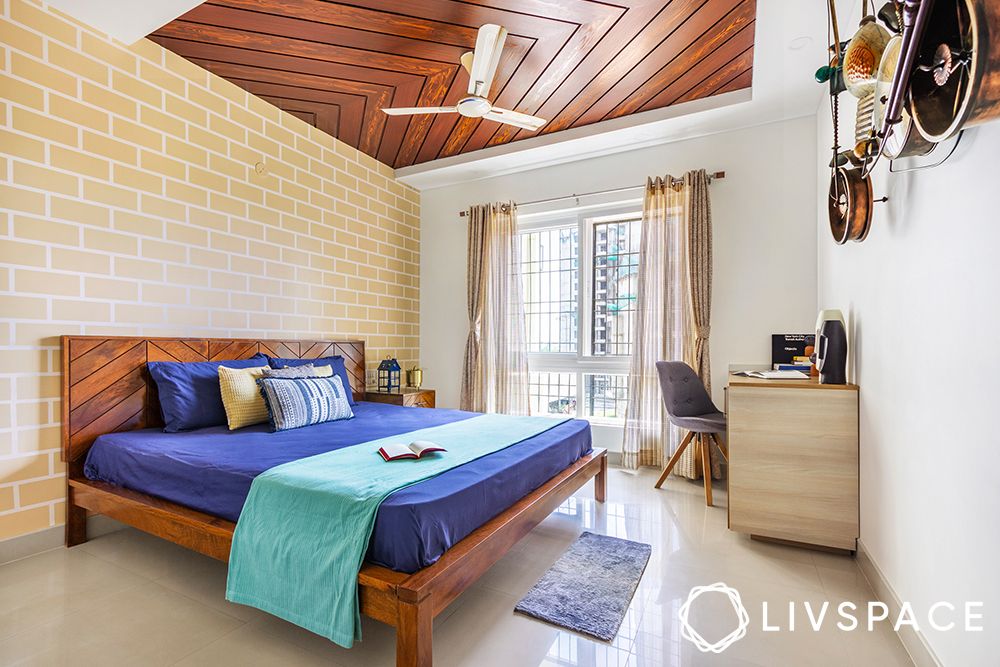 Earthy tones are great for softening up the look of a room but wood may not be the first material for ceiling design for bedrooms that springs to mind for many homeowners. If you still want to go for a rustic look, wooden rafters are a great option. These wooden beams dress up the ceiling without being too overbearing and detracting from the rest of the space. Exposed rafters also have an industrial look, which is ideal if you're going for a more androgynous vibe.
Ceiling Design for Bedrooms #4: Stick Some Wallpaper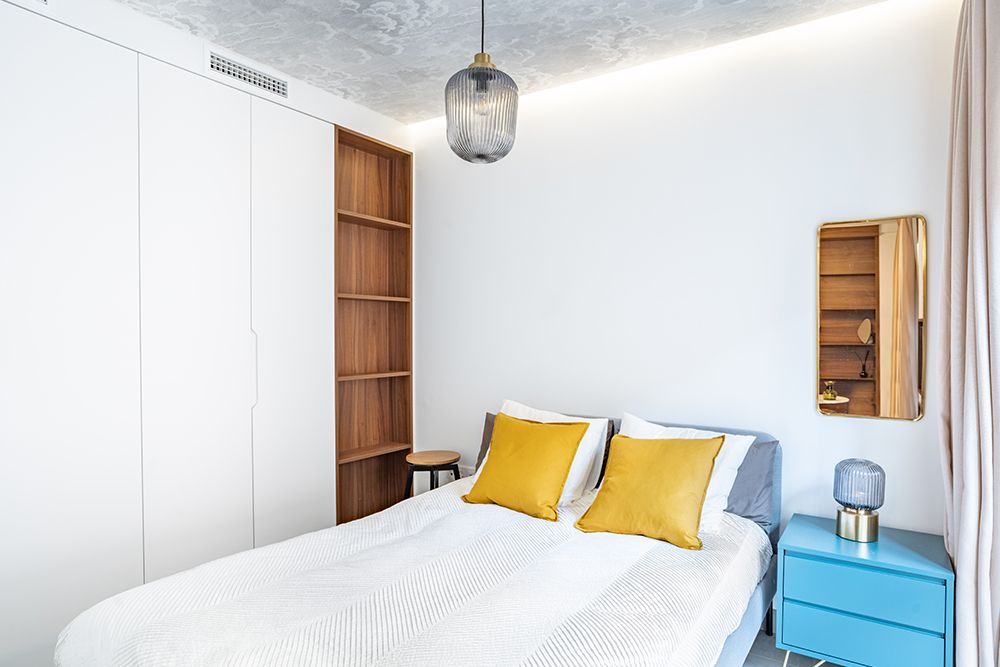 Whether you want to go all out or keep it simple, there is nothing you cannot achieve with some high-quality wallpaper. Furthermore, they have the ability to transform your bedroom ceiling design from drab to fantastic in an instant. Bright floral or patterned wallpapers work best for a dramatic transformation; gentler colours are good for drawing attention to the height of a space without adding too much drama.
For more bedroom design ideas using wallpapers, read 10 Trending Bedroom Wallpaper Designs to Increase the Style Quotient of Your Home
Bedroom Light Ceiling #5: Turn on Some Lights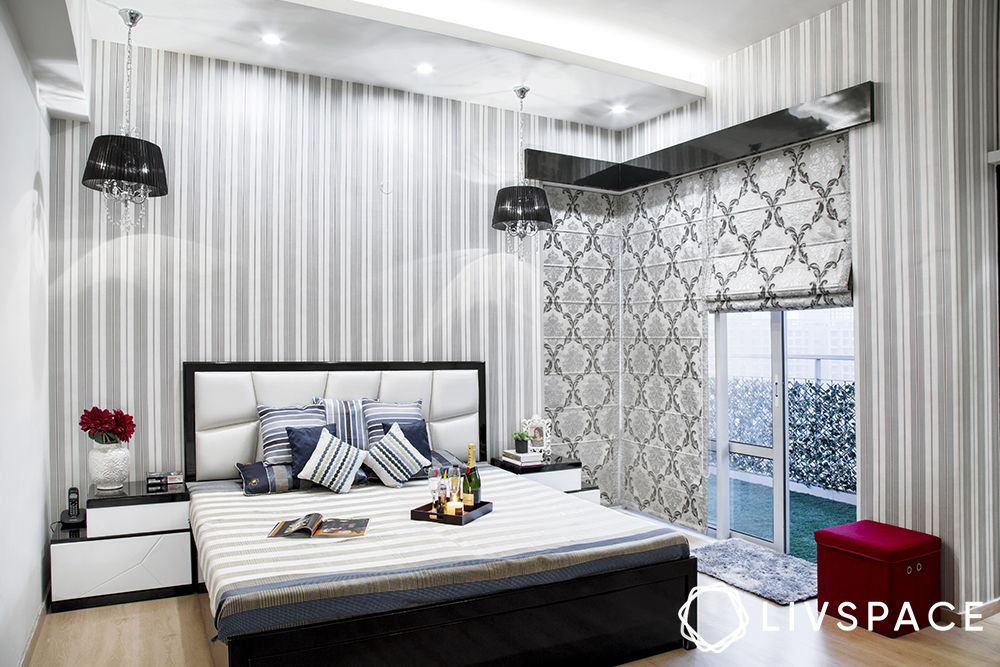 Lighting is one of the most significant decor aspects in a bedroom because it can make or break the space's appearance and mood. Consider installing a functional yet fancy bedroom light ceiling to glam it up while also setting the tone for relaxation and rest. Sunken bedroom lights achieve even illumination without any fuss, while structured pendant lights go well with contemporary bedroom design ideas. In any case, paying close attention to the bedroom light ceiling designs can help to enliven the room.
5 Best Bedroom Lights for your Home
1. Place a Chandelier on Your Plaster Ceiling Design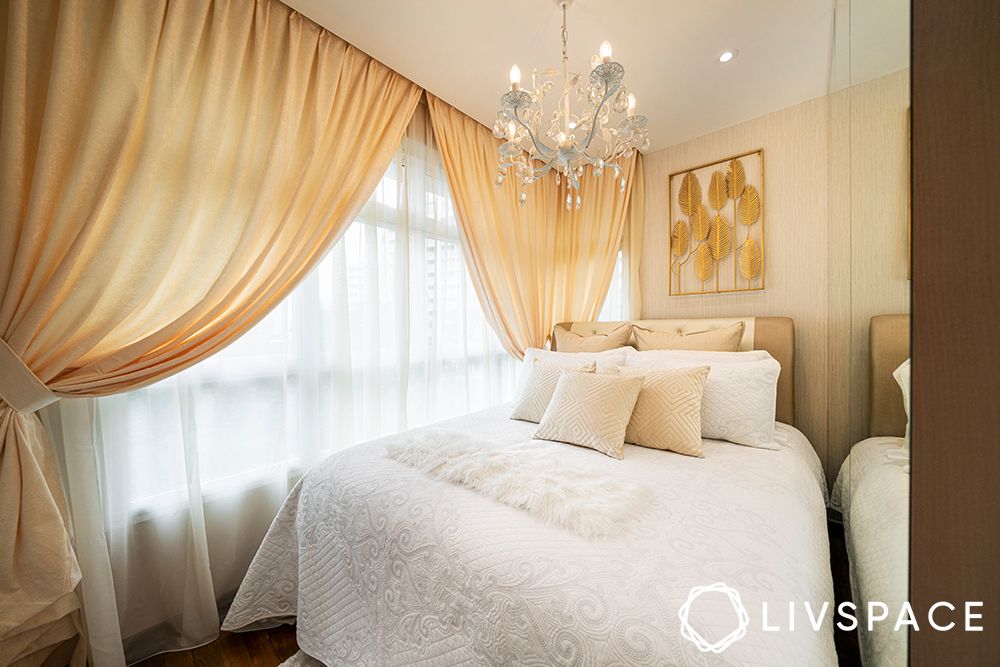 Your space will seem sophisticated with this beautiful hanging lamp with carefully carved branches and many light bulbs. Depending on your interiors, you can choose elaborate ceiling lights or sleek and contemporary ceiling lights for your bedroom. The amount of electricity needed by each chandelier varies depending on the number of lights utilised. To locate the perfect chandelier, choose from a number of styles, sizes and materials.
2. Track Lights as Modern Bedroom Design Ideas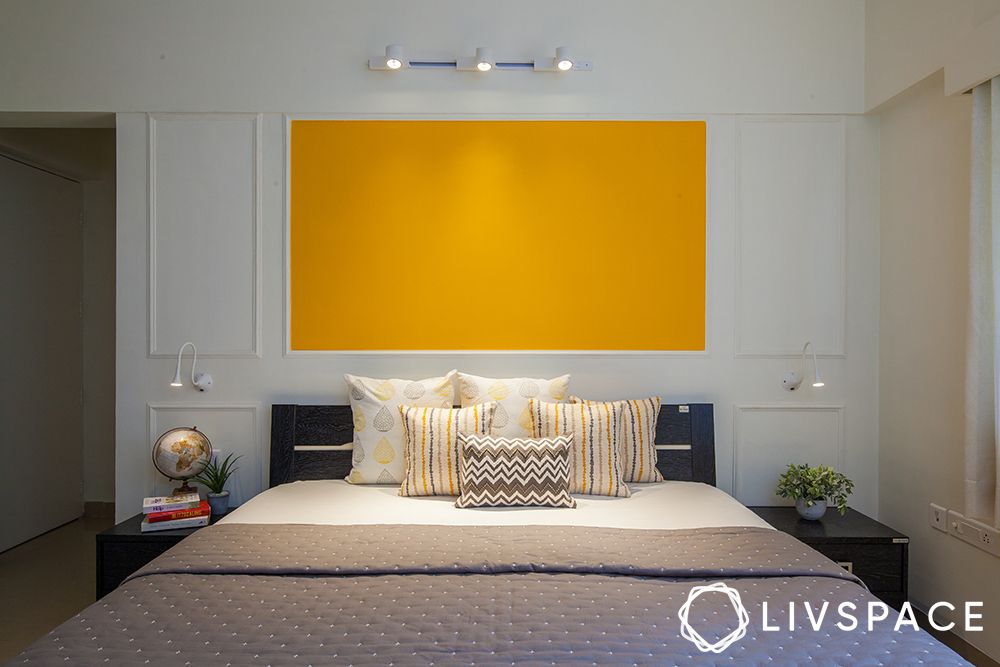 When you need to show a painting or a feature wall, these bedroom lights are the most popular option. Track lighting creates a decorative atmosphere in a specific area of your home. Track lights are one of the methods for installing LED lights without the use of a false ceiling. They can only be used as accent lights because they usually come with 3-watt to 9-watt bulbs. To add elegance to the setting, you can use directional lighting, spotlights, or even rail lights.
3. Recessed Ceiling Bedroom Lights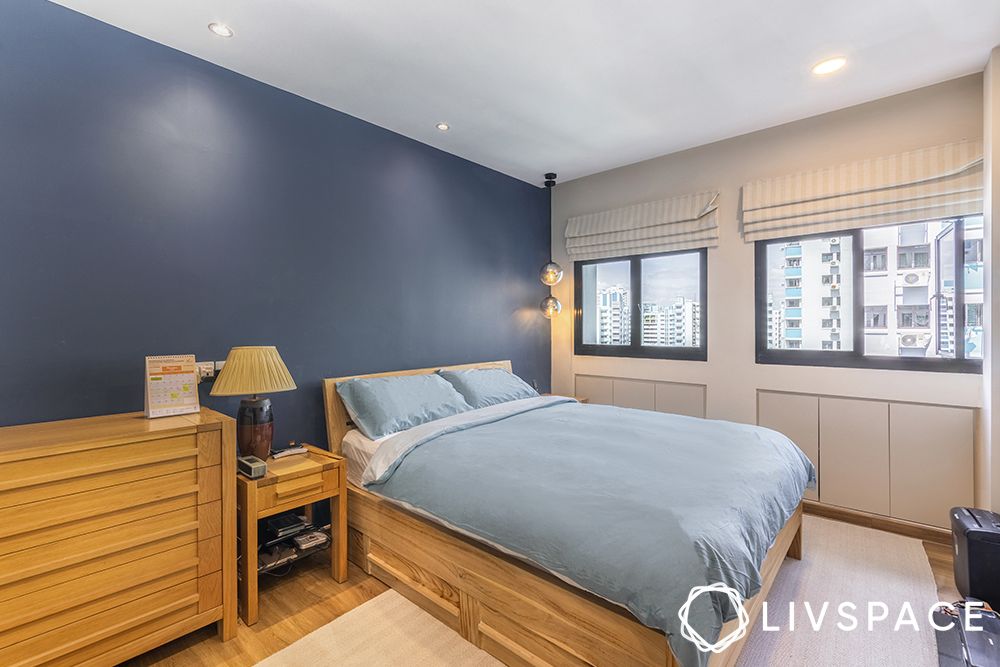 Recessed lights are typically positioned in a hollow in the plaster ceiling design so that when they are turned on, the light is focused at a single spot or more evenly distributed. Because the light source is hidden, this fixture provides a softer lighting choice for your house. These are excellent forms of ceiling lights for setting the perfect tone.
4. Hang Pendant Lights as Part of Your Bedroom Ceiling Design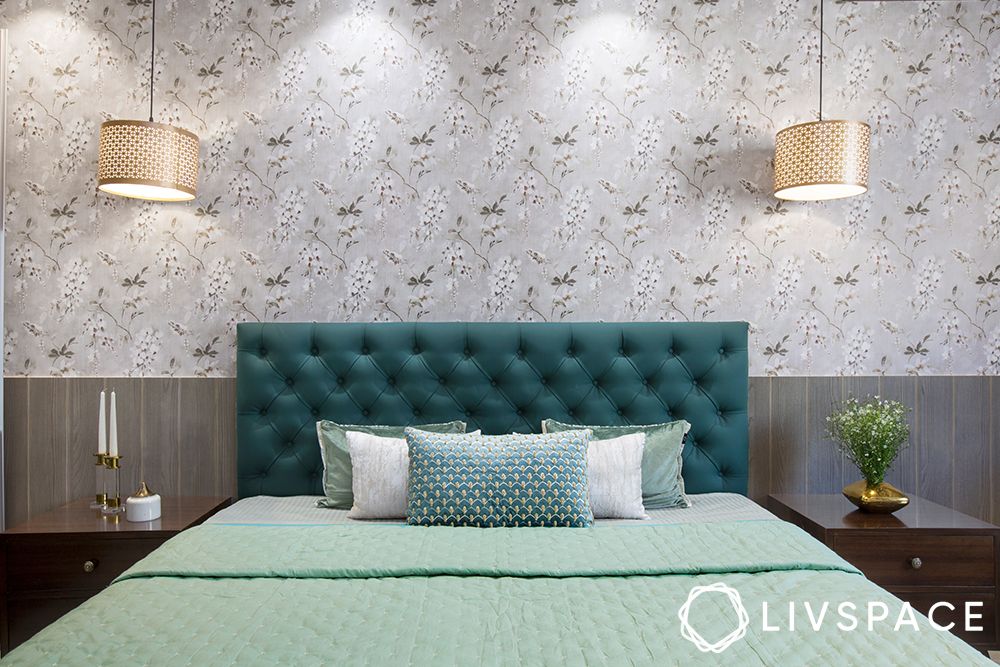 A pendant lamp, like a chandelier, hangs low in your space as a single source of illumination. Such lights produce a concentrated source of light that can be as bright or as dark as desired. You can choose from minimalist or enormous designs, as well as different sizes, shapes and materials for the light. If you feel like one light isn't enough, consider a cluster of lights to add to the room's attractiveness.
5. Inverted Cove with Spotlights on a Plaster Ceiling Design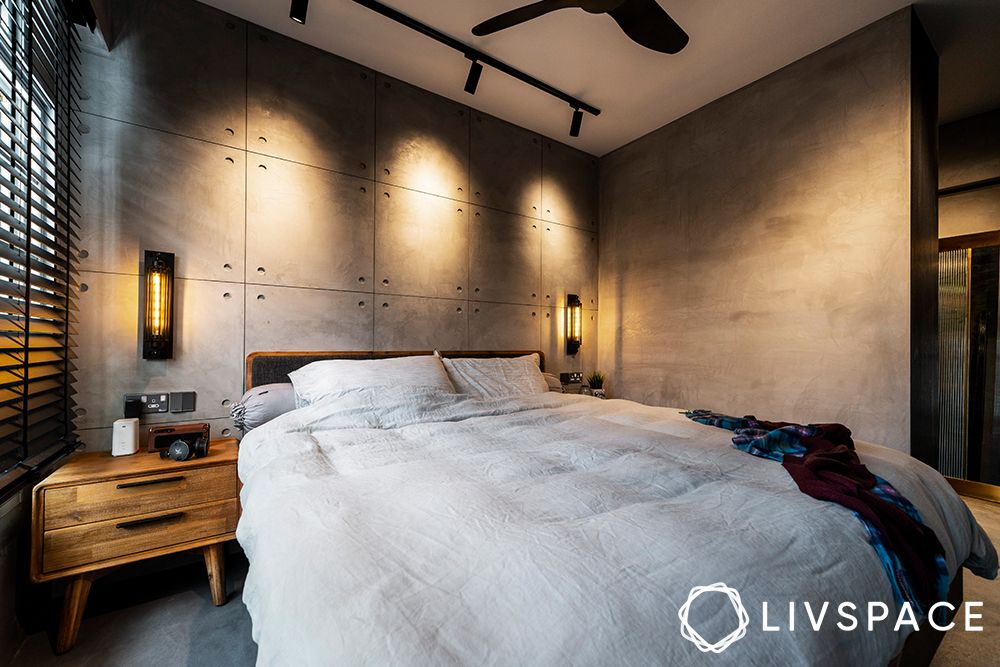 To match the walls, the Livspace designer who worked on this bedroom ceiling design chose simple white paint for the inverted cove of the POP ceiling. In this bedroom, spotlights have replaced the recessed lights for this bedroom plaster ceiling design.
How Can Livspace Help You?
Want stunning interiors? Livspace can help you! All you have to do is book an online consultation. If you prefer meeting in person, you can also find Livspace designers at the IKEA Damansara store. Hurry up and get quality home interiors from the best in the industry!