You'll find that the biggest cities have the smallest homes. This space crunch is also pretty visible in Malaysia and if you own these small apartment interior design HBDs or condos, we totally understand your house interior design plight. But worry not! We are here to tell you that you can always get creative with your storage style. Here are some space saving suggestions, room by room, for your compact home.
But before we go there, here are some versatile tips that you can apply for any room:
The minimalist style is a godsend when it comes to small apartment design
Multifunctional furniture is another great space-saving idea
Odd niches are actually perfect for storage
Wall-mounted storage and shelves save space
#1: Optimise Space in Your Living Room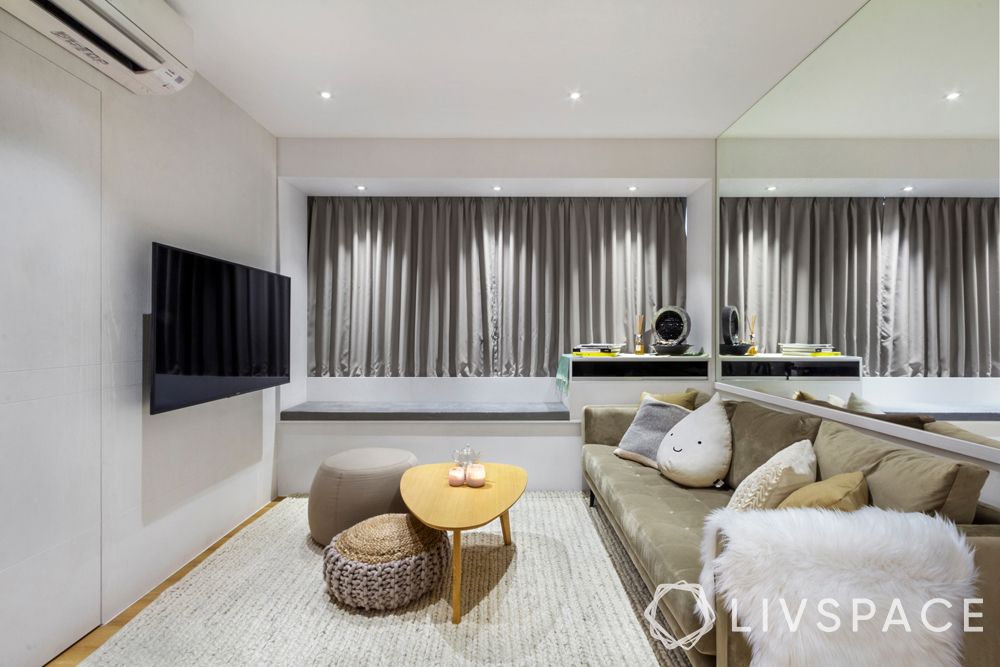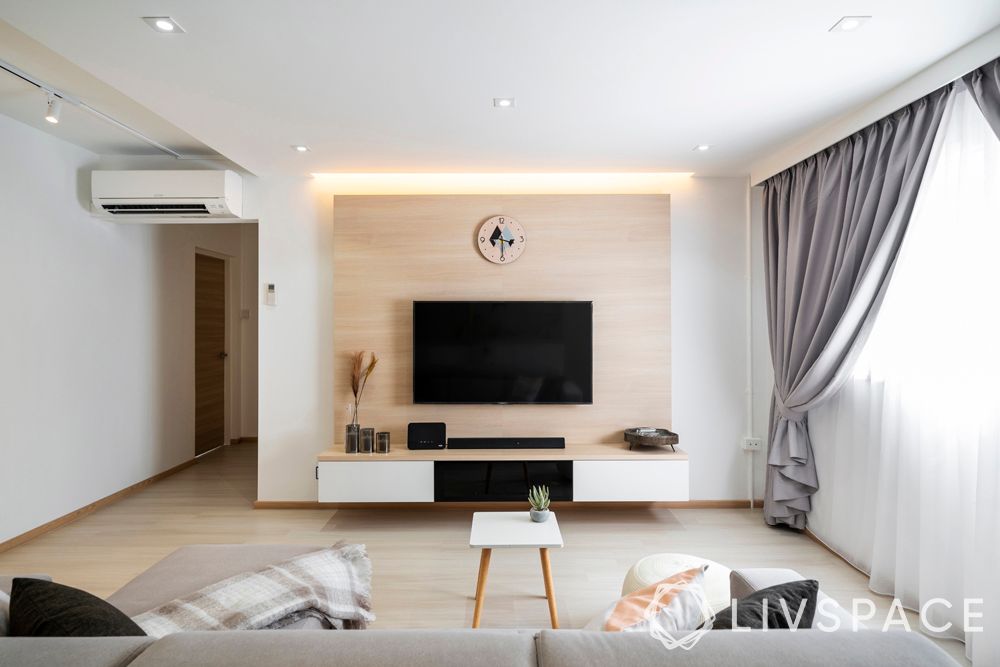 Small apartment interior design usually means a compact living room. If you wish to seat several people in your small space, pair your three-seater sofa with ottoman and pouffes that can be moved easily when not in use. Consider getting a custom TV console that fits your living room layout, instead of purchasing a free-standing, off-the-shelf TV console. Also make sure that your custom design holds ample storage space with shelves to place your books and knick-knacks. Opting for nested tables instead of a regular coffee table gives you great flexibility in your house interior design.
Also Read: How to Design Your Living Room in a Minimalist Style
#2: Get Nifty With Your Dining Room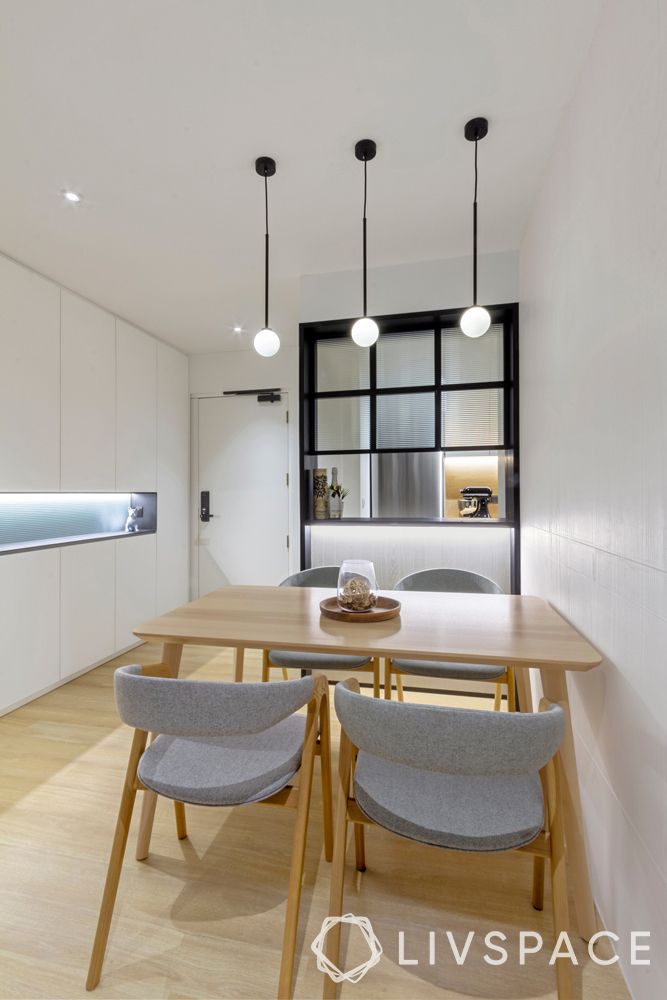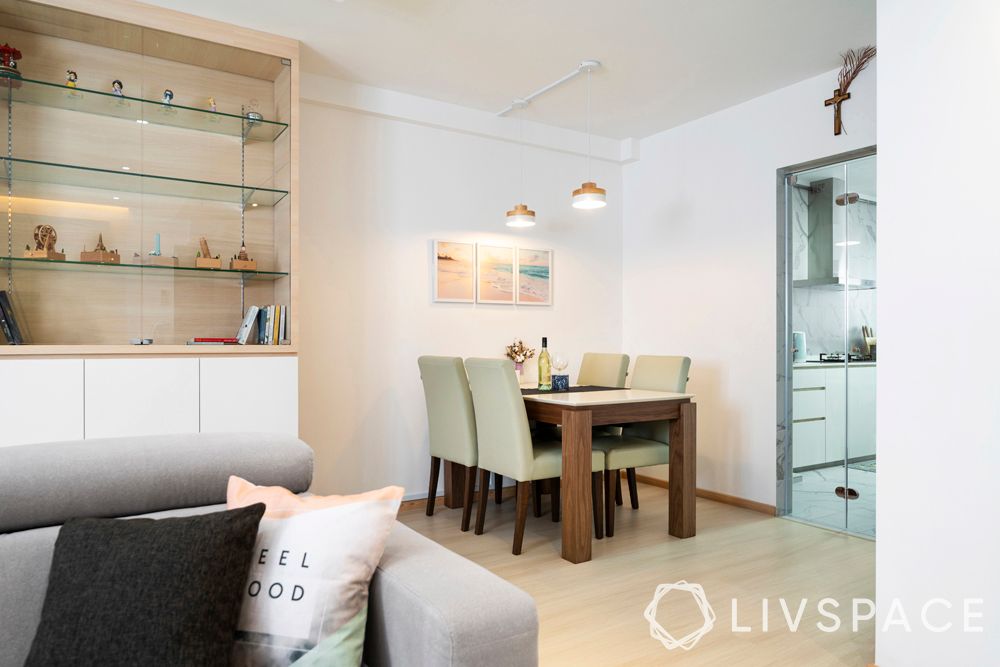 If you are looking for a compact dining option for your small apartment interior design, go for a square design dining table. However, if you know that you will frequently need to accommodate people in your small apartment, investing in an expandable dining table is a must. Free up floor space in your house interior design by going for floating shelves. They can be easily custom built or if you want a cheaper option, piece it together with modular pieces.
#3: Tidy Up Your Small Apartment Interior Design Kitchen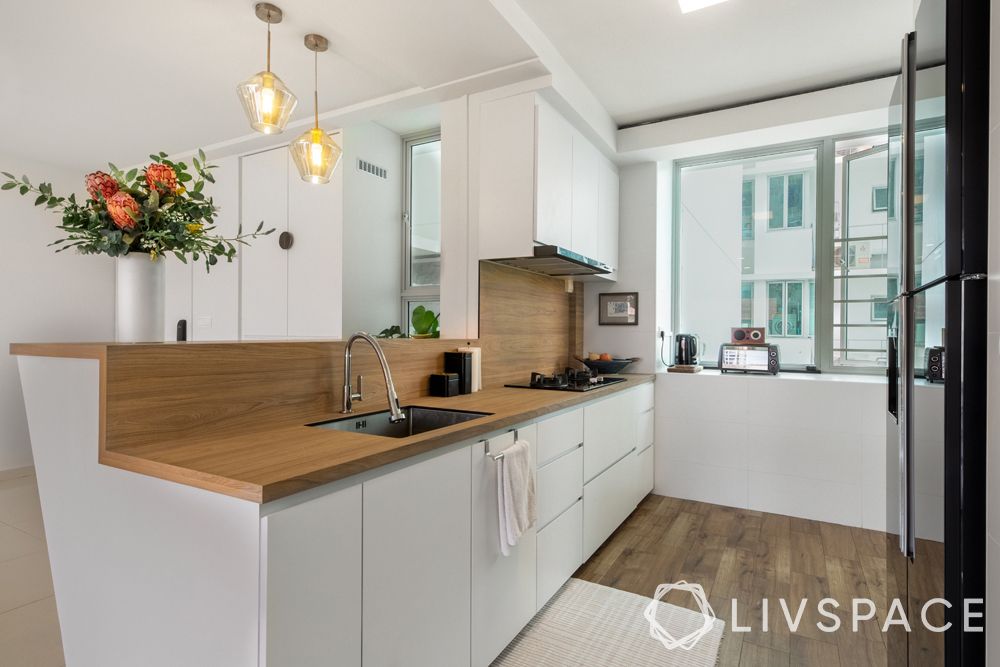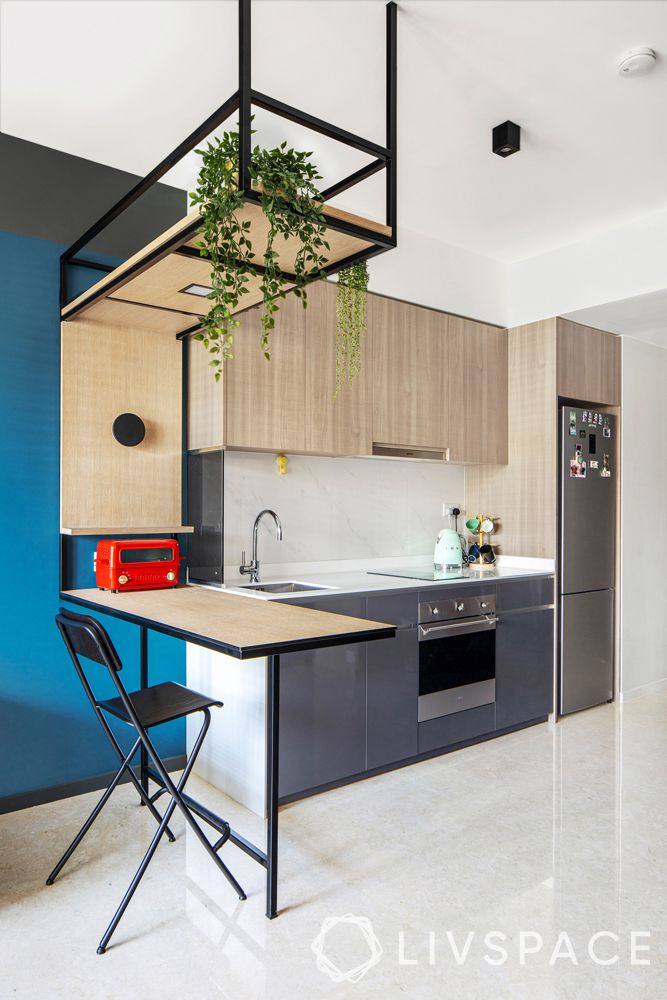 Planning a kitchen well in your small apartment interior design will solve a lot of storage problems that may come up later on. Assess the number of utensils, appliances, crockery, cutlery and other kitchen essentials that you plan to have and ask your designer to accommodate each one without using countertop space. You will be surprised with what is achievable with all the accessories and add-ons that are available in the market. Want a breakfast table too? A small apartment interior design can always go for a wall-mounted retractable table that can be tucked away neatly after every meal.
Also Read: Best Small Kitchen Design Ideas For Your Home
#4: Declutter Your Small Apartment Interior Design Bedroom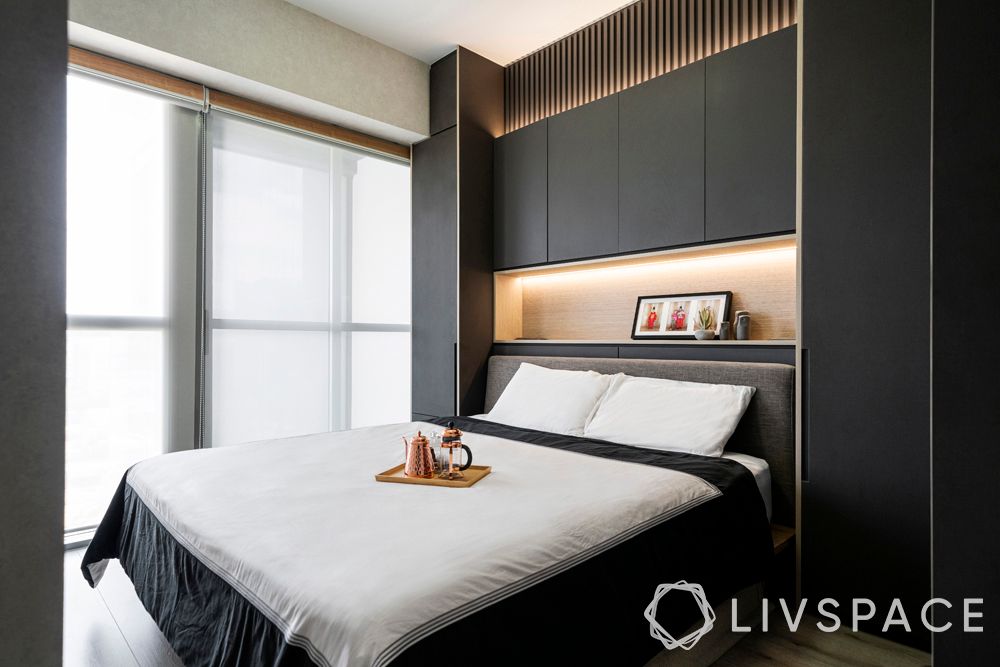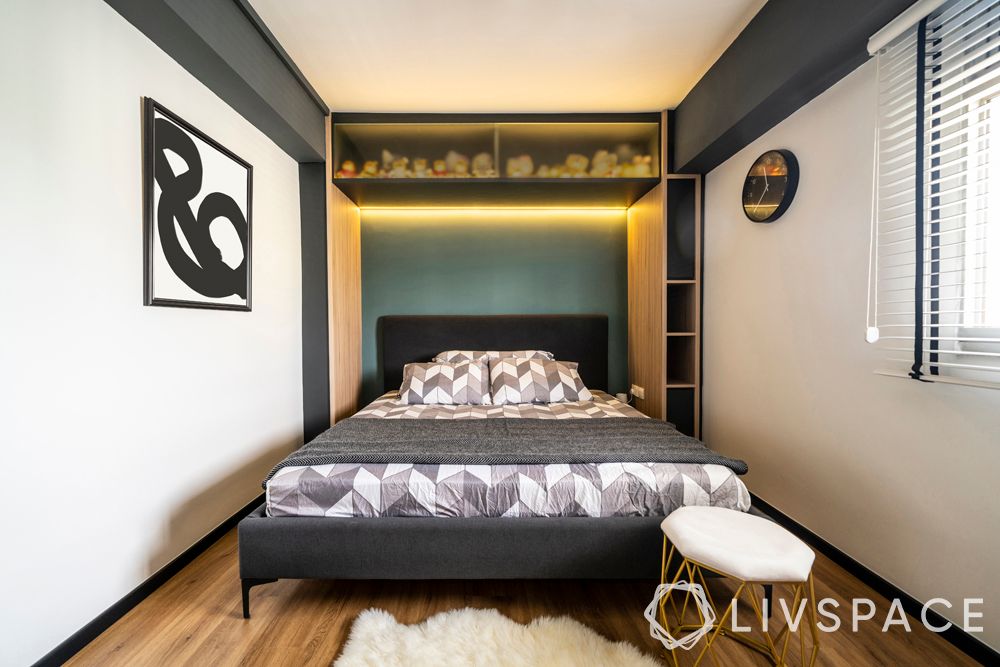 A fancy bed frame is a popular choice. However, in a small apartment design, it can make the room look cramped. This is further exaggerated in the house interior design when the space lacks proper lighting. The remedy then is to add extra lofts above the wardrobe. If there is a niche, a small apartment interior design can really be enhanced with a built-in closet. Another bedroom design idea for a small space is to replace the mandatory bedside table with wall-mounted shelves.
Also Read: Top 5 Minimalist Bedroom Design Tips You Need to Follow
#5: The Kid's Room in a Small Apartment Interior Design is All about Space-Saving
In a small apartment, a kids' room can have loads of storage and space when you opt for bunk beds or beds with built-in storage and study. Open shelves in wardrobes are also a great idea in small apartment design. This also frees up space for your child to have a separate play area!
#6: Add Extra Storage in Your Small Apartment Interior Design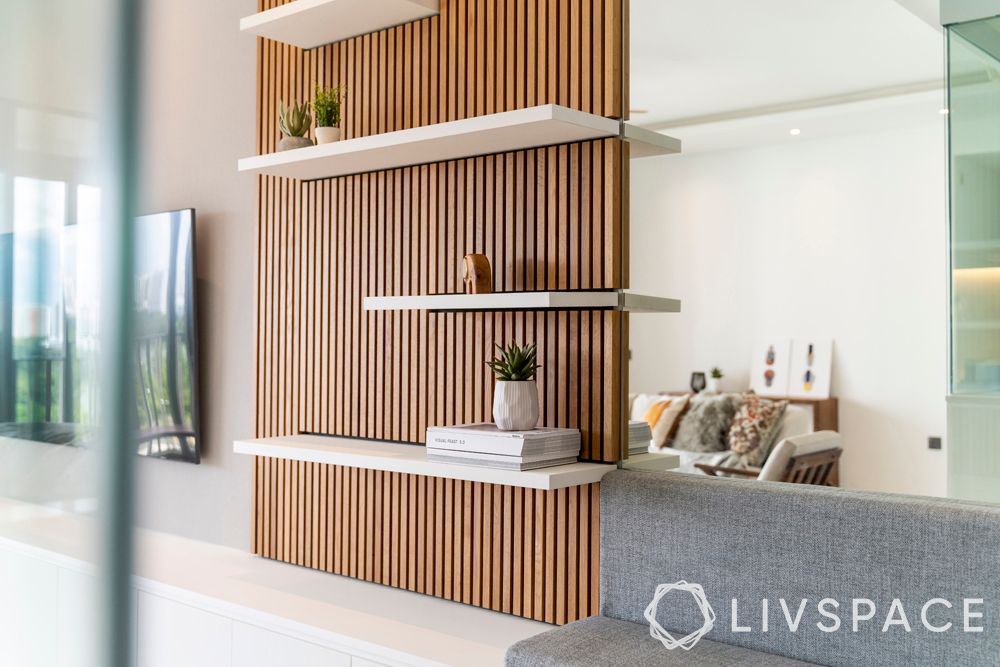 When your small apartment interior design needs some extra storage, you can go vertical. Such storage options can be tucked behind the bed, beside TV consoles or even be attached to a corner. You can also use open bookshelves this way.
#7: Corner Sofas Fit Right into a Small Apartment Interior Design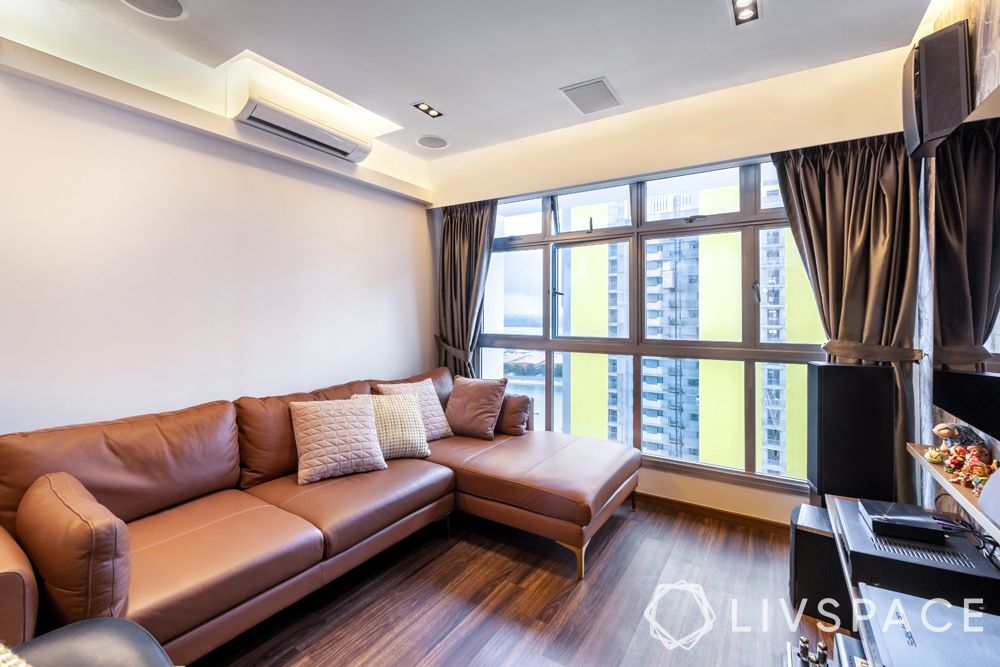 Make the most of the little spaces in your house interior design by opting for a corner, chaise or an L-shaped sofa. A sofa like the one shown above can also be used as a divider in a house interior design, separating open spaces without overcrowding.
Decorating a tight space in the small apartment interior design can be equally challenging and fun.
Use mirrors and glass to create an illusion of space
Neutral and monochrome colours can give a small home a spacious look
Natural light and ample artificial lighting can save your home from looking cramped
Low seating and sleek furniture can make the home appear lighter visually
We hope you liked the article. Interested in minimal design? Here are 9 Easy Steps to Give Perfect Minimal Design to Your Home
How Can Livspace Help You?
Want stunning interiors? Livspace can help you! All you have to do is book an online consultation. If you prefer meeting in person, you can also find Livspace designers at the IKEA Damansara store. Hurry up and get quality home interiors from the best in the industry!