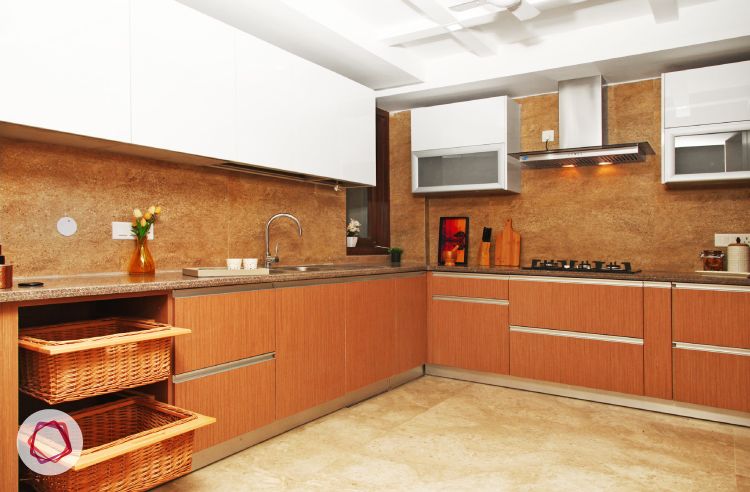 ---
Kitchen Type and Size: A sprawling kitchen spanning 150 sq ft
Designer: Riya Bhaskar
Project Manager: Varun Chopra
Location: Saket, Delhi
Budget: ₹₹₹₹₹
---
Nestled inside an apartment in Saket's upmarket residential colony, this kitchen's chic facade instantly welcomes you with a medley of warm notes and textures.
With its roomy proportions, the kitchen easily encourages meals to be cooked together and Riya made sure it had a flawless, organized system that kept it from getting messy.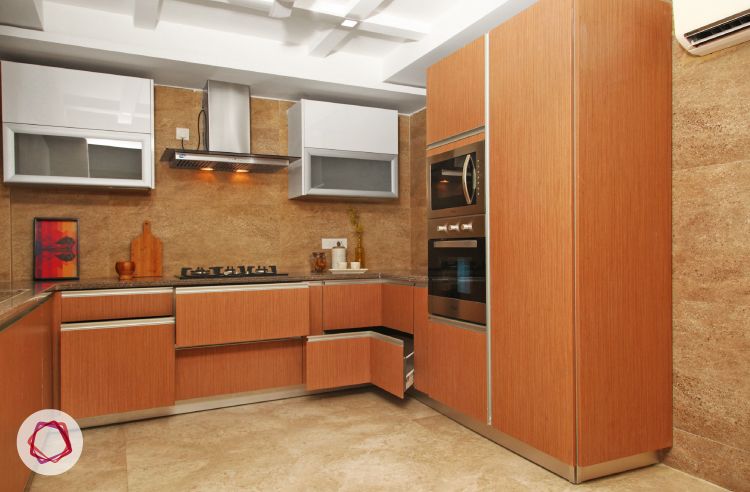 ---
A large, family kitchen with an abundance of modular storage solutions like the tall unit, the Blum corner drawers, grain trolleys, and see-through cabinets ensure space for every little thing.
---
This highly utilitarian space is anything but boring with its handsome wood finished cabinets that beautifully complement the cerused flooring and backsplash. White cabinetry shines through and contrasts beautifully with the kitchen's composition.
Handle-less drawers streamline the space and add to its modern personality, while a pair of wicker baskets impart an earthy touch.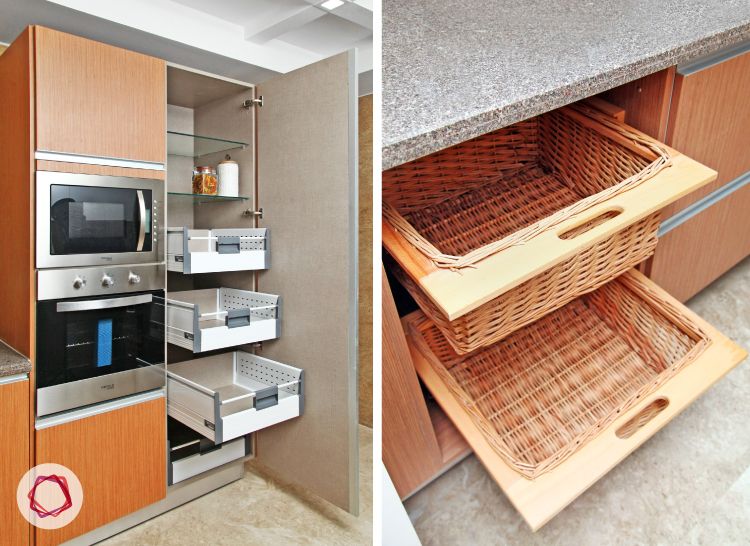 ---
On the left, double ovens and a tall unit with Blum drawers to stock monthly groceries. On the right, wicker basket drawers to store onions and potatoes in a dry, airy space.
---
Blum drawers that open fully to reveal items at the deepest end are an important facet of the kitchen and are outfitted everywhere — under countertops, inside tall units and even in the redundant corners of the kitchen.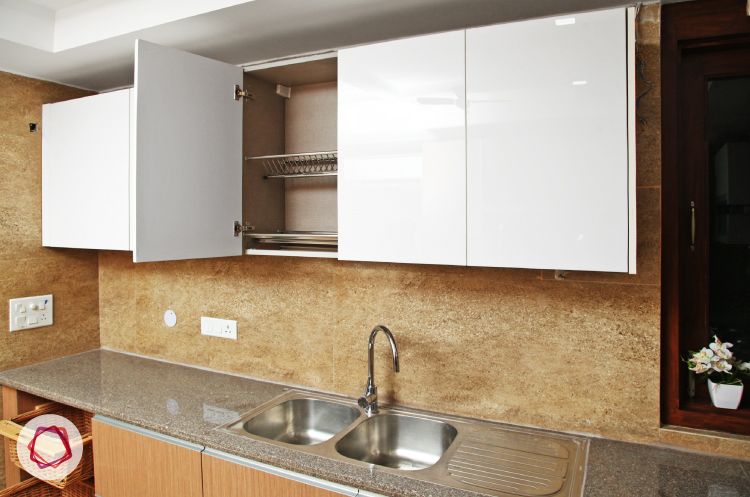 ---
A gorgeous stainless steel double sink makes clearing a pile of dirty dishes easy. While the dish rack unit above and the drip tray are perfect for drying wet vessels.
---
Also, large gatherings mean tons of dirty vessels. The double sink is a god-send in such cases. It gives homeowners the option of stocking dirty utensils in one and instantly cleaning it in the other.
A dish rack unit right above the sink helps organize freshly cleaned utensils, while a removable drip tray under it collects water. All this is neatly concealed inside a cabinet giving the kitchen a clean look.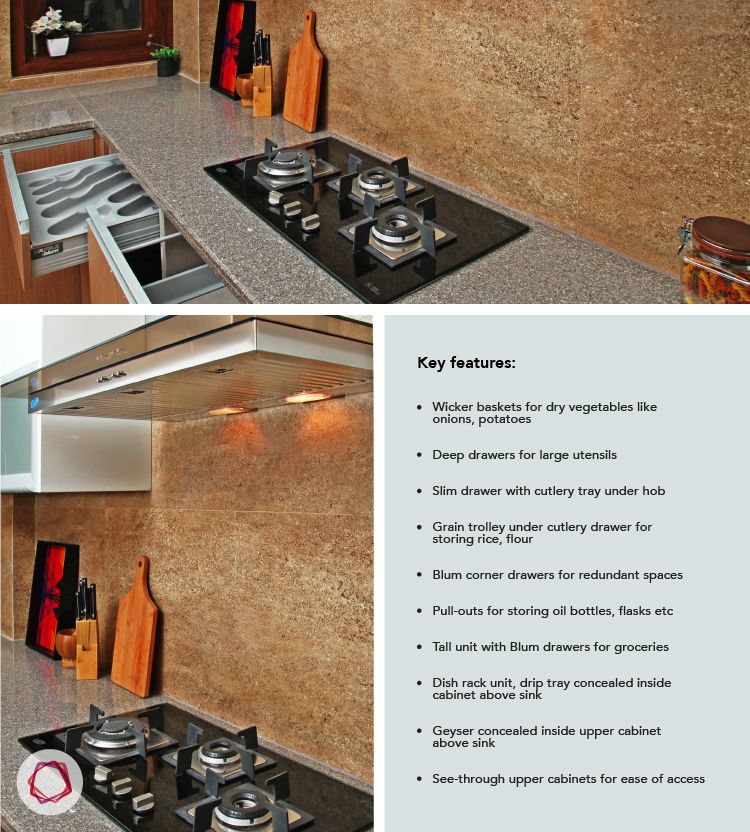 ---
A three-burner hob and chimney with a cutlery draw keeps things tidy and within reach in the cooking area.
---
Cooking is a breeze with a perfectly organized system around the hob. Overhead lights under the chimney provide ample illumination while drawers below ensure that vessels and cutlery are close at hand.
The see-through cabinets bring some dynamic interest to the kitchen and make choosing cooking ingredients a breeze.
"The kitchen is designed in such a way that the family has enough space to comfortably cook beside each other. We ensured the dry and wet areas are far from each other so that things are always neat and tidy."

Riya Bhaskar, Interior Designer