It's 45 degrees outside, you have just returned home from an exceedingly long and tough day at work, and you just want to gorge on your comfort food but your stove is malfunctioning. It is certainly not the best thing to come home to, is it? All of us lead very hectic lives and there is no harm in expecting some comfort when we are at home. And a malfunctioning stove is cold comfort. Nowadays, however, our homes are getting smarter to ensure maximum convenience, all thanks to the rise in the popularity of smart kitchen technology. We got in touch with our in-house kitchen expert, Gopal Dwivedi, to give us some insights on smart kitchens. Read on.
#1: A Detailed Look at Smart Kitchen Technology and Why We Need it in Our Lives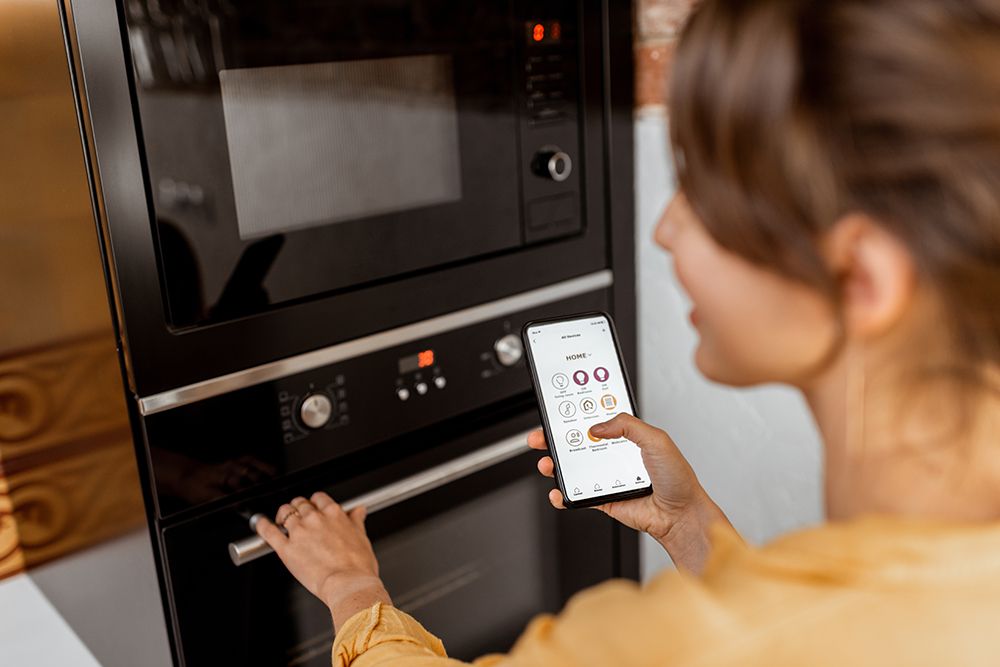 Before we jump into smart kitchen ideas, you first need to understand the meaning of the term smart. Most people believe that smart means automatic. This is true to some extent, but not completely. Smart refers to something that can anticipate your needs and act accordingly to give you the best and quickest solution. A kitchen can be called smart when all the components — the appliances, lighting, electronics, soft close mechanisms and countertops — are smart.
So why do you need a smart kitchen? The obvious answer is that it makes your life easy. But a kitchen that is smart offers multiple other benefits. These include:
Smart kitchen appliances and features help you save time
Technology helps in ensuring that your kitchen is ergonomically designed
Smart technology can send notifications in case of any malfunction, thereby preventing any accidents or mishaps
Energy-efficient appliances can reduce your expenses
Most of these devices are wifi enabled, allowing you to access them from afar
These appliances can provide a safe and convenient working environment based on the user, age group etc
#2: Top Types of Smart Kitchen Technology That Everyone Should Have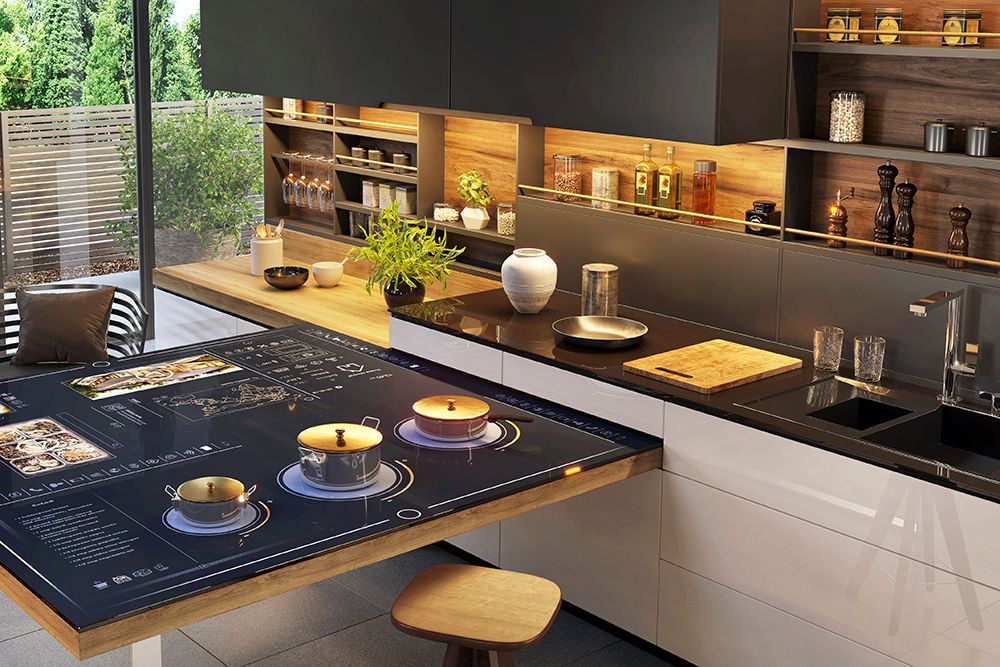 While there are numerous types of smart kitchen appliances available in the market, here are the most essential ones that you should have in your home.
#2.1: Auto-off Gas System
One of the most convenient and essential smart kitchen appliances that you should invest in is the auto-off gas. While comfort is definitely one of the major benefits of this appliance, it is also helpful from a safety point of view. If you have children at home, you must opt for this smart tech device.
#2.2: Auto-off Light System
You must be feeling the adverse effects of global warming with the rising temperatures every summer. And it is important that we do our bit in protecting the environment. Keeping lights, fans and other electricals on may not seem like a big deal but they can have a huge impact on the environment. Auto-off lights, one of our top smart kitchen gadgets, will not only protect the environment but also lower your electricity expenses.
#2.3: Warning System if any Appliances Malfunction
The main reason why most people love smart kitchen ideas and tech is because these not only make life easier but also promise safety. Most amateur cooks will be used to accidents in the kitchen. While these make for fun stories to regale your friends with over drinks, you cannot deny the fact that accidents in the kitchen are dangerous and should be avoided at all costs. A lot of smart kitchen technology now comes with an alarm system that will warn you in case of a malfunction. For instance, if your gas is malfunctioning, you will get a notification beforehand, thereby preventing fatal accidents.
#2.4: Voice Control or Phone Control When Out of Home
Ever left for a vacation and wondered if you switched off the gas? Or do you need to preheat your oven and have it ready to use when you arrive home? Most smart kitchen appliances come with voice and phone control that can help you switch them on and off remotely. This can help you save time and also follow safety precautions.
#3: Smart Kitchen Appliances – Our Picks
Auto-off Gas – BEKO Mixed Gas Hob
Refrigerator – Samsung Smart Fridge
Oven – Amazon Smart Oven
Kitchen Assistant – Bosch Mykie, Personal Kitchen Assistant
Voice Control – Simplehuman Voice Activated Trash Can
Now that you know about smart kitchen technology, here are the smart home devices that you must have.
How Can Livspace Help You?
We hope you found our ideas useful! If you want beautiful interiors for your home, then look no further. Book an online consultation with Livspace today.
Wondering how our customers feel about working with Livspace? You can check out the Livspace kitchen reviews here!
We love hearing from you! Write to us with your comments and suggestions at editor@livspace.com